Cambodia 2023: Petanque player Josephine Pan comes away with plenty of learnings
by ActiveSG Circle, on May 8, 2023
Some 24 hours after her debut outing at the SEA Games, Josephine Ann Pan was back on home soil reflecting on a whirlwind few days when she represented the nation for the first time in a major competition.
The Anglo-Chinese School Independent JC1 student also reflected on the fateful day some five years ago, when on a family holiday, she came across a group of men playing an intriguing game of tossing metal balls across a dirt court in a sport oddly named pétanque.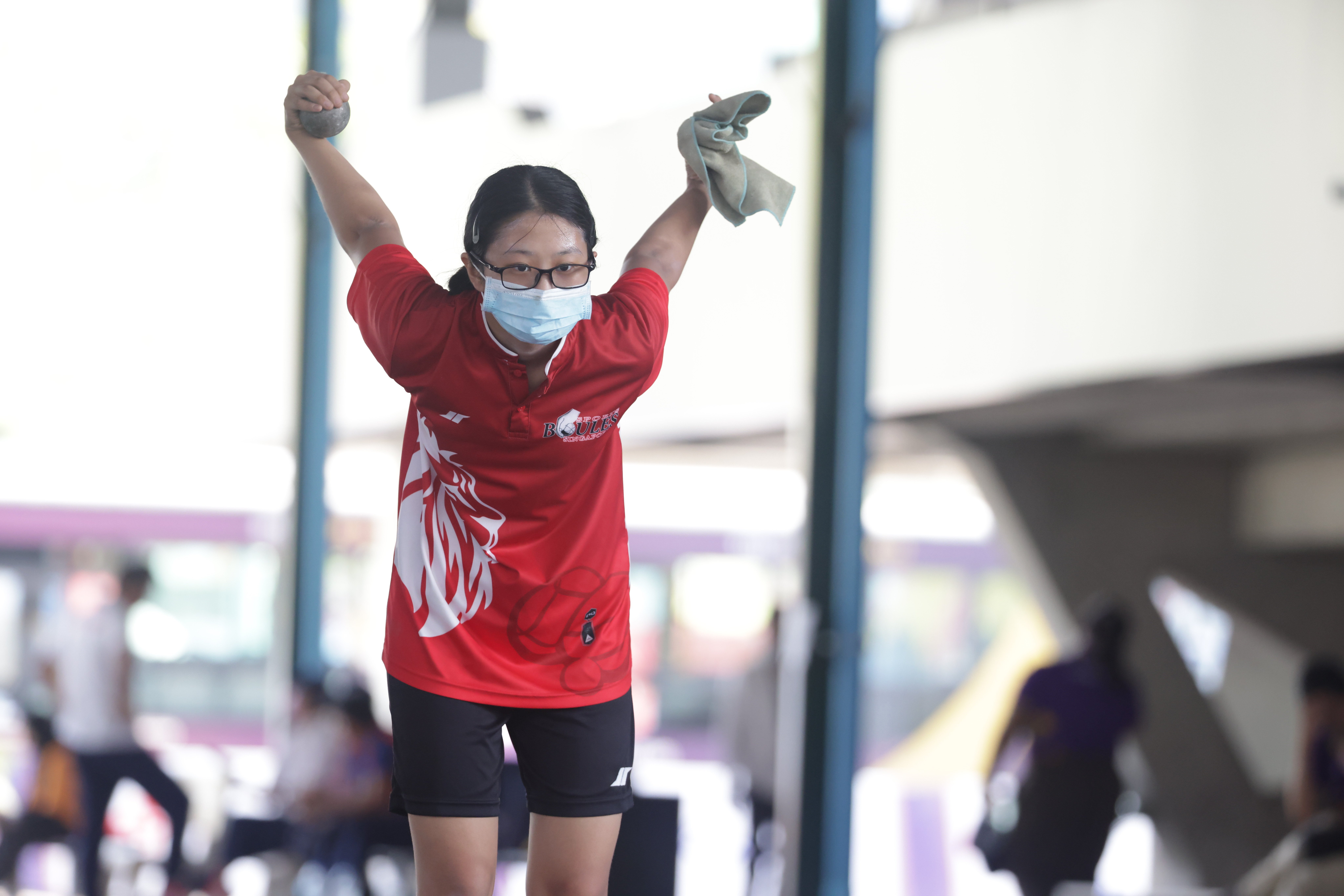 Five years after picking up the sport, Josephine Pan is donning national colours. Photo: SportSG/Dawn Chua
Upon returning to Singapore, her father promptly purchased a bagful of hard plastic balls, which kickstarted her interest in the game. That was soon to change and develop after she stumbled on fellow players in Singapore at the Toa Payoh Pétanque Courts.
Her skills saw her invited into the national set-up as one of the nation's youngest players (she turns 17 in September), and also earned her a spot at the SEA Games upon appeal (the association had lobbied for three places).
In her two group stage outings on Sunday (7 May), Josephine was beaten in both matches but not cowed. Against Vietnam's Thi Hong Thoa Thai, she lost 11-6, and subsequently against Souksada Silichanh of Laos, she went down 13-7 to miss out on advancing to the medal rounds.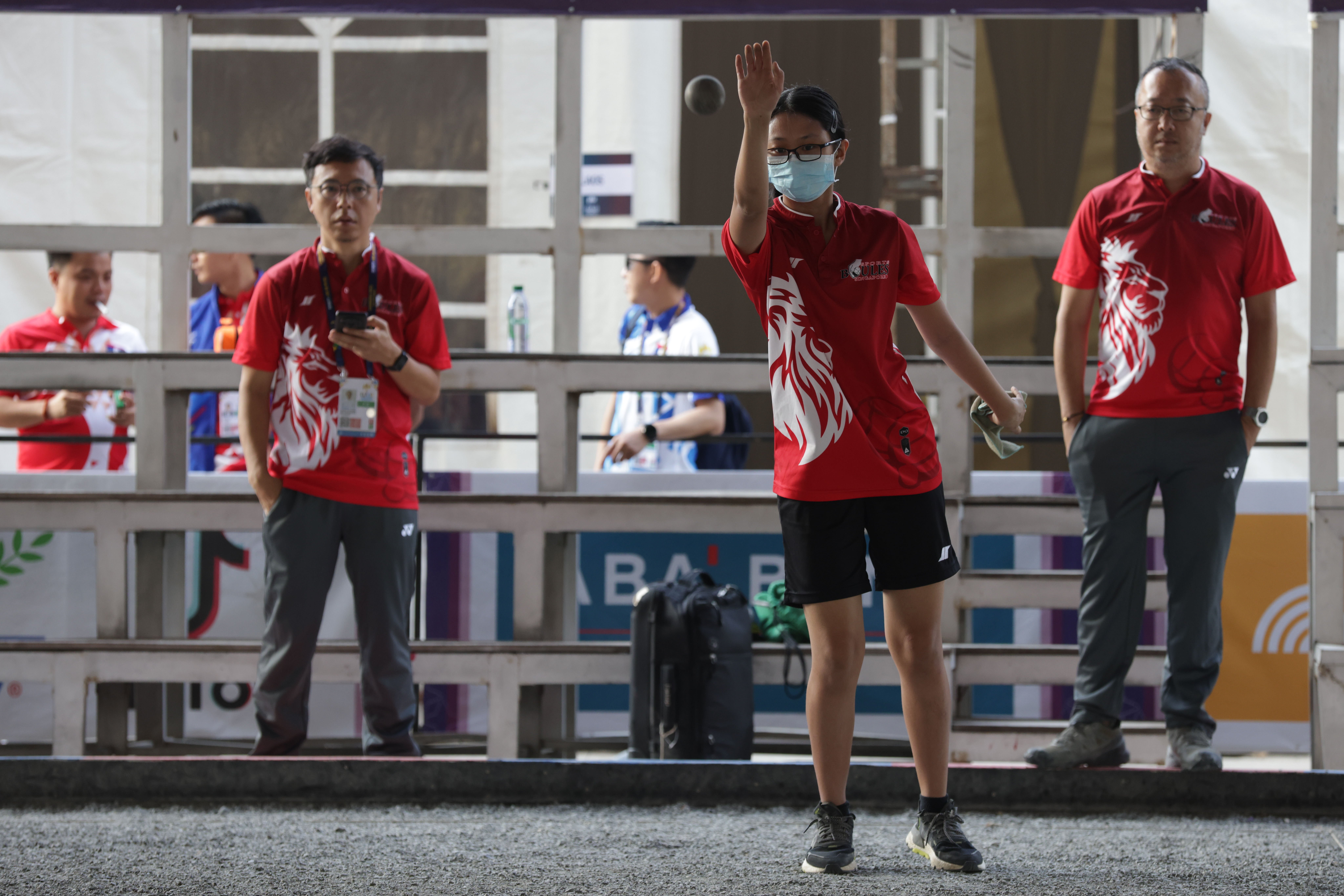 With her team behind her, Josephine tried to make every swing count. Photo: SportSG/Dawn Chua
Said Josephine: "It was definitely a different experience compared to other competitions. The atmosphere was a lot more tense, and the competition venue was a lot louder. It's no wonder I felt every one of the competitors were quite on edge.
"We have world class pétanque players in Southeast Asia, including world championship finalists in the field, so it was tough.
"Having said that, I learnt a lot playing against the competitors from Vietnam and Laos, as I realised I have the ability to beat these players, perhaps not this time but in the future. This gives me confidence moving forward in this sport and I will be trying my best for future competitions."
The National Association certainly agrees with her assessment as Team Manager Frank Foo observes: "We're definitely preparing her for the future, including the Asian Championships in August."
Describing her outing as "surreal", Josephine said until recently, her classmates were unaware she was a national athlete. Her cover was blown after videos with Channel NewsAsia and the Ministry of Culture, Community and Youth went viral on TikTok and other social media platforms.
Now, apart from greater fame, she has to deal with continuing to grow in the game to become a world class player.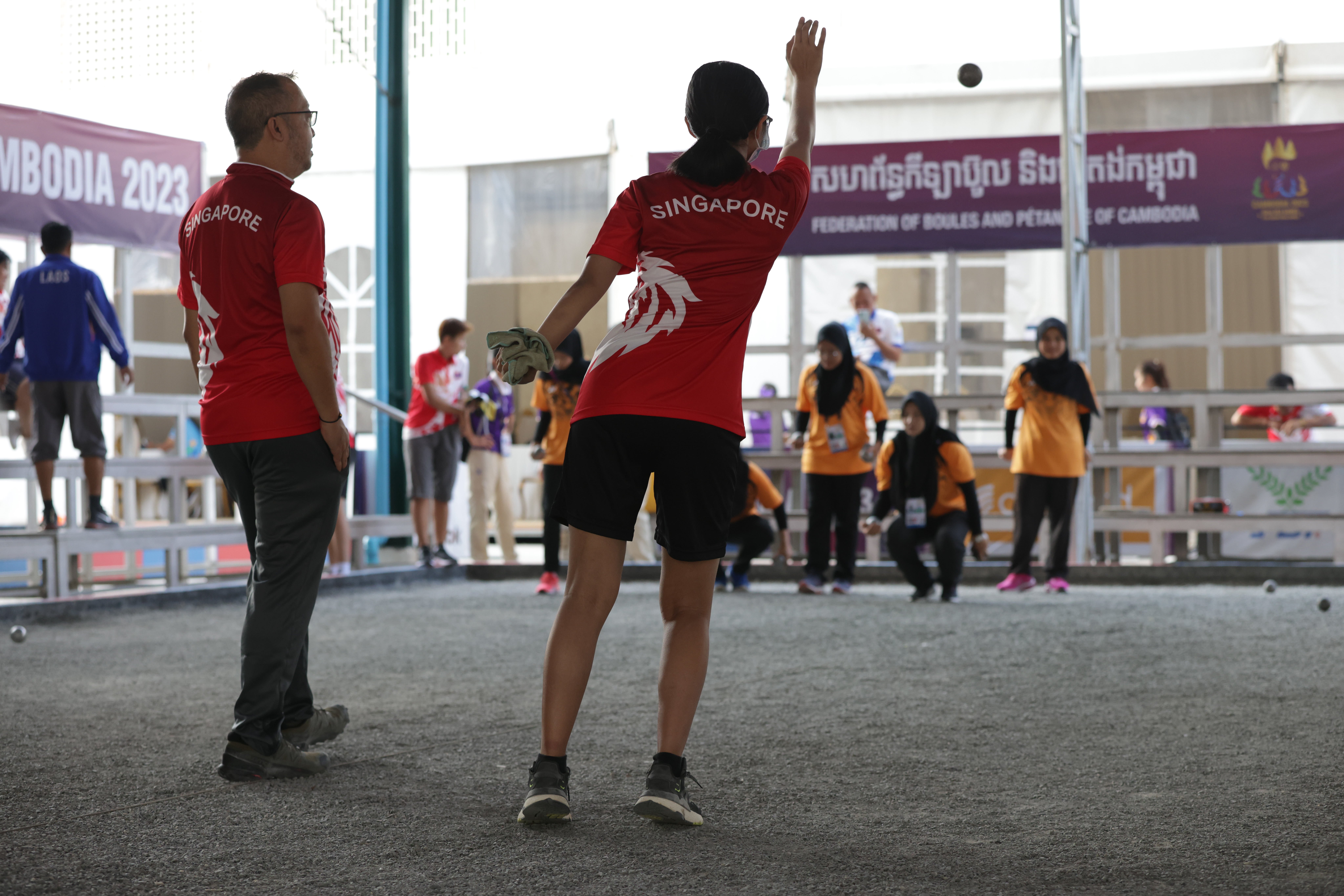 Pan says one of her biggest takeaways is learning how to adapt and adjust to the conditions. Photo: SportSG/Dawn Chua
"I think one of the things I learnt from this outing is the importance of being versatile - the courts were very different in Cambodia, and difficult to play on as the surface was quite hard and full of stones, making each throw unpredictable. So you have to react accordingly and figure out how to control your throws.
"I also learnt from observing some of the stronger competitors how they remained composed despite all the difficulties and how they dealt with adversity.
"It was obvious they too were also struggling with the ground. So, if I had made better decisions, my matches may have turned out differently."
The 32nd SEA Games are held in Cambodia from 5 to 17 May 2023. For the latest Team Singapore coverage and news, follow Team Singapore on their social media channels (Facebook, Instagram, TikTok) or visit the official Team Singapore website.
Related Topics
Related Events & Programmes
Related Topics