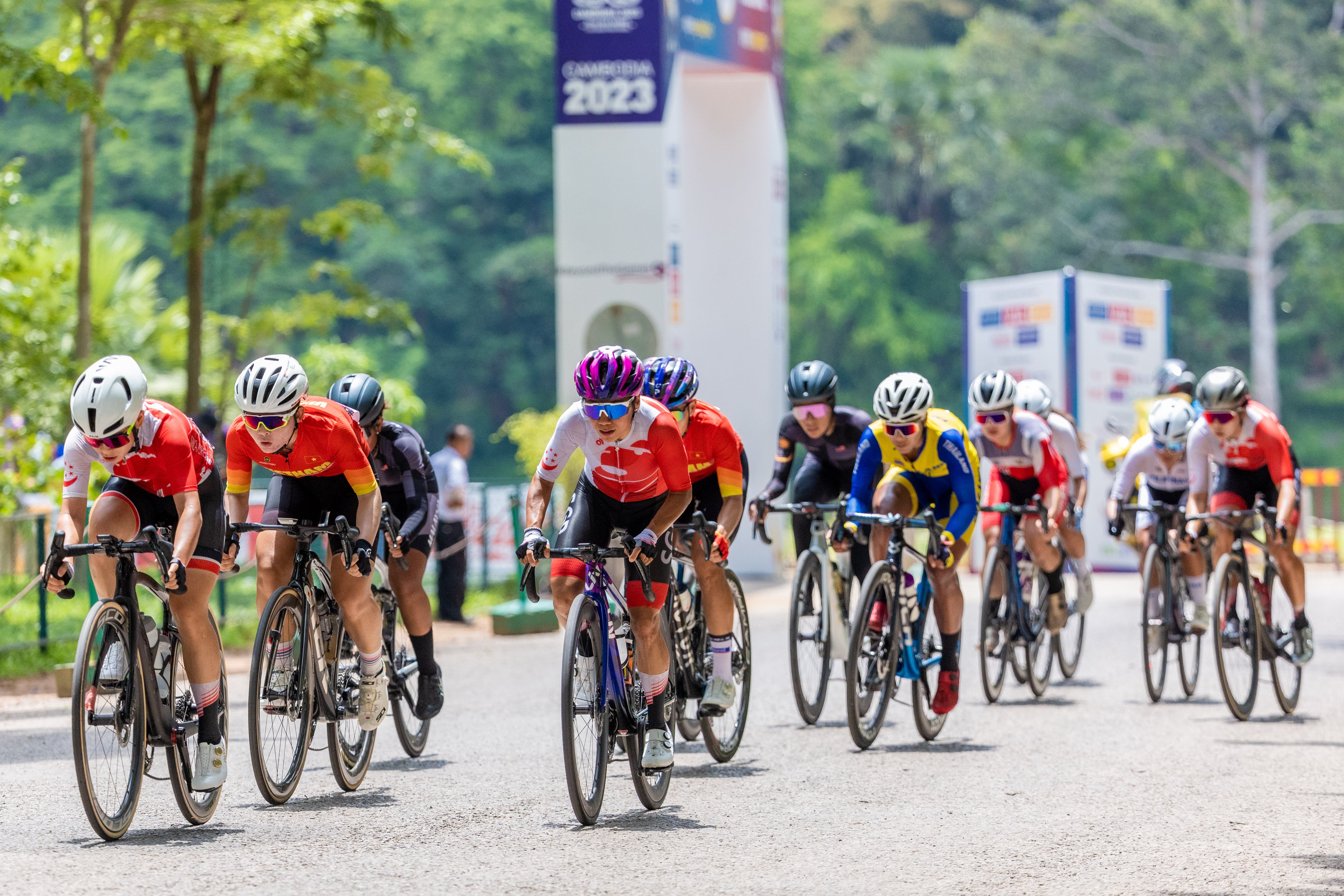 Singapore's women's team, including Chelsie Tan (centre, purple helmet), in action during the individual mass start on Saturday (13 May) in Siem Reap. Photo: SportSG/Dyan Tjhia
By May Chen
As far as result sheets go, Team Singapore cyclist Yeo Boon Kiak will return from Cambodia with no medals, having fallen just short in both the criterium and mass start events.
But ask the 35-year-old national champion, and he will speak about two "perfect" races that he rode under gruelling conditions in Siem Reap.
He finished sixth out of 38 riders in the mass start, and narrowly missed out on the podium in the criterium, where he was fifth out of 24 athletes.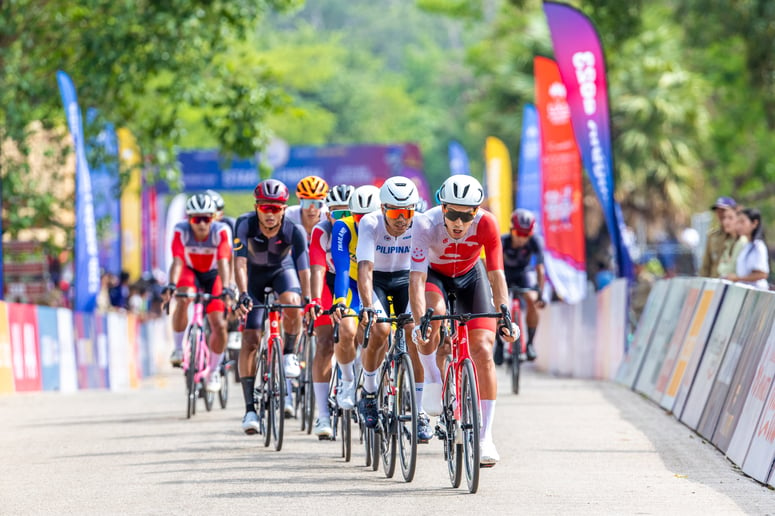 Yeo Boon Kiak leading the pack during the men's criterium event on 11 May. Photo: SportSG/Dyan Tjhia
Said Yeo: "Every step of the way, we were in the hunt for gold. I went deep in the finale and both times it was decided only in the last few seconds of the race.
"In both races, I rode a perfect race both tactically and also physically. It just came down to the very end, when it's also dependent on how the other riders would react. Unfortunately, the cards didn't fall my way."
Yeo took a bronze medal at the last Games in Hanoi when he was third in the men's criterium event.
"At the end of the day, it's still a difficult pill to swallow. But I left everything out there. I'm still proud of my performance and happy about it. Sometimes you need a bit of luck to sway things your way, and we didn't have that this time round."
To cope with the sweltering conditions of racing in Cambodia, the cycling team took steps to acclimatise and prepare themselves. This included a six-day race in Thailand a month ago where temperatures averaged 40 degrees Celsius, as well as a training camp in Bintan for a fortnight.
The team also devised a strategy and handled logistics to ensure there was ice and fluids on hand and in their support vehicle during the race.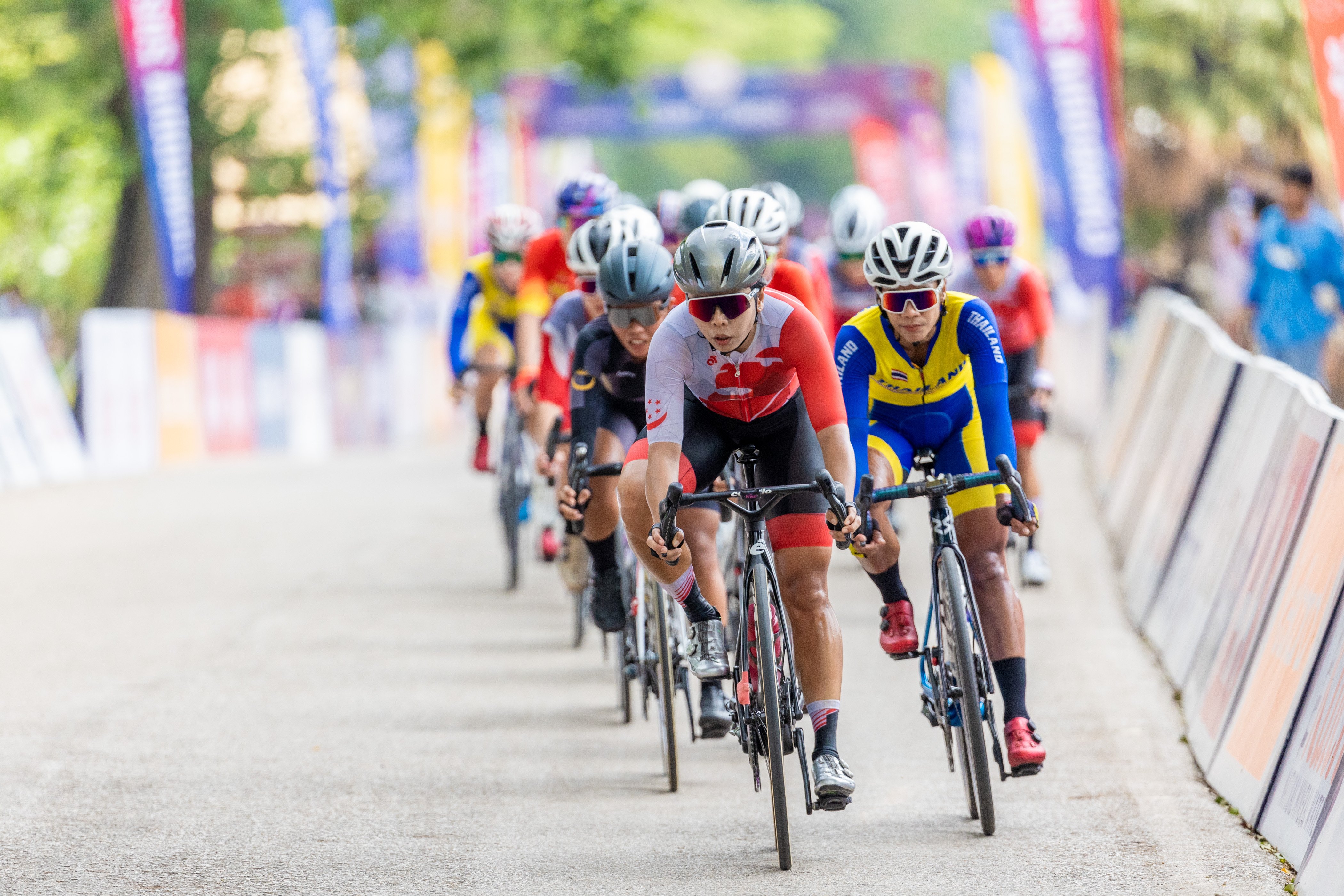 Luo Yi Wei in action during the women's criterium event. Photo: SportSG/Dyan Tjhia
In the women's team, Chelsie Tan also came close in both the criterium and mass start races, finishing seventh in the criterium and sixth in the latter.
She said: "As a team, we did our best and did well. But it's cycling and we are high achievers and we want more. There's always room for improvement."
While Singapore's cyclists will not take any medals home, they will take heart in knowing they are becoming more competitive against regional rivals.
Said Yeo: "To be 100 per cent honest, across the years we're never considered the cycling powerhouses. But I think in recent years we've closed the gap and it's not as far as we think.
"The other nations stepped it up and we've also done the same. They are slightly above us in terms of where they are as a team. We definitely have to be more competitive across the board."
Added Tan: "We put on a good show today in the race, although we didn't get any medals. Our sport is cruel at times. But it's the process that counts, because at the end of the race, if you come off the bike feeling like you've given your best, then no regrets. We'll try again next time."
The 32nd SEA Games are held in Cambodia from 5 to 17 May 2023. For the latest Team Singapore coverage and news, follow Team Singapore on their social media channels (Facebook, Instagram, TikTok) or visit the official Team Singapore website.
Related Topics
Related Events & Programmes
Related Topics