By May Chen
With a demanding job as a headhunter and two young children to care for, Faye Foo's hands were already plenty full. That is, until she put them on some handlebars and found her legs pedalling her to the SEA Games.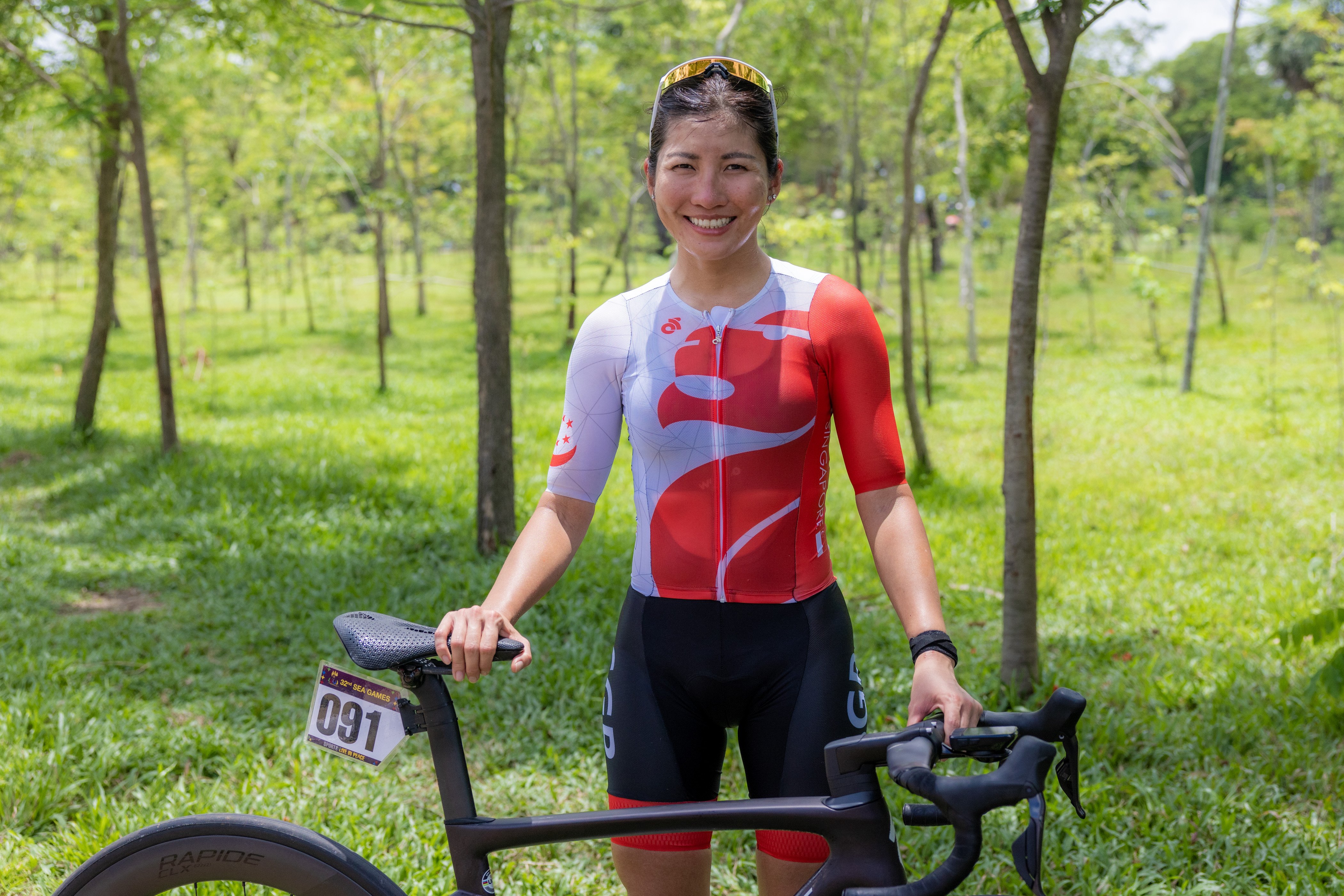 Cyclist Foo Xiao Faye makes her debut at the 32nd SEA Games. Photo: SportSG/Dyan Tjhia
The 39-year-old's road to Cambodia, for starters, is nothing short of a fairytale run.
The Covid-19 pandemic drove her to cycling as a way to keep fit, with no expectations that it would lead to flying national colours.
But while she relishes and treasures the opportunity, getting herself ready to line up at the start line – while juggling her other commitments – was a mammoth task.
To make it all work or in her own words, getting the Orion Belt's three stars all aligned, is no mean feat.
An average day begins in the wee hours, with the alarm clock going off around 3.30am to get to training. She is home by 7.30am to help her kids – Matthew, 8, and Oliver, 6 – get ready for school. Foo then heads to work, returns to spend some time with her children in the evenings before tending to late work calls if need be.
This gruelling routine then repeats itself the next day.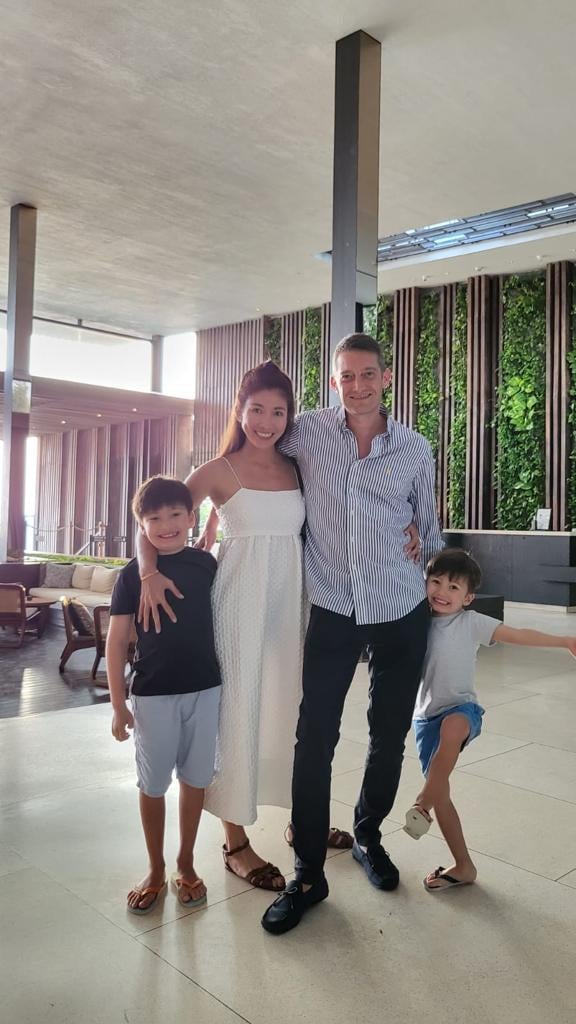 Juggling work, sports and family requires a solid support system that would not be possible without family, employer and sport association behind her. Photo: Courtesy of Faye Foo
Said Foo, who competed in the women's individual mass start event: "Time management, discipline and being consistent is my modus operandi when it comes to training.
"Some things have to give and for me, it is my social life. When it gets too overwhelming, I take a step back, remind myself of the sacrifices that have been made to get me here, and I will naturally fall back into it again."
If it takes a village to raise a child, it certainly also takes a solid support system for elite athletes like Foo to juggle home, work and sports. In her case, each piece of the puzzle is vital.
She lauds her husband Alexander Goldie, who holds the fort down whenever she has to train or travel for races and training. Her employer Hogarth Davies Lloyd grants her time off so she can chase her sporting dreams, while the Singapore Cycling Federation works to get her the training and competition opportunities needed.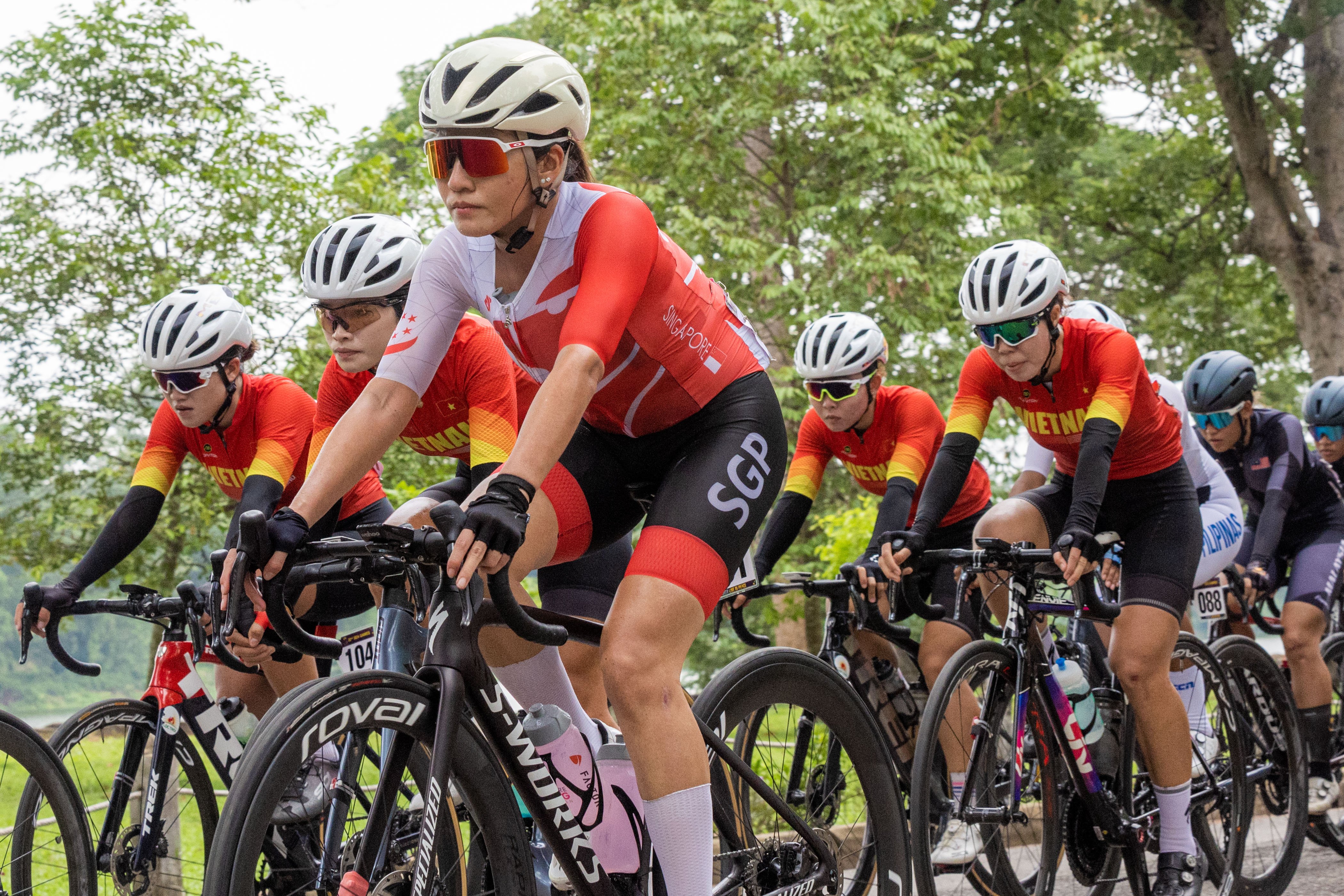 Faye Foo competing in the women's individual mass start event on Saturday (13 May) in Cambodia. Photo: SportSG/Dyan Tjhia
Getting better on the roads and being the fittest she has ever been has come with the added bonus of learning new things about herself – including just how far she has been able to push herself to the limits, both physically and mentally.
She said: "Some days I finish totally drained from training, work and managing the kids and I do have moments of self-doubt wondering if I can train the next day. Surprisingly, despite my doubts, I usually manage to hit my target numbers which gives me a boost of confidence and that keeps me going."
Being a mother comes with its advantages. For one thing, it has taught Foo how to be gritty.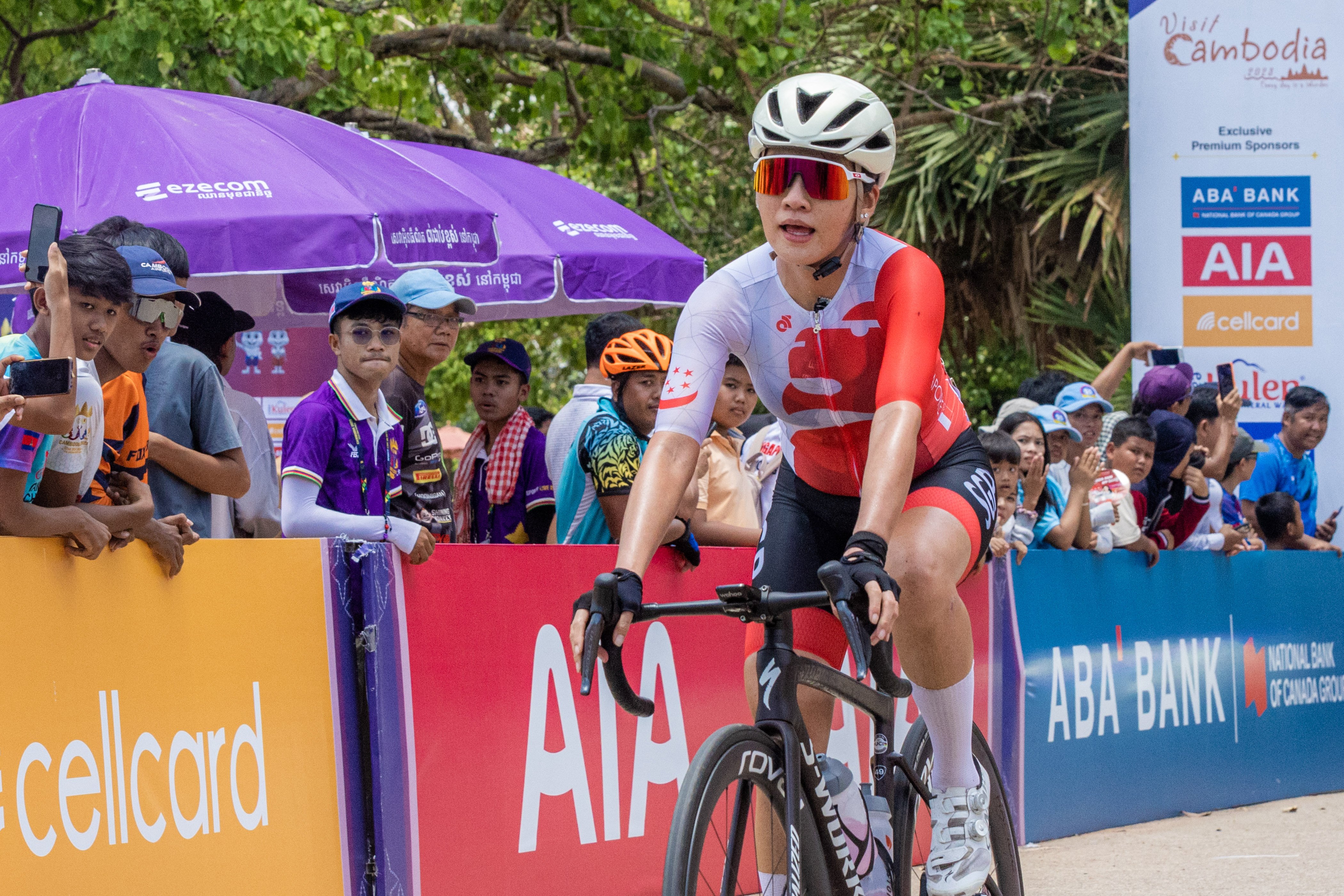 To make family, career and sport work, Foo's days start as early as 3.30am. Photo: SportSG/Dyan Tjhia
She said: "There's the ability to persevere when the going gets tough – there's just no option to give up! I have been told my threshold to endure pain is also rather high. I also think every mother can stand by this: our ability to multitask!"
While her children were not in Cambodia to watch her race, the family has plans to celebrate her achievement after the Games. Regardless of how things pan out, Foo knows she will bring experience, lessons and stories home to her children.
She said: "I always tell my kids to always chase their dreams and if they work hard enough, they will eventually get there. I hope they carry this motto with them throughout their lives."
The 32nd SEA Games are held in Cambodia from 5 to 17 May 2023. For the latest Team Singapore coverage and news, follow Team Singapore on their social media channels (Facebook, Instagram, TikTok) or visit the official Team Singapore website.
Related Topics
Related Events & Programmes
Related Topics