Cambodia 2023: Swimmers lift Team Singapore to 1,000th SEA Games gold
by ActiveSG Circle, on May 6, 2023
By May Chen
Swimming has always done the heavy lifting for Team Singapore at the SEA Games. It was therefore fitting that the opening night of the swimming competition at this edition ended with swimmers taking the Republic to a precious milestone.
The women's 4x100m freestyle quartet of Quah Ting Wen, Nur Marina Chan, Quah Jing Wen and Amanda Lim touched home first in the night's final event, winning Singapore's 1,000th gold in the history of the biennial event.
They finished in 3:44.29, beating the Philippines (3:47.96) and Thailand (3:50.01) to continue Singapore's stronghold on this event.
From left: Amanda Lim, Nur Marina Chan, Quah Ting Wen and Quah Jing Wen's win in the 4x100m freestyle relay was Singapore's 1,000th gold in SEA Games history. Photo: SNOC/Andy Chua
Said Jing Wen: "Honestly I didn't really know about it until my sister told me that our brother got the 999th (gold). It didn't really spark something in me until I realised after.
"It's a really cool feat. It looks nice on paper, it sounds good. All the better."
National head coach Gary Tan said: "Traditionally, we've always been strong at the SEA Games and I think that winning the 1,000th gold medal for Singapore, I'm so glad it's in Singapore Aquatics' court. I'm really pleased with that. No better way to end a day here."
Tan, a former national swimmer and Olympian himself, lauded his charges for coping well with challenges like the heat.
He said: "The whole team has got very positive vibes, all credit to the swimmers, they've done a fantastic job."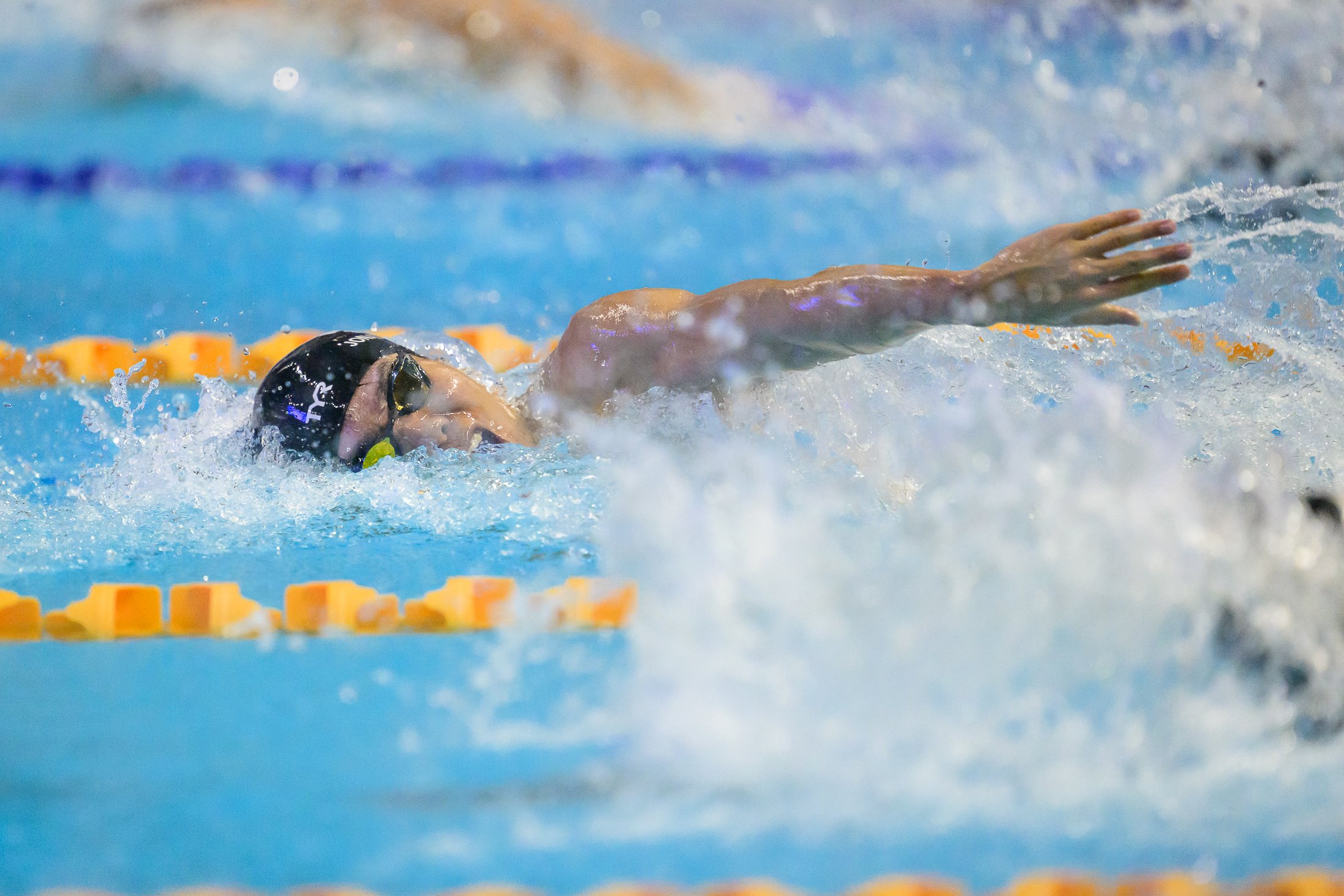 Jonathan Tan beat teammate Quah Zheng Wen to gold in the men's 100m freestyle, with both Singaporeans going under 49 seconds. Photo: SNOC/Andy Chua
In the night's earlier events, Jonathan Tan (48.80s) pipped teammate Quah Zheng Wen (48.99s) to the top of the podium in the men's 100m freestyle. Both Singaporeans had an eye on qualifying for the Paris 2024 Olympic Games, and powered home to produce new personal bests.
The result is a reverse of the last Games in Hanoi, when Quah finished with gold and Tan settled for silver.
"It went by faster than I thought," said Tan. "I was quite focused. A PB (personal best) is a PB and I'm quite happy about it.
"Both of us have been competing for very long, we've been training together, and Zheng Wen is an excellent teammate. Sometimes I win it, sometimes he wins it. I'm just happy to go below 49 seconds today."
Quah Zheng Wen retained his 100m backstroke title, winning it for a fifth straight Games. Photo: SNOC/Andy Chua
But Quah, a versatile swimmer who holds all three national records in the backstroke, ensured he would still finish the night with a gold. The 26-year-old finished first in the 100m backstroke in 55.22s, winning the event for what is now a fifth straight SEA Games.
His younger sister, Jing Wen, retained her title in the 200m butterfly. While she did not improve on the Games record of 2:09.52 set last year, her time of 2:10.63 was still good for gold.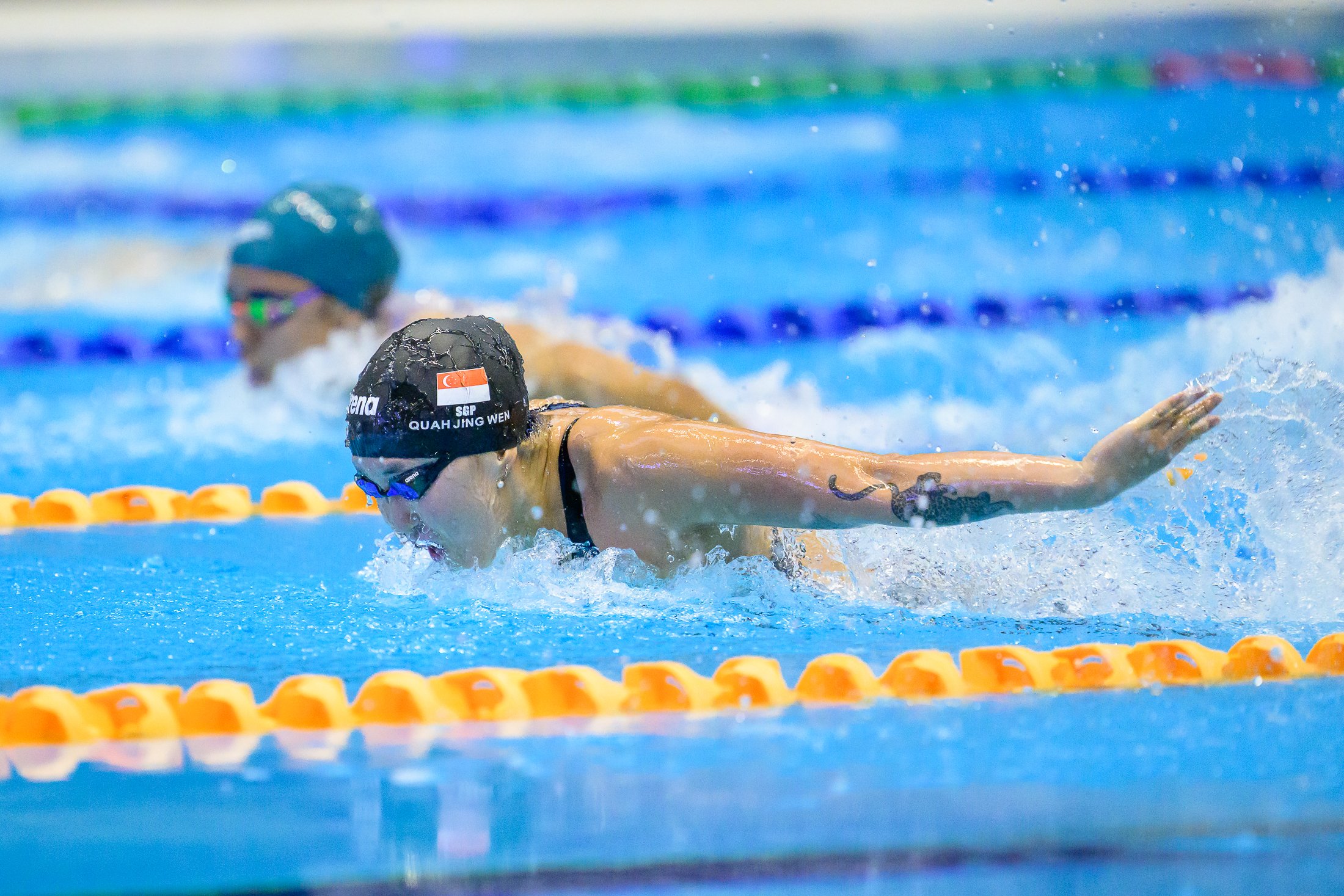 Quah Jing Wen won swimming's first gold of the night in the women's 200m butterfly. Photo: SNOC/Andy Chua
Letitia Sim and Zachary Ian Tan added two more bronzes to the haul in the pool, coming in third in the women's 50m breaststroke and men's 200m individual medley respectively.
The 32nd SEA Games are held in Cambodia from 5 to 17 May 2023. For the latest Team Singapore coverage and news, follow Team Singapore on their social media channels (Facebook, Instagram, TikTok) or visit the official Team Singapore website.
Related Topics
Recent Events & Programmes
Related Topics