Cambodia 2023 : Tennis Community in Full Praise of TeamSG's Milestone Achievements at the Games!
by ActiveSG Circle, on May 16, 2023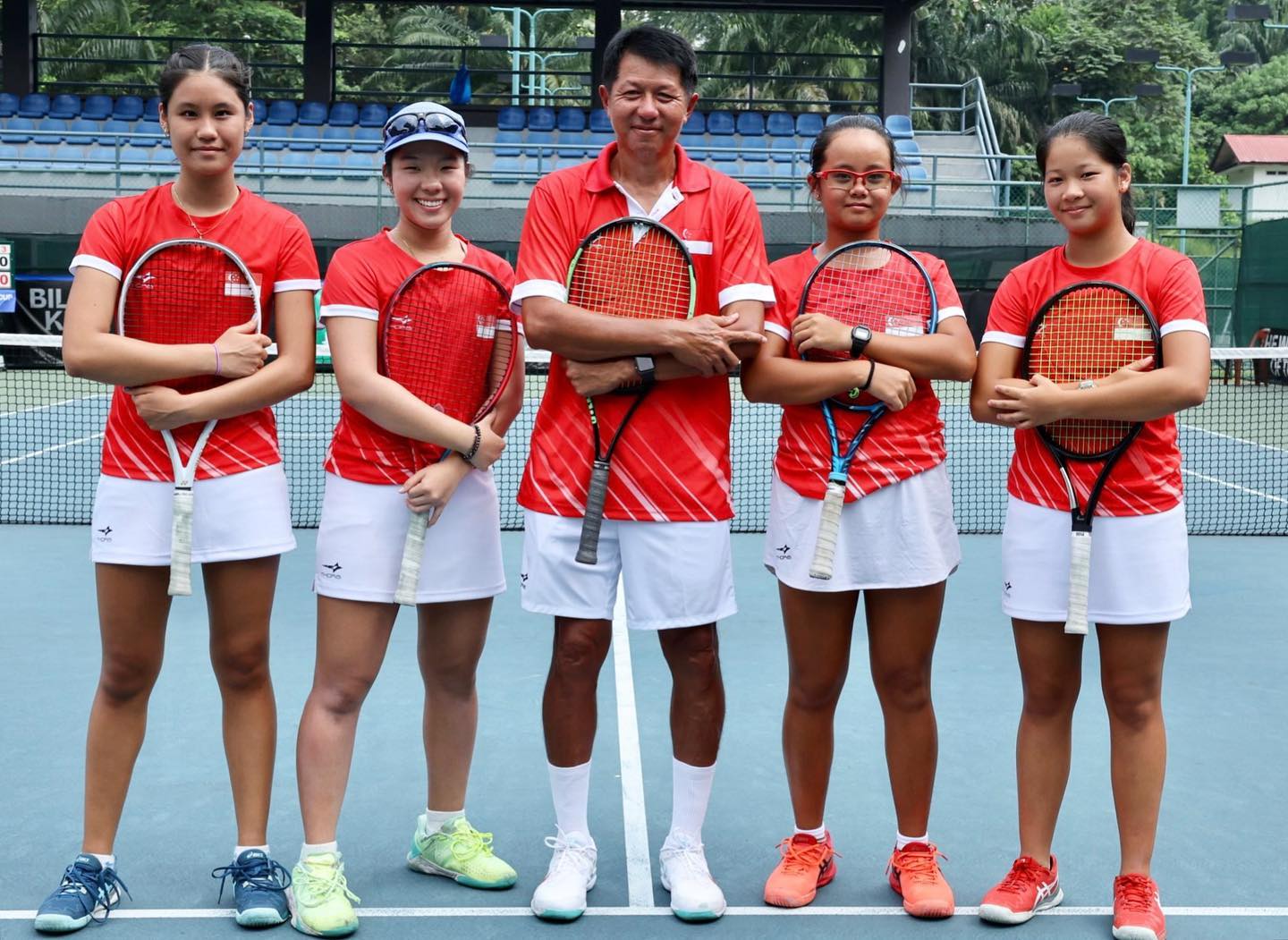 (From L to R) Alexis Lara Chua, Michelle Yeo, Coach/Captain Daniel Heryanta, Tan Sue Yan & Audrey Tong. Photo Credit : Singapore Tennis Association
Team Singapore's 4-member Tennis squad returned home from Cambodia 2023 on 13 May, with a great deal of memories, smiles, new friends and more importantly, a wealth of experience from having competed against their fellow regional peers in top-level competition. And the on-court performances by the Republic's young team in Phnom Penh, has earned praises and compliments from the local tennis fraternity. For the 1st time in the modern era, TeamSG had not 1 but 2 athletes competing in the Singles quarter-finals at the Southeast Asia (SEA) Games!
For the 32nd edition of the biennial Games, Singapore's Tennis Association (STA) decided to send 4 young first-timers, who'd risen through their youth development programmes. Led by national team coach Daniel Heryanta, TeamSG was represented on the tennis courts by Alexis Lara Chua, Michelle Yeo, Tan Sue Yan & Audrey Tong. It's been 6 years since the Republic last won a medal at the SEA Games and that was a bronze by Stefanie Tan in the Women's Singles at the KL 2017 Games. Onto Manila 2019, Charmaine Seah competed valiantly and featured in the quarter-finals. Lynelle Lim, who competed in the last 2 SEA Games campaigns, is currently recovering from injury while pursuing her tertiary studies in Virginia, USA. Thus, for the Cambodia campaign, all eyes turned to a new pool of talented players.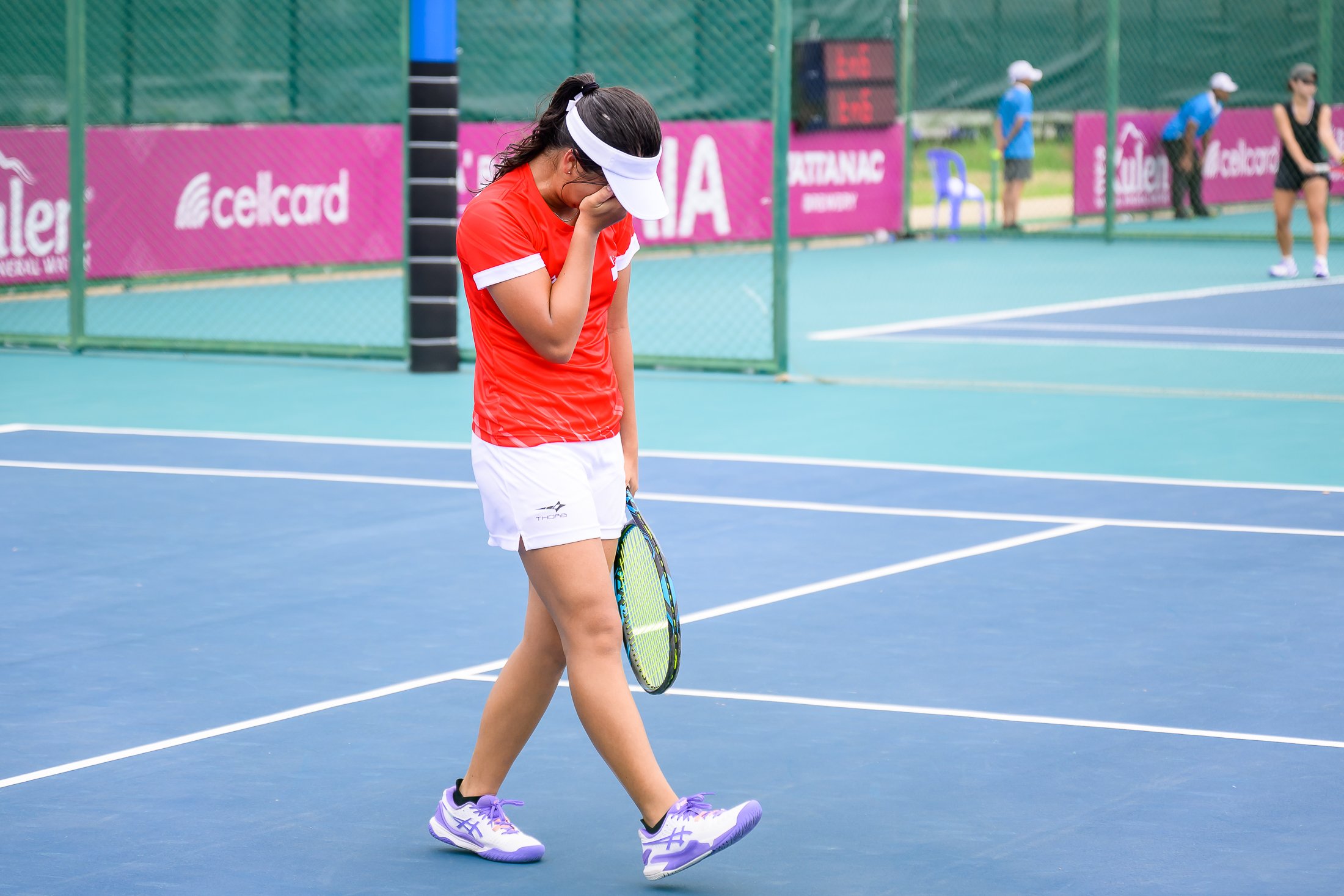 TeamSG's Audrey Tong was in tears following her SEA Games debut victory. Photo Credit : SNOC/Danny Toh
During the week-long tournament, the on-court performances by Tan Sue Yan and Audrey Tong in particular, were singled out for special mention. On her Games debut, 16 year old Audrey faced Vietnam's Pham Diem Quynh in the opening round of the Singles competition. And despite trailing 1-0 in the first set, the Anglo-Chinese School (Independent) student "rose to the occasion" and was rewarded with 6-4, 6-3 wins. The 2-1 victory allowed Audrey to book her place in the quarter-finals! It was a cause to celebrate as it marked the first win by a Singaporean at the SEA Games in 4 years!
The victory by the 2-time National School Games gold medallist, was quickly followed by even more good news, as Sue Yan triumphed in her opening round match against Lao's Malayack Pathummakarunen. The Singaporean teenager won the opening set 6-1. And although, her opponent put up a much stronger fight in the 2nd set, Sue Yan went on to win 7-5 and 2-0 overall.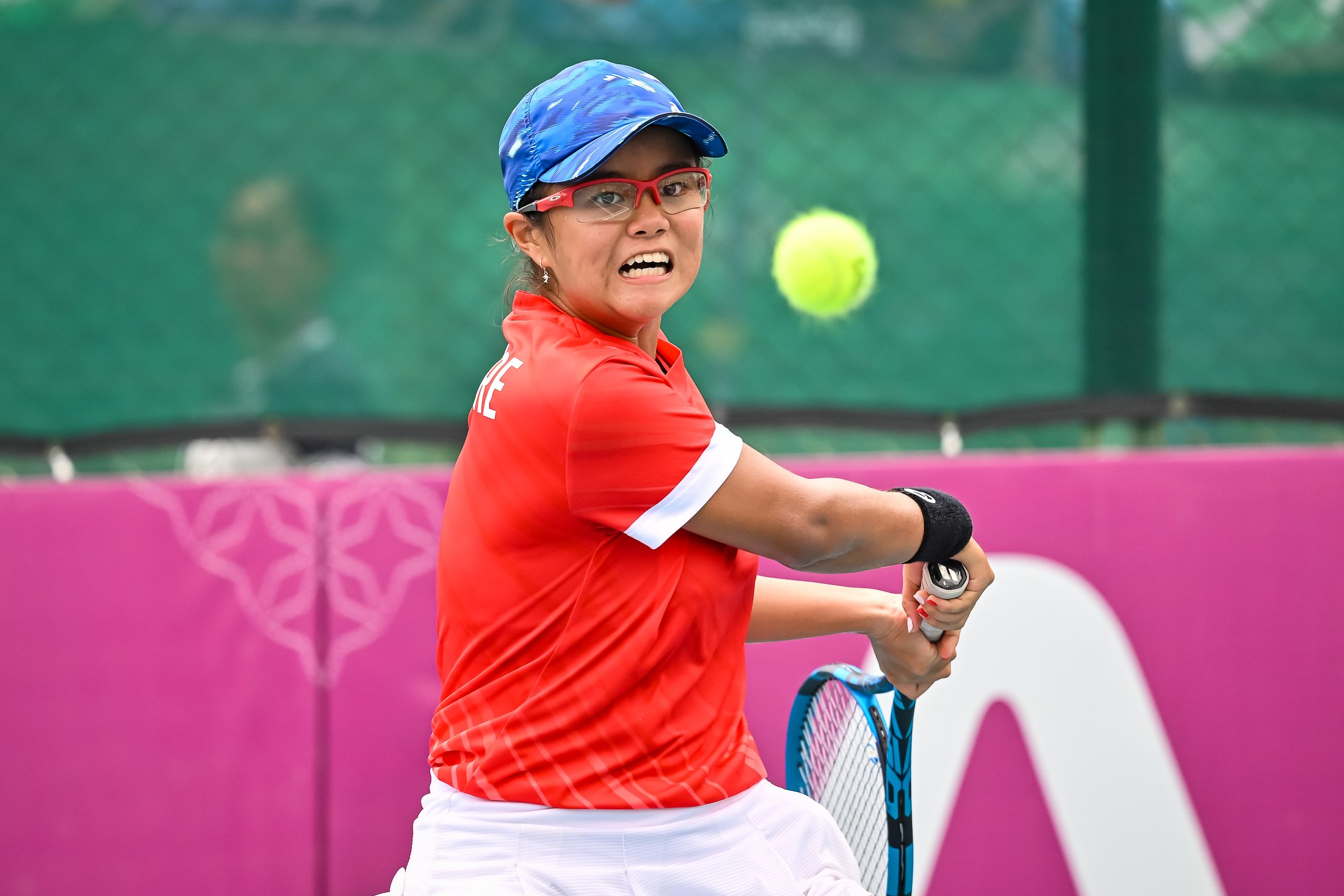 TeamSG's Tan Sue Yan faced a Laotian opponent in her 1st round Singles match. Photo Credit : SNOC/Danny Toh
Over in the quarter-final stage, both Singaporean debutants went on to feature against players who are currently ranked in the international circuit. TeamSG's Audrey Tong took on the top seed, Priska Nugroho (Indonesia) and Sue Yan was up against 4th seeded, Savannah Ly Nguyen (Vietnam). And although the Republic's teenagers battled hard but couldn't progress further in Cambodia, they've certainly earned the admiration, respect and appreciation from the local community.
Jasmine Quek (President, Singapore Tennis Association), was elated over the team's performances in Cambodia. "The STA is proud of our ladies' team making their debut at SEA Games 2023. Kudos to their years of hard work and dedication, and the steadfast support from their parents and coaches. We are especially delighted that Audrey Tong and Tan Sue Yan had a great week, reaching the quarter-finals in the singles event. Despite their respective losses to the No. 1 and No. 4 seeds (both WTA-ranked players) Audrey and Sue Yan brought their A game, put up a spirited fight, and did us proud. We hope they will inspire our younger generation of tennis juniors to realise their dream of representing Singapore at the major games," said Jasmine.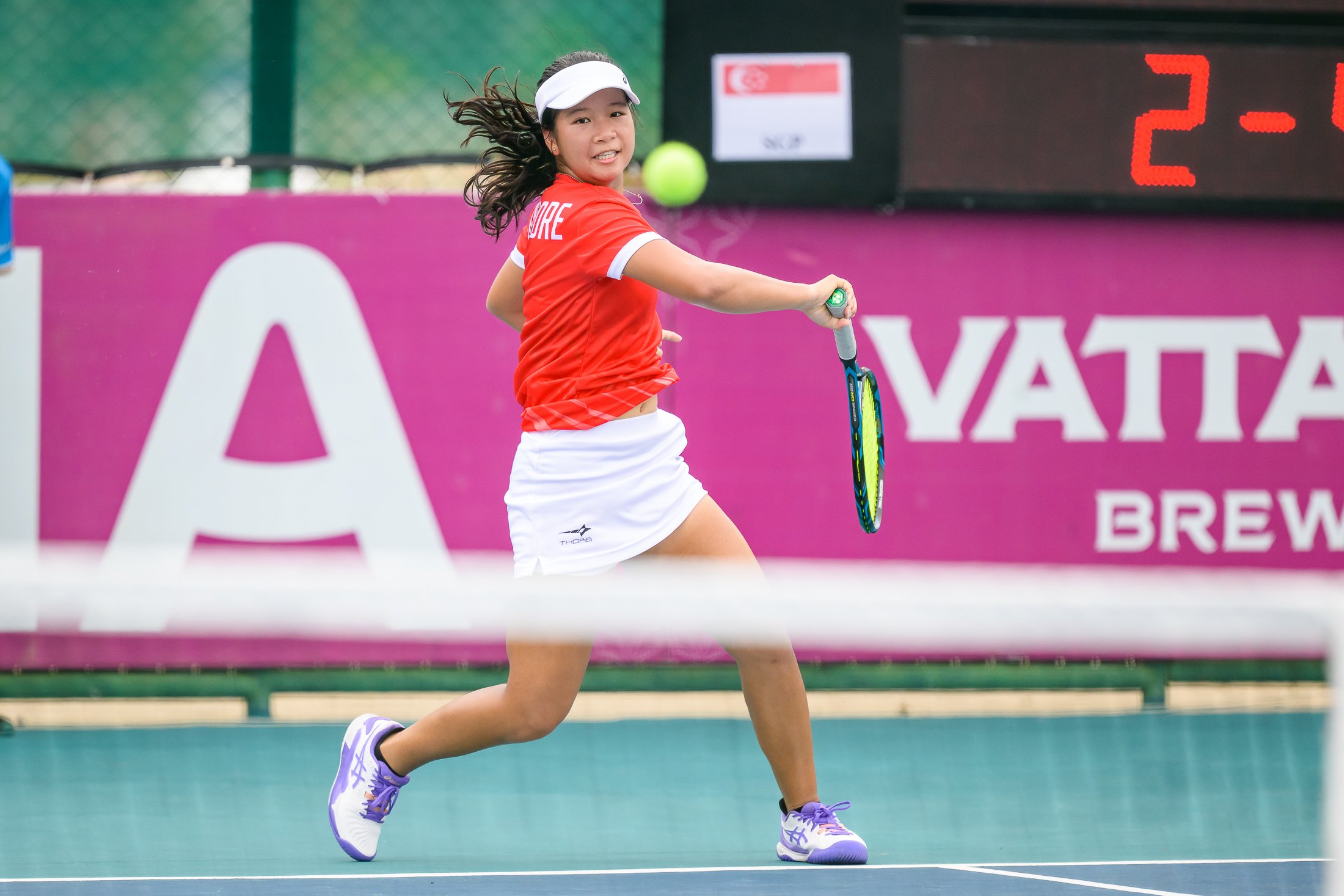 TeamSG's Audrey Tong fought hard in her SEA Games quarter-final clash against top seed, Priska Nugroho. Photo Credit : SNOC/Andy Chua
Wilson Tay (General Manager, Singapore Tennis Association) says, the time and resources invested in STA's youth development programmes, are now starting to bear fruit. "STA hopes that the performance of the girls at the SEA Games, will inspire our juniors to pursue tennis excellence and build upon their momentum for future editions of the Games, especially for the SEA Games in Singapore 2029. STA will continue to support the athletes' pursuit of tennis excellence via our National pathway and athlete support programs. This includes the national training squad and the national youth squad scholarship. Special Thanks must go to the Singapore Sport Institute, which has been instrumental with their support towards development of tennis in Singapore," commented Wilson.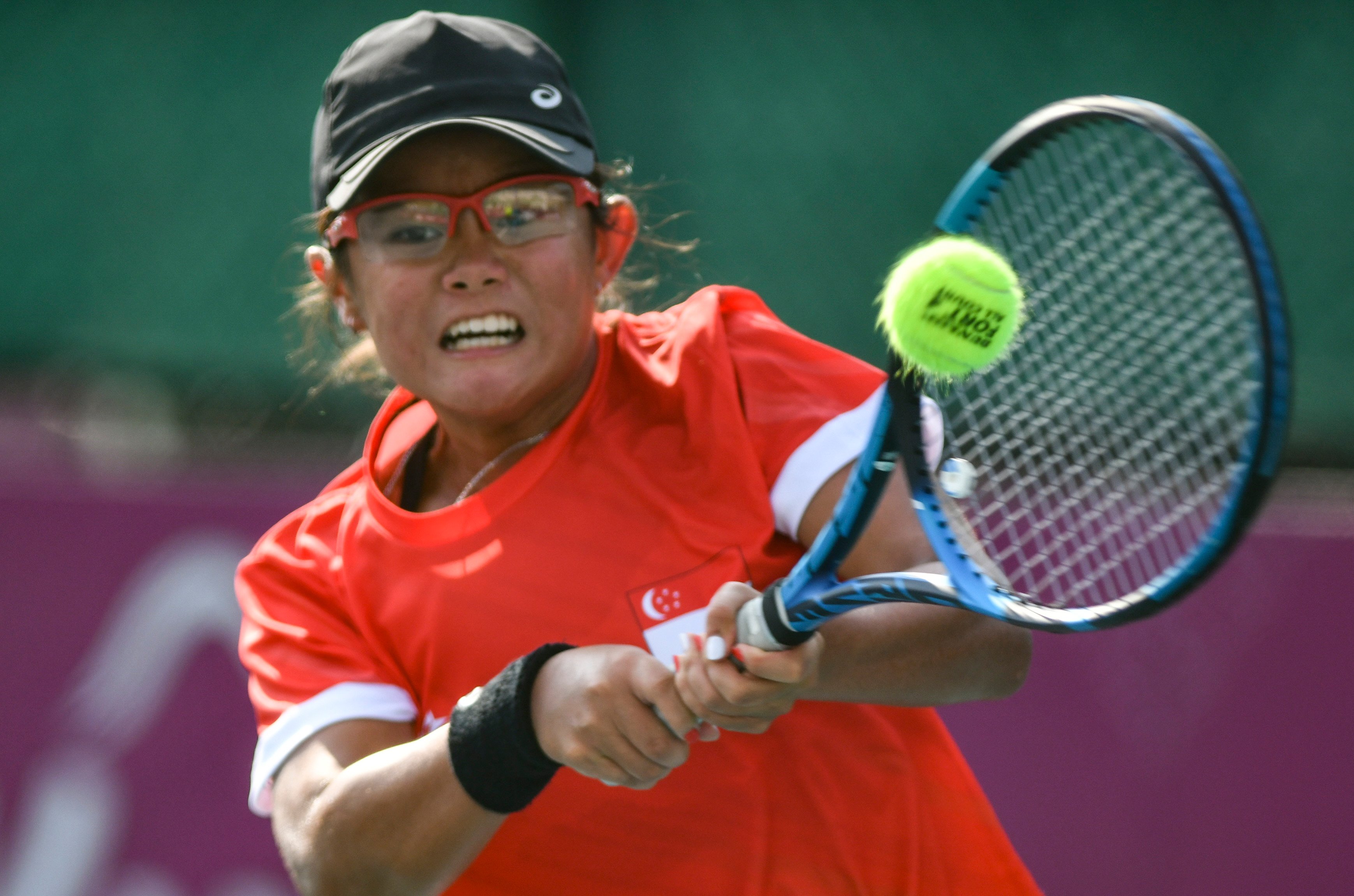 TeamSG's Tan Sue Yan featured in the quarter-final clash against 4th seed, Savannah Ly Nguyen(VIE). Photo Credit : SNOC/Andy Chua
The success of seeing not 1 but 2 Singaporeans in the quarter-finals of a Major Games for the 1st time, is by no means an easy feat to achieve. The level of work and time put in by the Coaching staff over the years, must surely be lauded.
Daniel Heryanta (Head Coach, Team Singapore), is generally satisfied with the squad's performances at the Games. "The team had a good run in Cambodia. Their performances are very promising and they did well at all their matches. They've shown a lot of improvement from their previous international events. They'll continue practicing hard and playing more overseas tournaments. We'll take all the experiences gained in Cambodia and continue building their game," added Heryanta.
The national coach also stressed, "Looking at Audrey, I can see her improvement in the overall aspects of her game in terms of technical, tactical, mental and physical. She did well in both her singles and doubles matches respectively. This will certainly provide her with motivation to improve her game even further as a player. As for Sue Yan, she also played well in all her matches especially, in the singles quarter-final match. Likewise, her performances against the WTA ranked players have been very promising and encouraging. I'm sure in time to come, Sue Yan will be able to maximize her fullest potential in major games and international tournaments."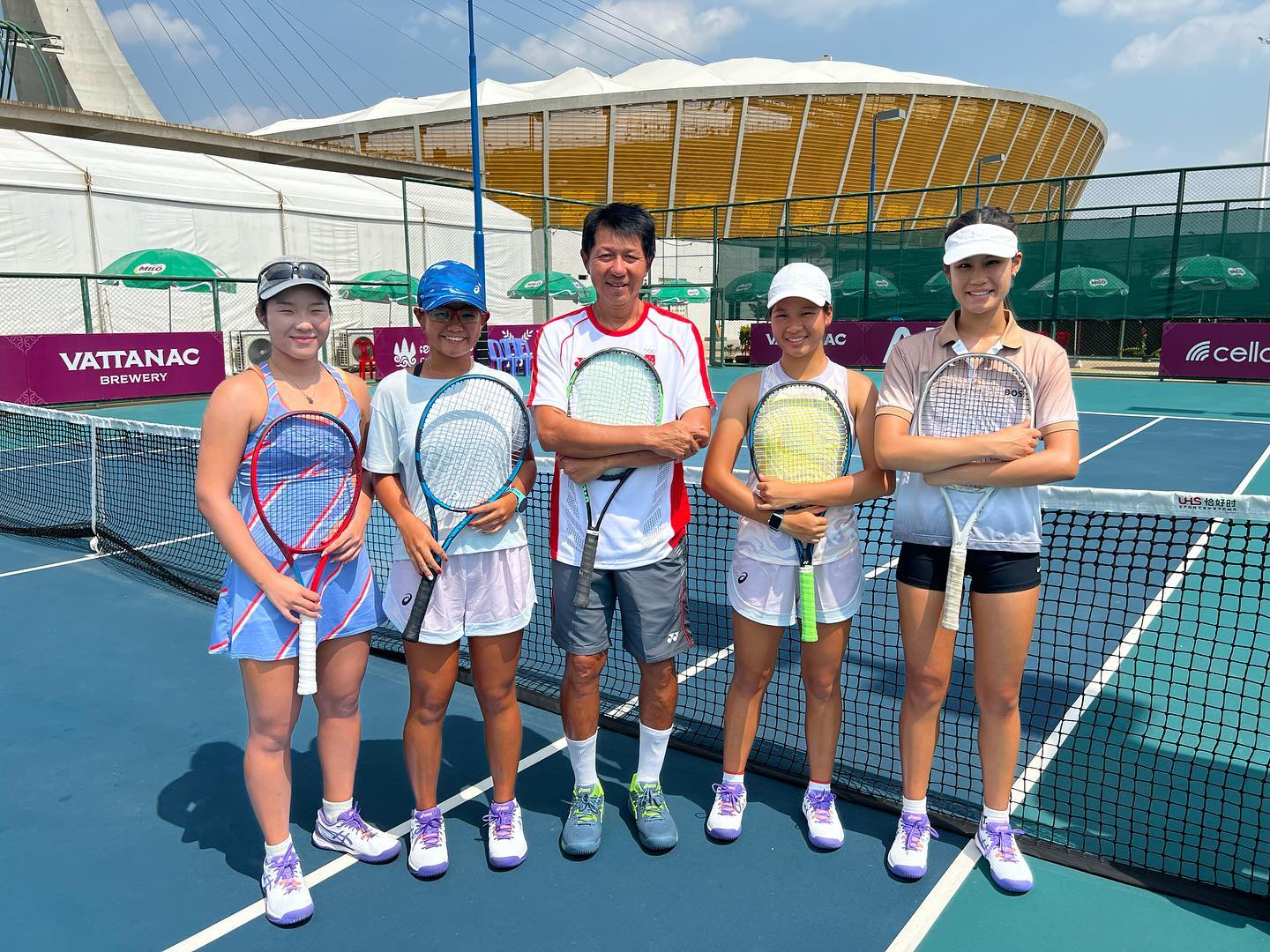 (From L to R) TeamSG's Michelle Yeo, Tan Sue Yan, Coach/Captain Daniel Heryanta, Audrey Tong and Alexis Lara Chua in Cambodia. Photo Credit : Singapore Tennis Association
Former TeamSG player Stefanie Tan, who won the Singles bronze medal in KL 2017, was excited over the 2 victories in Cambodia. "I think the results are encouraging for them to have secured a win each, as Audrey and Sue Yan can take pride in knowing they can compete and perform against the best in Southeast Asia, despite only being juniors. They can definitely learn a lot from this experience and look to grow and continue developing their game," highlighted Stefanie.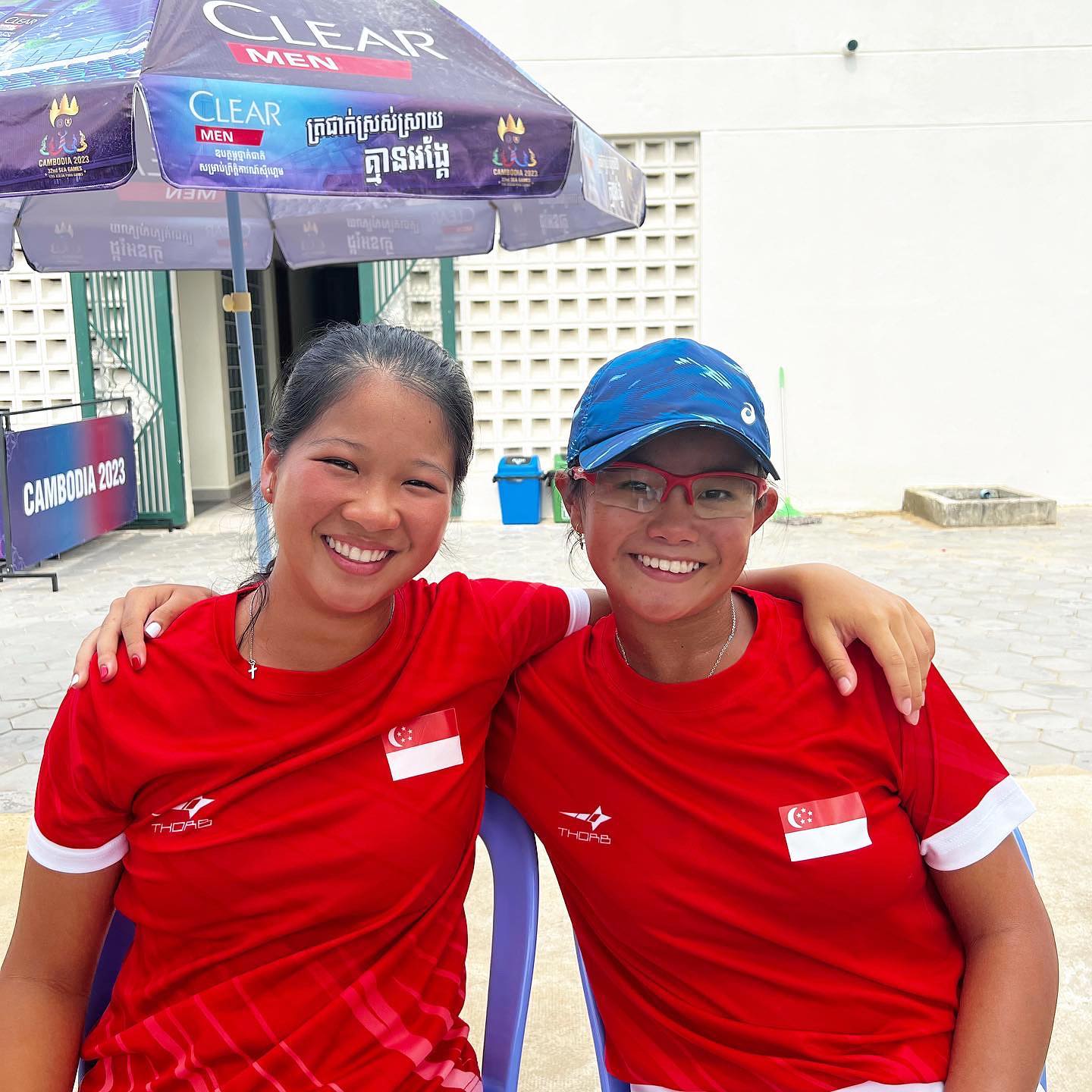 TeamSG's Audrey Tong and Tan Sue Yan at Cambodia 2023. Photo Credit : Geraldine Cho
Having coached the National Tennis squad at the 2010 Youth Olympic Games and previous SEA Games campaigns, Boyan Hadjisotirov has been working on Audrey's gameplay in the last 12 months. And the Bulgarian is overjoyed by her historic SEA Games debut. "Audrey's been working with Logan McKenzie and Stefanie Tan since 2020 and I came in last year, to help prepare her for the Cambodia Games. Audrey also trains with the National Squad at Kallang with coach Daniel Heryanta. So it's been an overall team effort to get her ready.
Audrey also juggles between school work, being a leader at school, charity work and tennis. Not an easy life. That's why it's remarkable, what she was able to achieve with less than the ideal number of training hours and competition. But she's very focused and dedicated when she trains and somehow, manages to compensate. It was good that Singapore sent a young team to Cambodia and they represented the country well. This gives us hope for the future success in SEA Games and beyond and for the further improvement of the local tennis environment, especially with the new Kallang Tennis Centre being built as well. This is also an attestation of the good work STA has been doing," added Boyan.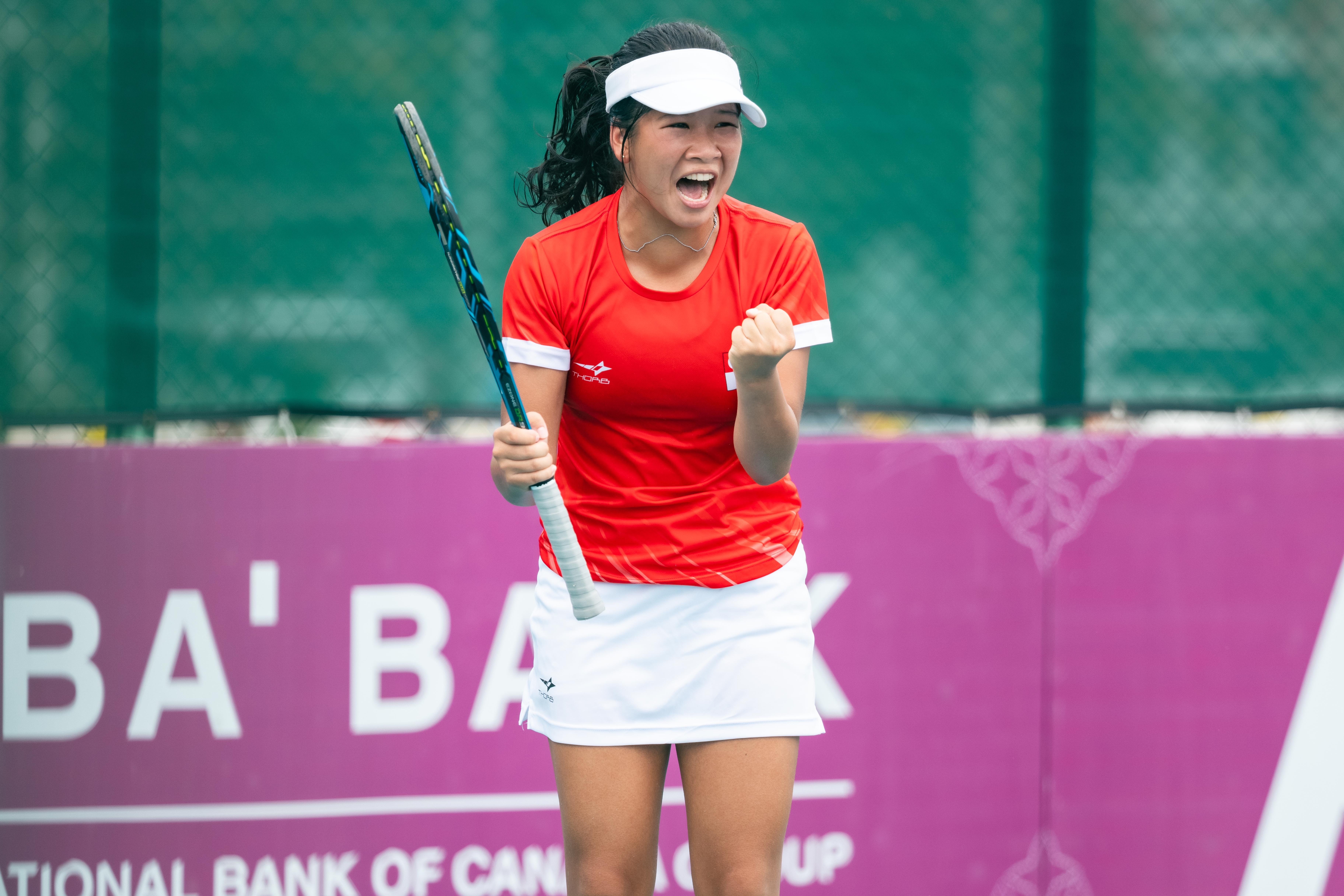 Audrey Tong celebrates after a crucial point won. Photo Credit : SNOC/Eng Chin An
The phenomenal success achieved by our teenage tennis sensations, has also resonated well with members of the public. They include former TeamSG Youth Player & Current Freelance Tennis Coach, Ewan Mah. "I think it bodes well for the future of Singapore tennis, especially for Audrey and Sue Yan. They both came very close to reaching the semis and a chance at a medal. And it's been a while since any Singaporean tennis player, man or woman, has come that close in singles competition. For them to be 16, shows that overall, we are still competitive--but then the question becomes - do we have what we need to support them, if they want to progress further as pros. I think the tennis community will definitely be rooting for them to go as far as they possibly can in their tennis careers.
Reaching the quarter-finals is also very good for the next generation of players here and something for our U14s, 12s and the rest to look to aspire to. This next generation will be thinking, IF Audrey and Sue Yan can do it, then they probably can too," highlighted Ewan.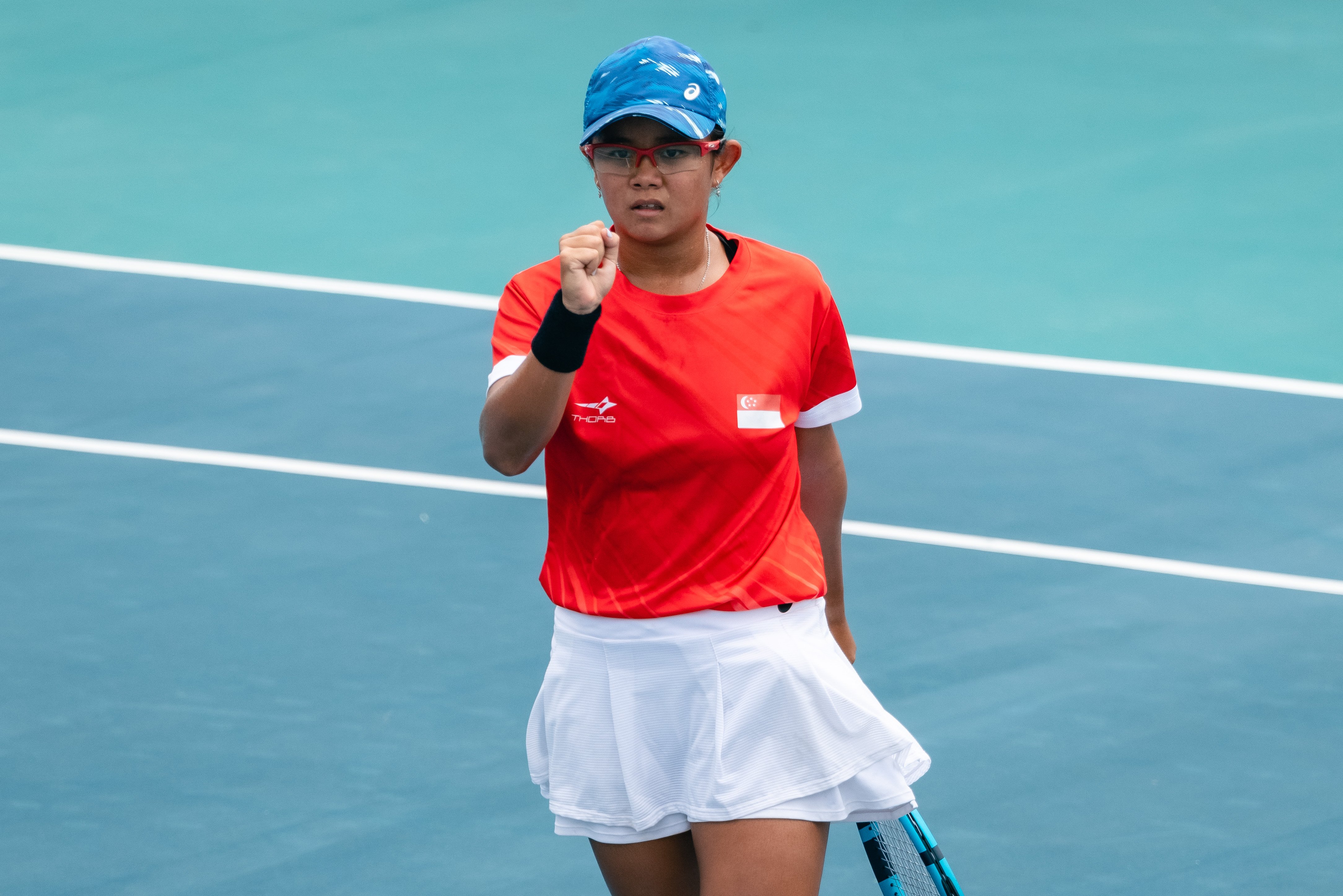 Tan Sue Yan's calm look after claiming a point during the match. Photo Credit : SNOC/Eng Chin An
Echoing Ewan's sentiments was Business owner and full-time tennis coach, Shaun Aw Yong. Having watched the sport of tennis for well over 3 decades, Shaun was extremely proud to learn of the achievements by Audrey and Sue Yan. "Hard work pays off! It's really heartening when we see our Singapore juniors who've trained so hard, represent us on the big stage. I think it will inspire the younger juniors to push themselves harder, seeing what our Singapore girls have accomplished," commented 43 year old, Shaun.
He further added, "I think the Singapore Tennis Association is on the right track, with the youth pathway programme currently in place. We have structured tennis programmes available for all ages ranging from 4 to 18 years old. And furthermore, with all the big tournaments coming in to Singapore, we hope to be seeing a few homegrown champions in time to come."
Just before the tennis squad departed for Singapore on 13 May, ActiveSG Circle managed to check in with the 2 aspiring teenagers, for their brief thoughts on Cambodia 2023. Catch the 2-time National School Games gold medallist and Team Singapore athlete, Audrey Tong (see below).
TeamSG's Audrey Tong with her thoughts on Cambodia 2023. Photo Credit : SNOC/Andy Chua. Video Credit : Singapore Tennis Association and Sport Singapore
Catch SEA Games debutant and TeamSG athlete,

Tan Sue Yan

(see below)


TeamSG's Tan Sue Yan reflects on her experiences in Cambodia 2023. Photo Credit : SNOC/Andy Chua. Video Credit : Singapore Tennis Association and Sport Singapore
2023 marks the 32nd edition of the Southeast Asian Games, as the kingdom of Cambodia is also staging the biennial event for the very first time. As for Singapore, with a new world-class Tennis Centre opening soon, plus the sound and proven youth pathway programmes in place by STA, the dream of winning our 1st tennis gold medal in the SEA Games, might just become a reality very soon! And once that goal is achieved, the sky's the limit!
The 32nd SEA Games are held in Cambodia from 5 to 17 May 2023. For the latest Team Singapore coverage and news, follow Team Singapore on their social media channels (Facebook, Instagram, TikTok) or visit the official Team Singapore website.
Recent Events & Programmes