Cambodia 2023: Unfurling the big flag – Team Nila makes presence felt
by ActiveSG Circle, on May 16, 2023
By Philip Goh
In SEA Games lore, there is a dazzling fan from Thailand who used to turn up at multiple venues, dressed up to the nines and always banging his drum, making his presence felt as a one-man Thai superfan. Parinya Weerawong is a familiar sight at all major sporting events to cheer athletes from his home nation.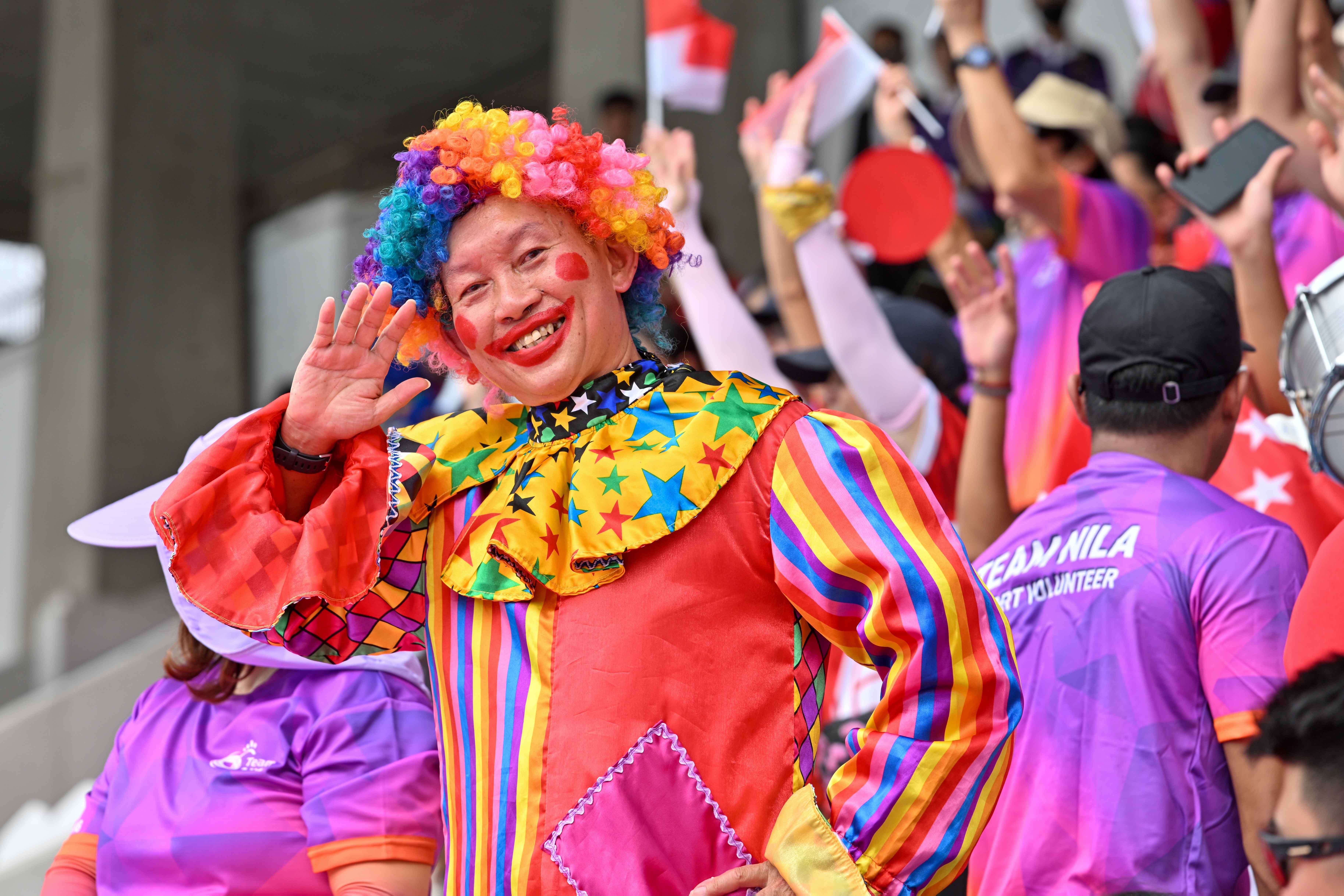 Not Weerawong but Singapore's Team Nila version. Photo: Team Nila/Johnny Tay
But now Weerawong has a major rival to contend with, and they are just as noisy, just as passionate and also ever-present. They are the dedicated group of Singapore fans known as Team Nila, and you can't mistake their presence as they are always decked out in their ubiquitous royal purple, much like the official colours of Wimbledon.
This time in Cambodia, there are 168 of them split into two teams, travelling the venues and lending their voice (and instruments) to supporting athletes from the Lion City. And not only have their voices been heard, their actions have spoken loud and true.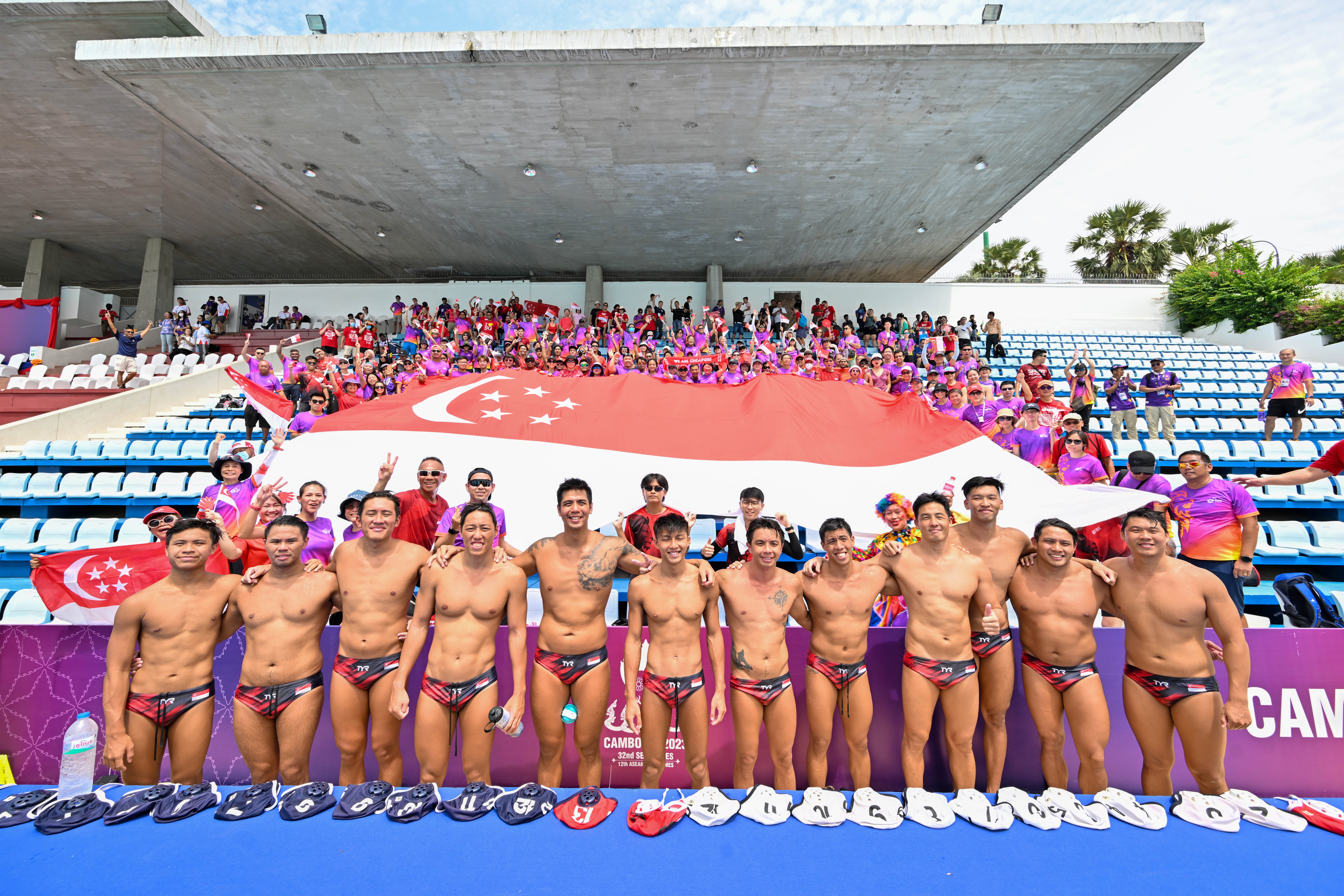 A giant flag to show giant support for Team Singapore. Photo: Team Nila/Johnny Tay
Team Nila was at the Olympic Swimming Centre to show support for the national men's water polo team by unfurling a giant Singapore flag in the stands which the team faced when singing the national anthem, uplifting the team.
They created such an atmosphere that Team Singapore officials claimed it "made them feel like they were playing back in Singapore". The "home ground advantage" must have helped as the men's water polo team have motored to three straight wins and look on course to achieving their target.
Team Nila is a national sport volunteerism project started in 2015, engaging the community through five giving platforms, namely: Active Health, sport centres, SportCares, ActiveSG academies and clubs, and sporting events.
Only a fraction of the 5,000-strong army has been activated for Cambodia from May 11-16 to support and cheer for Team Singapore athletes while building friendship among volunteers.
They've been soaking in the SEA Games atmosphere, learning from each other how to cheer and uplift the atmosphere at the sporting venues. A selection of these volunteers and leaders will be part of the volunteer force for future large-scale international competitions and to co-organise more Team Nila events back in Singapore.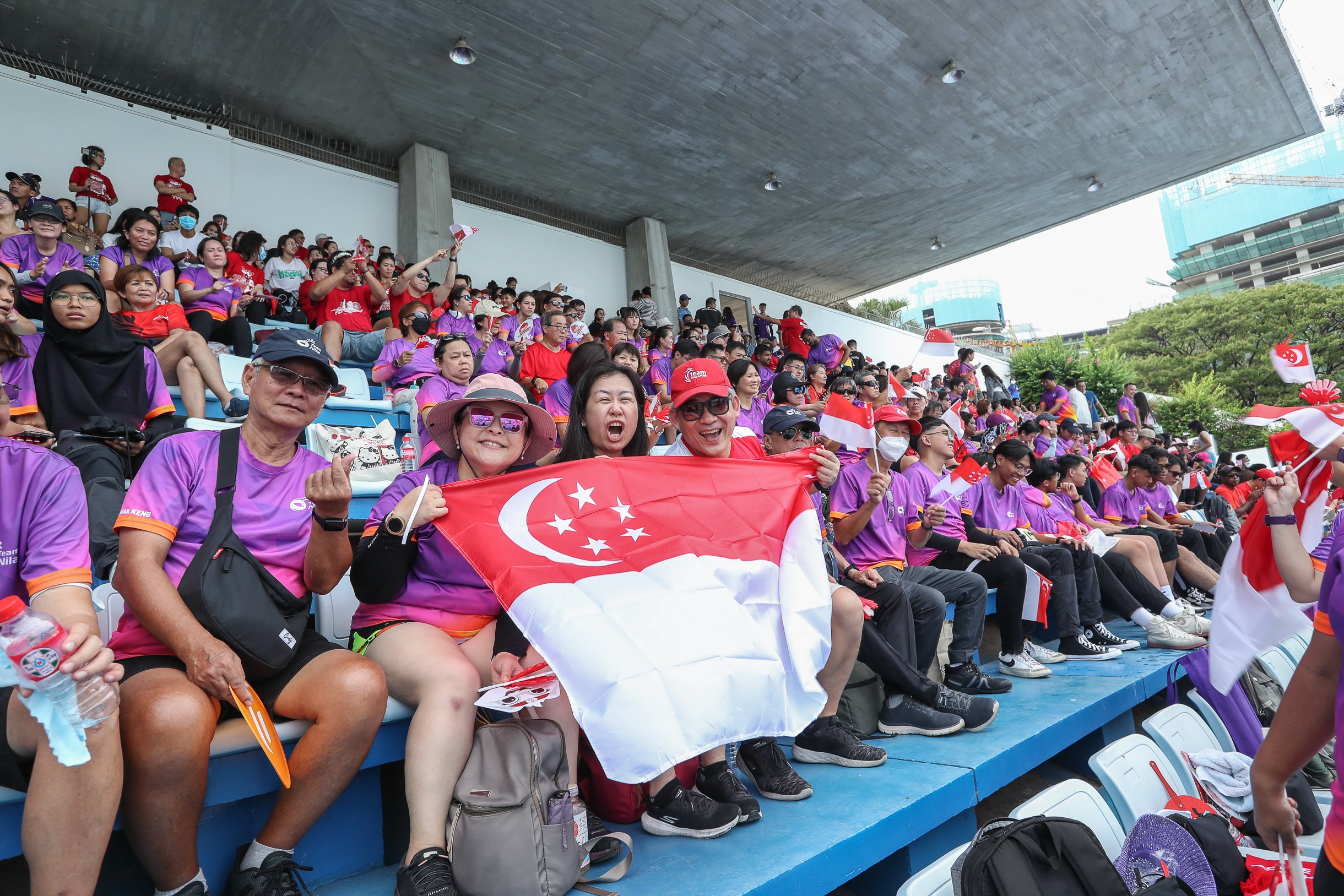 Singapore in our hearts, Team Nila members fill the stands and the stadium with noise. Photo: Team Nila/Johnny Tay
The group in Cambodia comprises active Team Nila volunteers and veterans who have joined the project since 2015.
Take Sam Cheong for example, the 61-year-old football lover counts former Singapore skipper Samad Allapitchay as his favourite sportsperson, someone many of his fellow Team Nila friends would have no idea about, yet he's there rooting for Team Singapore athletes like the true sports fan that he is.
A Team Nila member since December 2018, Sam learnt about Team Nila when collecting his Singapore Marathon race pack that year. The freelance STEM (Science, Technology, Engineering and Mathematics) trainer loves getting involved with sports, and being a Team Nila member allows him to help promote sports while giving back to the community, apart from making new friends.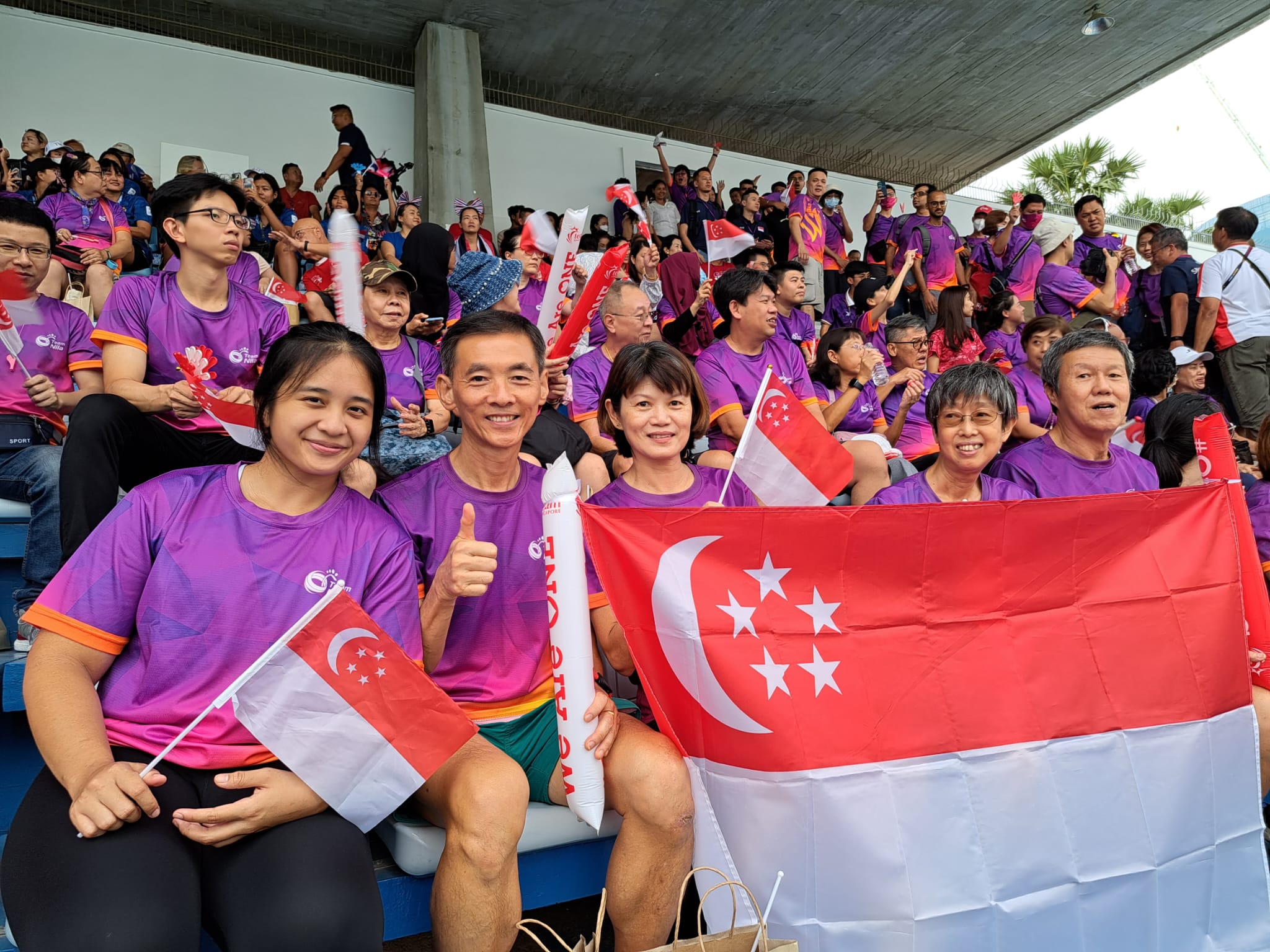 Sam Cheong and his wife Sherlene (on his left) in Cambodia. Photo: Team Nila/Sam Cheong
Cambodia is his first overseas outing with Team Nila, and he's glad to be part of this big family, and thankful to see the programme well-supported by Active SG. And speaking of family, Sam's wife Sherlene Lim is also with him in Cambodia. The 59-year-old is also a Team Nila member, making this activity a family affair.
Lim Hwee Leng is another Team Nila member who has been active for five years. The 52-year-old logistics manager counts high intensity training and hiking among her regular activities and has been to several events with Team Nila, including the World Table Tennis Championships, the HSBC 7s, FIBA 3x3 and the Standard Chartered Marathon back home.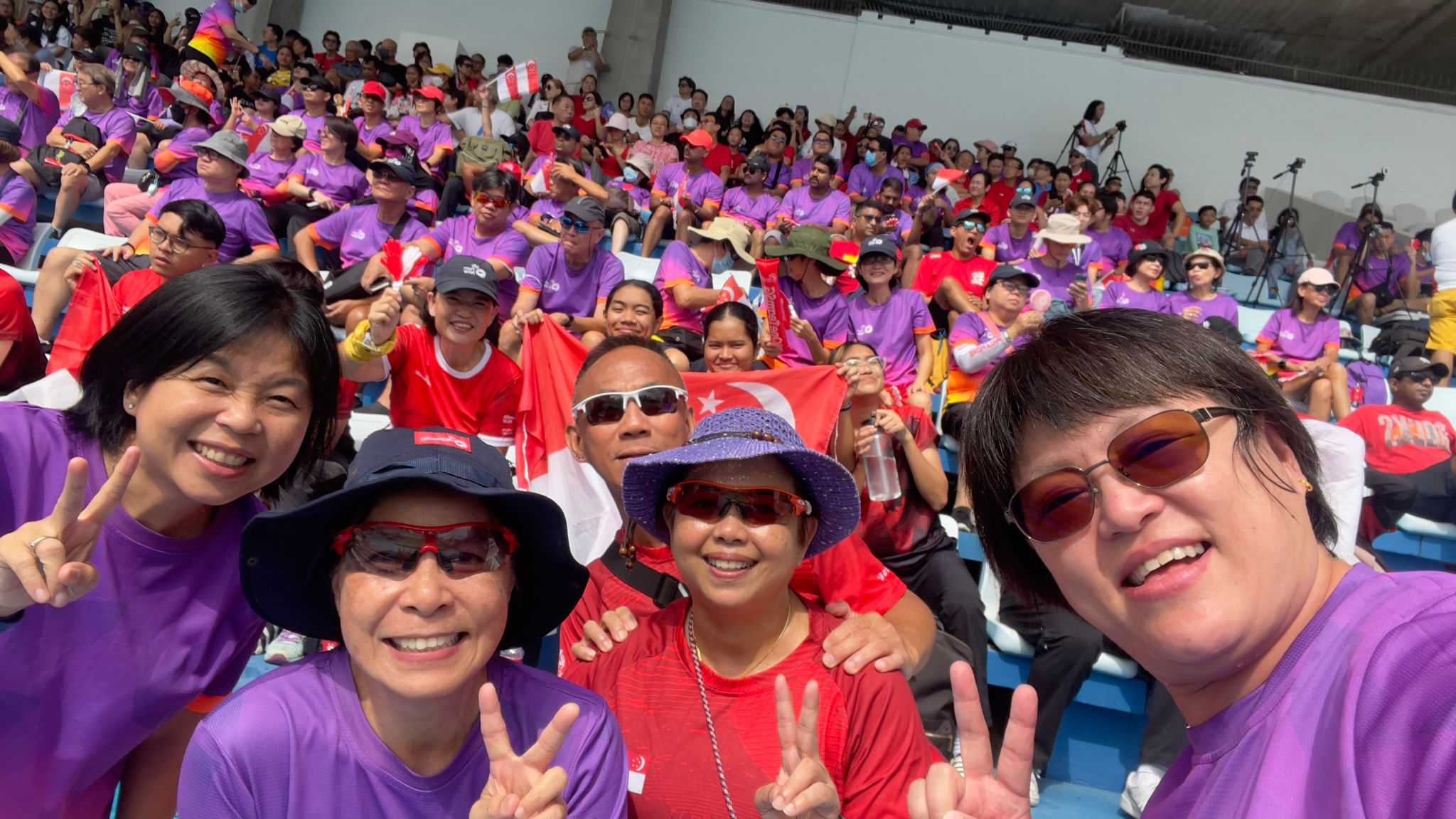 Lim Hwee Leng (far right) enjoying the atmosphere with her Team Nila friends. Photo: Team Nila/Lim Hwee Leng
It was her friend and fellow Team Nila volunteer, Haniza, who pulled her into the group, and she thanks Haniza for giving her the opportunity to grow, build up her confidence level and make many friends.
"My favourite sport is Basketball and my favourite Singapore sportsperson is Joseph Schooling," says Hwee Leng, who has cheered on the water polo and hockey teams since arriving in Cambodia.
Summing up her experience with Team Nila, she says it's "very inspiring and fulfilling".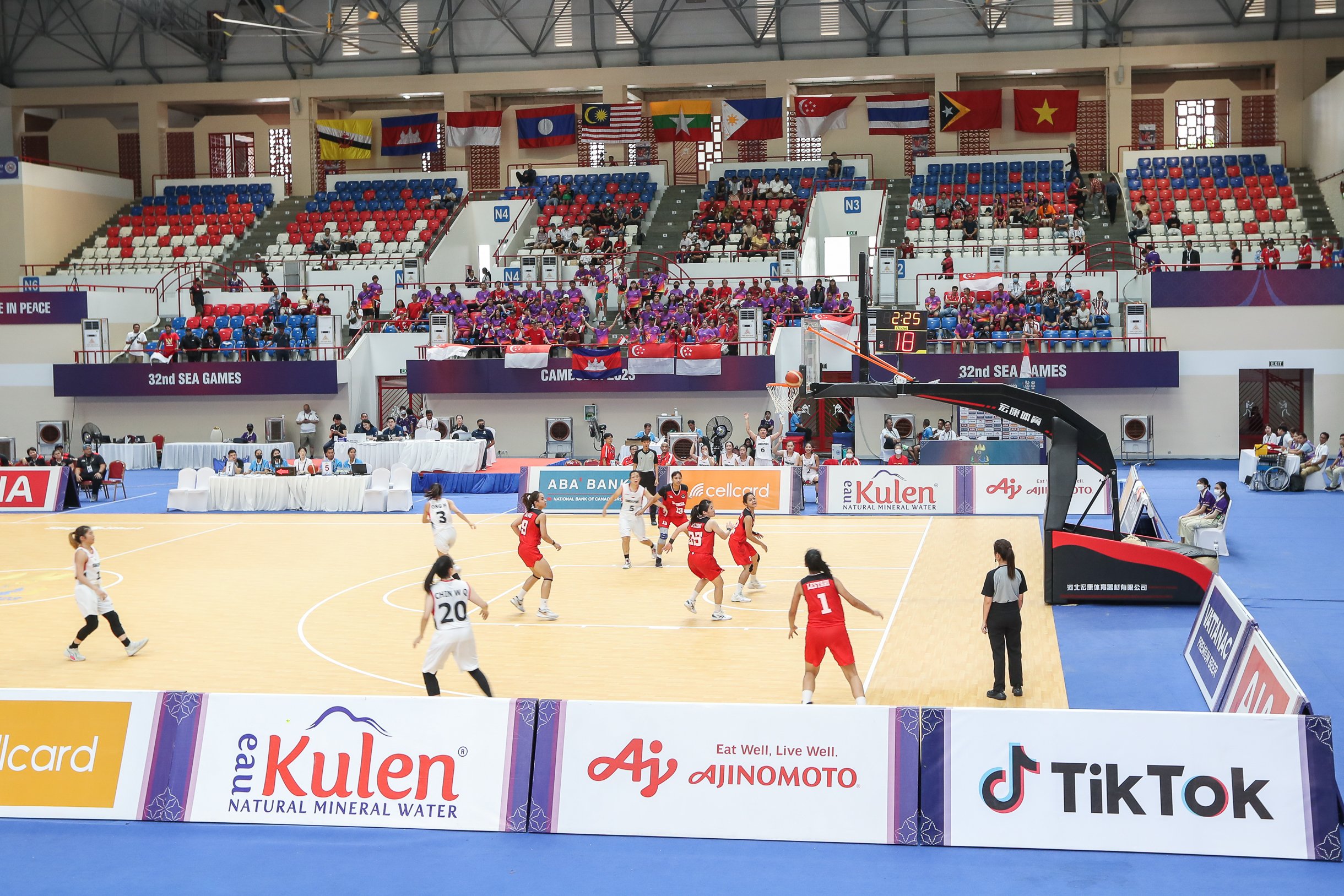 Team Nila at the Morodok Techo Stadium supporting Team Singapore basketball. Photo: Team Nila/Andy Pascua.
Muhammad Nor Nash'Syahbil bin A Jeffere and Noor Ilfan Syadudin bin Zalizan are both in Cambodia via SportCares, the philanthropic arm of SportSG. Established in 2012, SportCares serves to enable vulnerable individuals and persons with disabilities to experience and reap the benefits of sport by instilling confidence and elevating one's outlook on life, as well as cultivating a spirit of sport philanthropy among corporates and community partners.
One of 20 youths on the SEA Games learning journey with Team Nila, 19-year-old Nash'Syabil is having a good time in Cambodia in his maiden outing as a Team Nila member.
"I enjoy the volunteering work that I've done with Team Nila and I like how Team Nila bonds everyone together as one team," he said. "What I enjoy the most is cheering with Team Nila, we gave our very best and all of our energy to support Singapore at these Games."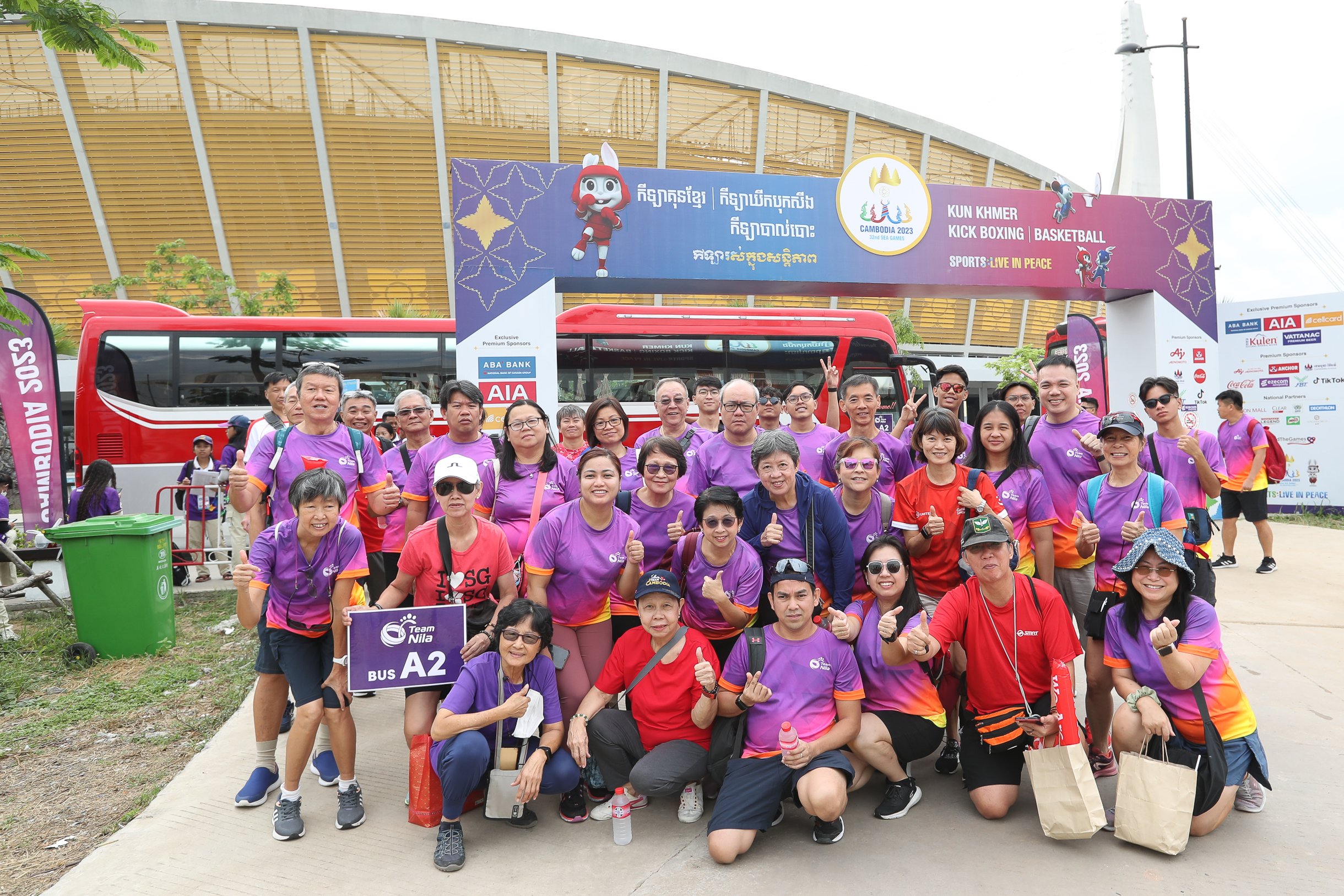 Watch out, here comes Team Nila to liven up the atmosphere. Photo: Team Nila/Johnny Tay
Still in school, Nash'Syabil loves football and is also an active sportsman. He's also a big fan of footballer Ikhsan Fandi. In Cambodia, he's watched water polo, basketball, hockey, swimming, and says he's proud "to cheer with Team Nila. We gave our hearts and soul despite the humid weather!"
Meanwhile, 19-year-old ITE student Noor Ilfan, who is a huge sports fan, is in his element at the Cambodia Games, his first major Games outing. The regular SportCares participant is an avid Team Nila volunteer, and enjoys the camaraderie within the group.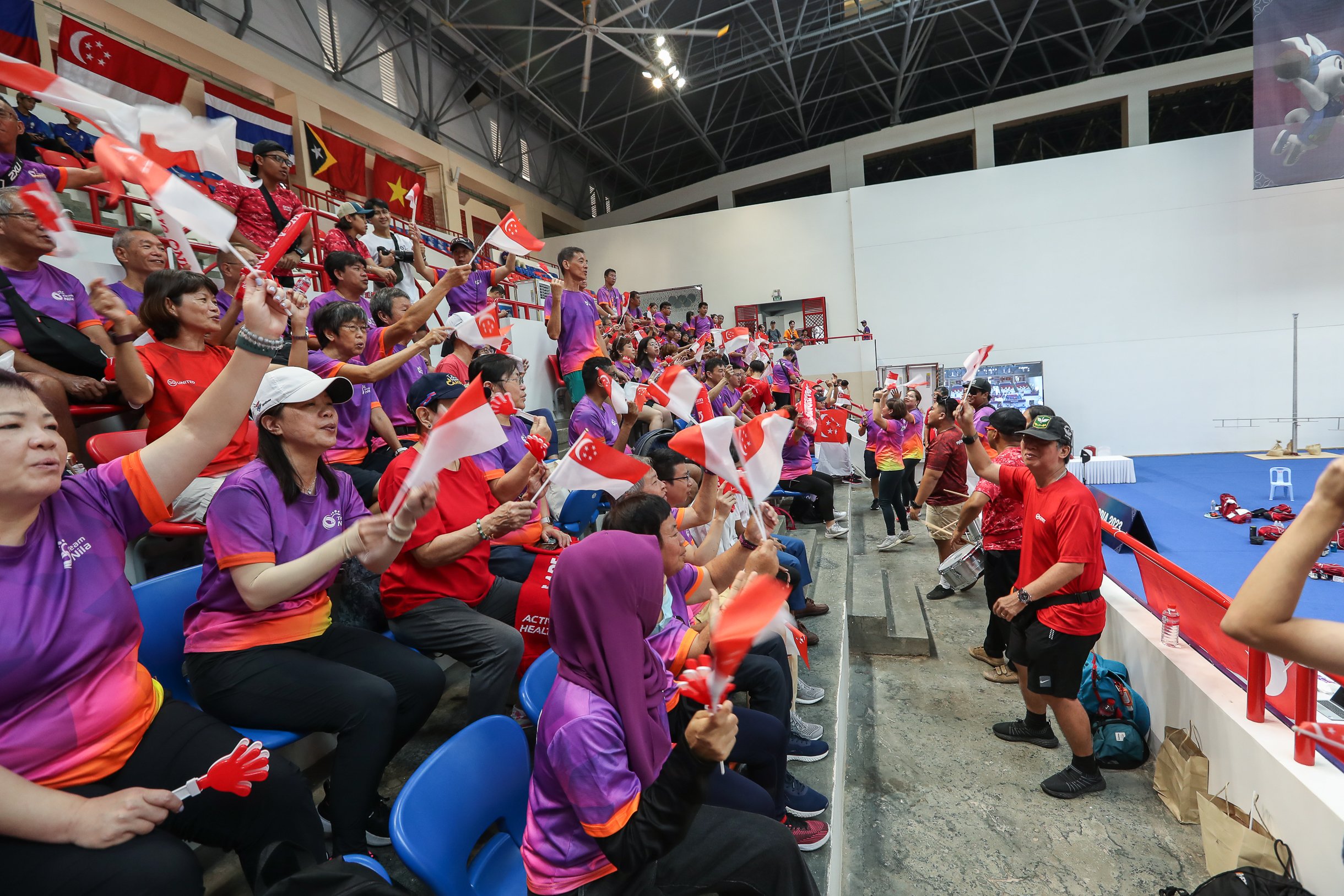 Team Nila in full force to cheer on Team Singapore. Photo: Team Nila/Andy Pascua
"It's a worthwhile experience and I would like to go to more events like this in the future,' he says. "The people surrounding me is also a huge part of why I really love this experience."
It might be a surprise to many but Team Nila is open to all Singapore residents regardless of nationalities.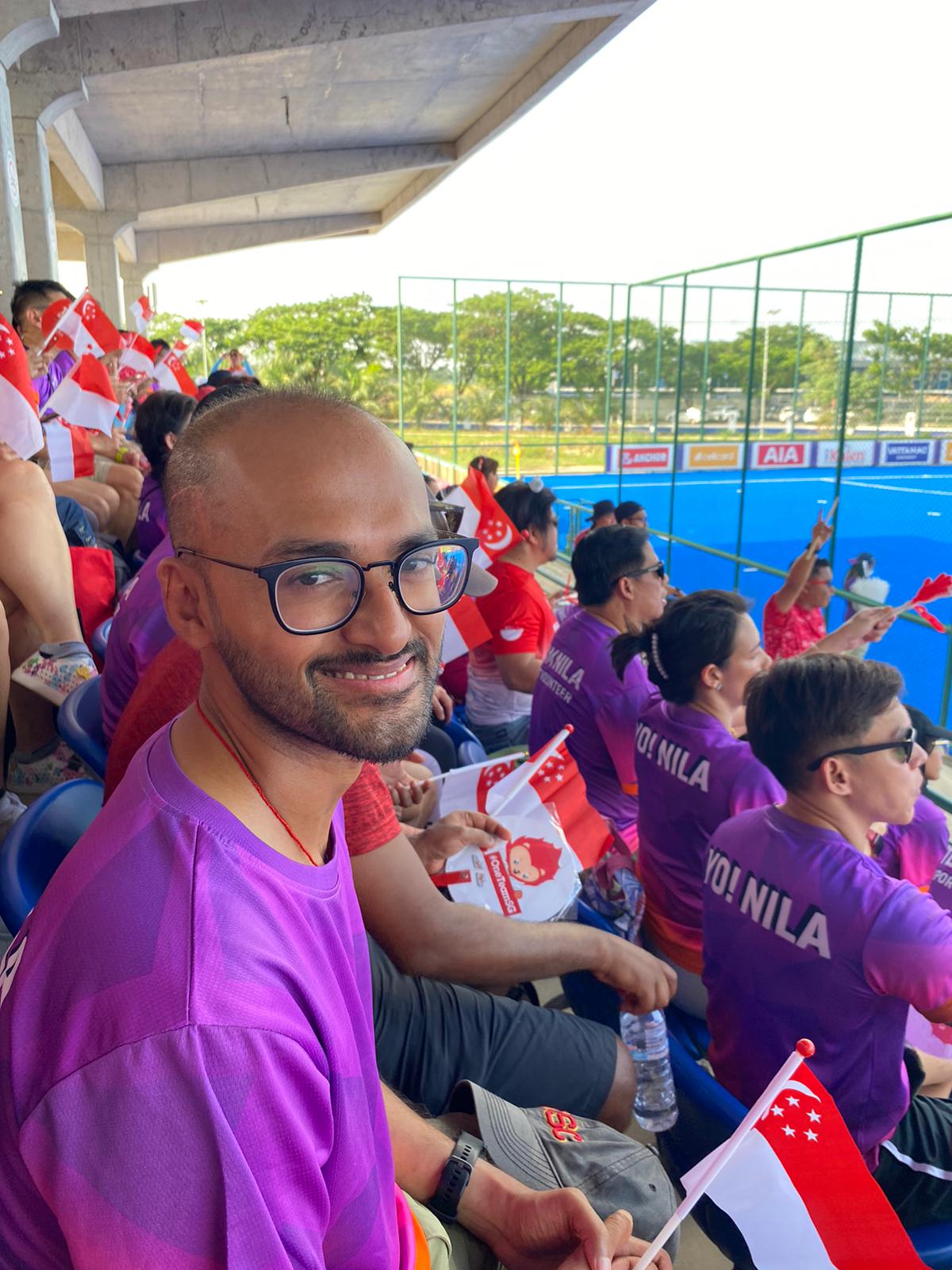 Shivam Verman cheering on the national Hockey players with Team Nila. Photo: Team Nila/Shivam Verma
Sagar Chhabria, Shivam Verma and Shrihari Mahale are all Indian nationals who are in Cambodia as part of Team Nila.
For 35-year-old Sagar who works at Google as a Finance Manager, his two-year association with Team Nila has been, in his words, "nothing short of amazing".
"I learned about Team Nila through a friend and decided to explore the opportunities that are available, without knowing much of what to expect," he said. "Fast forward to 2 years later, and I am truly amazed with all that they do.
"My experience started with the warmest welcome to the Team Nila family and every experience so far has been truly humbling. The thing I love most is that everyone is incredibly passionate about what they do (be it organising, operations or volunteering).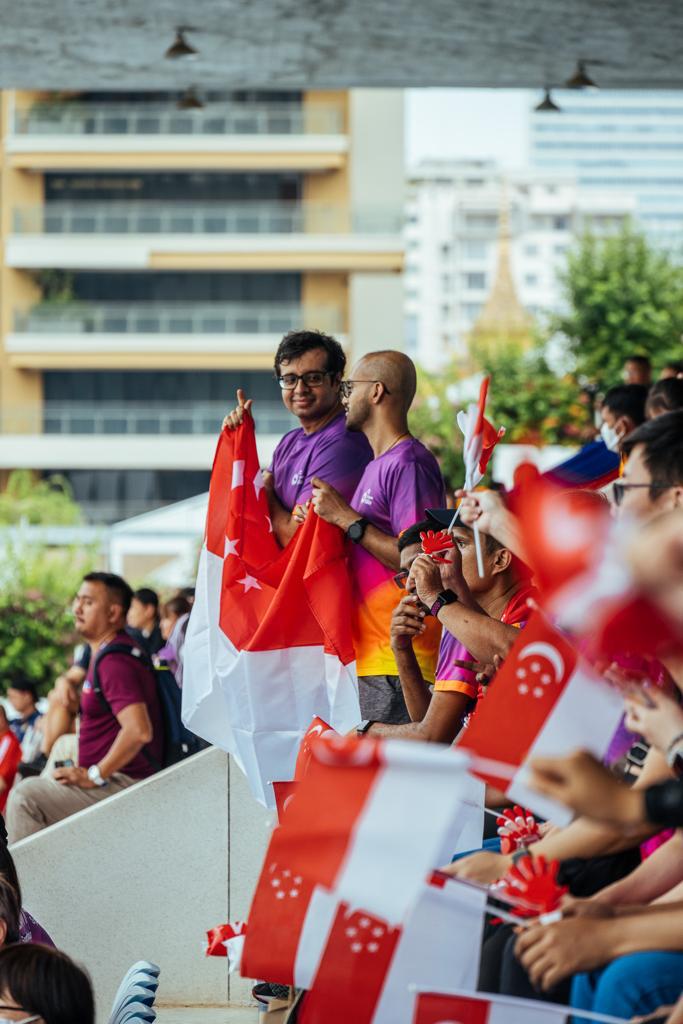 Shivam Verma (right) with compatriot Sagar Chhabria. Photo: Team Nila/Khoo Yu
"Given the wide variety of opportunities at Team Nila, as a foreigner, I find this a great opportunity to bond and be one with the broader community in Singapore. Otherwise, our network is limited to work and friends.
"It is also very humbling to be able to contribute to the community that I live with. I particularly enjoy the sporting events, as I myself am very passionate about sports and have played in competitive levels in my university days. So I always keenly look out for opportunities to engage with Team Nila events, especially the sporting events."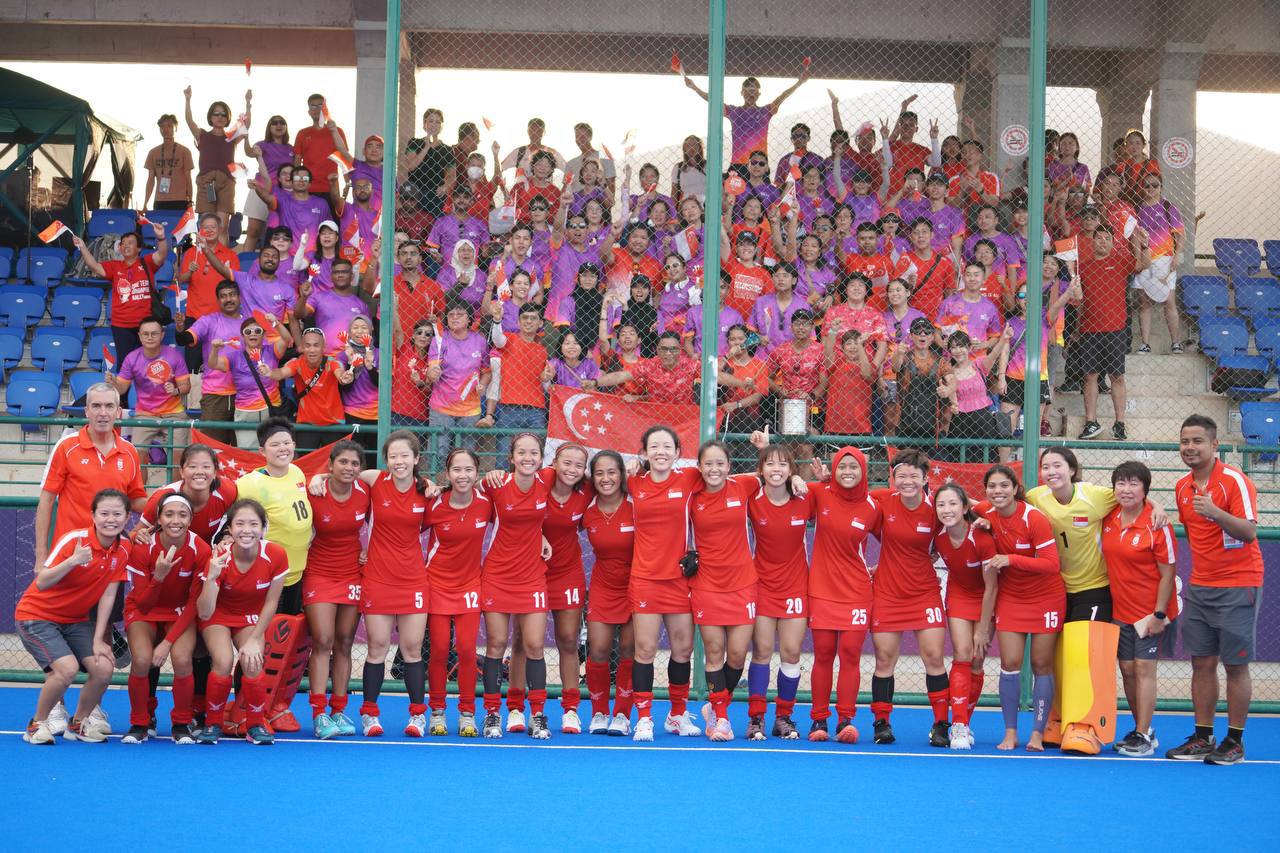 Team Nila showing their support for the national women's hockey team. Photo: Unknown.
Sagar counts Singapore water polo player Loh Zhi Zhi as his favourite sports person because "we worked together in Grab so I know him personally as well! I am also very proud of our swimming hero, Joseph Schooling."
For Shivam Verma, linking up with Team Nila was a way for him to give back to the community through sports. The 35-year-old works in tech and is a passionate sports fan, playing football once a week.
"I believe sports and community transcends borders and Team Nila is the embodiment of this," said Shivam, who has been in Singapore for around seven years.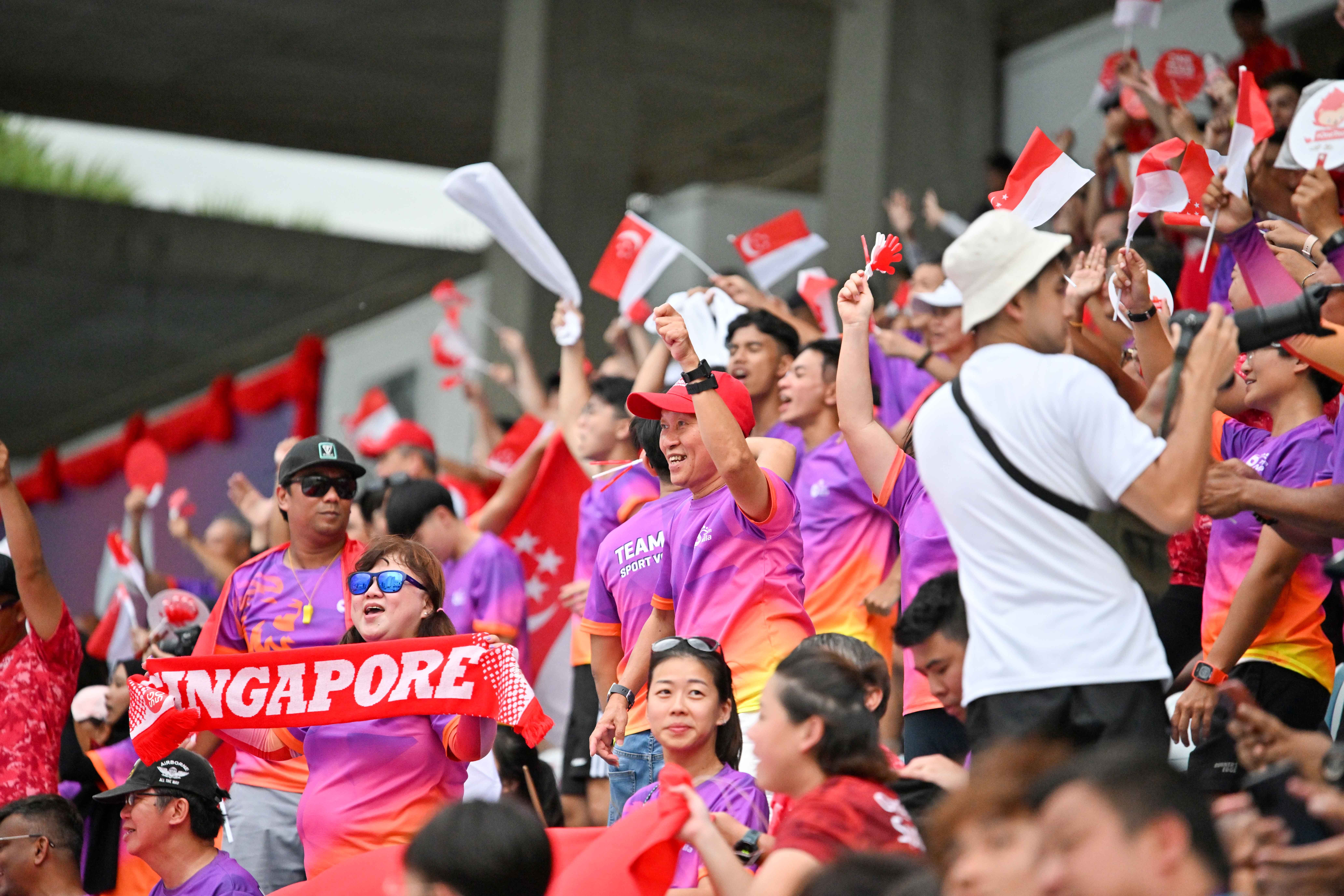 Being welcomed into the big Team Nila family. Photo: Team Nila/Johnny Tay
"I have been welcomed in Team Nila with open arms and that has allowed me to be involved and contribute in the best way possible.
"Supporting Singapore in the SEA Games feels very natural and I believe even though I am a foreigner, when I am singing and cheering I feel as Singaporean as possible."
Shivam has found being a Team Nila member very fulfilling and inspiring.
"Every Team Nila member is so passionate and warm. I look forward to my Team Nila volunteering time!" he said.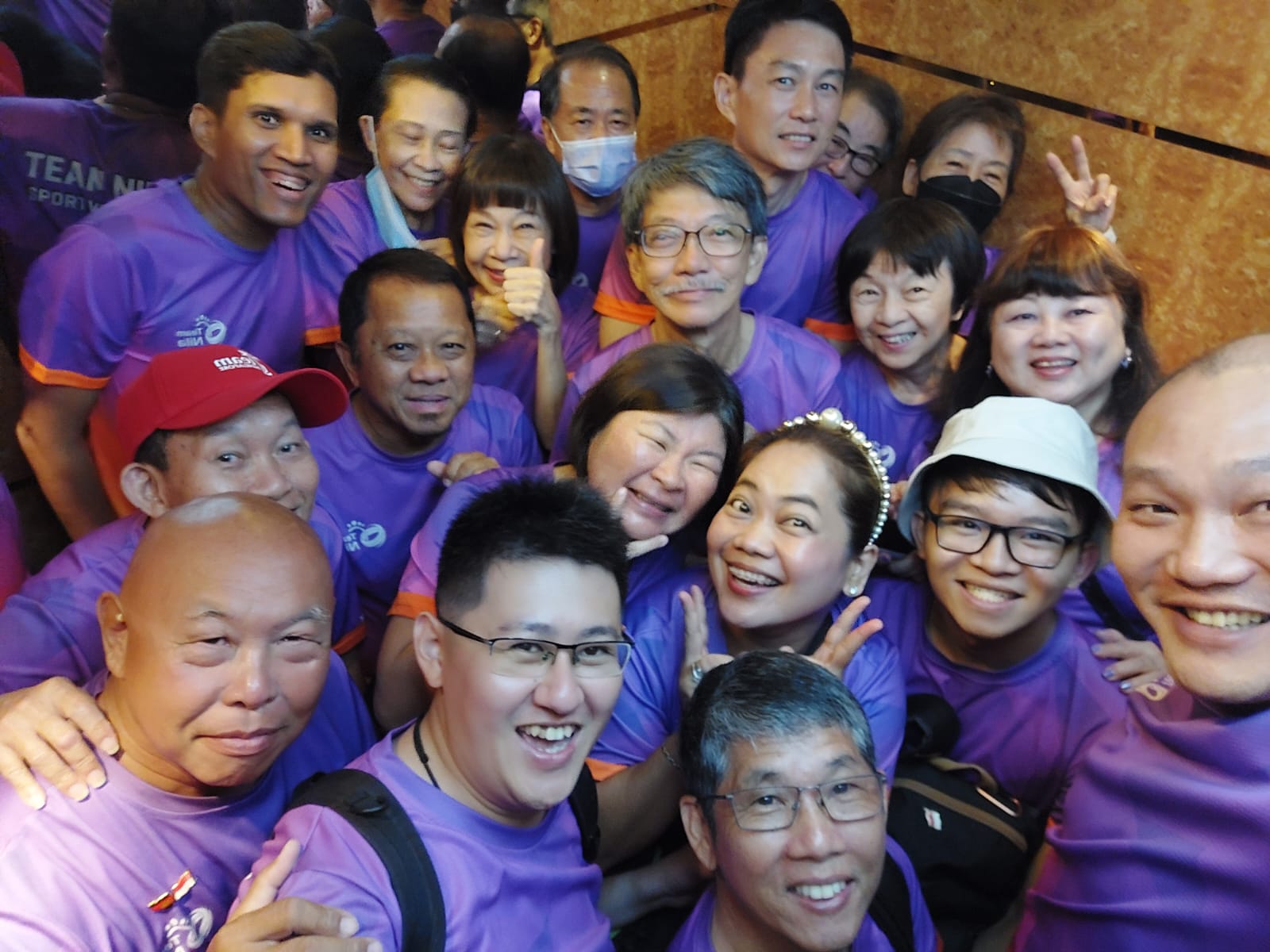 Shrihari Mahale (top left) with new friends cheering on his new country. Photo: Team Nila/Johnny Tay
As for Shrihari Mahale, Team Nila came at the right time just as things were starting to open up post-pandemic.
Heading a young startup in the area of Data Analytics and Consulting services for multiple businesses and organisations takes up most of his time but he looks forward to his time with Team Nila.
"I first got involved when I started to train elderly and seniors suffering from Dementia and Parkinson's with table tennis to help them stay active and alert, through playing light but engaging sport," said the 39-year-old. "This weekend activity allowed me to participate in sport and support a worthwhile cause at the same time.
"Team Nila is the best place to be if one is inclined towards giving back through any kind of sports in life. You can't ask for a better way to combine my passion for sports with community service and engagement."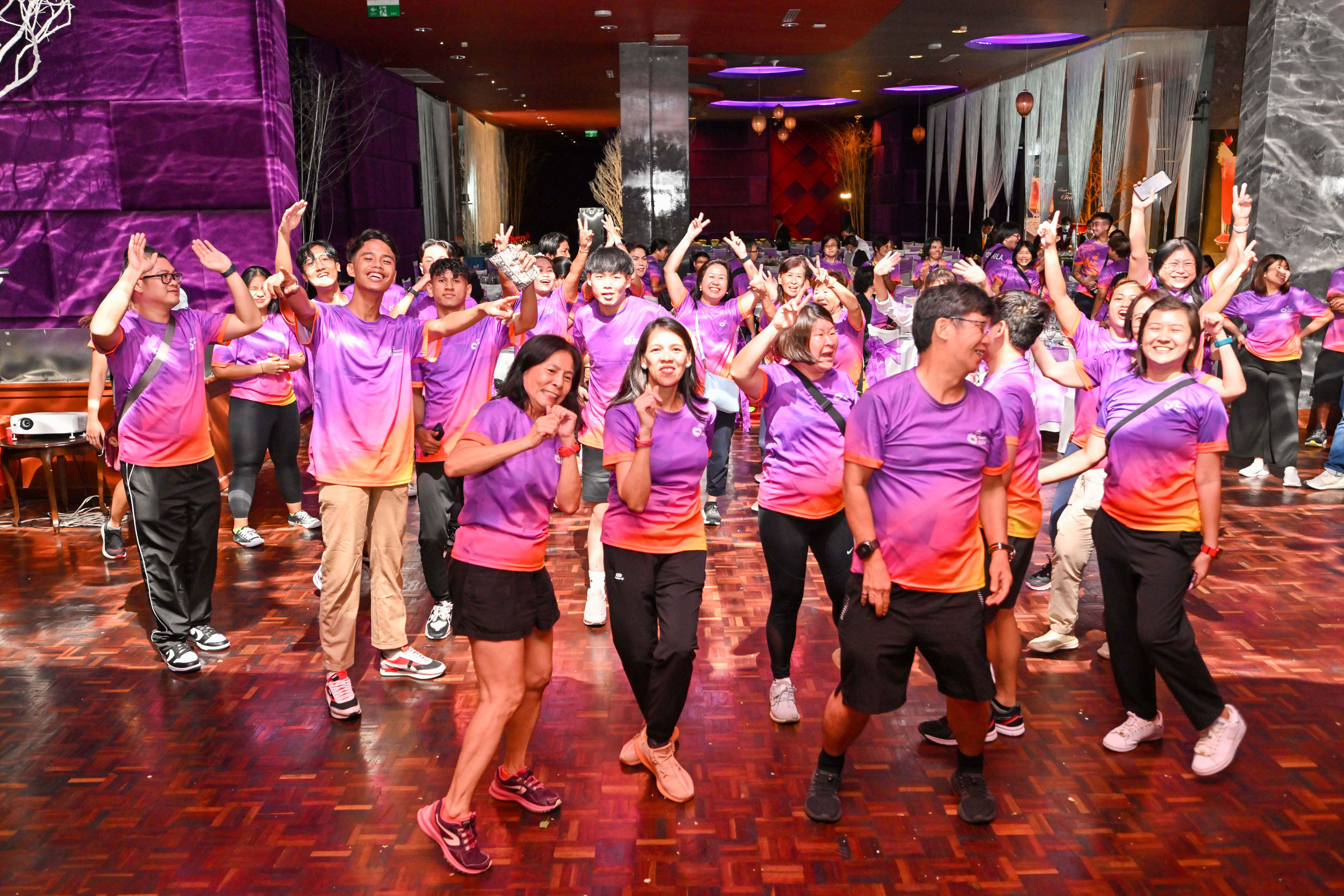 Team Nila is open to all residents of Singapore, and the energy is always bursting with positivity. Photo: Team Nila/Johnny Tay
Describing his Team Nila experience in Cambodia, Shrihari said it was "electrifying".
"So much raw energy, and meeting many new like-minded but diverse people. We're supporting the community and various sports and now supporting Team Singapore in as many ways possible."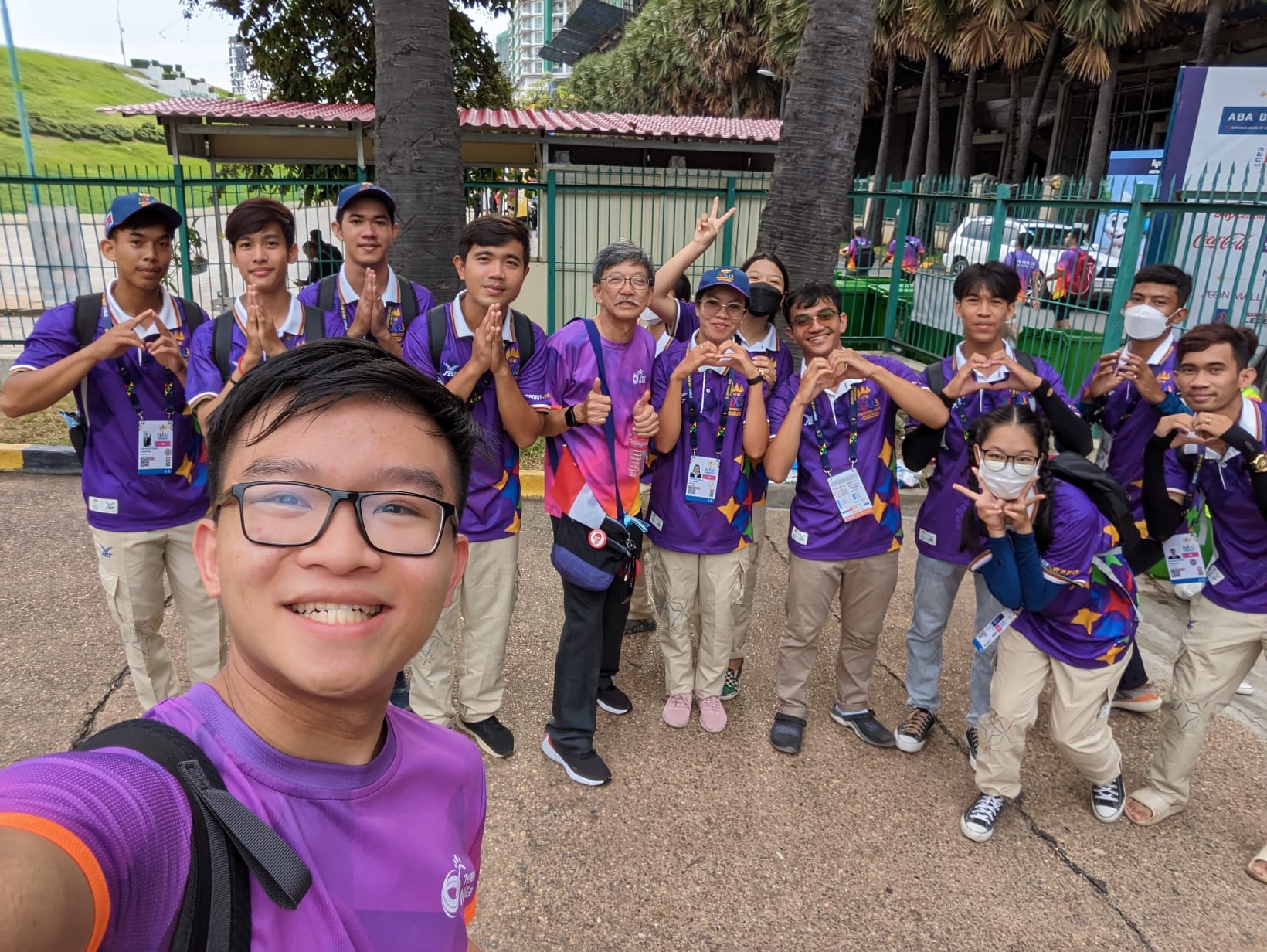 Darren Tan posing with another purple army of local volunteers at the 32nd SEA Games. Photo: Team Nila/Johnny Tay
And finally, meet two 19-year-olds who have made Team Nila their community service activity.
Student Darren Tan Jun Yee has been a Team Nila member since April 2021. As a member of his school's Community Service Interest Group, they partnered with Team Nila for Project Kind @ Yishun, where they went around a neighbourhood to encourage residents to exercise and take part in sports.
For Darren, being a member of Team Nila means meeting new people and gaining new experiences through the wide variety of events Team Nila offers, including helping out as a Venue Service Manager at the Pesta Sukan in 2021 and 2022. "I always look forward to every volunteering opportunity as there is always something new to experience and expect. I get to have lots of fun while volunteering too."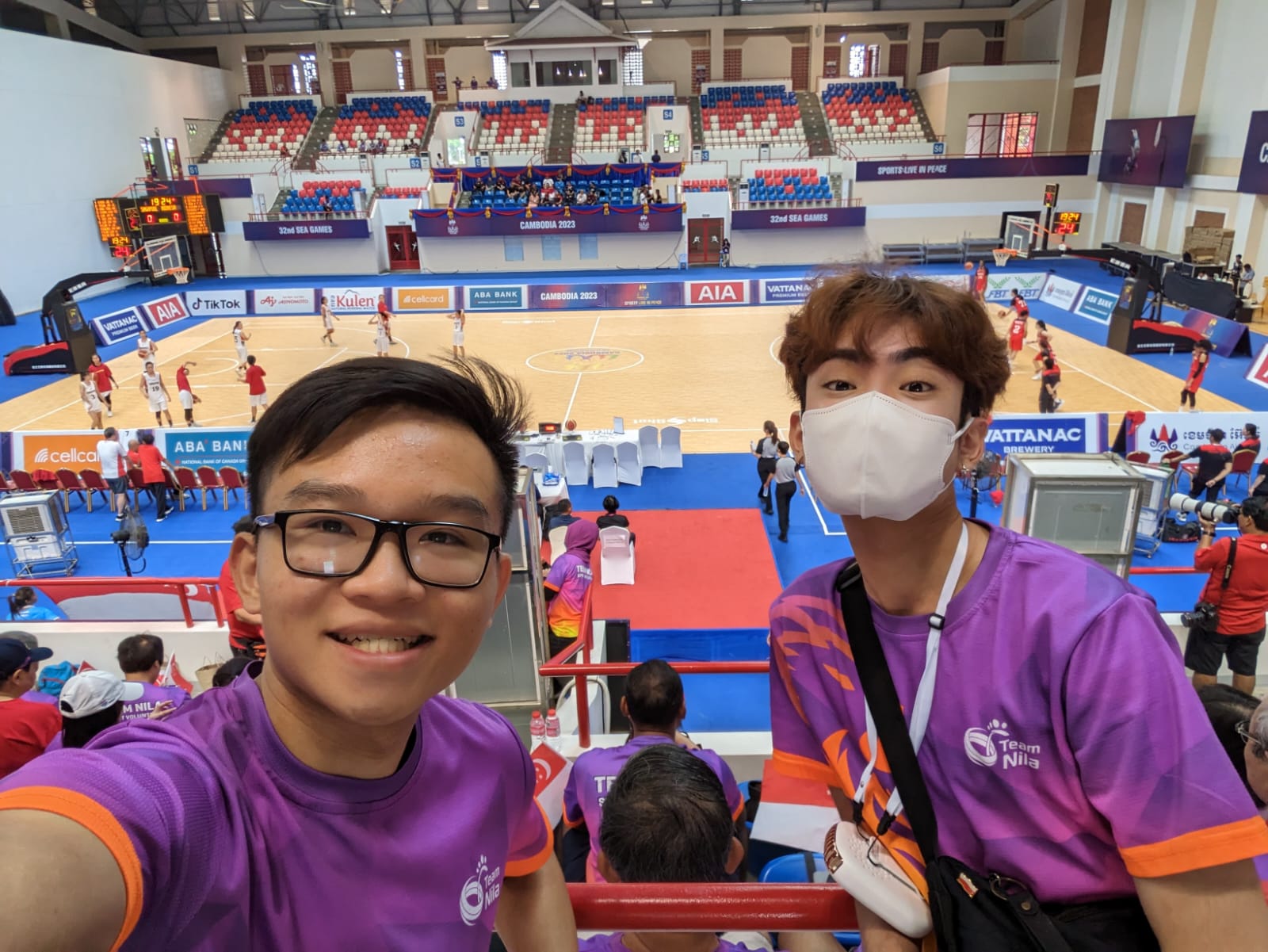 Darren Tan and Justin Ang (masked) catching the sporting action at the SEA Games. Photo: Team Nila/Johnny Tay
Meanwhile Justin Ang Yong Jie, a Year 3 Polytechnic student got to know Team Nila through his 2nd Year project, when he and his team worked with Team Nila for GetActive! Singapore Sport Festivals 2022. For Justin, Team Nila means being around a big family of volunteers that influence one another to be happy and cheerful.
"I find immense satisfaction after each volunteering opportunity as I meet different volunteers from different backgrounds. Everyone is always welcoming and supportive to one another here," he says.
When asked about his experience at the SEA Games in Cambodia, Justin describes it as memorable and a learning journey. He adds that being in Team Nila has been "an enriching journey which provided him with various learning experiences and allowed him to discover more about himself." While fencing is his favourite sport, his sporting idol is Singapore's world champion badminton player, Loh Kean Yew.
An enriching experience being a part of Team Nila. Photo: Team Nila/Johnny Tay
So, more than just a bunch of faceless individuals decked in purple, Team Nile has served its purpose of activating all layers of the community through sports. A division under ActiveSG, Sport Singapore, Team Nila is definitely worthwhile social activity to get involved with.
For more information on Team Nila, go to go.gov.sg/teamnila or you can sign up for more volunteering opportunities via go.gov.sg/gasg2023
The 32nd SEA Games are held in Cambodia from 5 to 17 May 2023. For the latest Team Singapore coverage and news, follow Team Singapore on their social media channels (Facebook, Instagram, TikTok) or visit the official Team Singapore website.
Related Topics
Related Events & Programmes
Related Topics