Cambodia 2023: Wushu wraps with two Silvers while Taekwondo begin medal quest in earnest
by ActiveSG Circle, on May 12, 2023
As Team Singapore return from the Wushu competition at the 32nd SEA Games in Cambodia with a handful of medals, Team Manager Loh Han Long can reflect on a campaign that's full of challenges behind the scenes even as his athletes were competing their hearts out on the mat.
Asked about the challenges the team faced, Loh gave rare insights into the issues the team had to deal with.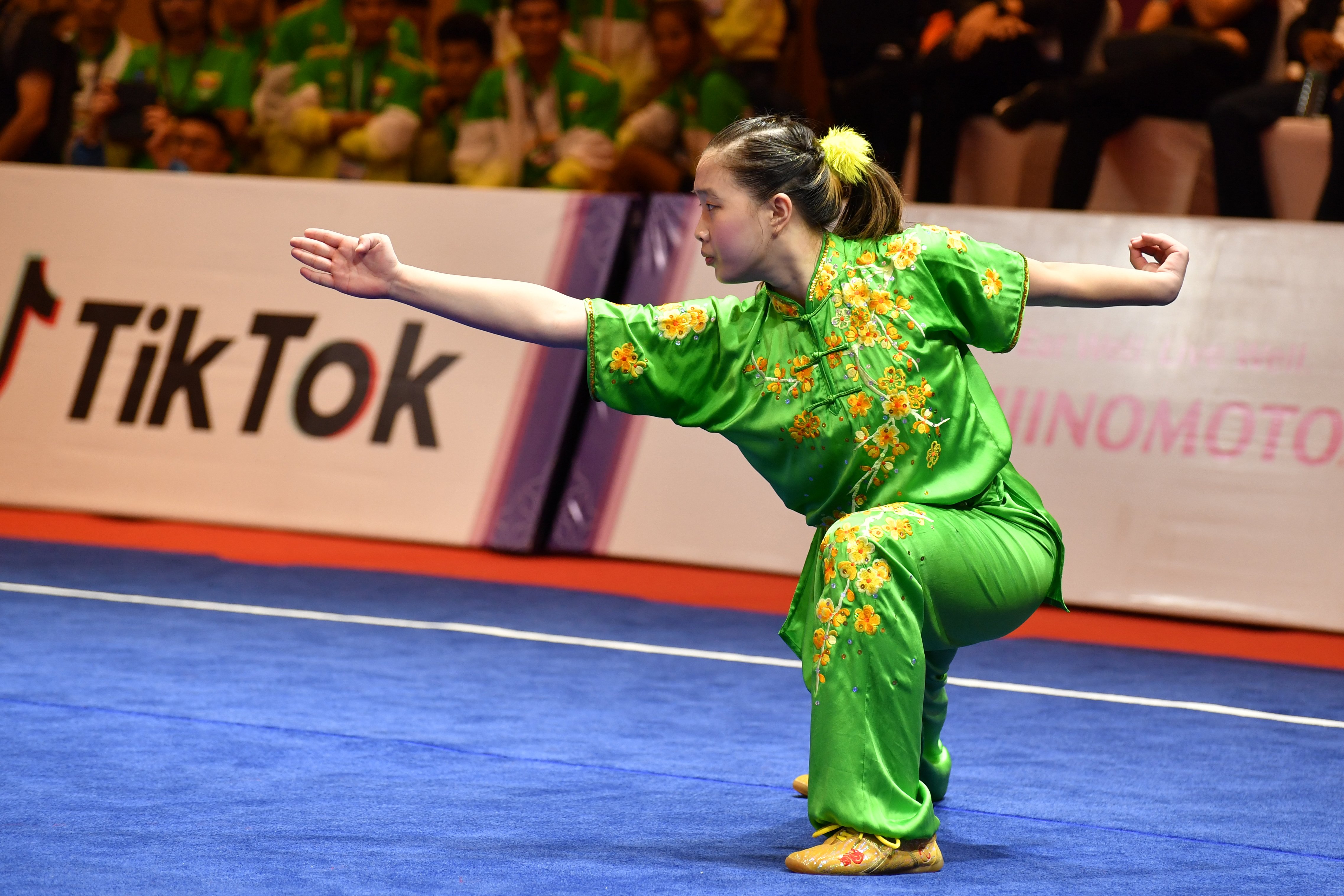 Zoe Tan narrowly missed out on a medal in the Women's Changquan. Photo: SportSG/Alfie Lee
"To start with, we were using a scoring system that was being rolled out for the first time in International competition," he began.
"Also, a day before the competition, our team training was scheduled to start at 8-9am. But even at 10am, the organisers were shouting for the other countries' team managers and coaches to help set up the competition carpet and warned us that if we do not help, the competition cannot start the next day!
"In the end, our athletes were not given a make-up time slot to train on the competition carpet as it was only fully set up in the afternoon. So only teams that were scheduled to train in the afternoon had the chance to familiarise themselves with the competition hall.
"To top that off, halfway through the competition on Day 1, the system got into some technical issues at least four times on and off, and the competition had to be stopped for more than two hours in order to resolve the issue. In the end, the judges had to use pen and paper to write on the white A4 paper in order to award the score for each athlete."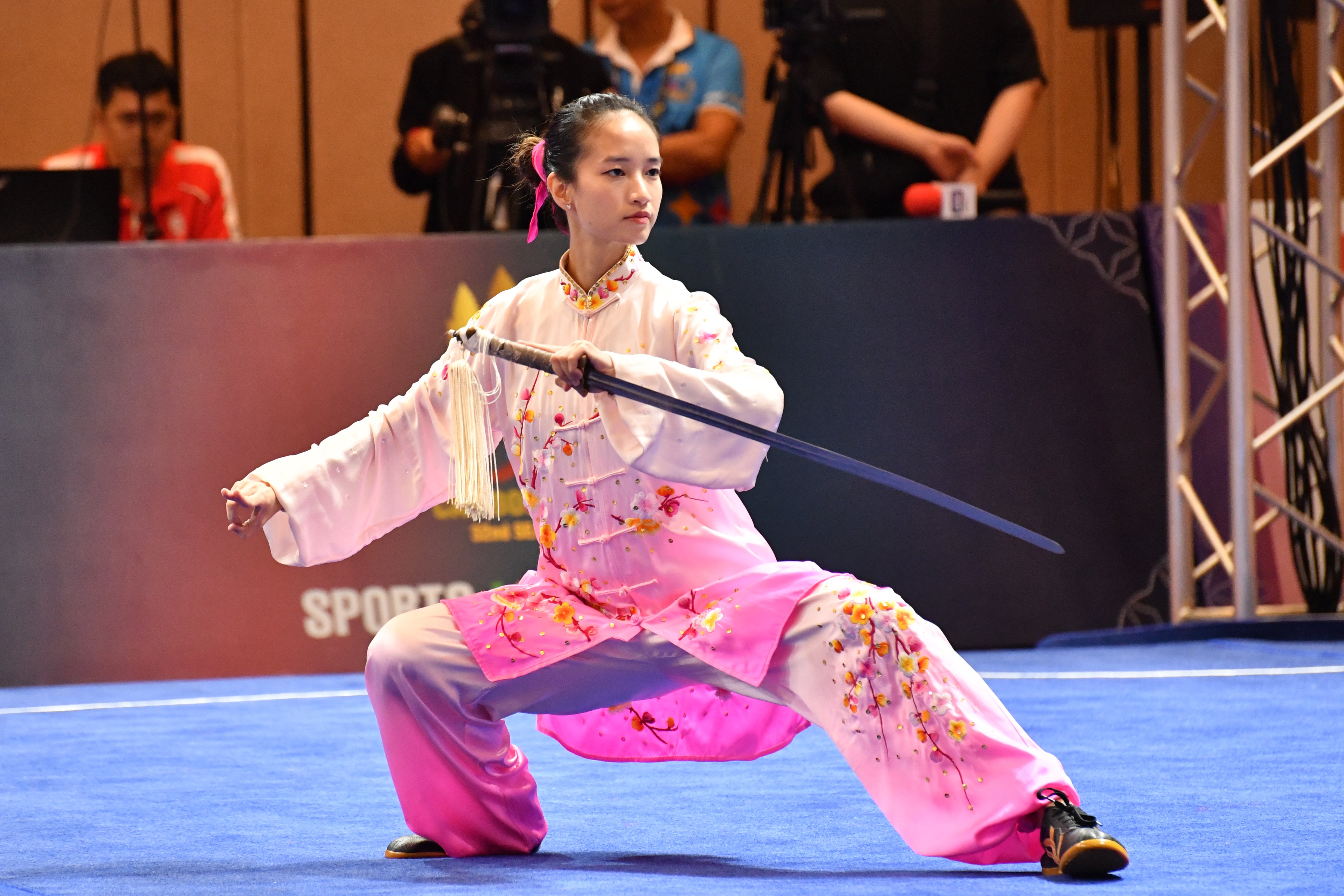 Vera Tan is determined to do better in her next outing. Photo: SportSG/Alfie Lee
These are just some of the incredible insights Loh provided, even as Team Singapore came away with two Gold, three Silvers and a Bronze medal, a result which Loh says he's "happy" with.
"Although there are some (points) deduction (for some of the athletes), the performances of each individual is up to our expectations and our two debutants have done well too," said Loh.
On to today's (12 May) results, which saw Zoe Tan finishing fourth in the Women's Changquan final, while teammate Kimberly Ong finished 8th. In the men's Changquan, Jowen Lim, already a gold medallist at these Games, added a silver to his collection while teammate Ong Zi Meng was sixth.
In the women's Taijiquan + Taijijian Combined finals, Vera Tan could only manage a fourth placing despite finishing 2nd in the Taijijian discipline. Teammate Zeanne Law finished eighth overall.
In the men's Taijiquan + Taijijian Combined finals, Tay Yu Xuan topped the Taijijian standings but came second overall with a score of 19.119, bringing home a Silver medal. Teammate Chan Jun Kai was eighth.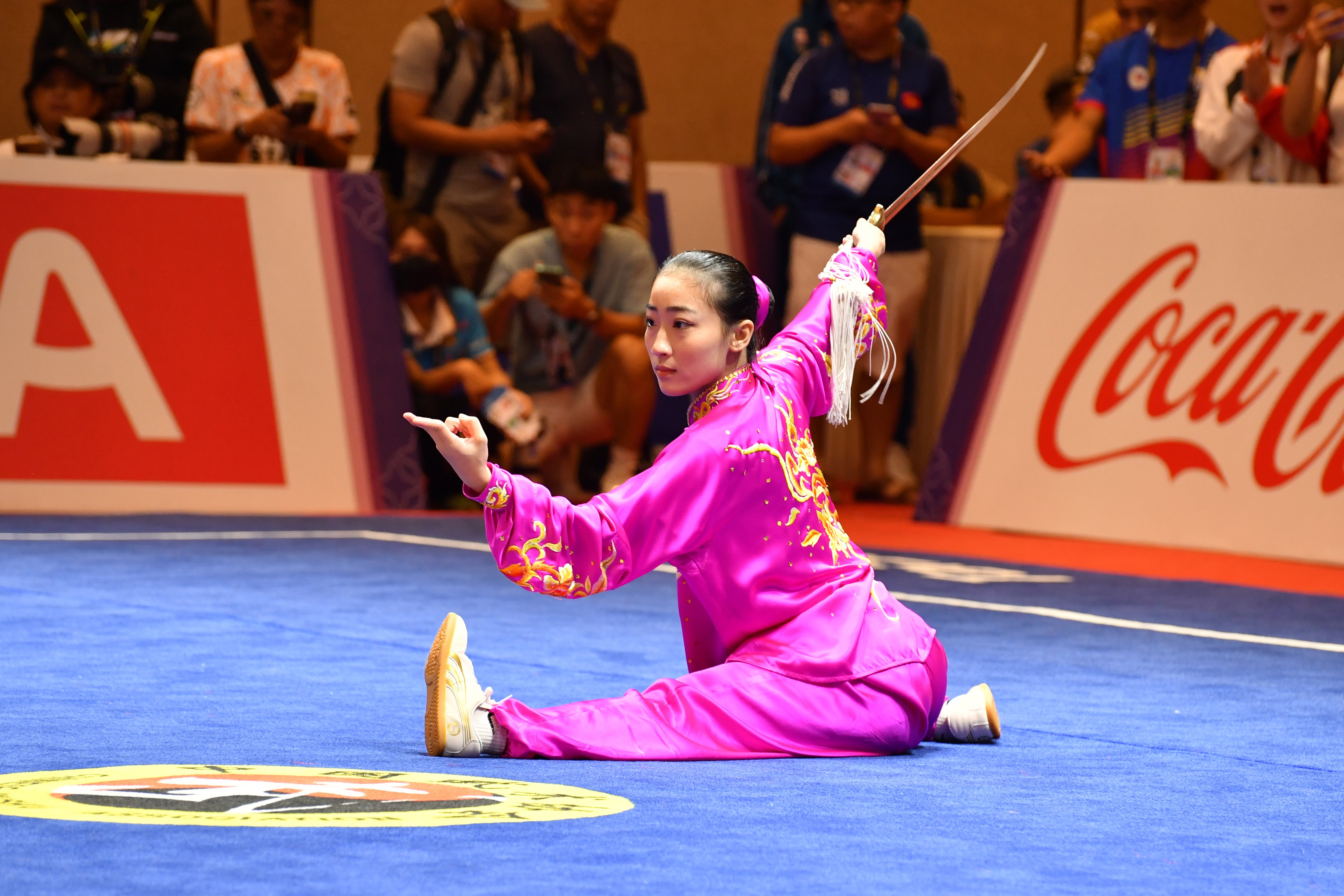 Zeanne Law was eighth overall in the Taijiquan + Taijijian finals Photo: SportSG/Alfie Lee
Speaking of her fourth placing, veteran Vera Tan who made her debut at the 2013 Myanmar Games where she also struck Gold, said: "I am definitely disappointed with the result, but I am very happy with my performance for both events. I did my best and have no regrets.
"I will be working more on achieving higher difficulty movements. As of now, my difficulty level is higher than most of my South-east Asian counterparts and I hope to widen that gap.
"In this edition, many athletes had their score deducted even at the smallest mistake due to stricter judging criteria. Hence, moving forward, I will be fine tuning my techniques to ensure there are no deductions in my score."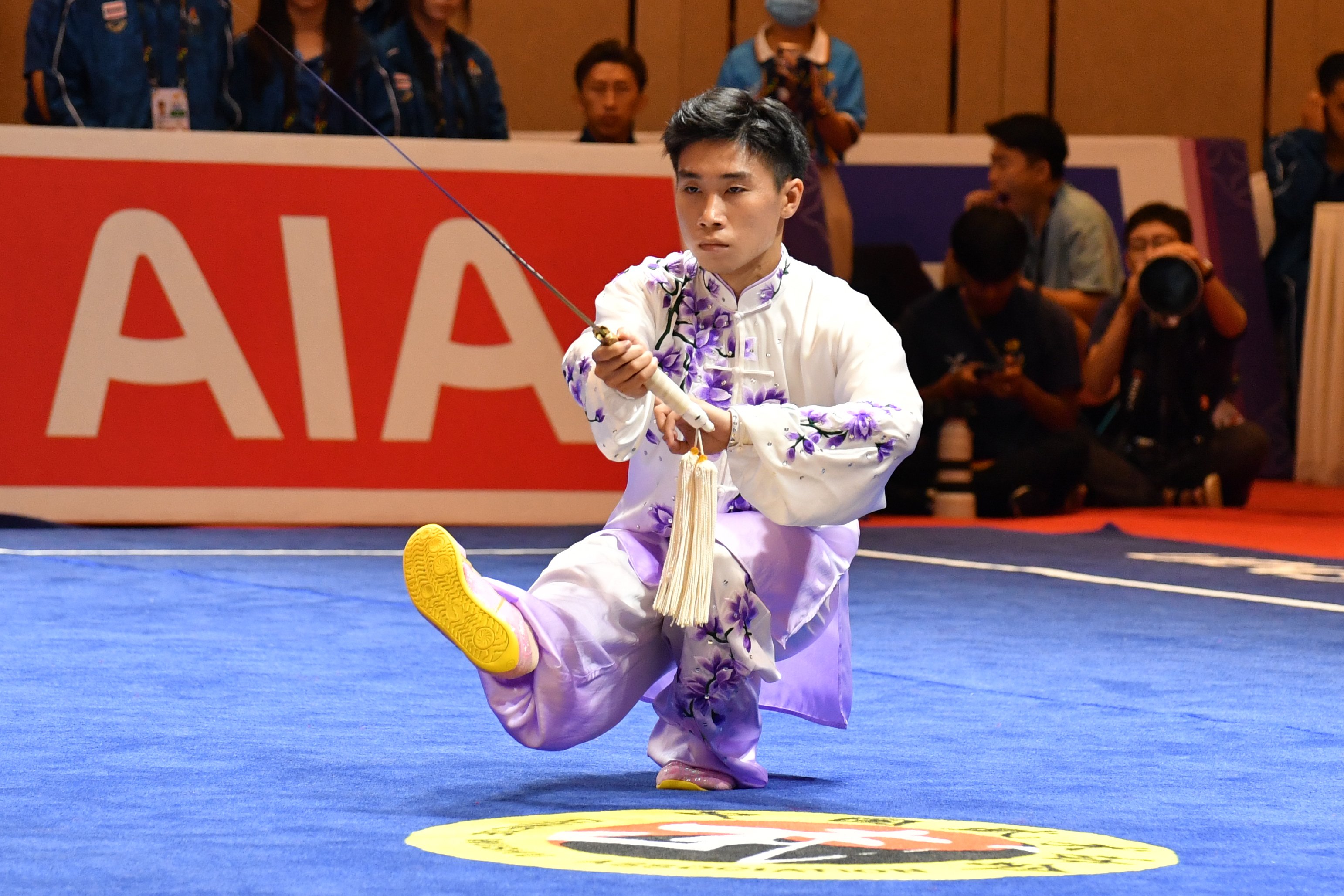 Tay Yu Xuan made it a SEA Games debut to remember with a silver medal in the Taijiquan + Taijijian Combined finals. Photo: SportSG/Alfie Lee
Commenting on his silver medal, SEA Games debutant Yu Xuan said: "I am very happy with my debut at the SEA Games. The past few months of hard work and dedication have paid off. I am very satisfied with my performance and to bring home a medal is definitely a bonus for me.
"I think I completed the Taijiquan routine to the best of my ability. Nevertheless, there was still a deduction so definitely there's room for improvements, especially with my last difficulty move.
"After this SEA Games, we have plans to go overseas to China for a training camp. We have many upcoming competitions such as the Asian Games and World Wushu Championships, so I am looking forward to improving my skills and abilities to better my results in the upcoming competitions."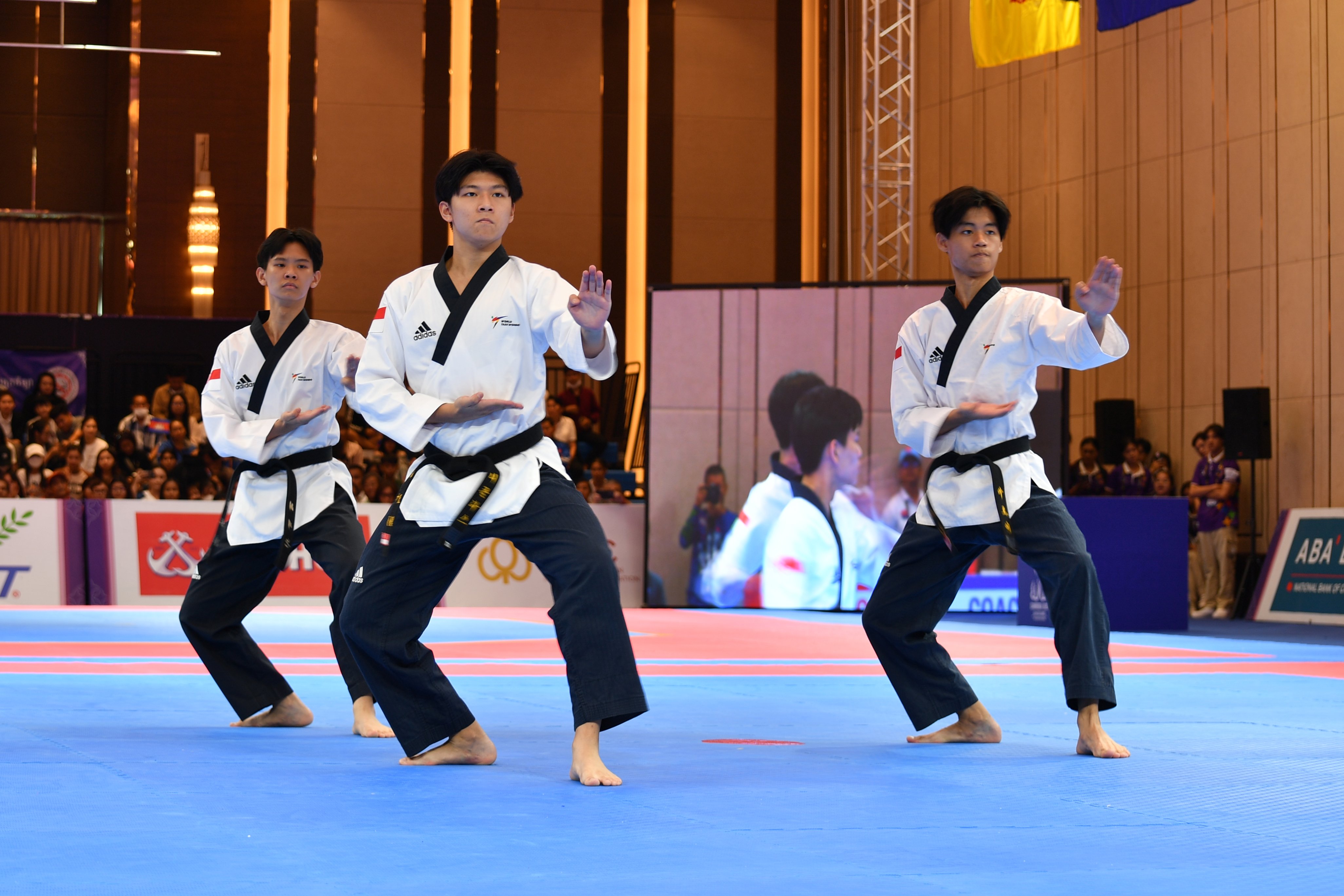 Coordination and poise as Team Singapore competes in the Poomsae Team Final. Photo: SportSG/Alfie Lee
Over in Taekwondo, competition began today with Poomsae (demonstrative) events.
First up, Darren Yao came fifth in the Men's Freestyle Individual final. Then came the welcome silver from Diyanah Aqidah Muhammad Dian Khudairi in the Women's Recognised Poomsae Individual Final, where she scored 7.260 points.
In the Mixed Recognised Poomsae Pair event, Diyanah paired up with Ranen Fong to finish 4th to win a joint Bronze medal. Similarly, in the Men's Recognised Poomsae Team final, the trio of Aloysius Yeo, Nicholas Khaw and Ranen Fong also finished fourth to win a joint-bronze medal.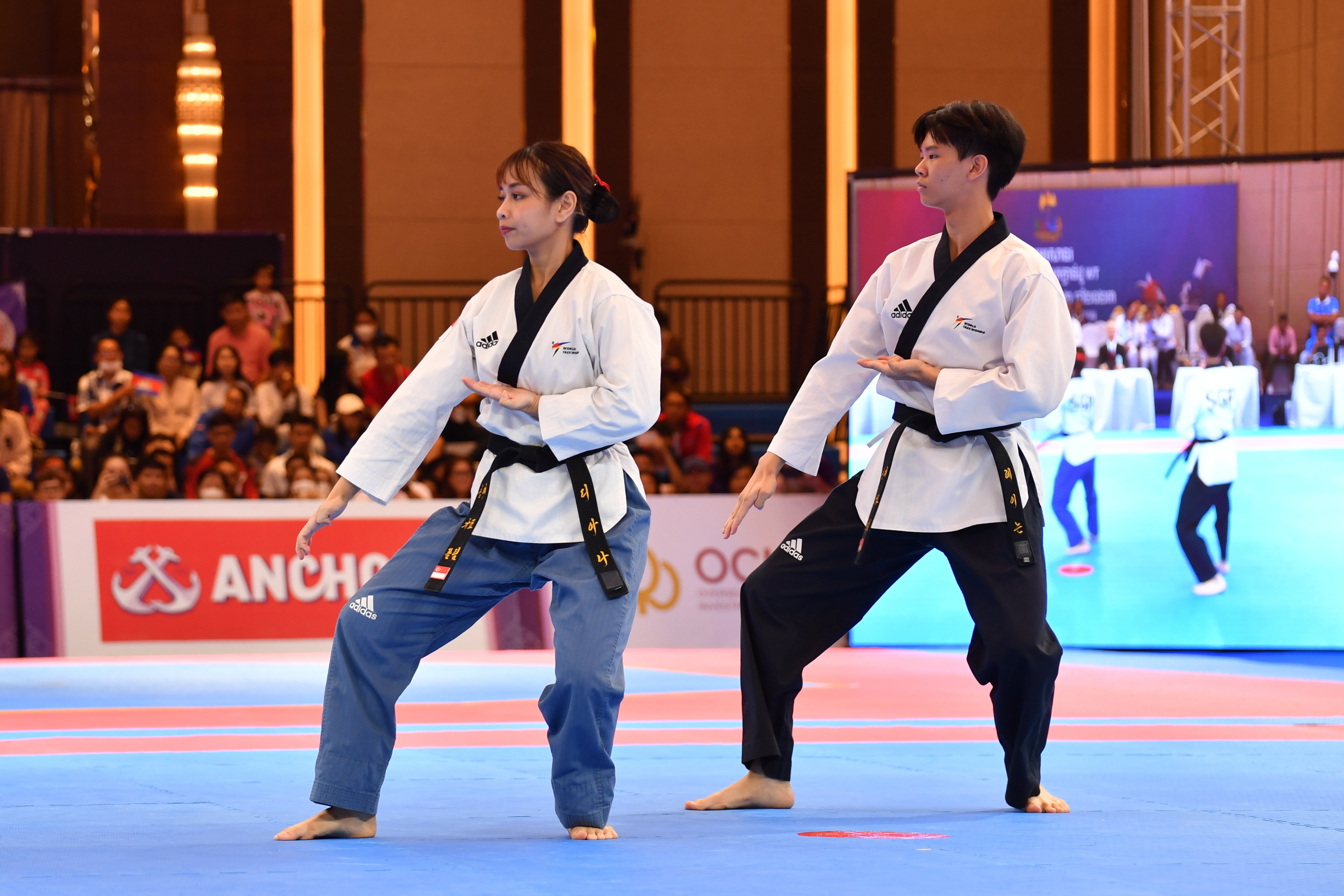 The Mixed Pair event delivered a welcome bronze. Photo: SportSG/Alfie Lee
Speaking to SportSG at the end of Day 1 of Taekwondo, Diyanah said she's happy to see her efforts finally bearing fruits.
"I have been training hard for many years and this is my fourth SEA Games but it feels like this is just the start of a brand new journey for me. I am happy to be bringing a medal back to Singapore.
"It has been six years since my last SEA Games outing and I would like to thank the Singapore Taekwondo Federation, my family, coaches, my teammates and all my supporters for their constant support through all these years.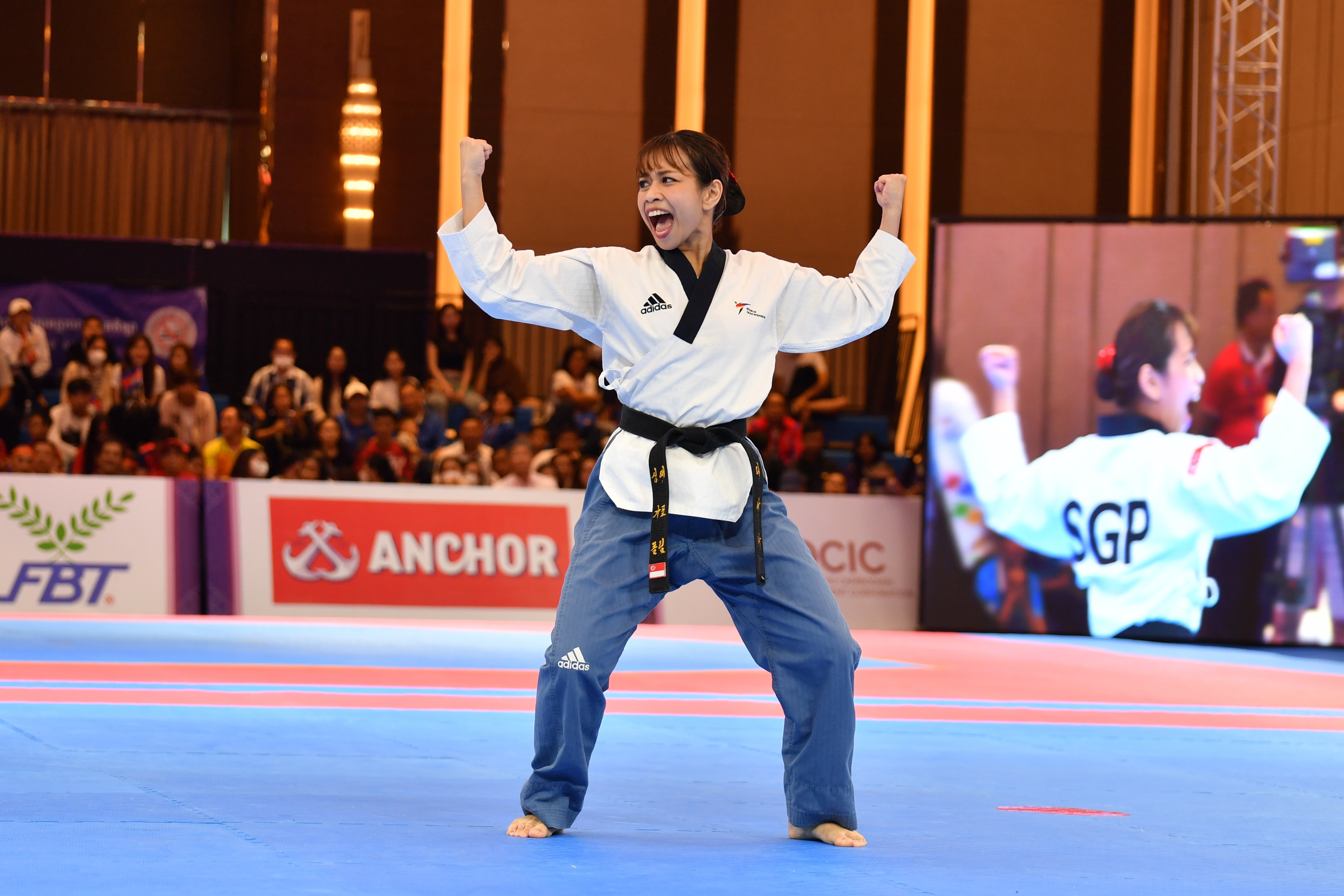 Diyanah makes a winning return to the SEA Games after six years. Photo: SportSG/Alfie Lee
"To be honest, the two Poomsae events are actually not my favourites but I was quietly confident and was really in the zone when I was performing them.
"I was quite pleased with my performances but I could have done a little better in term of my balance which was crucial to the second Poomsae."
The 32nd SEA Games are held in Cambodia from 5 to 17 May 2023. For the latest Team Singapore coverage and news, follow Team Singapore on their social media channels (Facebook, Instagram, TikTok) or visit the official Team Singapore website.
Related Topics
Related Events & Programmes
Related Topics