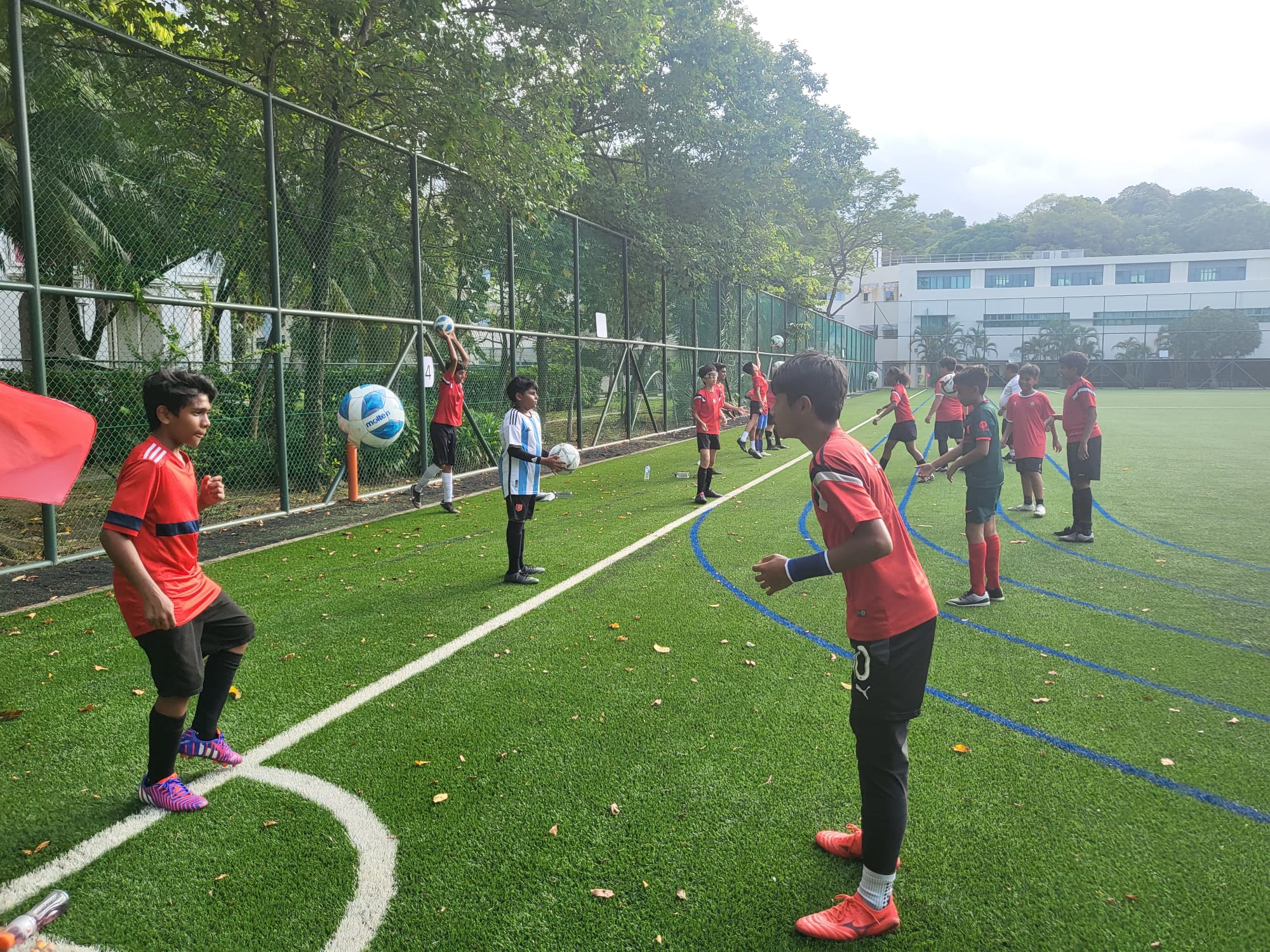 Youths training at Woodlands Lions FC Academy. Photo Credit: Woodlands Lions FC Facebook
It's been almost 20 years since R Vengadasalam was the General Manager of Singapore Premier League (SPL) club, Woodlands Wellington FC. Following his departure from the northern club in 2004, Venga went over to Tampines Rovers FC to assume the role of Director of Operations. He remained there till 2020, took a break from the game and returned as the Prime League manager of Balestier Khalsa FC in 2014. 3 years later, Venga established Woodlands Lions FC and has since been working earnestly behind-the-scenes with Singapore's Football Association, to bringing this new club into the SPL.
Woodlands Lions FC is a youth team comprising players who could not make the cut in their respective school teams, or their schools didn't offer football as a CCA. Venga's talent discovery process is mainly based in the north, as he's been accustomed to the Sembawang area for years, both as a player and as a resident. With former ex-national stars like Quah Kim Song, V Sundram Moorthy, M Kumar, Nazri Nasir etc, hailing from the north in their earlier playing days, that has provided a key inspiration to the 62-year-old scouting veteran to maintain his talent focus in that area.
With more than four decades of managerial experience, it was only a matter of time that Venga decided to address the situation of the lack of talented youth players coming through the pipeline. He was frustrated at the lack of support, ideas or vision to move forward by certain individuals and clubs, which then compelled him to start the Woodlands Lions FC project on his own. But one needs to "have an eye for talent", in order to succeed. Woodlands Lions was launched by Venga because he felt there was a need to establish a proper youth team.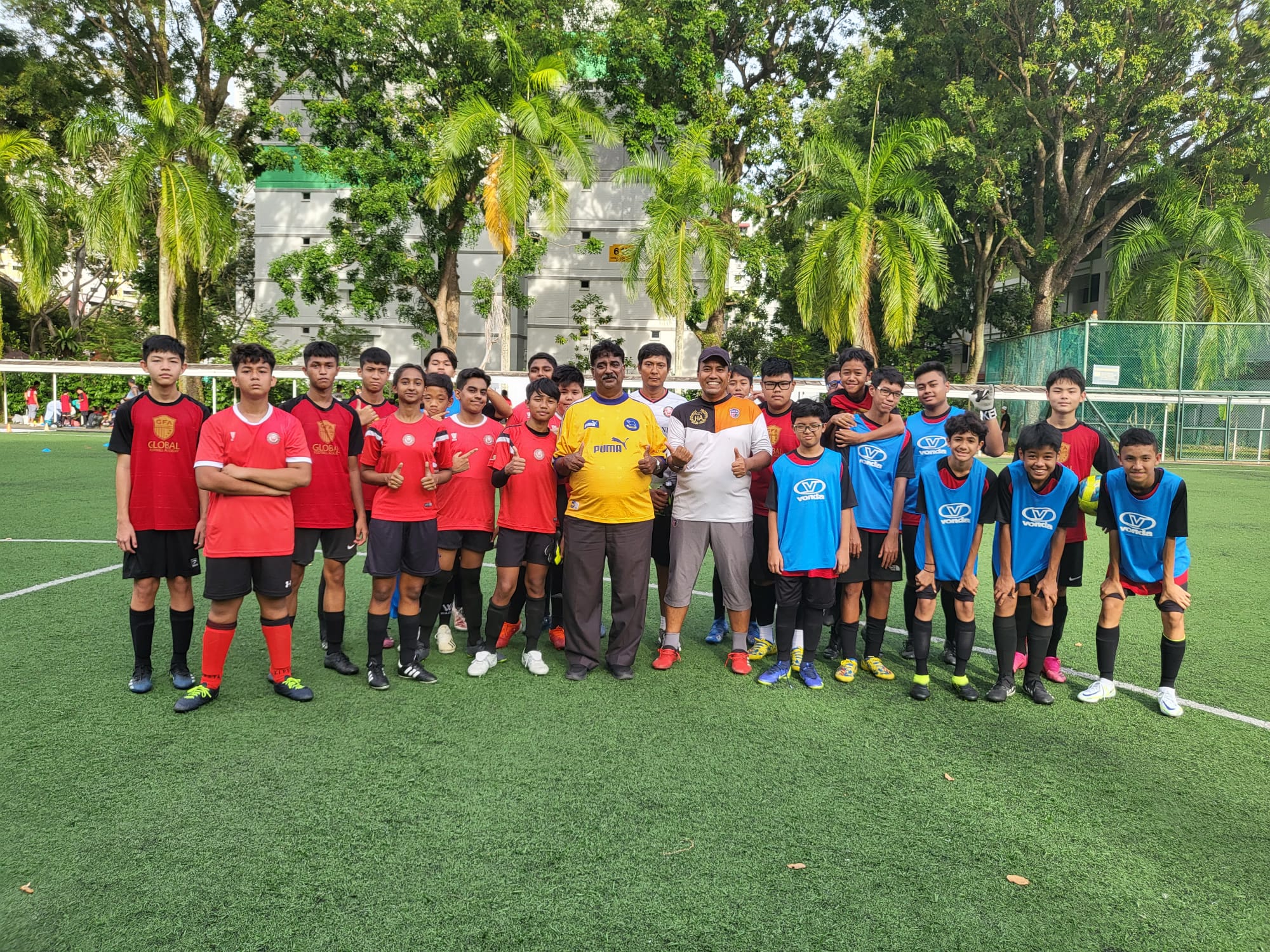 R Vengadasalam (Yellow Top) with some of his players at Woodlands Lions FC Academy. Photo Credit : Venga's Facebook
Venga began with a handful of players in the 10-12 age-group and after six years, the Woodlands Lions FC Academy, now has more than 60 players. For a small fee of $25, the kids will train either on a Saturday or Sunday, with the age groups starting as young as six right up to the age of 21. As long as a player has attained a certain level of skills, he or she will be sent to compete in various events islandwide. With the support from Sport Singapore, these young kids have even tasted and experienced playing at major venues such as Jalan Besar Stadium (JBS). At the recent northern league-based Ho Peng Kee Cup, SportSG was supportive to allow for the Under-15 finals to take place at JBS.
Said Venga: "Some of the players whom I discovered include ex-Singapore internationals Masreswan Masturi, Dalis Supait, Agu Cashmir, Itimi Dickson, John Wilkinson and SPL club stars like Jeykanth Jeyapal, Mohd Mardani etc. Back in 2001 when a few African players came here for a trial, I saw Agu's game play for less than a minute and immediately told my WWFC club coach (M Karathu), to sign him for the Rams in the SPL."
Speaking to ActiveSG Circle, 62-year-old Venga elaborated on his talented players discovery process, his "hot-and-cold" relationship with the Republic's former star striker and national coach V Sundram Moorthy, plus his wishlist for the Unleash The Roar! national youth football programme. (see video interview below)
R Vengasalam talks to ActiveSG Circle briefly on his passion of youth football. Video Credit : SportSG
62-year-old Venga has no plans to stop his talent-discovery ways anytime soon. But if there's 1 issue that's been a bane in his discovery efforts – the idea of SPL clubs being able to lure and sign trained young players from Woodlands Lions FC, without any form of financial compensation. Venga intends to fight harder against this tactic of poaching youth players, especially when he's invested his own time and money into grooming youth players. But in general, R Vengadasalam is truly a class act to follow in terms of his "eye for talent" and his boldness in taking risks on amateur players and turning them into stars!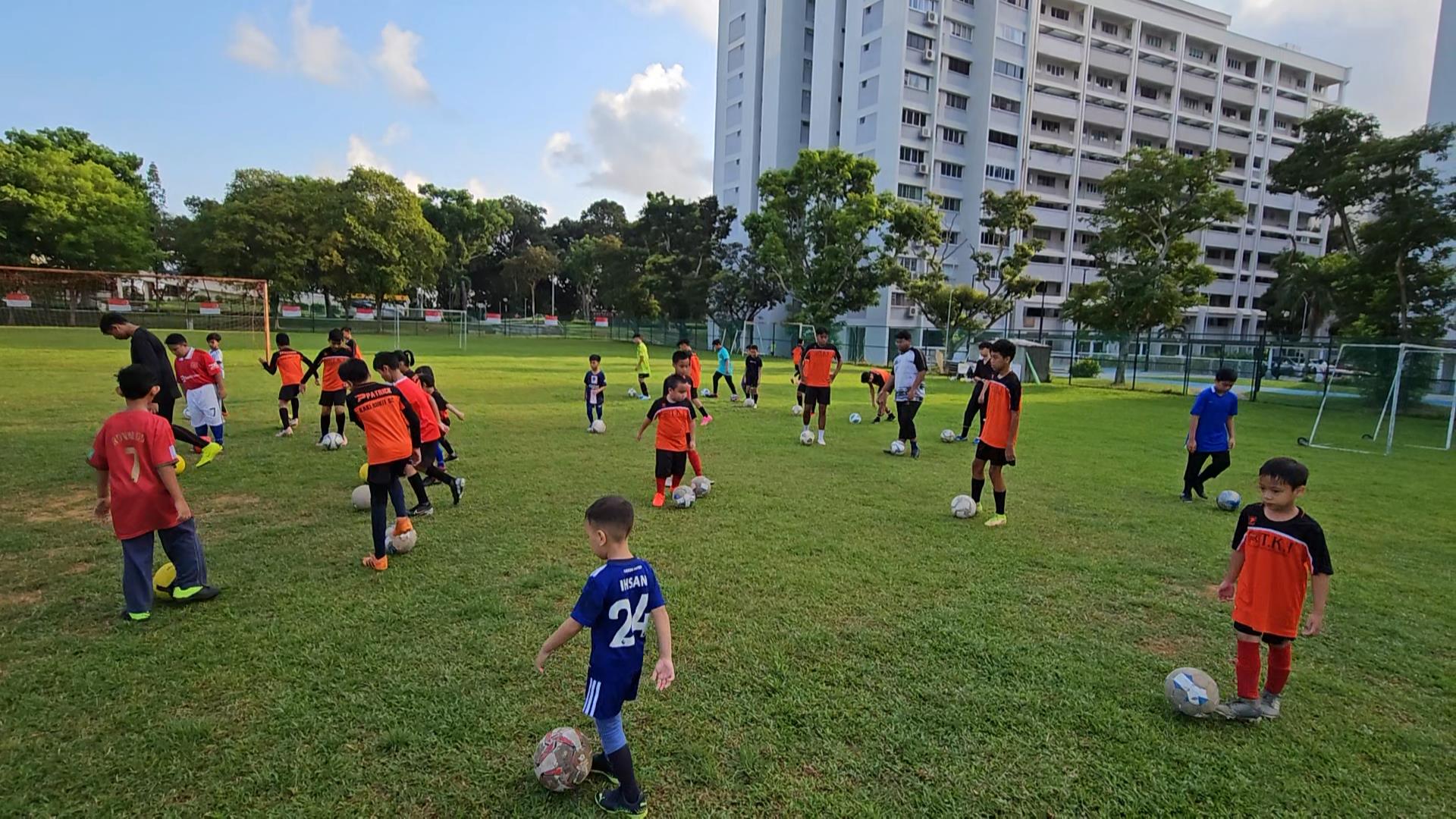 Kids and youths training at Kaki Bukit Sports Club Academy (along Bedok Reservoir Road). Photo Credit: Sport Singapore
Switching from the north to the east and on a bright sunny Sunday morning, a group of almost 50 kids and youths were at a football field near Blk 716, Bedok Reservoir Road. With their parents watching these players aged 4 to 16, begin their training sessions under the watchful eyes of former Singapore football international midfielder, Malek Awab.
The 62-year-old is a coach with Kaki Bukit Sports Club Academy. The setup, which had the services of the late football legend Majid Ariff, is linked to its parent entity, Kaki Bukit Sports Club – which features weekly against other domestic teams in Singapore Football League 2. Over the last 10 years, Malek has been providing coaching services to youths who approach him in person. There's little to zero publicity of his training services on any social media platform, as new trainees show up at his weekly sessions, mainly through word of mouth.
Speaking to ActiveSG Circle, Malek reveals about his passion for training young players and he shares details on some of his successful trainees. (see video interview below)
Malek Awab talks to ActiveSG Circle briefly on his passion of youth football. Video Credit : SportSG
Malek's footballing career began with an appearance at the King's Cup in October 1980 in Bangkok. Fast forward 121 international caps with the national team and four Malaysia Cup titles to his name, Malek's final match was with the Lions in the 1996 Tiger Cup campaign. His appearances in the new S.League (now rebranded as Singapore Premier League), included Tampines Rovers in 1996, followed by Home United a year later before wrapping up his football career with a season-long campaign with Woodlands Wellington in 1998. The football legend has also been working for Pacific Sports Pte Ltd for close to 40 years, distributing sports equipment brands like Molten, Patrick, Topper, and Ashaway.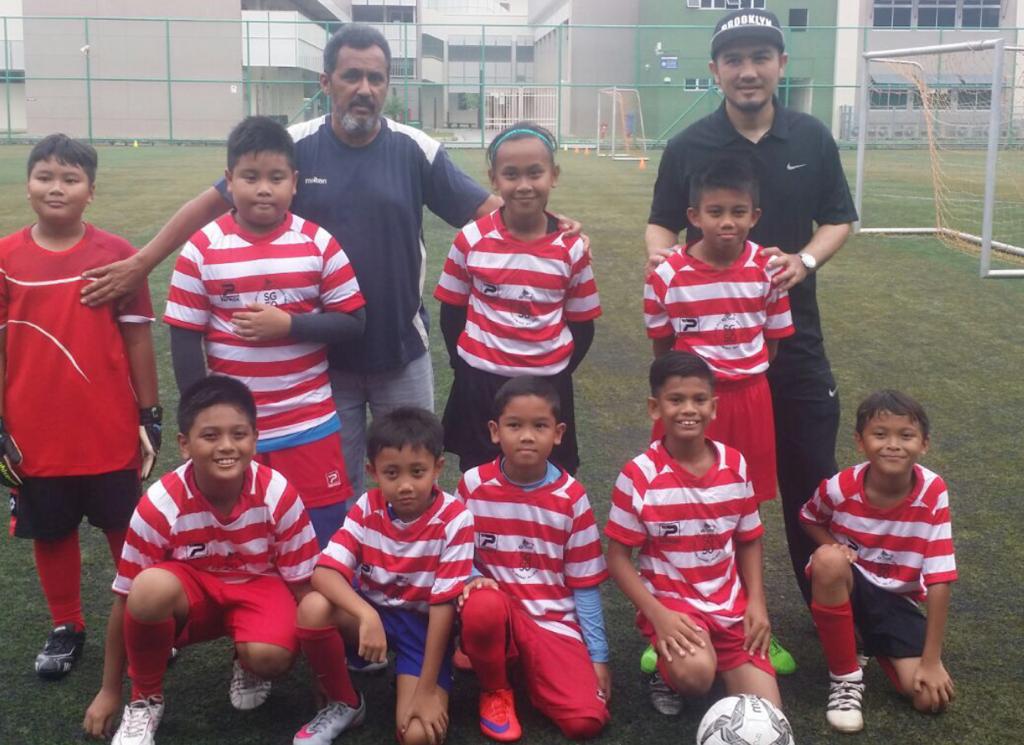 Coach Malek Awab with 10-year-old Ariesa Junaidi at a training session in 2016. Photo Credit: Ariesa Junaidi

One of Malek's proudest talent discoveries is Singapore's rising national player, Ariesa Junaidi. Having trained by him for 8 years, the current Temasek Polytechnic student said, "I was honoured to be given the opportunity to be coached by Malek Awab at such a young age. He was one of the coaches who had taught me the fundamentals of football like passing and dribbling. A passionate and supportive coach who believes in each and every player he trains. He made learning football fun and wouldn't get upset when mistakes were made.
He would pull me aside to work on my weaknesses. With his guidance, my development improved significantly and was able to compete against boys my age back then. It was definitely one of my core memories of football. I will always remember the two-sided games he held during training. He would end the game with a draw despite having a winner and finish off with a penalty shootout. With this style, he doesn't want the players to end their training with disappointment. Besides that, he also emphasised on mastering the basics because those are the essentials to become better players in the future."