Former Naval Diver Kenneth Tan, Utilizes Sport as A Force For Good
by ActiveSG Circle, on July 6, 2023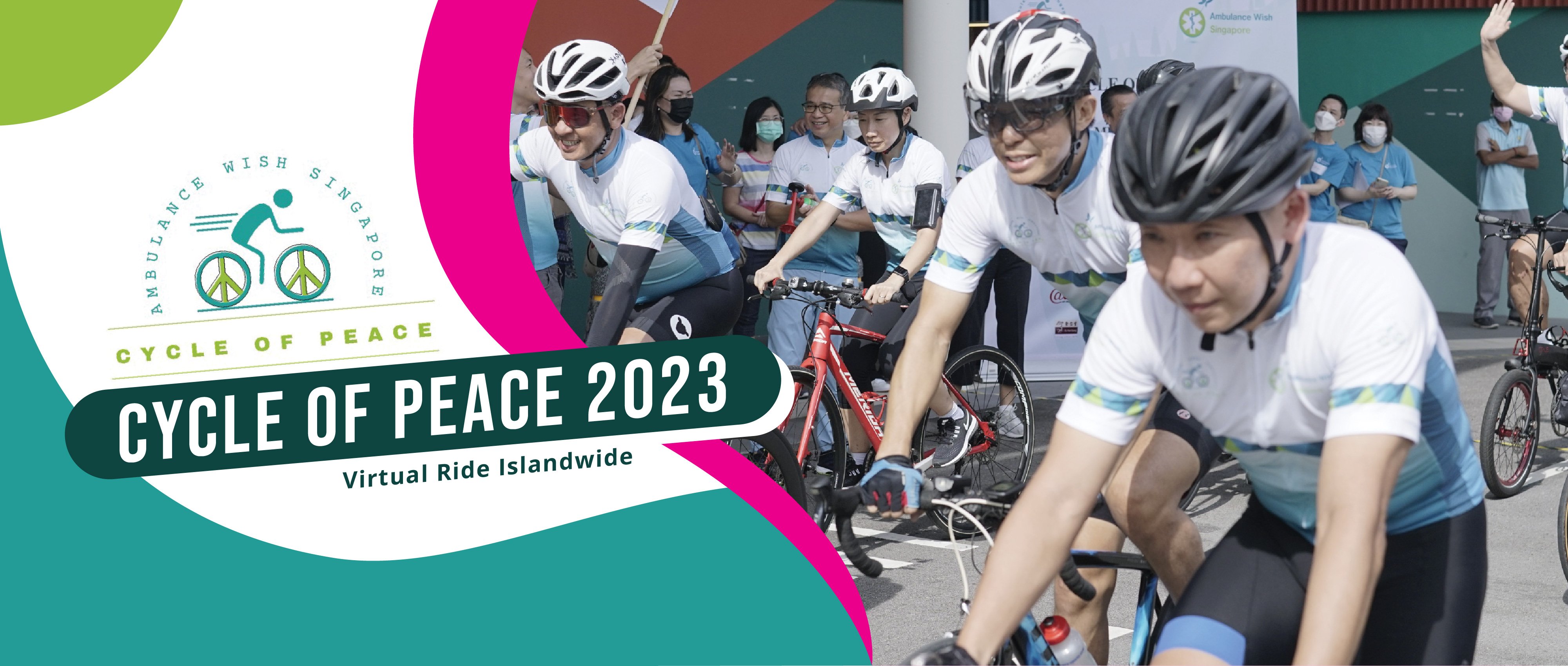 Cycle of Peace 2023 Banner. Image Credit : AWS
It's been almost 10 years since Kenneth Tan, a former naval diving officer with the Republic of Singapore Navy, was diagnosed with Hereditary Spastic Paraplegia (HSP). Having identified with HSP in 2014, it's a rare neurological condition that affects one's mobility. And over the last decade, Kenneth has made several hard changes to his daily routine, in order to overcome life's basic things like walking, taking a bath etc.
Meanwhile back in April 2023, 35-year-old Kenneth decided to be part of the "Cycle of Peace" (COP) charity initiative by Ambulance Wish Singapore (AWS). COP aims to continue to bring together the community to cycle and raise awareness on the lives of the terminally ill, while raising funds to advance the mission of AWS. And ActiveSG Circle caught up with Kenneth recently to find out more about his involvement, as well his lifestyle changes since 2014.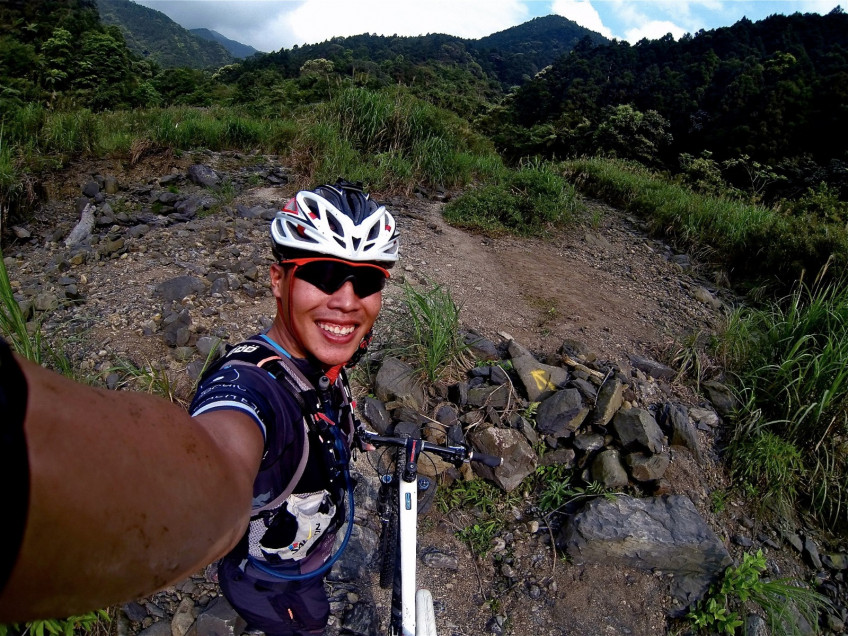 Former Republic of Singapore Navy Captain Kenneth Tan, at 1 of his adventure-cycling rides, prior to his HSP disgnosis. Photo Credit : Kenneth Tan
Q : It's coming to almost a decade since you were diagnosed with Hereditary Spastic Paraplegia. Looking back now at 2014, how far have you come in terms of your mental, emotional and physical well-being?
Kenneth : The past decade since my Hereditary Spastic Paraplegia diagnosis has been a journey of acceptance and personal growth. I have grappled with the reality that there's no cure for my condition, yet I've found strength in the adversity. Today, mentally and emotionally, I've come to accept my status as a differently-abled individual, which, while presenting certain limitations, has also allowed me to adapt, overcome challenges, and thrive in sustainable ways. I am now at peace with myself, using my experience to positively influence my community and inspire those around me to strive for their best.
Q : In the past, you were an avid cyclist and an adventure-racer. How far and often would you cycle and could you briefly explain "adventure-racing'?
Kenneth : Throughout my life, I've been an adventurer at heart, which is evident in my diverse sporting endeavors. Adventure Racing, for example, is an exciting, multi-disciplinary sport involving running, mountain biking, kayaking, swimming, navigation, rock climbing, and more, contingent on the whims of the race organizer. This dynamic team sport involves groups of two or more racers working together towards a common finish line. Durations vary significantly, from brief 4-hour races to grueling 12-hour marathons. Distances become secondary, with team members juggling roles, and courses spanning anywhere from a brisk 40km sprint to an exhaustive 100km.
Q : And how well were you performing as a triathlete?
Kenneth : As a triathlete, I consider myself a novice who dove headfirst into two half ironman races. I was fortunate to have had base fitness from my Naval Diving Unit training, enabling me to complete these courses in under 6 hours. The camaraderie of my 27th batch Naval Divers, who participated and cheered me on, amplified the experience, making it more rewarding and manageable.
Q : Following the diagnosis of your rare neurological condition, how did your love for sports change?
Kenneth : My diagnosis reshaped my abilities, but didn't deter my love for sports. I remain an outdoors enthusiast, consistently pushing my limits. Adaptation became paramount, leading me to explore a wide array of activities, including swimming, tricycle riding, and slow walking for long distances. I learned to find joy and satisfaction within the boundaries set by my condition.
Kenneth Tan does tricycle riding to stay fit and healthy. Photo Credit : Kenneth Tan
Q : What's the toughest challenge when you partake in a sporting activity at the moment?
Kenneth : Safety now presents the most significant challenge when participating in sporting activities. As a differently-abled individual, I no longer undertake solo sports adventures, out of respect for my family's concerns for my wellbeing. I do miss the days of independent long runs, but cycling now requires careful logistic planning and the steadfast support of my partner, who bravely embraced cycling to facilitate my passion.

Q : Do you have a favorite quote/message that keeps your mind and body motivated?
Kenneth : A quote that continually inspires my mental and physical resilience is 'Pain is inevitable, suffering is a choice."
Q : What is your current weekly routine of keeping fit?
Kenneth : My current fitness regimen involves cycling to work 2-3 times per week. However, during the Cycle of Peace (COP) season, I plan to embark on longer rides to locations like the zoo and other scenic natural spots.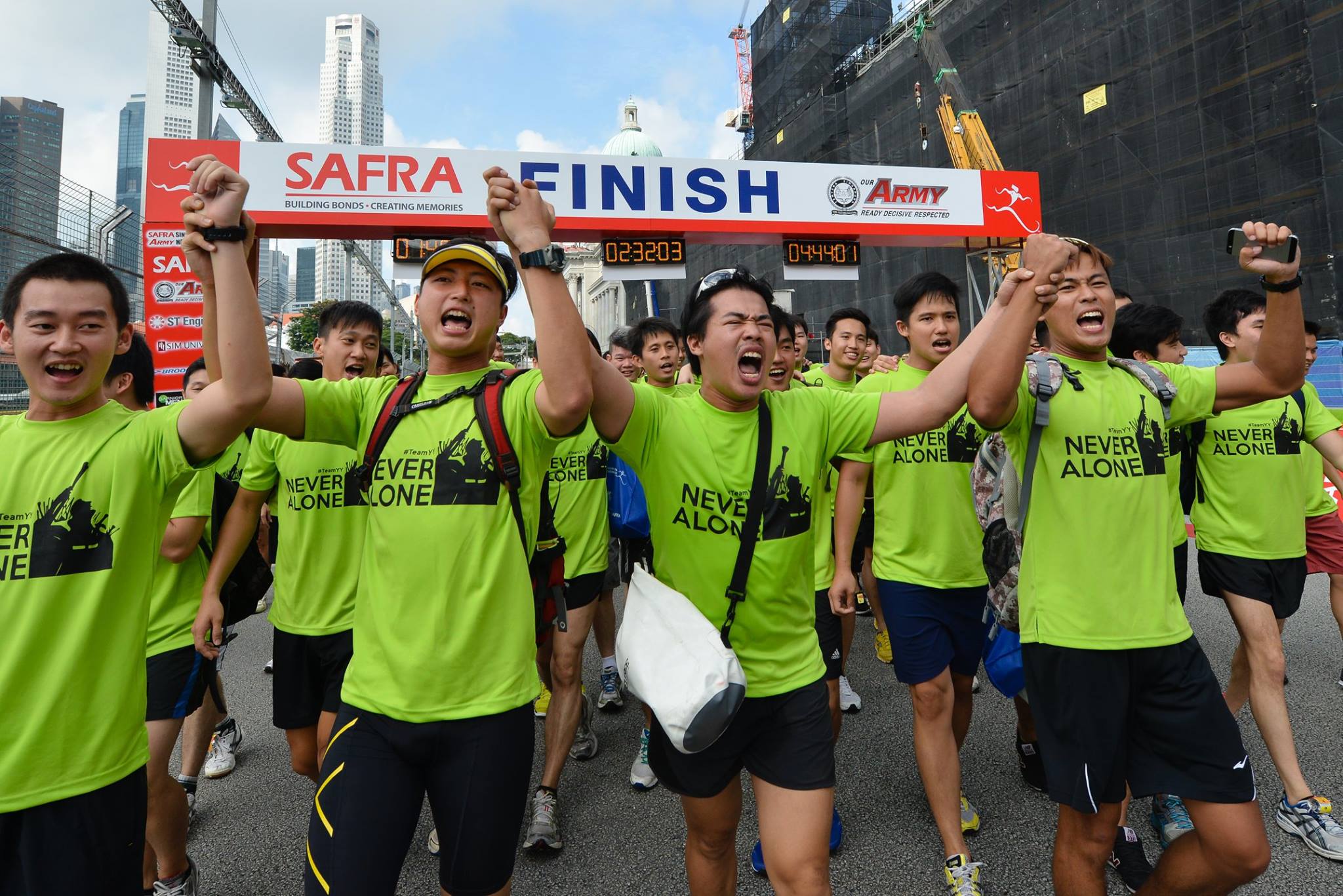 (2nd from R) : Kenneth Tan, partaking in a SAFRA event in Aug 2014. Photo Credit : Kenneth Tan
Q : What compelled you to get involved in "Cycle of Peace 2023"?
Kenneth : A brush with losing my mother provided a profound understanding of the preciousness of our final moments. Ambulance Wish Singapore (AWS) helps ensure that everyone can create meaningful memories while time permits. The chance to contribute to such a noble cause is an honor, and I am grateful for the opportunity to make a difference.
Q : Why should others come forward to support and contribute towards COP, which is helmed by former Team Singapore star bowler, Grace Young?
Kenneth :
The transient nature of time is something many overlook until faced with its scarcity. Participating in AWS and COP has reinforced my understanding of the fleeting nature of life and the need to cherish every moment. I hope others will feel motivated to support these causes generously, gifting the experience of meaningful moments to as many individuals as possible."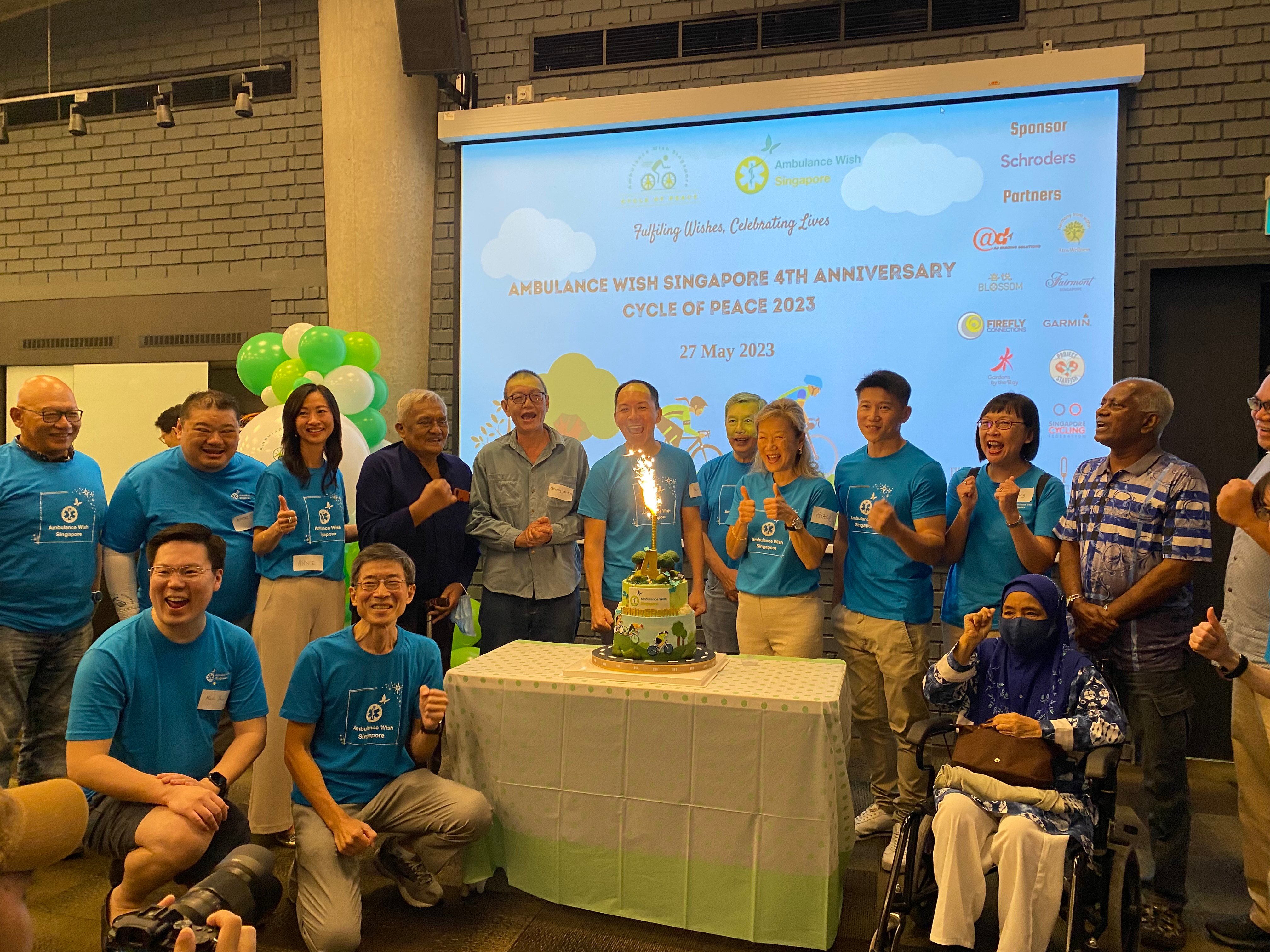 AWS' launch of "Cycle of Peace 2023" initiative in May 2023. Photo Credit : AWS
2023 marks only the 2nd year of the "Cycle of Peace" initiative by AWS. Chairperson of COP 2023 Grace Young, launched the start of the fundraising process at the end of May. "We truly believe in celebrating every life. Everyone has a story to tell. Everyone deserves to be acknowledged and every life is valuable. My personal belief is, giving is a form of receiving. Having interest in the community has a domino effect in paying it forward. The work at AWS involves not just the terminally ill, but their carers, family and all engaged in palliative care as a whole. We are an aging society. The work we do is important and necessary. It's about journeying with each other. Healthy or ill," said Grace at the launch event.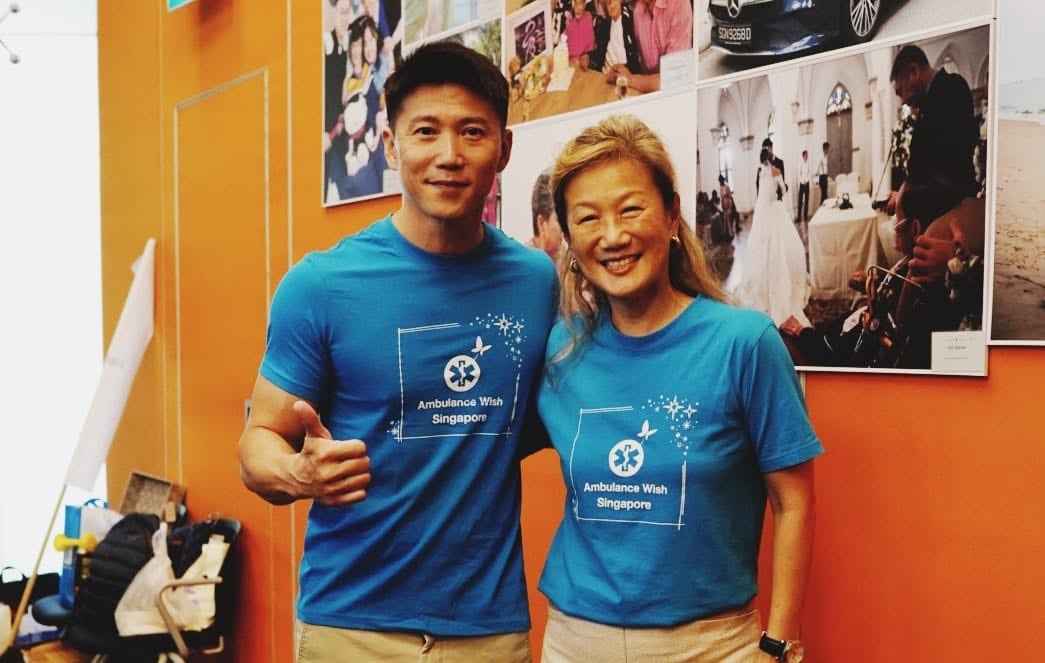 Former Team Singapore star athletes Vincent Ng and Grace Young. Photo credit : AWS
In attendance at the event launch was former Team Singapore star athlete, Vincent Ng. The ex-Wushu World Champion and 3-time SEA Games gold medallist is an AWS Ambassador. "In hearing about AWS through an old friend and fellow national athlete Grace, I truly appreciate and resonate with the mission of AWS, to fulfil wishes and celebrate lives of the terminally ill.
As a former national athlete, I believe hard work and dedication is just one part of the formula for success. AWS together with its dedicated team of volunteers have demonstrated just that, which is very commendable for a young charity. I hope to do my part to contribute too. I believe when a community comes together, we can achieve so much more," commented Vincent.
For more information regarding AWS or COP 2023 and to pledge your donations, do click here.
The support for disabled persons here has also been a key topic at the national level. And back in 2016, the Disability Sport Master Plan (DSMP) was first launched by the Ministry of Culture, Community and Youth (MCCY). Since its unveiling 7 years ago, the DSMP has contributed to increased sport participation rate among persons with disabilities, with the participation rate rising from 28% in 2015 to 50% in 2019.
Sport Singapore (SportSG) has also introduced several initiatives such as the learn-to-play programmes and the annual Play Inclusive campaign, which managed to reach out to more than 18,000 persons with disabilities to date. And these initiatives are organised with partners like the Singapore Disability Sports Council, Singapore National Paralympic Council and Special Olympics Singapore. To better prepare coaches and trainers to coach individuals with disabilities, the DSMP has also developed professional coaching and technical expertise in disability sports. And our national disabled athletes have also benefitted from even greater support in terms of resources, training etc, which have allowed them to perform and excel at several Major Games campaigns.
Recent Events & Programmes