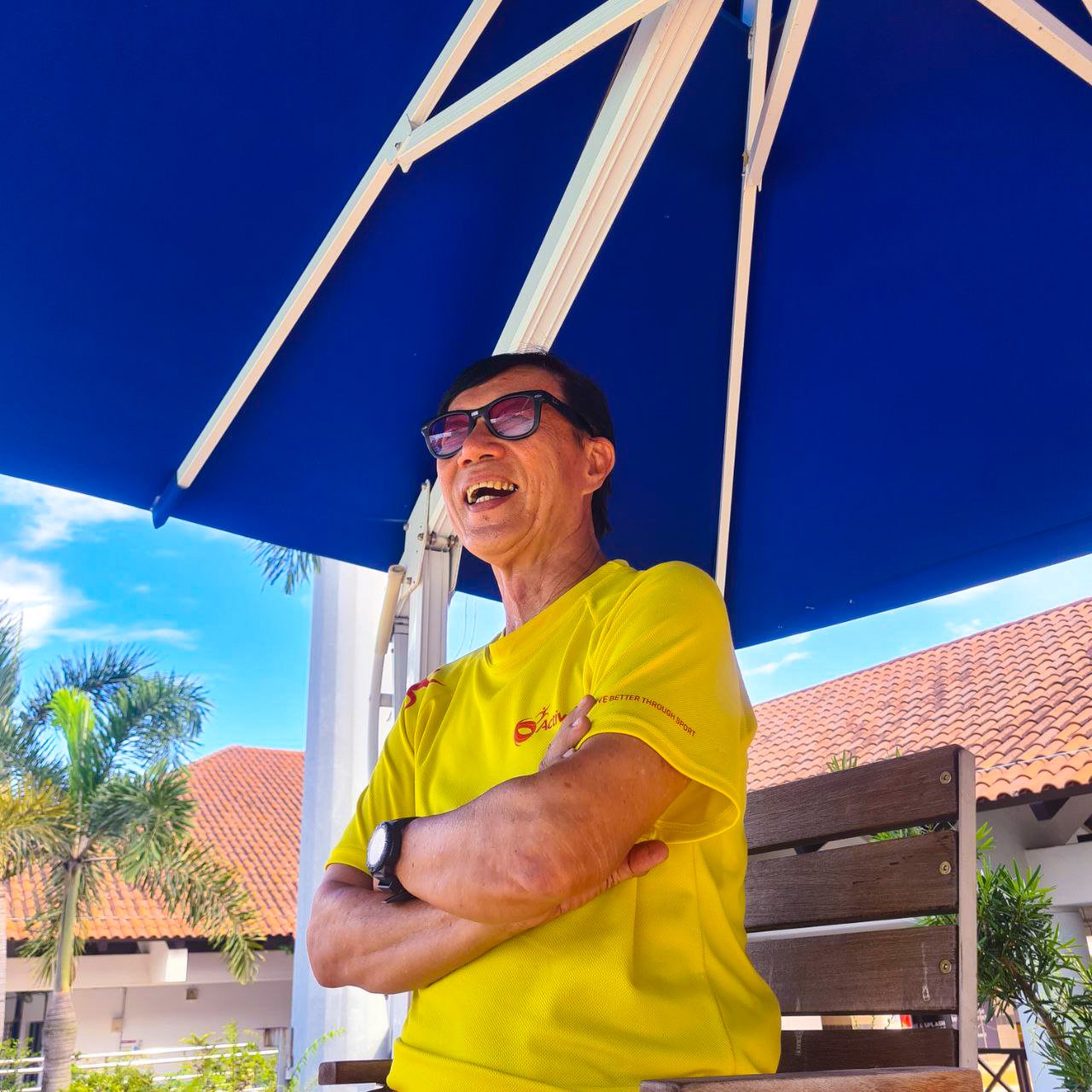 ActiveSG's recent retiree Sport Champion Lifeguard, Mr Quek Cheow Kwang. Photo credit: ActiveSG Sport Centre Ops.
From going fishing with his fishing kakis in Malaysia and Bintan, to returning as an Active Champion, Quek Cheow Kwang has a lot to look forward to during his retirement years.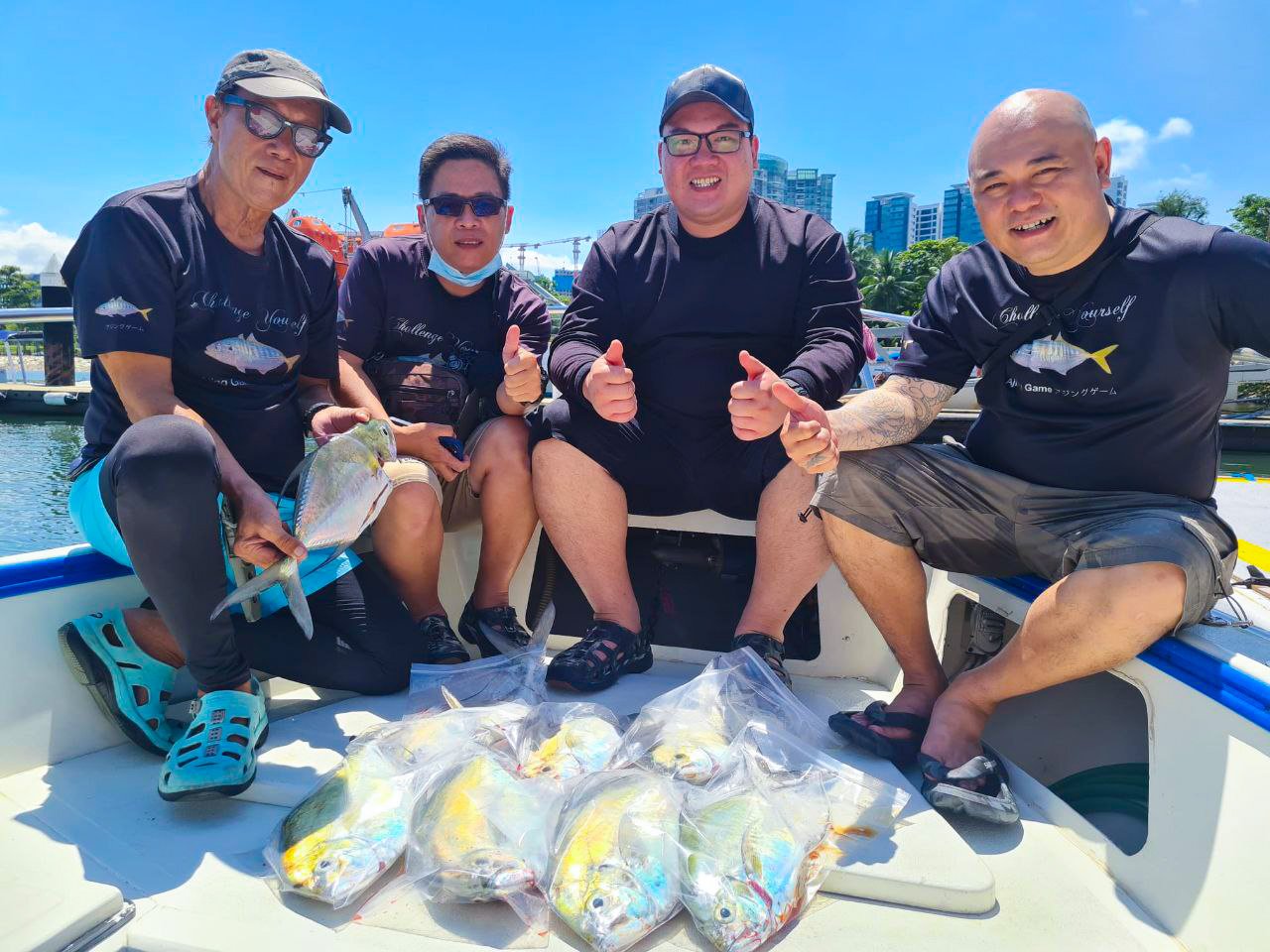 Cheow Kwang and fishing kakis. Photo credit: ActiveSG Sport Centre Ops.
Before he became a Lifeguard, Cheow Kwang was a nurse. A year later, he joined the Currency Board. He also worked with Mandai Garden where he learned how to care for Orchids. After that, he went to work at an orphanage and even went to India with them. Lastly, he was with NTUC childcare as a supervisor. His love for community is what made him choose jobs that involve being around and helping people.
Thanks to serving his National Service in the Singapore Navy, Cheow Kwang already had what it took to become a Lifeguard. He was fit and an agile swimmer. Out of the four swim strokes, breaststroke was his best. So, when the pools opened up, he gave being a Lifeguard a shot and his Lifeguard journey began in Toa Payoh Swimming Complex.
After his posting at Toa Payoh Swimming Complex, he was rotated to other swimming complexes namely Sembawang, Ang Mo Kio, Paya Lebar, Geylang Bahru and Hougang.
Among all the Sport Centres he has worked in, Hougang remained the closest to his heart as he spent most of his time there. He would often eat out with his colleagues and organise Chinese New Year gatherings so that he can spend more time with them. Additionally, he would make sure to extend his invitation to colleagues who could not return home to spend the festive period with their families to make them feel more at home.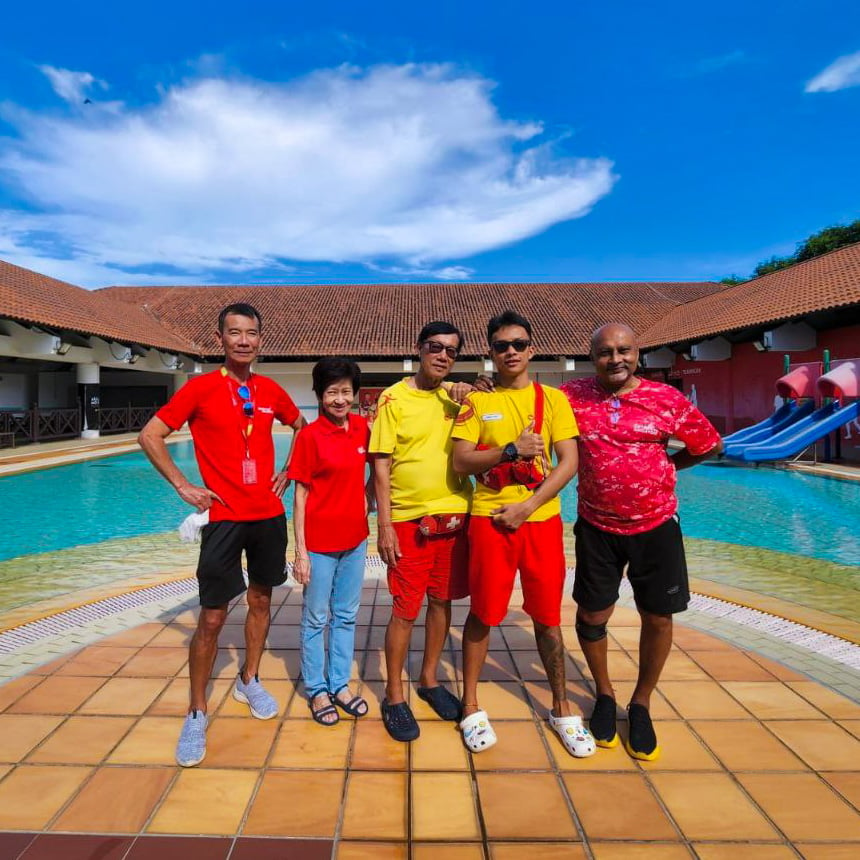 Cheow Kwang and his ActiveSG family. Photo credit: ActiveSG Sport Centre Ops.
He also likes to mingle with Lifeguards from different backgrounds as it helps him improve his communication skills. For instance, he is now very proficient in Chinese as he would need to converse in Chinese with some of the Lifeguards.
His proudest moment was when his picture was used in TODAY newspaper article on the Tripartite Committee on Employability of Older Workers. It was an interview on how the older generation are valuable assets in the workforce, as they can impart their knowledge and mentor the younger generation from their wealth of experiences.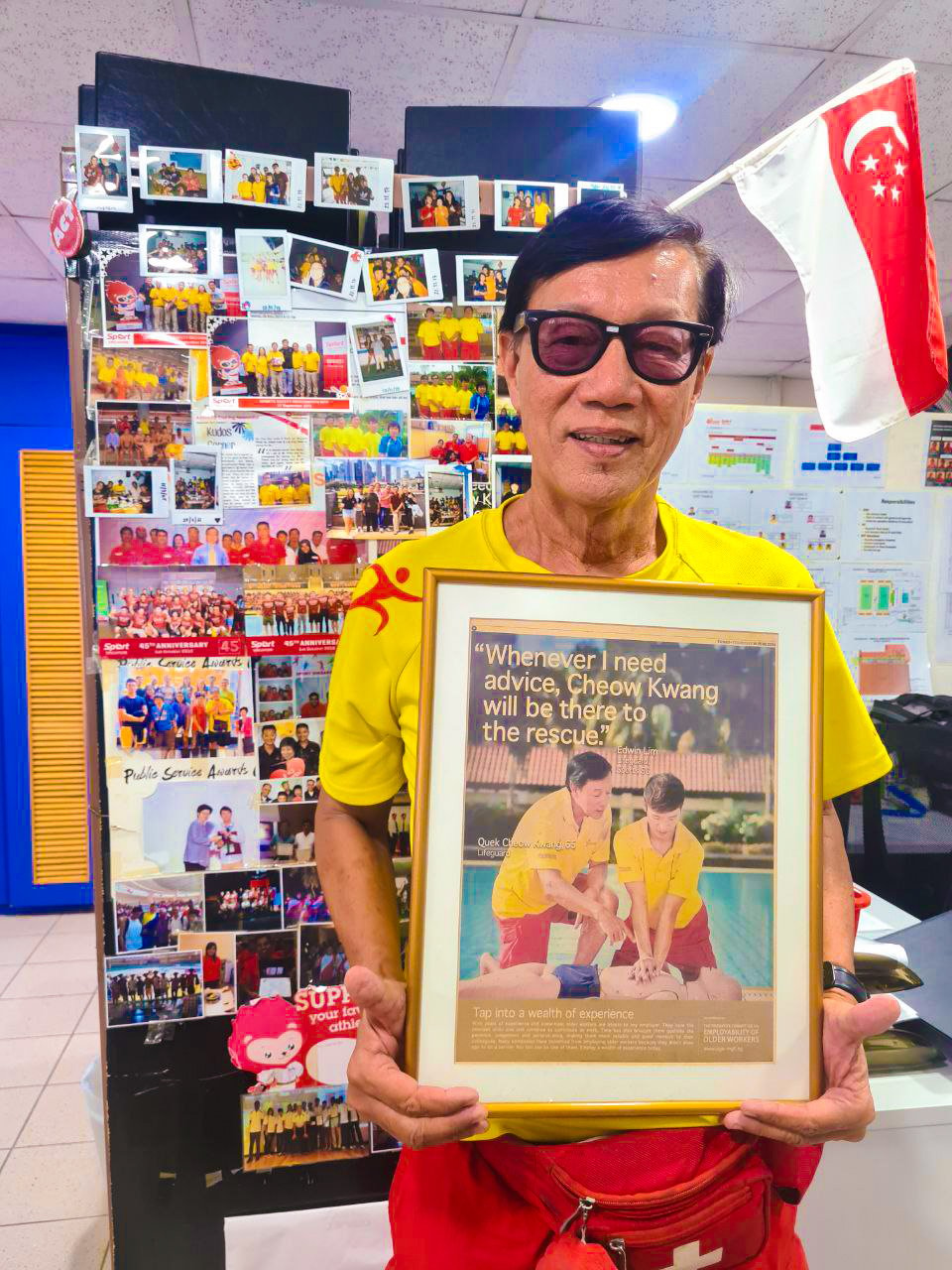 .A copy of newspaper clipping in recognition of Cheow Kwang's contribution. Photo credit: ActiveSG Sport Centre Ops.
When his nephew told him that his picture was everywhere and even made its way onto buses, this made him feel really accomplished and recognised for his work.
In recognition of his contribution, Hougang Swimming Complex kept a copy of the newspaper clipping in their office to commemorate it.
Another proud moment was when he and his two fellow Lifeguards saved a man who was suffering from cardiac arrest in Hougang Swimming Complex. The three of them were part of the 100 people commended at Singapore Survivor Awards back in 2014.
Having been with us since 1988, Cheow Kwang saw ActiveSG through several major changes such as keeping up with the technology and increase in standards regarding public safety. As the rules, regulations and workflows were constantly updated, he kept himself updated and towed his colleagues in line with the latest practices.
One thing he appreciated the most was the regular training required for Lifeguards. He found it to be useful as it gave Lifeguards a great confidence boost, since doing it regularly would make the protocols second nature. Cheow Kwang loves to socialise and Dinner and Dance was his favourite corporate event. During the event, he could be seen chatting or dancing with his peers.
When asked if there was anything he wished to impart to the younger Lifeguards, he emphasised on the importance of having good communication and empathy for each other. At the end of the day, everyone has the same goal, which is ensuring the safety of swimmers. Having worked in other professions before, he greatly appreciates the friendly and inclusive environment in ActiveSG.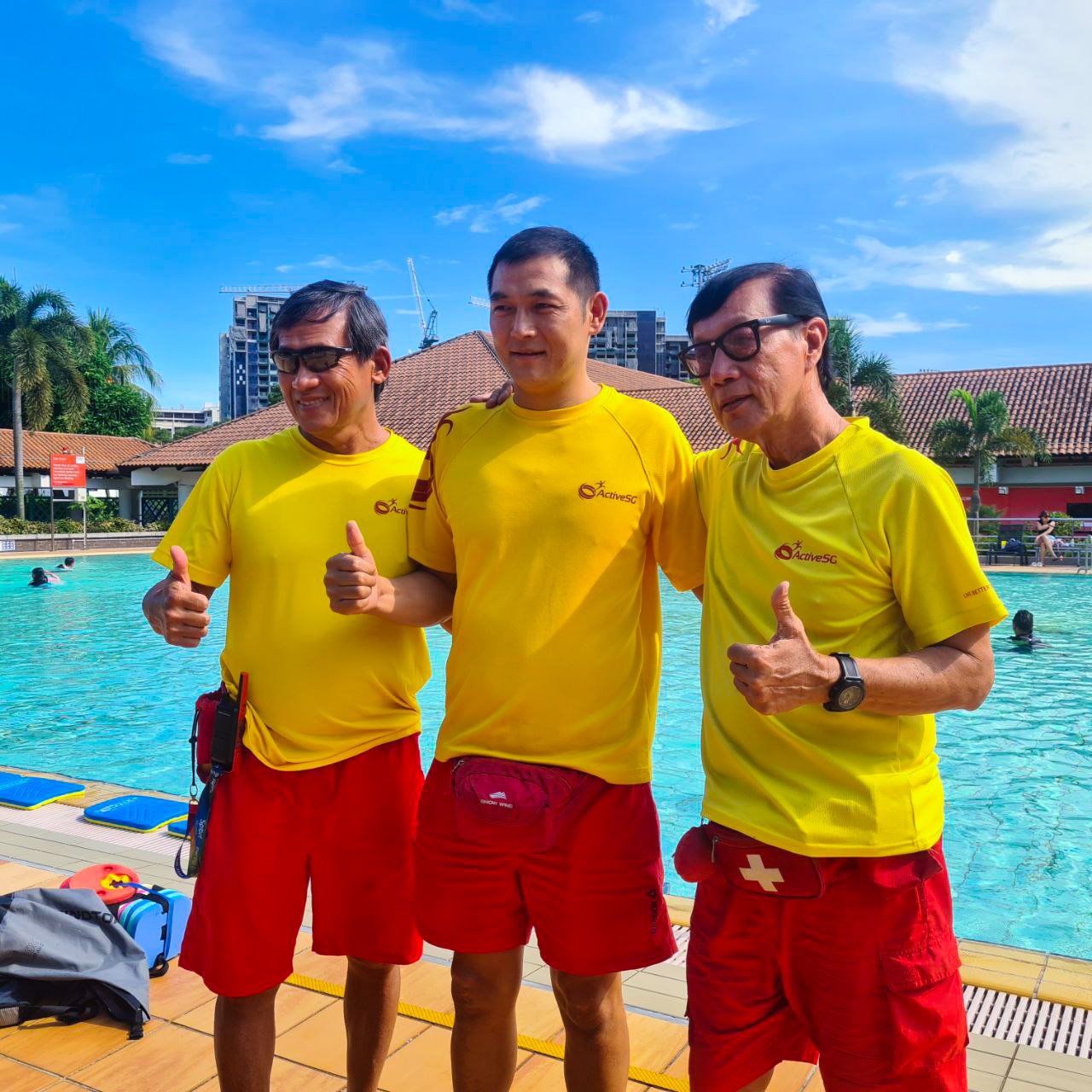 Cheow Kwang and his fellow colleagues. Photo credit: ActiveSG Sport Centre Ops.
As for the younger generation, he strongly advocates that it is good to start doing more exercises as this will help to keep their mind sharp and their body fit. By maintaining a active lifestyle, he still feels as if he is in his forties despite being in his mid-seventies and that his fitness is on par with the younger Lifeguards! He firmly believes that through an active lifestyle, life will be more fulfilling.
Thank you Cheow Kwang, for being the embodiment of what ActiveSG advocates! Your effort in safeguarding the lives of numerous pool users over the past 34 years is a great example of how one should be active and show compassion to others. Your zest for life is truly inspiring, lessons for us to live life to the fullest through Sport.
"Gems of ActiveSG is an ongoing series to celebrate ActiveSG Champions and their stories."