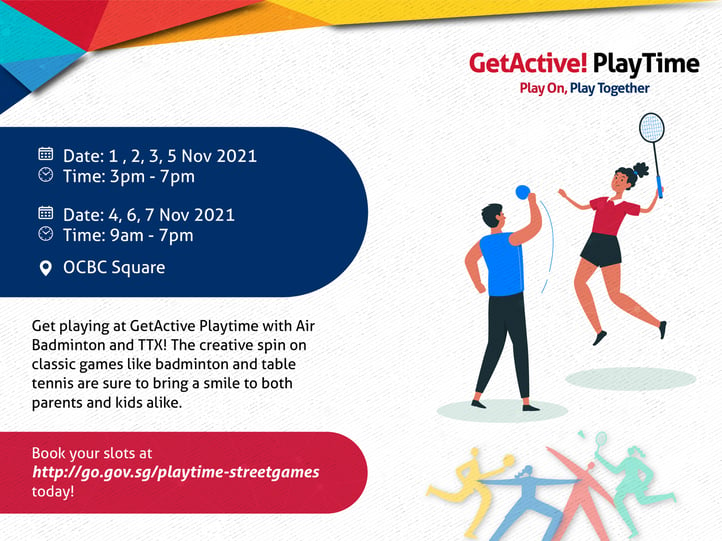 As part of the efforts to encourage Singaporeans to play on and play together, GetActive! Playtime is proud to announce Street Games. It's badminton and table tennis, with a twist! Come on down and try your hand at Air Badminton and TTX with the family!
WHAT IS AIR BADMINTON?
Unlike the traditional indoor badminton, Air Badminton involves a unique shuttlecock that is resistant to wind. As such, people of all ages can play AirBadminton outdoors. Air Badminton can be played as a singles game, doubles and even triples. Like badminton, the number of points and sets to win a game can be varied.
WHAT IS TTX?
TTX is a new way of playing table tennis with the use of bigger balls and non-rubber bats to optimize flight features in windy conditions and offer better control over the heavier ball and is perfect for the recreational player. TTX tables can be found island wide to make the sport readily available for many more to enjoy a game of outdoor table tennis.
There is always room for family - so bring your kids, bring your wife, bring your husband, and get ready to have the time of your lives!
Max 2 per game (1v1). 15 minutes gametime. Limited slots available, for participants 7 years old and above. Register here today!
Timeslots:
1 Nov, 3pm – 7pm
2 Nov, 3pm – 7pm
3 Nov, 3pm – 7pm
4 Nov, 9am – 7pm
5 Nov, 3pm – 7pm
6 Nov, 9am – 7pm
7 Nov, 9am – 7pm
Note for Unvaccinated Participants: Participants (aged 12 & above) must provide a valid Pre-Event Testing (PET) result from any MOH-approved medical service provider on the actual day of the clinics. PET must be valid for 24-hours and covers the participant throughout the duration of the clinic timeslot that you are attending (Participants ages 7-12 will not have to provide a PET result on event day)