By Patrick Johnston
Singapore's golfers set new standards at the Asian Games, with the men's team carding their best ever finish while the women marked their debut with an impressive eighth overall to cap a very happy 25th birthday for amateur Aloysa Atienza.
The final round of both tournaments took place at the picturesque West Lake Golf Course on Sunday (Oct 1) with the men chasing a podium but ultimately settling for fifth in the team event, boosted by James Leow and Ryan Ang ending the individual in a tie for 12th.
Leow, a recent graduate from prestigious U.S. golfing college Arizona State, carded a final round four-under-par 68 for a 274 total but was slightly disappointed he couldn't add to the SEA Games gold medal he won for his country in 2019.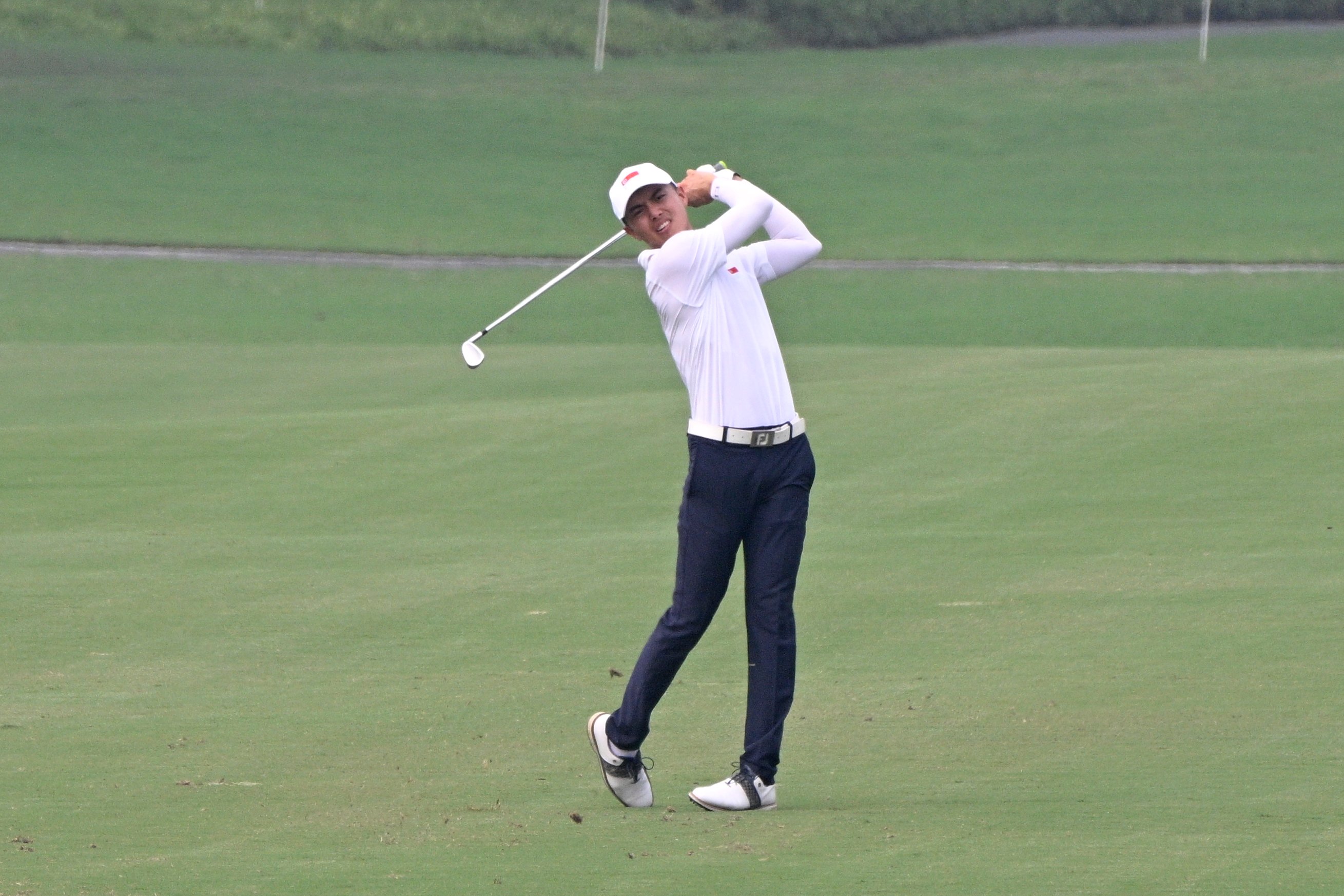 James Leow watches after hitting his approach to the green during the opening round of the Asian Games men's golf tournament at West Lake. (Photo: Sport Singapore/ Alfie Lee)
"I was hoping for a podium finish," he said at a breezy West Lake, where tricky final round pin positions hampered scoring.
"I had a really good start, first-round eight-under, and was hoping to build on it but I just couldn't quite make as many putts as I should on the second and third day. It was tough to accept, but the team did great."
The team really did. Amateur Ang shot a final round 73 to match Leow's 274 total, with Koh Dengshan closing with a 71 to finish 11-under, in a tie for 21st. Gregory Foo, who played the last two Asian Games, struggled somewhat over the weekend to finish 39th on three-over overall after a closing 77.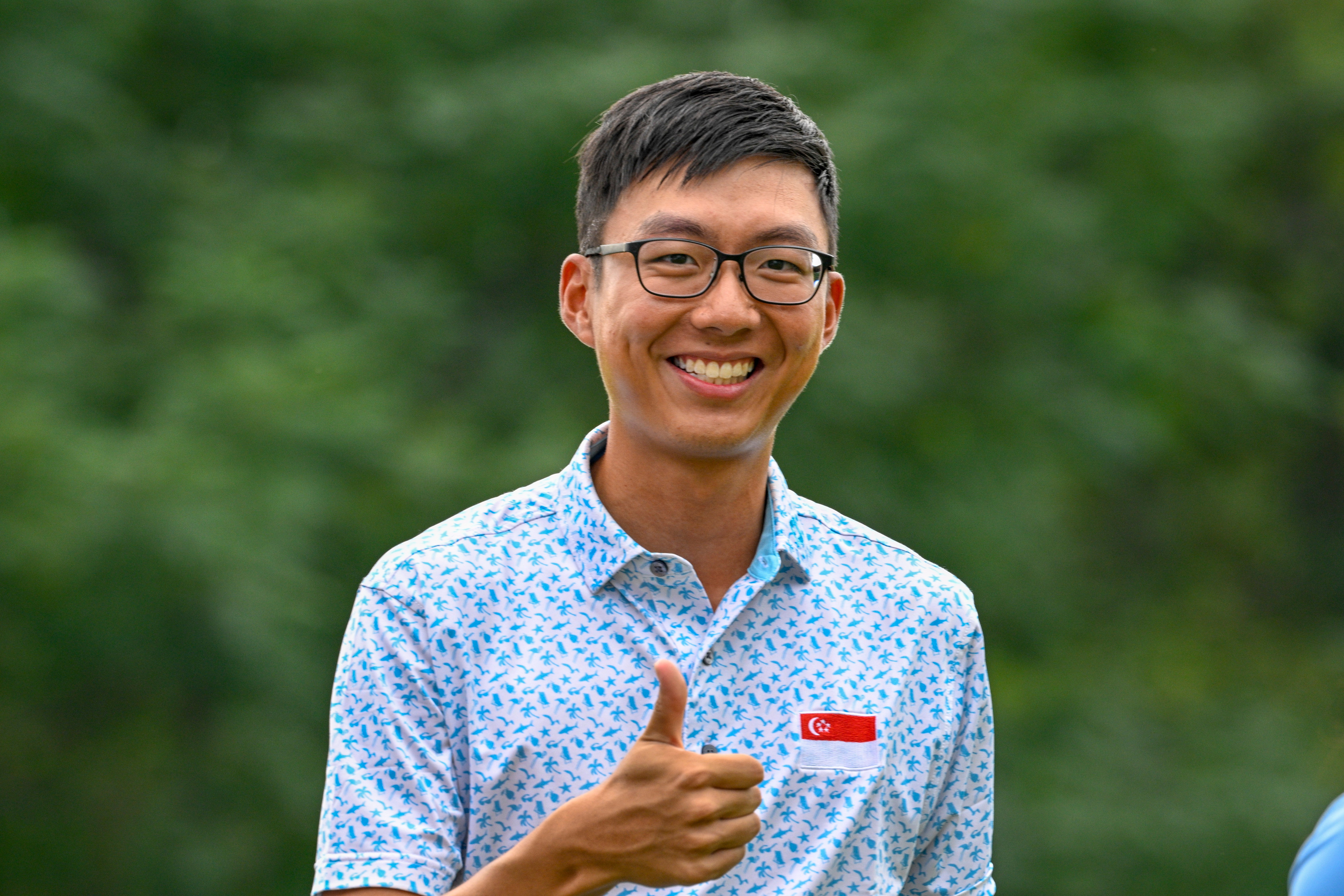 Ryan Ang gives a thumbs up after completing his final round at the Asian Games men's golf tournament at West Lake. (Photo: Sport Singapore/ Alfie Lee)
"A really good team finish for Team Singapore," said Ang.
"Podium was definitely on our minds today but we all knew, four behind Hong Kong, we needed to all shoot solid rounds, three-four-under to have any chance.
"And 14-under is my best-ever tournament round, tournament score, it's good to know I can compete with a lot of these guys. It's only my second year playing competitive golf, so I think the sky's the limit for me. A year ago I was nowhere near this place, so it is quite fulfilling to get to where I am and am looking forward to the future. This week's finish is a huge confidence booster for me."
Also taking lots of confidence from the Hangzhou event was the women's team, made up of amateur Aloysa Atienza, Amanda Tan and Koh Sock Hwee.
Tan, the first Singaporean to qualify to play on the second-tier Epson Tour in the U.S., shot a final round five-over 77 to close the individual tournament on three-over 291 and a tie for 18th.
She was ably supported by Koh and Atienza in the team event. Koh, who competes on the China LPGA Tour, shot a final round 77, while Atienza finished with a 76 as the trio ended on three-over overall.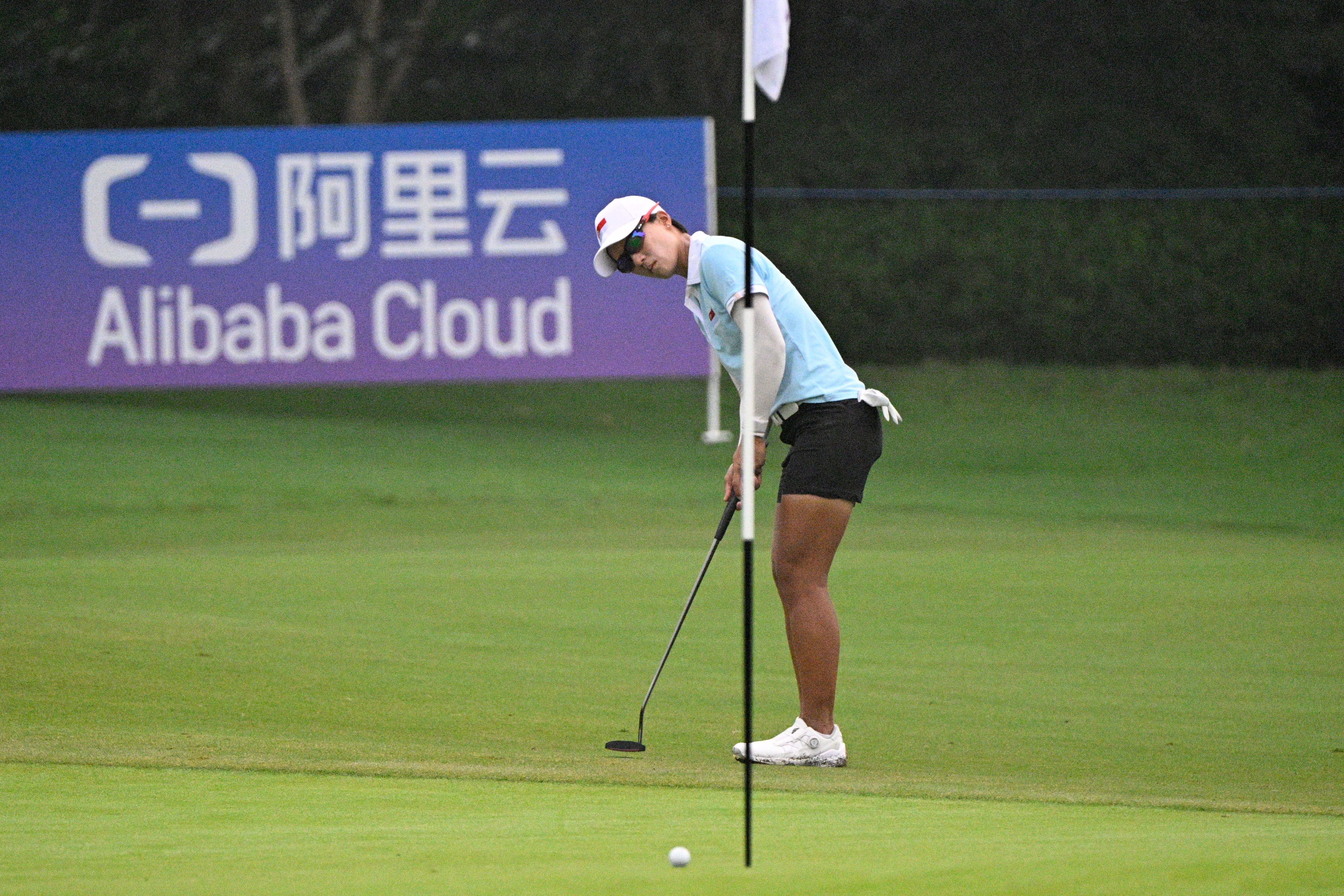 Koh Sock Hwee watches as her putt rolls towards the hole during the opening round of the Asian Games women's golf tournament at West Lake. (Photo: Sport Singapore/ Alfie Lee)
Atienza struggled on her opening nine on Sunday but bounced back to finish with three birdies and was grateful for the chance to represent her country.
"This year having a much different format including the professionals in the team event is really a good thing," she said.
"A lot of them are playing on the LPGA Tour. The players from China are top in the world, it's such a huge opportunity to represent Singapore in this event."
Supported on the sidelines by her father, Atienza said the team should be really proud of what they have achieved in Hangzhou.
"It is the first time that Singapore is sending a women's team to the Asian Games and just the fact that we managed to qualify this year just shows we are moving in the right direction," she said.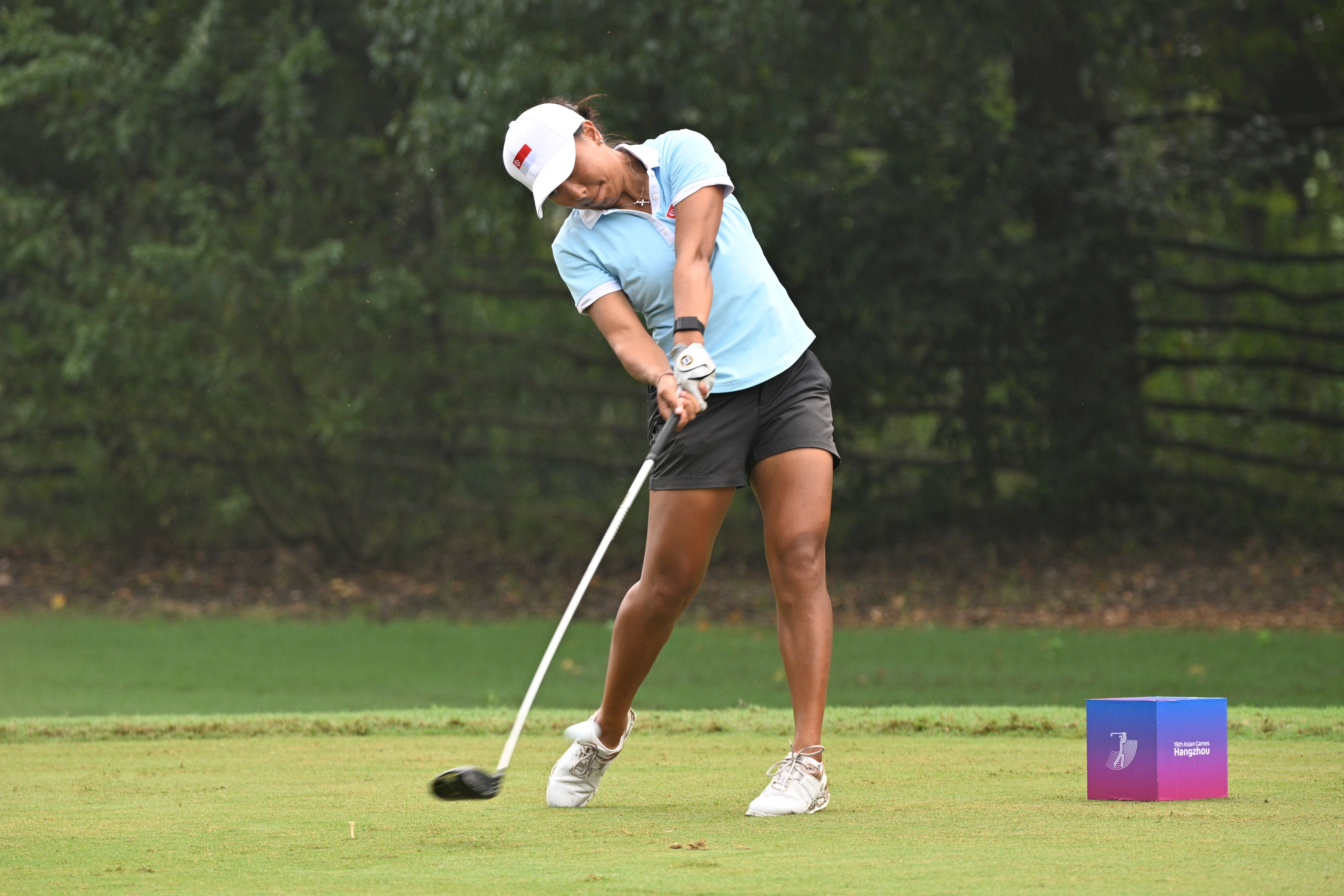 Aloysa Atienza hits her drive on the opening day of the Asian Games women's golf tournament at West Lake. (Photo: Sport Singapore/ Alfie Lee)
Fellow amateur Ang sang the praises of Koh, Tan and Atienza.
"It's a huge deal that they managed to get sent to the Asian Games in the first place, and then make the team cut. It's a huge deal for the girls, just an inspiration for the girls back in Singapore," he said.
"It is not easy to make the team cut, to squeeze themselves in there, they should be proud."

The 19th Asian Games are held in Hangzhou, China from 23 September to 8 October 2023. For the latest Team Singapore coverage and news, follow Team Singapore on their social media channels (Facebook, Instagram, TikTok) or visit the official Team Singapore website.
Related Topics
Recent Events & Programmes
Related Topics