Hangzhou 2022: Team Singapore's artistic swimmers end with a bang
by ActiveSG Circle, on October 9, 2023
By Jeremiah Ong
The curtains fell on Team Singapore's Asiad campaign with a sparkling finale by the artistic swimming team in the free routine at the Hangzhou Olympic Sports Centre Aquatic Sports Arena on Sunday (Oct 8).
The eight-woman team were keen to end on a high and strutted out to the pool with their game faces on.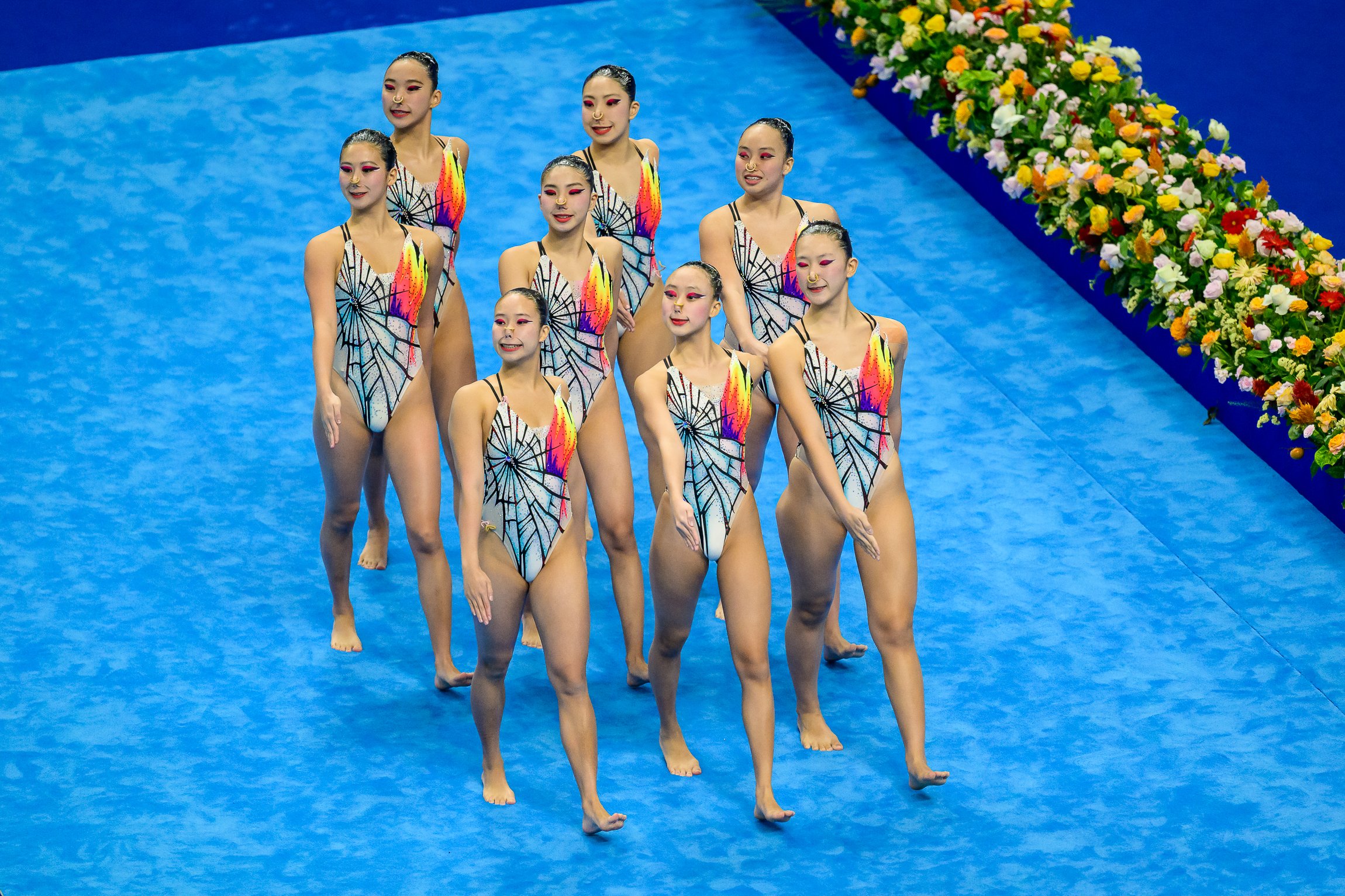 Team Singapore's artistic swimmers prepare to enter the pool for the free routine event. (Photo: SportSG/ Andy Chua)

After a three and a half minute long display filled with audacious mid-air flips and coordinated sequences, the eight-woman team exited the pool where they endured an even longer wait to see their scores.
As they looked on eagerly at the scoreboard, they found themselves reaching out for the hands of the person by their sides with equal parts anticipation and nerves.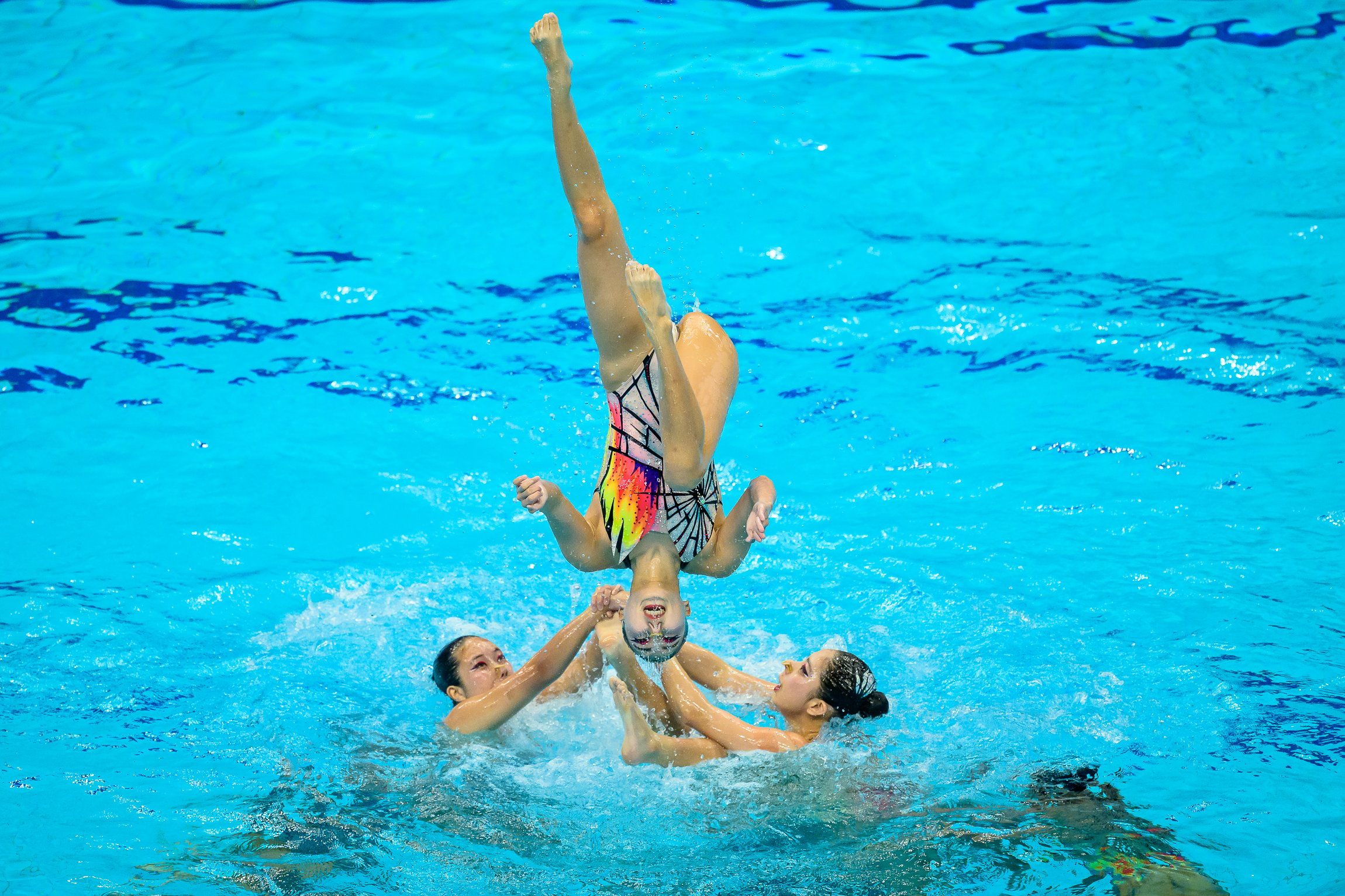 The eight-woman team earned a credible fourth in the free routine event on Sunday (Oct 8). (Photo: SportSG/Andy Chua)
Their patient wait for the free routine score was not for nought.
213.5834, was the figure flashed on the jumbotron prompting wild cheers from the crowd. Members of the team covered their mouths in disbelief while others took turns jumping in delight and embracing each other.
As they were ushered out, whistles of approval were still heard in the crowd.
The score put them in fourth in the free routine only behind powerhouses China, Japan and Kazakhstan. Their combined score of 575.6164 across the acrobatic, technical and free routines put them in fifth out of the eight-team field, climbing up two places since the 2018 edition.
Vice-captain Claire Tan, who was anxious at the long wait, said: "I could hear my coach muttering 'please, please' next to me and my teammate kept squeezing my hand. I could feel we were all holding our breath. When the score finally flashed on the screen, I didn't even see it before I heard my coach scream and tackle me with a hug.
"As I hugged her back, I didn't need to look to know that we had managed to receive our fully declared difficulty. As the screams of my teammates dissolved into sobs, I was overcome with emotions: immense relief, pride and an overwhelming sense of accomplishment. It was a long road filled with many challenges and I think we were all so happy and relieved that it was finally over and that our efforts had borne fruit."
Captain Vivien Tai was equally proud of her team's display.
"I am very satisfied with our performance at this Games. Our road to the Asian Games definitely wasn't an easy one. With the new change in the scoring system, there was a lot of learning to do and fine-tuning of routines. Our goal at this Games was to improve our placing from the 2018 games and I am glad we managed to attain that goal."
It was also a journey of growth for two-time Asiad participant Tai.
"When I went for the 2018 Asian Games I was still quite young and as it was the first time (we) competed (at the) Asian Games, we all just took it as an experience. However, coming back now with a goal and leading a team, it's been a stressful but also very fulfilling journey. Moreover, as the Asian Games was delayed for a year, I have been waiting for this Games for a while and finally coming here feels very surreal."
Speaking on being able to lead her team over the past years, Tai expressed gratitude.
"I have definitely learnt a lot from my own teammates, coaches and team managers. I am grateful to be able to work alongside my team to achieve our goals."
The youngest member of their team, 15-year-old Kiera Lee, was also grateful to have made her Asiad debut.
"​​I feel very grateful to be able to qualify for (the) Asian Games as it is one of the major Games and a once-in-a-lifetime opportunity. I also feel very accomplished, as we achieved the results we had aimed for and our tireless and intense training hours have paid off," the Methodist Girls' School student said.
The team will enjoy a short break before returning to the pool to prepare for next February's World Aquatics Championships in Doha, with an eye on the following edition which will be held on home turf.
In the women's duet combined final, Miya Yong and Debbie Soh finished fourth (206.6833) in the technical routine and sixth (175.2875) in the free routine to finish fifth out of 10 overall.

Yong and Soh took fifth place after they completed the free routine component of the women's duet on Saturday (Oct 7). (Photo: SportSG/ Andy Chua)
The 19th Asian Games are held in Hangzhou, China from 23 September to 8 October 2023. For the latest Team Singapore coverage and news, follow Team Singapore on their social media channels (Facebook, Instagram, TikTok) or visit the official Team Singapore website.
Recent Events & Programmes