North View stun Catholic High (Pri), to complete fairytale NSG North Zone basketball win!
by Circle Stories, on July 4, 2022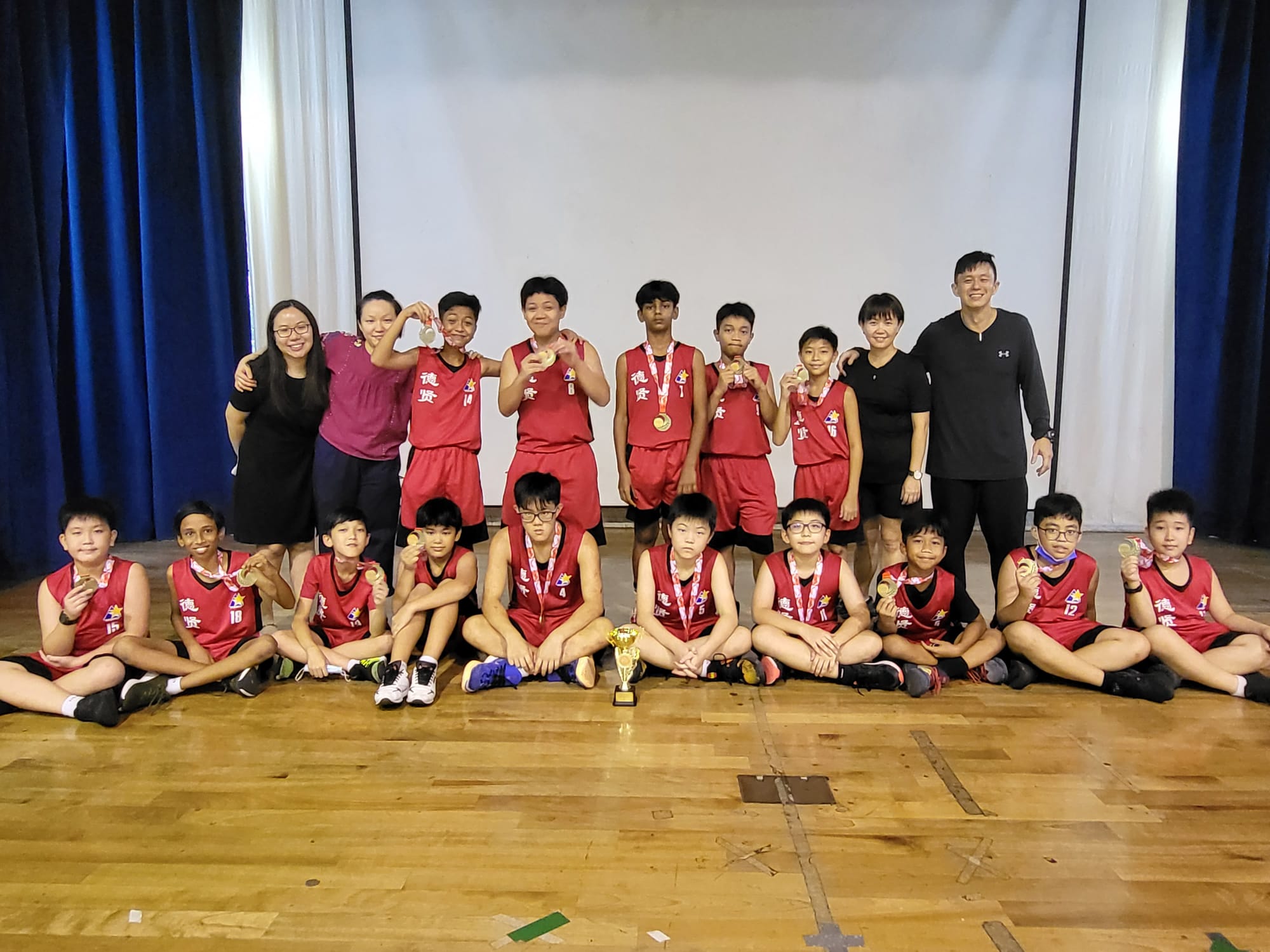 North View's cagers pose with teacher-coach Mr Roy Too (top right, in grey) after their amazing final victory. Photo Credit: North View Primary School.
By Kenneth Tan
Watching their girls' team leave the court in tears after going down 15-10 to hosts Anderson Primary School in their third/fourth placing match, North View Primary School's boys entered the arena next, with their minds set on not allowing their supporters to suffer yet another heartbreak.
Coming up against Catholic High School (CHS) (Primary) in the grand final of the North Zone Senior Division Boys' Basketball Championships on 25 May, North View were the clear underdogs and knew it would require something special to topple the basketball powerhouse though.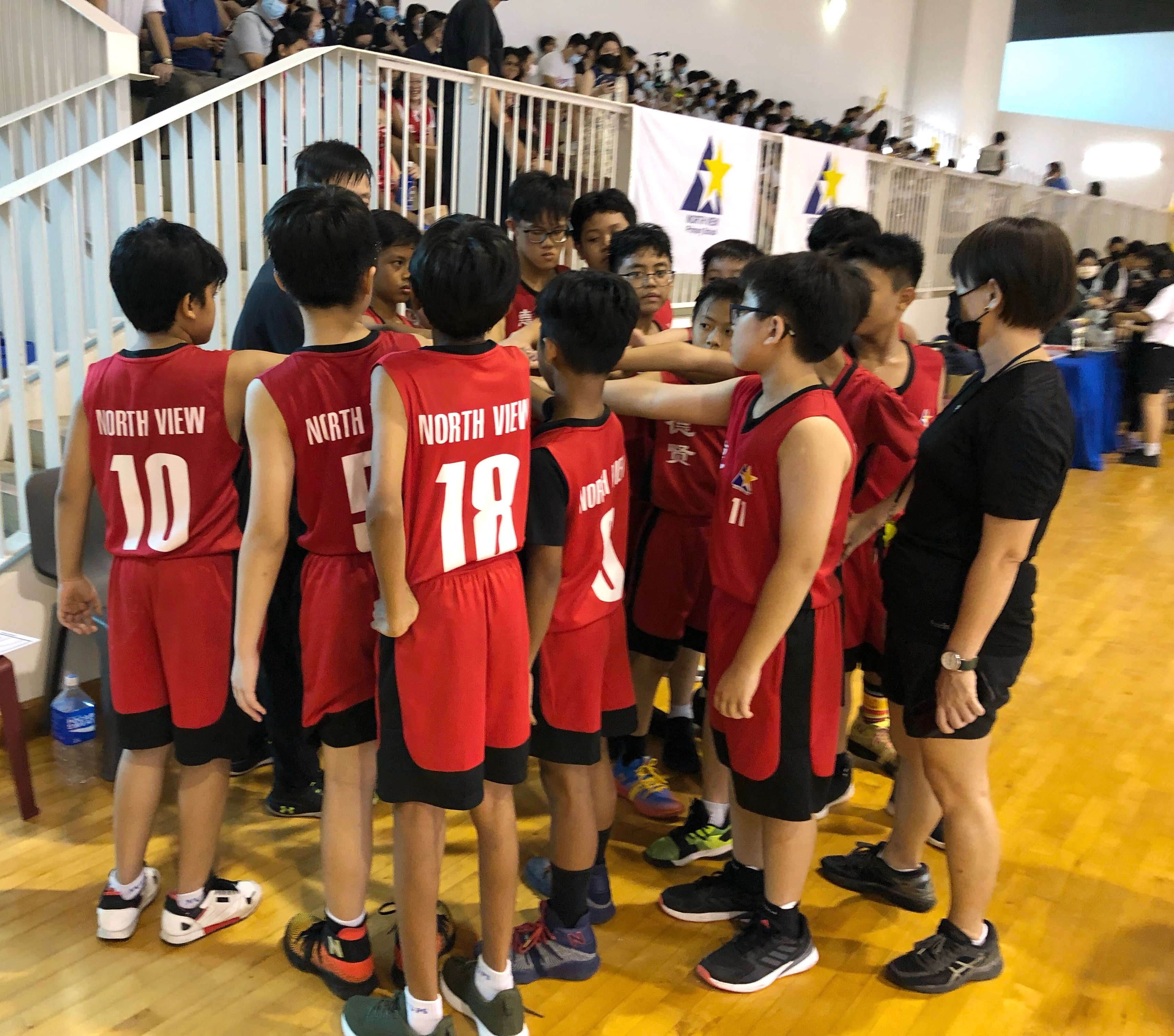 North View in their pre-match huddle before going onto the court. Photo Credit: Kenneth Tan
Afterall, CHS (Pri) have won the National School Games (NSG) North Zone for several years, before it was halted in 2020 and 2021 due to the Covid-19 pandemic. As for North View, this is their first time in the zonal final and they have never ever reached the last four before this campaign.
However, in a great show of spirit and determination, North View came through a tense and enthralling encounter to defeat CHS (Pri) 34-29 in the Indoor Sports Hall (ISH) of Anderson Pri, to become North Zone basketball champions for the first time in their school's history!
Players from CHS (Pri) (in white) and North View (in red) getting ready to challenge a possible rebound. Photo Credit: Kenneth Tan
The feat is even more remarkable, considering they had to utilise the school's hall to conduct training due to their ISH being under construction and were without an external coach – unlike other schools. They were instead led by Physical Education (PE) teacher, Mr Roy Too.
With the teachers-in-charge making the effort to livestream the game on their school's Facebook page and the presence of numerous student supporters in the stands providing vociferous support, North View's cagers rose to the occasion in the early stages and opened up a 7-0 lead by the end of the first quarter.
CHS (Pri) duly found their groove in the 2nd quarter though, with captain Ezekiel Tan (#10) singlehandedly driving the team with his forceful runs to whittle down the deficit. He netted his school's first 10 points, before Jedidiah Mah Ng (#12) converted a jumper to put the favourites 12-10 ahead at half time.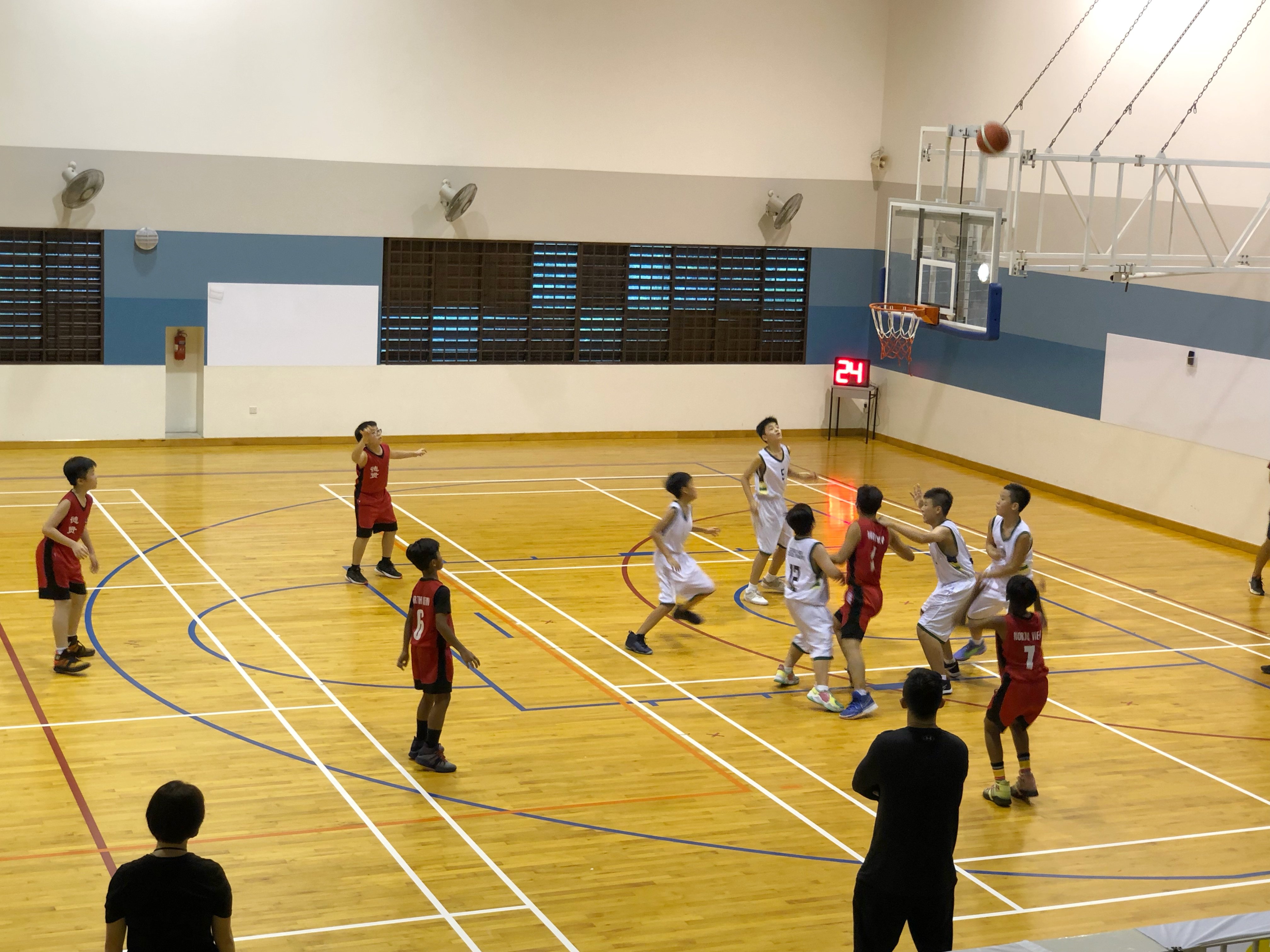 North View's Mrudhullan Rengaraj (#7, in red) scores with a wonderful shot from the side. Photo Credit: Kenneth Tan
North View returned with renewed vigour in the third quarter, with Mrudhullan Rengaraj (#7) levelling it up at 12-12 with a superb angled shot. Captain Venedict Boon (#4) then started to take centre stage by scoring the next nine points for his side, as they seized the initiative to lead by 21-17 with one quarter to go.
The heat was beginning to crank up in the 4th and final quarter, with both sets of student supporters now up on their feet to cheer for their respective schools. CHS (Pri) rallied and squared the game at 23-23, but Venedict continued his inspired form to open up North View's lead again.
The tall and athletic attacker was proving to be unstoppable as he dominated the rebounds and netted seven straight points – including one free throw – to put the surprise package 30-23 up. CHS (Pri) then reduced the deficit to five points, before North View suffered a huge blow with Venedict picking up his 5th personal foul and was disqualified with 3 minutes 46 seconds to go.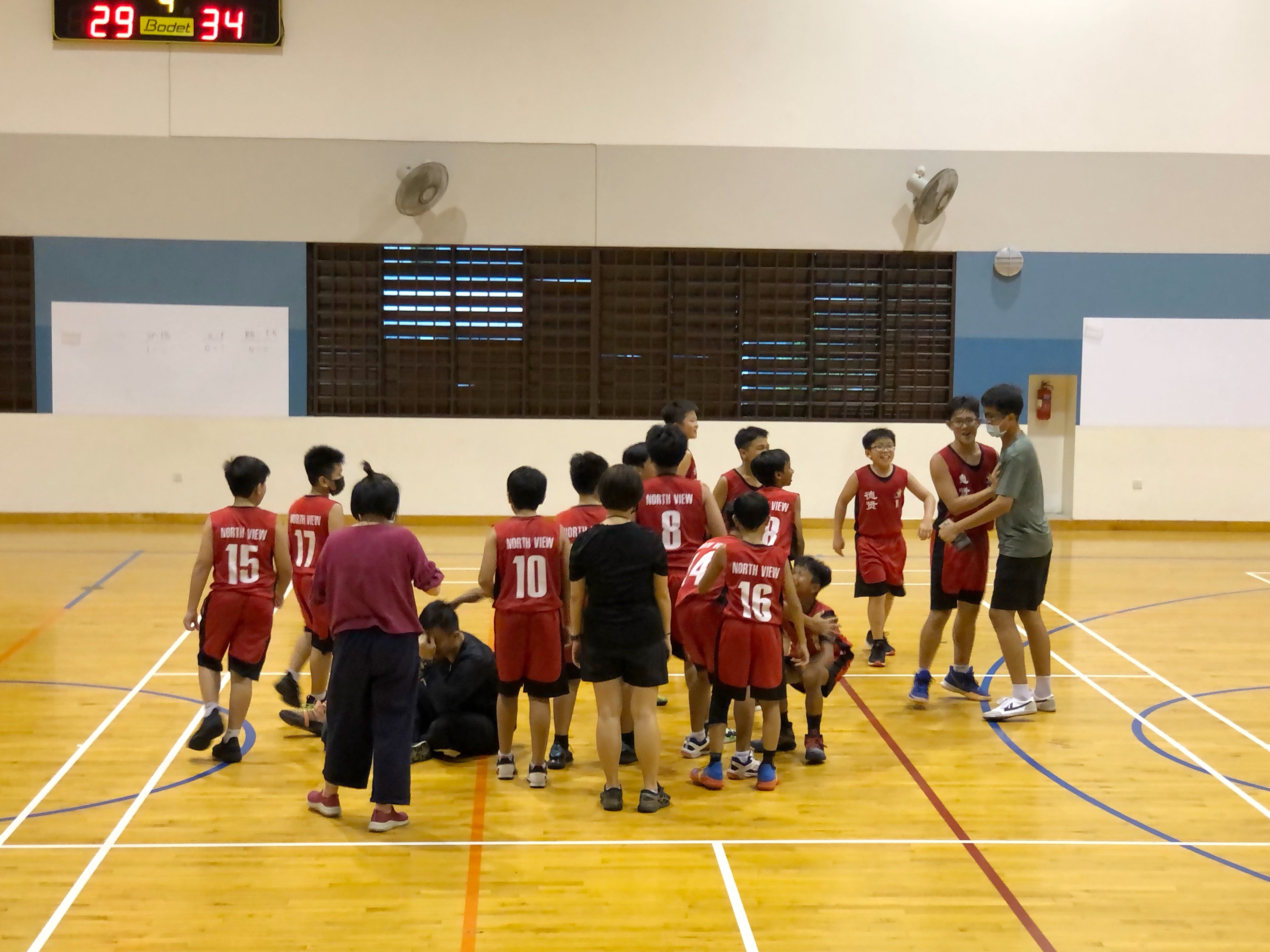 North View's teacher-coach Mr Roy Too (sitting down, in grey) with tears of joy as he celebrates the shock win. Photo Credit: Kenneth Tan
An abrupt end to his last NSG game for the school before turning Secondary 1 next year was not what he envisaged, as he teared on the sidelines and had to be consoled by the teachers-in-charge.
With their captain and best player out for the reminder of the game, North View could have easily cowered but the rest of the team came together defiantly to keep CHS (Pri) at bay in an exciting finale. CHS (Pri) did reduce the deficit to 32-29 going into the final 15 seconds, but there was no stopping North View with Mrudhulla netting a buzzer-beater to complete the shock victory.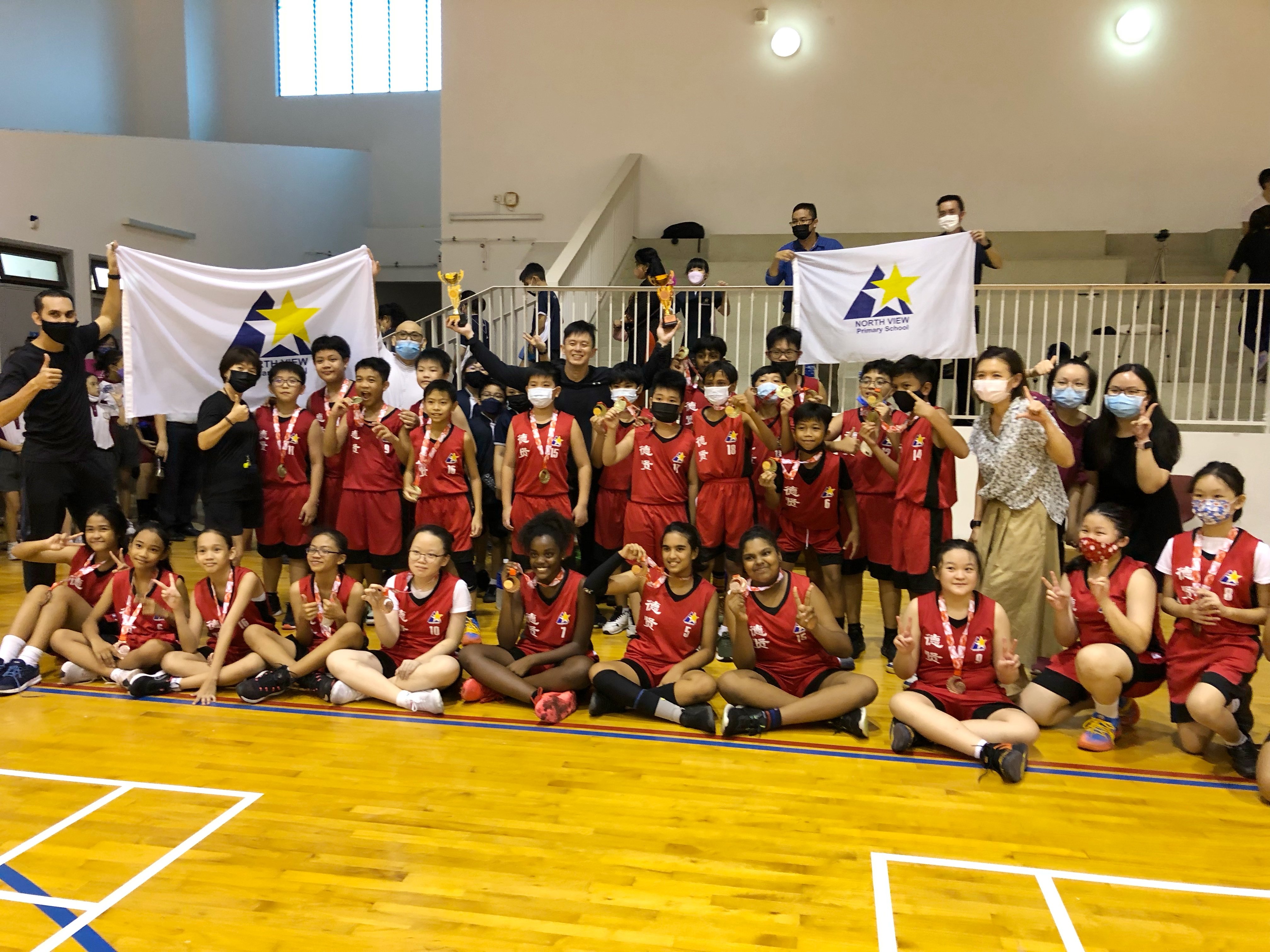 North View pose for a mass team photo. Apart from the boys, the girls also did well to reach the semi-finals for the first time. Photo Credit: Kenneth Tan
Having witnessed his side cap off a brilliant fairytale, teacher-coach Mr Roy Too was unable to contain his emotions as he swelled up and ran onto the court to celebrate with his players in incredible post-match scenes.
It was indeed a wonderful way to end off the 2022 NSG campaign after it was disrupted for the past two years.
Meanwhile, Rivervale Primary School's boys defeated Maris Stella High School (Primary) 22-11 to clinch third in an earlier game.
Scoring by Quarter
CHS (Pri) vs North View Pri
1st Q: 0-7
2nd Q: 12-3 (12-10)
3rd Q: 5-11 (17-21)
4th Q: 12-13 (29-34)
Top Scorers
CHS (Pri)
Ezekiel Tan (#10) – 23 points
North View Pri
Venedict Boon (#4) – 20 points
For all the news, post-match interview videos, stories, photos, fanzone details and much more from the 2022 National School Games, do visit our website : go.gov.sg/nationalschoolgames