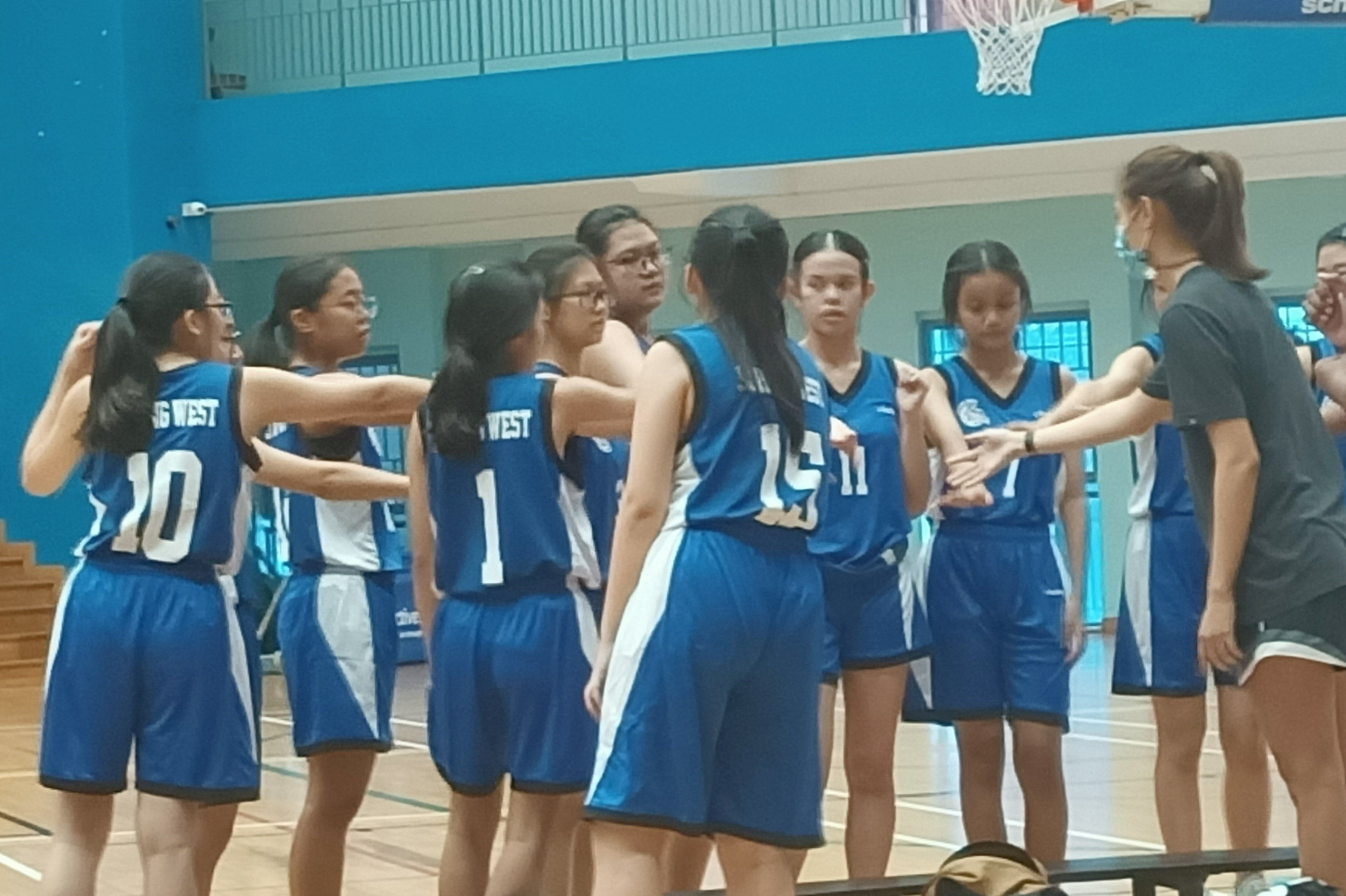 (Jurong West Sec players close in to listen to the coach before their B Div South Zone basketball semi-final. Photo credit: Suresh Nair)
By Suresh Nair
TWO high-scoring results in the B Division Girls West Zone semi-finals, involving Nanyang Girls' High School (NGHS) and Jurong Secondary School, helped set the stage for a sensational showdown in the final.
On 27 April, both schools clearly raised their playing pace with quick counter-attacks especially with early first-quarter advantages. In the 1st semis, Nanyang beat Kranji Secondary School 53-17, while Jurong Sec got the better of Jurong West with their 55-24 in the 2nd semis encounter.
(For all the news, post-match interview videos, stories, photos, fanzone details and much more from the 2022 National School Games, do visit our website : go.gov.sg/nationalschoolgames)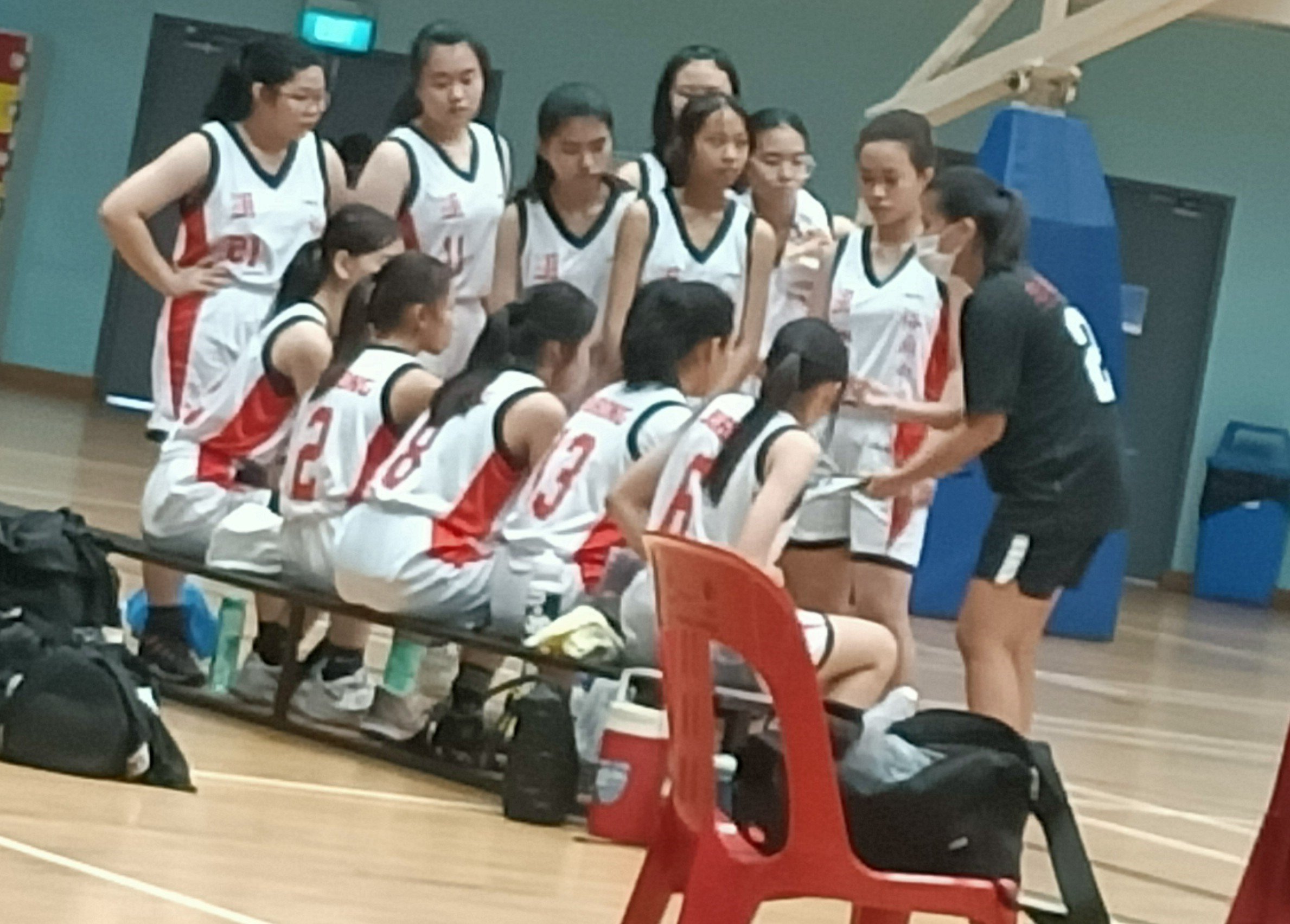 (Jurong Secondary girls told to go for an early knockout. Photo credit: Suresh Nair)
Starring for the winners were Callista Koh (Nanyang Girls' point-guard) and Beryl Kan (Jurong Secondary's forward), whose individual skills, in particular, inspired their respective teams to rise to the occasion.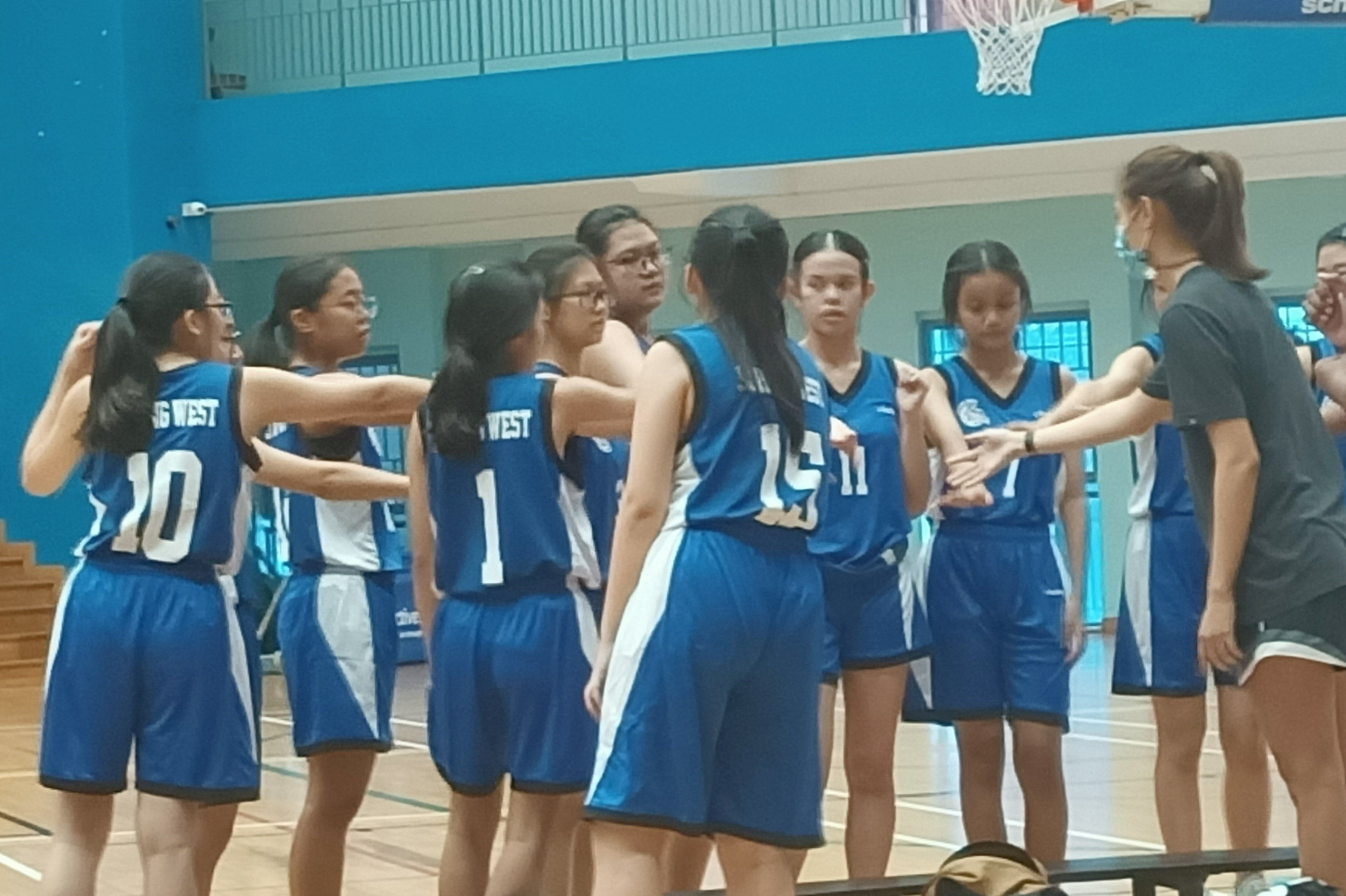 (Jurong West players close in to listen to the coach before the match. Photo credit: Suresh Nair)
Callista now anticipates a "very close challenge" while Beryl seriously intends to bank on "team effort" in their crucial Friday match.
"We could have done better here but the overall score of 53-17 will be inspiring to show to my team that there's more to come if they put in greater effort," said Callista, who hopes to continue her pre-university next year at Hwa Chong Junior College, which also thrives in basketball and where majority of the Nanyang Girls' players hope to make the further grade in their teenager basketball careers.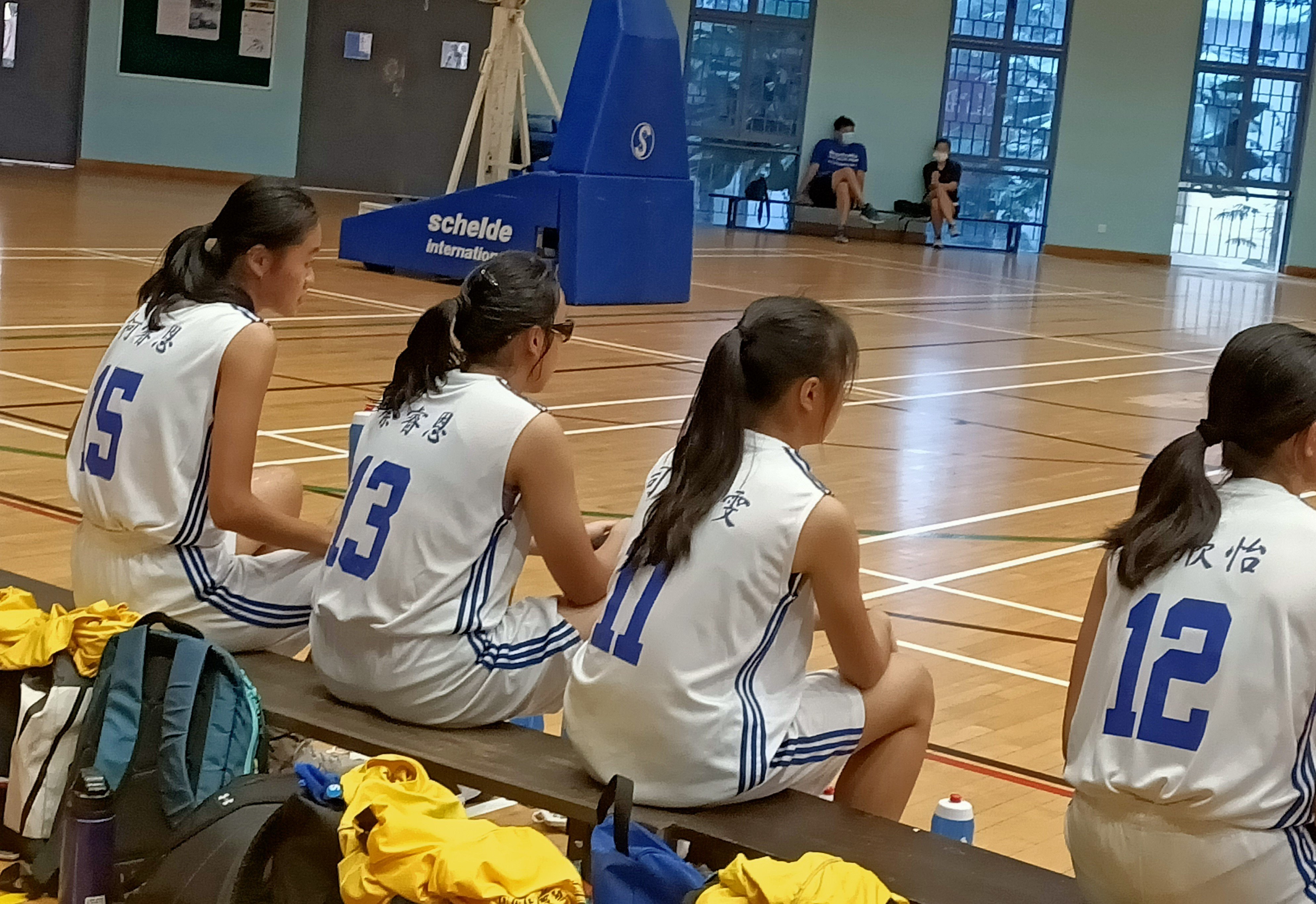 (Nanyang Girls look confident from the team bench. Photo credit: Suresh Nair)
Callista's clear physical advantage was in her lanky height which allowed her distinct push in attack and defence. Point guards are the team organisers and in attack, they need to be great at dribbling and passing, to bring the ball to their side of the court. Usually, after ball-handling, passing and scoring are the most important areas of the game. As the primary decision-maker for a team, Callista's passing ability, in particular, determined how well a point guard can put the crucial decision into overall play.

(Video interview with Callista Koh from Nanyang Girls. Video Credit: Suresh Nair)
For Beryl, a little smaller but more dynamic in movement, she does many of the things a center does, playing near the basket while rebounding and defending taller players. But she caught the eye with the longer shots than the centers.
"We won on team effort, not on individualistic flair, although we had a number of players with distinct skills," said Beryl. "We intend to count on this team combination, with speed and stamina, to match Nanyang Girls, who on paper, look formidable."
Hand-size and strength matter for the girls. As I noticed, boys usually take the first opportunity to score. Girls, on the other hand, will often look to pass it off in the hope of a better opportunity to score. I enjoyed both the girls' semi-finals matches as they remained competitive, although they showed a lot less of the "must win" attitude.
Jurong Secondary, in particular, fired off to a first-quarter 37-7 lead as their counterparts could not cope with the surprise fiery start. This gave them the obvious advantage, with the adventurous Beryl, calmly rallying her team to be on the ultra-offensive. This could be Jurong Secondary's likely strategy for Friday's final, where the early advantage, in offensive play, can make a major difference to decide who will win the title.

(Video interview with Beryl Kan from Jurong Secondary. Video Credit: Suresh Nair)
Onto the actual Western showdown on Friday (29 Apr) at the Jurong East Sports Hall, it was NGHS who came out "firing on all cylinders", as they "shot down" the challenge from Jurong Sec, 50-26! It was Nanyang's 3rd B Div Championship title since 2017 (didn't feature in NSG 2020-21 due to Covid-19).
(For all the news, post-match interview videos, stories, photos, fanzone details and much more from the 2022 National School Games, do visit our website : go.gov.sg/nationalschoolgames)