NSG 2023 Track & Field : Raffles Institution Claim Bragging Rights in Boys' Hurdles & Shot Put!
by ActiveSG Circle, on April 18, 2023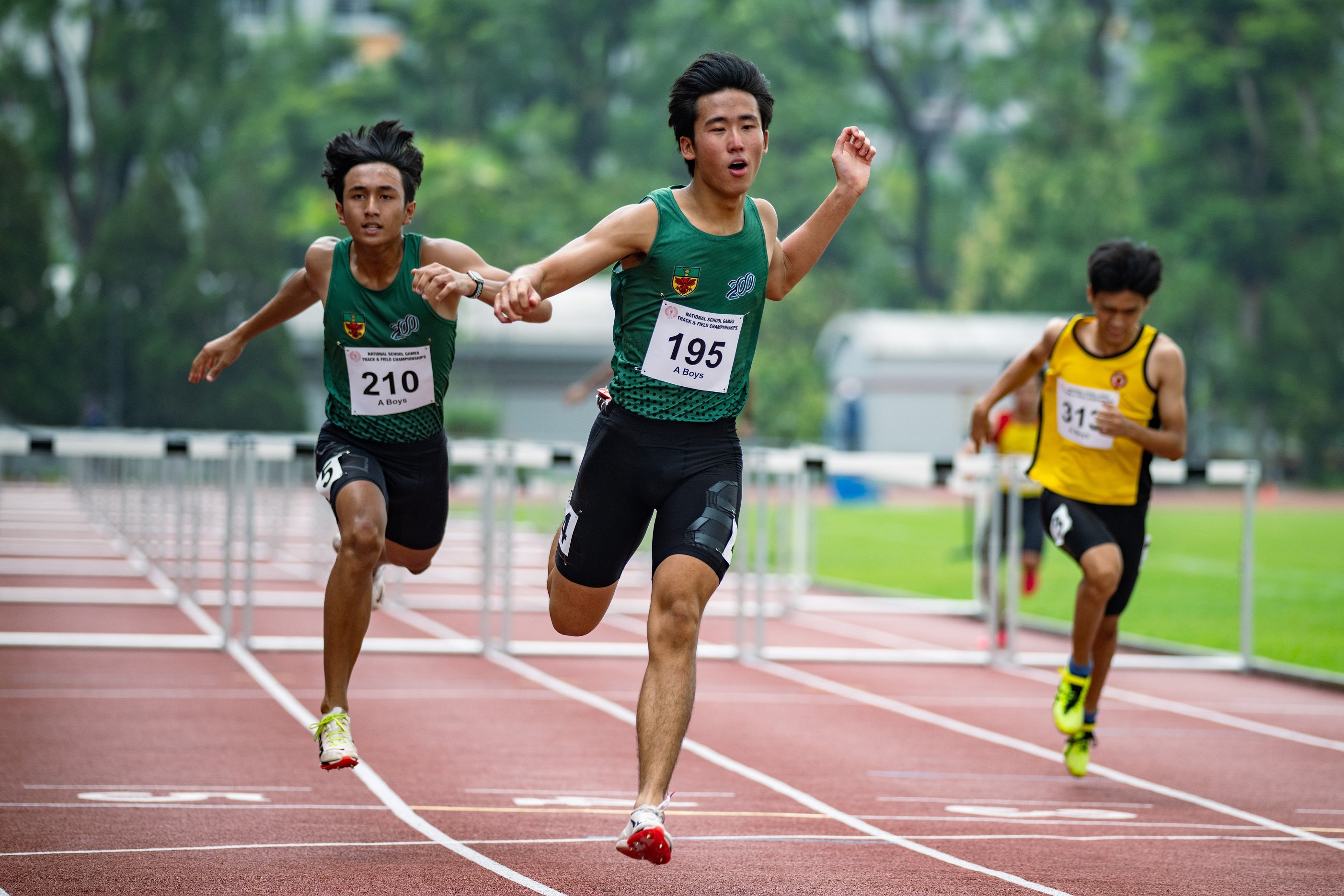 Brandon Ang (Raffles Institution) beats his teammate Hayden Audy Haslizal in the 110m Hurdles A Division Boys' Final. Photo Credit : Team Nila Content Producer, Tom Ng Kok Leong
In the 2023 National School Games (NSG), the Track and Field competition is held across 3 weeks. Most of the qualifying events and selected finals, are currently taking place at Choa Chu Kang Stadium. And the National Stadium will also play host to also key events and finals from 26-28 April. The entire competition sees hundreds of athletes from schools across the country, battle for pride, honour and glory via several track and field disciplines and the different age-groups/divisions.
On 17 April at the Choa Chu Kang Stadium, Raffles Institution (RI) dominated the proceedings on Day 6 with several victories across the board. On the field, the Rafflesians took gold and silver in the Boys' A Division Shot Put final through the efforts of Low Chuan Yi and Kan Fu Yi respectively. And switching to the track, the 110m Hurdles finale saw RI teammates Brandon Ang and Hayden Audy Haslizal sharing a tight hug after crossing the finish line. 17 year old Brandon, who won by 0.21 seconds with his race time of 15.23 seconds, told the Straits Times, "That was an emotional moment for me. We've always done hurdles and I've been running with him for about six years. I'm very happy we managed to go one-two."
In the 110m Hurdles Boys' B Division final though, Raffles Institution's Garrett Chua produced a come-from-behind effort to defeat Reagan Song of Anglo-Chinese School (Independent) by 0.26 seconds. His overall winning time was 14.33 seconds. And Victoria School's Kayden Fang secured the C Division title to prevent the Rafflesians from making a total sweep of all 3 gold medals in the Boys' Hurdles events. Meanwhile, here're the highlights from Day 6 of Track & Field, courtesy of Team Nila Content Producer, Tom Ng Kok Leong.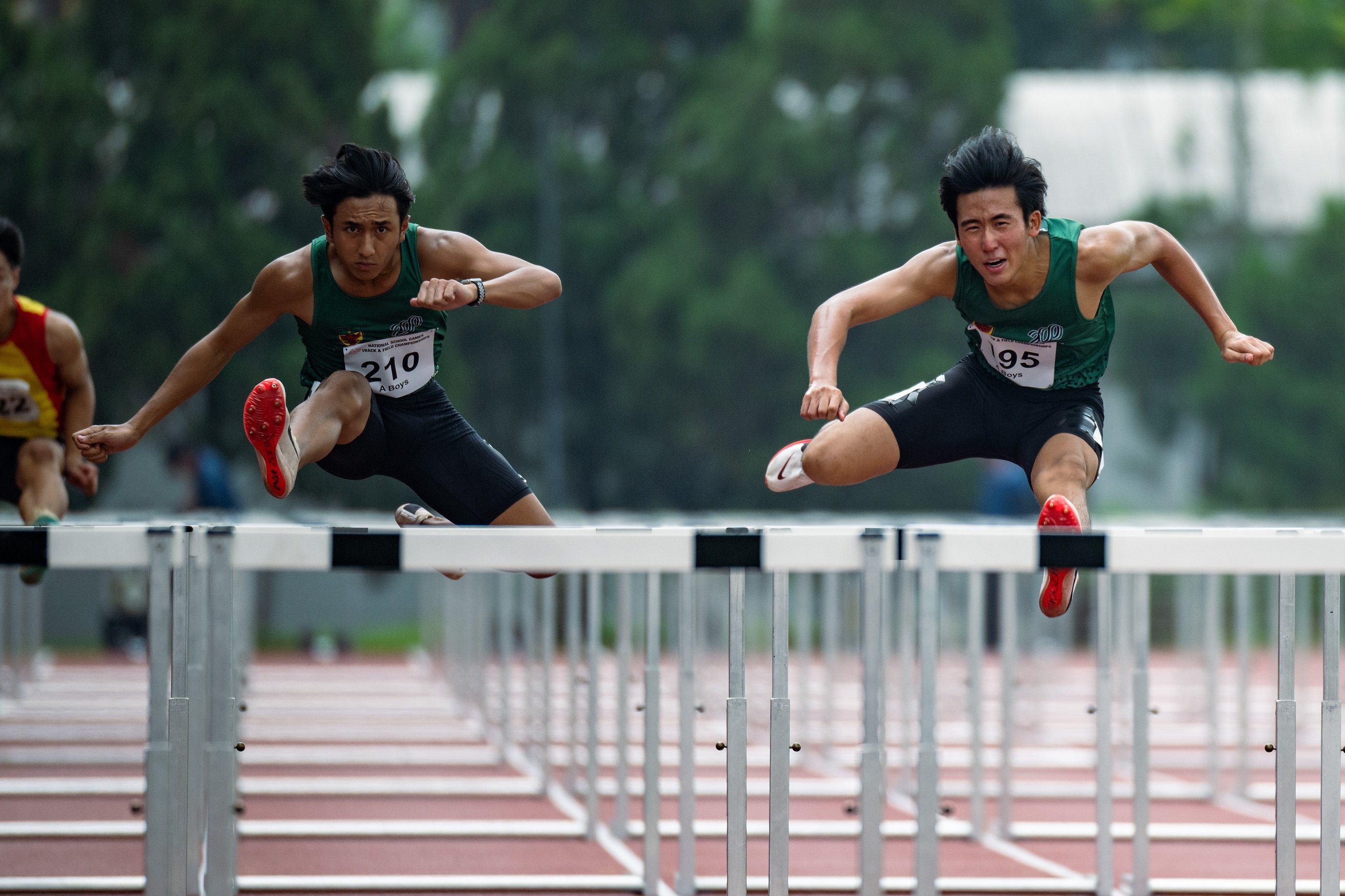 Brandon Ang (Raffles Institution) holds a slight lead over his teammate Hayden Audy Haslizal in the 110m Hurdles A Division Boys' Final. Photo Credit : Team Nila Content Producer, Tom Ng Kok Leong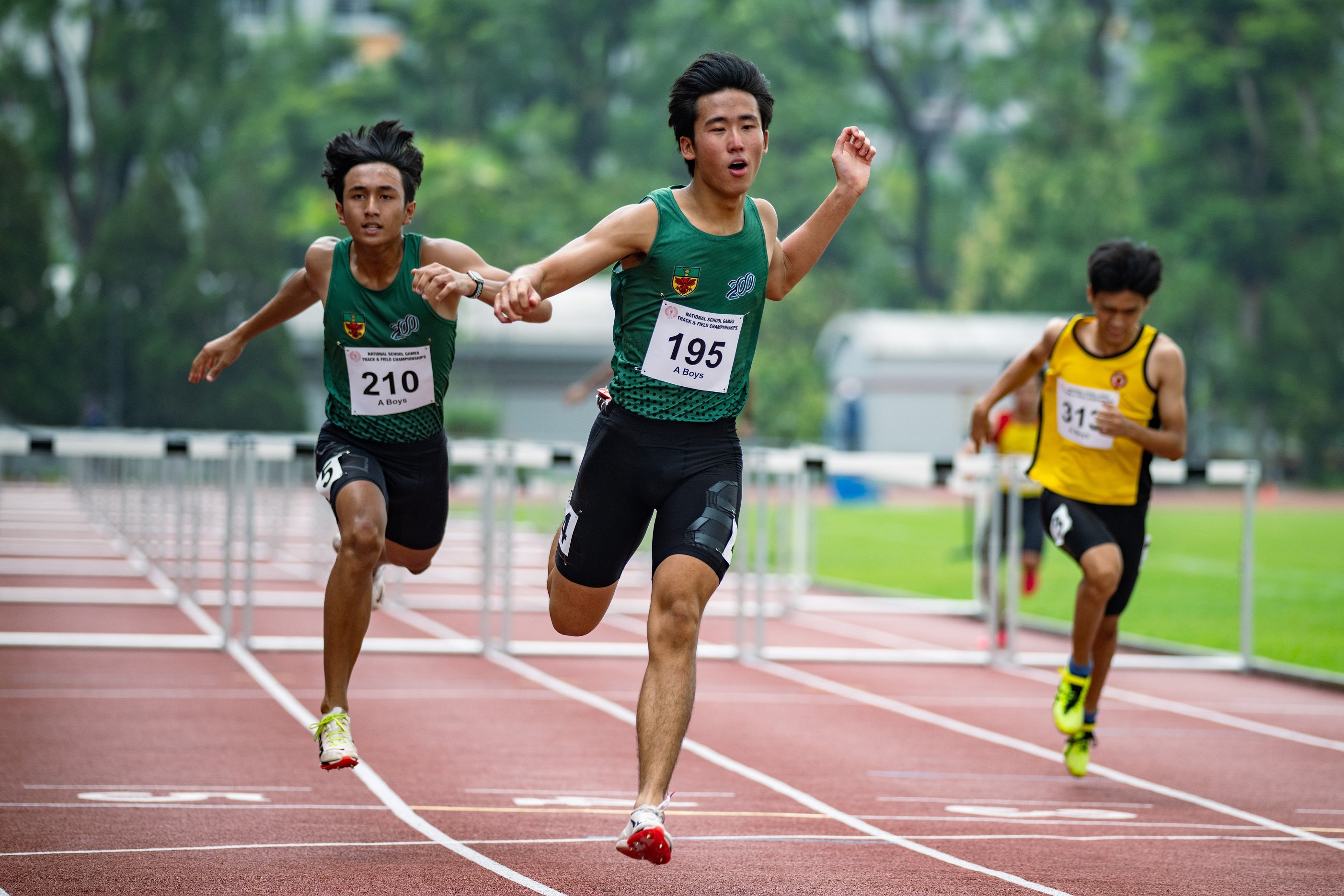 Brandon Ang (Raffles Institution) beats his teammate Hayden Audy Haslizal in the 110m Hurdles A Division Boys' Final. Photo Credit : Team Nila Content Producer, Tom Ng Kok Leong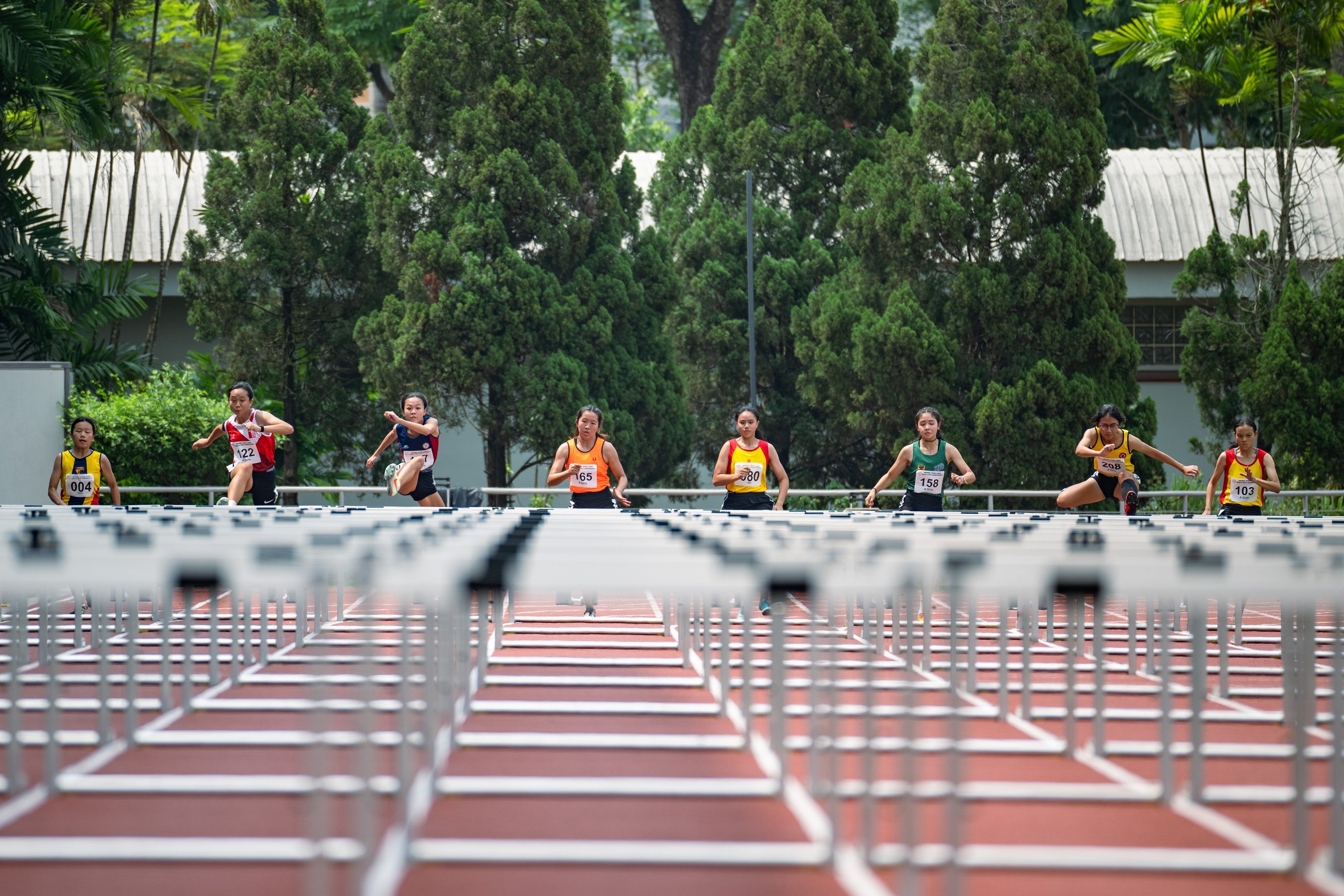 8 athletes competed in the Girls' A Division 100m Hurdles Final. Photo Credit : Team Nila Content Producer, Tom Ng Kok Leong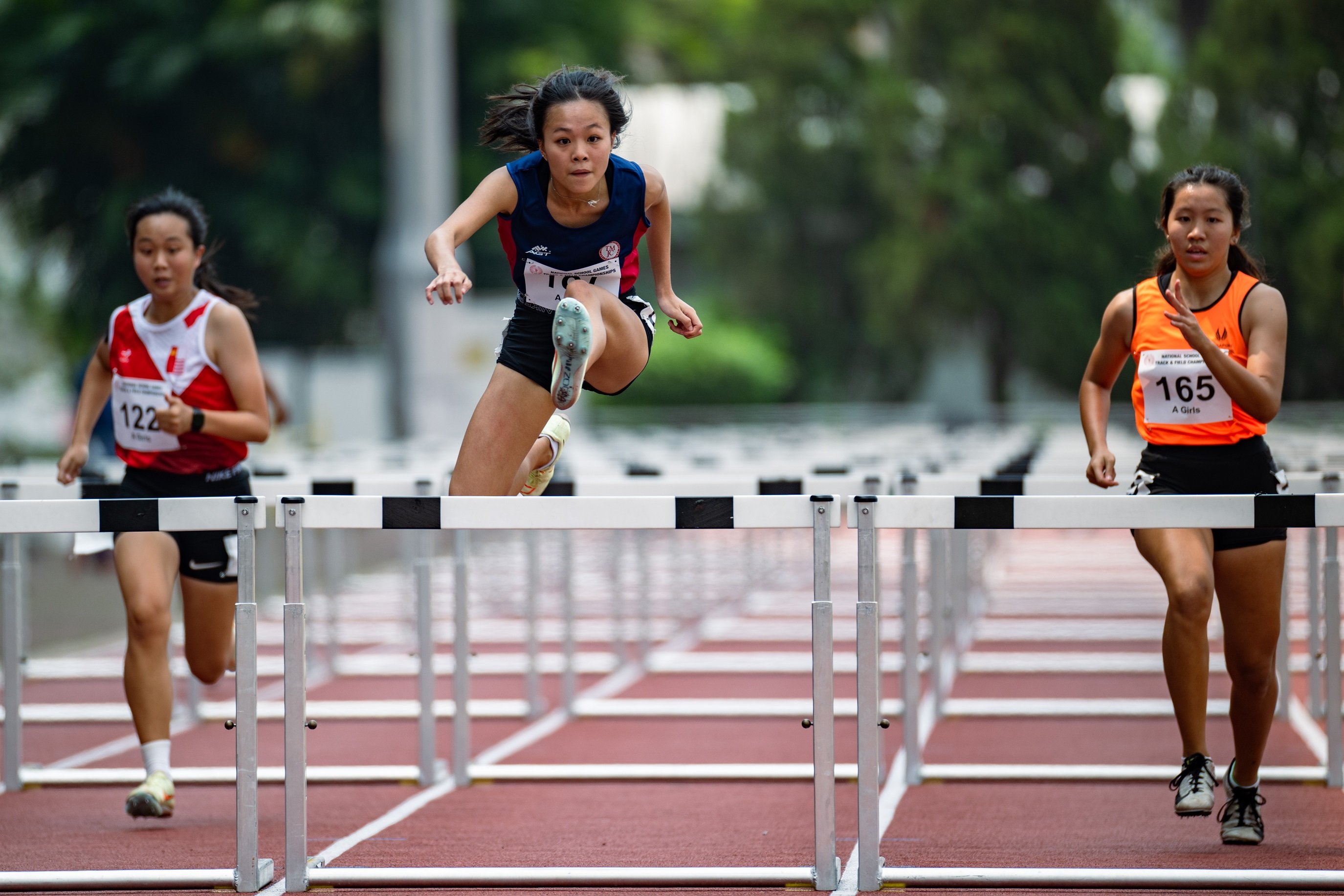 Claire Chen (Blue Top, TMJC) settles for the Silver medal in the Girls' A Division 100m Hurdles Final. Photo Credit : Team Nila Content Producer, Tom Ng Kok Leong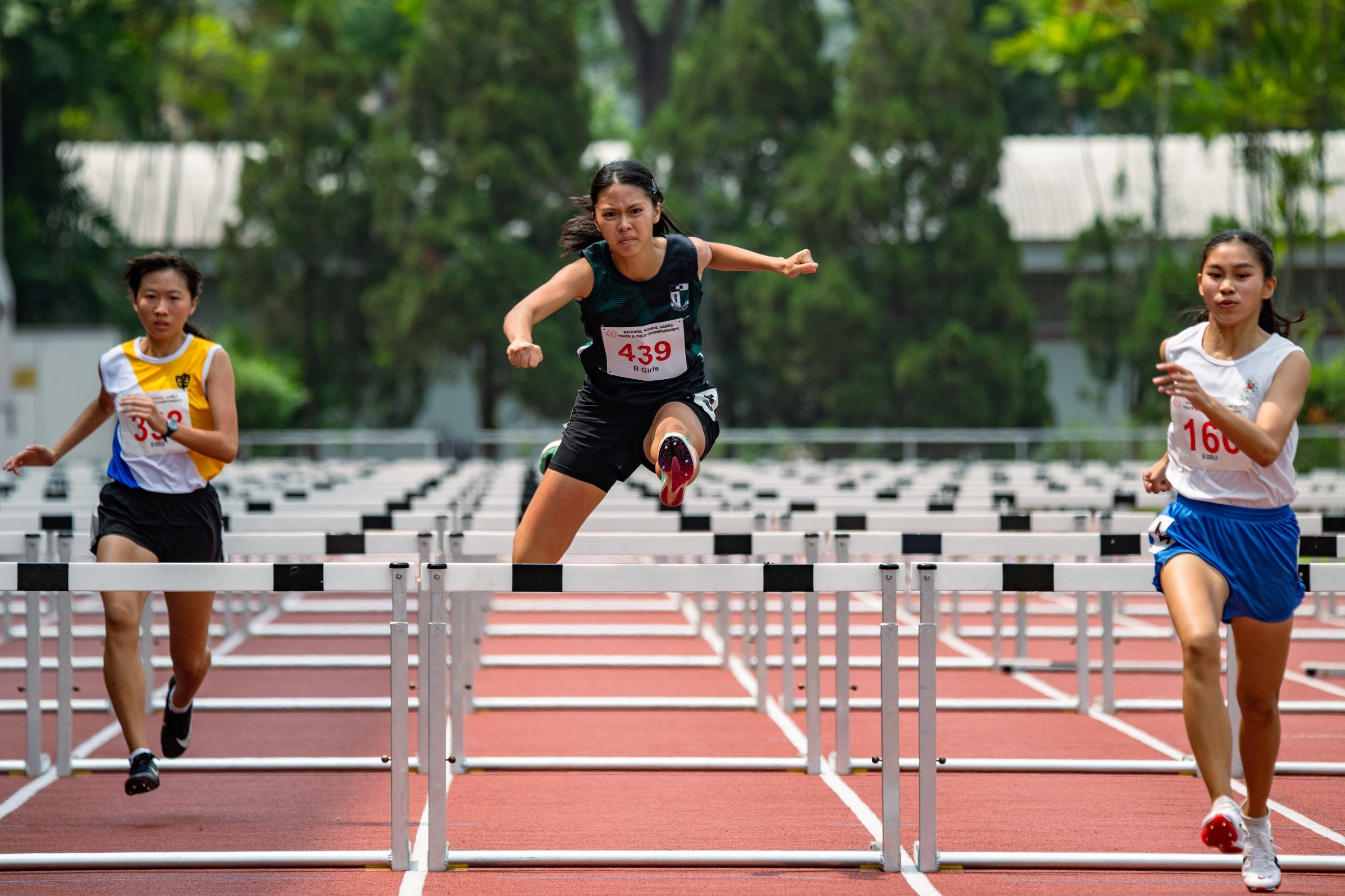 St. Nicholas Girls' School's Samantha Looi (1st from R) takes the lead in the Girls' B Division 100m Hurdles Final. Photo Credit : Team Nila Content Producer, Tom Ng Kok Leong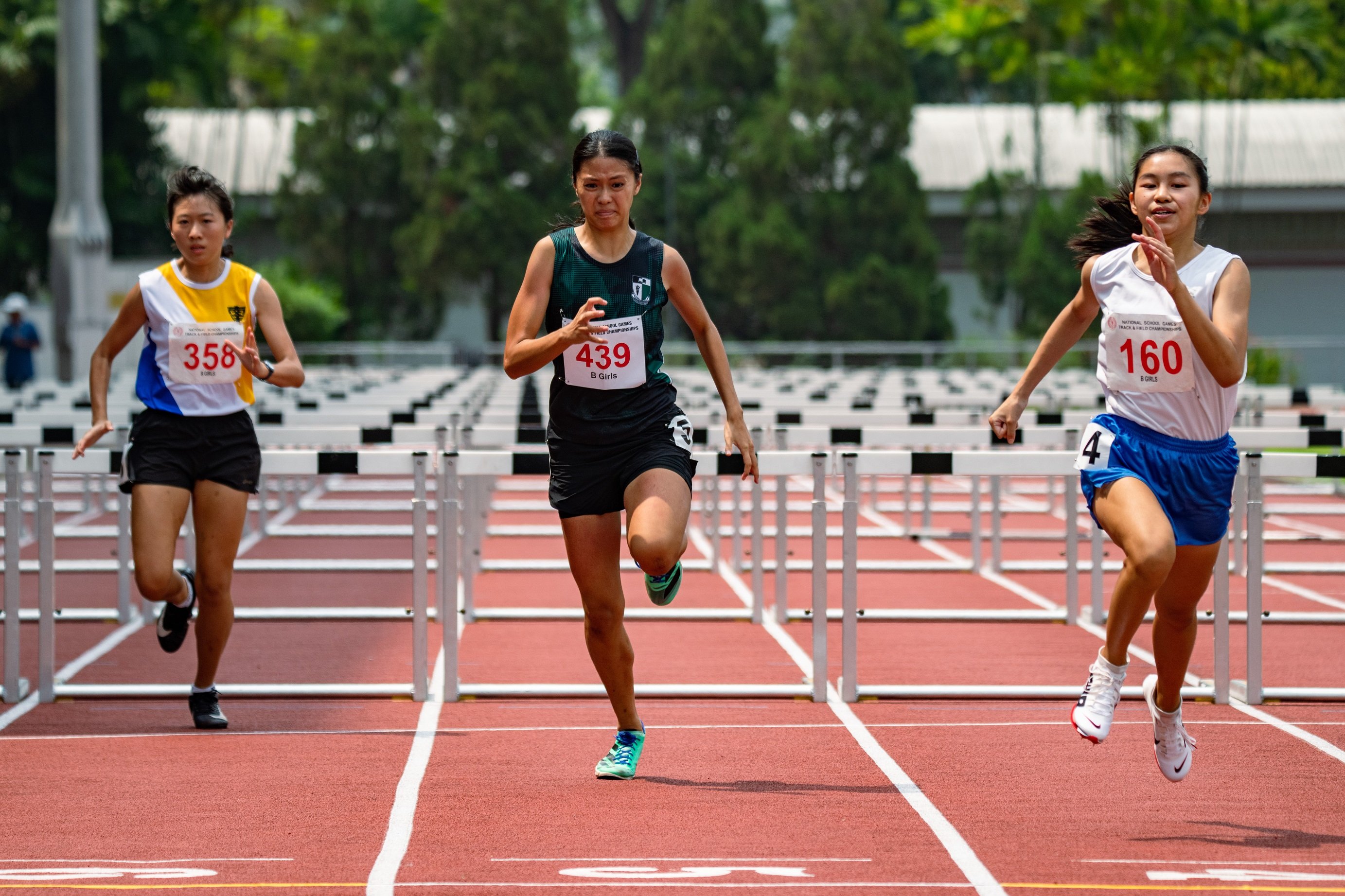 St. Nicholas Girls' School's Samantha Looi (1st from R) wins the gold medal in 15.99 seconds, followed by Raffles Girls' School's Sumana Lim (Tag 439) in 2nd place, in the Girls' B Division 100m Hurdles Final. Photo Credit : Team Nila Content Producer, Tom Ng Kok Leong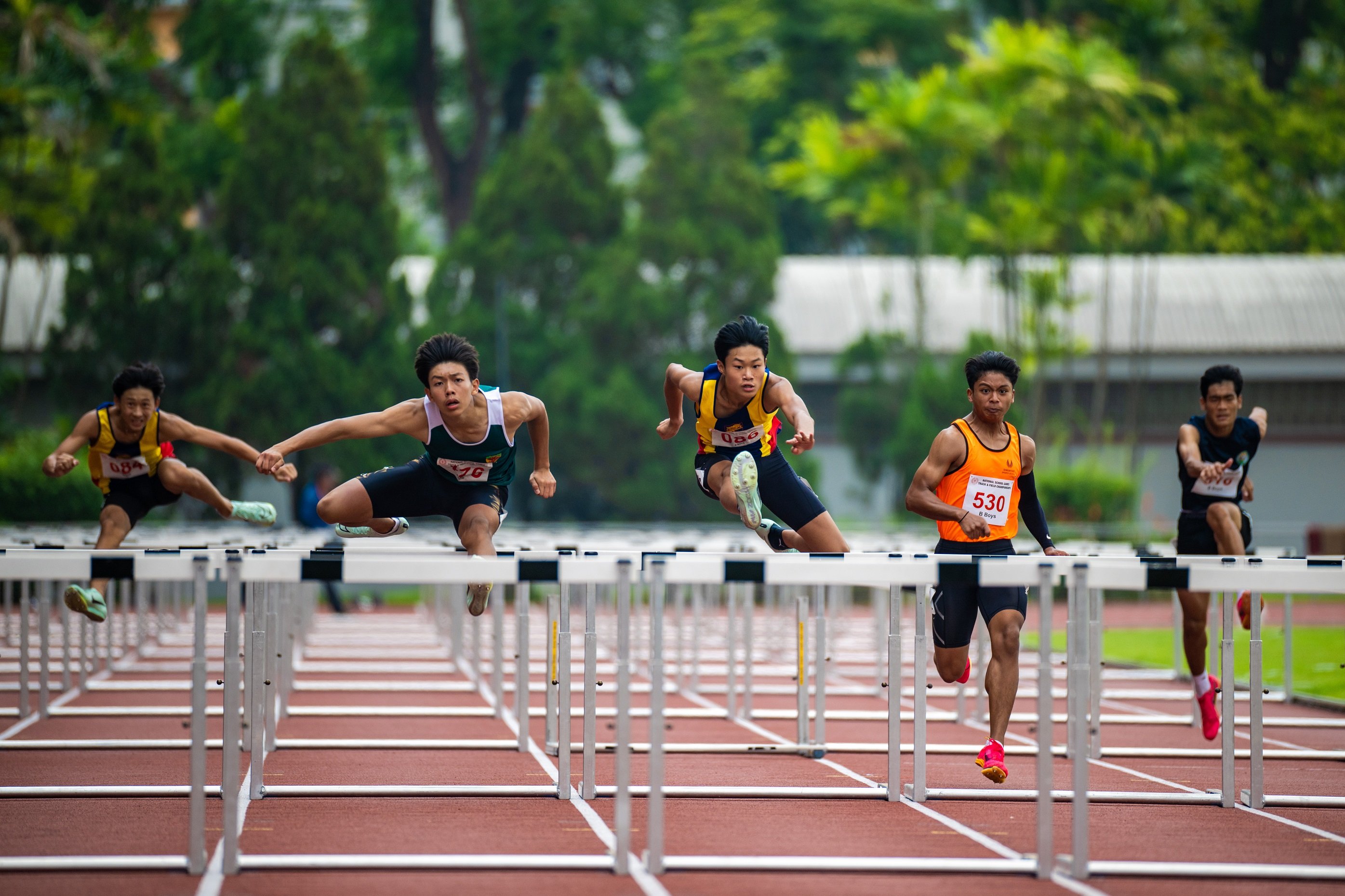 8 athletes competed in the Boys' B Division 110m Hurdles Final. Photo Credit : Team Nila Content Producer, Tom Ng Kok Leong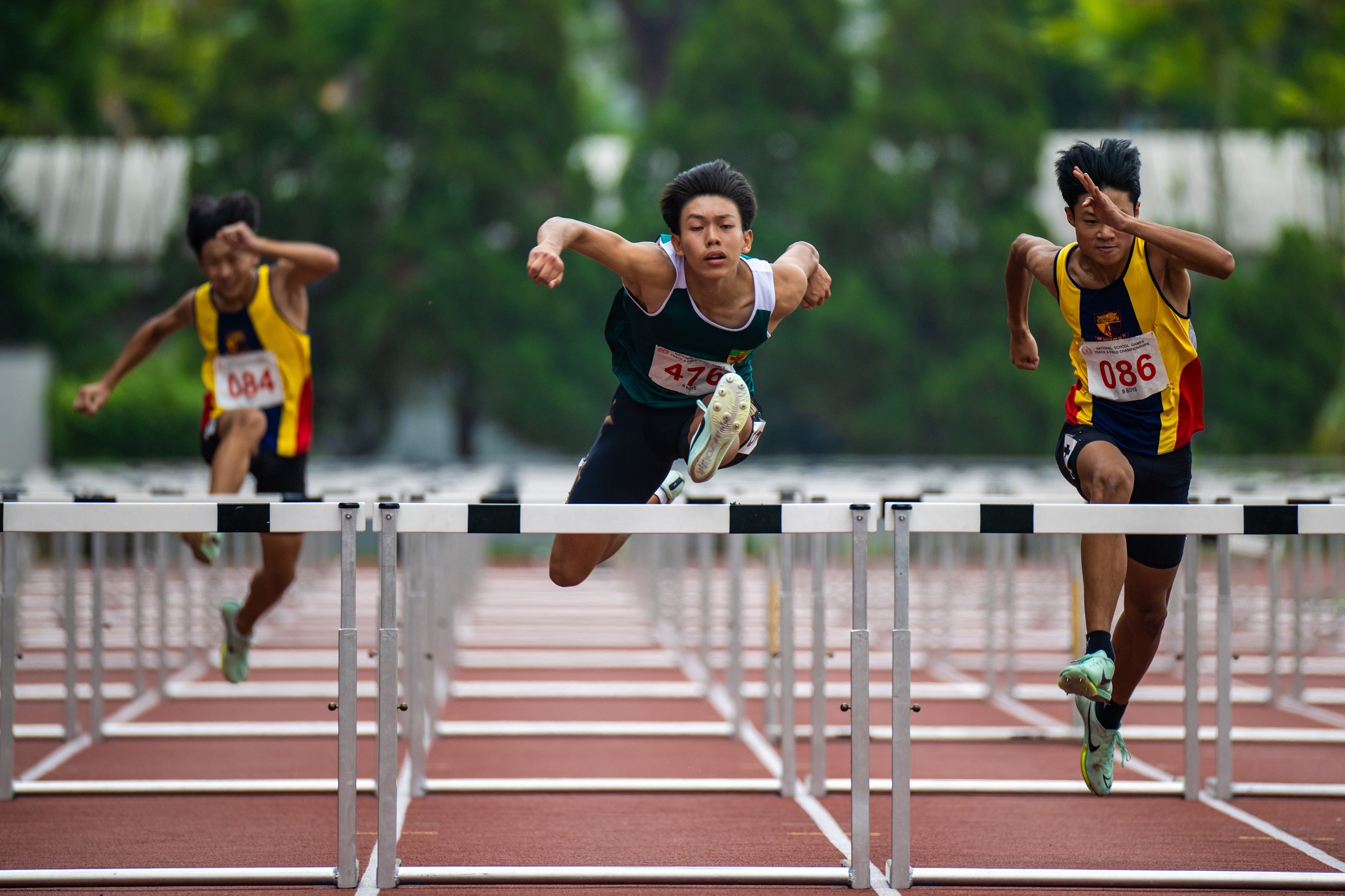 RI's Garrett Chua (2nd from L) sprints to victory, while ACS(I)'s Reagan Song (1st from R) and Sean Gerard You (1st from L), settled for 2nd and 3rd spots respectively. Photo Credit : Team Nila Content Producer, Tom Ng Kok Leong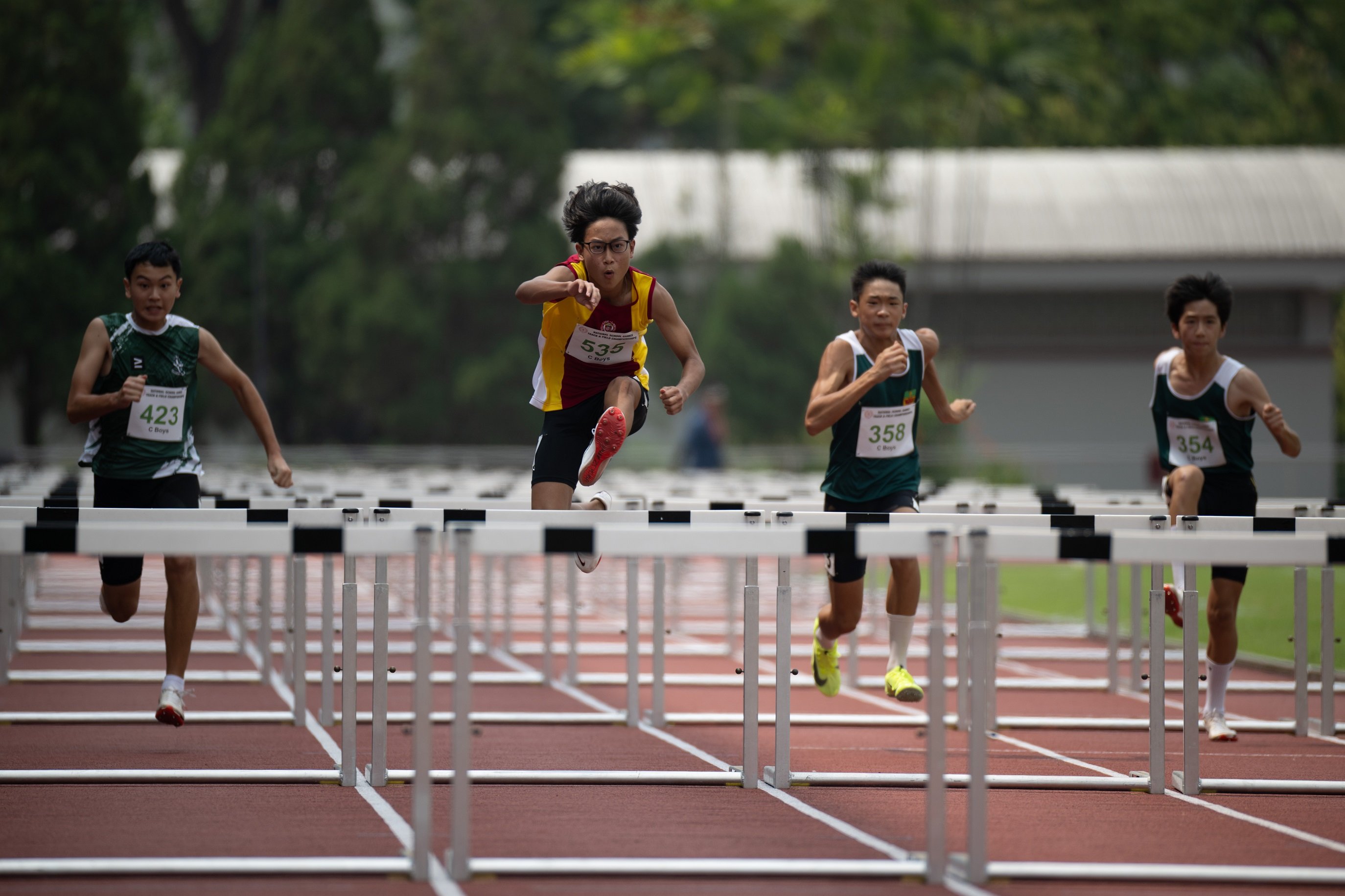 Victoria School's Kayden Fang timed 14.39 seconds to win the C Division Boys' 100m Hurdles title. Photo Credit : Team Nila Content Producer, Tom Ng Kok Leong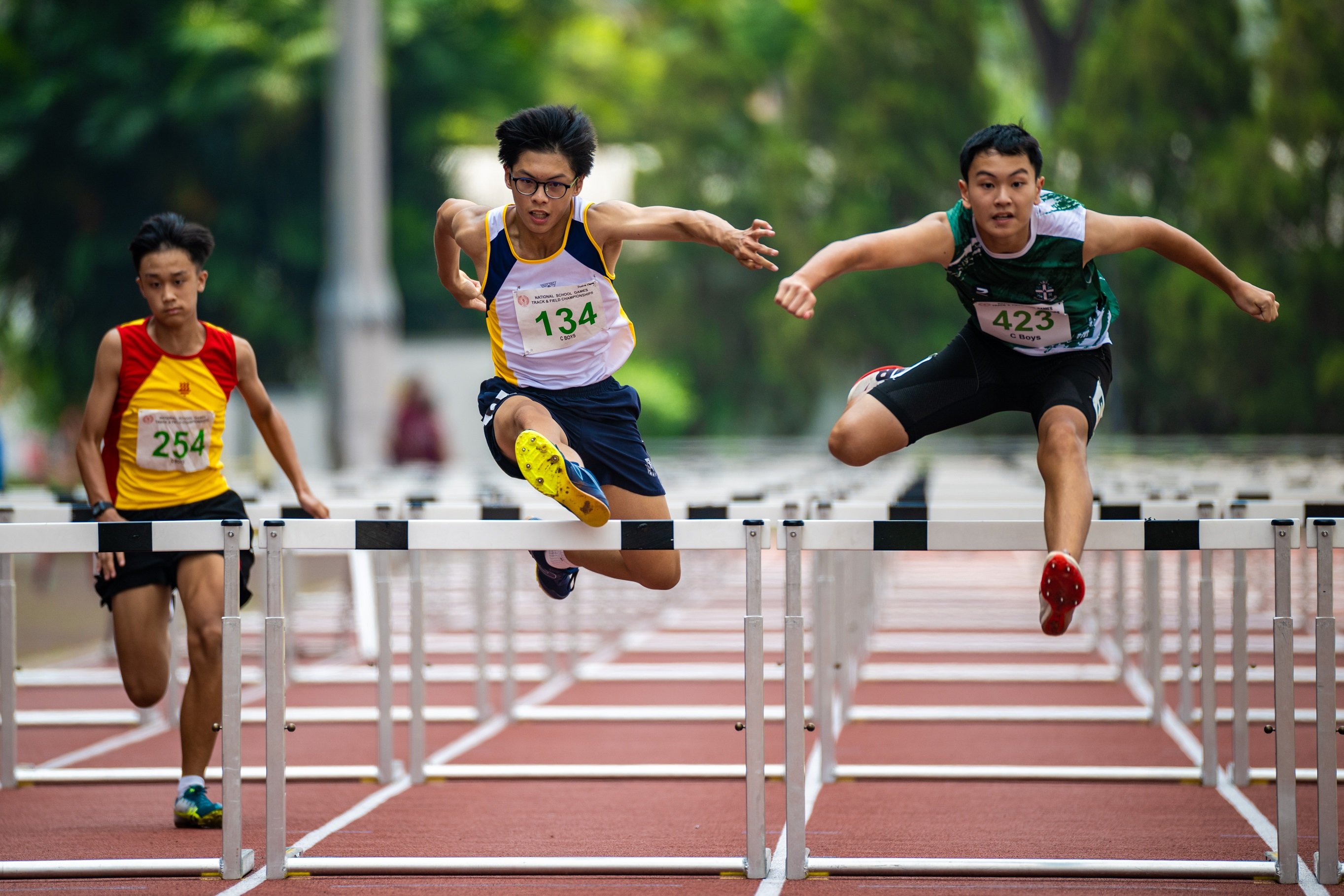 SJI's Basil Foo (1st from R) takes home the silver medal in the C Division Boys' 100m Hurdles title. Photo Credit : Team Nila Content Producer, Tom Ng Kok Leong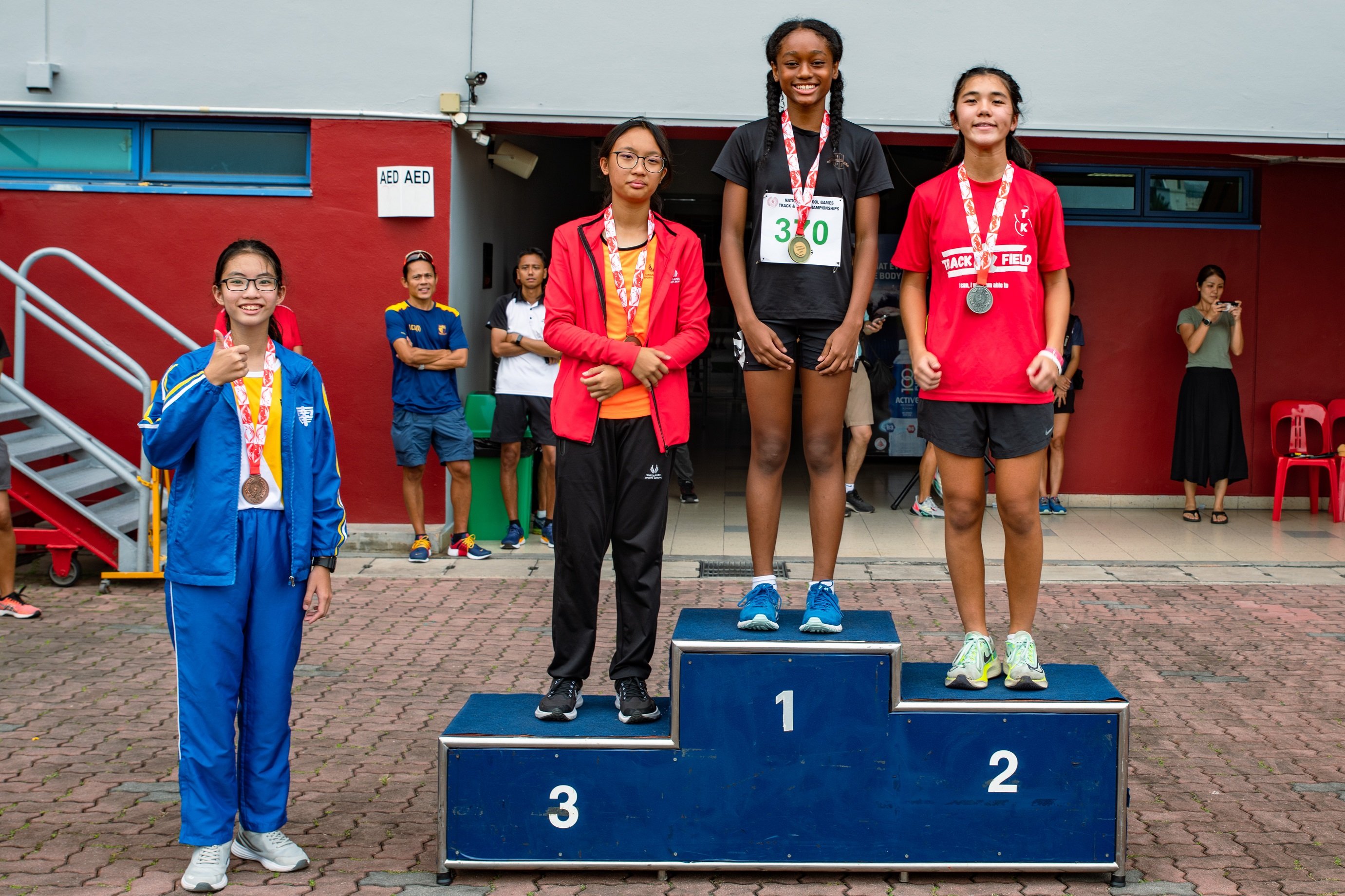 School of the Arts student Anmiela Kagoro, clinched top spot in the Girls' C Division 80m Hurdles final, with her time of 13.29 seconds. Tanjong Katong Secondary's Mayah Kaufmann bagged the silver and Singapore Sports School's Ashley Seah finished in 3rd place. Photo Credit : Team Nila Content Producer, Tom Ng Kok Leong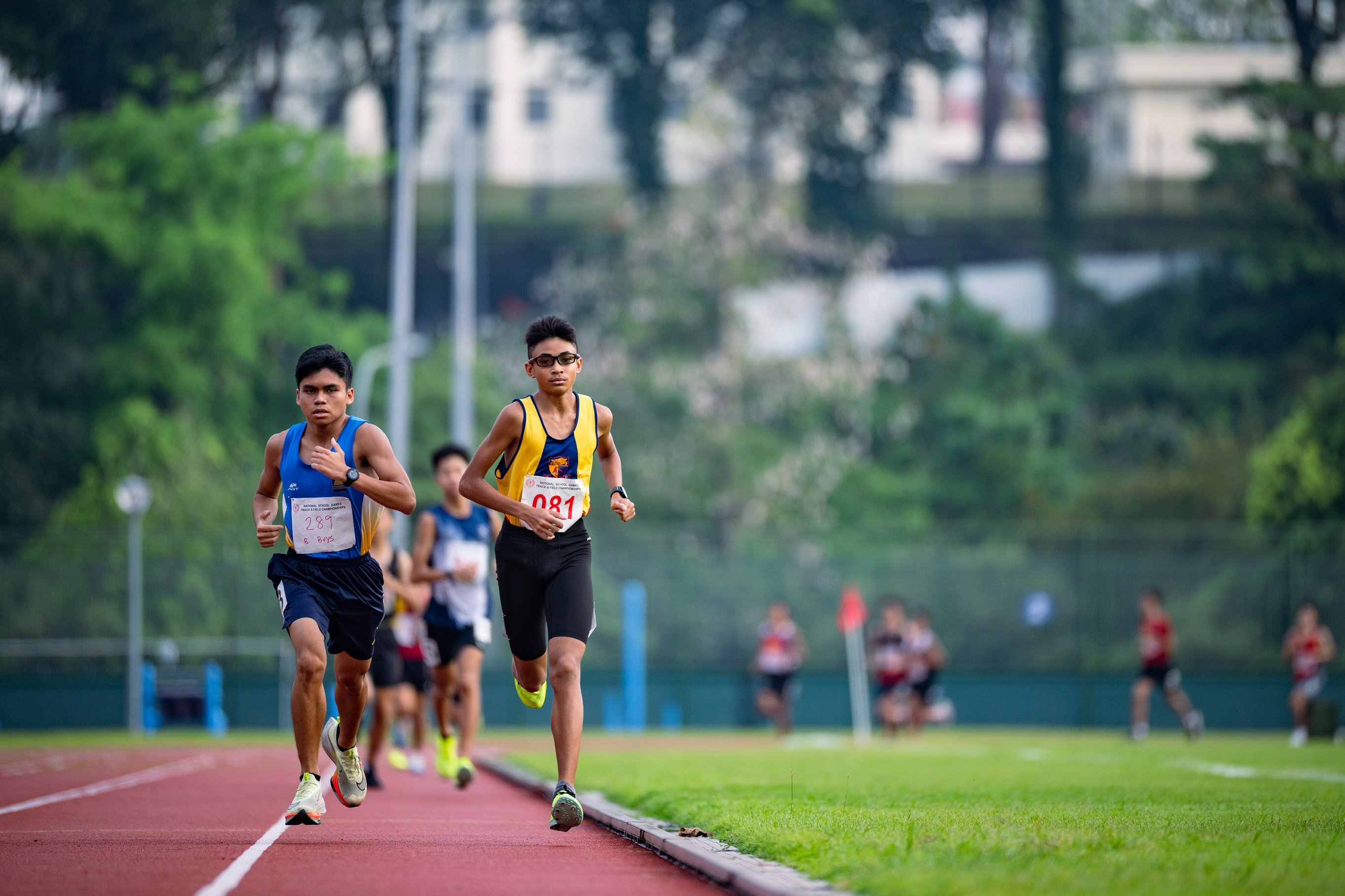 ACS (I)'s Muhammad Akid (Tag No 81) won the 3,000m B Division Boys' Heats in his time of 10 mins 28.74 seconds. Photo Credit : Team Nila Content Producer, Tom Ng Kok Leong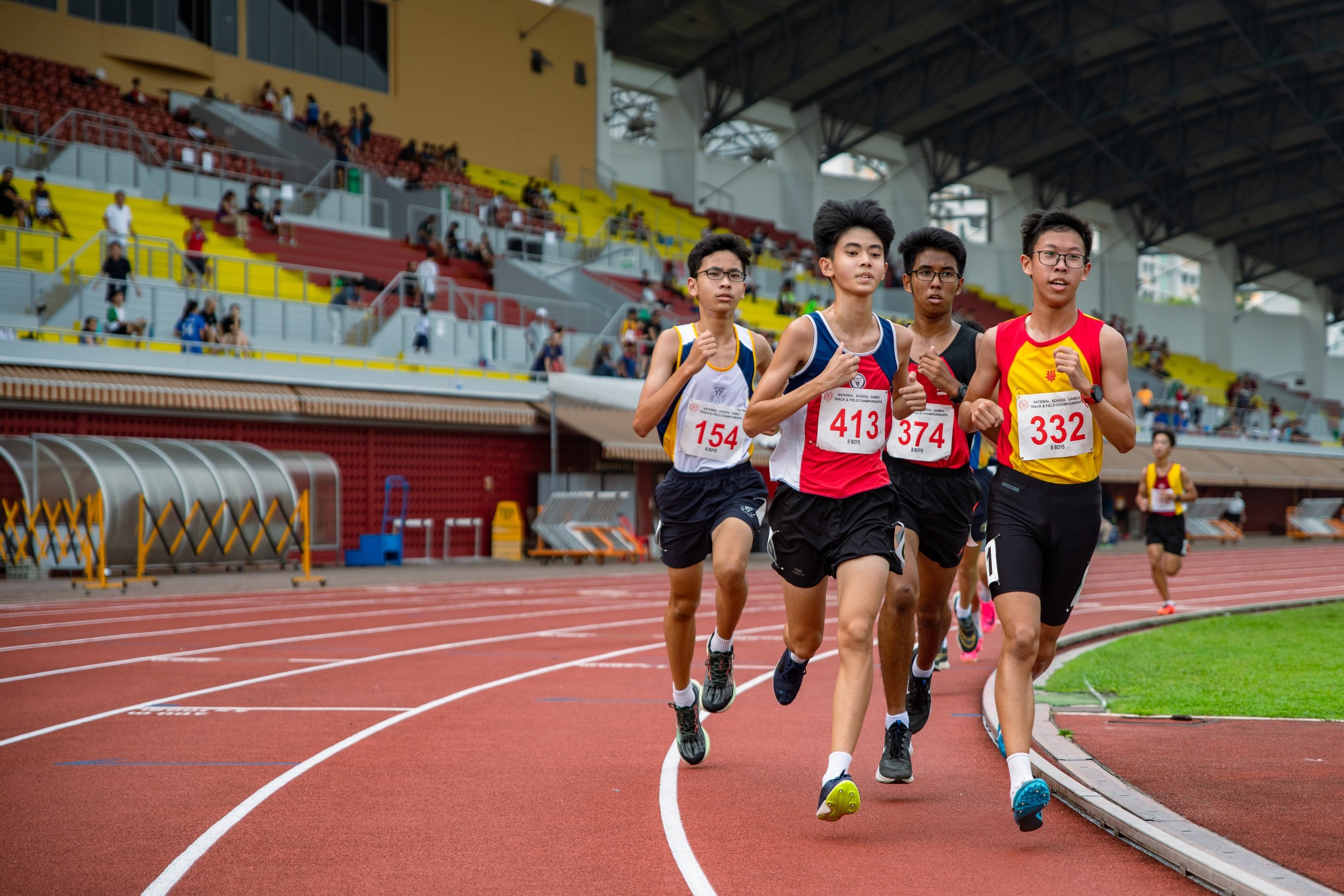 Competing runners in the 3,000m B Division Boys' Heats. Photo Credit : Team Nila Content Producer, Tom Ng Kok Leong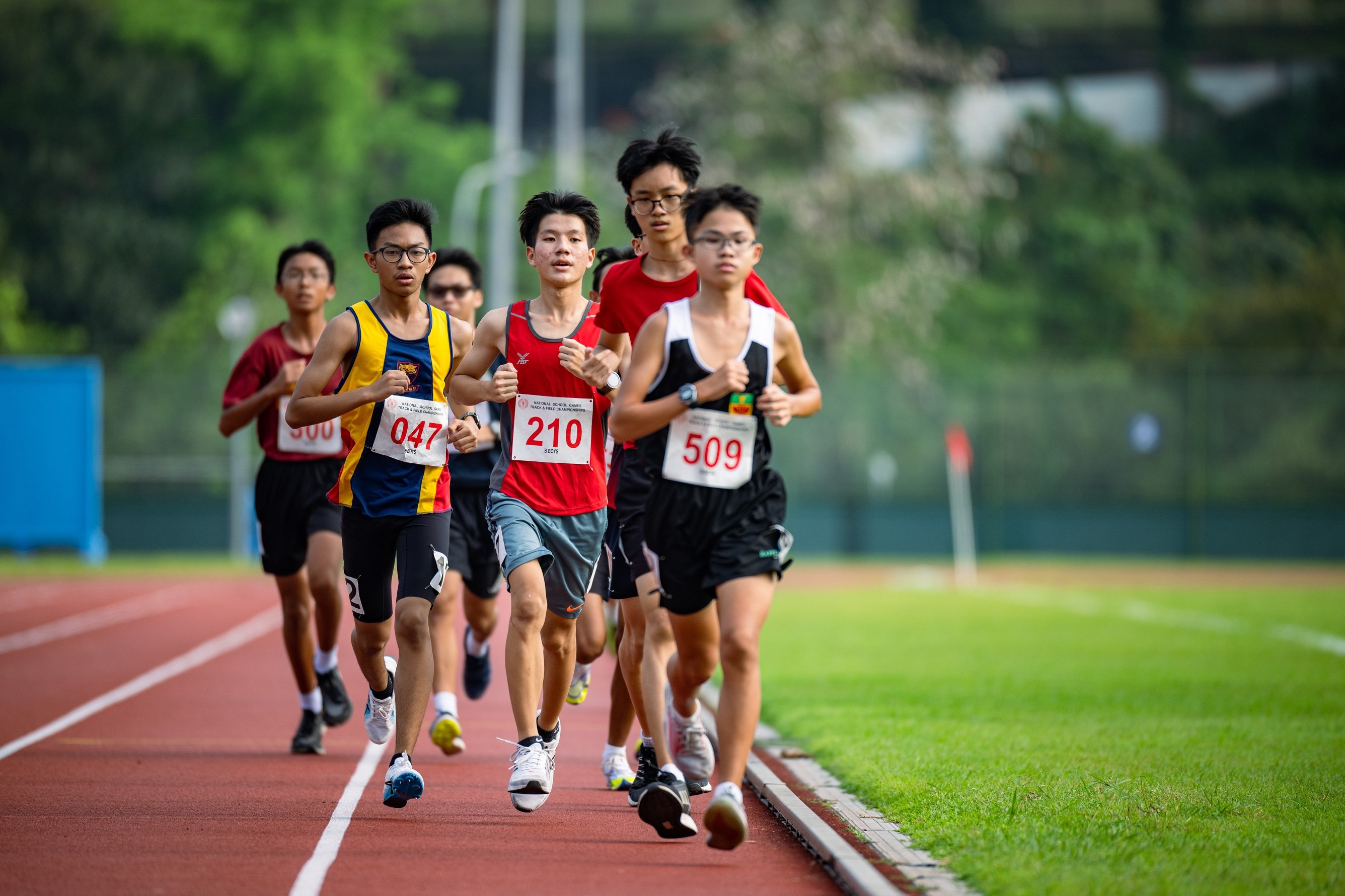 Competing runners in the 3,000m B Division Boys' Heats. Photo Credit : Team Nila Content Producer, Tom Ng Kok Leong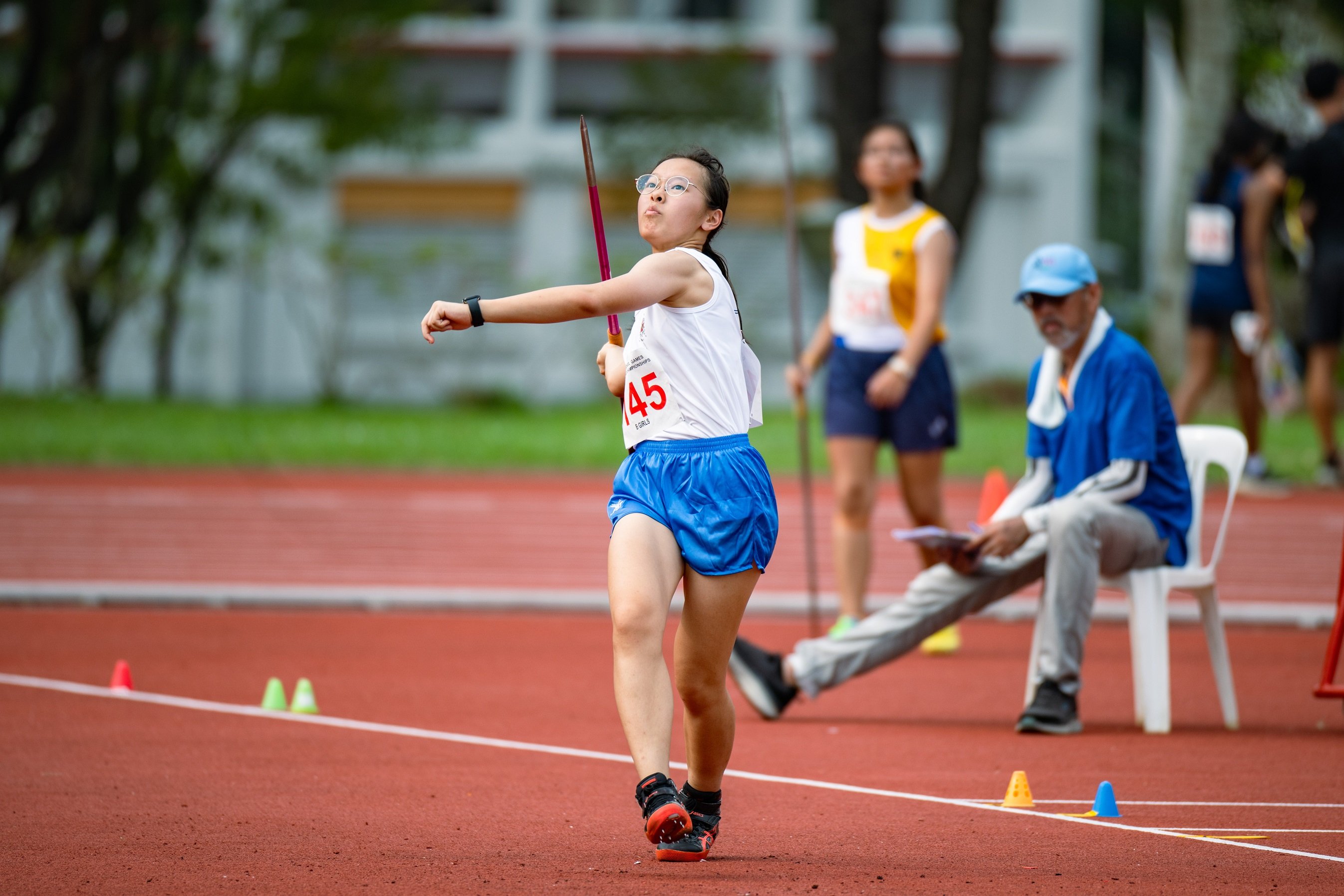 St. Nicholas Girls' School's Chan Sok Mun steps up to compete in the B Division Javelin Final. Photo Credit : Team Nila Content Producer, Tom Ng Kok Leong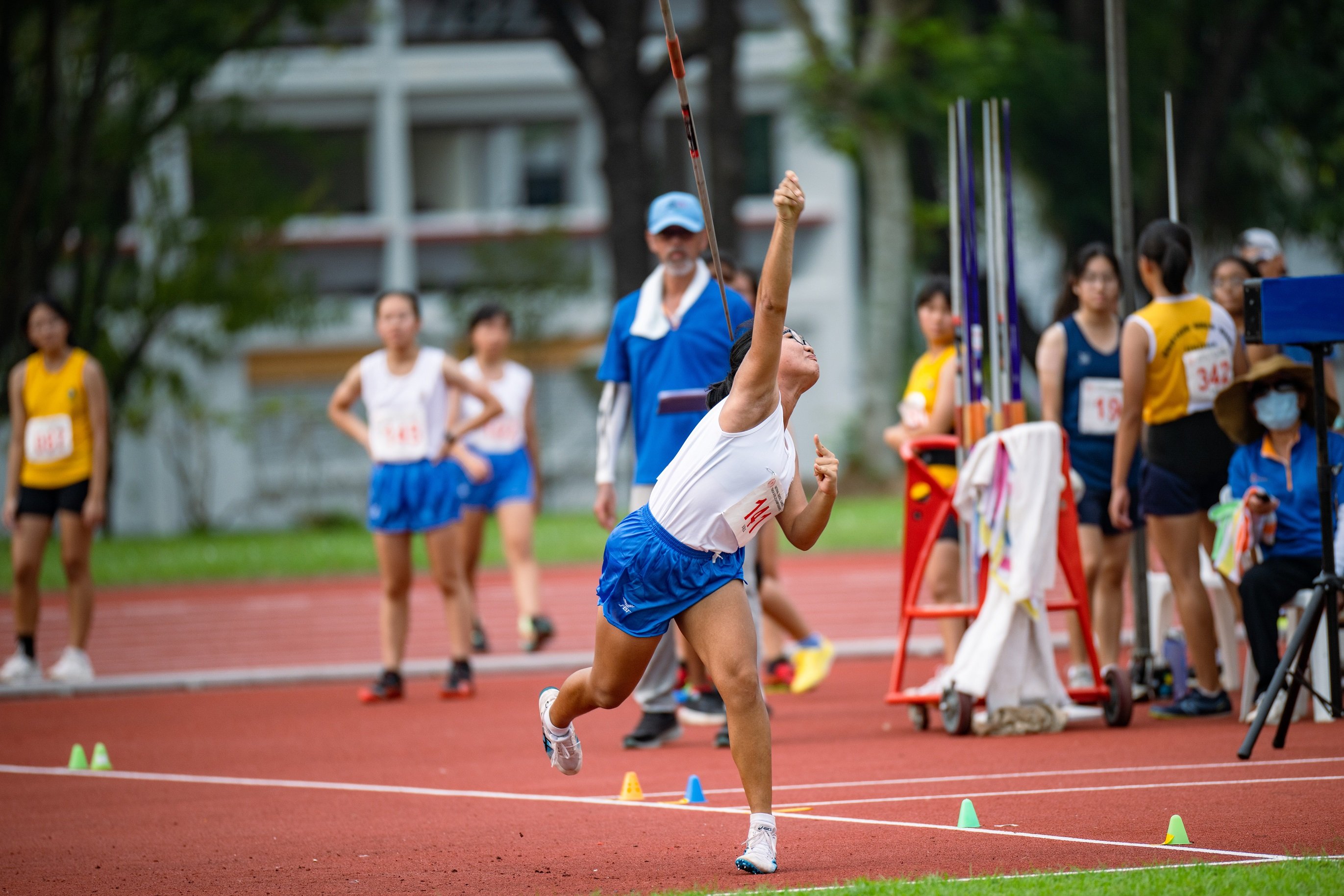 St. Nicholas Girls' School's Chan Sok Mun took the gold in the B Division Javelin Finals, with her best attempt at 32.89m. Photo Credit : Team Nila Content Producer, Tom Ng Kok Leong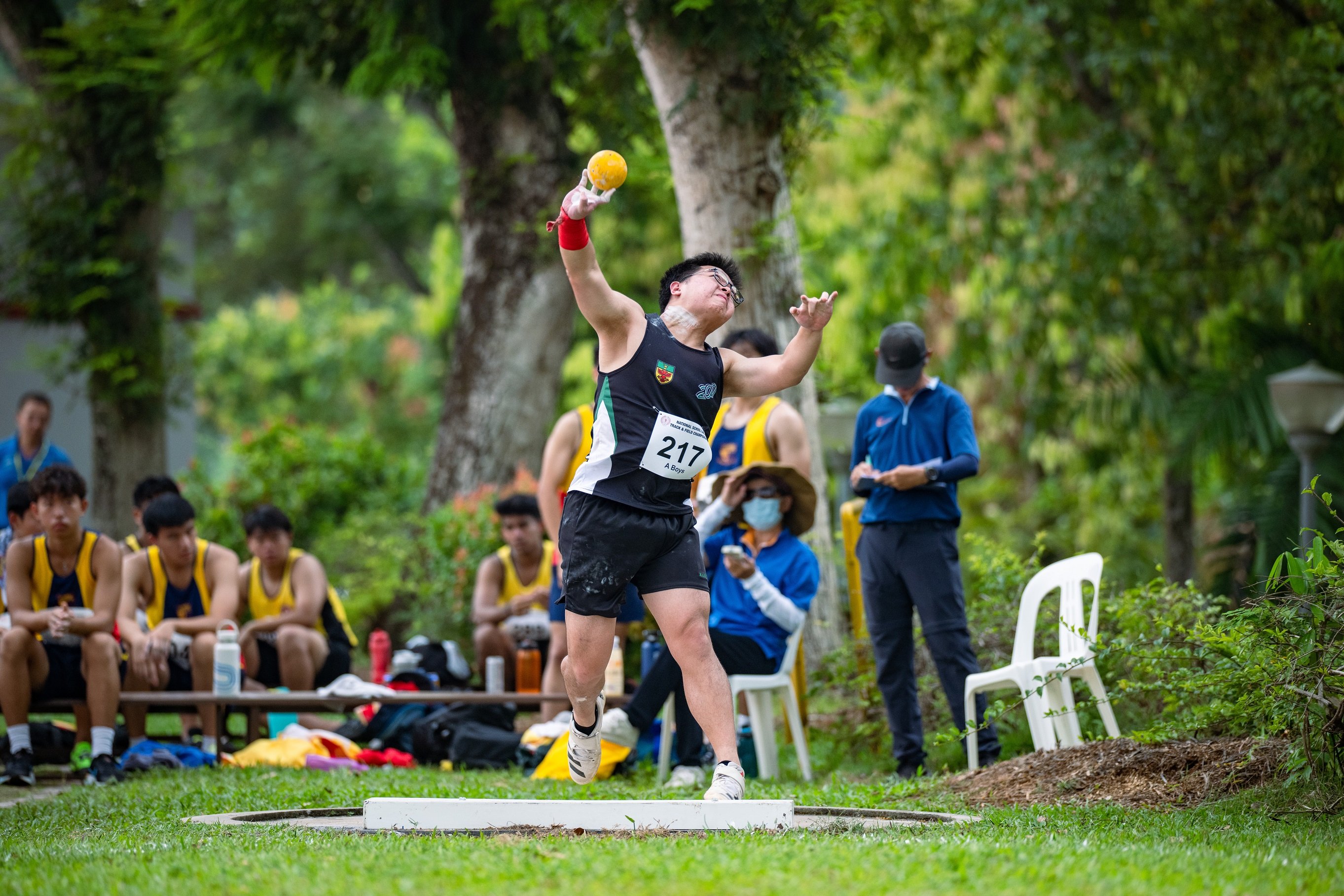 RI's Kan Fu Yi's throw of 14.71m allowed him to seal the silver medal in the Shot Put A Division Final. Photo Credit : Team Nila Content Producer, Tom Ng Kok Leong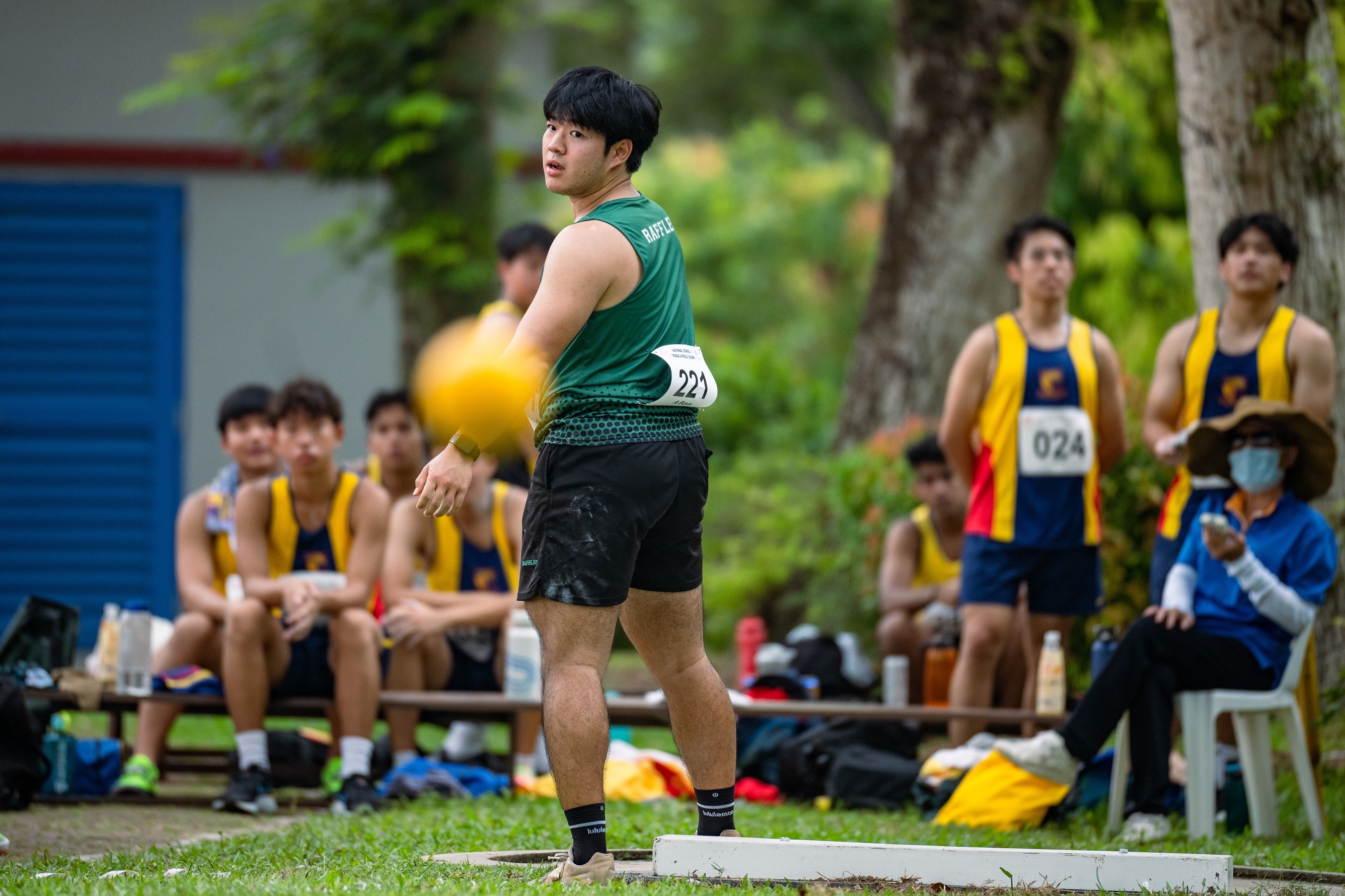 Champion of the A Division Shot Put Final, Low Chuan Yi (RI) with his best throw of 16.12m. Photo Credit : Team Nila Content Producer, Tom Ng Kok Leong
Celebrate youth sport with ActiveSG Circle's coverage of National School Games 2023 here
Watch more here
Read more here
Tell us what you think here
Cheer on the school teams and student athletes here
national school games 2023