NSG 2021 : Yuhua & Xinmin volleyballers put up thrilling battle in Snr Div, as they share one win each
by Circle Stories, on April 1, 2021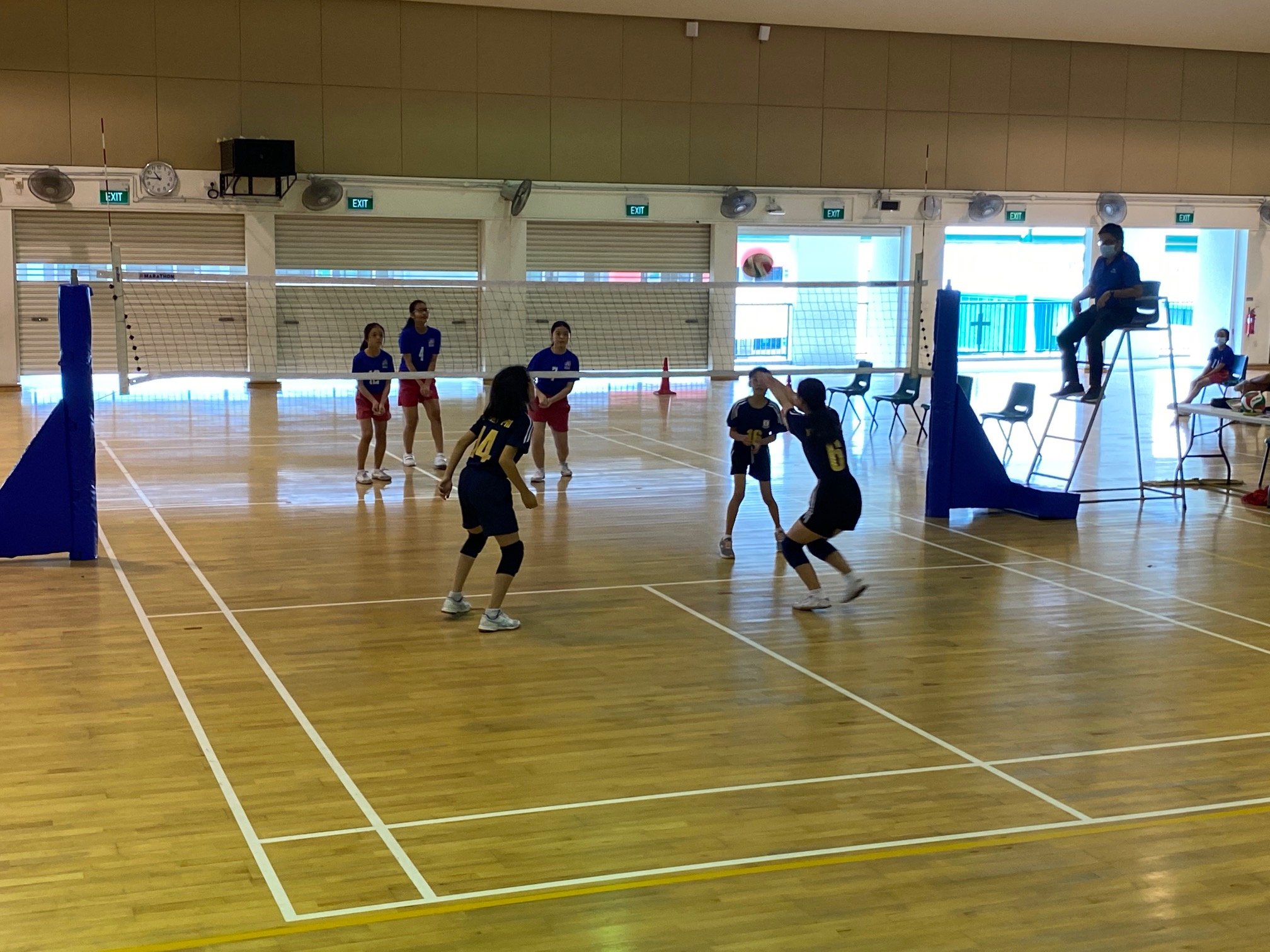 (Yuhua Primary (blue) vs Xinmin Primary (black) at the NSG Senior Division Girls' volleyball preliminary stage. Photo credit - Chia Han Keong)
By Chia Han Keong
Their skills may not be as polished as their secondary school counterparts, but the Girls' volleyball players from Yuhua Primary School and Xinmin Primary School still managed to serve up an exciting encounter at the National School Games (NSG) on Thursday (1 April).
The youngsters from the Senior Division started off tentatively in their first match. But they eventually overcame their initial nerves to put up a thrilling battle in their second round-robin match, as each school won one tie in their Group D preliminary-stage clash at De La Salle School.
(For the latest schedules on live streams, news updates and stories, do check out our official website, National School Games 2021)
This year's volleyball competition has been adapted into a 3-vs-3 format, due to the eight-player limit amid the ongoing Covid-19 pandemic.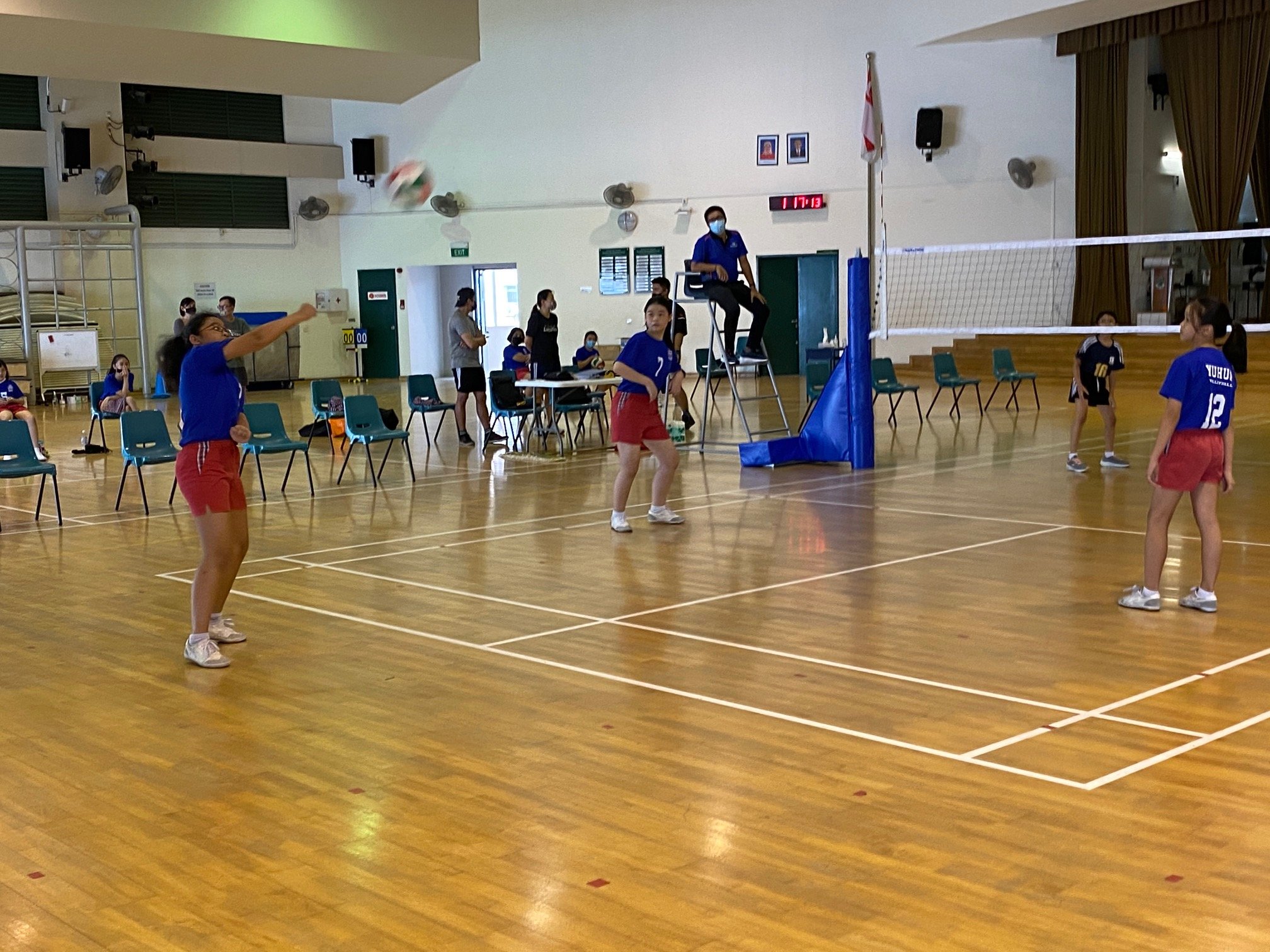 (Xinmin Primary - in Blue tops / Photo Credit : Chia Han Keong)
Xinmin Pri took the first match in straight sets 15-11, 15-9, with its first team looking the much better side than Yuhua's. However, the second match featured two equally-matched sides, and there were exciting rallies that got their teammates cheering loudly at the sidelines.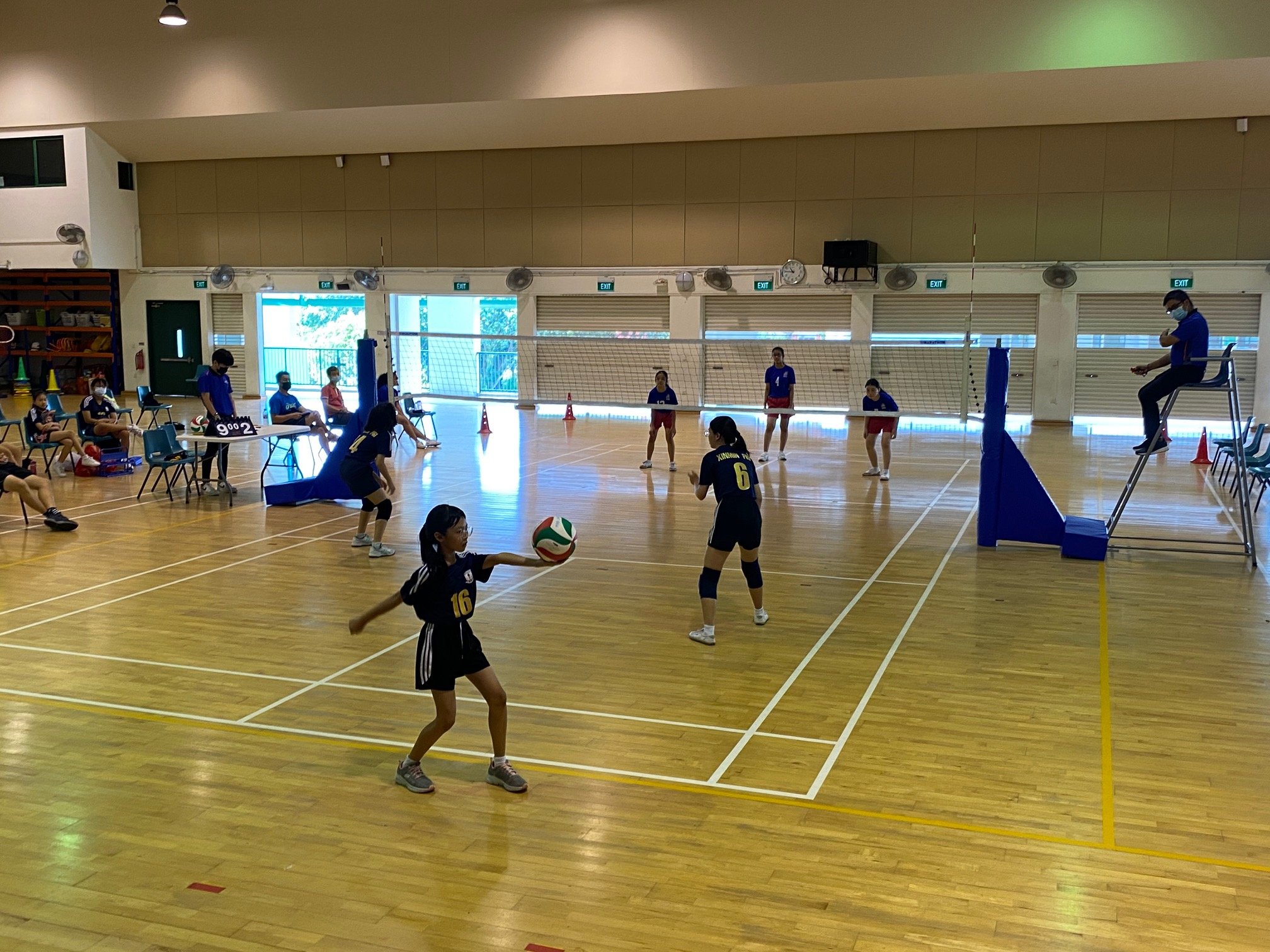 (Yuhua Primary in Black tops/ Photo Credit : Chia Hang Keong)
Yuhua eventually emerged the winning team in the second match with a score of 15-7, 12-15, 15-11. The third set was particularly hard fought - Xinmin raced to a 5-1 lead, before Yuhua clawed back to instead hold a 7-6 advantage. The scoreline remained close until Yuhua rattled off five straight points from 10-11 to win the match.
Yuhua captain Teo Yi Ling was happy to see a big improvement in teamwork among her teammates. "It was really intense, and I think we did quite well," the Primary 6 student said.
"We started after-school training for this year's competition after last year's examinations. We really practised hard during our CCAs (co-curricular activities), and some of us also practised by ourselves outside of school. We would like to win against as many schools as possible in this competition."
(Teo Yi Ling - Captain, Yuhua Primary / Video by Chia Han Keong)
Yuhua team manager Goh Han Serm said the volleyballers have done the school proud with their performances in their first-ever NSG tournament. "We will still go back and review our overall performance. It looked like the first team did not have enough confidence, so we will encourage them to continue doing their best -- it's just a lack of exposure to competitive matches," he said. "The key objective in this competition is always to let the players do their best, and they have demonstrated resilience despite losing the first match. So we are very happy with them."
(Goh Han Serm - Manager, Yuhua Pri / Video by Chia Han Keong)
This year's NSG, which started last Monday and ends on 27 May, currently features 12 sports across the secondary-school A and B divisions, as well as the primary-school Senior division.
The C and Junior Divisions are expected to resume in Term 3, which starts on 28 June. Minister of Education Lawrence Wong, who is also co-chairman of the Covid-19 multi-ministry taskforce, said that more sports might be included later this year if the pandemic situation remains under control and more people in Singapore get vaccinated.
The 12 sports currently being competed are badminton, bowling, golf, gymnastics, rope skipping, sepak takraw, shooting, table tennis, taekwondo (poomsae), tennis, 3v3 volleyball and wushu. It will see about 12,000 student-athletes competing.
The sports were selected as they were considered non-contact sports with limited physical contact and minimal inter-mingling among participants from different schools at competition venues. Safety management measures in place at the NSG include limits on venue capacity and the absence of spectators.
The national championships for table tennis, badminton (both Senior and B divisions) and volleyball (B division) have been cancelled, due to the large number of participating schools and shorter competition period. Instead, these sports will feature only the zonal-level competitions.
Chia Han Keong is a freelance journalist who has covered both Singapore and international sports extensively for the past 18 years. He was the sports editor of bilingual tabloid My Paper, and has also worked for The Straits Times and Yahoo News Singapore. He has covered four SEA Games (2009, 2011, 2013, 2019), two Asian Games (2010, 2014) as well as the 2008 Beijing Summer Olympics. He counts himself as a massive Liverpool, LA Lakers and Rafael Nadal fan.
Related Events & Programmes