NSG B Division Tennis : S'pore Chinese Girls' School end their 20-odd year quest for gold on a high!
by Circle Stories, on April 26, 2021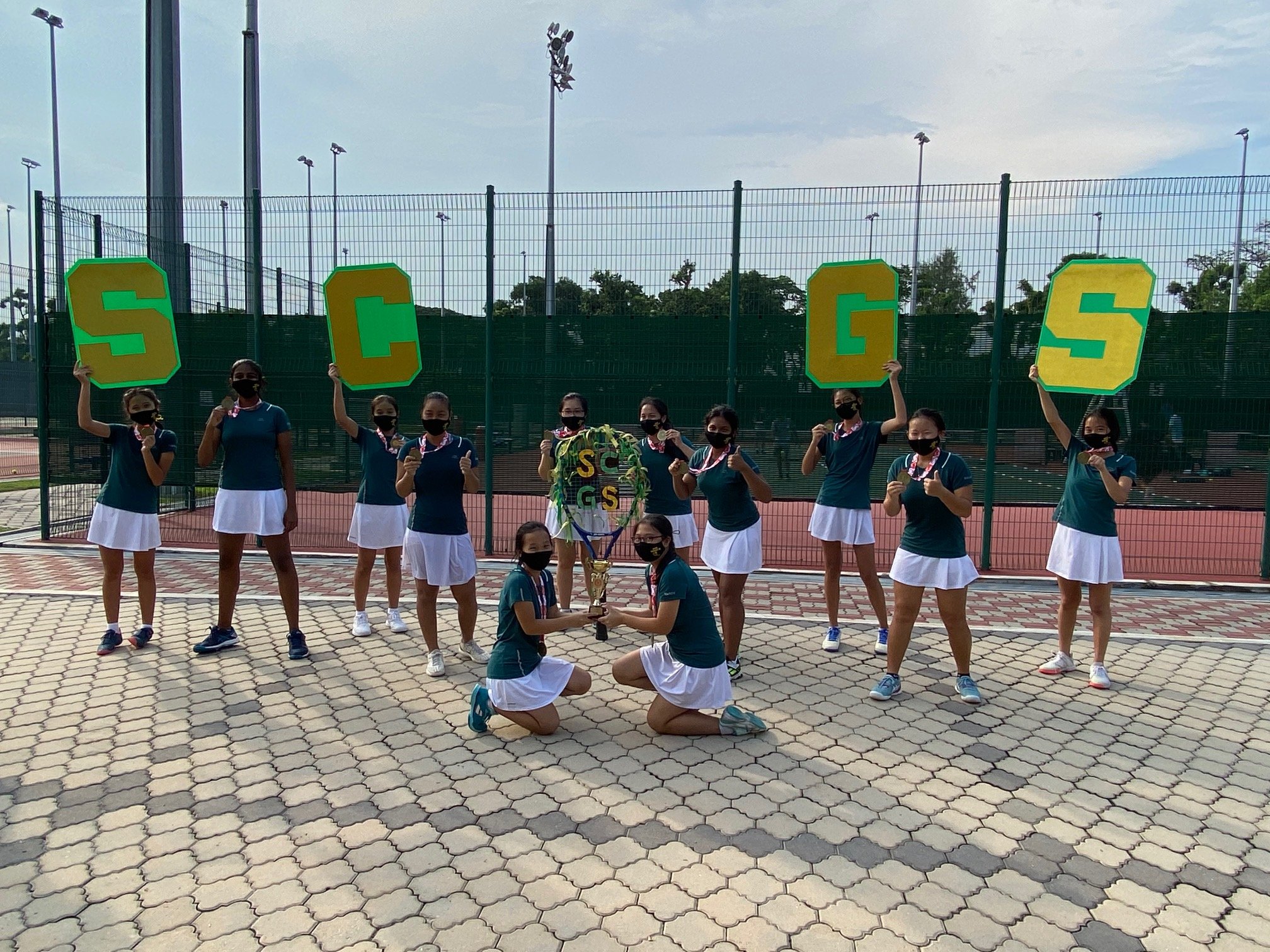 (Photo Credit : Chia Han Keong)
By Chia Han Keong
For over 20 years, Singapore Chinese Girls' School (SCGS) had tried to return to the summit of the National School Games (NSG) B Division girls' tennis competition. However, they were perennially thwarted by their rivals, usually finishing third or fourth with the occasional runner-up showing.
On Tuesday afternoon (27 April) at the Kallang Tennis Courts, they finally broke that long lean spell, upsetting the 2019 champions Methodist Girls' School (MGS) with a 3-2 series win in the final to taste sweet success at last.
The SCGS players could barely believe their achievement, celebrating with wide-eyed glee with their coaches and teachers-in-charge. Yet they showed plenty of battling qualities in each of the five matches in the final -- running ceaselessly, returning with ferocity and pumping themselves up with guttural roars.
As the stunned MGS players graciously applauded their opponents of the momentous success, SCGS' second singles player Sarah Chan and second doubles player Leeandra Yee Sinnathuray spoke about, how they did their school proud by believing that they could land the coveted title despite being the underdogs.
(For the latest schedules on live streams, news updates and stories, do check out our official website, National School Games 2021)
(Interview with SCGS' Sarah Chan and Leeandra Yee Sinnathuray by Chia Han Keong)
Both schools had finished top of their respective preliminary groups to advance into the semi-finals. But while SCGS had little trouble in beating CHIJ Secondary (Toa Payoh) 5-0 in their semis clash, MGS had to battle hard for a narrow 3-2 win over Nanyang Girls' High School to reach the grand final.
As there was an eight-day gap between the semi-finals and the final, SCGS began their preparations early, with an emphasis on getting themselves mentally prepared, to believe they could get over the hump of being underachievers in the competition. And it showed in the final. Despite being unable to do their usual warm-up routines due to the early-afternoon drizzle, SCGS players were unfazed as they took to the courts to do battle with their MGS counterparts.
With all five matches played concurrently among the Kallang courts, it was MGS who took the first point, as their first doubles pair of Kellie Jubela and Vanessa Sarah Richards defeated SCGS' Lorraine Ng and Jaelyn Lee 6-2, 6-3 on Court Seven. However, over at the adjacent Court Eight, it was SCGS' Lee Yenn who controlled her first-singles tie against MGS' Kaitlyn Ho with crisp returns and consistent play, and she levelled the score at 1-1 with a 6-2, 6-3 victory.
(Photo Credit of SCGS' Sarah Chan : Chia Han Keong)
With the girls returning first to their holding areas, they looked on anxiously over at the distant Courts 10 and 11, hoping to see any signs indicating that their teammates had taken the next crucial point. And it was the SCGS players who leaped with joy as they found out that Sarah had come out tops in the second-singles clash. She had a dominant performance in defeating Olivia Ho 6-1, 6-3 to put SCGS 2-1 ahead.
The team-mates at both the schools' holding areas stood around waiting for news of the all-important next completed match. MGS players knew that there is no margin for defeat; they must win both the second doubles and third singles to retain the title they won in 2019. Meanwhile, SCGS players were chattering excitedly at being just a series point away from a monumental win.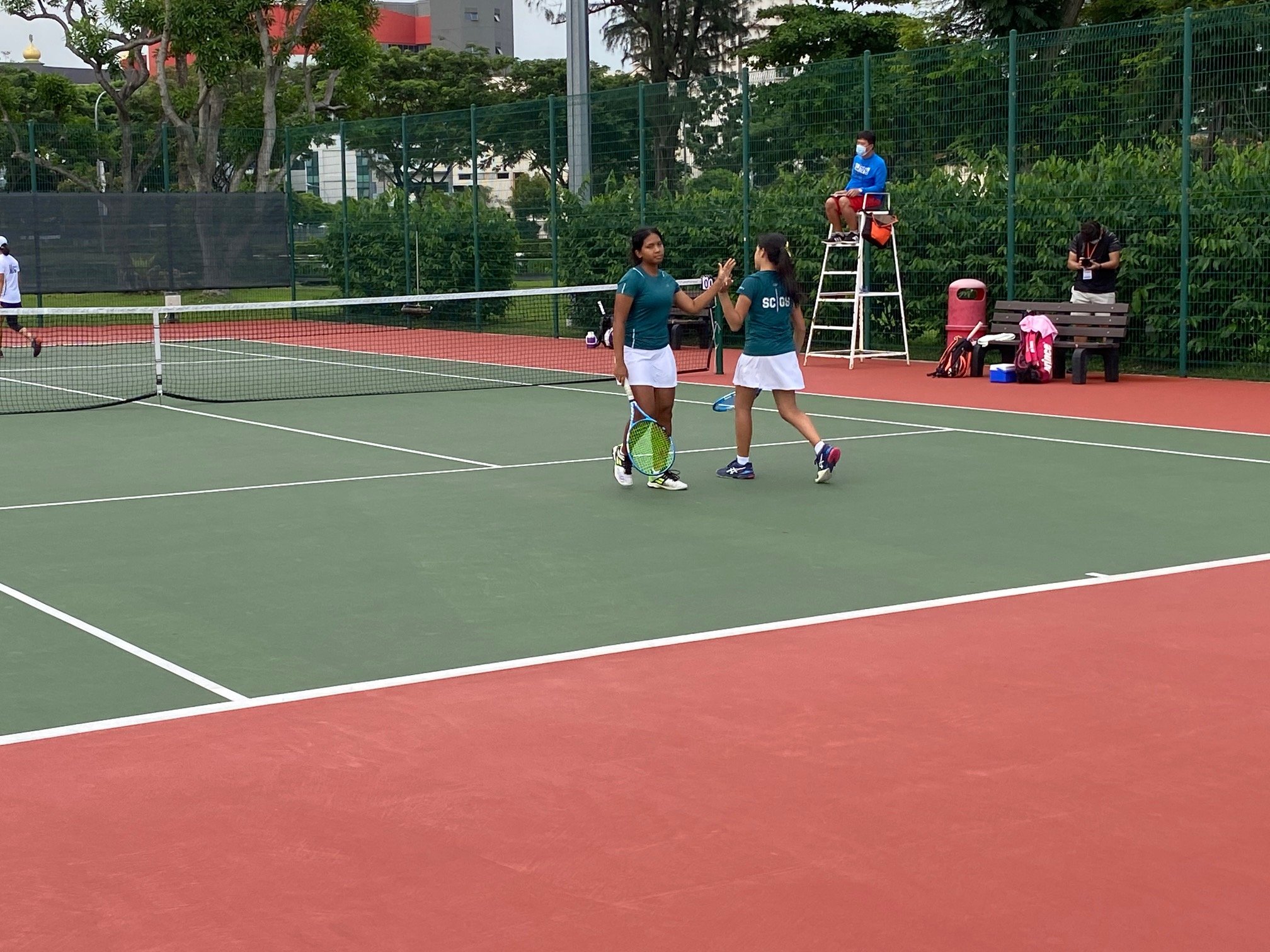 (Photo Credit of SCGS' Leeandra and Erica Lim : Chia Han Keong)
Then, shrieks of delight erupted in the SCGS camp - they had clinched their winning point via their second doubles pair of Leeandra and Erica Lim, who defeated MGS' Low Reine and Elizabeth Chew 6-2, 6-3. They cheered deliriously and hugged the duo when they returned to the holding area, before being reminded by their teachers to maintain safe distancing and wear their face masks.
(Photo credit of 3rd Singles match : Chia Han Keong)
After MGS clinched their final point in the third singles, with Audrey Tong beating Deborah Lim 6-3, 6-3, the entire team went to Court 11 to console their defeated second doubles teammates, showing exceptional camaraderie and togetherness despite the agony of losing their title defence.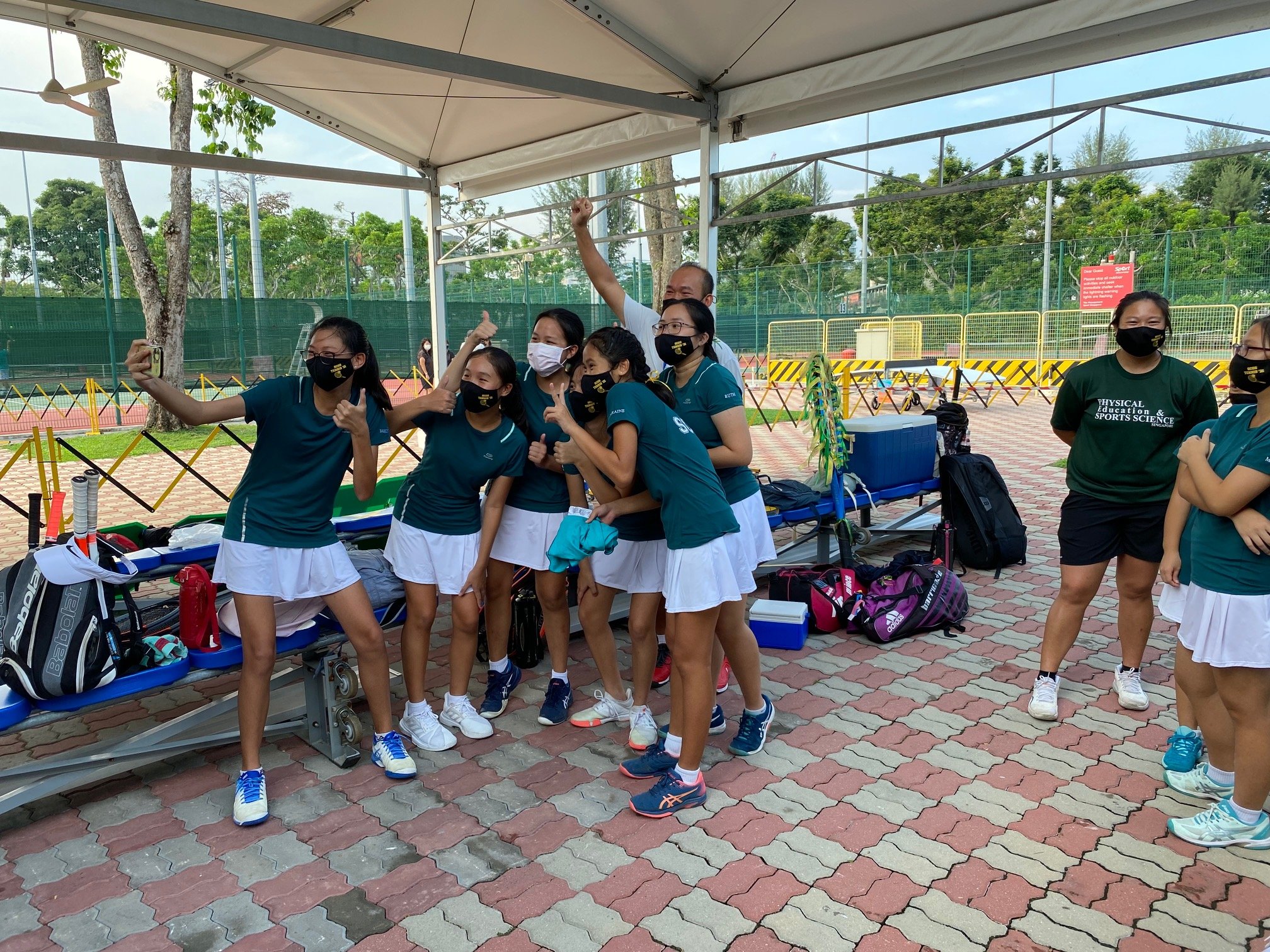 (Photo Credit of SCGS : Chia Han Keong)
But the day belonged to SCGS, as they accepted the trophy and medals to mark the end of more than 20 years of futile search for gold. None of the girls were born when their school last won the B Division title, but now they've written a new glorious chapter in their school's fine sporting history.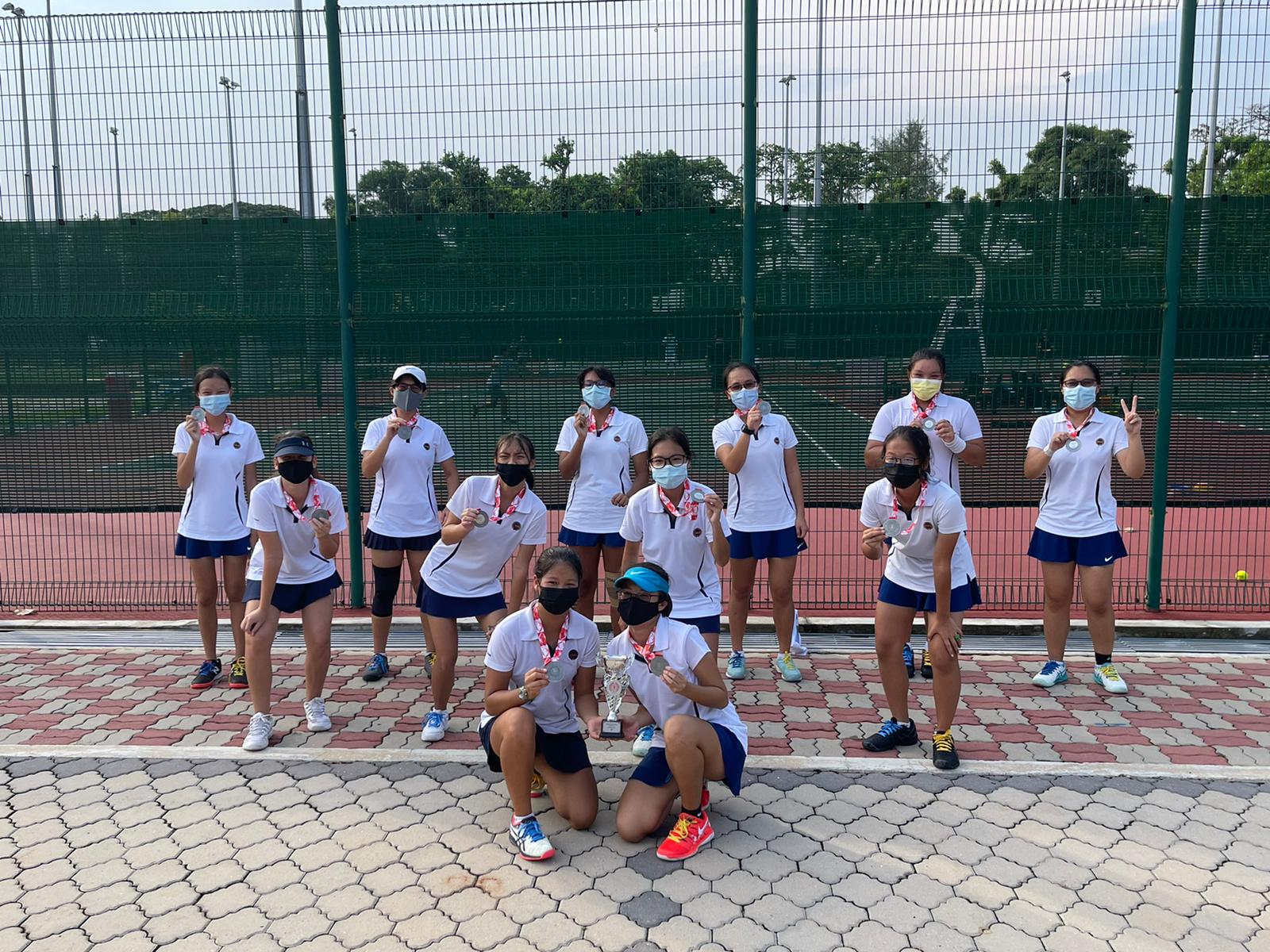 (Photo of Methodist Girls' School)
Chia Han Keong is a freelance journalist who has covered both Singapore and international sports extensively for the past 18 years. He was the sports editor of bilingual tabloid My Paper, and has also worked for The Straits Times and Yahoo News Singapore. He has covered four SEA Games (2009, 2011, 2013, 2019), two Asian Games (2010, 2014) as well as the 2008 Beijing Summer Olympics. He counts himself as a massive Liverpool, LA Lakers and Rafael Nadal fan.
Related Events & Programmes