NSG Badminton: RI's shuttlers take top spot in Group C, after their recent 4-1 triumph over VJC!
by Circle Stories, on May 10, 2021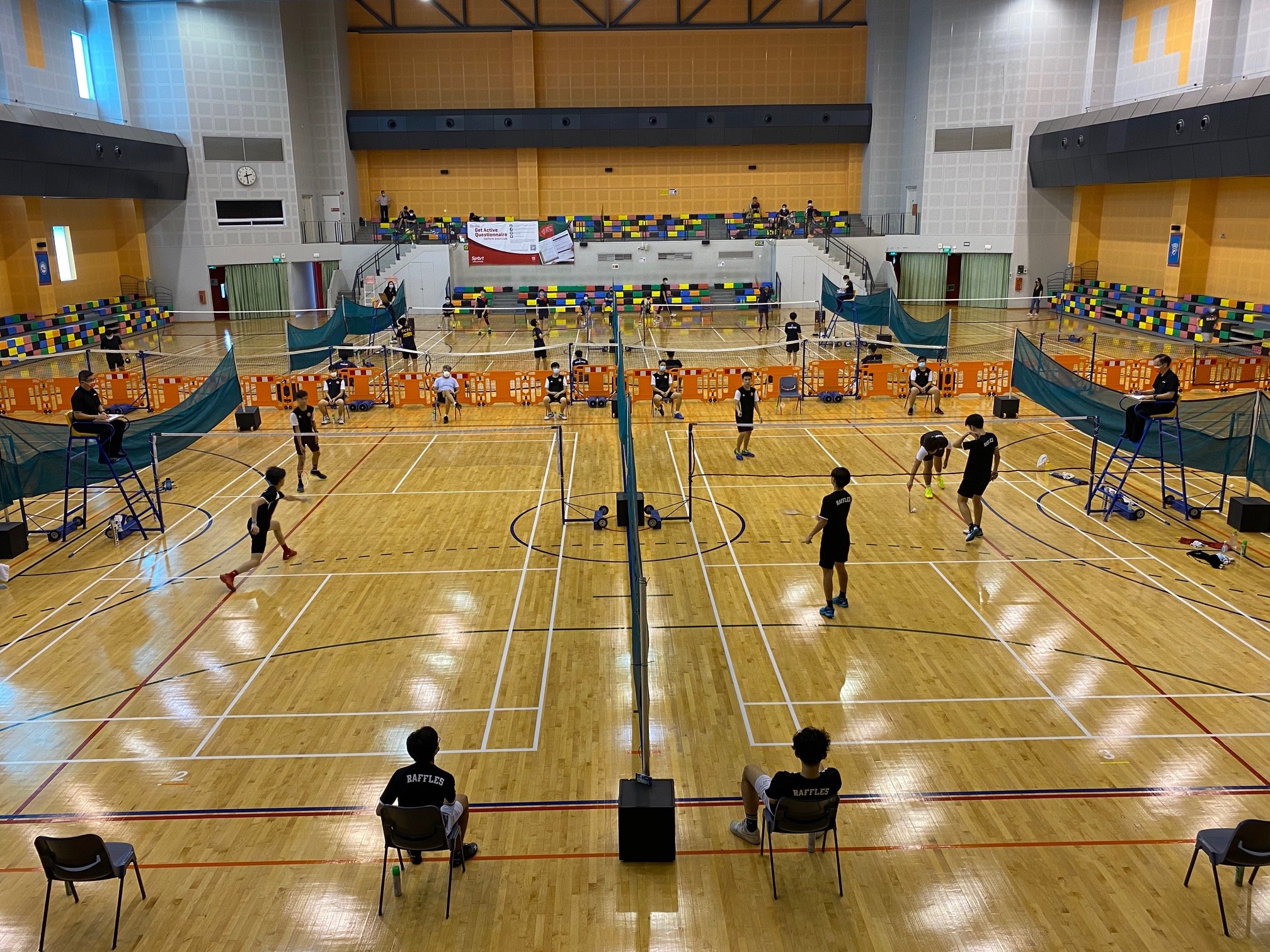 (Photo by Chia Han Keong)
By Chia Han Keong
It was a showdown for top spot in Group C of the National School Games (NSG) A Division Boys' badminton competition. And shuttlers from both Raffles Institution (RI) and Victoria Junior College (VJC), were all prepared to battle it out, as they warmed up for the preliminary-stage contest at Pasir Ris Sports Hall last Thursday (6 May).
Both schools had already qualified for the quarter-final stage, but neither team displayed a lack of intensity during their matches. Eventually, RI showed why they are perennial contenders for the A Division title, as they ran out 4-1 series winners.
The 2018 champions looked formidable, with class acts from the first singles to the second doubles. Nonetheless, second doubles player Ng Ding Xian still believes the team can make improvements that will serve them well, as they advance in the NSG competition.
(To watch all previous live streamed matches, news updates and stories, do check out our official website, National School Games 2021)
(Interview with RI's Ng Ding Xian by Chia Han Keong)
Prior to last Thursday's tie, both teams had already beaten their other group opponents -- Anglo-Chinese Junior College and Yishun Innova JC. But while RI swept past the two teams with convincing 5-0 victories, VJC had to battle for 3-2 victories for both their ties. Meanwhile over at Pasir Ris Sports Hall, both the first singles and first doubles matches began concurrently in adjacent courts and it was apparent from the get go that RI's shuttlers would be in control.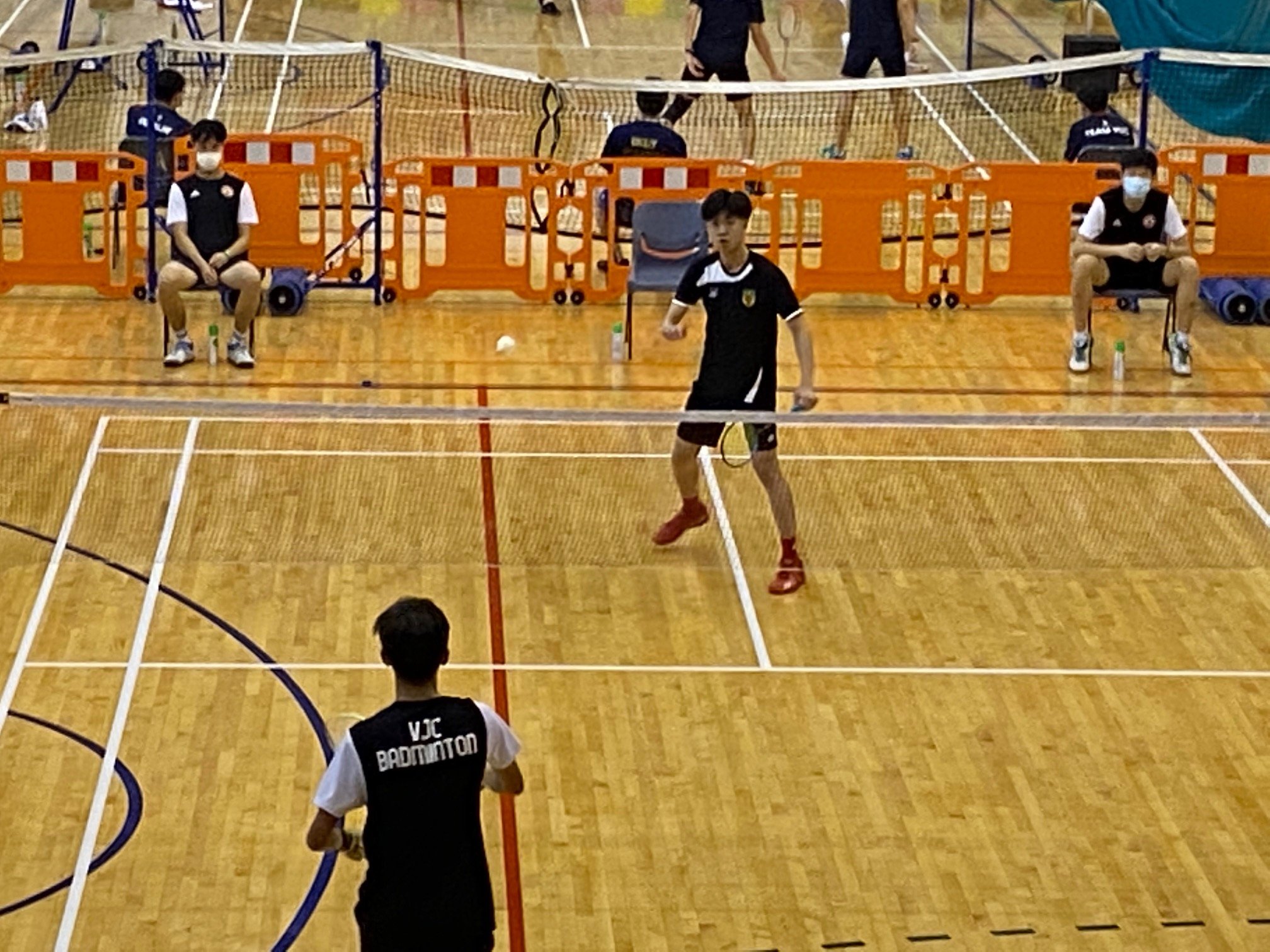 (Photo of 1st Singles match by Chia Han Keong)
The first singles match pitted RI's Terence Tan against VJC's Sean Tan. And from the moment the umpire began the tie, Terence put Sean under intense pressure as he sought to smash at every opportunity. It was an aggressive tactic that paid off, with Terence able to generate plenty of power and speed as he smashed his way to a dominant 21-7 win in the first set.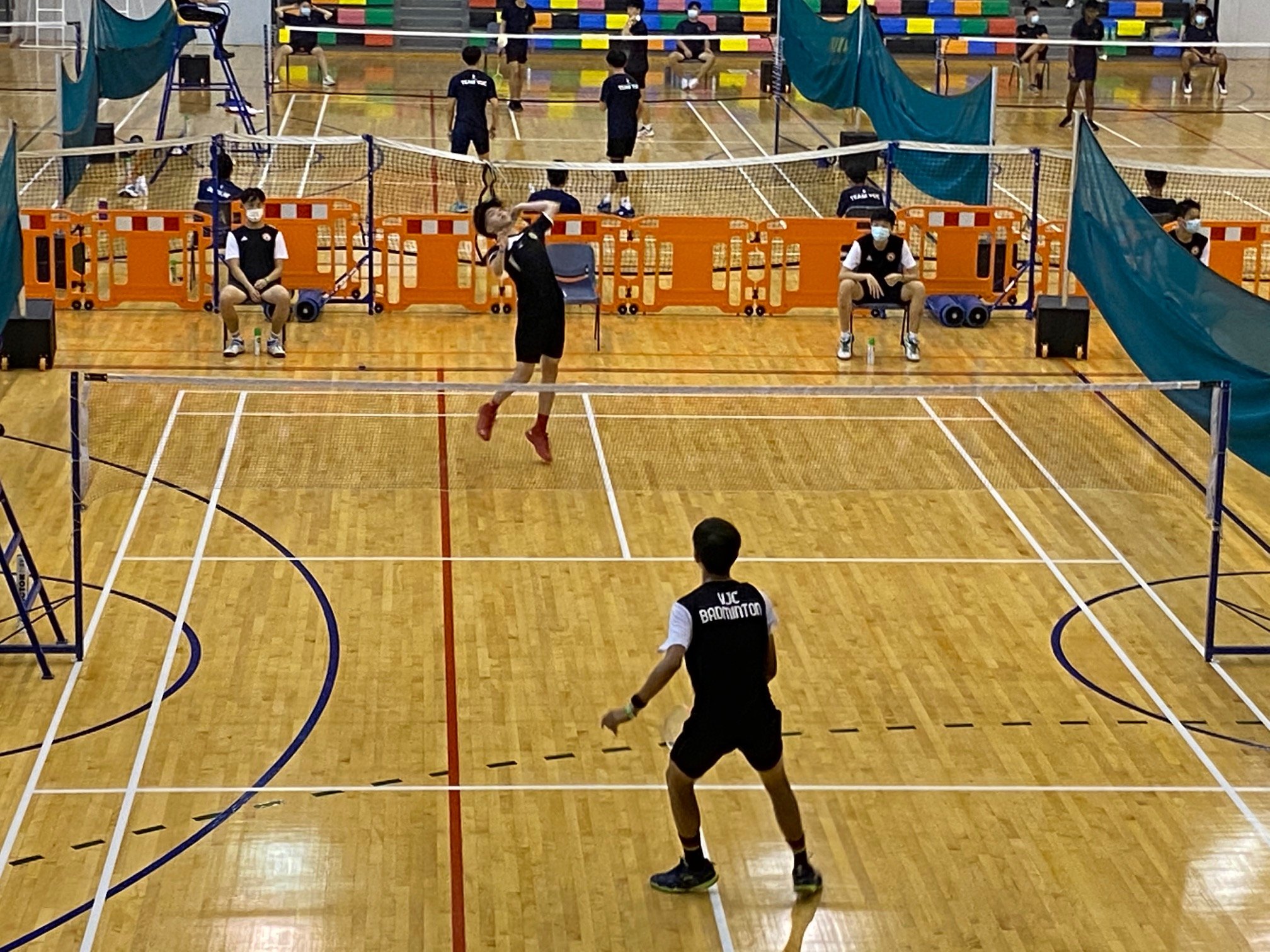 (Photo of 1st Singles match by Chia Han Keong)
It was a similar story in the second set, although Sean also tried to step up his intensity to counter Terence. Despite his resistance, Terence still managed to outclass his rival to win the second set 21-14.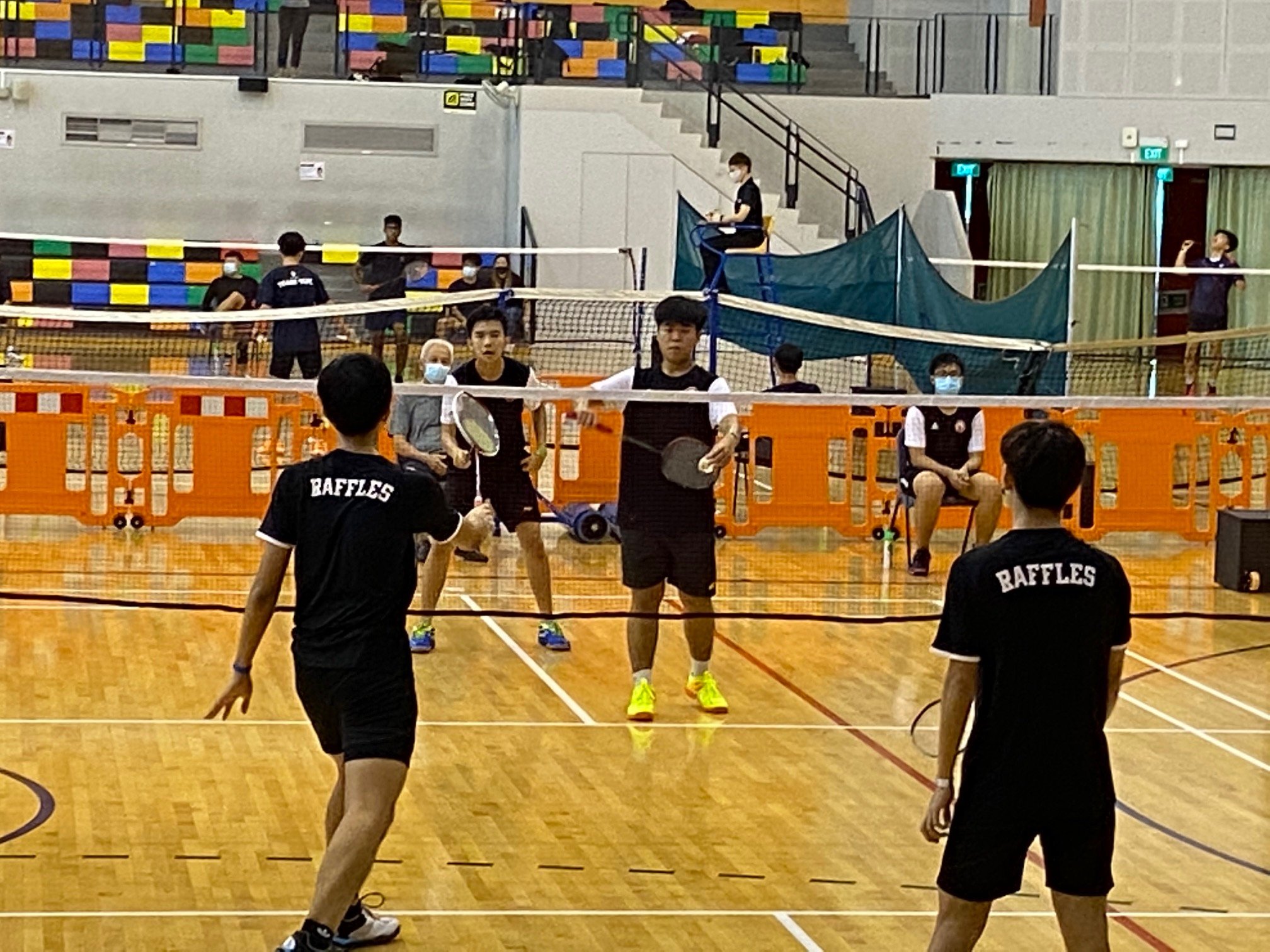 (Photo of 1st Doubles match by Chia Han Keong)
On the adjacent court, RI's first doubles pair of Ang Tiong Ian and Kenneth Kat were equally dominant against their VJC counterparts Tan Ying Jie and Tian Jia Rui. There were fewer spectacular smashes in this match compared to the first singles tie. But the RI duo were consistent and unruffled, as they forced their opponents into errors, and eventually ran out comfortable 21-9, 21-11 winners.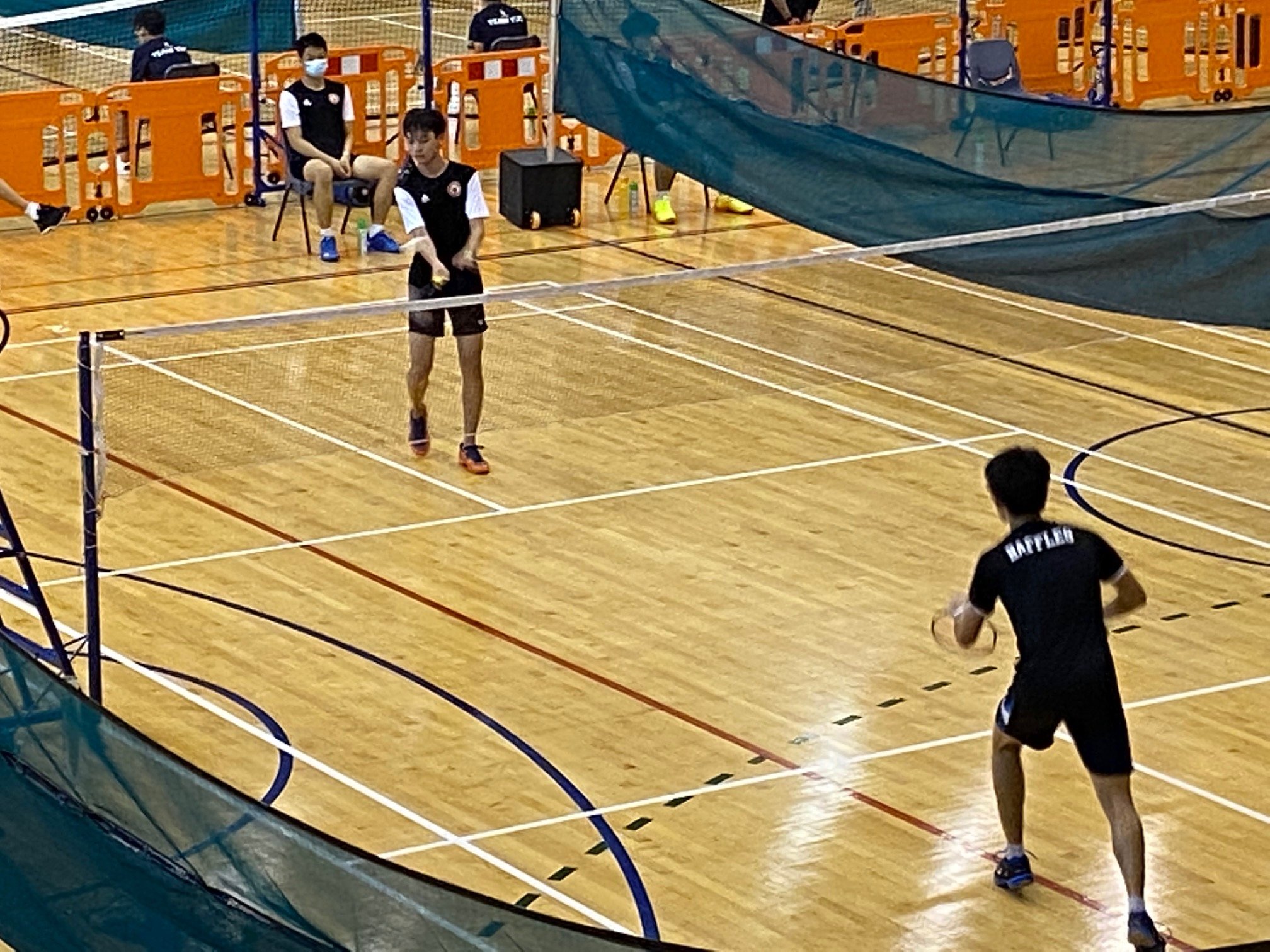 (Photo of 2nd Singles match by Chia Han Keong)
Next up were the second singles and second doubles ties, with VJC needing wins in both matches to have any chance of an upset. And they took their first point of the series in the second singles with a sublime performance from Victor Soh. Unlike the high-intensity tactic by RI's Terence in the 1st Singles match, Victor played a game of feathery and cleverly-disguised shots to bamboozle RI's Irvin Chua, who was no pushover with some deft plays of his own.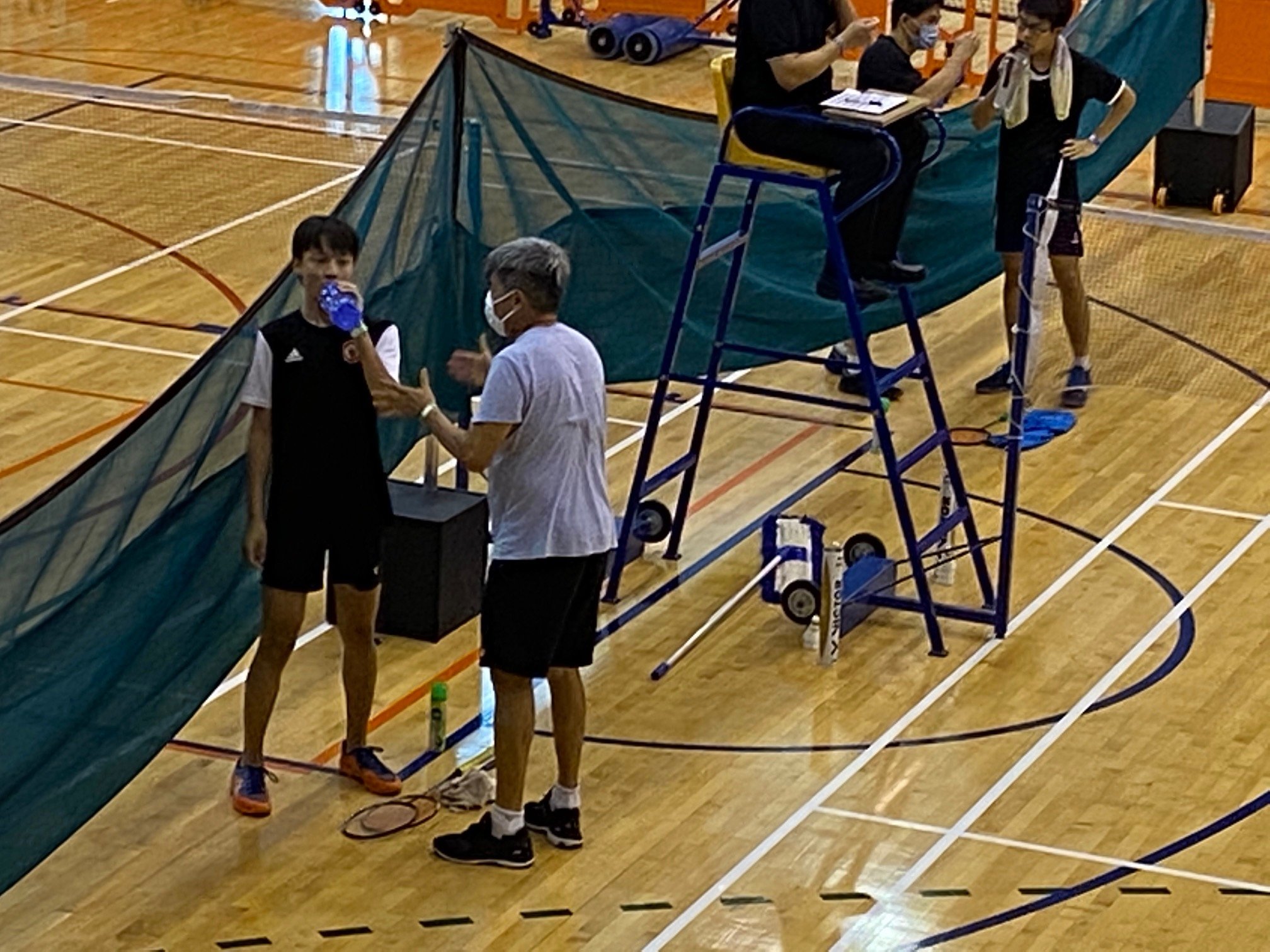 (Photo of VJC's Victor Soh by Chia Han Keong)
It was a fascinating duel in the first set, but after some advice from his coach in the mid-set break, Victor took control with some outstanding shot-making, clinching the set 21-17. He maintained his exceptional form in the second set, as Irvin was eventually outclassed 21-9. So 1 match won - could VJC mount a comeback by winning the second doubles to draw level in the series? Donovan Low and Anthony Ang were tasked with this crucial match, as they faced RI's Ng Ding Xian and Shane Yap.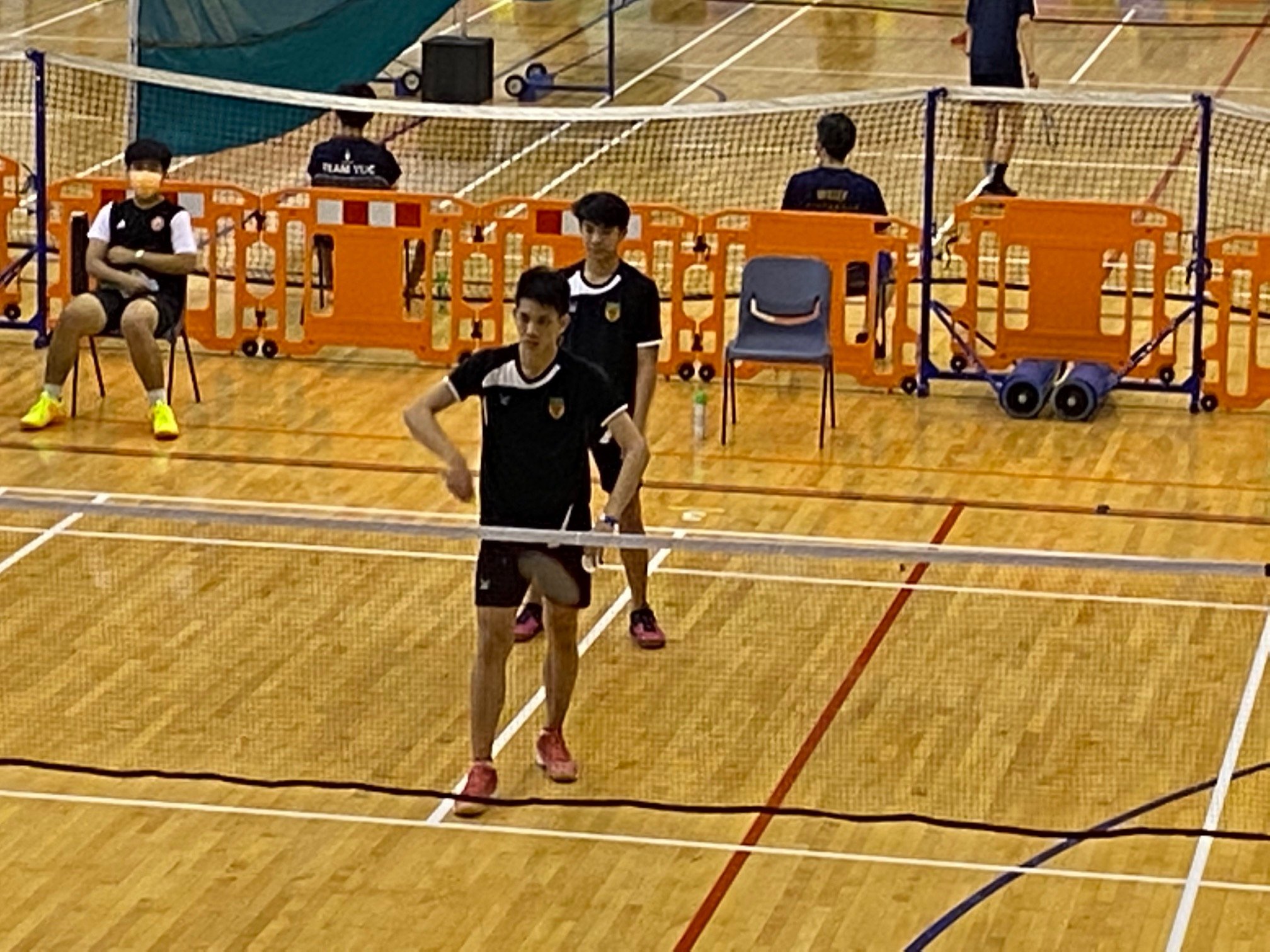 (Photo of RI's Ng Ding Xian and Shane Yap by Chia Han Keong)
The RI duo settled faster in the match, racing ahead to take the first set 21-13. But the second set was a much tighter affair with each pair trading points from start to end. Eventually, Ding Xian and Shane took care of the crucial points to secure the second set 21-19 and clinched the winning point for their school.
Despite the defeat, VJC's Anthony believes that all his teammates had put in their best efforts against formidable opponents. He also believes that his team will be able to continue improving their games and battle hard in future ties.
(Interview with VJC's Anthony Ang by Chia Han Keong)
In the third singles match, RI's Derrick Tee had little trouble in defeating VJC's Alfred Long 21-9, 21-9 for the final series scoreline. The NSG has since been suspended (till 30 May) due to Covid-19.
Chia Han Keong is a freelance journalist who has covered both Singapore and international sports extensively for the past 18 years. He was the sports editor of bilingual tabloid My Paper, and has also worked for The Straits Times and Yahoo News Singapore. He has covered four SEA Games (2009, 2011, 2013, 2019), two Asian Games (2010, 2014) as well as the 2008 Beijing Summer Olympics. He counts himself as a massive Liverpool, LA Lakers and Rafael Nadal fan.