Opening remarks by President Halimah Yacob at the Inclusive Sport Conference 2021
by Circle Stories, on March 15, 2021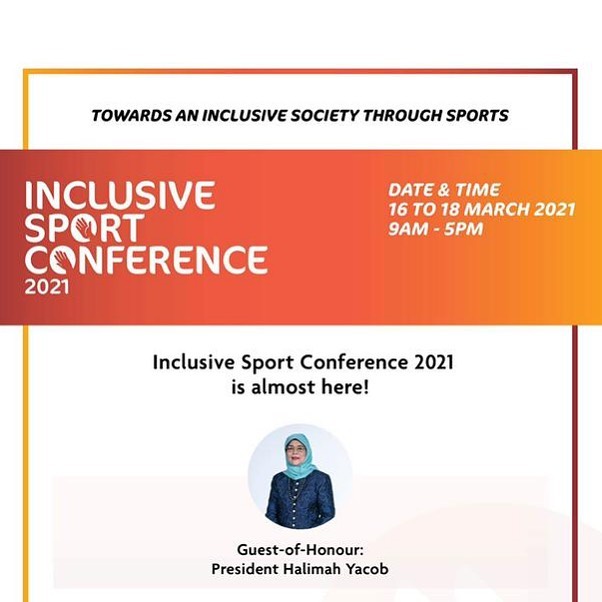 (President Halimah Yacob as the Guest-of-Honour at the Inclusive Sport Conference on 16 March @SportSG Auditorium)
Mr Edwin Tong, Minister for Culture, Community and Youth and Second Minister for Law
Mr Toh Boon Yi, Deputy Chief Executive (National Movement), Sport Singapore Captain Roger Loh, President, Special Olympics Singapore
Mr Ho Cheng Kwee, Honorary Secretary, Singapore Disability Sports Council Distinguished guests, Ladies & Gentlemen
1.

A very good morning to all. I am pleased to join you here today to launch the inaugural Inclusive Sport Conference (ISC).
2. Sport has long been recognised as a good way to bring people together, regardless of who we are and where we come from. When we engage in sports, not only do we reap the health benefits of staying active, but we also cultivate values such as camaraderie, discipline, resilience and respect. It is thus an excellent driving force to empower persons with disabilities to improve their quality of life, build independence and stay healthy physically and mentally.
3. One good example is 25-year-old Ryan and his mum, Denise. As an individual with autism spectrum disorder, Ryan thrives on routine and structure. His routine was
disrupted during the Circuit Breaker last year when he could no longer participate in outdoor sporting activities. SportCares reached out to Denise to encourage Ryan to participate in the fitness videos that SportCares produced on YouTube. Denise observed that Ryan enjoyed doing the exercises independently. Today, I am happy to learn that Ryan has become fitter and grown to be more self-confident.
4. Of course, getting more persons with disabilities to be interested and engage in disability sports is not as simple as telling them to "go play". Some sports will have to be modified for different groups and require investments in specific equipment or spaces, which may deter organisations, schools and individuals from initiating disability sports programmes. Social agencies that help persons with disabilities tend to focus on therapy, education and employment, and not so much on sport. The local sporting fraternity can also do more in organising inclusive sports programmes, and expanding their knowledge and expertise in tailoring disability sports.
5. Thankfully, there have been some good progress in this area in the last few years. Since the Disability Sports Master Plan began in 2016, more sport opportunities for persons with disabilities have been introduced in the community, through programmes such as Play-Ability, Yes! I Can, and Intro-A-Sports. Back then, only 1 in
3 persons with disabilities played a sport every week; that number has since increased to 1 in 2 in 2019.
6. Today, I am happy to announce SportSG's new Social Service Corporate Membership scheme, which will be rolled out in June this year. The new scheme will provide Special Education schools and social service agencies serving persons with disabilities with three key benefits:
a) First, member organisations will be able to enjoy advance booking for all ActiveSG
b) Second, these organisations will be allocated $1,000 in ActiveSG credits that can be used for facilities bookings and paid programmes offered by ActiveSG. Their beneficiaries will also enjoy free entry to all ActiveSG pools and
c) Third, SportSG will work with partner organisations to curate regular programming for their beneficiaries.
7. Through the Social Service Corporate Membership scheme, SportSG will work with partner organisations to encourage persons with disabilities to kickstart an active lifestyle through regular sport and exercise activities at our ActiveSG Centres. SportSG will also assist partners to sign up their beneficiaries for the ActiveSG membership, where they can receive the $100 ActiveSG credits offered to all new ActiveSG members.
8. Today's conference serves as a new but important platform to bring all stakeholders in the disability ecosystem together. Many of you here have contributed your time and effort in supporting the cause of empowering persons with disabilities and championing inclusion in the community through sport. We are here at this conference to elevate the conversations to a national level, and Forge Forward Together.
9.

I am heartened to note that today's conference has managed to attract close to 700 participants from different backgrounds, including persons with disabilities and their families, Special Olympic athletes, sport practitioners, educators, students, allied professionals, caregivers and volunteers. It is important to hear from the various
groups involved when co-creating solutions. The support that today's conference has received, reflects a commitment to forge greater collaborations and promote innovation in support of the Disability Sports Master Plan.
10. In closing, let me thank SportCares, the Singapore Disability Sports Council and the Special Olympics Singapore for your efforts in making the inaugural Inclusive Sport Conference possible. I am confident that the ideas and discussions put forth at today's conference can catalyse partnerships among the many stakeholders in Singapore's disability community, to empower Persons with Disabilities through sport and build a more inclusive society.
I wish everyone a fruitful Conference. Thank you.