Reigning Olympic Champion Kristian Blummenfelt, Triumphs in Inaugural PTO Asian Open in Singapore
by ActiveSG Circle, on August 21, 2023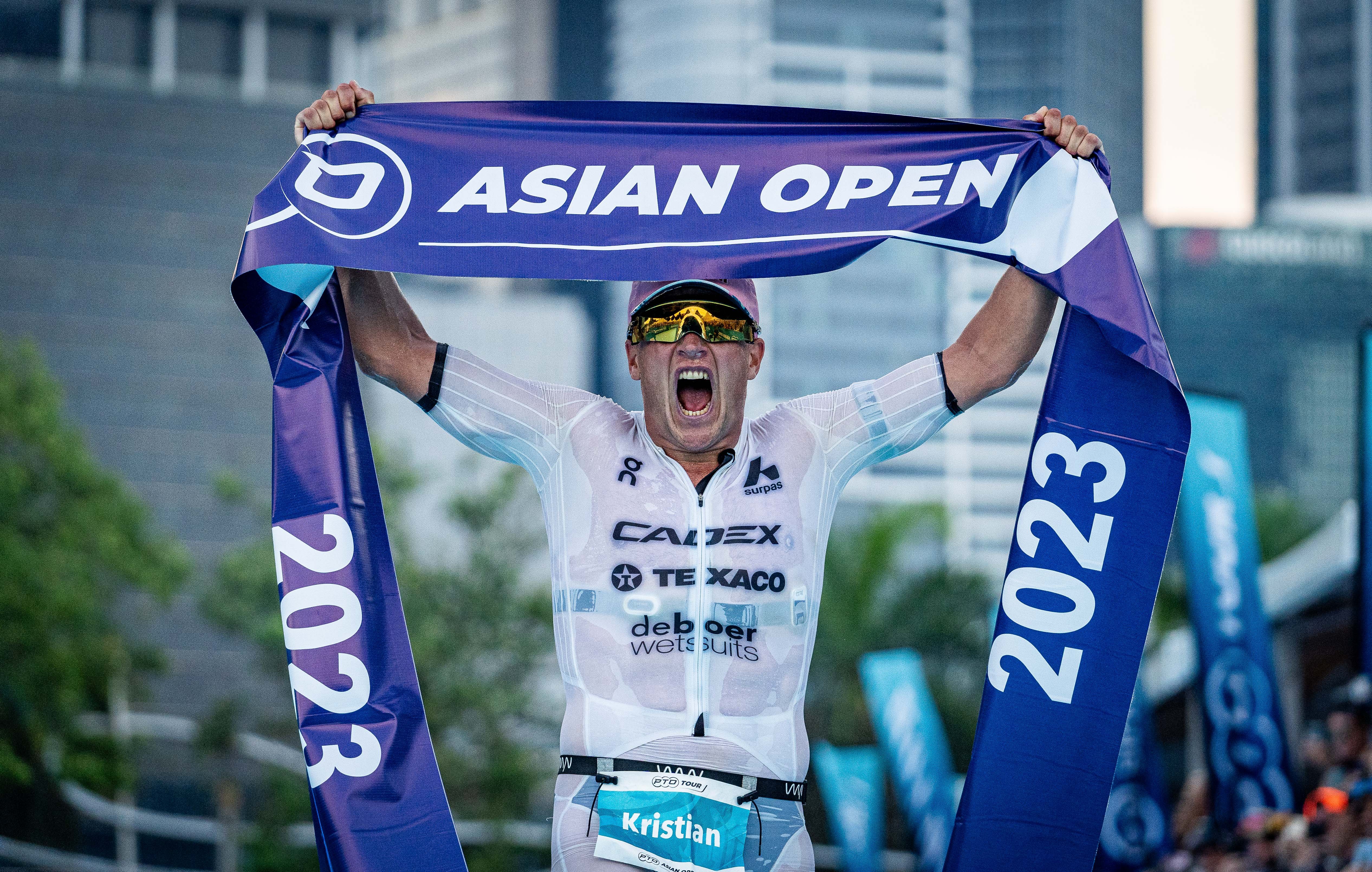 Kristian Blummenfelt celebrates winning the Men's Pro Race at the inaugural PTO Asian Open on 20 Aug 2023 in Singapore. Photo credit: Professional Triathletes Organisation
Fresh off the Olympic Test Event in Paris two days ago, reigning triathlon Olympic champion Kristian Blummenfelt shook off jet lag and a 9th-place finish to triumph in the Men's Pro Race at the inaugural Professional Triathletes Organisation (PTO) Asian Open on Sunday (20 Aug).
Blummenfelt had been trailing Pieter Heemeryck for the entire 80km bike leg, but he powered through the run to pass the Belgian nearly halfway through the 18km run. From there, the 29 year old Norwegian made no mistake and finally clinched the elusive first PTO Tour title as he crossed the finish line in 3hr 20min 48sec. Heemeryck was second in 3:22:47 followed by Jason West (USA) in his time of 3:24:03. A jubilant Blummenfelt released a celebratory shout and pumped his fist in the air after completing the 100km course before settling down on the floor to take in the view at the finish line, reflecting on finally earning a PTO Tour win after three years.
The PTO World No. 1 said: "I'm very happy and relieved. It's something I've been chasing for three years now and to finally be able to take this is a massive relief. It's been a long time coming since the PTO 2020 Championship in Daytona and I really wanted to win a PTO race. 2 weeks ago at the PTO US Open, 60km into the bike leg, I thought I had it in my pocket but it sort of slipped out when I cramped coming off the bike so you can't really celebrate too early. When I finally sort of knew I have a PTO Tour win, it's what I felt I've been missing."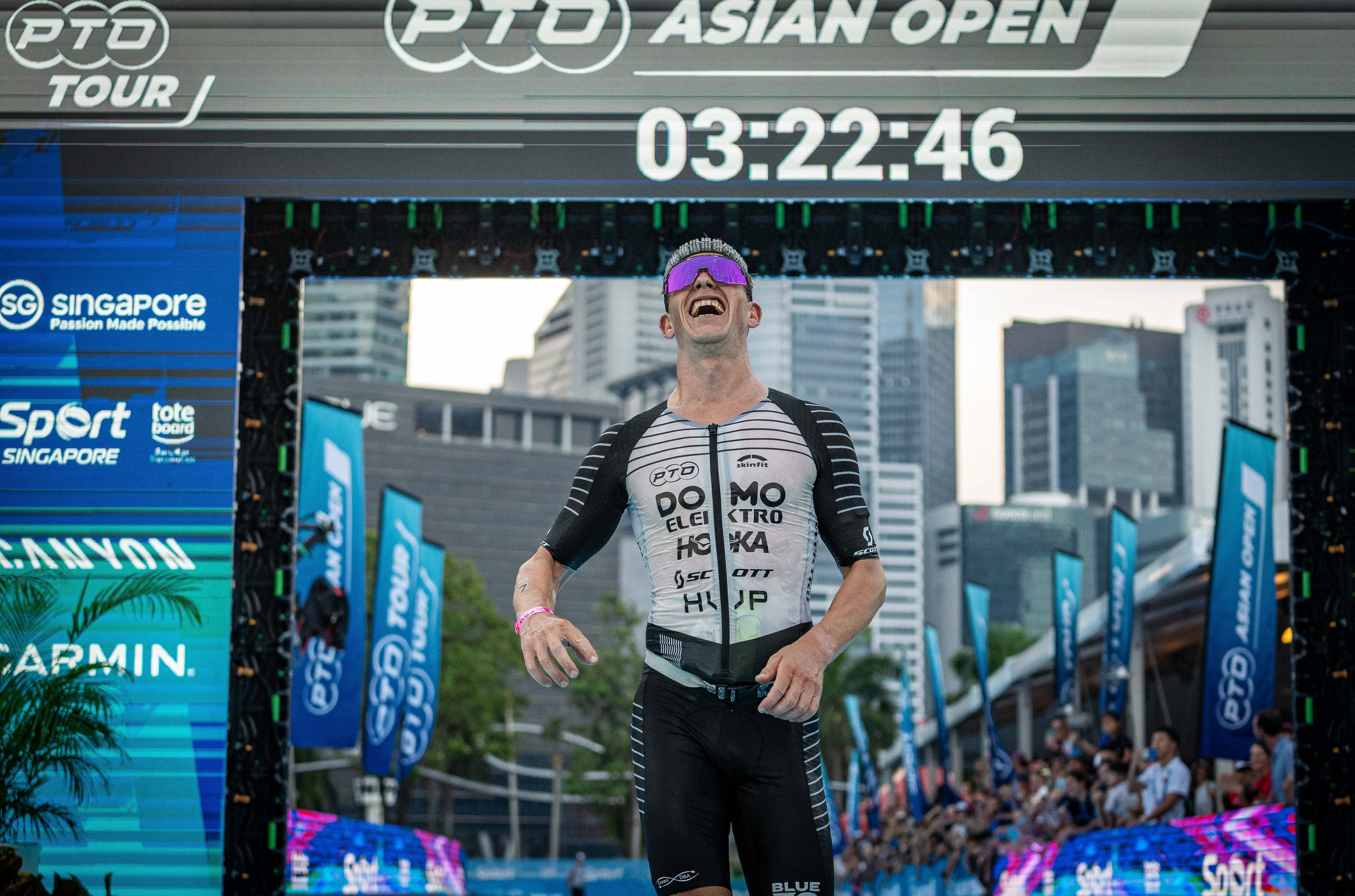 Belgium's Pieter Heemeryck finished the PTO Asian Open in 2nd place. Photo Credit : Professional Triathletes Organisation
Meanwhile, 32 year old Heemeryck was surprised to have led the bike course from Blummenfelt and was pleased to finish second despite the win slipping from his grasp at the end.
The Belgian said said: "I have to be honest, I never thought that I was going to ride away from this field. So it was a little bit surprising. When I saw Kristian running and I knew he's going to get me but I have to be very patient because at the end, you want to be on the podium here. When I saw Jason, I really thought that he was going to get me also. But at the end, I finished with a strong run. It was a hot and hard race, but a fun one. The laps on the bike were beautiful and coming into the transition area, there were a lot of people supporting the race. At the end, I had a good day."
The PTO Asian Open weekend saw over 6,000 participants in a fun-filled event at the Marina Bay, beginning with two duathlon races in the morning over a standard 4.5km Run/32km Bike/4.5km Run and a longer 9km Run/64km Bike/9km Run. These were followed by the 100km experienced amateur triathlon, which also saw past and present Team Singapore athletes strut their stuff in relay teams led by 2016 Olympic champion Joseph Schooling.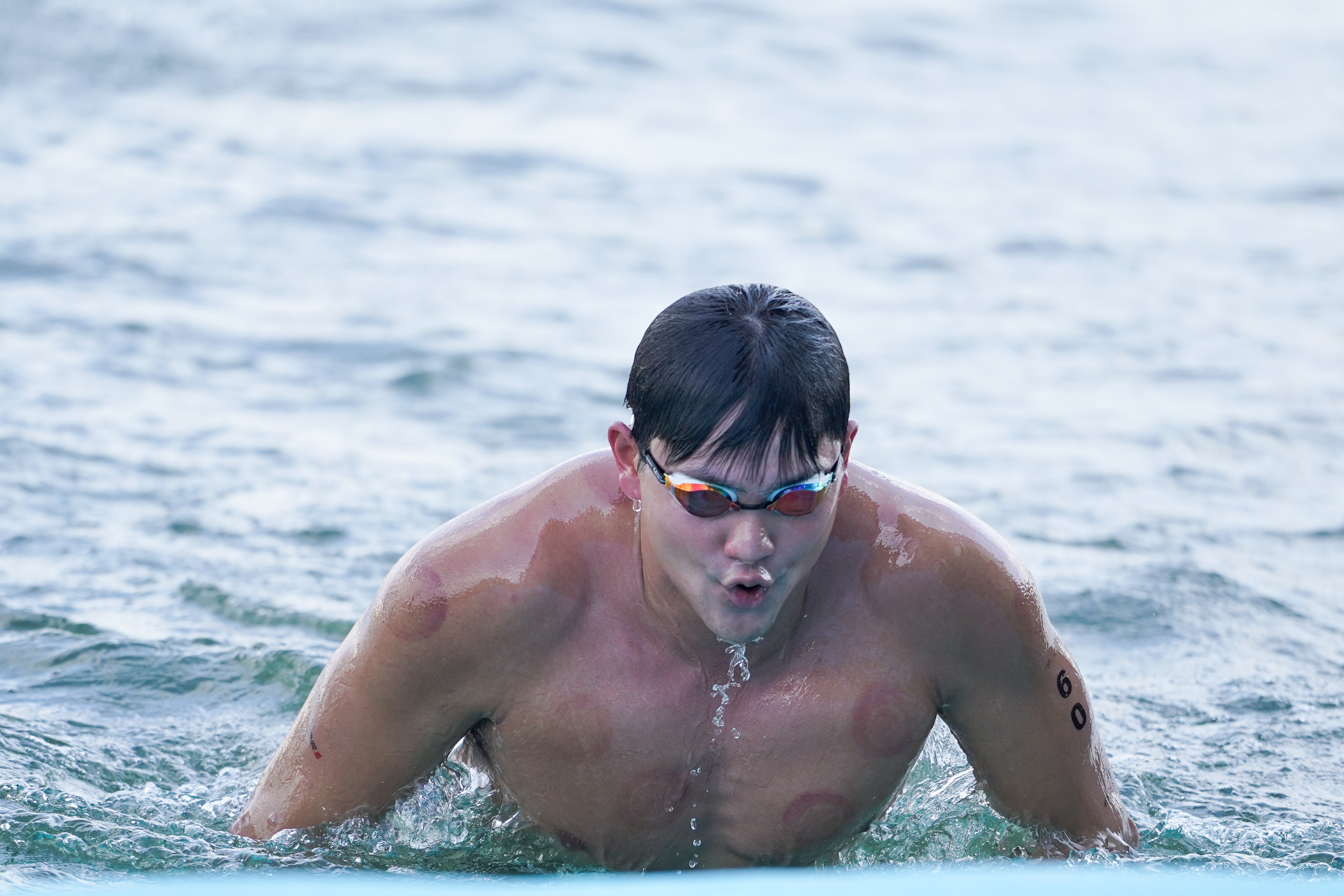 Singapore's 2016 Olympic champion Joseph Schooling participated in the 100km experienced amateur triathlon in a relay team with former national cyclist Calvin Sim and SEA Games marathoner Jasmine Goh on 20 Aug. Photo credit: Professional Triathletes Organisation
Schooling said: "Overall, I had a lot of fun. Rounding the buoys was something different, I'm used to turning in the pool. All the Team Singapore athletes did really well. Luke (Tan) was maybe five or six body lengths in front of me or more because he hit it really well. I've trained with him at the National Training Centre and his aerobic base is good, I'm only a sprinter. Overall, I'm just happy to finish. I got a little nervous and excited a few days leading up to this. It was nice to be in a race atmosphere, in terms of nutrition and sleep time – that's something I really missed. Going 20 times what I'm used to in terms of distance… it was out of my comfort zone and that was fun so yeah, I did miss it. Hopefully I get a chance to do it again next year and I'll be better prepared."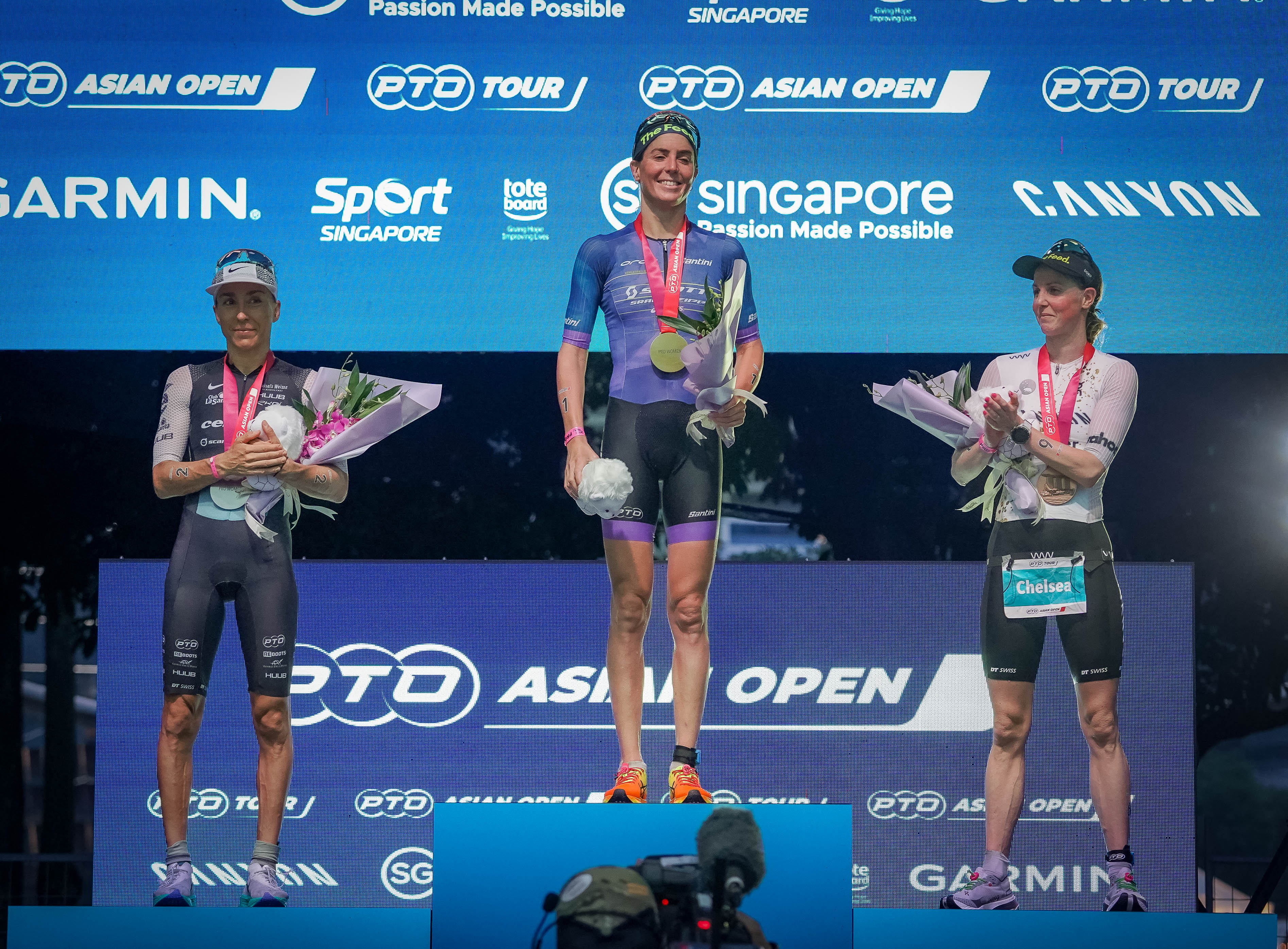 Ashleigh Gentle (middle) won the inaugural 2023 PTO Asian Open ahead of Anne Haug (far left) and Chelsea Sodaro. Photo credit: Professional Triathletes Organisation
After two consecutive runner-up finishes on the 2023 PTO Tour, the third time was the charm for Australian Ashleigh Gentle who blew her competition out of the water and won the Women's title at the inaugural PTO Asian Open on Saturday (19 Aug).The PTO world No. 1 finished the 100km Pro Women's triathlon in 3hr 41min 16sec, ahead of Germany's Anne Haug (3:43:32) and American Chelsea Sodaro (3:46:10) at the Marina Bay course.
It was third time lucky for Gentle who, after winning both PTO titles in 2022, had to settle for second place at the 2023 PTO European Open in May and the US Open earlier this month. She said: "It feels very, very good. I've had a couple of second places this year so it's pretty much a dream way to end my season. There was a big group of us in the swim that were swimming at a similar pace. But once I got out of the swim, I kind of accelerated and had a really good transition, so I found myself at the front very quickly. I realised that no one came with me on the bike, so it was about focusing on my effort and doing the best that I could myself. Fortunately, I was able to catch Lucy and Sara and once I realised that they also didn't come with me, it was just about putting my head down, trying to do consistent laps on the bike and just really focus on my effort then do as best as I could on the run. Today was probably my best race of the year and I'm really happy."
The PTO returns to Singapore in 2024 and will take place from April 12 to 14.
Recent Events & Programmes