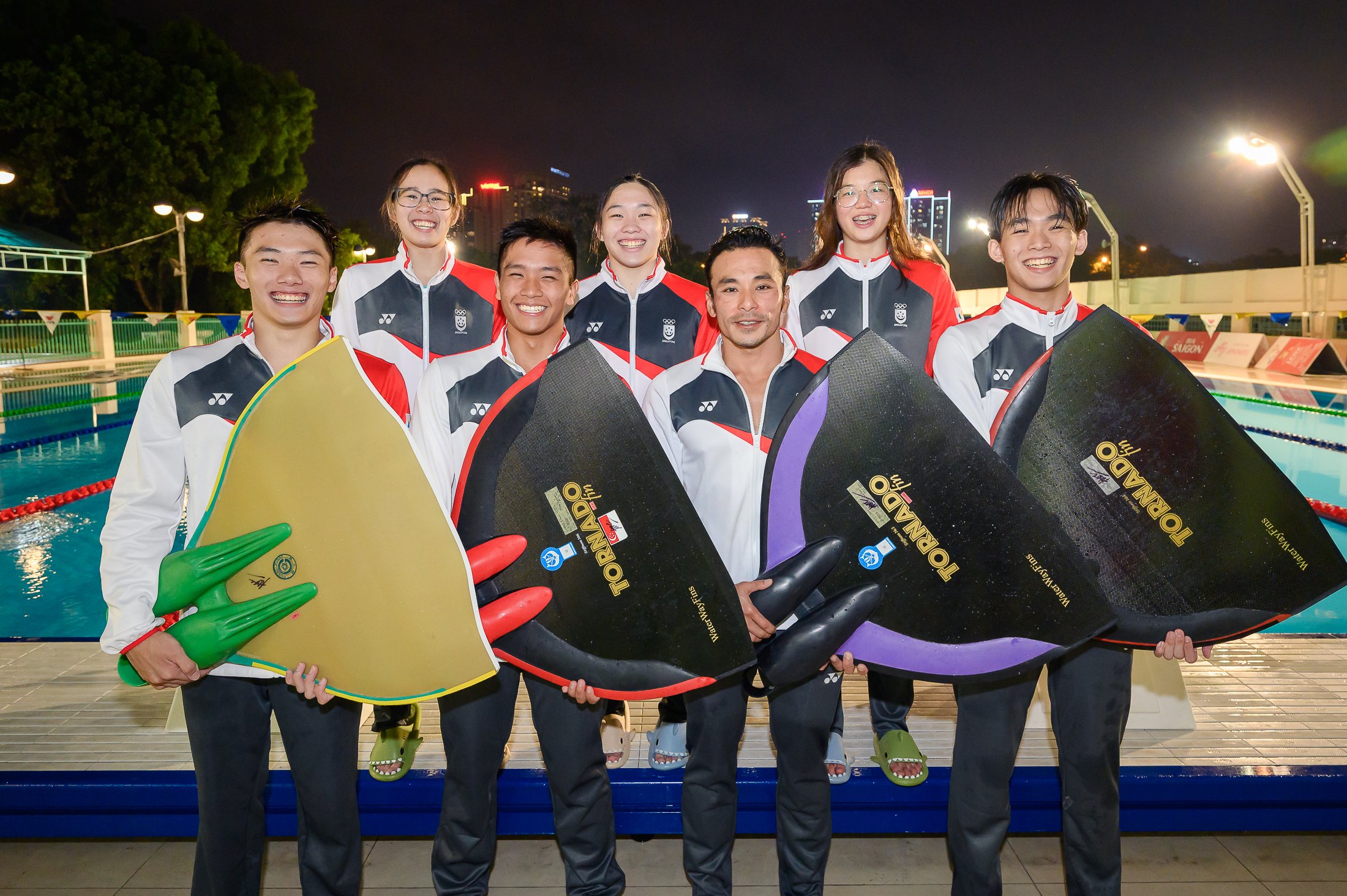 (Team Singapore's finswimming squad at the Hanoi SEA Games. Top row - Jamie Ang, Vanessa Ong, Bernice Ting. Second row: Rayen Ong, Lucas Chew, Lim Yao Xiang and Jordan Ong. Photo Credit: Sport Singapore/ Andy Chua)
By Angelina Dass


The Singapore finswimming squad of 7 athletes ended its return to the SEA Games, with 7 new national records and 14 personal bests.
The sport returns to the regional Games after 19 years, having last featured in 2003. Back then in Hanoi, the Republic picked up one gold, two silvers and four bronzes.
With 13 gold medals up for grabs in 2022, host nation Vietnam proved to be the sport's powerhouse (again) finishing top of the podium for 9 events. As for TeamSG's young squad of debutants, they were unable to secure a podium finish in their respective events.
"With 6 out of seven debutants in a squad, the lack of regional and international competition experience proves a vast difference from the other 'big guns'. Skills required for the sports can be trained, but experience in a competition must be built over time," said Desmond Ho, the head coach of the squad.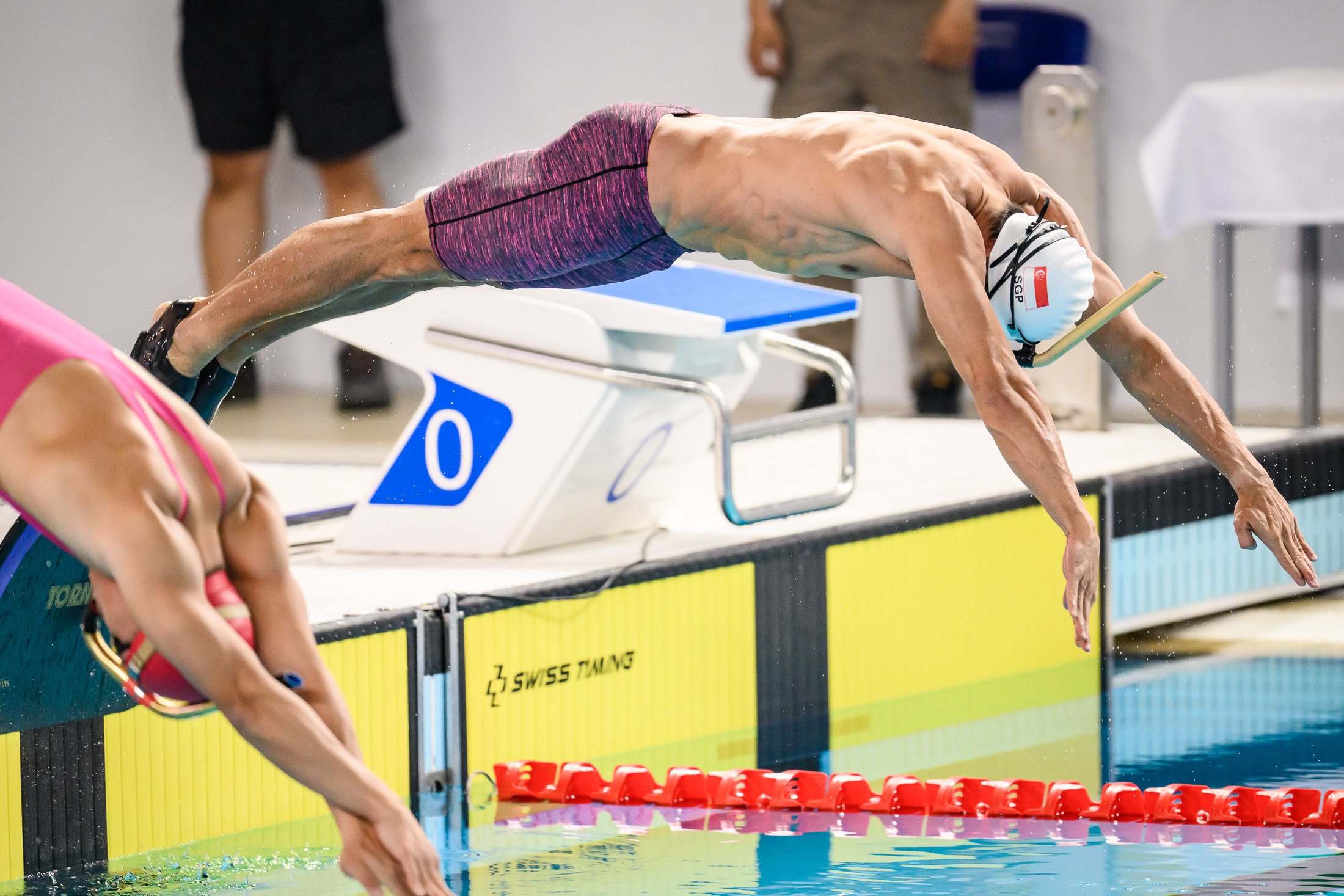 (TeamSG's Lim Yao Xiang in action. Mandatory Credit: Sport Singapore/ Andy Chua)
Lim Yao Xiang, who debuted in the sport in 2003 winning a gold and a bronze, made the decision to come out of retirement in 2021. Having first turned down the invitation in 2019, the 40-year-old said yes to the squad as he missed competing.
Having previously represented the nation in water polo, Yao Xiang had a disappointing end on his first day of competition, where he finished 8th in the 100m surface final on 21 May. This was despite setting a personal best of 41.78sec in the qualifying heats.
So it came as a relief when he set a new personal best yet again on 22 May. This time, when he completed the 50m surface heat in 18.74sec. It was also a new national record. In the final, he finished in 19.02sec to place 7th at the My Dinh Water Sports Palace in Hanoi.
Thankful for his personal bests, Yao Xiang said he had to summon his experience from his 20-year sporting career to look past his disappointing performances and focus on the immediate races.
"Personally, I treasure progress more than perfection," he said.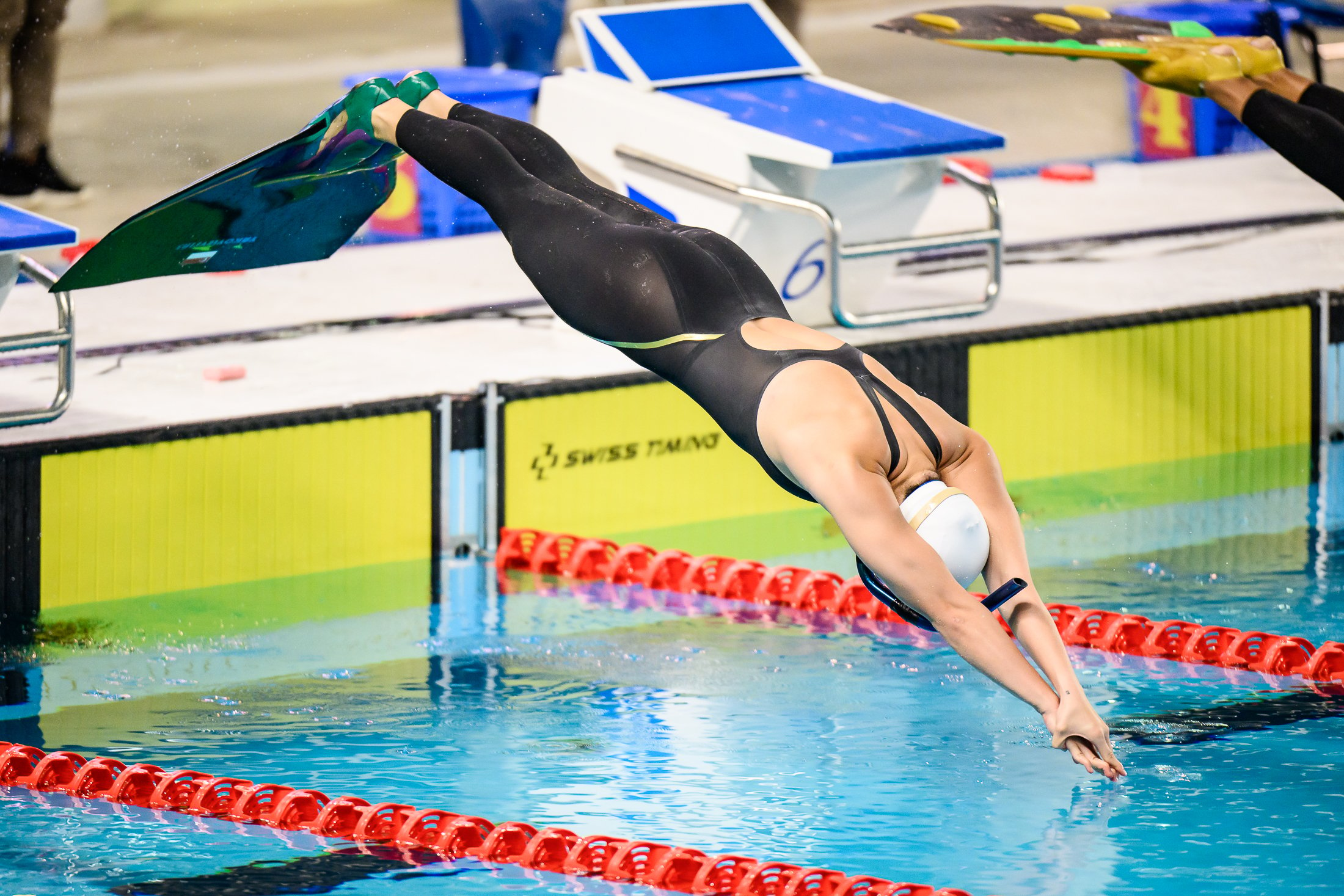 (Bernice Ting in action on 22 May, at the 31st SEA Games. Photo Credit: Sport Singapore/ Andy Chua)
Meanwhile, Bernice Ting, set 2 new national records over the two days of competition. Despite finishing 6th in the final of the 100m surface event, the 20 year old clocked in at 44.52sec on 21 May. The next day, she did it again in the 50m surface heat finishing in 20.01sec. She however did not medal in the final of both the women's 50m and 100m events.
The squad's 3rd national record came from the mixed relay team competing in the bi-fins 4x100m relay, also on 22 May. The team of Jordan Ong, Rayen Ong, Jamie Ang and Vanessa Ong completed the race in 5th place at 3:17.49.
This would be 22-year-old Rayen and Vanessa's 2nd national records of the Games. Rayen first set his in the 100m bi-fin final, finishing with a timing of 45.88sec. He placed 7th and Vanessa did her part in the 800m surface race, where she clocked 8:16:13s, placing 8th place overall.
Finswimming is gaining popularity in Singapore, for the speed at which the athletes compete. The underwater sport requires athletes to race against each other with the use of fins - monofin and bi-fin and snorkels.
Meanwhile, Sport Singapore, caught up with 3 finswimmers and their head coach Desmond Ho, 3 weeks prior to the 31st SEA Games. On the pre-taped Zoom chat, SportSG's Raj Kumar spoke to Jordan Ong, Vanessa Ong and and Bernice Ting on this unique underwater sport, including the community scene, training during Covid-19, their plans for post-SEA Games and much more (See Interview below)
For the latest Team Singapore coverage and news, follow Team Singapore on their social media channels (Facebook, Instagram, TikTok) or visit the official Team Singapore website.