A SEA Games of debuts, returns and retirements - the supporters' perspective
by Circle Stories, on May 21, 2022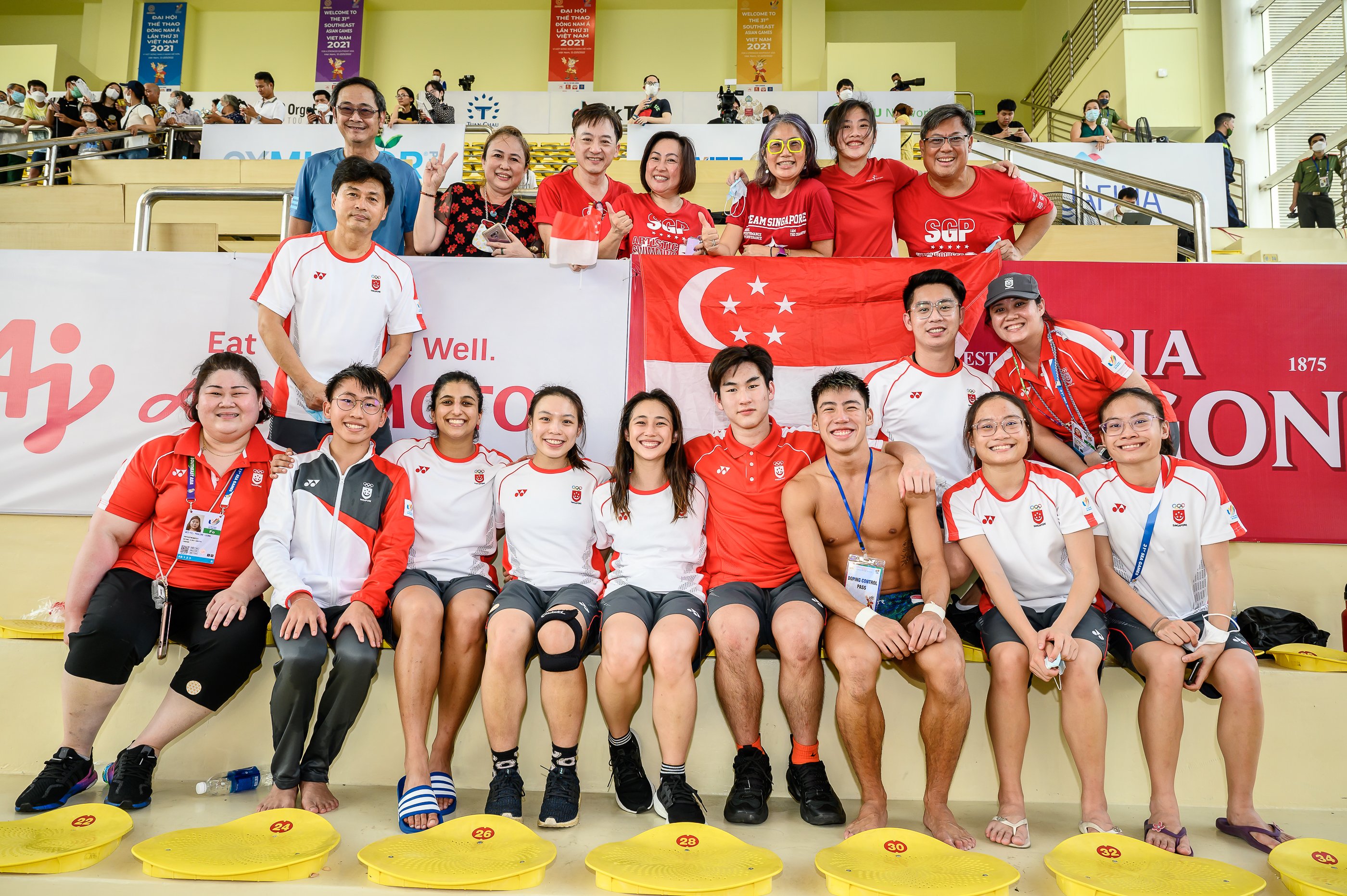 Singapore's Diving squad with their supporters including father Kenneth Chan (top row right), sister Colette Chan, and Jonathan Chan's mother (Mdm Foo in yellow framed glasses). Photo Credit: Sport Singapore/ Andy Chua)
By Angelina Dass


Turning the spotlight on the people behind Team Singapore's athletes, the 31st SEA Games looks to remain one etched in many hearts.
From first-time Games experiences, to retirements, these parents display unwavering support for their children - in spite of uncertainties due to ongoing Covid-19 restrictions in Hanoi.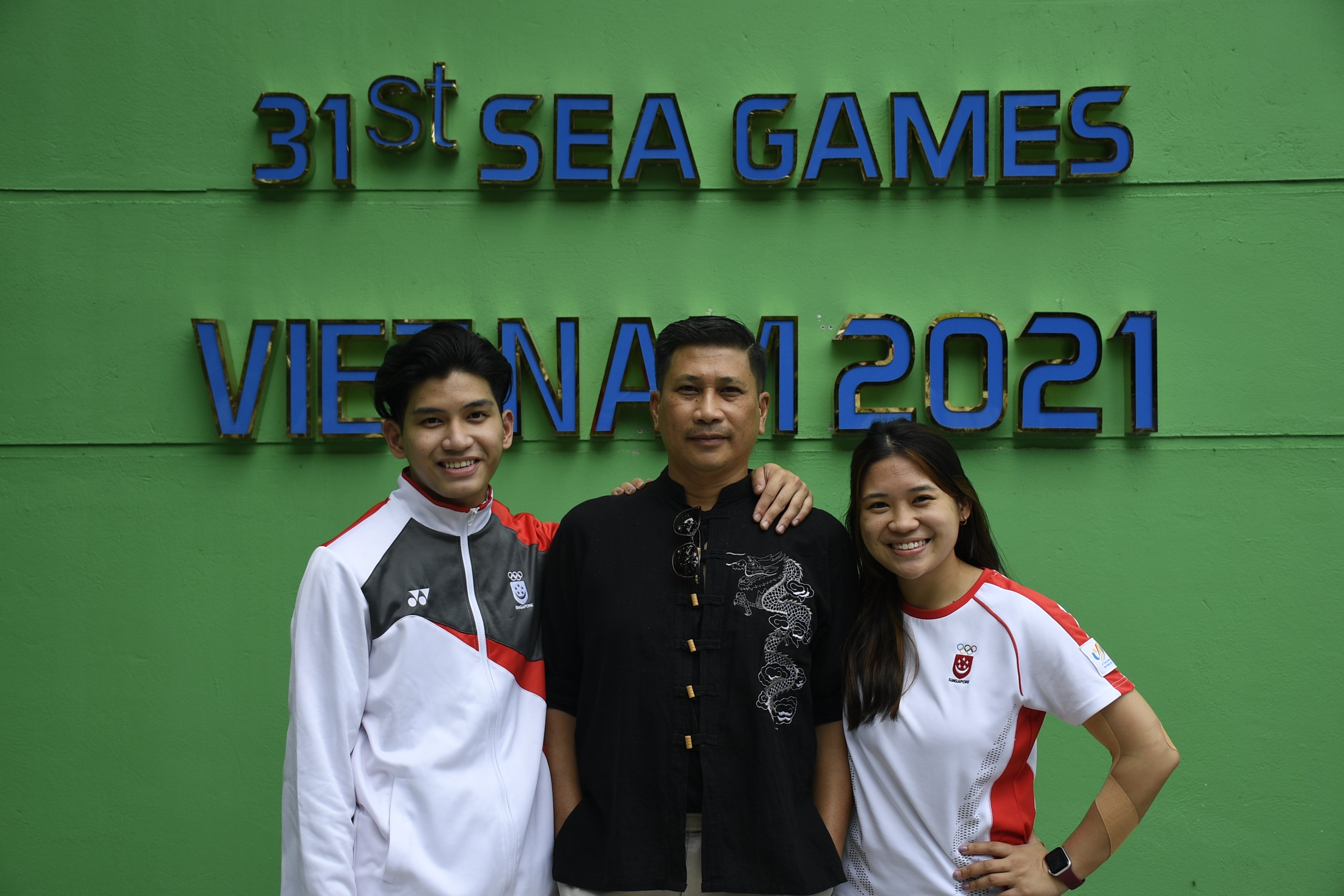 (Melvin Veloso with his two children Marat and Martina Veloso. Photo Credit : Sport Singapore/ Alfie Lee)
"I dumped my clothes in a bag and caught the next flight out"
Melvin Veloso, father of shooting siblings Martina and Marat Veloso, bought his flight tickets in the wee hours of Monday, 16 May. He packed a bag, rushed to the airport and boarded the flight in just 3 hours.
Mulling over the decision to go, he made it on impulse when he was overcome with the need to support his children, because for the first time ever, both his children were competing at the regional games.
"Even if I do not get to enter the arena, I can wait outside until they are done. They usually prefer if I remain out of their line of sight when they are competing anyway," he said.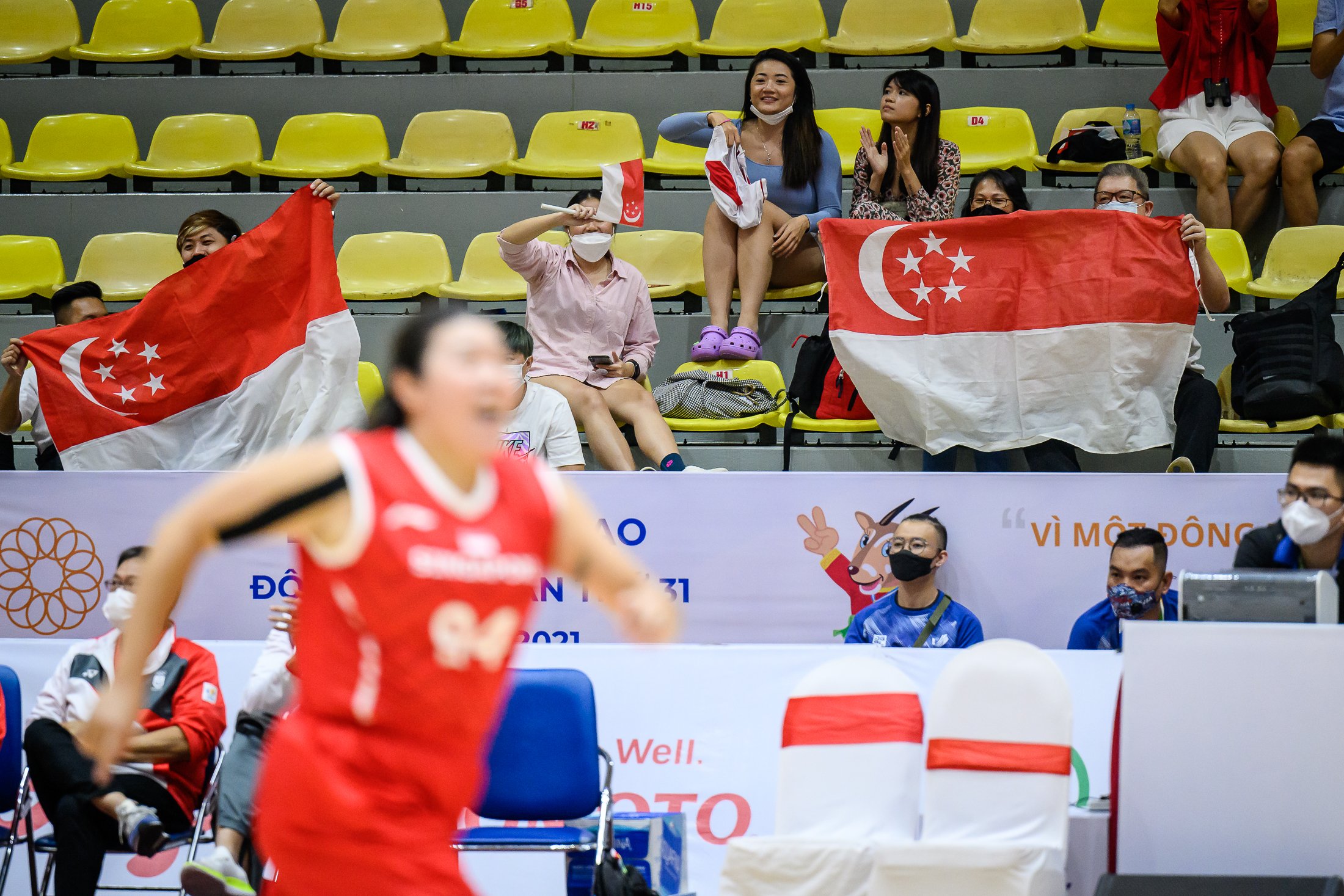 (Amanda Lim's parents, holding up the Singapore flag and supporting their daughter at the Thanh Tri Gymnasium in Hanoi. Photo Credit: Sport Singapore/ Andy Chua)
"If I do not go, who will?"
Aunty Ann and Uncle Boon, as they prefer to be known, are parents of Amanda Lim - vice-captain of the women's basketball team. The 25 year old cager, first debuted at the SEA Games in 2017.
Given the 5-year gap since Singapore featured in women's basketball at the Games, Amanda's parents knew how important this year was to her and the rest of the squad. Aunty Ann and Uncle Boon put everything aside and rushed to the Games, the moment they received news they would be allowed into the stadium.
Arriving on 16 May, they missed out on watching the 3 v 3 games, but made their voices heard at the 5 v 5 matches amongst a sea of Vietnamese supporters.
"The entire women's team has worked so hard for this. As friends, and parents, we must cheer, scream and shout and help them in one way or another," said Aunty Ann, who has two other basketball-playing daughters.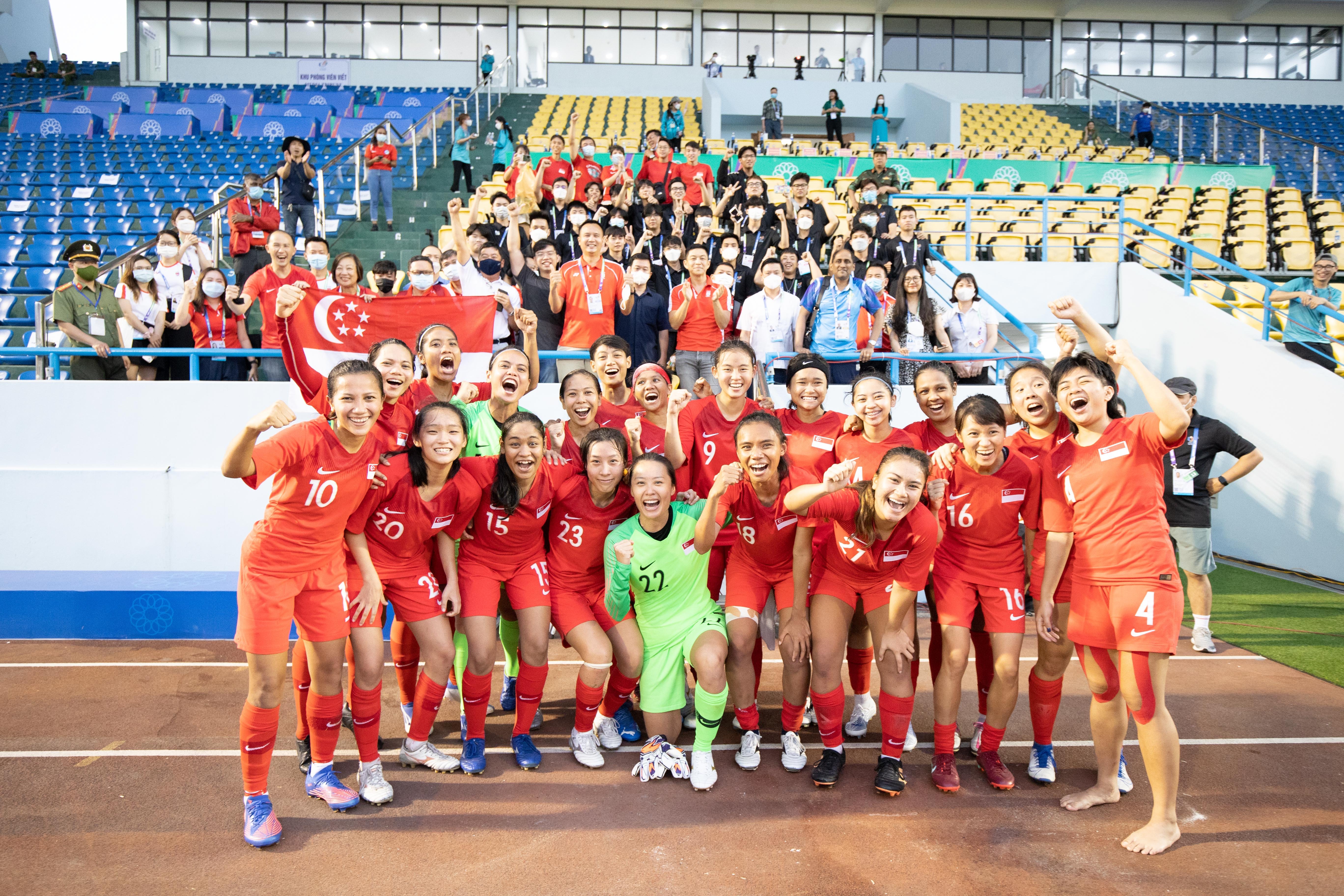 The Lionesses with their supporters including SNOC Chief Tan Chuan Jin, and Regina Tsan (gallery 1st row, right). Photo Credit: Sport Singapore/ Dyan Tjhia
"It was meant to be"
Regina Tsan, mother of national footballer Venetia Lim, said words could not describe the pride she felt when her daughter donned the national colours at the Thien Truound Stadium in Nam Dinh, Vietnam.
"It was meant to be. My daughter first represented her country in the Under-11 national squad in Hanoi about eight years ago. And this time, it was only fitting that her debut at the SEA Games be back in this country," said Tsan, who has accompanied her daughter to every tournament overseas for more than a decade.
The duo travel about two to three times a year for club competitions and training sessions, most recently, to the Arsenal Academy Training camp pre-pandemic.
Regina said, her family including her husband and three other sons, had decided in April to make the trip to the Games to support her 18-year-old daughter. Venetia, who is a midfielder for the Lionesses, had suffered an ankle injury in January, putting her out of training for about three months.
She had only made it back to training just in time for the SEA Games. Playing a pivotal role in her recovery, Regina supported her with the best nutrition, transported her to and fro sessions with the physiotherapist, doctors and school. "We could tell she was very stressed by the situation, but always had a smile on her face," said Regina, who also helped her daughter with rehabilitative exercises at home.

"We (the family) knew how important featuring in this SEA Games was to her, so we helped her in every way we could."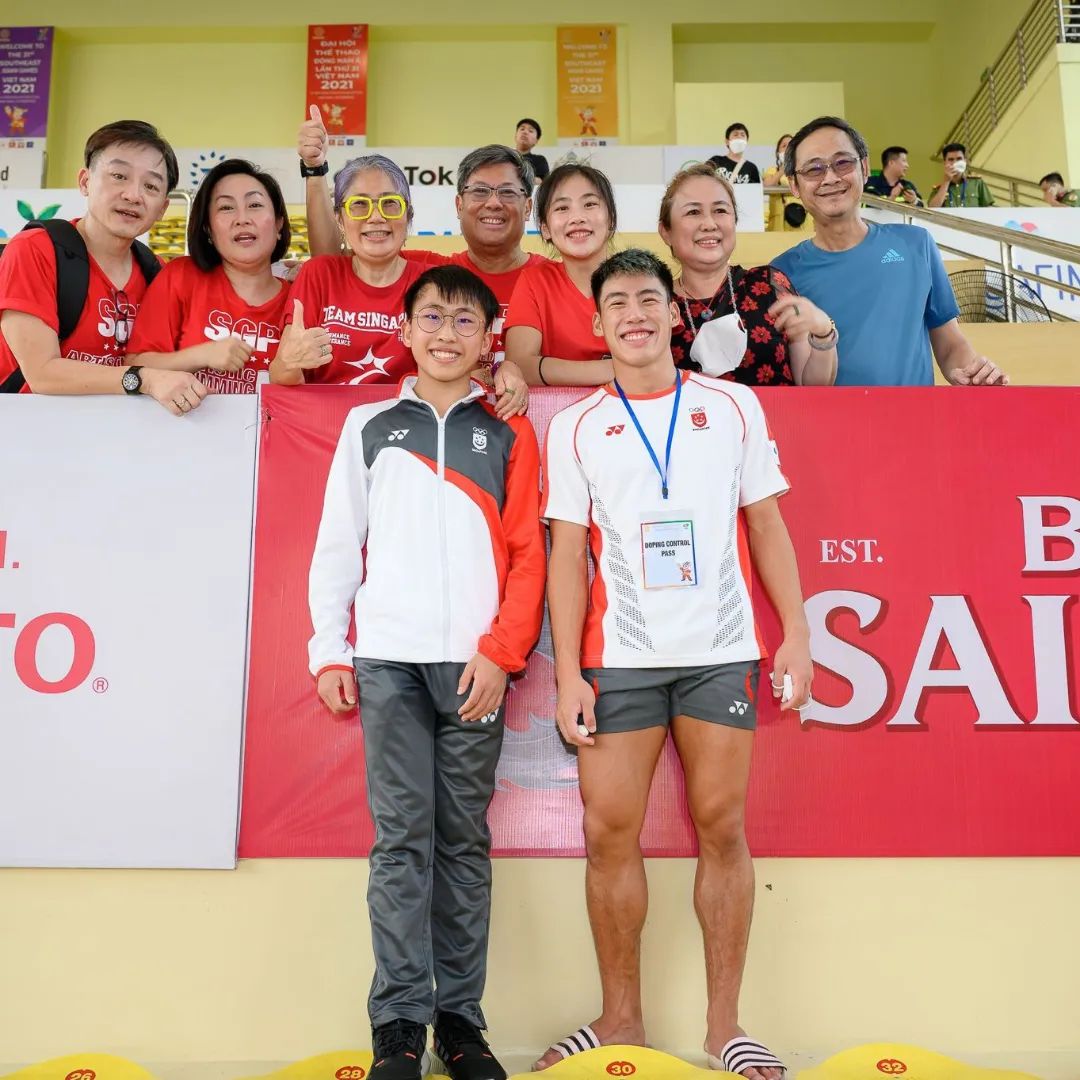 3rd from Left : Mdm Foo Yan Nuen (Jonathan's mother), followed by his father (Kenneth) and sister (Colette). Photo Credit : Singapore Swimming Association
"This is my retirement from the support group."
Meanwhile, at the other end of the spectrum, the Hanoi Games spells the end of Foo Yan Nuen's days as a supporter, after almost 7 years of accompanying her children to major games.
All 3 of her children, divers Jonathan and Kimberly, and gymnast Colette have retired from their respective sports. This SEA Games was Jonathan's final competition.
Having held a full time job as a regional sales manager for 33 years, Nuen retired from IBM last year, while her husband, Kenneth Chan retired in March. The pair decided to head out to Hanoi, without any confirmation if they could attend the events, looking forward to a retirement vacation.

"It was also very timely, as for the first time ever, we were not working and did not have to request to take time off from work. We could just pack and go".
It was only when she reached out to old friends living in Hanoi before the trip, that she found out there was a good chance of entering the My Dinh Water Sports Stadium. With this information, she persuaded her daughter, Colette who had not yet had a chance to attend a competition of Jonathan's to come along.
The trip was made all the more memorable with her son, winning a silver in the men's 10m synchronised platform, together with 14-year-old, Max Lee.
With the win as a close to her son's competitive career, Yan Nuen says it's time to hang up her homemade signs.
"The silver was a nice feather in the cap for him and us. To see him on the podium was a great "retirement" present. It's time to pass the baton on. We've seen the younger divers grow up and we'll always be rooting for them - from home," she said as she bade farewell to the Games.
For the latest Team Singapore coverage and news, follow Team Singapore on their social media channels (Facebook, Instagram, TikTok) or visit the official Team Singapore website.