SEA Games mountain biker Riyadh remains focused on next events, despite disappointing start!
by Circle Stories, on May 15, 2022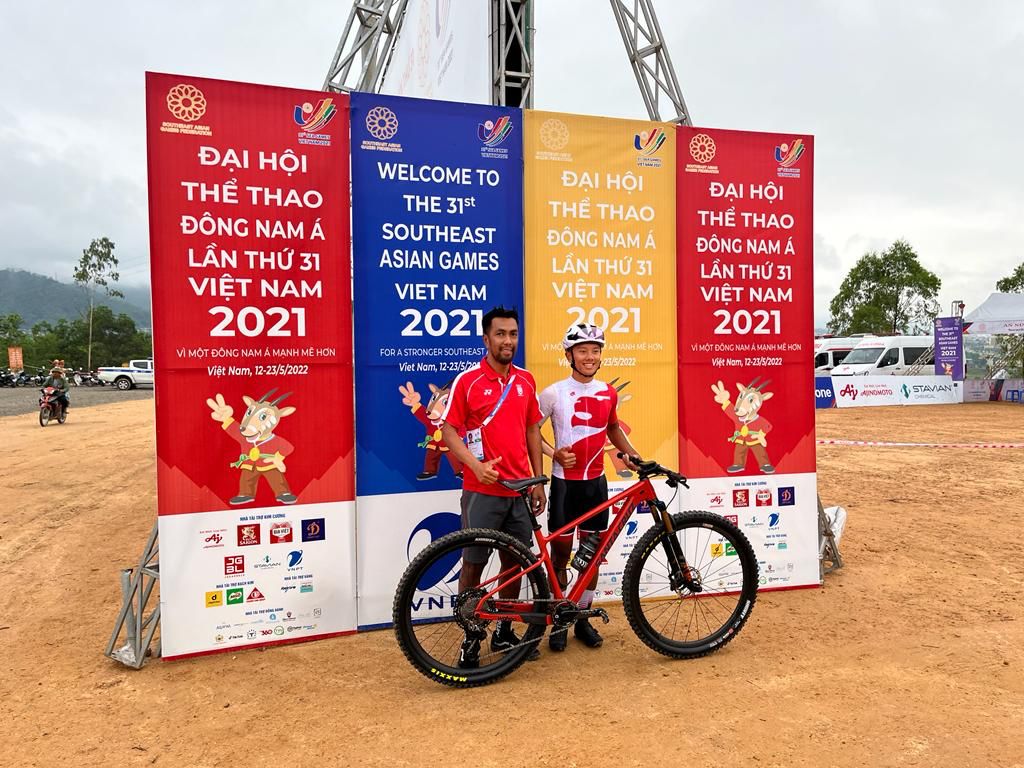 (TeamSG's Riyadh Hakim with his Coach Junaidi taken ahead of the Mountain Bike Cross-Country Olympic Event on 16 May, 2022 at the 31st SEA Games. Photo Credit: Cycling Federation/Shayne Bannan)
By Angelina Dass
It was not the SEA Games start, TeamSG's mountain biker Riyadh Hakim was expecting.
Aiming for a top-5 finish, the 24-year-old crossed the finish line of the Mountain Bike Cross-Country Olympic Event, in 14th place, out of 18 participants.
He clocked in at 1:27:41, about 11 minutes behind gold medallist Zaenal Fanani from Indonesia. Indonesia also claimed the silver as Ihza Muhammad clocked in at 1:19:14.
The Singaporean SEA Games debutant could not hide his disappointment when he spoke to Sport Singapore after the race held at Hoa Binh City, Vietnam on 16 May.
"It's a tough day, tough day. The preparations were really good. All I can say is - maybe it is just not my day today."
He felt both confident and at optimal fitness going into the Games and credited this to a productive training stint in Australia the month before. He was thrown a curveball when they landed in Vietnam and weather conditions changed drastically.
"We were preparing for a really hot race, but it's been raining heavily since we got here, and the man-made circuit deteriorated throughout."
He acknowledged conditions were the same for everyone and it came down to how his competitors managed them. Pointing out the elevation gain on the track was more than the average Olympic circuit, his original strategy was to pace himself and remain conservative. He stuck to this initially but says he could not keep up when the rest increased the tempo unexpectedly.
"Everything went wild after the first two rounds, when my competitors attacked the race aggressively. I just could not keep up with the pace."
The Mountain Bike Cross-Country Olympic event requires competitors to complete four laps of 5.2km amounting to a total of 20.8km.
Picking himself up by the end of the interview, Riyadh added he had to look past today's race and focus on his next two events - the Men's Criterium and Individual Mass Start.
"Personally, I raced a really good race. I raced my own race, and now I have two more chances at this SEA Games," he said.
Riyadh made headlines in October 2021, when he became the first Singaporean on the podium at the UCI World Cup. And then again in November that year, when he claimed his 2nd podium finish in Turkey at the Opet Mugla Cup Eliminator (XCE) Race.
For the latest Team Singapore coverage and news, follow Team Singapore on their social media channels (Facebook, Instagram, TikTok) or visit the official Team Singapore website.