Singapore finally end gold-medal drought in English Billiards doubles at SEA Games!
by Circle Stories, on May 19, 2022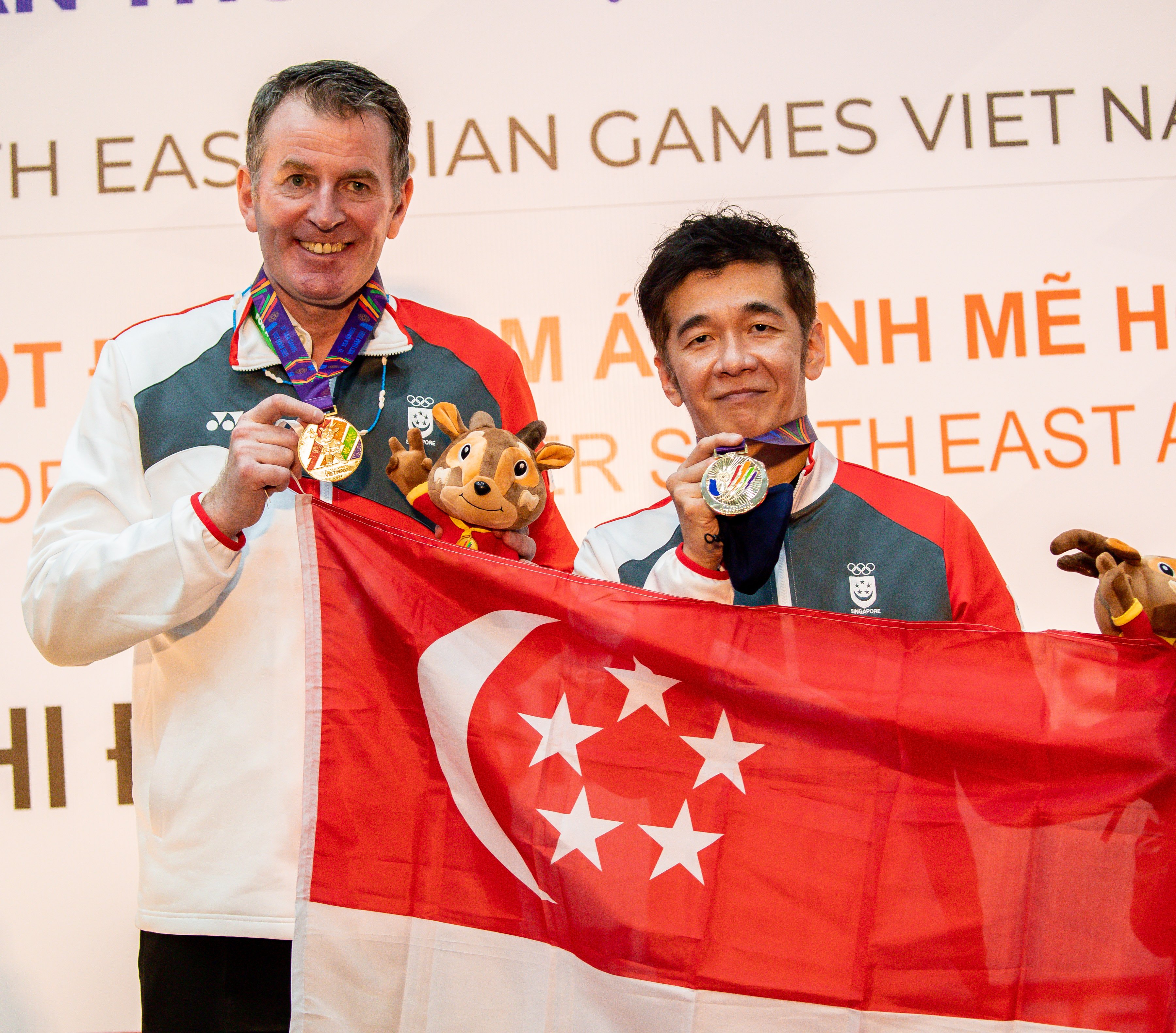 (TeamSG's Peter Gilchrist and Alex Puan stuck Gold in Hanoi. Photo Credit: SNOC/ Kelly Wong)

By May Chen

Singapore has never won the English Billiards doubles at the SEA Games in all its past editions, but not for a lack of trying.

6-time world champion Peter Gilchrist himself has attempted to break the gold-medal duck five times before, from 2009 to 2017, with four different partners. Each time, he made the podium, though none of those results ended at the top.

That all changed on Friday (May 20) at the Ha Dong Gymnasium in Hanoi.

After four bronzes and a silver, the 54 year old finally struck gold in the doubles, winning the elusive title for the first time for Singapore. His partnership with Alex Puan proved to work a charm, the duo beating Myanmar's Pauk Sa and Min Si Thu Tun 3-1.

The win was especially significant for the pair, given it came in a country where they'd had tasted success together before: Alex won gold in the snooker doubles when Vietnam last hosted the Games in 2003 and that year, Peter was his coach.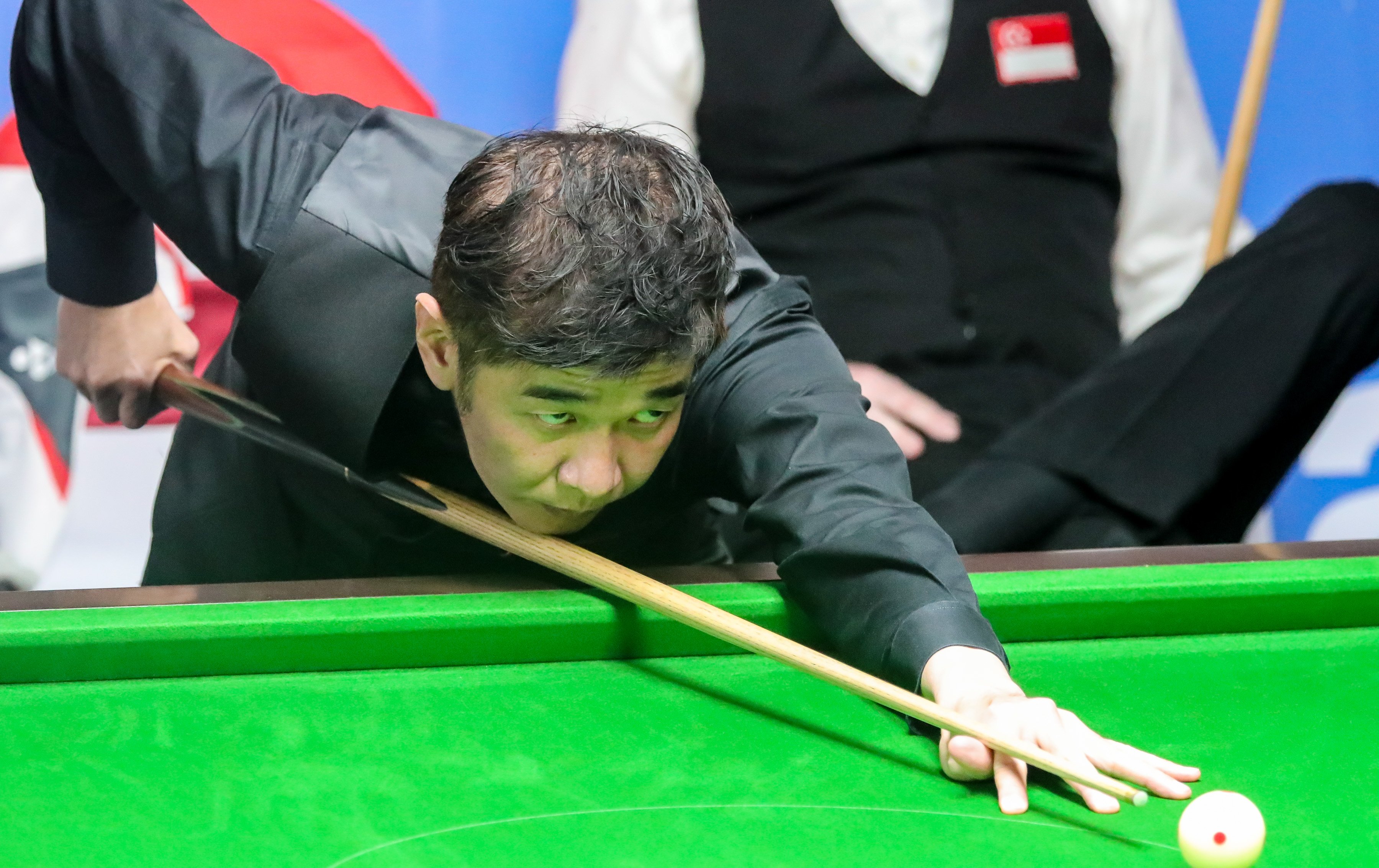 (TeamSG's Alex Puan in action. Photo Credit: SNOC/ Kelly Wong)
Vietnam is my lucky country, I guess," said the 47 year old, who took a sabbatical from the sport after his last SEA Games appearance in 2005. "With Peter as a mentor, it helps. (There was) a lot of procrastination when I was on the table, and he had all the right answers. It's just an amazing thing, with the right partner."

For Peter, to finally taste sweet success in the doubles made up for the disappointment in the singles. His streak of 6 straight titles ended when he lost out to Pauk Sa and had to settle for silver, earlier in the week.

He said: "This more than made up for it. There have been three or four times where we lost the doubles 3-2, down to (just) one shot. It's always at the back of your mind – like it's going to happen again. You can't get these negative thoughts out of your mind.
"Fortunately, that didn't happen. It's great – it means more than the singles, to be honest. It's a lot harder to win than the singles. It's very hard to control the game. I thought Alex did fantastically. He kept this nerve well, and played all the right shots. Just really relieved to win a gold."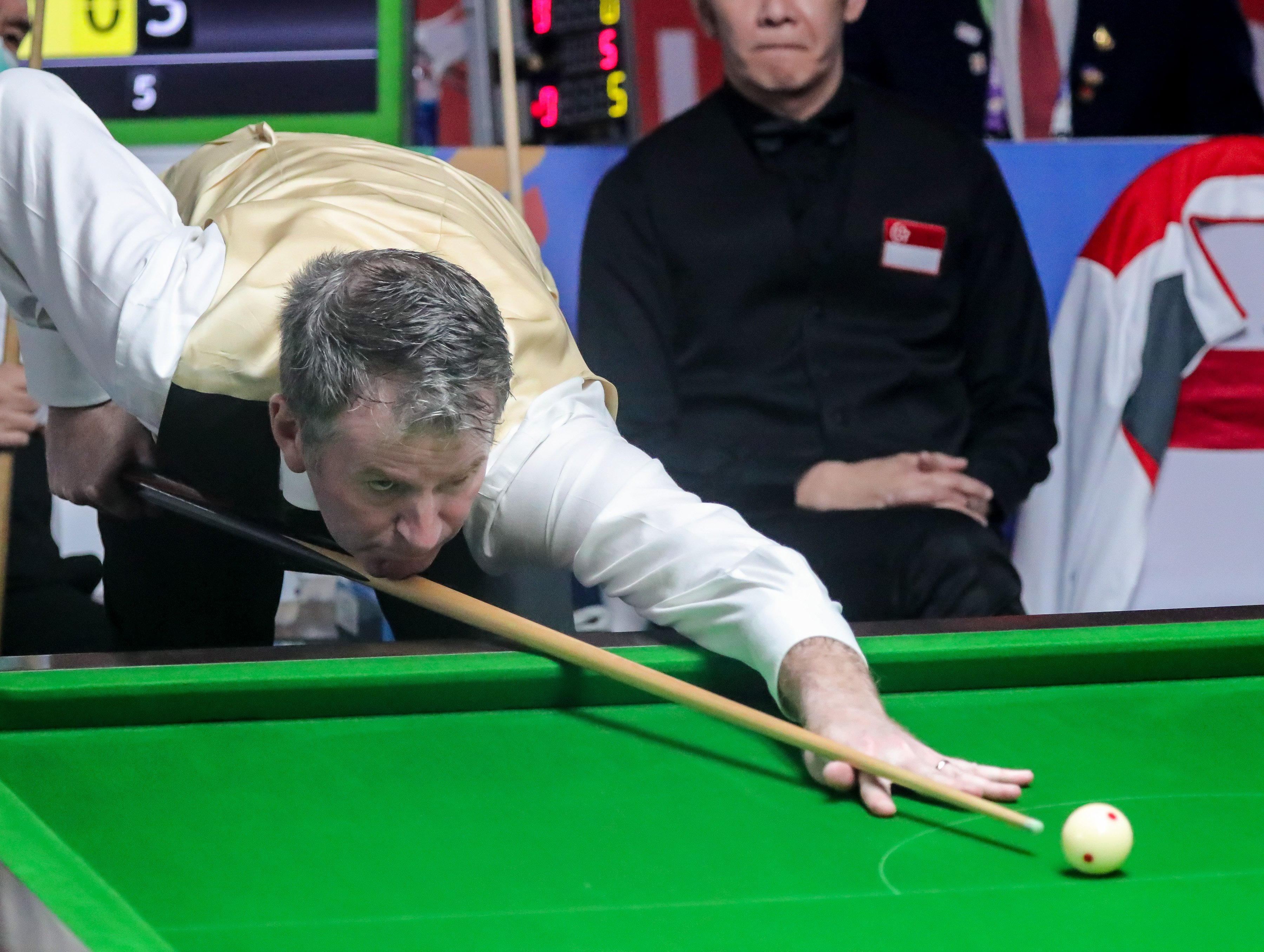 (TeamSG's Peter Gilchrist in action. Photo Credit: SNOC/ Kelly Wong)

Peter had special praise for his former charge and now teammate. He said: "I think Alex was under far more pressure than myself. He took a sabbatical from the game… to come back and come back strong, to play the way he did, was exemplary."

The title was TeamSG cuesports' first gold in Hanoi.

Meanwhile, World No.1 pool player Aloysius Yapp won his second bronze of the Games when he was beaten 9-2 by Johann Chua of the Philippines in the semi-finals of the 10-ball singles. And Sharik Sayed also took joint bronze in the same event, losing 9-3 in the other semi-finals to Carlo Biado of the Philippines.

Peter already has his sights set on the next Games in Cambodia, in the hopes of wresting the singles title he missed out on this time.

He said: "I've got to put that right. This (gold) is good enough to get me over losing the singles. But for sure, in Cambodia 2023, I'll be there."
For the latest Team Singapore coverage and news, follow Team Singapore on their social media channels (Facebook, Instagram, TikTok) or visit the official Team Singapore website.