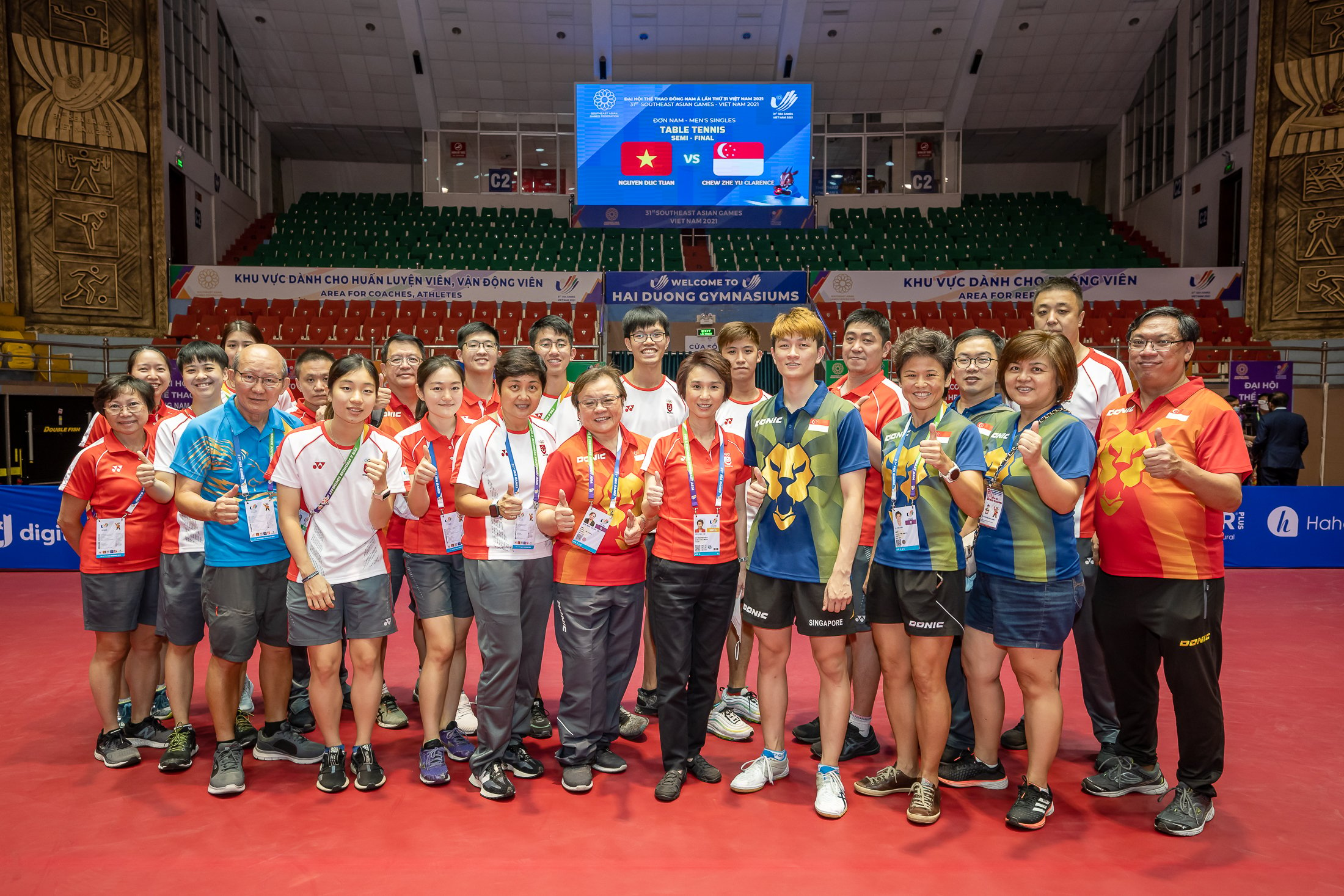 (TeamSG Paddlers in Hanoi 2021. Photo credit : Sport Singapore)

By May Chen

For 5 editions of the Southeast Asian (SEA) Games, Clarence Chew has gone after the elusive men's singles gold. For five Games campaigns, the TeamSG paddler has had to contend with the pain of coming just short.

But even after two silvers, and now a third bronze, he fully intends to keep trying.

The 26-year-old won a bronze medal at the Hai Duong Gymnasium on Friday (May 20), outplayed by an opponent buoyed by a vociferous home crowd. Vietnam's Nguyen Duc Tuan earned passage to the final after beating the Singaporean 4-1 (11-9, 11-7, 10-12, 11-4, 11-8).

"I knew it was going to be a tough match," said Clarence. "I knew my opponent was going to be aggressive from the start. He played a better game today. I'm definitely disappointed by the result, but at the same time I tried to the best of my abilities. Today was not my day, but I'll go back, work hard, and come back stronger."

His bronze wraps up TeamSG paddlers' showing at the 31st edition of the biennial Games. The team finished with a total of 2 gold, 3 silvers and 4 bronzes.


(TeamSG's Clarence Chew in action. Photo Credit : Sport Singapore)

Clarence will still return home a champion, however, after he teamed up with Ethan Poh to win the men's doubles event. Singapore's other gold came through Koen Pang and Wong Xinru in the mixed doubles.

Teammate Zeng Jian also won a bronze in the women's singles, losing narrowly to Thailand's Orawan Paranang 4-3 (11-8, 11-13, 6-11, 11-8, 9-11, 11-2, 11-7).

Said Zeng Jian, a SEA Games debutant: "Singapore has always performed well and I also really wanted to continue that streak.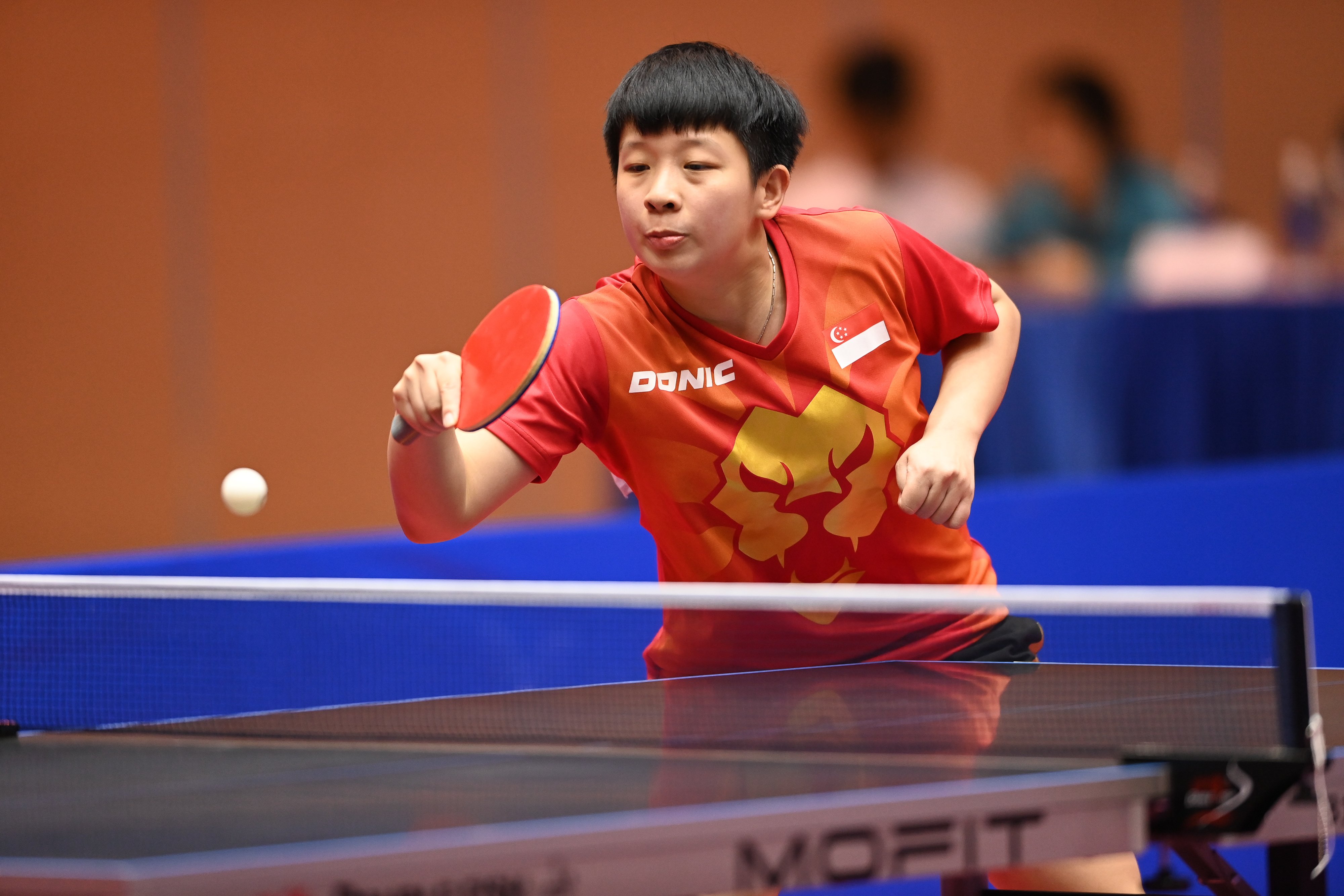 (Singapore's Zeng Jian. Photo Credit: Sport Singapore/ Lim Weixiang)

"There were some crucial points that I didn't handle very well, but even though it doesn't feel like a perfect ending to the Games, we still gave it our all. This has been a big test whether in terms of match strategy, fitness or psychologically. I now better understand what it takes to win. No matter the outcome, the journey at my first SEA Games has come with a lot of rewards."

With little time to spare before the Commonwealth Games in July, the table tennis team is looking to put the takeaways from Hanoi to good use in Birmingham.

Said national men's team head coach Gao Ning: "Because of the pandemic, we haven't seen our competitors in action for a few years. Through these Games, we've been able to understand where the competition stands a little more.

"We'll go back and start preparing for the Commonwealth Games immediately."

For the latest Team Singapore coverage and news, follow Team Singapore on their social media channels (Facebook, Instagram, TikTok) or visit the official Team Singapore website.
Recent Events & Programmes