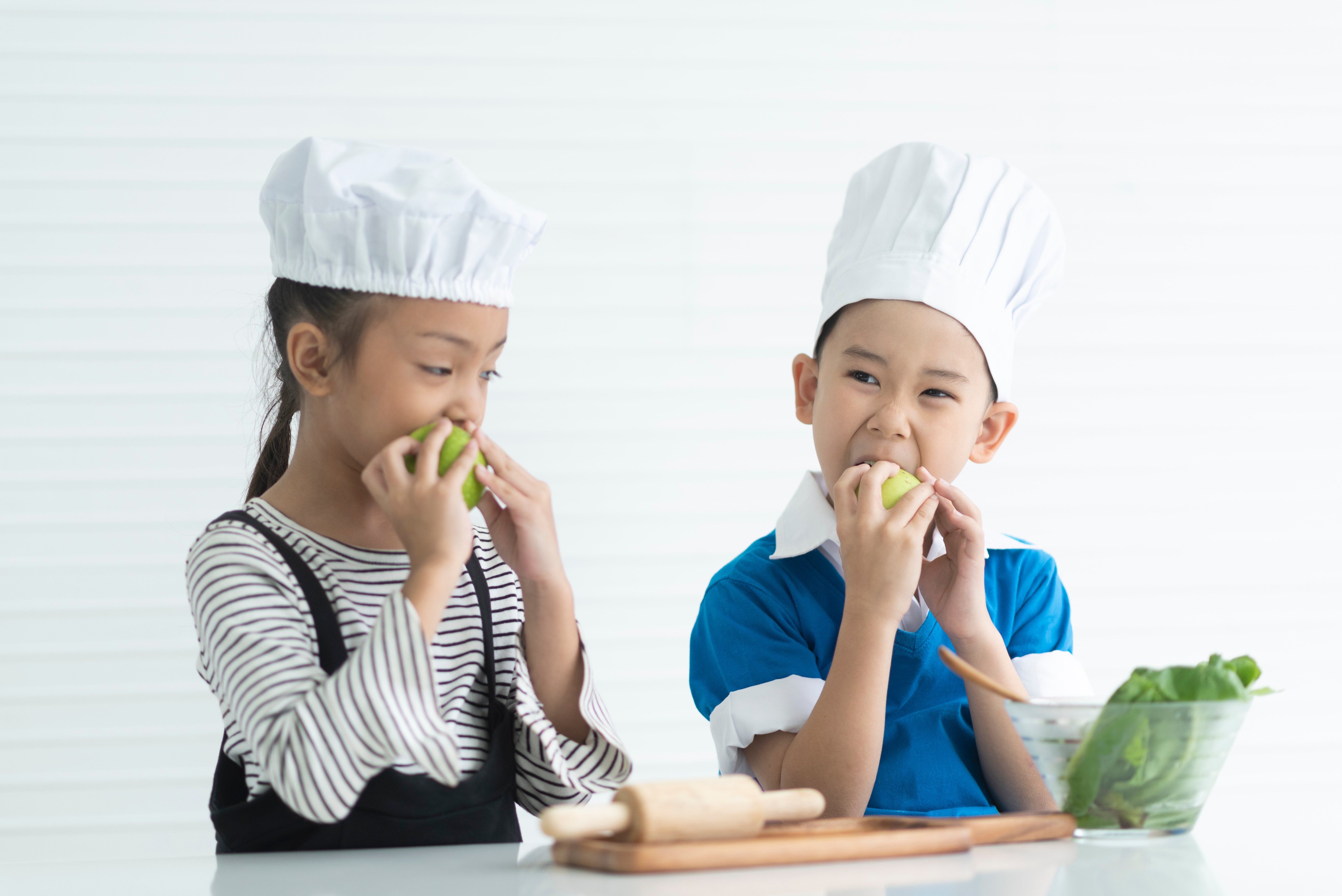 Vegan diets have gained popularity in recent years. This means not eating any animal products, including eggs and dairy. Some follow a vegan diet for better health, while others do it for environmental or ethical reasons.
While adults are fully responsible for eating whatever we want to, putting children on vegan diets might not be as clear-cut, since they require more nutrients than adults for growth and development. Studies show that vegan diets lead to a healthier cardiovascular risk profile but also come with increased risk of nutritional deficiencies and lower bone mineral content and height in children.
Dr Ong Chengsi, Principal Dietitian, Nutrition and Dietetics Department at KK Women's and Children's Hospital (KKH), says that a vegan diet can be healthy and can support adequate growth in children at any age. However, the diet will need to be carefully planned out, with modifications to ensure adequate calories, protein, vitamins and minerals to meet the child's growth and development.
"Generally, vegan diets are relatively lower in fat and higher in fibre compared to non-vegan diets, so children and teenagers on a vegan diet may need to eat larger portions of food to obtain adequate energy for growth," she explains. "This may be challenging, especially if the child is a small eater or is very physically active. Children with fussy eating behaviours who accept a limited variety of foods may also have difficulty obtaining the appropriate nutrients for growth."
If you're putting your child on a vegan diet, there are several things you should be aware of before making this decision.
Milk alternatives and baby's first foods
Breastfeeding is, of course, fine if you're raising your child as a vegan. However, if your baby is not being breastfed, they will require a vegan infant formula. Dr Ong recommends a soy-based formula, which could also be required for children above the age of one, depending on their dietary intake.
She says that plant-based alternatives (e.g. oat or almond milk) have lower nutritional value, especially fat, protein and calcium. Therefore, they may not meet your child's nutritional needs if used as the main milk source for children below two who are on a vegan diet. She also cautions against the use of rice milk as the main milk source for children below the age of four-and-a-half years, due to its high arsenic content.
Once your baby has been weaned off milk, they'll need to get adequate nutrients from food. This is when parents introduce various meats, while eggs are a healthy, easy option too. However, this wouldn't be possible following a vegan diet.
Dr Ong advises including high-iron foods, such as iron-rich vegetables like spinach, kai lan, kang kong, as well as iron-fortified cereals. This is because vegan children will not be getting their iron from meat sources, which is absorbed more easily by the body. Children need iron for brain development and to avoid becoming anaemic. Not enough iron also means children could have a shorter attention span and problems concentrating in school, plus they could feel more tired.
"Parents should also ensure the introduction of plant-based proteins such as beans, tofu, lentils and chickpeas. Weaning foods should be supplemented with breastmilk or an appropriate infant formula," adds Dr Ong.
Essential nutrients for children to develop well
Children can follow a vegan diet and develop as any meat-eating child as long as their diet is planned appropriately. For example, protein – which is needed for children's growth and development – can be found in lean meat, poultry, fish, eggs and dairy. Vegan diets could also contain many protein-rich foods, such as pulses, beans and lentils, so make sure you include these in their diet.
Dr Ong lists some nutrients that may be deficient in vegan diets – iron, zinc, calcium, omega-3 fatty acids, vitamin D and vitamin B12. However, these can be substituted with non-animal sources, including lentils, beans, nuts and fortified breakfast cereals for iron and zinc, and calcium-fortified milk drinks, spinach, kai lan and kang kong for calcium.
"Children who are on a vegan diet should also be provided with plant sources of omega-3 fats such as flaxseed, walnut or rapeseed oil," she adds. "Some children may need Vitamin D and B12 supplements. Parents should check with their healthcare provider or a nutrition specialist on whether supplements are required."
Vegan diets may also be relatively low in energy density. Parents may need to provide energy-dense foods and additional healthy fat sources to ensure that their child receives adequate energy for growth. Examples include avocado, nuts, seeds and vegetable oils.
Other implications parents should consider
Putting your child on a vegan diet might affect more than what they eat. Children are keen on fitting in, so understand that your child may eat 'differently' compared to their friends in school, and they may be conscious about this. Take note of their behaviour so you're aware if they're being teased or perhaps even not included in activities or parties because of their restrictive diet.
If your child is older (ie. teen or pre-teen) and asking to be on a vegan diet when your family isn't vegan, it's important to find out why. It could be due to health or environmental reasons but do discuss why they're doing it as you need to discount the possibility of them wanting to lose weight because of an eating disorder.
And if you're strictly vegan, bear in mind that if your child is young, they might end up eating non-vegan food when they're not with you, be it accidentally or out of curiosity. You need to know how to address such a situation before it happens.
A vegan diet's impact on sports performance
Research shows that a plant-based diet may provide performance-enhancing effects for various types of exercise due to high carbohydrate levels as well as the high concentration of antioxidants and phytochemicals found in such a diet. Famous vegan athletes include F1 driver Lewis Hamilton, as well as tennis players Novak Djokovic, Nick Kyrgios and Venus Williams.
Dr Ong says there is some evidence in adults that vegan diets can help in sports where better performance is related to lower body mass, as vegan athletes are usually leaner and have lower body fat than non-vegan athletes. However, there is very little evidence in children and teenage athletes that a vegan diet can help with sport performance.
"Children and teenage athletes who are on a vegan diet may require close monitoring of their growth and support from a nutrition professional to ensure that their nutrition is adequate and appropriate," she adds.
Be prepared before you start your child on a vegan diet and plan accordingly. Make a list of which nutrients they won't be getting from meat and how to substitute them, either via plant-based foods or supplements. And if your child is sporty, know how a vegan diet may affect their performance before embarking on it, by seeking advice from a health professional.