S'pore Lions beat Philippines 2-0 to wrap up FAS Tri-Nations Series on a high!
by Circle Stories, on March 29, 2022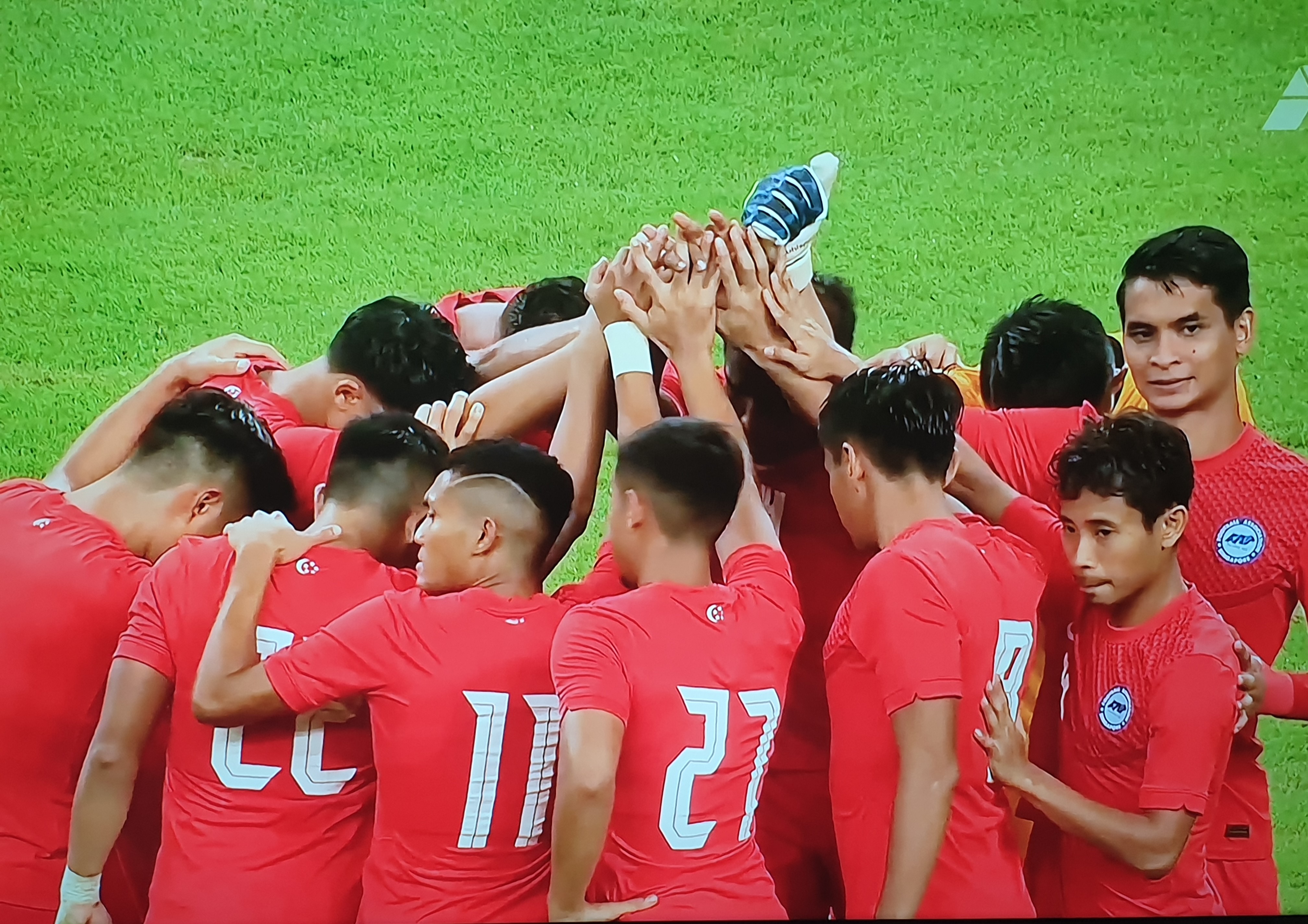 (Team Singapore before kickoff. Image extracted from Live Stream)
By Chia Han Keong
When Singapore and the Philippines last met in the group stage of the AFF Suzuki Cup in December 2021 at the Sports Hub, they played out a bruising clash which the Lions held on grimly to eke out a 2-1 win.
Fast forward 4 months later and on Tuesday (Mar 29), the two sides faced each other again in the FAS Tri-Nations Series friendly tournament at the same venue - the National Stadium - and this time, it was a more benign affair as the Lions eased to a 2-0 win against the Filipinos, who were unfortunately decimated by a Covid-19 outbreak in the squad and were able to suit up only 4 substitutes.
Safuwan Baharudin's bullet header and Shawal Anuar's late goal sealed the win for the hosts, who had also beaten arch-rivals Malaysia 2-1 in their other Tri-Nations match last Saturday.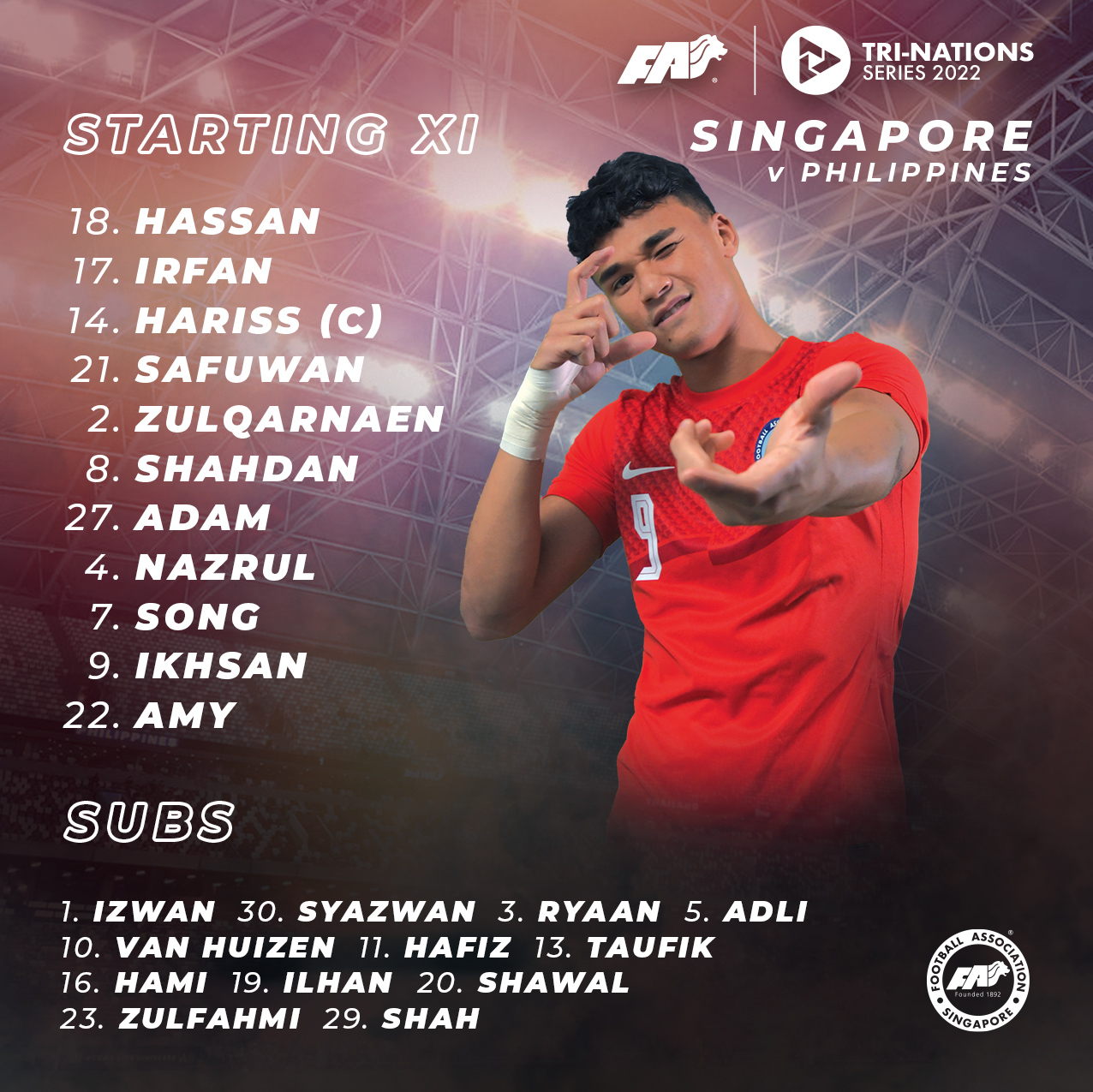 Unlike against the Malaysians - when the Lions were under constant pressure for the opening 20 minutes - they were able to settle down far more quickly against the Filipinos, and were duly rewarded for their better control with the opening goal after just 10 minutes.
It was a tried-and-tested routine that paid off again, as dead-ball specialist Shahdan Sulaiman delivered an out-swinging corner from the right, and it found its favourite target - Safuwan. The veteran defender and well-known aerial threat was somehow left unmarked as he headed powerfully home.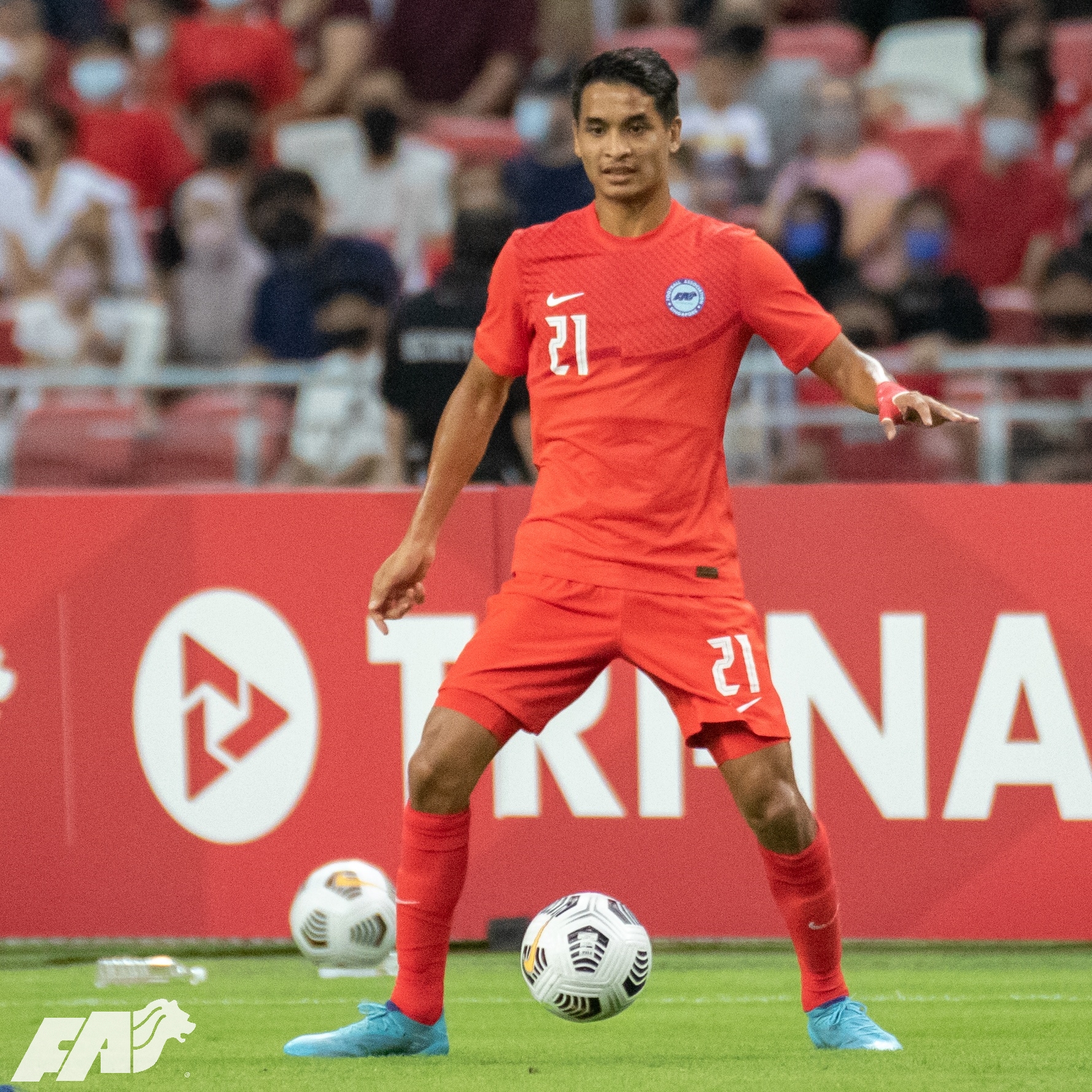 (Safuwan Baharudin scores Lions' 1st goal. Photo Credit : FAS)
With the early goal, the Lions began stroking the ball around with confidence, as forwards Ikhsan Fandi and Amy Recha darted around trying to find spaces for scoring chances. However, Filipino goalkeeper Neil Etheridge - who plays for English Championship side Birmingham City - held firm amid the Lions pressure.
On the other end of the pitch, Hassan Sunny could count his lucky stars in the 18th minute as Bienvenido Maranon's stinging shot cannoned of the right post to the Filipino striker's dismay. The match was chugging along at a far more languid pace than their bruising clash in December, but it suddenly exploded into a sending-off in the 40th minute. Filipino defender Diego Bardanca, who had been booked just minutes before after a late tackle on Recha, again went in late on Lions captain Hariss Harun, leaving referee Ahmad A'Qashah with little option but to dismiss him.
Down to 10 men, the Philippines seemed to have finally regained their feistiness, and the robust challenges which littered their previous encounter returned. One such challenge saw the Lions given a free kick on the stroke of half-time, but Shahdan's superb attempt rattled the crossbar to the loud groans of the fans.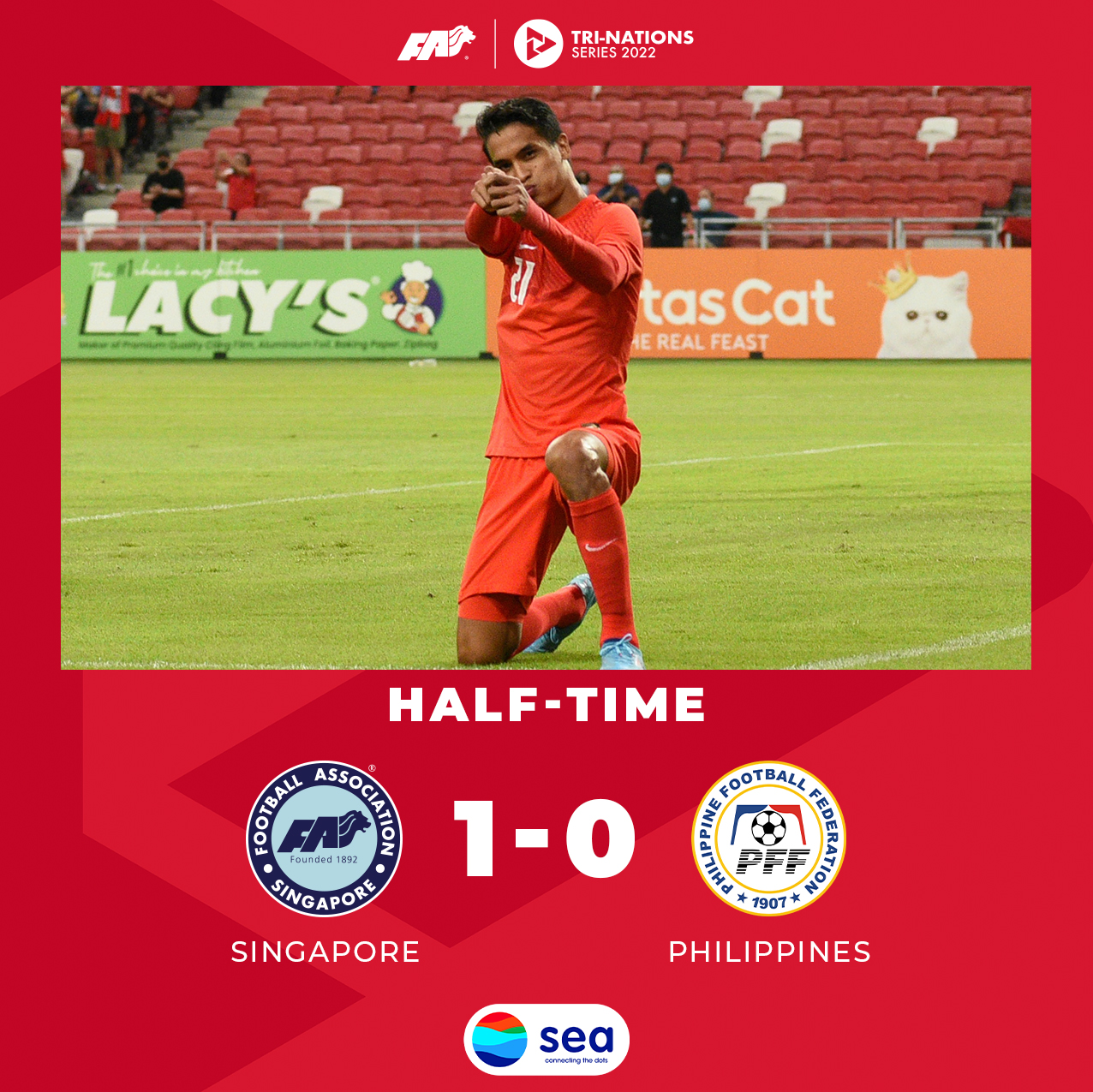 After the eventful first 45 minutes, the second half quickly fizzled out into a tame affair with all the intensity of a training match. With a man short, the Philippines were content to keep their rigid defensive shape to frustrate the Lions, who were equally content in keeping their one-goal advantage.
The 9,183-strong fans however, were finally sent home in high spirits, as Shawal latched onto a superb long pass by Hariss to slot home the Lions' second goal in the 90th minute.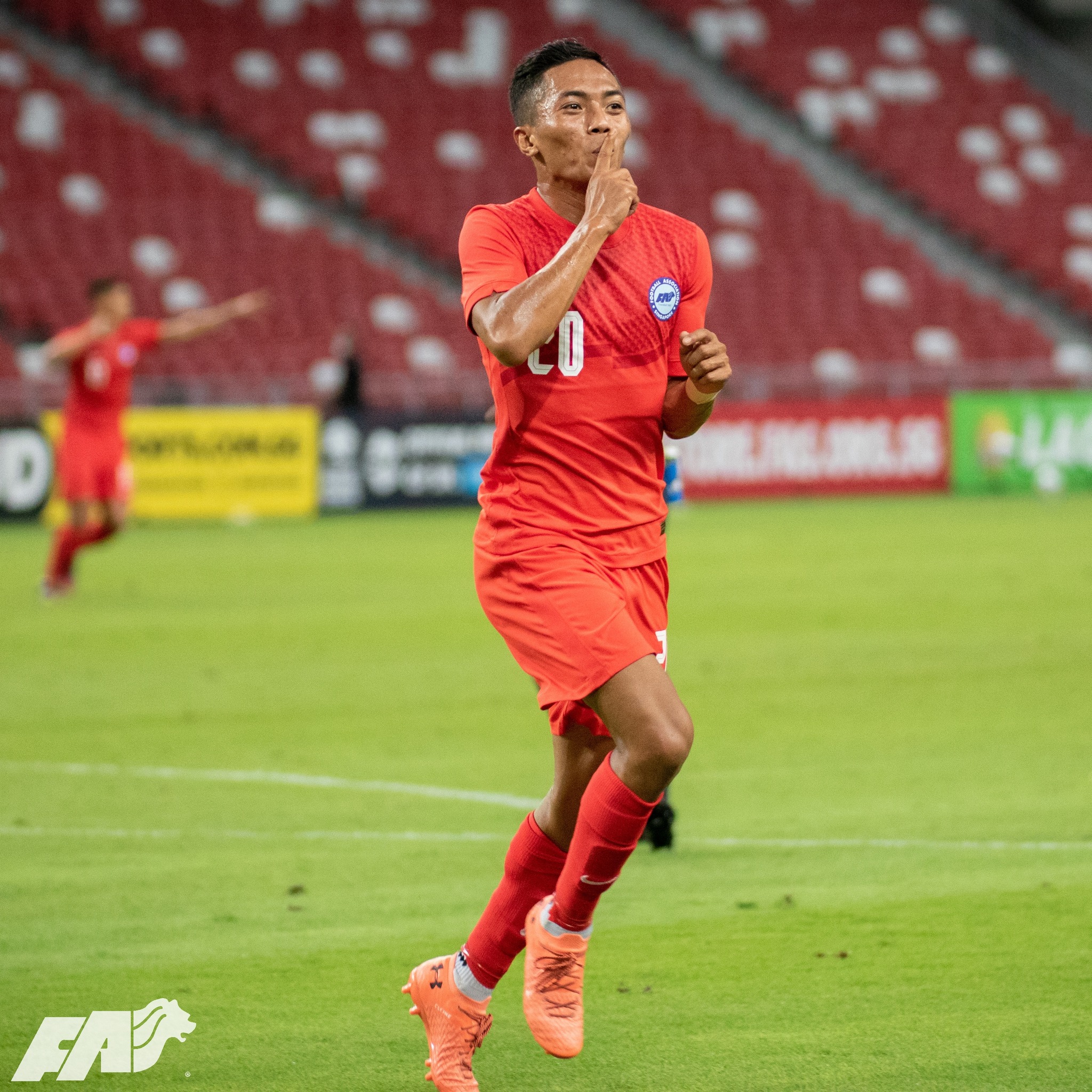 (Shawal Anuar scores Lions' 2nd goal in 89th min. Photo Credit : FAS)
Even without a permanent head coach, the Lions continue to be heading in the right direction as they seek to escape the doldrums of the last decade.
As Safuwan said after the game, "Hopefully we'll know soon who will be leading us for the games in June, but meanwhile as players we have to believe in one another, believe in coach Nazri, and we will try to maintain our momentum and keep progressing."
Interim head coach Nazri Nasir, leading the Lions following the departure of Tatsuma Yoshida after the Suzuki Cup, praised his charges for performing well with only a short period of preparation with him.
"I had only four, five days with the team, and what I could do was only to play to the strengths of each player," the former national captain said after the match. "Some of them were not playing in their usual positions, but I can see all of them enjoyed themselves during the two matches....I'm happy and I'm proud, getting these wins means a lot to me."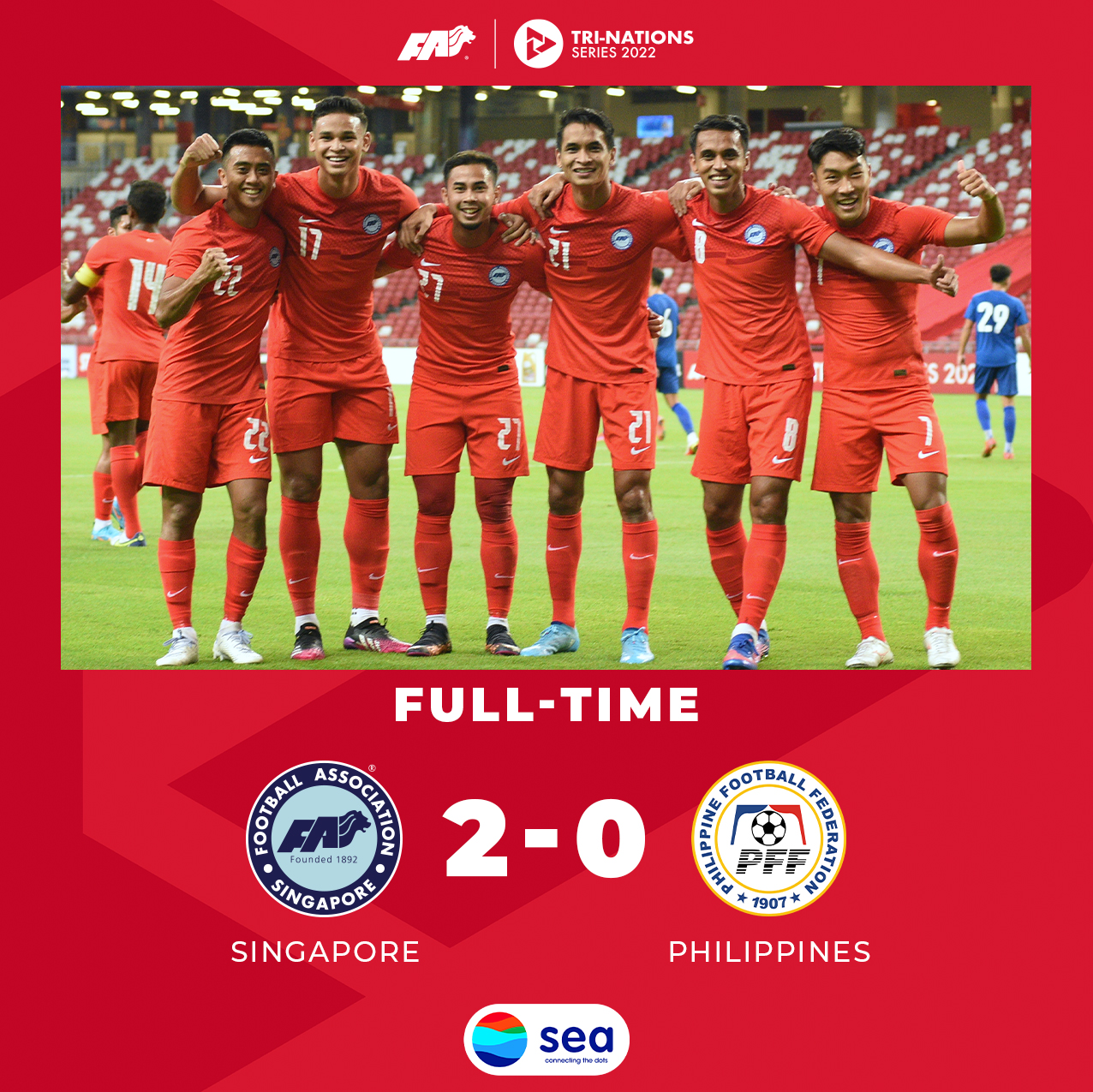 Singapore:
Hassan Sunny (GK), Irfan Fandi (Amirul Adli 90'+1), Hariss Harun (C), Safuwan Baharudin, Zulqarnaen Suzliman (Hafiz Nor 46'), Shahdan Sulaiman, Adam Swandi (Taufik Suparno 61'), Nazrul Nazari, Song Uiyoung (Shah Shahiran 87'), Ikhsan Fandi (Ilhan Fandi 90'+1), Amy Recha (Shawal Anuar 61').

Unused subs:
Izwan Mahbud (GK), Syazwan Buhari (GK), Ryaan Sanizal, Christopher van Huizen, Hami Syahin, Zulfahmi Arifin

Chia Han Keong is a veteran journalist who has covered both Singapore and international sports extensively for the past 19 years. He was the sports editor of bilingual tabloid My Paper, and has also worked for The Straits Times and Yahoo News Singapore. He has covered four SEA Games (2009, 2011, 2013, 2019), two Asian Games (2010, 2014) as well as the 2008 Beijing Summer Olympics and the Tokyo 2020 Olympiad. He counts himself as a massive Liverpool, LA Lakers and Rafael Nadal fan.