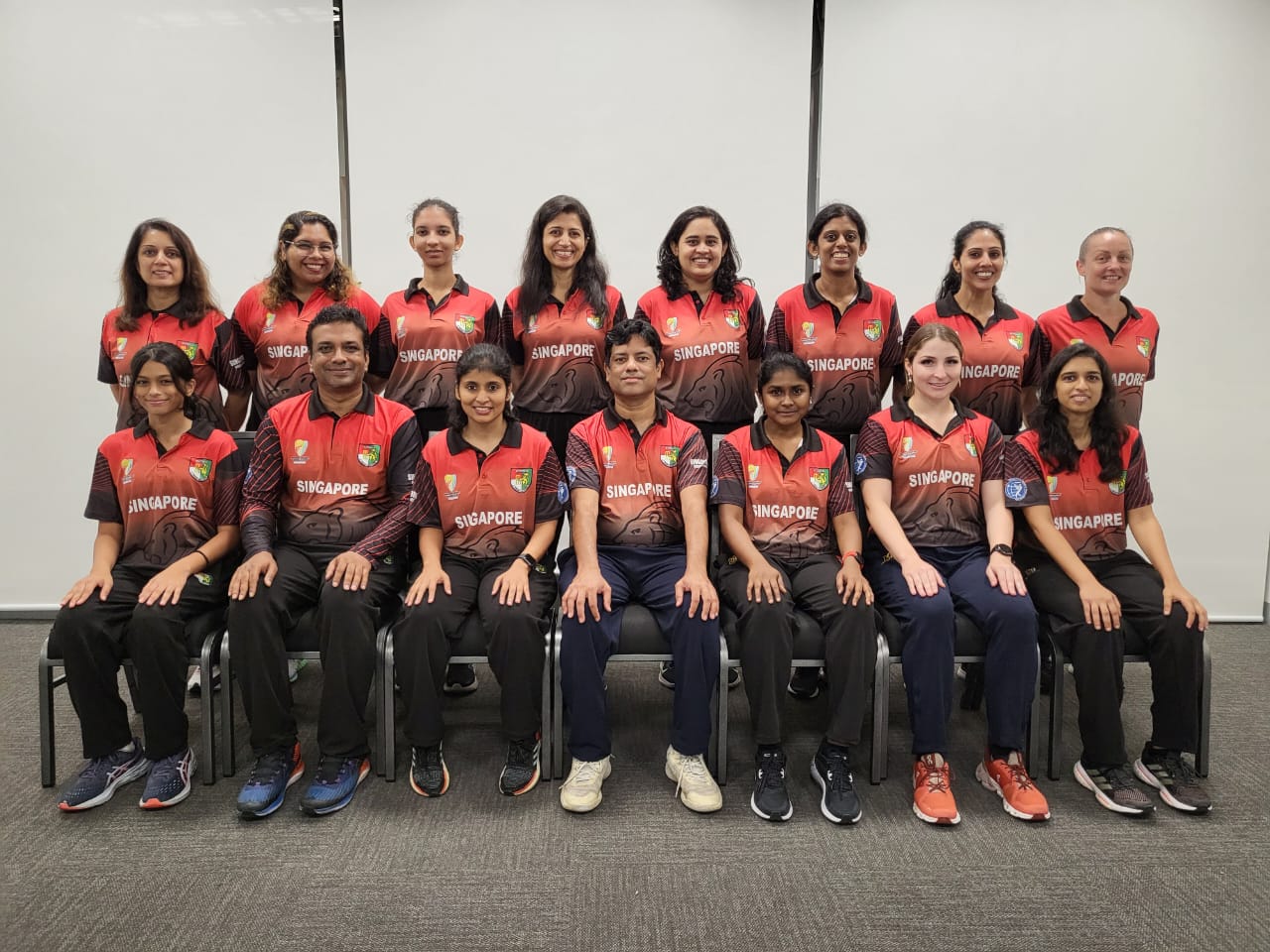 Singapore's Women's Indoor Cricket World Cup Squad 2022. Photo Credit : Singapore Cricket Association
October 2022 marked a significant moment for the cricket scene in Singapore, as we saw a group of Singaporean women compete for the very 1st time at the Indoor Cricket World Cup!
Held every 2-3 years by the World Indoor Cricket Federation, the women's tournament first took place in Melbourne in 1998. And last October, the Melbournians once again welcomed 4 international teams including Singapore to compete in the 10th edition of the indoor event.
New Zealand, South Africa and hosts Australia were the other competing nations. And Team Singapore was led by Captain Anubha Chamadia. The 36 year old opener had joined the team only 9 months prior to the World Cup campaign.
ActiveSG Circle recently caught up with the mother of 2 young kids, regarding the realization of a lifelong dream!
Q) How long have you had this ambition of one day being able to compete at the Indoor Cricket World Cup?
Anubha: Since the age of 10, I have always imagined playing cricket for my country. I used to play outdoor cricket at my home, schools and universities. But as soon as I got to know that SCA is planning to form a women's indoor team, I pounced on that opportunity and gave my all in the practice sessions. When training sessions started for the first time last May, I'd set a target for myself to be part of the first Singapore Women's Indoor Cricket World Cup team and make the country proud.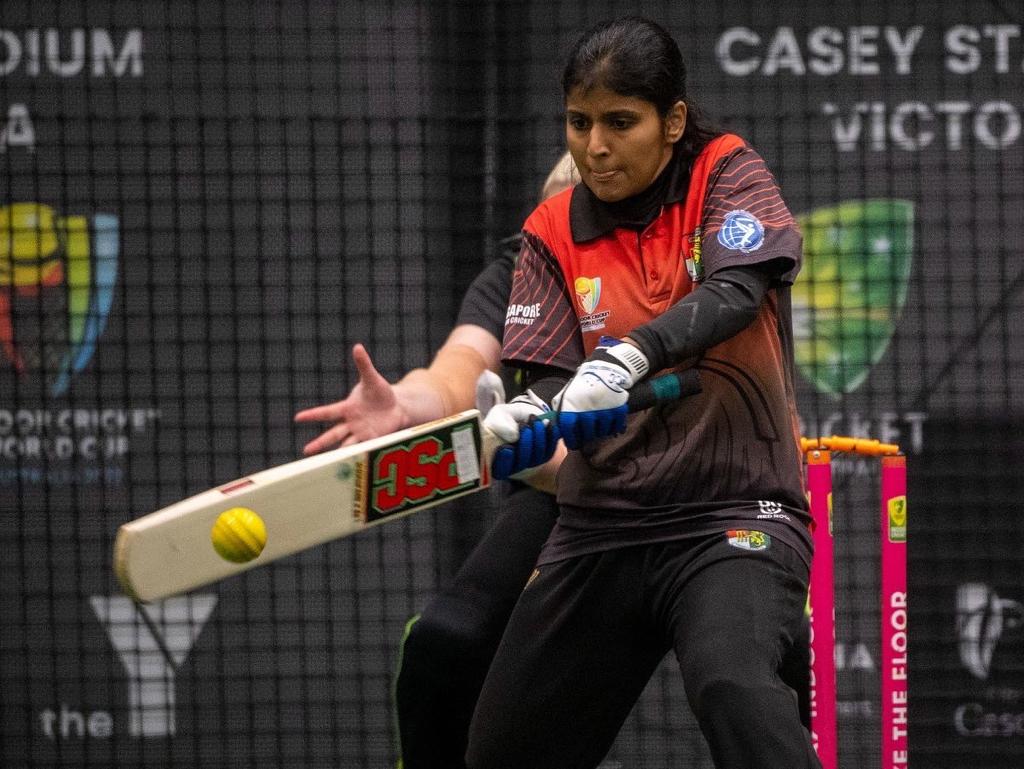 Anubha competing at the Indoor Cricket World Cup. Photo Credit : Singapore Cricket Association
Q) As team captain, how do you feel about Singapore Cricket Association, fielding a team at the Indoor World Cup for the very 1st time?
Anubha: There was not much cricket action in the last 2-3 years because of Covid and it also gave SCA the opportunity to think and plan for the women's team. In the past, the SCA saw that countries like Australia, NZ, South Africa and England, had fielded their women's teams in the Indoor World Cup tournaments. So, why not us? There is always a first time, and we are thankful to the SCA for this trailblazing opportunity, which will also inspire future generations of Women's Indoor players and cricketers in all forms to take up the wonderfully enriching game of cricket.
Q) Your team comprises players from 13-47 years of age. Can you tell us more about Smita Govil and her style of play?
Anubha: Yes, our team was very diversified in many respects. And Smita, the most senior member of our team, is a very fitness focused player, which explains why she could compete at that age. We call her "Guruji" (aka our teacher) because she would always guide us in the warm-ups and cool-downs. She was a very flexible player and had always put the team first.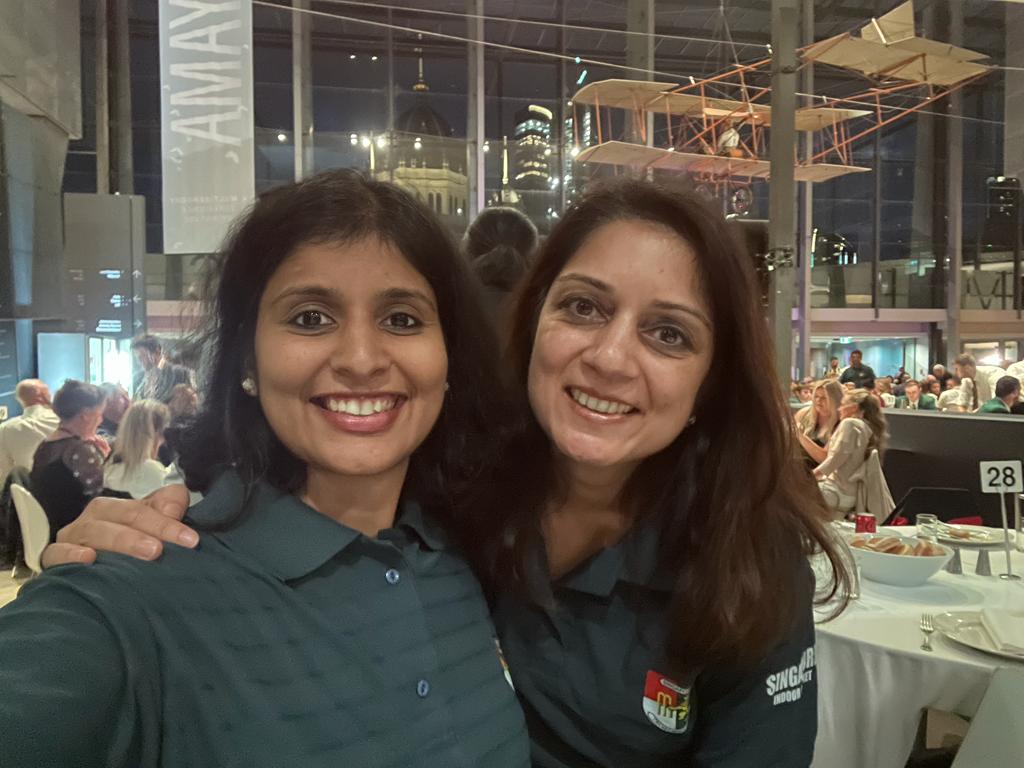 Anubha and Smita at the Indoor Cricket World Cup. Photo Credit : Anubha Chamadia
Q) Would you like to say a few words about your coaches, especially when you were training daily for 5-6 hours?
Anubha: A huge credit goes to our coaches - Anand and Bikash. They focused on the basics, gave individual attention amidst team sessions and sacrificed a lot of their personal time so that we all can play at the highest level. It required a lot of physical and mental effort as they also had fulltime jobs. It was our collective dream to see Singapore alongside other cricket playing nations. Each and every session was meticulously planned. I am very grateful and thankful to them, as I personally also learnt a lot of them in managing different situations.
Q) What was the initial target set by the SCA for your team, prior to departure for Australia?
Anubha: The target was to play ball-by-ball, game-by game without worrying about the results. The aim was to give our 100% on the field, learn from every game and enjoy this historic moment of our lives and ensure we represent the Singapore flag with great discipline, dedication and at all times be exemplary ambassadors of the country and the sport.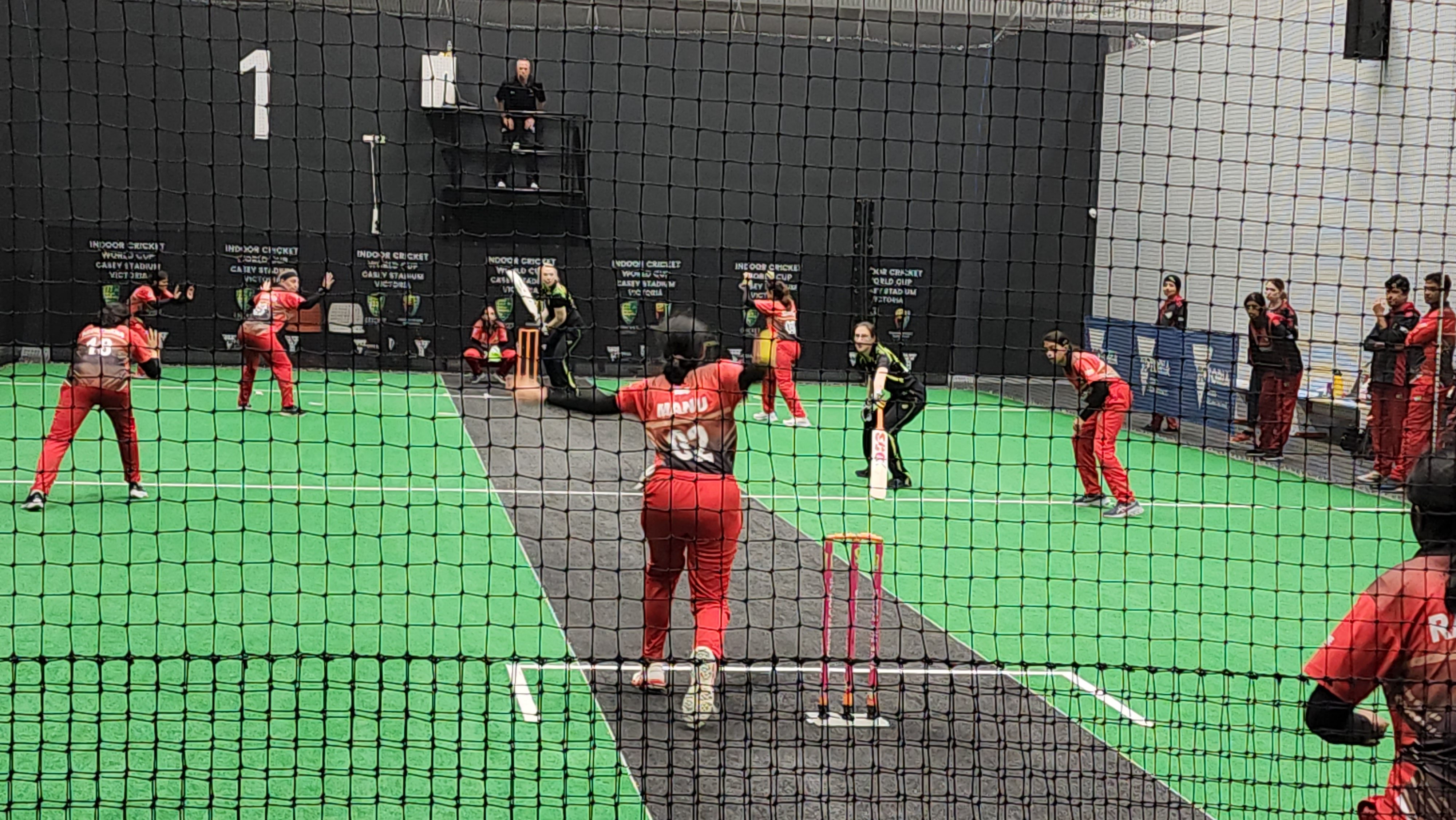 TeamSG vs Australia at the World Cup. Photo Credit : Singapore Cricket Association
Q) What was the biggest challenge for your team in the leadup to departure day from Singapore?
Anubha: I think the biggest challenge was the lack of exposure of playing in international tournaments before. However, our Head Coaches, the Men's team, and SCA helped us in different ways to get an understanding of how it is to play in the World Cup (WC).
Q) How did the Men's team help the the team in their preparations?
Anubha: Many from the men's team partnered with the coaches and conducted sessions for specific skills to cover all aspects of the game. They also motivated us, played with us to get WC level skill exposure in our internal competitive practice games. More importantly, they shared their experiences of playing the WC, which helped us to prepare better. During the WC, we were one team and the support that we received from them was unparalleled. We've since developed a strong sense of camaraderie and partnership.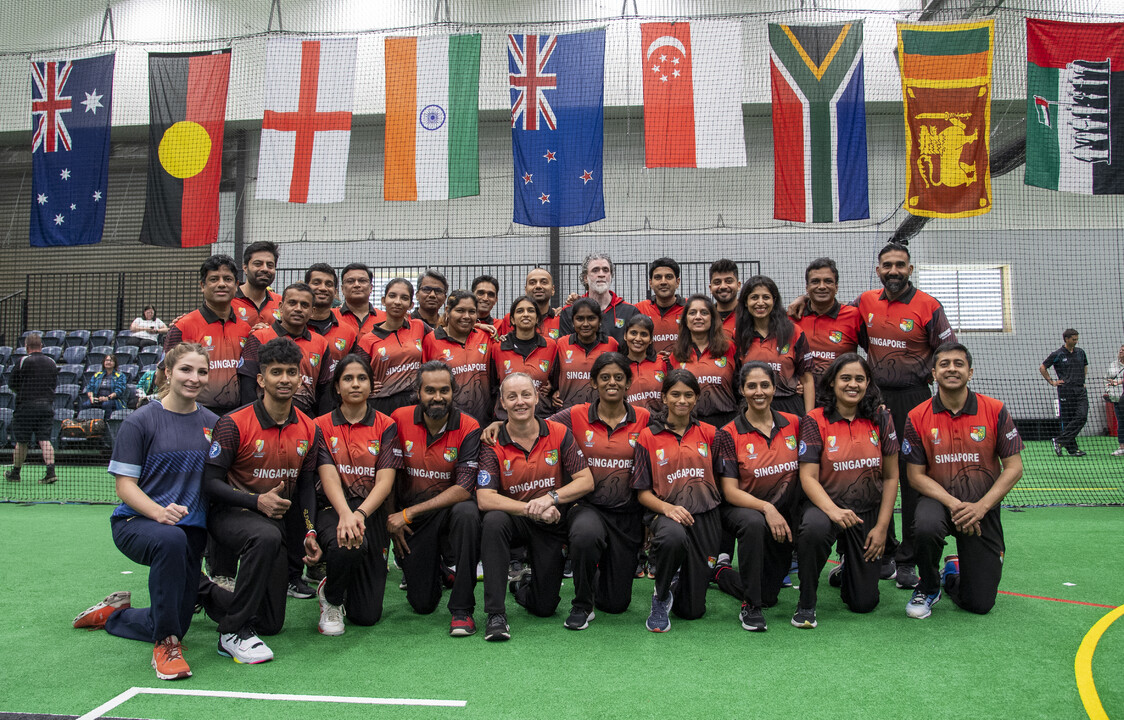 Singapore's Men's & Women's Teams at the World Indoor Cricket World Cup in Melbourne. Photo Credit : Singapore Cricket Association
Q) Being debutants at the tournament, did the other competing teams welcome you with open arms?
Anubha: Oh yes, we received excellent support and encouragement from other teams. All the teams congratulated us and appreciated our "never-give-up" attitude and team-spirit despite results not going our way. One moment, which will stay with me forever, was a standing ovation for us from the other competing teams (men's and women's) in the closing ceremony for representing Singapore Women's on the world stage for the very first time!
Q) Team Singapore went on to play 12 matches over 1 week, but suffered losses in all. How did your team-mates react to these performances?
Anubha: For me, as a Captain, it was very clear from the start - that we have to give our all on the field every single time without looking at the scoreboard. It is a process of improvement, which will lead to victories eventually. I can proudly say that we improved every single game. And the fact that our last match was our best performance, speaks volume of our team spirit. The credit for this goes to the girls. We maintained a very healthy atmosphere, we enjoyed whatever little breaks we got and had lots of fun on and off the field.
Q) How did SCA react upon the team's return from their 1st Indoor World Cup campaign?
Anubha: The SCA was very proud of us and has been very supportive from the beginning. Our Chairman Mr Rashid Ahmed Khan, ensured that our team spirits were high and always wanted us to focus on the experience. We are very thankful to him for his tremendous belief in us. He was right when he said that this is going to be the best experience of your life!
Q) What are 2 key lessons which you personally learnt, having competed against the likes of Australia, New Zealand and South Africa?
Anubha: The first one is "Dreams do come true". I am very thankful to my family's support in making this dream turn into reality. The second is - "Focus on the present". Indoor cricket rules are such that it is very important to be in the present, and do your best in that moment. Unlike any other sports, you would get an average of just 12 balls to make an impact - make the most of it, for your country, for your team and for your family.
Q) What's in store for the national indoor team in 2023?
Anubha: This is just the beginning of the historic journey that the Women's cricket team is on to. We've already begun the practice sessions for this season, while some of us (including myself) are recovering from injuries. We are looking forward to the international tournaments planned this year – NZ, Asia Cup and Juniors World Cup among others. More support from everyone would pave a stronger path for women of this great nation.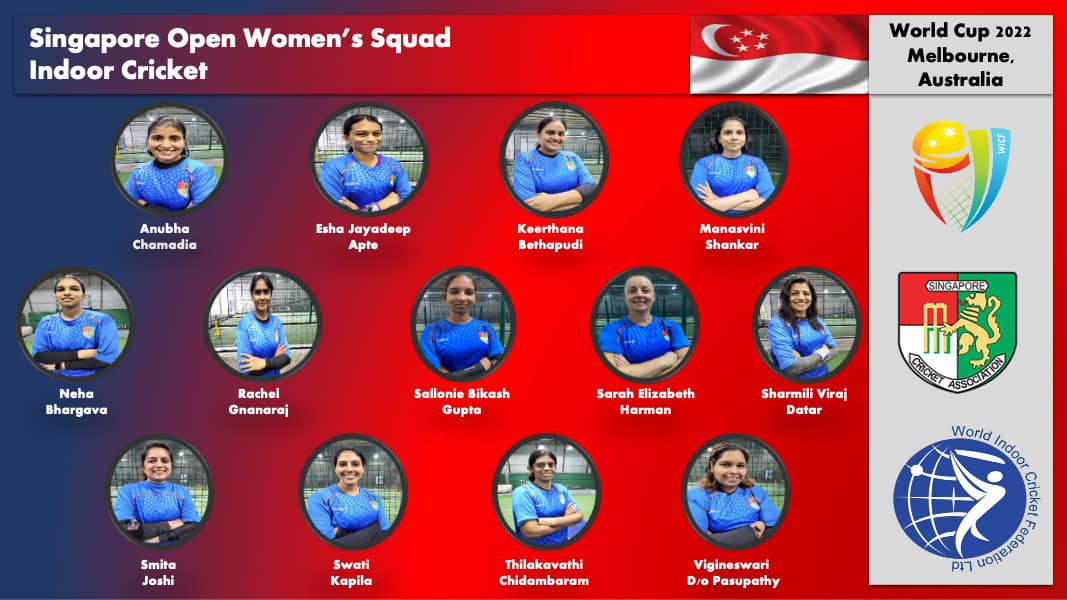 Team Singapore roster in Melbourne. Poster Credit : Singapore Cricket Association - Indoor Cricket FB Page