SportSG's 'Blended' to help companies go phygital and create meaningful sporting experiences
by Circle Stories, on October 26, 2020
Singapore, 27 October 2020 – Sport Singapore (SportSG) today announced their support for event organisers and event management companies to reboot, reimagine and reposition their offerings, combining virtual and physical activations to enrich the overall experience for participants.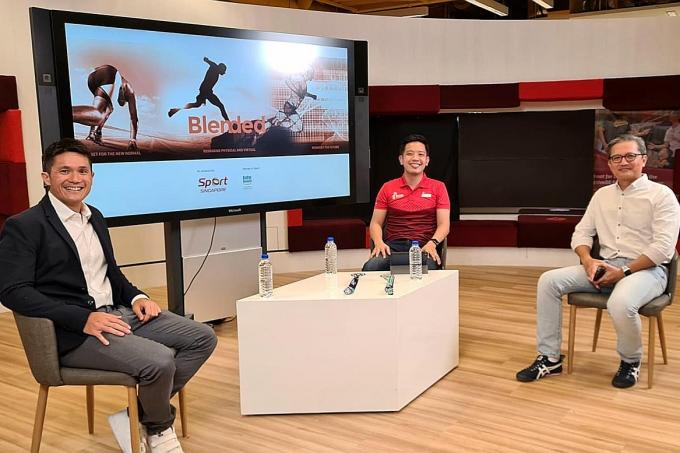 (From left : Darren Ho, SportSG digital ops centre assistant director, Minister of State for Culture, Community and Youth as well as Trade and Industry Alvin Tan and Dr Chiang Hock Woon, SportSG deputy chief executive, at the launch of "Blended" yesterday. PHOTO: COURTESY OF SPORT SINGAPORE)
Under the 'Blended' initiative, the national sport agency will provide grants to local industry players to engage participants in "phygital" event formats which combine both physical and virtual activations. The initiative will also expand companies' reach beyond our borders to engage regional or global audiences by going phygital.
Singaporeans may expect more of such events following MCCY's announcement of the S$50M Sports Resilience Package (SRP) on 15 October. With a total of S$5M to drive phygital or hybrid event innovations and service offerings, 'Blended' will now include private academies and clubs, in addition to event organisers (EOs) and event management companies (EMCs). The SRP aims to support over 100 projects, involving around 450,000 participants over the next six months.
From October 2020 to March 2021, sport and fitness enthusiasts can look forward to 'blended' events from a wide range of categories, including competitive sports, physical activities as well as recreational fitness activities.
Officiating the launch of 'Blended', Mr Alvin Tan, Minister of State, Ministry of Culture, Community and Youth, and Ministry of Trade and Industry, said "With 'Blended', we are redefining our approach to sporting events by encouraging organisers to combine physical and digital elements in sport. This gives sports businesses the impetus to use technology to transform their offerings into "phygital" events that deliver a more interactive experience for participants."
Defined as using technology to bridge the physical and communal world with the online and virtual space, the concept of phygital or hybrid events shifts towards a more immersive and engaging consumer experience for participants. While digital transformation and innovation for many businesses may seem tactical and piecemeal at first, this lays the foundation for the industry to adopt new ways of virtual delivery and monetise via alternative channels for the future.
Dr Chiang Hock Woon, SportSG's Deputy Chief Executive, believes that the support is a much-needed boost for the sporting industry. "We want to see greater digitalisation in the industry and hope that 'Blended' will contribute in setting the pace for the transformation of the sporting industry and encourage the development of innovative and fun ways for the community to play Sport and stay active. It is really exciting to see how adopting a hybrid model allows us to tap on both the physical and virtual aspects to amplify the reach and scale of events, deepening and creating new and meaningful experiences for all".
Managing Director of homegrown business Orange Room Pte Ltd, Elvin Ting, agreed on the importance of digital transformation in the sports industry. "Many local companies are still embedded in traditional brick-and-mortar business models, and understandably so, as mass participation sports has fundamentally revolved around one-off fan experience at events. However, digital technology offers the potential for more touchpoints to engage fans on a deeper level and learn what truly creates an experience they seek. Personally, I feel that 'Blended' will make both physical and online experiences more meaningful for fans and provided deeper insights to bring accurate and direct value to commercial partners in the new normal".
Fort Canning Run (#conquerthefort) will offer a new and challenging running experience to push one's limit, taking participants on a scenic journey, steeped in history, around Fort For both serious runners and running loyalists, the top 100 runners will receive #CONQUERTHEFORT finalist t-shirts. Virtual training runs and route guides will also be made available for participants. Fringe activations include treasure hunts and virtual guides to places of interest within Fort Canning.
Zoomba – Singapore's Longest Zumba Relay by local events company The Show Producers will engage some 7,000 participants with the aim to set a national record for the longest Zumba relay. The event includes virtual activations via live streaming sessions on Zoom, as well as a seven-hour Zumba event spanning 14 sessions in a relay format, led by instructors alongside local celebrities and
District Singapore Race will engage 7,000 participants through the District app to clock distances at 1000+ checkpoints located across Singapore to qualify for the finale The top 50-100 participants on the leader board will be invited to the finale event for a final race-off called the 'SG United District Race'.