Team SG's Floorballers clinch sudden-death 2-1 win over Thailand, to book rematch against Estonia at the 2021 IFF Women's World Championships!
by Circle Stories, on December 1, 2021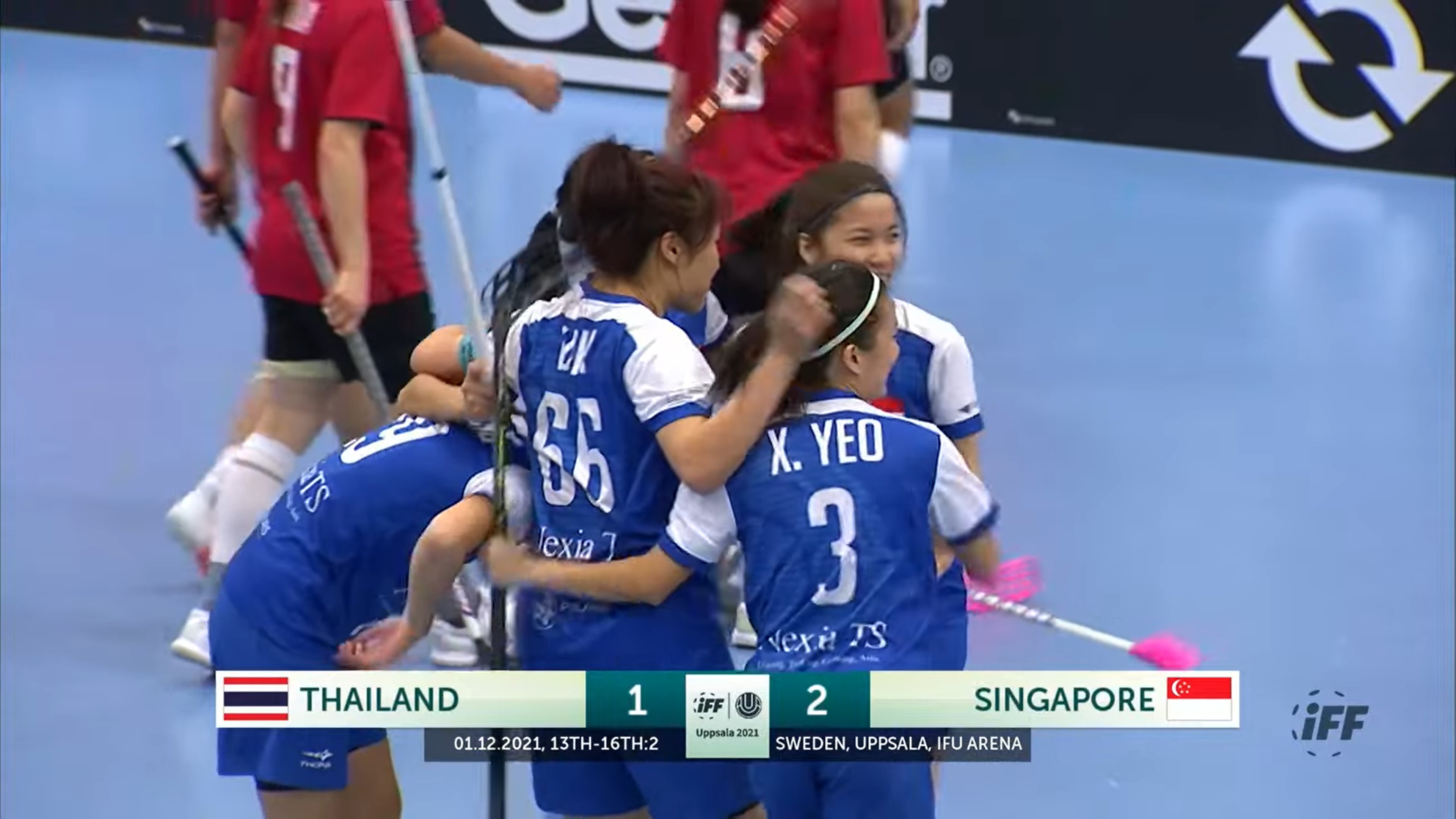 By Gracia Sengutuvan
Singapore faced off against regional rivals Thailand (1st Dec), in the Classification Round for a 13th-16th place finish, at the ongoing IFF Women's World Floorball Championships. Previously, the two teams had met at the gold-medal match in the 2019 Southeast Asian (SEA) Games, as well as in the Group D matches of the 2019 World Championships. TeamSG triumphed on both occasions and they went on to make it a hat-trick in Uppsala tonight, with a dramatic 2-1 overtime victory!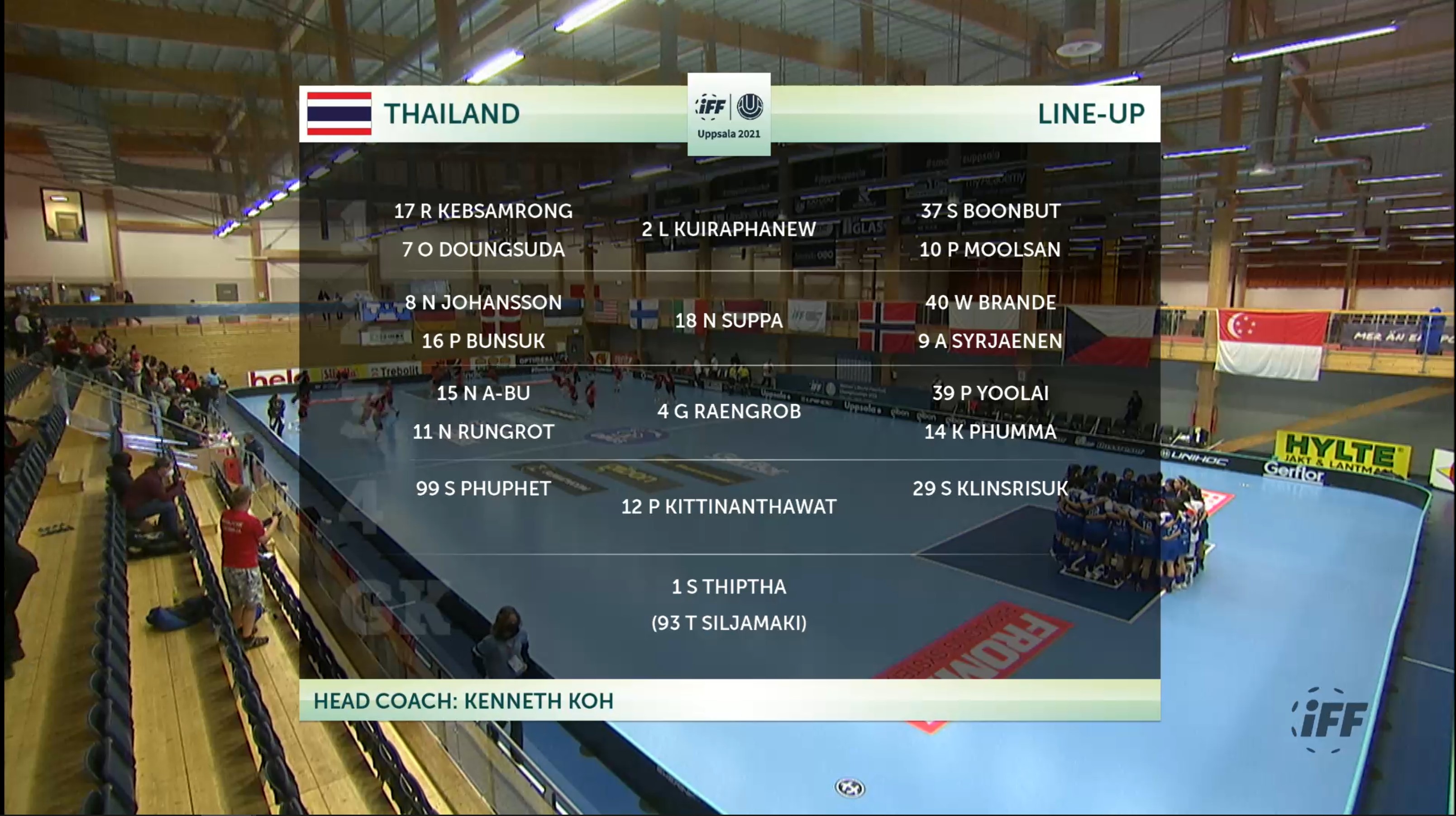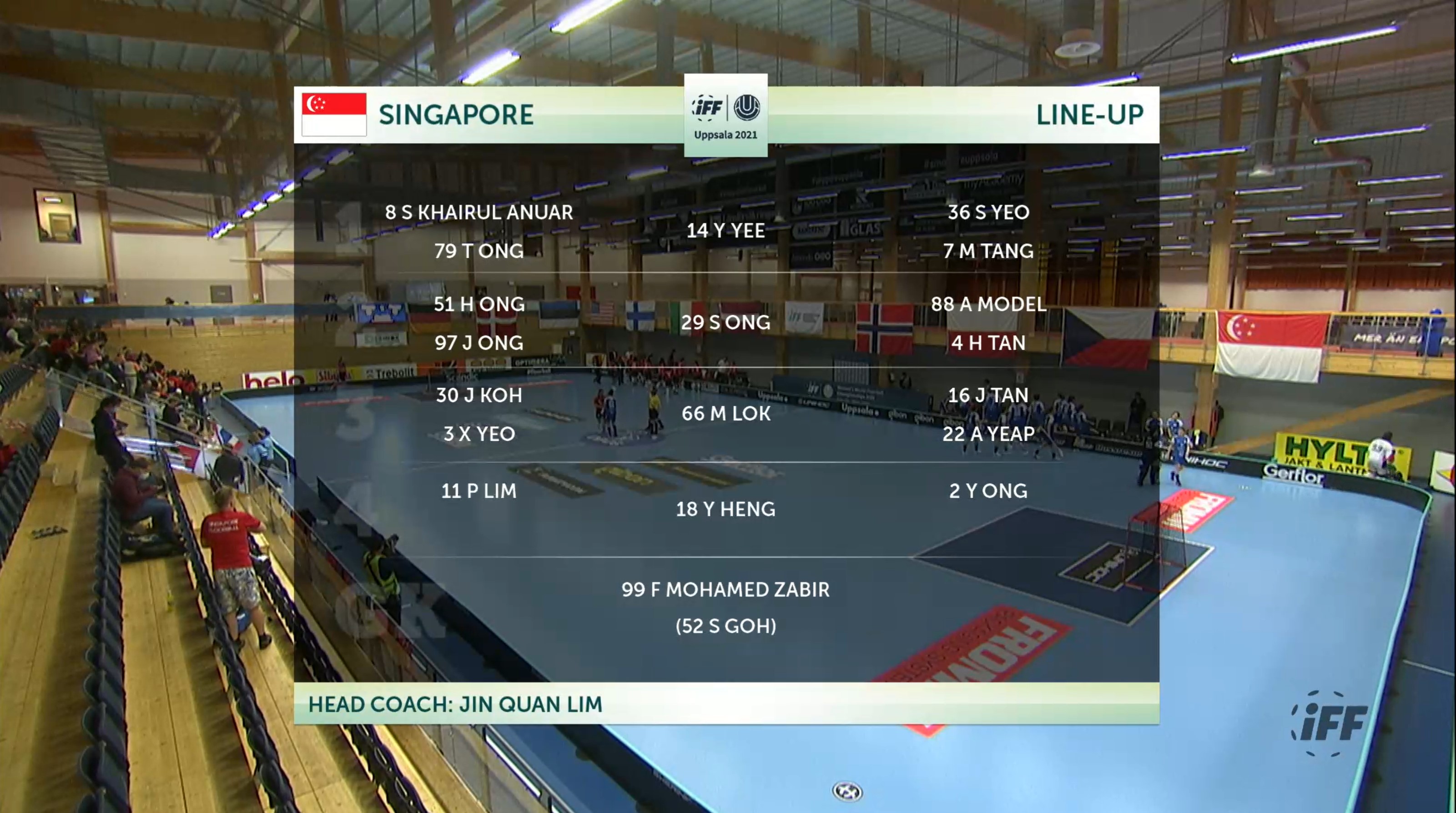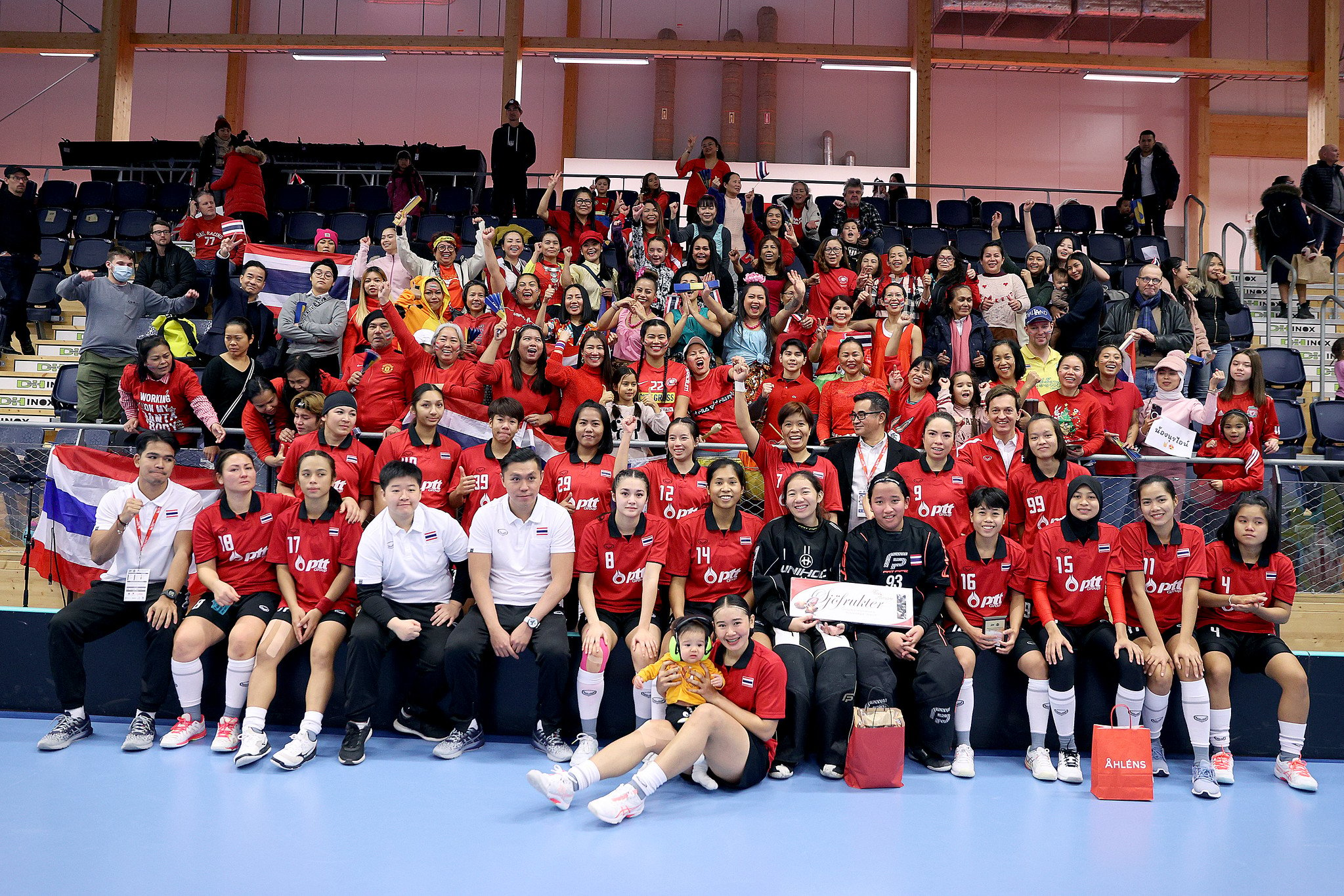 (Supporters and Players from Thailand. Photo Credit : International Floorball Federation)
With the spectators rallying their support to the beat of the drum, the game began with much anticipation. The first strike for the game happened 6 minutes in. Singaporean defender Marrisa Tang, made a smooth drop-pass with Yee Yun Shawn, setting her up with a clean opening goal. 1-0!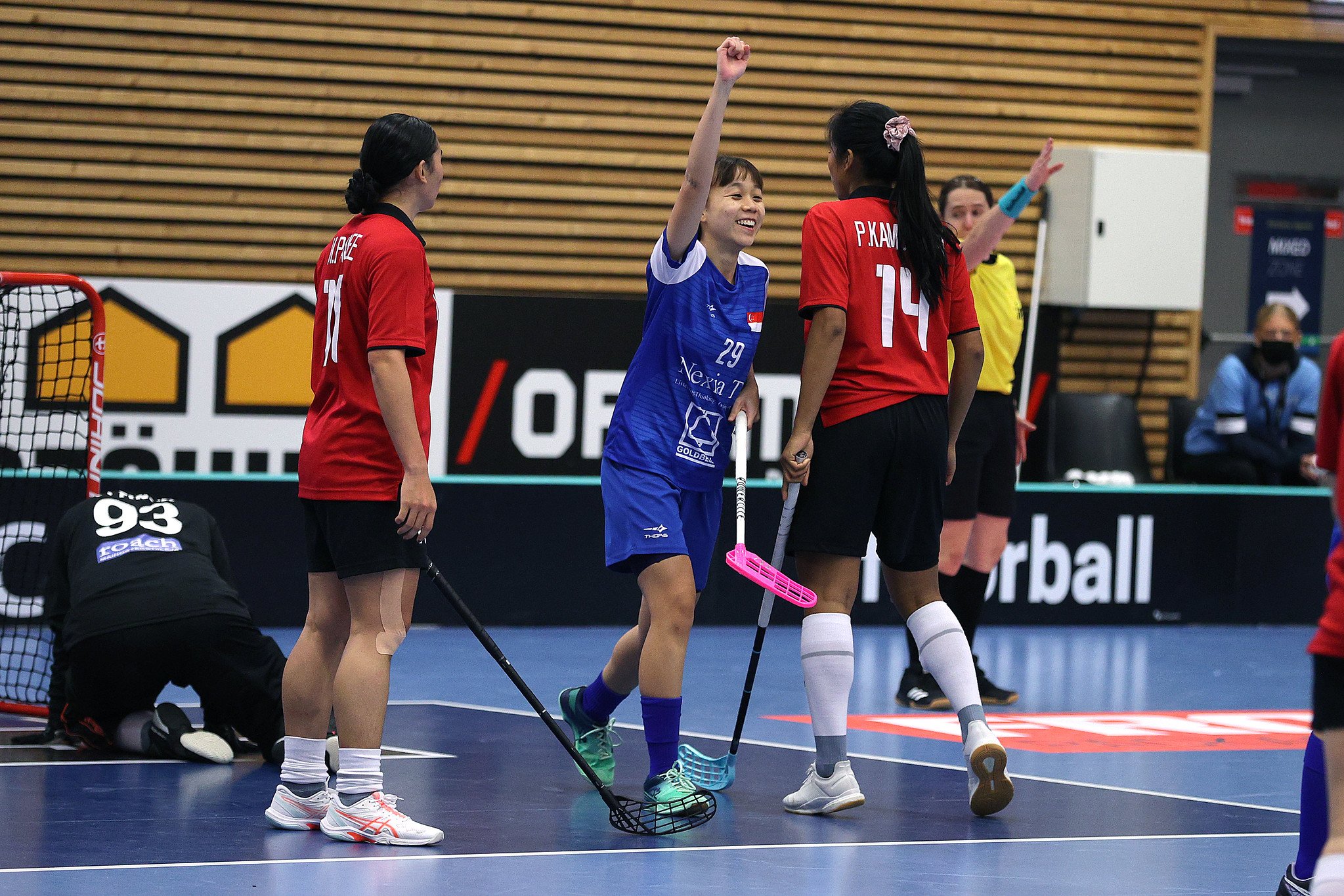 (TeamSG's Ong Swee Ling celebrates. Photo Credit : IFF)
9 minutes later and TeamSG's Siti Nurhaliza was sent to the sin bin for 2 minutes for holding. Desperate to equalize, the Thai team attempted to infiltrate Singapore's defenses, but were soon dispossessed despite their one-man advantage.
18:30 minute- Another 2 minutes penalty awarded to Singapore's Tan Hui Zhi for lying play. This is an instance when a field player, lying or sitting down, stops or plays the ball or in another way affects the situation. The Thais seemed more composed and controlled with their second advantage setting up a couple of good play pieces. The first period comes to an end, still at 1-0!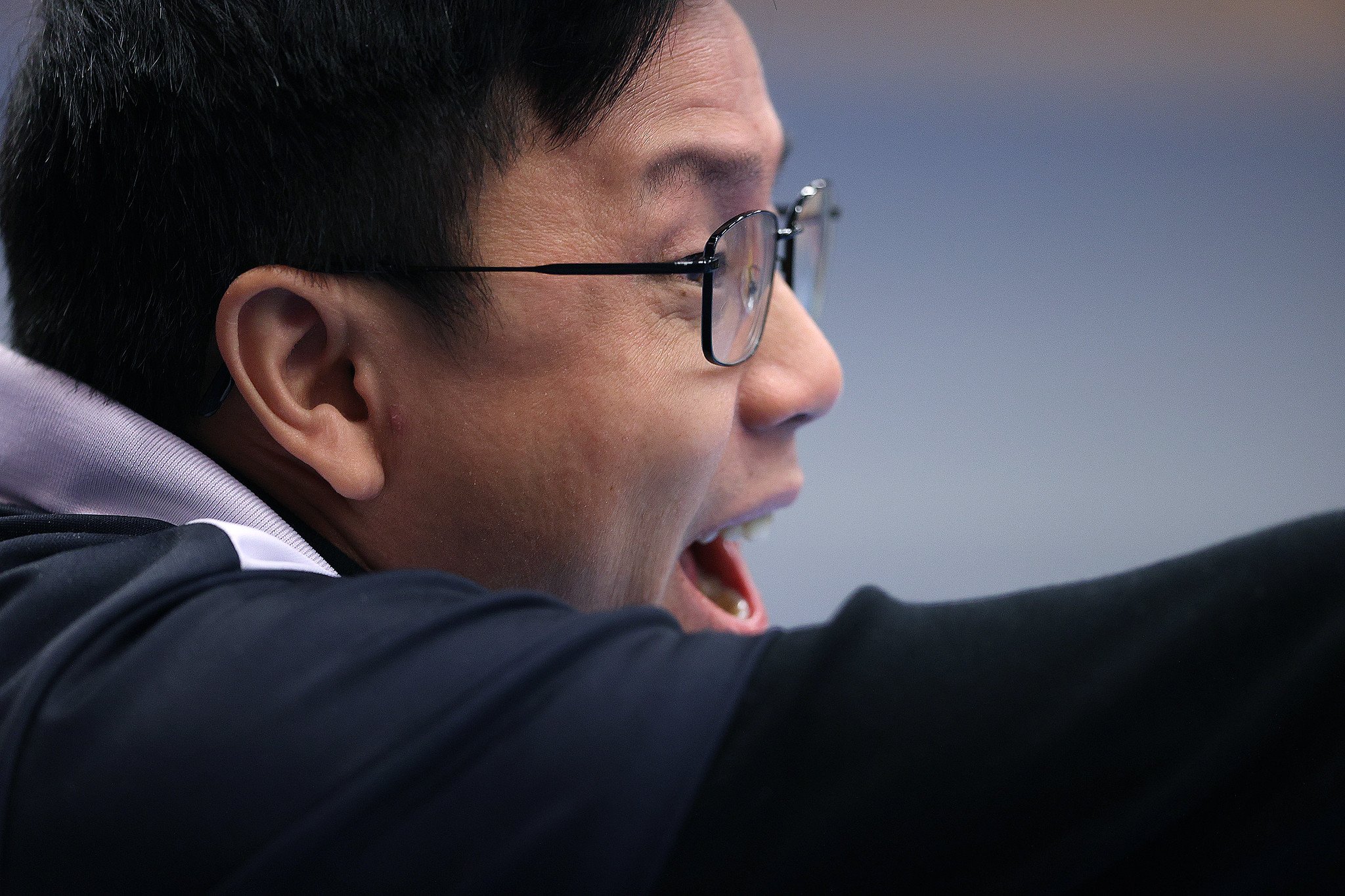 (TeamSG's Coach, Lim Jin Quan. Photo Credit : IFF)
The 2nd period commenced, still in box play for Singapore, playing out the remaining 30 seconds. Though the Thai team was unable to convert during the advantage, they managed to sneak a goal in at the 24th minute. A hit-in in Singapore's corner for the Thai-Captain Nina Suppa enabled her to find Aliisa Syrjaenen to take a direct shot into the net. 1-1!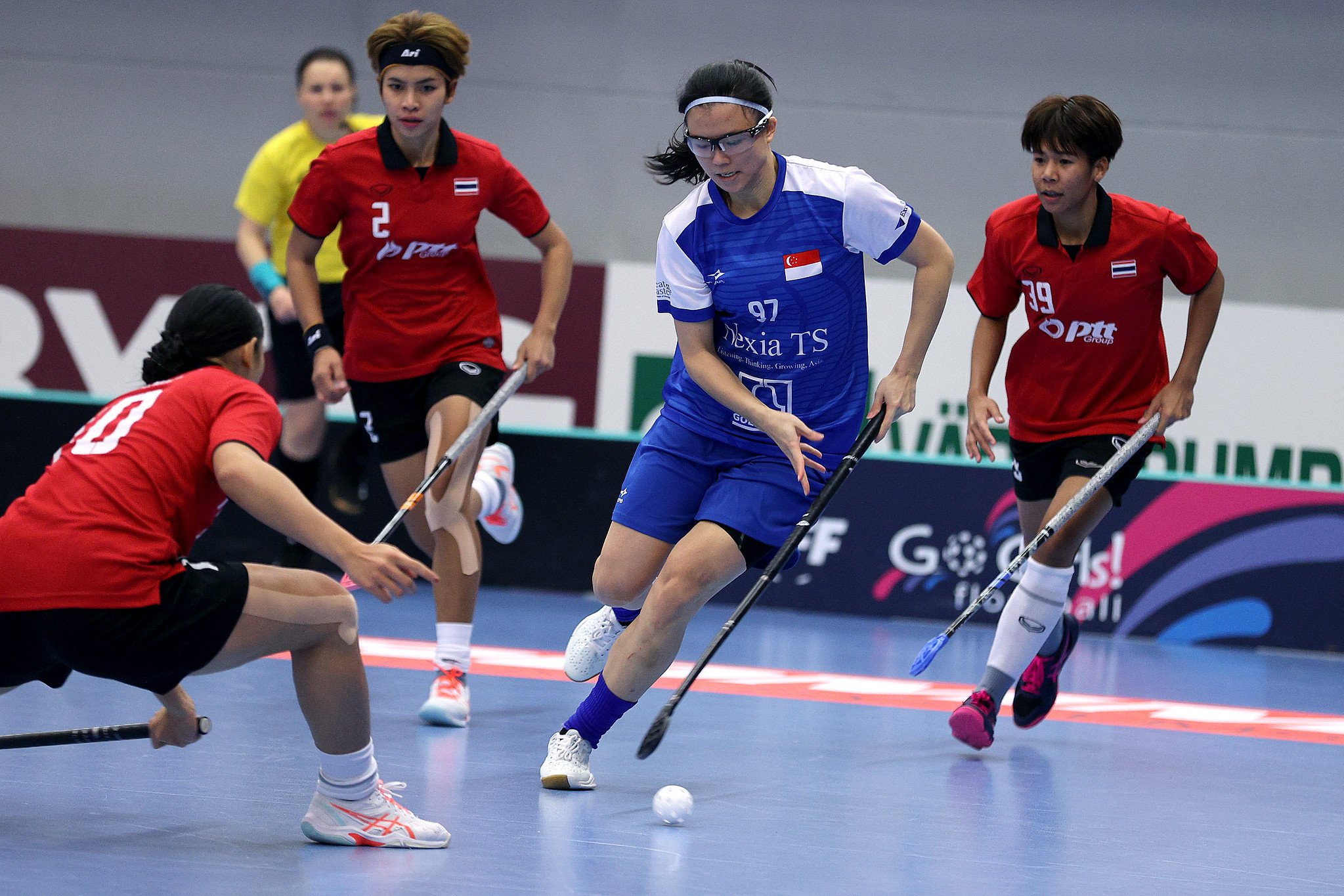 (TeamSG's Jerelee Ong with the ball. Photo Credit : IFF)
The next few minutes would prove to be a tricky situation for Singapore as they attempted to stabilize their defense as well as go in for a strong attack. Leading these moments were sister-duo Jerelee Ong and Tiffany Ong (who was awarded Woman of the Match). The sisters were bringing a spark to the team that was very much needed.
"Our team was very eager to beat Thailand. However, the score line was not in our favour and it became a really tight game. I was eager to take on the chances that we get and score for our team." said Jerelee, after the match, on how she felt about the game.
37th minute- TeamSG's Angela Model was awarded a 2-minute penalty for roughhousing, but the team claimed possession of the ball, delaying out their disadvantage. The period soon ends, with the game tied at 1-1.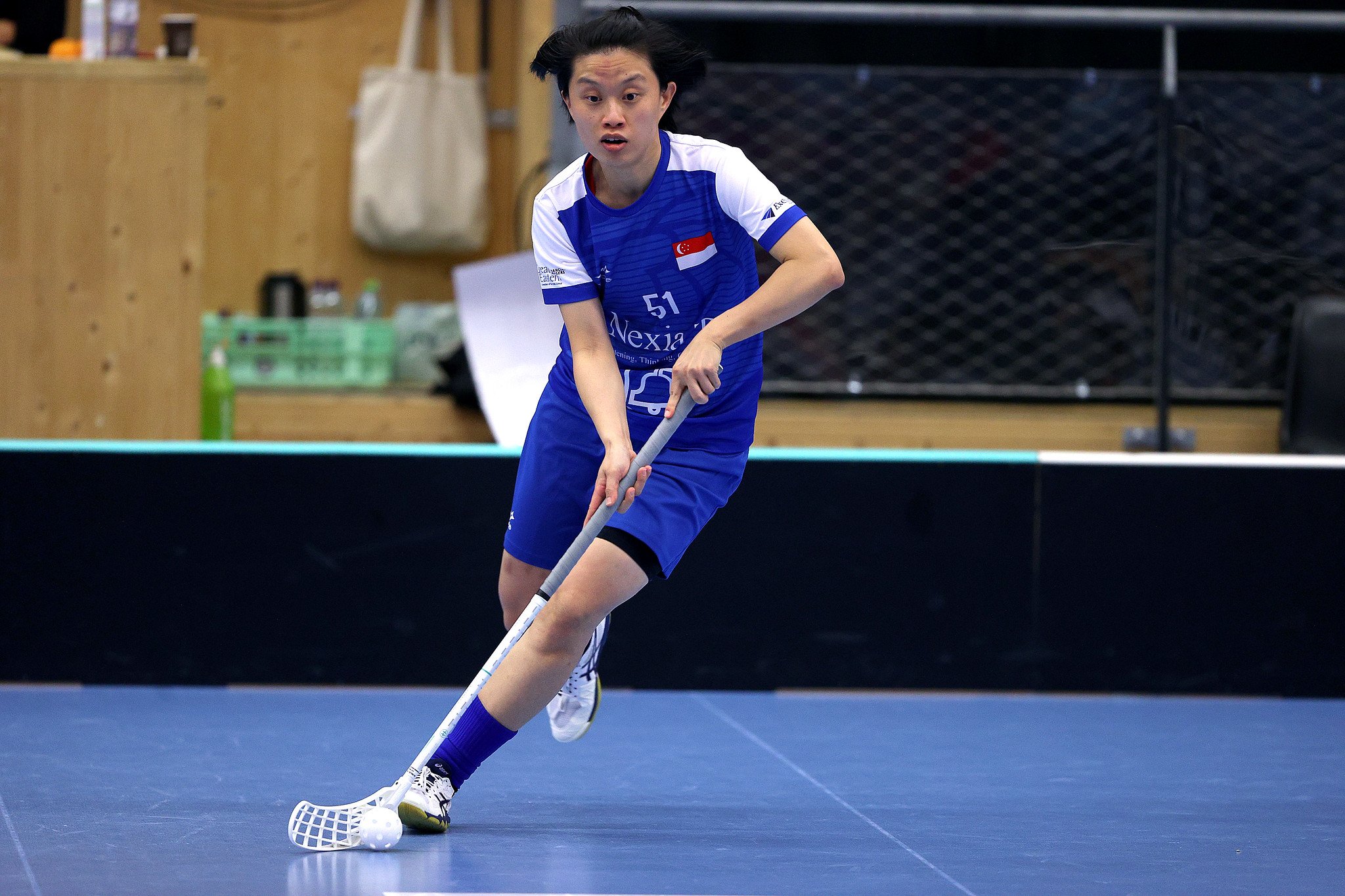 (TeamSG's Ong Hui Hui. Photo Credit : IFF)
The final 3rd period commenced with Thailand showcasing how brilliant they were, at pushing Singapore's buttons by thwarting their attacks and performing a few of their own. 6 minutes in, a super-save was made by the Thai keeper, Thipta, who contorted her body to clear the shot by Ong Swee Ling of Singapore, coming off a pass from Ong Hui Hui.
The midway power-break came in a timely manner allowing both teams to catch a breather before returning to battle. The Republic showed they "meant business" by dropping to a 2-line rotation, instead of the usual 3 formation. But with 4 minutes left, TeamSG's Amanda Yeap took a hit to her face, as Thailand's Pannee Moolsan attempted at goal, but to no avail.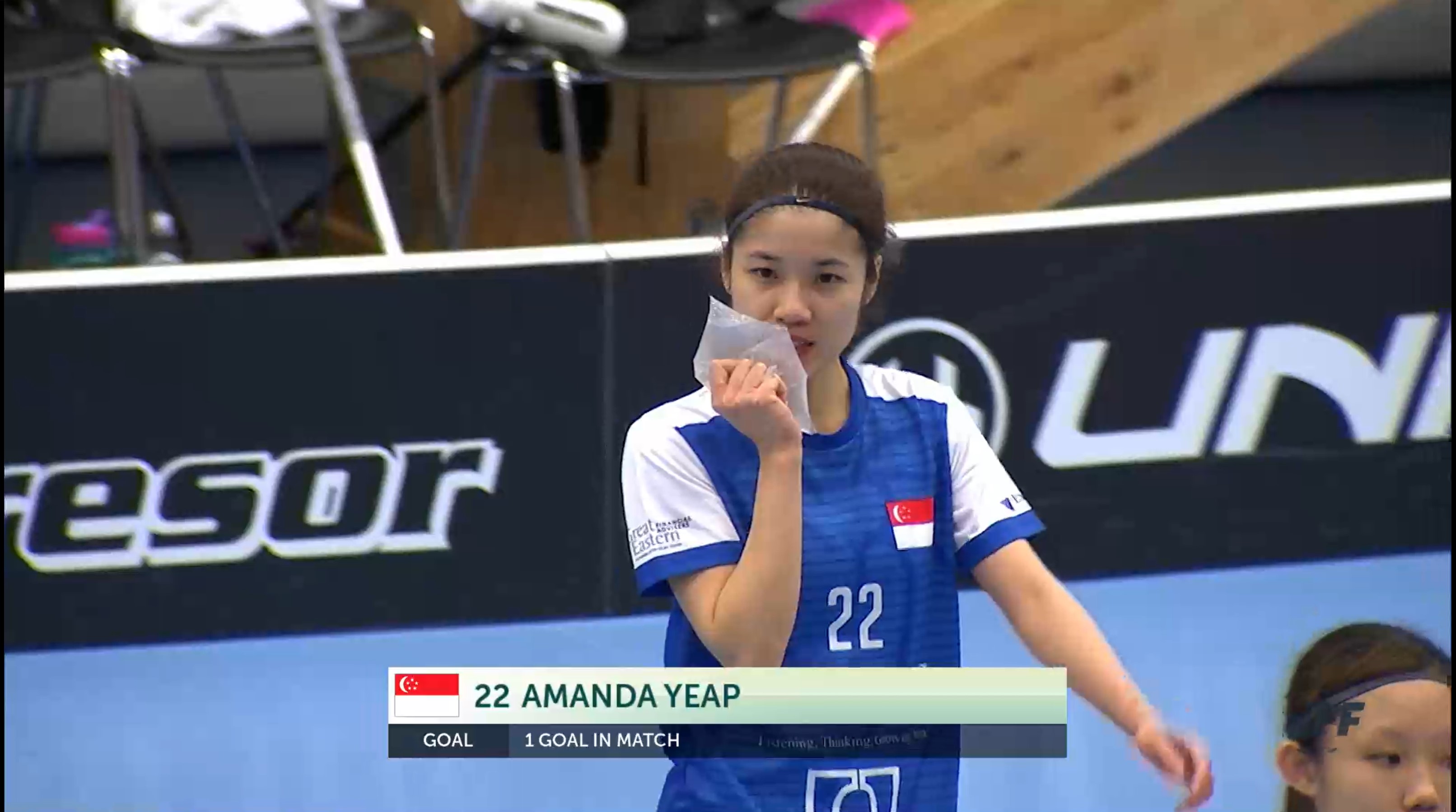 (TeamSG's Amanda Yeap tending to her injury. Image extracted from Live Stream)
3 minutes on the clock, the Thai team unleashed every bit that they had. But Singapore's compact defence does not waver. With 20 seconds left in the match, Angela is sent to the sin bin once again! This would be the 7th box play Singapore had undergone thus far in the tournament, having only conceded in 1. But the 4-players from Singapore held on as the Fulltime score was 1-1!
The game enters overtime for a total of 10 minutes, where the sudden-death "Golden Goal" will determine the winner. The remaining time from the 2-minute penalty carried forward and Singapore are still one-man down. In a spirit of frantic entertainment, both teams continue to battle it out.
4th minute into overtime, a free hit was awarded to Singapore at mid-court. Yeo Xuan passed the ball to long-time teammate Amanda Yeap, who finishes with a simple wrist shot from 5 meters out, thus winning the game 2-1 for Team Singapore!
With the win, Singapore will be meeting Estonia on Thursday, 2nd December at 7.15 pm. The Republic was previously defeated by Estonia in the Group D matches (4-3) and would be most eager to redeem themselves. Let's all show our support, as they embark on claiming the 13th position, at the 13th edition of the Women's World Floorball Championships!
Click on this ActiveSG Circle link to watch the match Live and exclusive. Let's Go Team Singapore!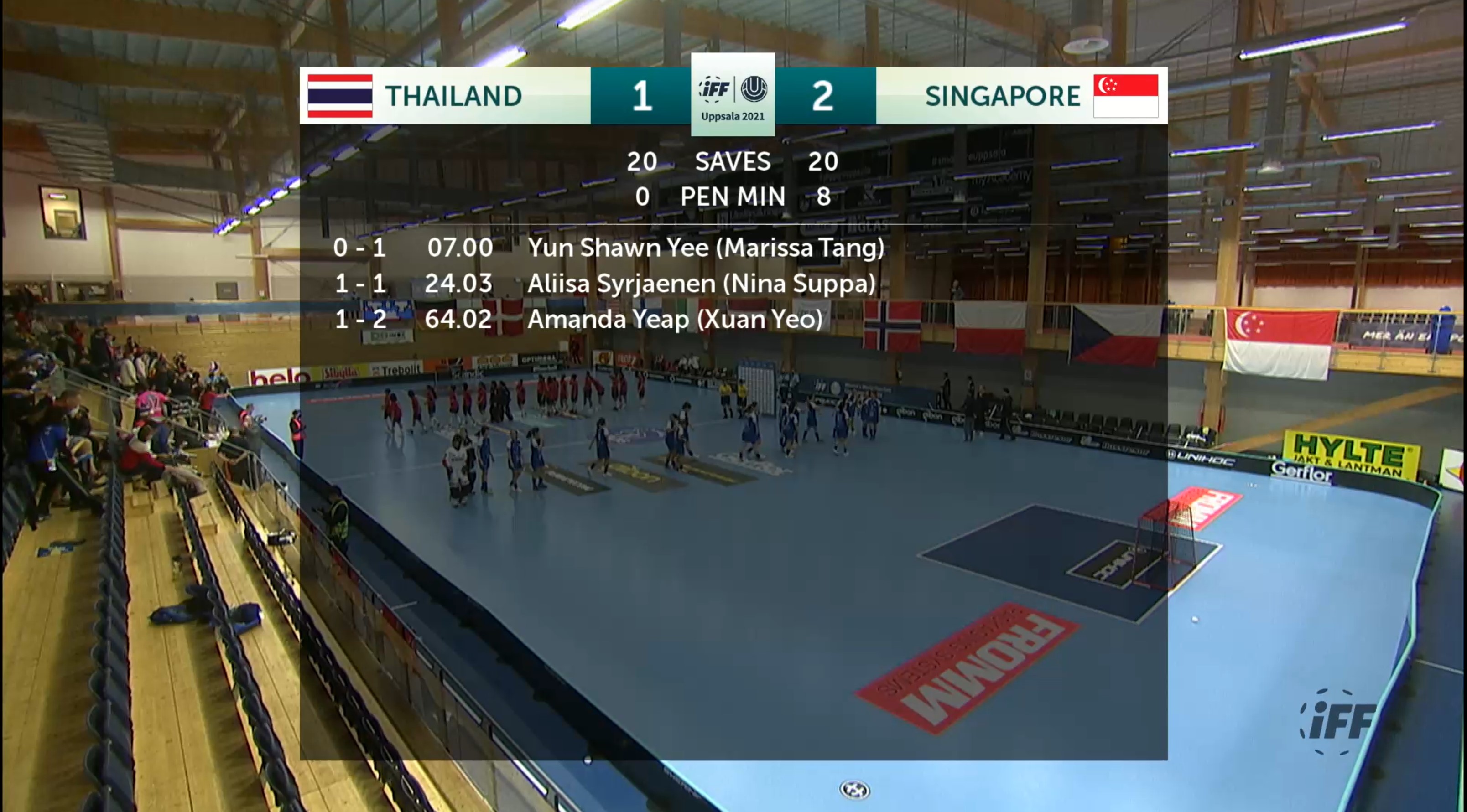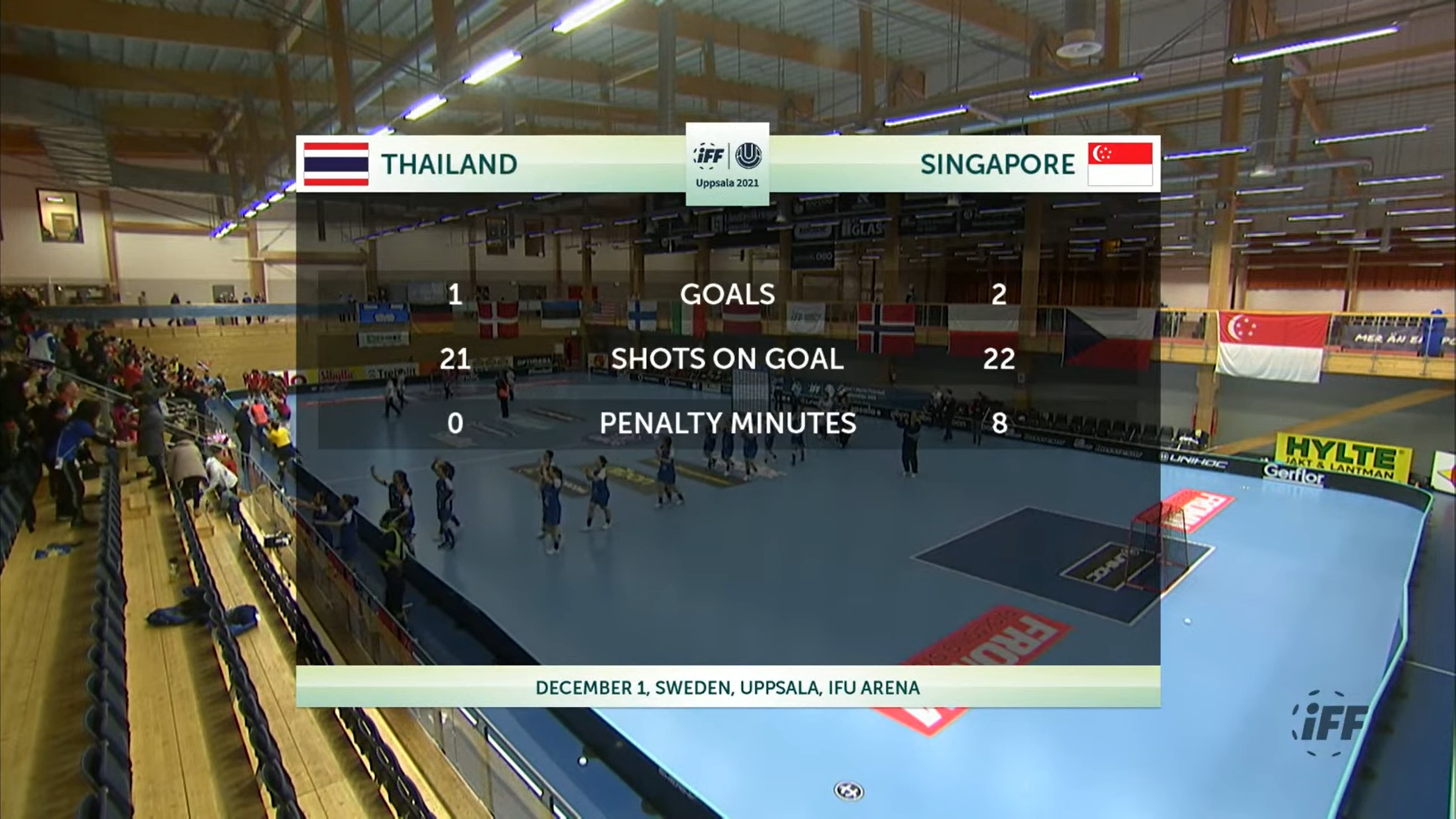 Edited by Raj Kumar
Gracia Sengutuvan was part of Team Singapore's SEA Games Gold medal winning squad in 2015! She's been playing floorball competitively for 13 years. Gracia joined Team U Sports Liitto Floorball Club straight out of secondary school and played for them till she left Singapore in 2019. She enjoys watching the NBA and her favourite player is Steph Curry. She has a good feeling that the Golden State Warriors are going to win the title this year. However, she also had that feeling last year.