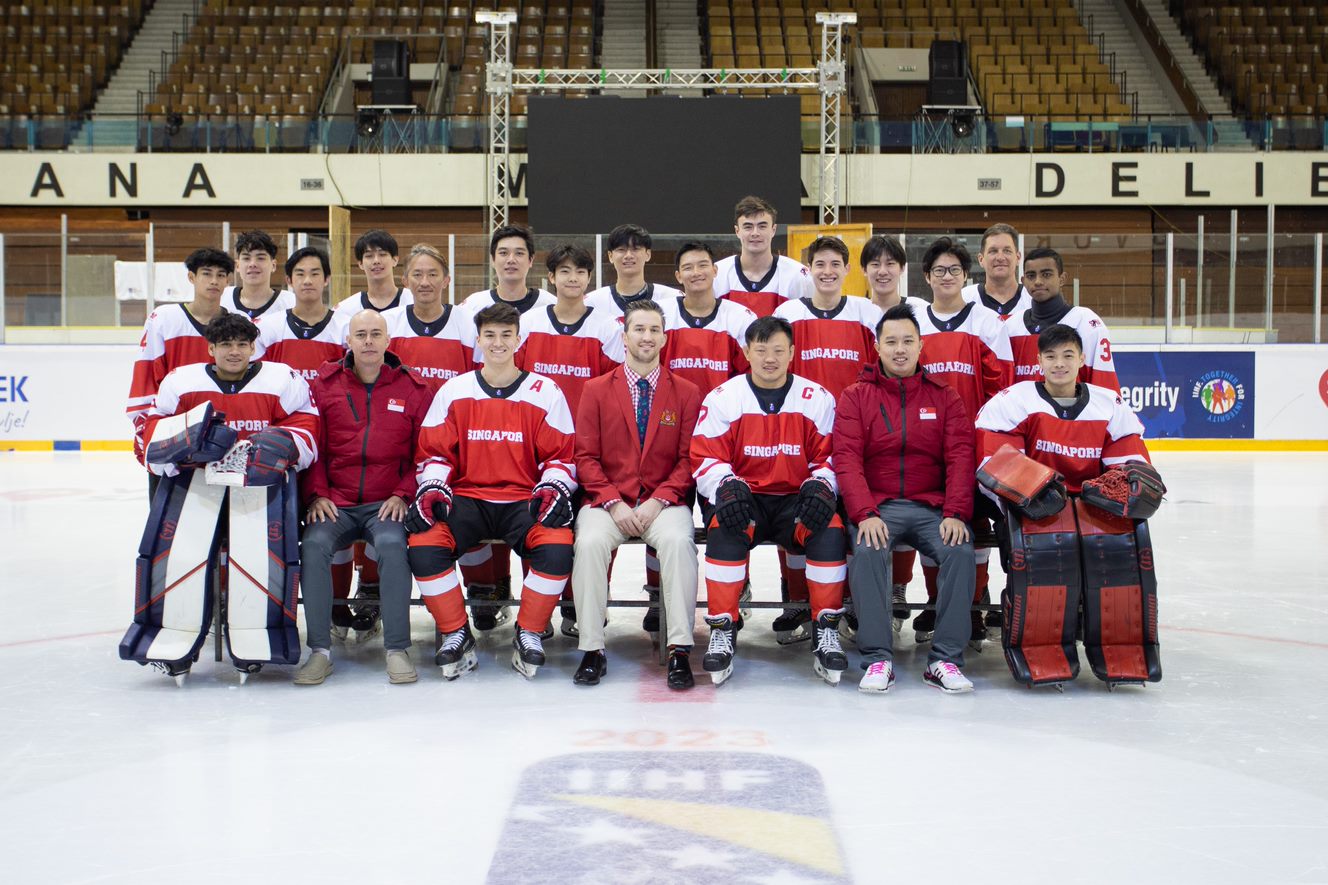 Singapore's Men's Ice Hockey Team in Sarajevo 2023. Photo Credit : Singapore Ice Hockey Association
Singapore's Men's Ice Hockey Team opened their 2023 season, by competing in the
IIHF World Championships Division 3B
tournament in Sarajevo. Team Singapore made history a year ago in Kyrgyzstan, whey they won promotion from Division 4. And during their recent 2-week event in Sarajevo, the Republic faced off
against Hong Kong, Kyrgyzstan, Bosnia and Herzegovina (BIH), Iran, and Malaysia. Following their debut in Division 3B, TeamSG finished overall in 4th place with a 10-0 victory over Malaysia and a 11-2 triumph over the Iranians.
Taking a more deeper look into the 2023 IIHF World Championships Division 3B tournament, ActiveSG Circle checked in with Diane Foo (President, Singapore Ice Hockey Association or SIHA), Robert Wallace Martini (Head Coach, TeamSG) and Daniel Chew (Team Captain).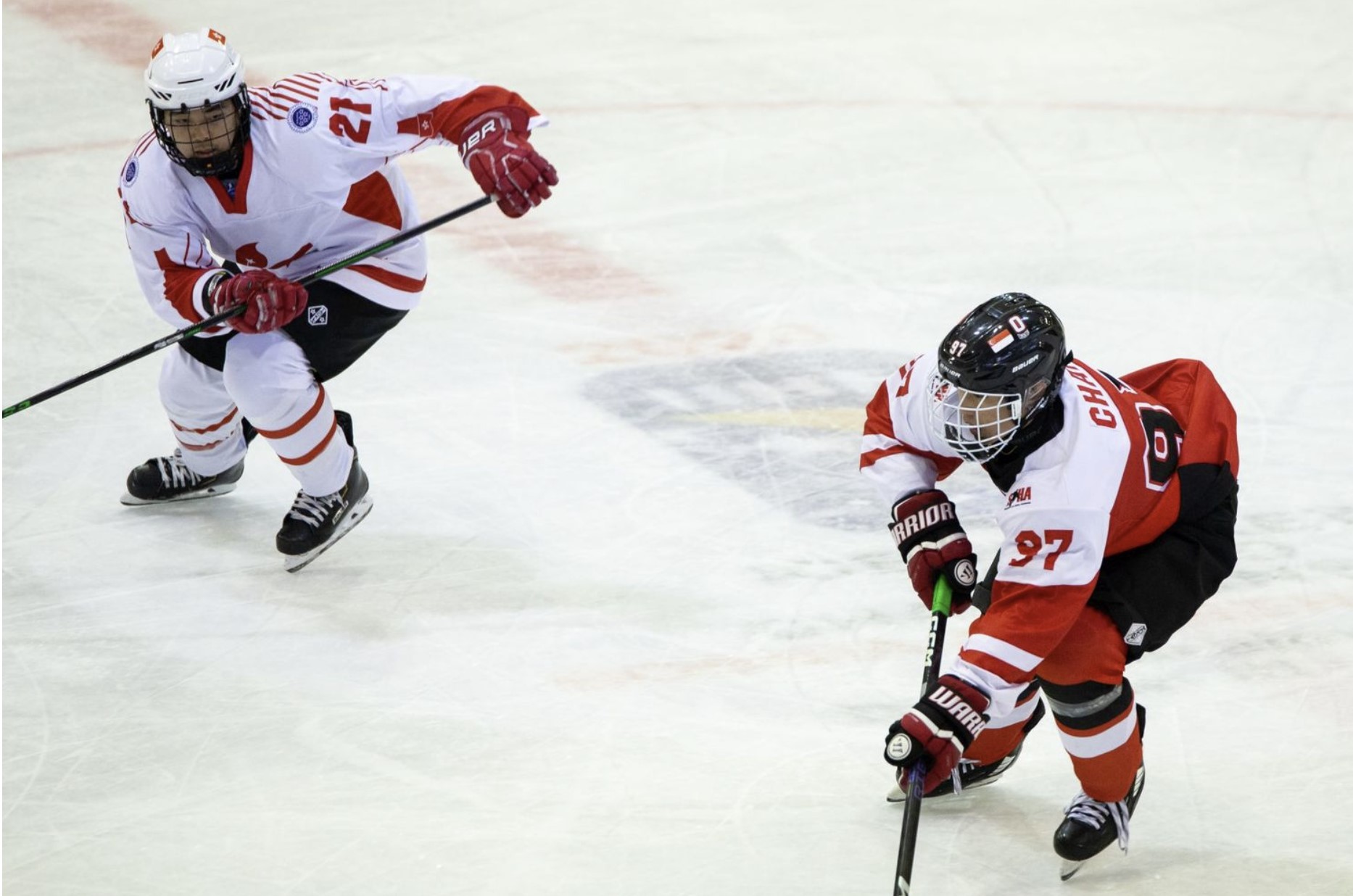 Hong Kong vs Team Singapore in Sarajevo 2023. Photo Credit : IIHF
For NSA President - Diane Foo
Q : Did the players achieve the target that was set by SIHA, at the end of the tournament?
Diane : The team performed better despite being newly promoted to a higher division this year. Most remarkably is the game against Hong Kong where the team lost 7-6 on overtime. When the teams last met, Singapore was beaten 12-1 in Asian Winter Games 2017. And under a tougher division this year, TeamSG came just within 1 point short of getting a medal - which is already an accomplishment!
Q : What's the impact to the local ice hockey community, in sending the national team to compete in Sarajevo?
Diane : I believe this is a remarkable feat achieved by the Men's team. Team Singapore has never competed in European soil until this tournament, causing a few scares to stronger opponents. This certainly shows that Singapore can go out there and show their full capabilities. Hopefully this will spur more ice skaters to pick up this sport locally.
Q : What's next for Team Singapore in 2023?
Diane : The Men's team will continue to train and keep working towards the next tournament. And our Women's team will be competing in the IIHF Asia & Oceania Championship from 30 Apr - 7 May 2023 in Thailand, Bangkok.
Q : How are you planning to train when the JCube mall ceases its operations in August?
Diane : SIHA is working on finding other sources to have an alternative training venue to help the athletes train. Transitioning over to inline hockey, arranging overseas ice training with neighbouring countries, ball hockey etc will be among the working plans. We are also working closely with Sport Singapore for a new rink.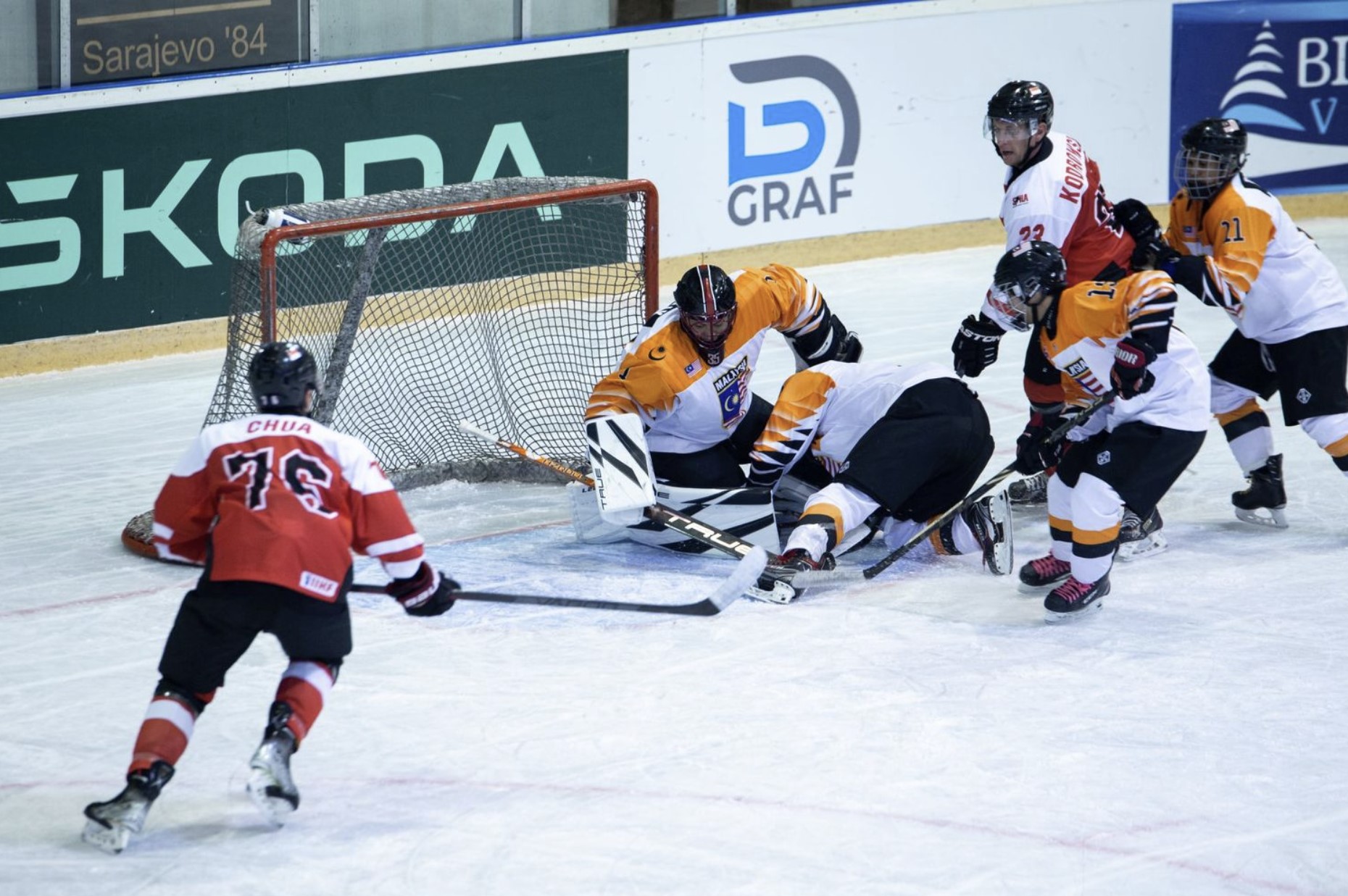 Malaysia vs Team Singapore in Sarajevo 2023. Photo Credit : IIHF
For National Coach - Robert Wallace Martini
Q : TeamSG started their campaign in Sarajevo with a 14-2 loss to Krygystan. How did you motivate them before their next match against Malaysia?
Robert : Kyrgystan has a number of players who've played or are currently playing professional hockey. Games like that make it very obvious when we make mistakes on the ice, and it's helpful in correcting them. This helped us significantly as we went into our game against Malaysia.
Q : Following the massive 10-0 win over the Tigers, TeamSG lost 7-6 to Hong Kong in overtime, followed by an 8-2 defeat by BIH. Your thoughts on those 2 defeats, Coach?Robert :
The Hong Kong game I thought our team played very hard, and probably deserved a better result. The last time we saw that HK team, they beat us 12-1 at the Asian Winter Games in 2017, so it was great to see the progress that our team has made since then! And t
he Bosnia game was again, a lesson in structure over skill. Their top players compete in professional hockey. They know how to capitalise on mistakes, and they showed that against us. It was also a good lesson for us that when a team is in front of their home crowd, they are going to hit the ice with a ton of energy.
Q : In your final round-robin match, Singapore bounced back with a 11-2 win over Iran. How do you feel about that performance?
Robert : Outstanding performance by Singapore here. Despite missing 2 of our better players for the last game, the team came out and took care of business. We capitalised on our chances, played a smart, responsible game, and avenged a 6-2 defeat to the same Iranian team last year. That kind of felt like the theme of the week: progress, growth and development.
Q : Which player would you like to single out for special mention for the entire campaign?
Robert : Certainly Ethan Redden and Josh Chan's statistics speak for themselves. But there were several others who had great moments as well; I could list another 8-10 players who were warriors for us all week! It was encouraging to see a couple of our very young players (15-16 years old) play effectively in the time they were on the ice. The fact that this team now has 2 young, very capable goaltenders in Josh Lee and Liam Blakney is a huge asset moving forward! The entire squad improved from the 2022 version of this team, which was great to see!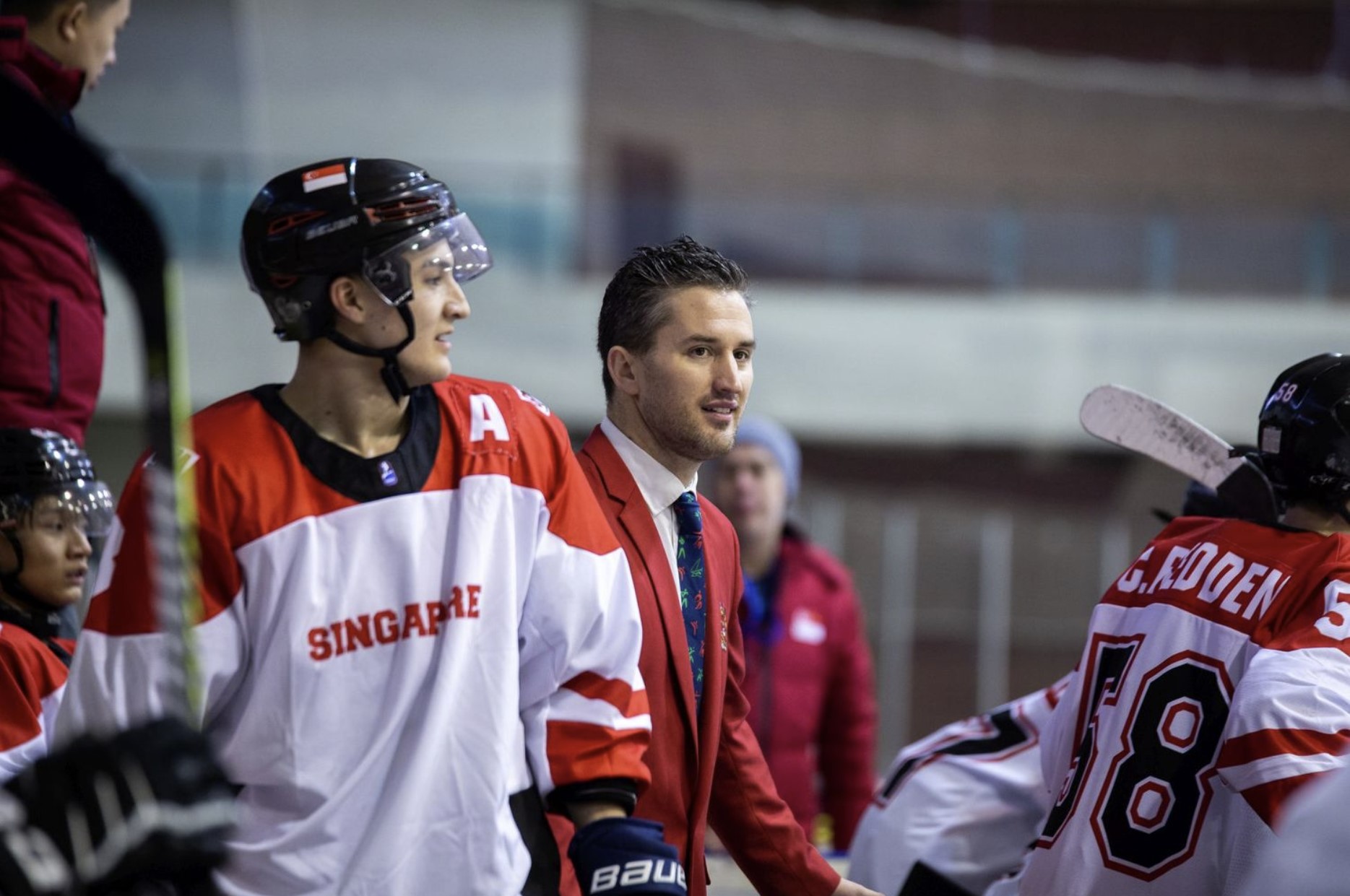 TeamSG Forward Ethan Redden in Sarajevo 2023. Photo Credit : IIHF
For Team Captain - Daniel Chew
Q : What were your initial targets to achieve at this World Championship campaign?
Daniel : We were targeting a medal for this tournament and also exposing our team to a higher level of ice hockey.
Q : Was there a major difference between the 2022 squad and the current team in BIH?
Daniel : We were more prepared mentally and physically. And having key players who missed out of the 2022 World Championship Div 4, did make this a team with more depth and skills.
Q : Tell us about the 2 victories over Malaysia and Iran?
Daniel : The score for the Iran game was much better than what we expected to perform as we lost to them last year. We were looking for redemption and proving that we're not a team to be taken lightly. As for Malaysia, we were confident of the victory as we've been playing against each other for so long and we know that our team has more depth and desire to win the game.
Q : What does finishing 4th overall out of 6 teams mean for your team?
Daniel : It means that we are able to play in the higher division 3B and we are just a goal away from getting a medal for this division. But with the closure of our training facility in less than 5 months at JCube, we might transition to inline hockey, which is the closest to ice hockey. That's while waiting for a temporary solution for a new rink - if there's any.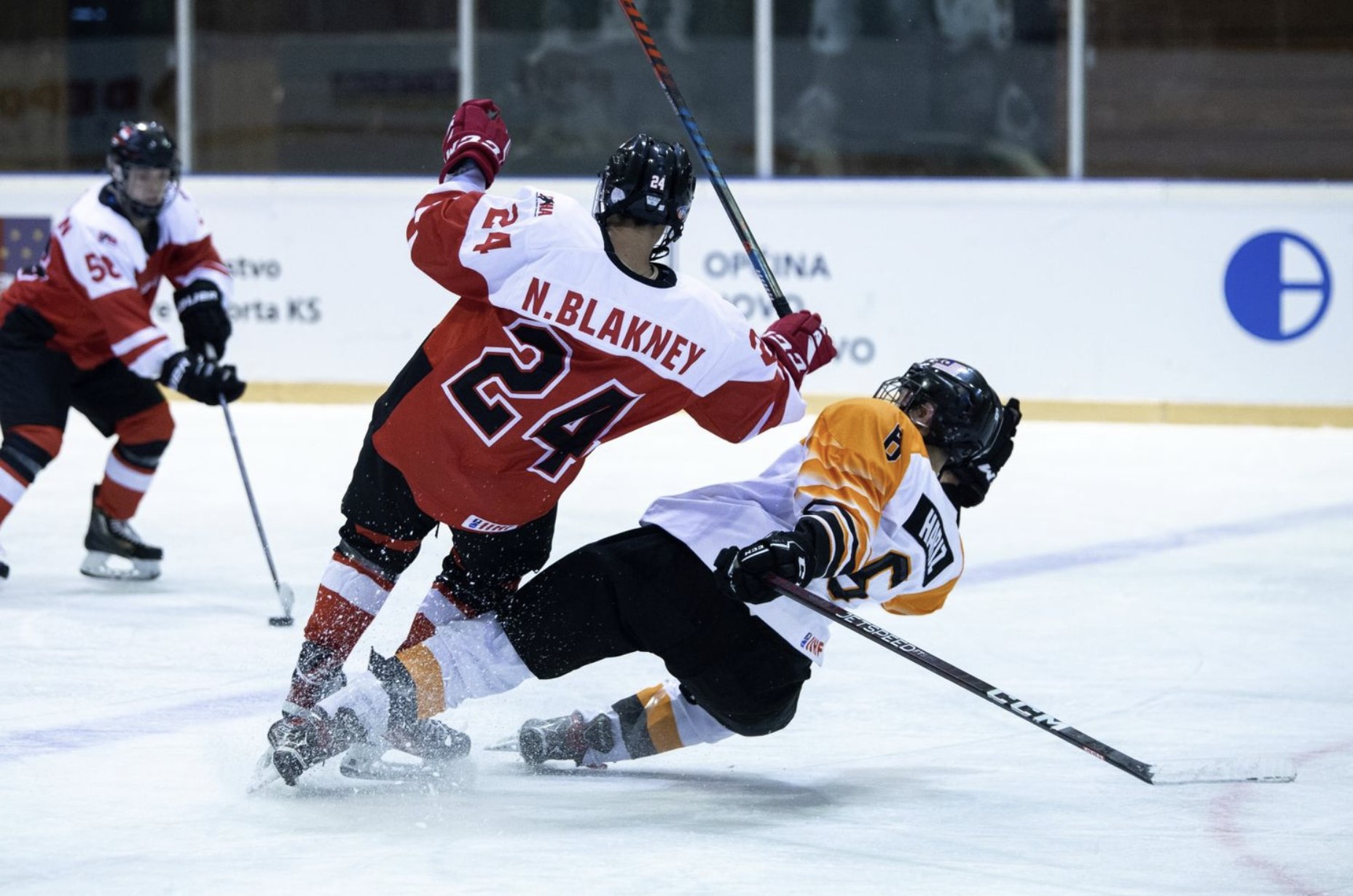 TeamSG Forward Noah Blakney being challenged by opposing Malaysian player in Sarajevo 2023. Photo Credit : IIHF