TeamSG will meet Thailand after 13-2 defeat by Estonia, at the 2020 IFF Men's Floorball World Championship!
by Circle Stories, on December 6, 2021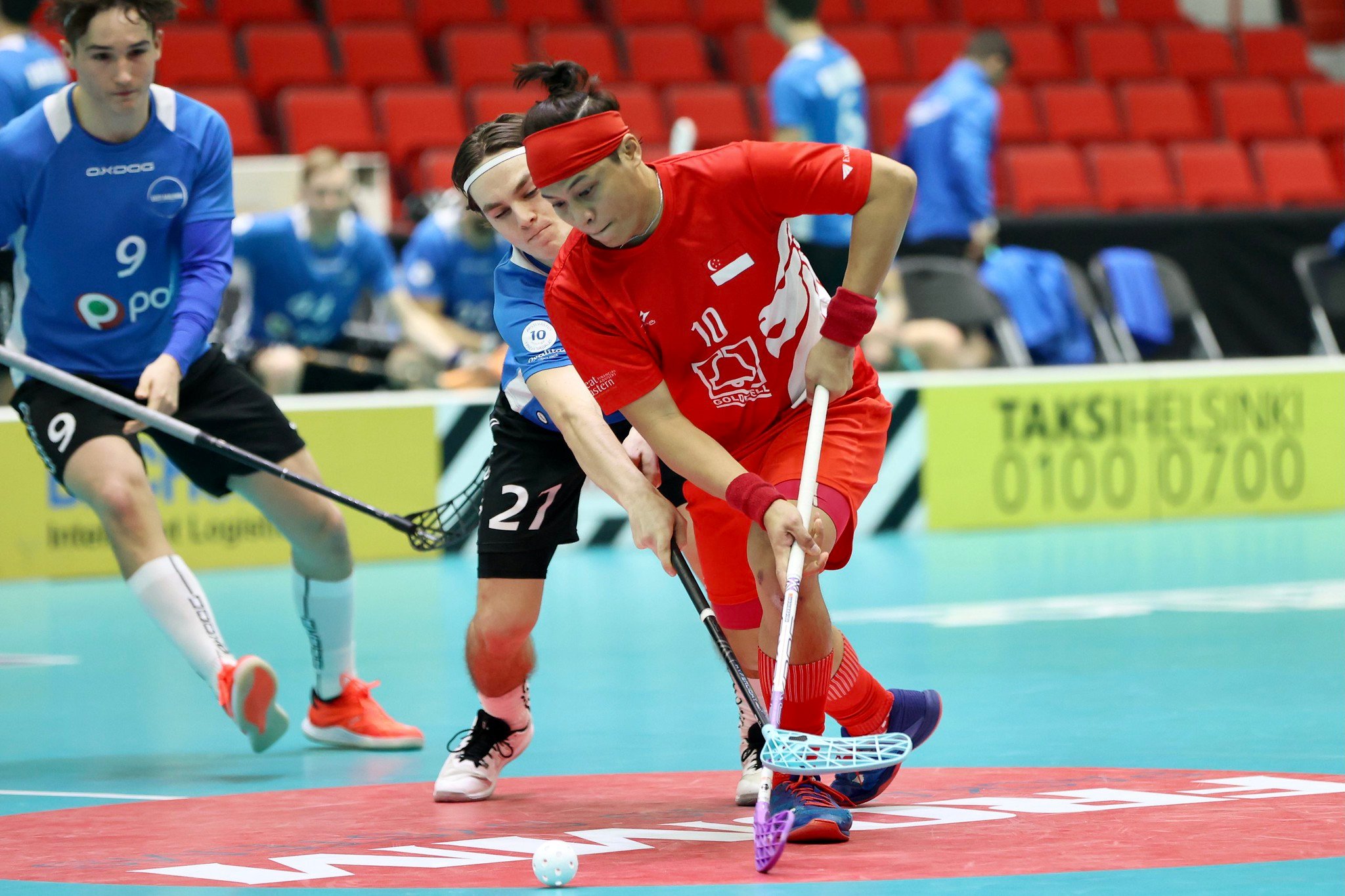 (TeamSG's Jenmark Sorreda with the ball. Photo Credit : WTT)
By Gracia Sengutuvan
Team Singapore met the formidable Estonians in their last match in the Group D stage of the 2020 Men's World Championships in Finland. The Estonians had already established themselves with huge victories in their earlier matches against the Philippines (13-6) and Canada (21-4) while Singapore had lost to both those teams, 9-4 and 9-8 respectively. The expectations for the Estonians to top the Group though, were realized at the end of the game (6 Dec) as they defeated the Republic, 13-2.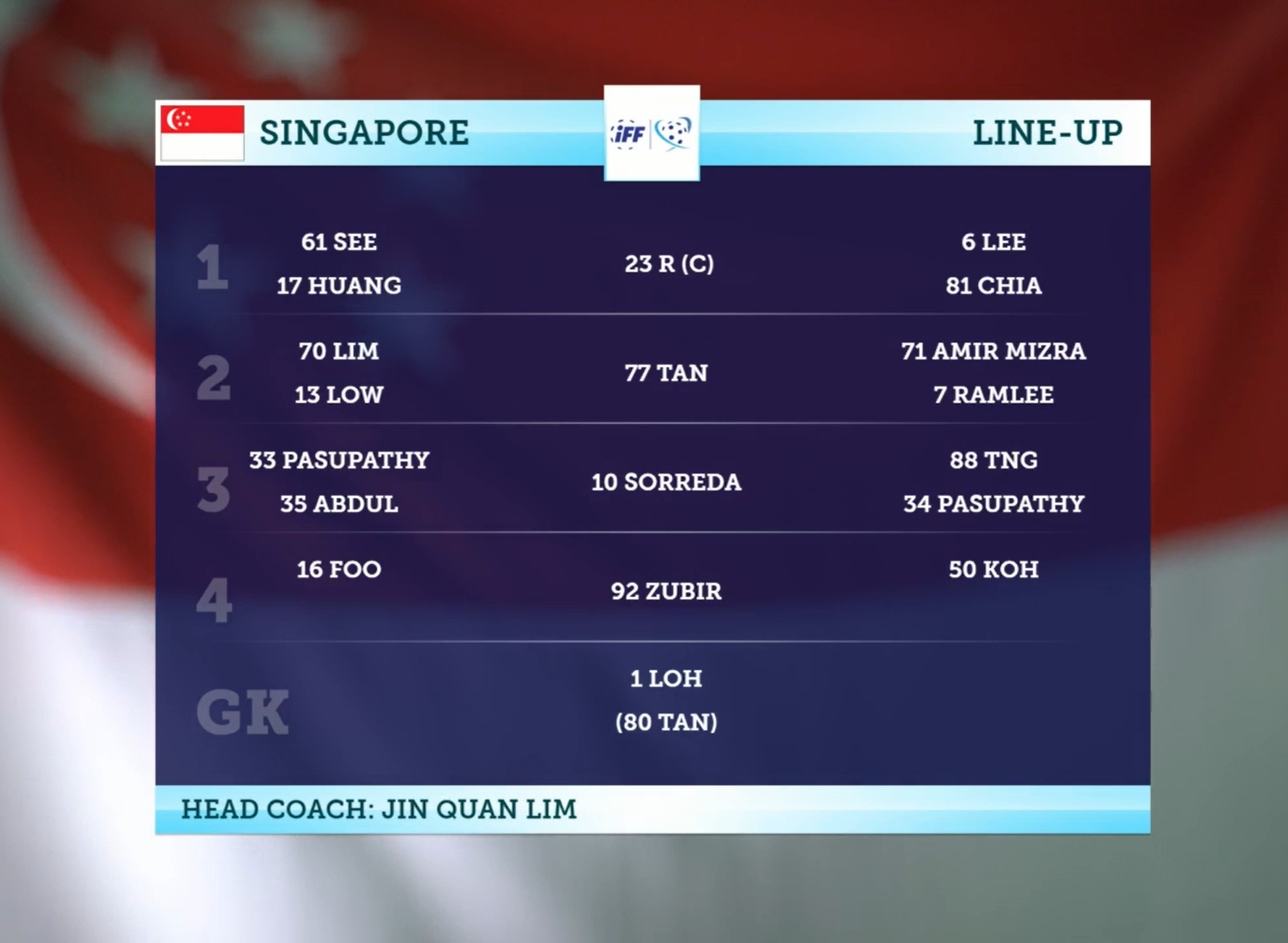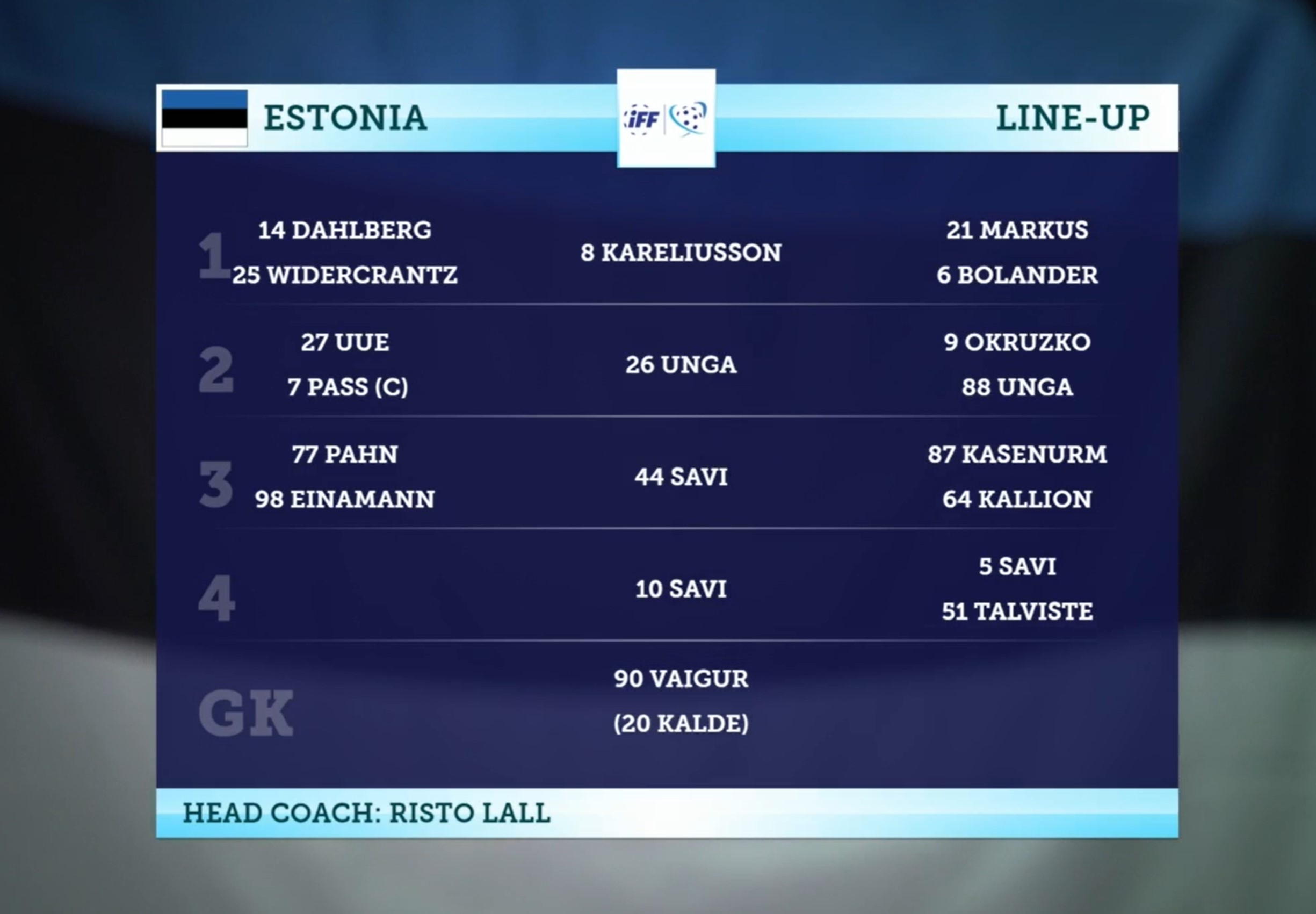 The game was quickly lopsided as the Estonians started casually attacking from the get-go. Entry into the scoring sheet began with the Estonian captain, Roman Pass, who was at his 100th cap. 75 seconds since the start, a simple board pass from Artur Okruzko to Roman, who blasted his shot from 8 metres out, leaving no chance for SGP's custodian Joshua Loh to save. 1-0 to EST.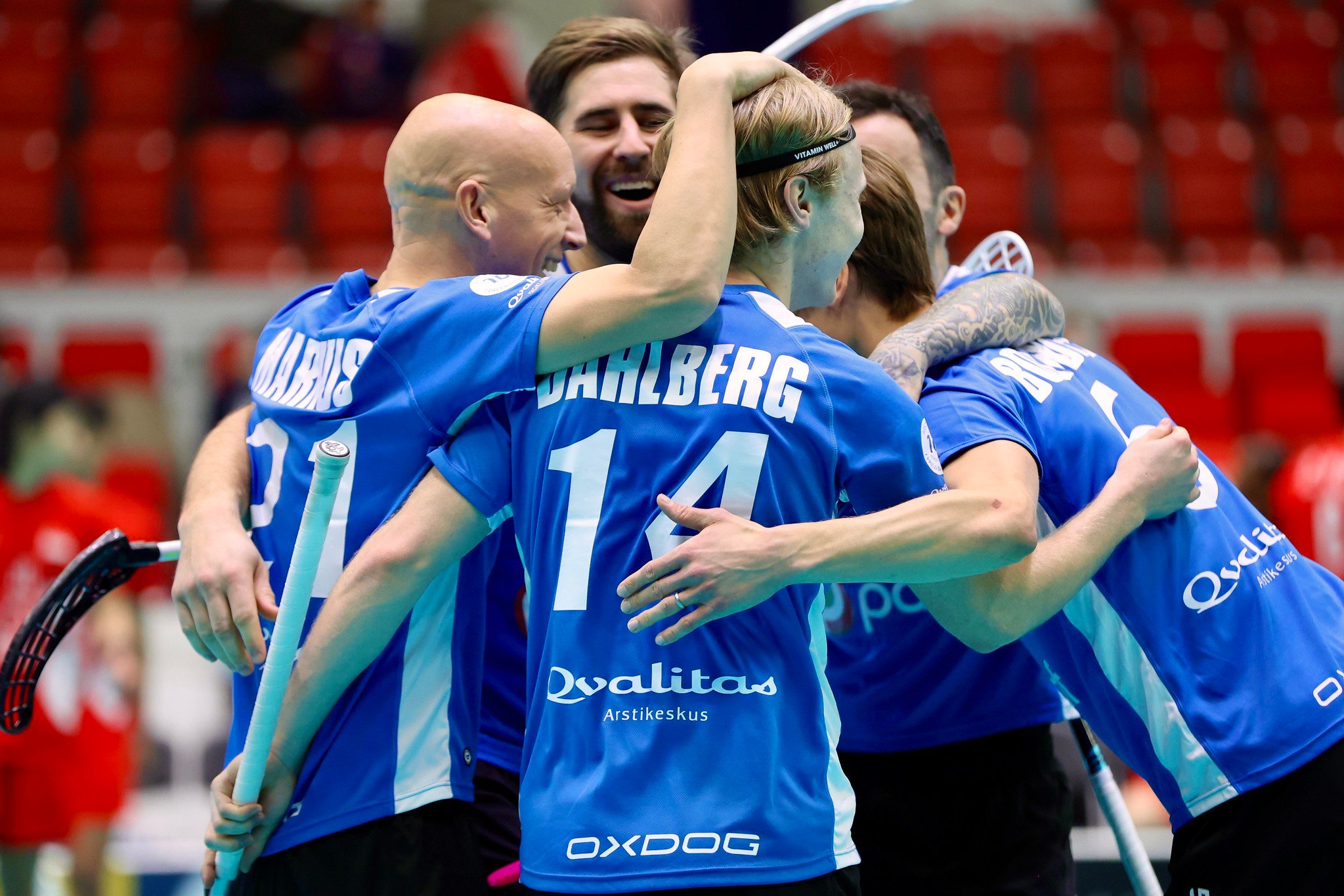 (Team Estonia celebrate. Photo Credit : WTT)
The Republic was not making it easy for the Estonians, as they attempted clever play-ups but were unable to finish them favourably.
5th minute- Singapore's Lee Chee Yong had a breakaway situation with the ball and placed a shot right on goal, but was blocked by the Estonian keeper, Daniel Vaigur's helmet. Estonia, within seconds, responded. A beautiful behind-the-back pass by Kermo Uue to Egert Unga, who was positioned at the blindside of Team SG's defence, tapped it in. 2-0 to Estonia!
(TeamSG's Lee Chee Yong with a goal attempt. Photo Credit : WTT)
Team SG once again showed their discipline in their defense, led by Sean Huang, which kept Estonia at bay.
13:45- A delightful play-piece was set up by Singapore at a hit-in in Estonia's half. Chee Yong took a turn-drag shot setting up a completely vacant R Suria for the rebound. Unfortunately, it did not go in as Vaigur's super reflexes caught the ball.
14.46- Estonia's Patrik Markus picked up a loose ball from a 50-50 tussle and made a long pass to Patrik Kareliusson. Despite the Singaporean defenders' attempt to block by throwing their bodies into the line of shot, the Estonian managed to get the ball into the net.3-0! 4 minutes later, Estonia's no.9, Okruzko, went in for a long-range shot, that he perfectly nailed and made it 4-0. TeamSG made a few more counterattacks in the remaining time in the first period, but that did not bear any fruit.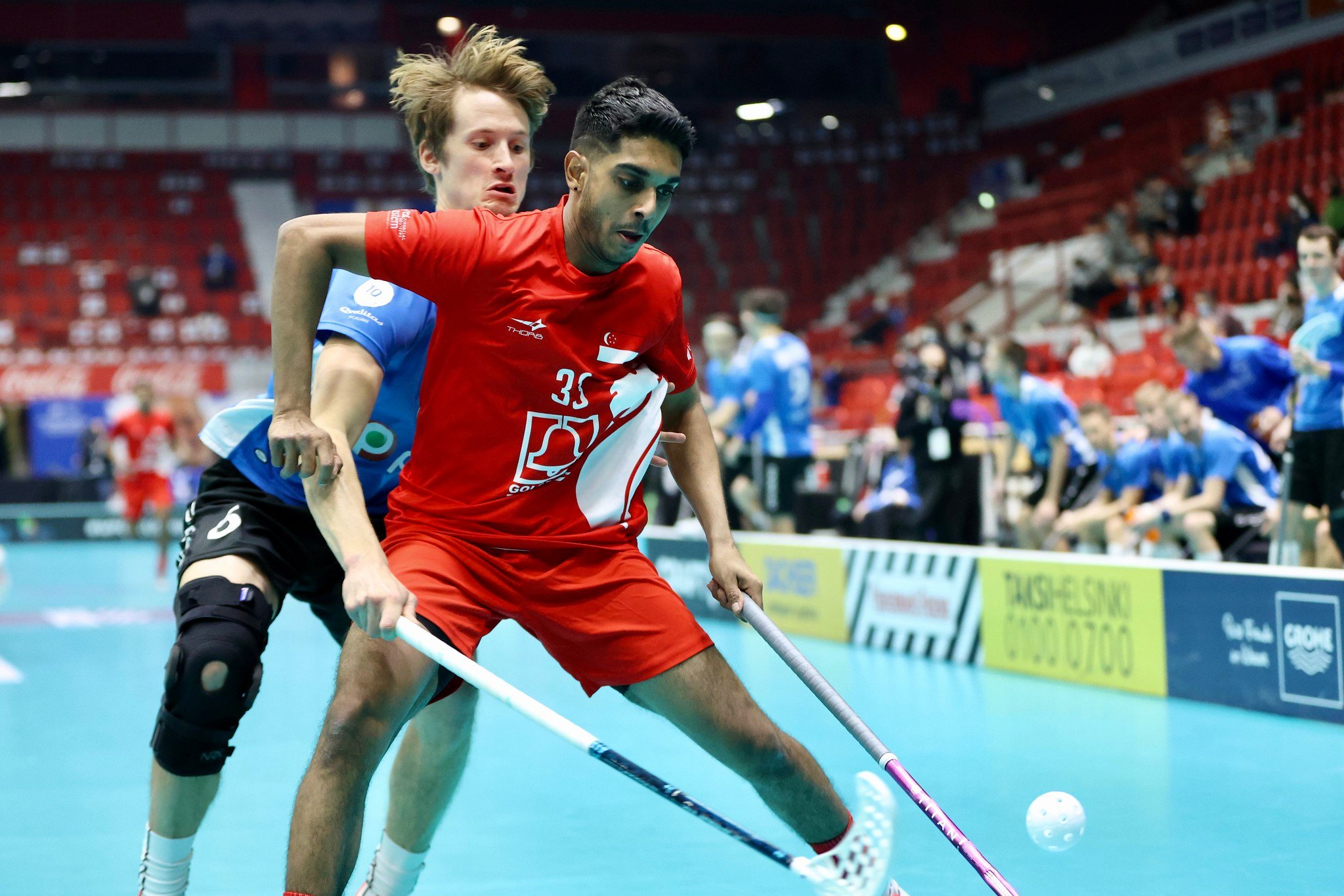 (TeamSG's Vignesa Pasupathy. Photo Credit : WTT)
The 2nd period opened the way it ended with the 1st as the Estonians were relentless in front of goal! Only 19 seconds from the start, Estonia's Markus sent the ball into the Singaporean's blindside for Kareliusson to lightly tap it in. Kareliusson celebrated the goal with a tip of his imaginary hat to Markus. This widened the gap to 5-0.
23.52: A fantastic save by Team SG's goalkeeper, Jared Tan, as he leaped to the blindside to prevent another goal for the Estonians.
Having gathered some momentum, the Republic ventured forward to create more offensive play ups.27th minute- Free hit for the Republic in Estonian's half. A drag-shot-turned goal entered Thaddeus Tan into the scoresheet for the first time in this game. 5-1!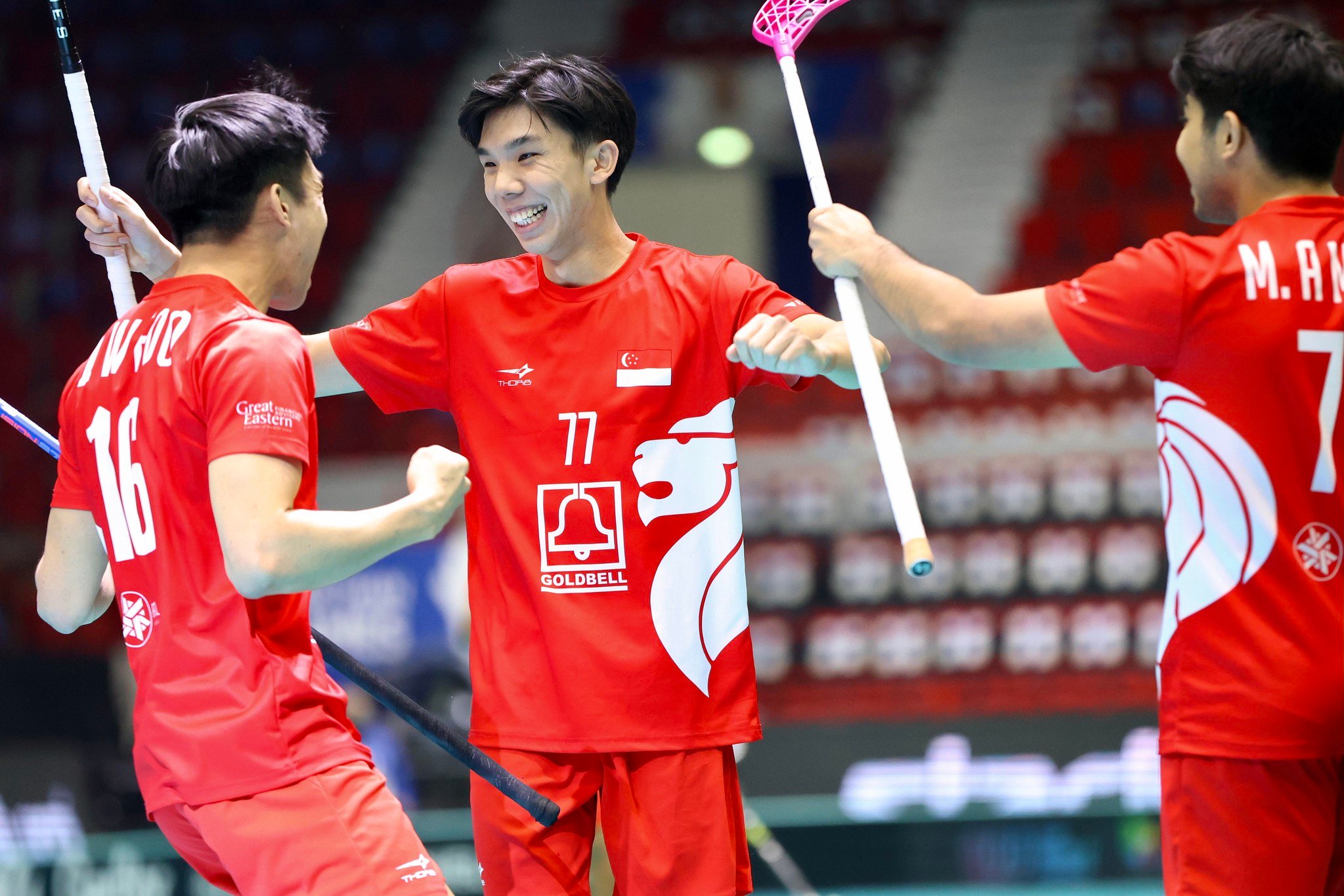 (TeamSG's Vice Captain Thaddeus Tan scores. Photo Credit : WTT)
30th minute- Singapore were awarded a 2-minute penalty for incorrect pushing and entered a disadvantage. 24 seconds in, Estonia's Captain Pass delivered a cross-court ball to Alexander Dahlberg to widen the gap to 6-1.
37th minute- Team SG, once again, overzealous in their attempt to attack committed a foul, and were a man down for 2 minutes. Estonia replicated their earlier play-up during power-play, but this time with Kareliusson and Markus. They managed to replicate the results as well and earned Estonia a 7-1 lead, to head to the break at the end of the 2nd period.
(Team Estonia celebrate. Photo Credit : WTT)
The 3rd and final period began with solid defending from Singapore. However, that was soon chipped away by Estonia.
43.09- Singapore's Jeremy Chia's dibble was swiftly intercepted by Rasmus Bolander, who chose not to pass to Markus, but to go in for the goal himself and made it 8-1. Less than 2 mins later, Kareliusson drew all the defenders and goal keepers' attention to himself, before he relayed a simple pass to Bolander for an almost open goal, 9-1!
Singapore did not waver and fought bravely despite the scoreboard, and they were rewarded for that.
46:24- Another hit-in for Singapore at Estonia's half. Thaddeus Tan and Foo Jun Wei performed a one-two pass before sending the ball past the barely tested Estonian goalkeeper. 9-2!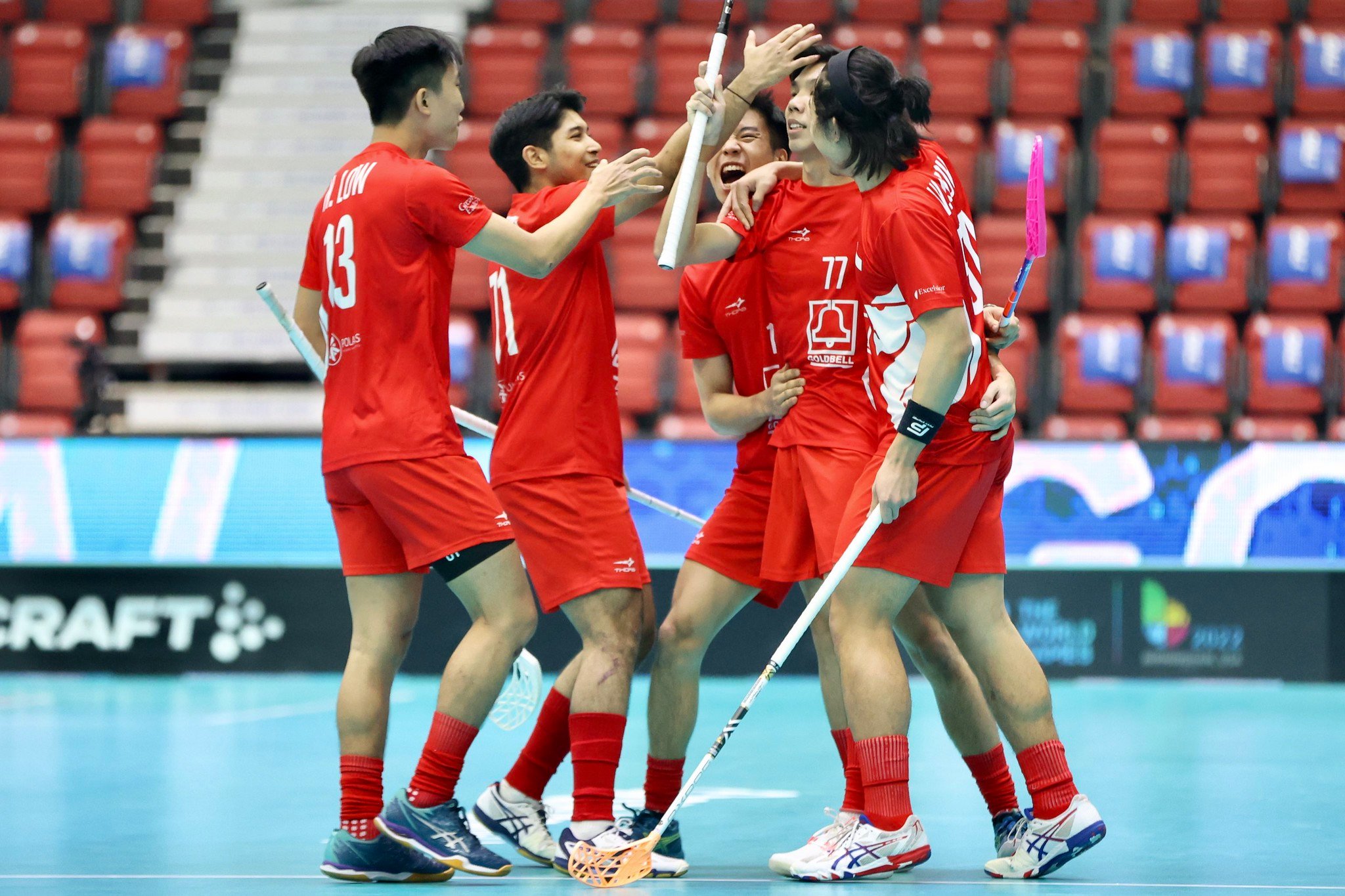 (TeamSG celebrate 2nd goal. Photo Credit : WTT)
Barely 30 seconds following Thaddeus' goal, Estonia's Dahlberg responded with a goal through a loose ball in front of Singapore's keeper. 10-2!
51.16- Kareliusson was awarded a penalty shot against SGP's goalkeeper Jared Tan for being unfairly pushed in a goal-scoring opportunity. Kareliusson out-dribbled Jared and made it 11-2!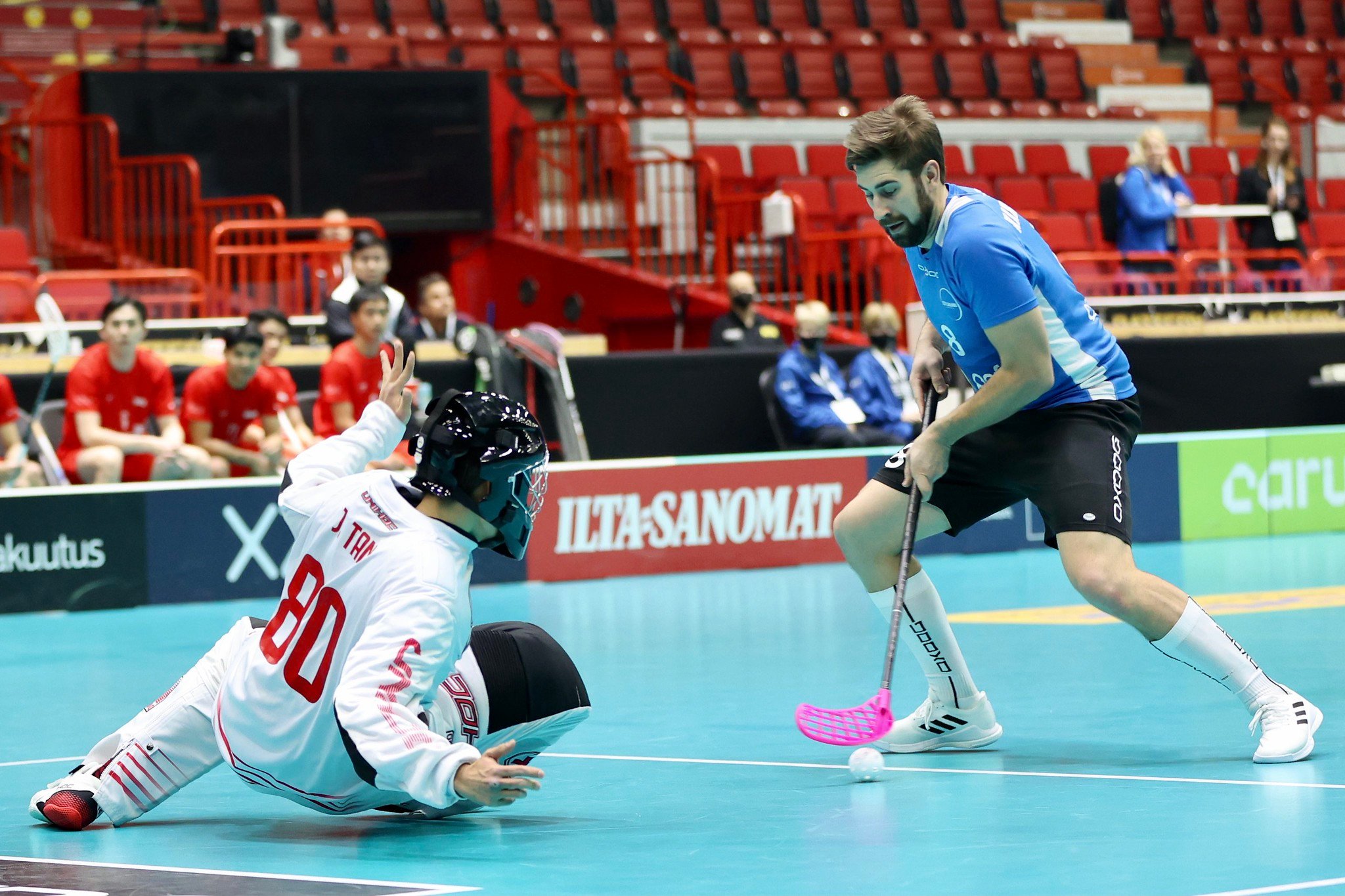 (Estonia's Patrik Kareliusson. Photo Credit : WTT)
Kareliusson proved himself to be a true menace to Singaporeans' defense structure as he proceeded to get a hat-trick in the last period alone by scoring 2 more goals with assists from Markus and Widercrantz respectively. The game concluded at 13-2.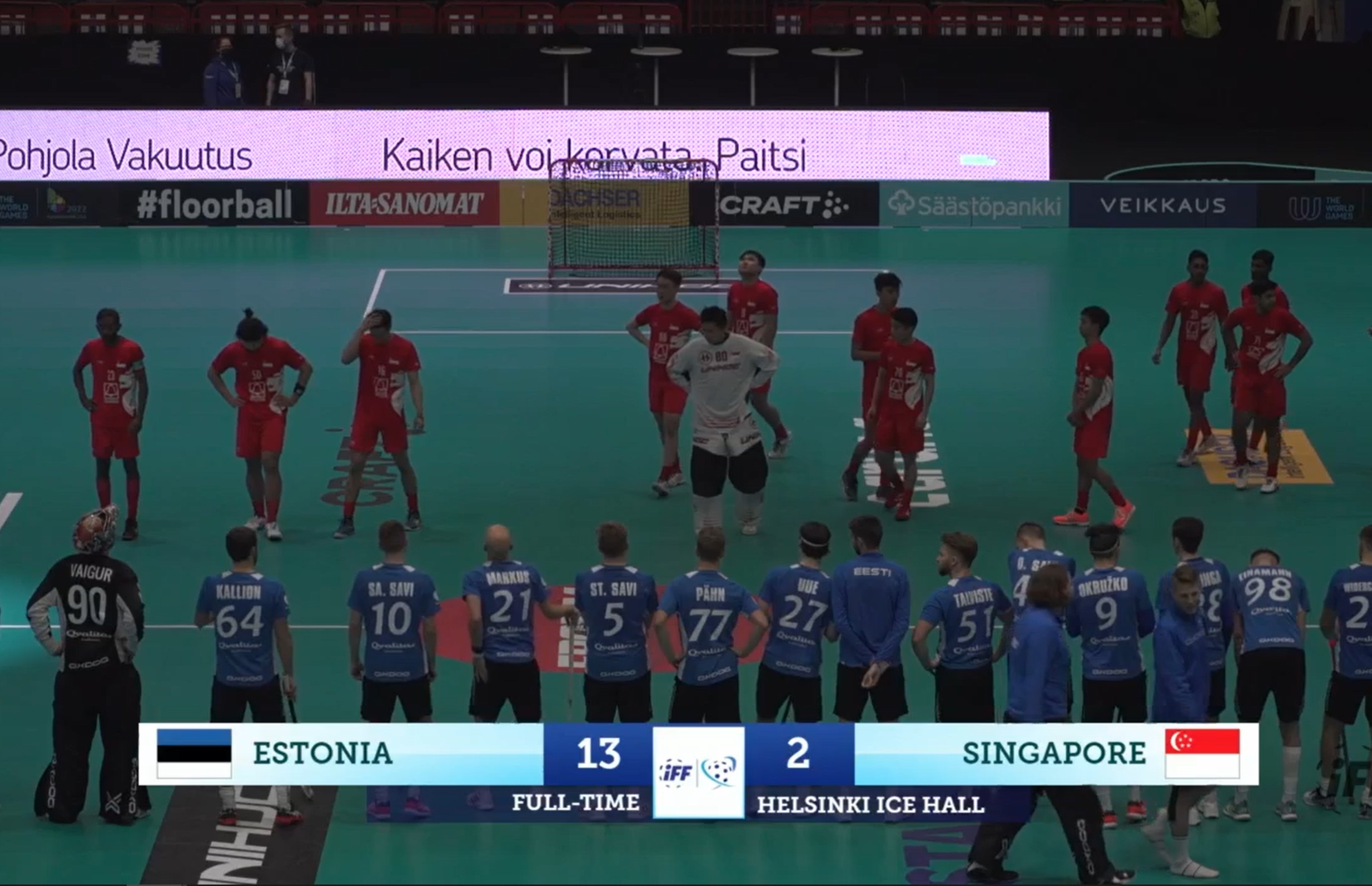 The scoreboard might not accurately reflect the valiant efforts made by Singapore, who used every tool they had in hand to keep the scoreline from widening. TeamSG, with their 3rd straight defeat at this World Champs, will meet Thailand in the Classification Round for a 13th-16th place finish. The game is on Tuesday, December 7th at 11.15 pm (SGP time)
Be sure to show your support and catch the action LIVE and exclusive on the ActiveSG Circle.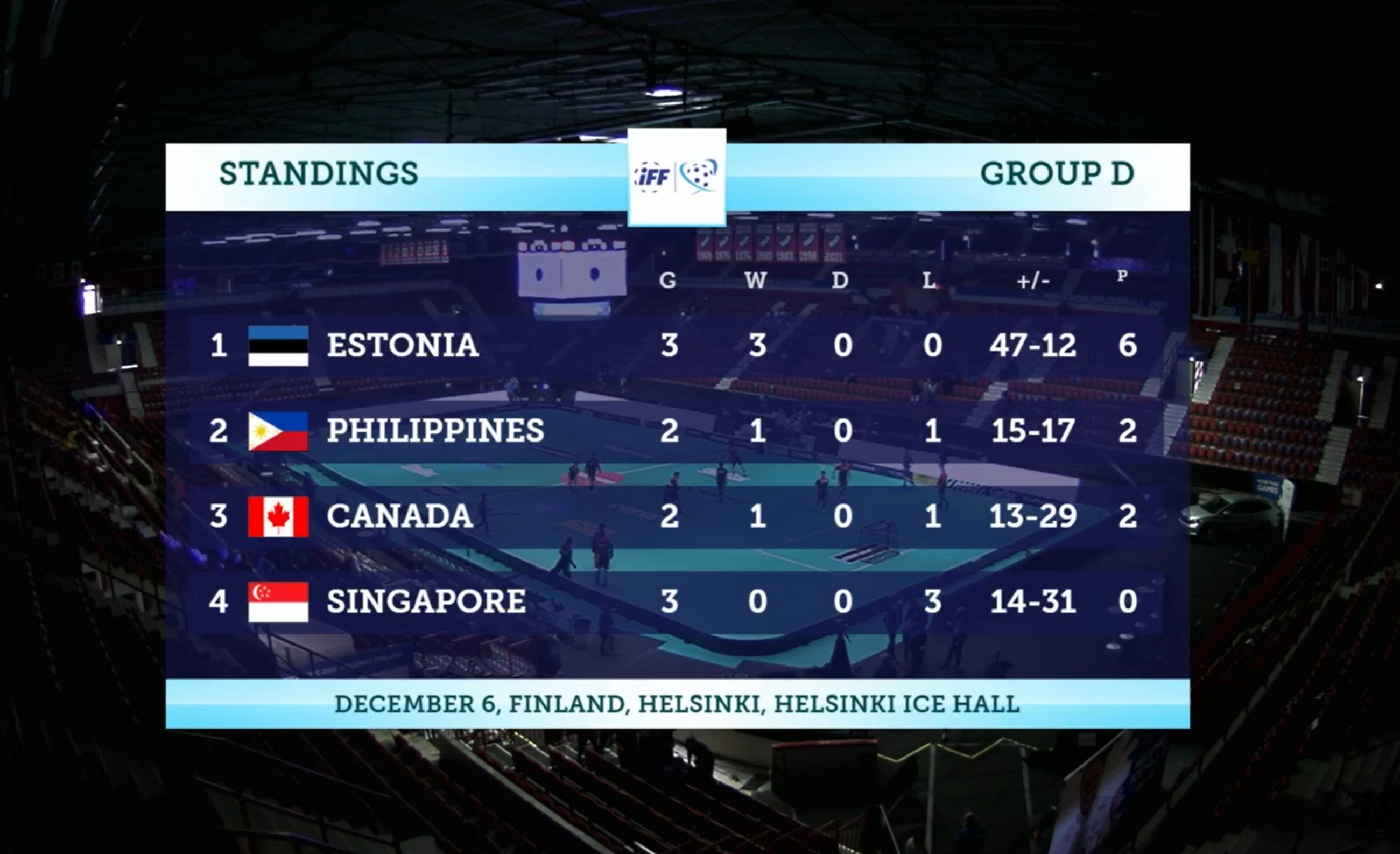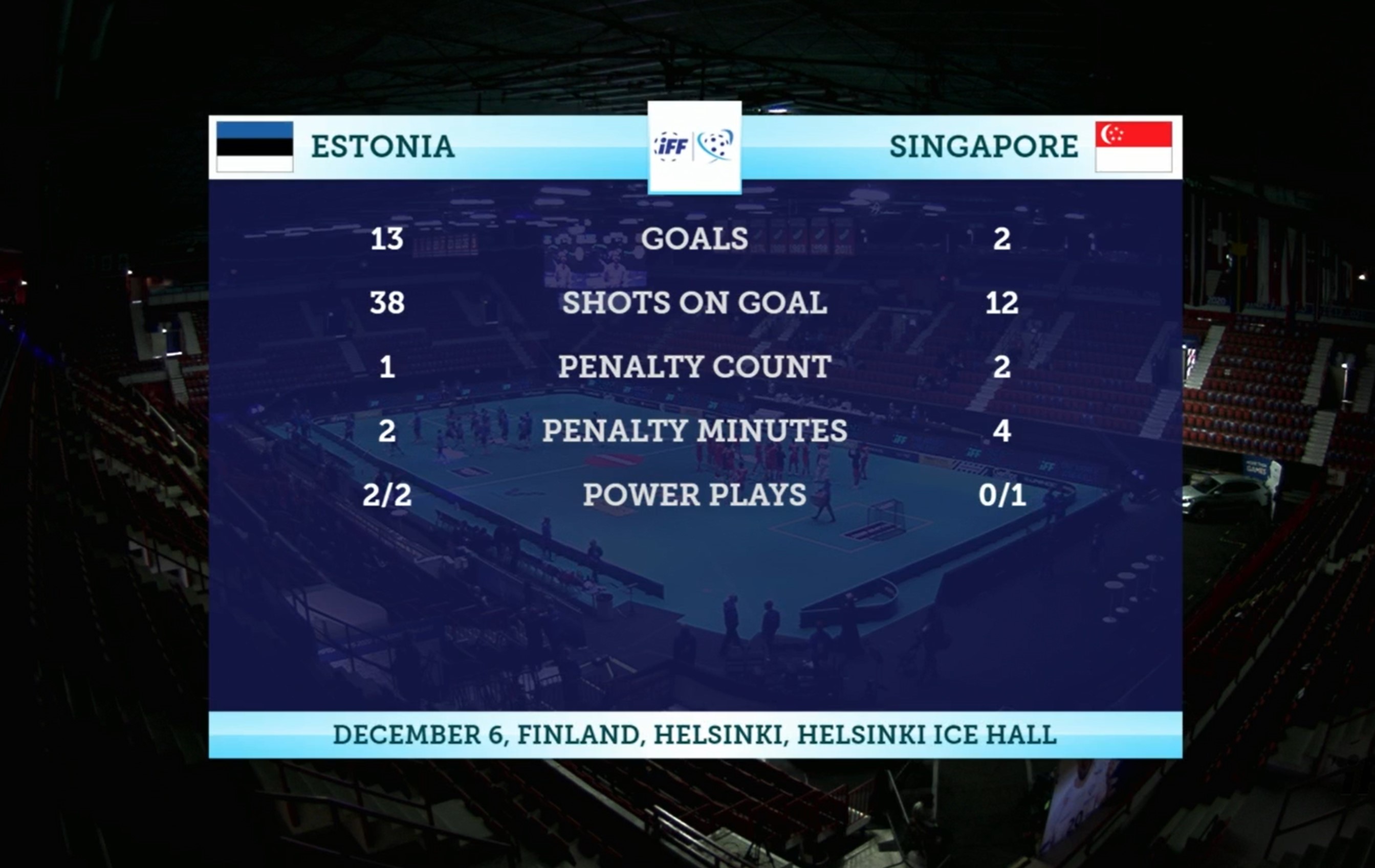 Edited by Raj Kumar
Gracia Sengutuvan was part of Team Singapore's SEA Games Gold medal winning squad in 2015! She's been playing floorball competitively for 13 years. Gracia joined Team U Sports Liitto Floorball Club straight out of secondary school and played for them till she left Singapore in 2019. She enjoys watching the NBA and her favourite player is Steph Curry. She has a good feeling that the Golden State Warriors are going to win the title this year. However, she also had that feeling last year.