TeamSG Equestrienne Caroline Chew : After a journey of 6 years, I'm just weeks away from achieving my Olympic dream!
by Circle Stories, on June 28, 2021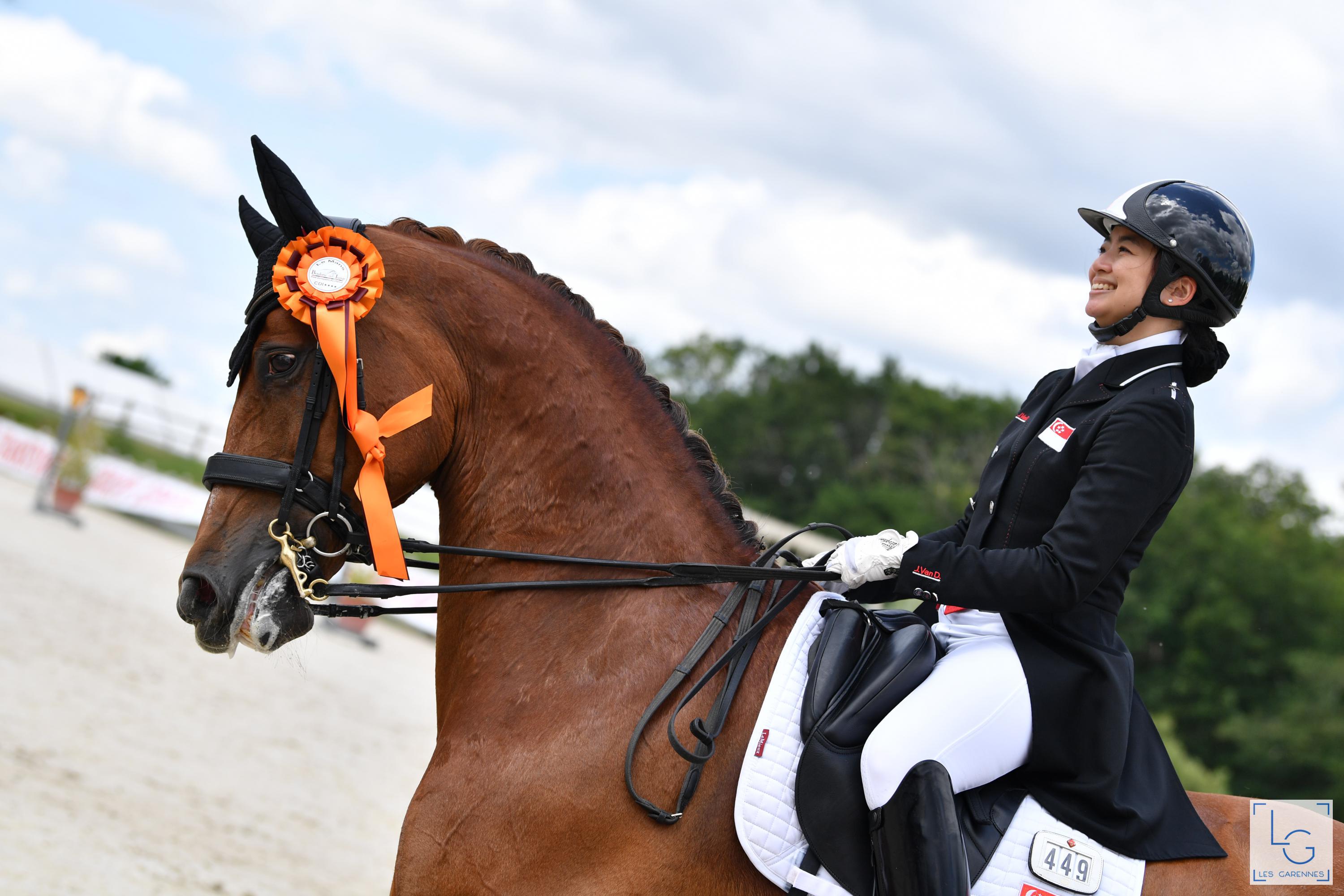 (Caroline Chew at the recent Olympic qualifier in Le Mans, France -Photo by Equestrian Federation of Singapore)
By Raj Kumar
Her mother (Melanie) was a showjumper who later, went on to helm the Equestrian Federation of Singapore from 2007 - 2017. And under her leadership, the sport of equestrian rose to new heights in the Republic, especially with our Team Singapore athletes performing well at international events. Meanwhile, Caroline Chew's older sister Catherine, had gone on to compete at 2 Asian Games and 5 SEA Games competitions. And in the process, she won Gold and Silver medals regionally.
As for Caroline, her career achievements include Silver and Bronze medals at 4 SEA Games outings (2007 , 2013-17), plus an appearance at the Asian Games and World Equestrian Games in 2018. And since then, it's been a pretty quiet affair for the 29 year old lawyer, who's presently based in London. With Covid-19 wreaking havoc globally in 2020, Caroline returned to Singapore for 10 months, to be with her family. She thought that her path to the Tokyo Olympics was already over and done for! That was until she received an invitation (at the start on June 2021) to France to compete in a last-minute qualifier.
With her last Major Games event taking place in 2018 and having already missed out on the SEA Games a year later (Equestrian was not featured in Manila 2019), Caroline was not about to let this qualifier in Le Mans, disappear from her hands as well.
So with less than 2 weeks to prepare, how did she go on to secure a Personal Best Score and also book her ticket to Tokyo? For those riveting details and much more, catch Caroline in a special 2-part Zoom call interview, which took place from her London residence on 28 June.
(PART 1 - Raj Kumar interviewed Caroline on 28 June)
(PART 2 - Raj Kumar interviewed Caroline on 28 June)
The 32nd edition of the Olympic Games will begin on 23 July 2021.
For all coverage and news of the Republic's national athletes who'll be competing at the Games, check out the official Team Singapore website.
Raj Kumar's been in Singapore's sports reporting and broadcasting scene since 1997. He was the former Sports Editor and Presenter on Power 98FM (SAFRA Radio) and 938LIVE (Mediacorp Radio). Over the years, he travelled to report on Team Singapore at the 2008 Beijing Olympics and 2012 London Olympiad, including 4 SEA Games cities. As a familiar voice and face on Radio, TV and online sports, he has produced and hosted more than 650 talkshows and programmes.