TeamSG's Izaac Quek Delivers Tough Fight against World No 3, Before Singapore Smash Exit!
by Circle, on March 16, 2023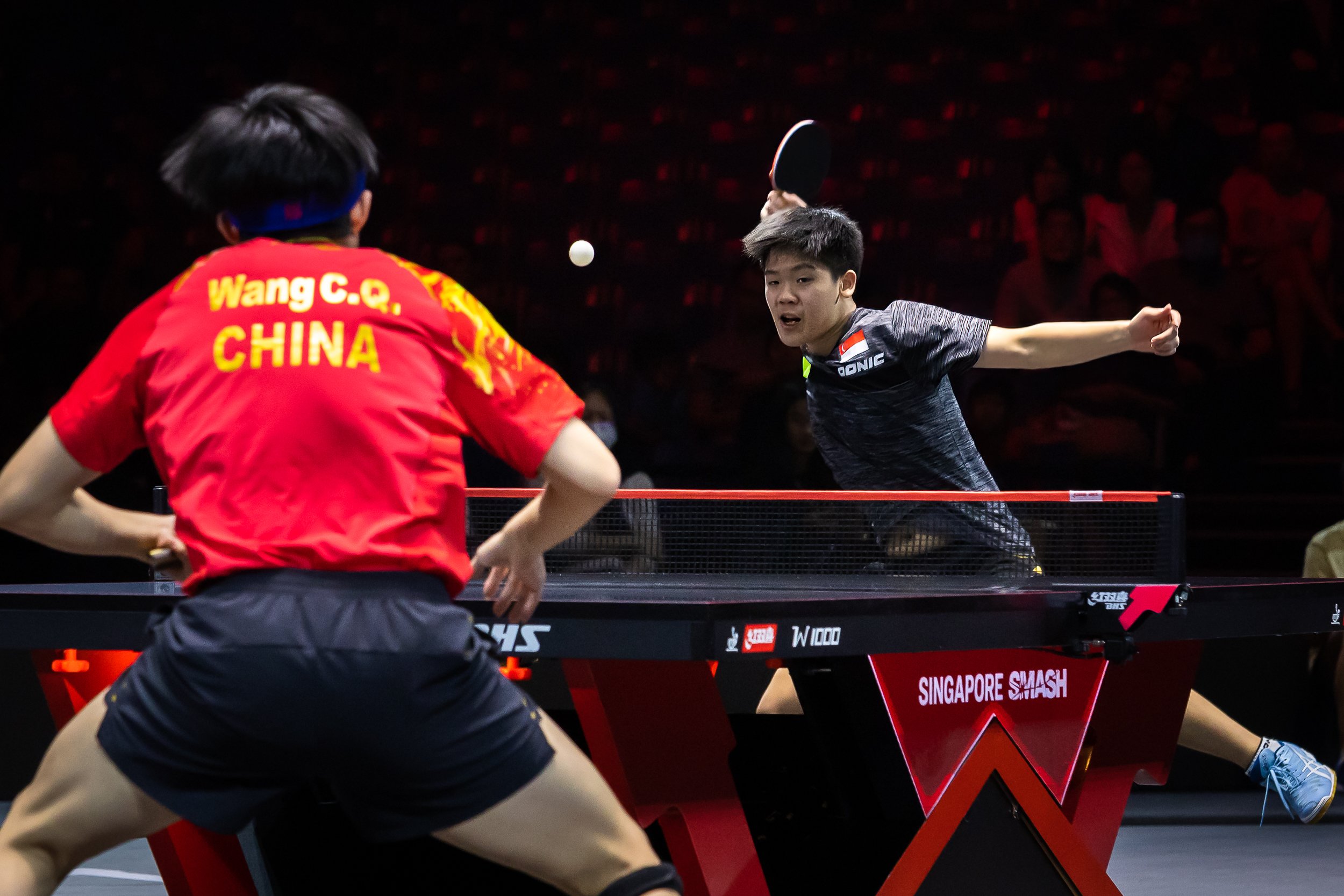 TeamSG's Izaac Quek vs Wang Chuqin (CHN) at Singapore Smash 2023. Photo Credit : Team Nila Content Producer, Ron Low
By Pearlyn Koh


Loud cheers flooded the Infinity Arena on Wednesday (15 March) evening, as local supporters gathered to cheer on TeamSG'S Izaac Quek, hoping he could cause a 3rd upset at Singapore Smash 2023! In the runup to the round of 16, the local teenager overcame 2 higher-ranked players - world number 51 Sharath Kamal Achanta of India, and world number 36 Mattias Falck of Sweden.
In the 3rd round though, the world number 241-ranked player was to meet 22 year old Wang Chuqin, the current world number 3, who's touted as one of China's brightest stars in the making. The talented Chinese star was the winner of the 2018 Youth Olympic Games, and also scored a gold medal in the Men's doubles event, at the 2019 World Championships! Enroute to his round of 16 encounter with Izaac, Chuqin defeated Slovak Republic's Wang Yang and Canada's Eugene Wang - both in straight games.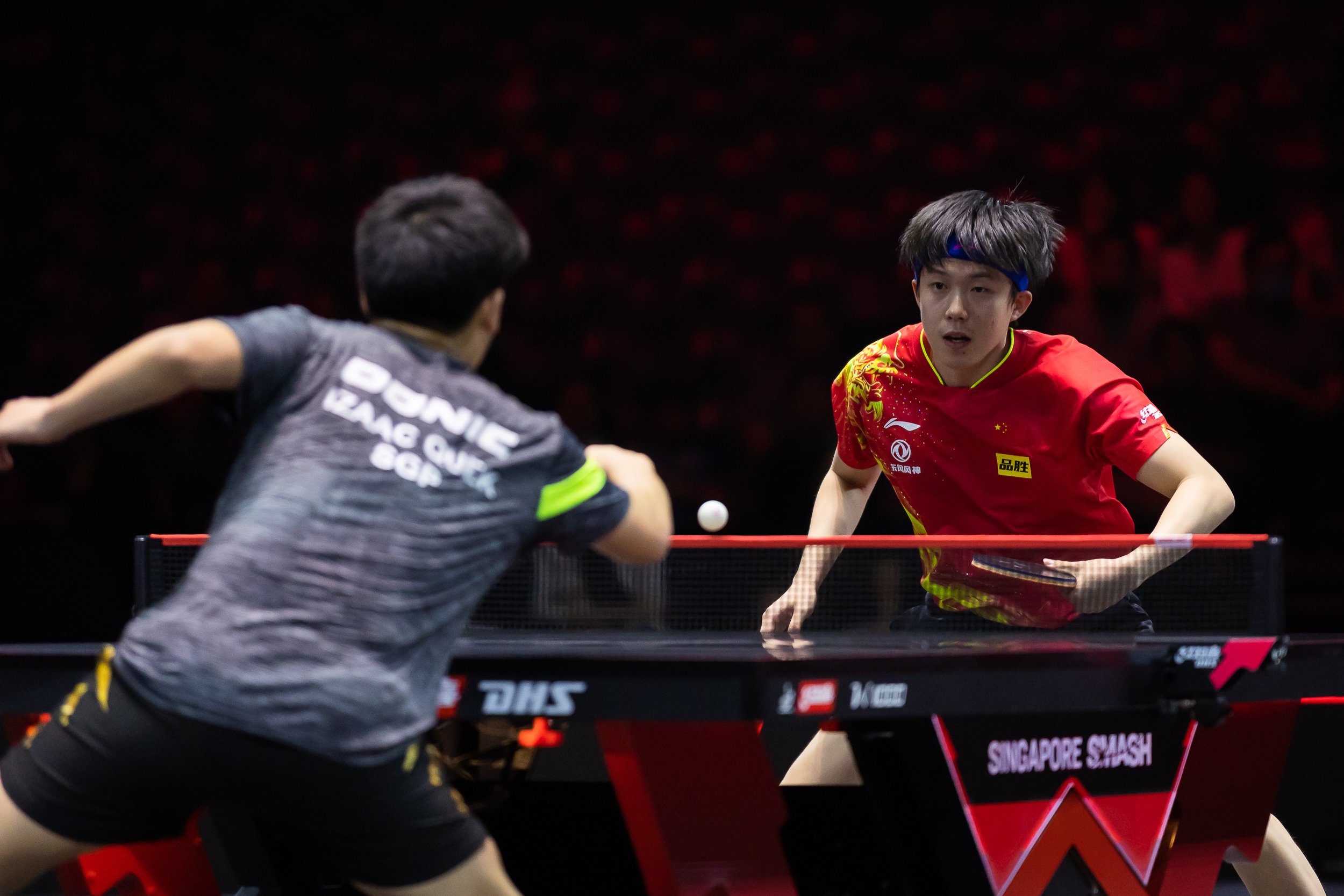 TeamSG's Izaac Quek vs Wang Chuqin (CHN) at Singapore Smash 2023. Photo Credit : Team Nila Content Producer, Ron Low
Playing before such a large home crowd, 16 year old Izaac would have hoped to repeat his success from his previous two matches, but it was ultimately the more experienced Chinese paddler who scored the 3-0 victory at the Infinity Arena in straight games (11-4, 11-6, 11-7)!
Against a local sensation with a strong home crowd supporting him, Chuqin knew he had to be extra focused and get into his game quickly, to prevent the Singaporean from building up his momentum. And so the world no 3 went into Game 1 with three fast and furious backhand shots to quickly exert his dominance and bring himself to a comfortable 3-1 lead. The world champion had a smooth-sailing first game, while the local paddler searched for ways to score points against such a formidable opponent. The Chinese superstar widened his lead to 9-3, before sealing off the first game 11-4!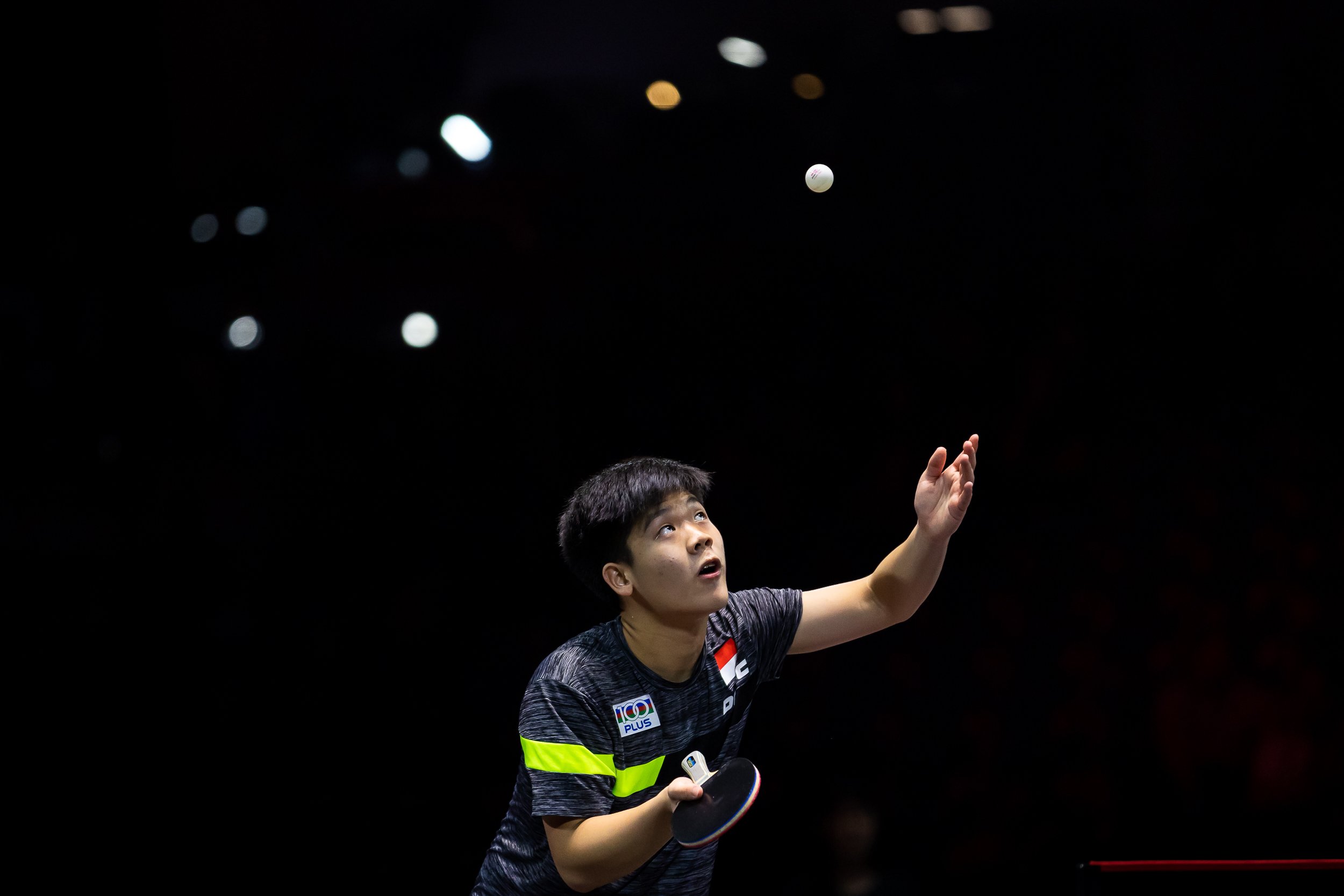 TeamSG's Izaac Quek vs Wang Chuqin (CHN) at Singapore Smash 2023. Photo Credit : Team Nila Content Producer, Ron Low
In Game 2, the TeamSG paddler recognized the need to play more aggressively, in order to stand any chance against the ex-Youth Olympic champion. The 16 year old got off to a good start and managed to level the points at 2 apiece with his strong and decisive receives. But in an attempt to play more aggressively, more unforced errors were made on the Singaporean's end, which enabled Chuqin to once again widen his lead to 8-4. While Izaac clawed back 2 points to narrow his loss, the 22 year old made use of his advantage as a Southpaw to execute a new service, which caught Izaac off-guard. And Chuqin took the next 3 points on offer, to claim the second game 11-6!
Down by 2 games, the local teenager appeared more relaxed as he entered the third game. The young table tennis star was unafraid of executing a series of fast topspin rallies which helped him take his first-ever lead of the match, 2-1! But his lead was short-lived, as his opponent chased closely and kept the scores tight, all the way to 7-all. Ultimately, the world number 241th player still struggled with the variations of Chuqin's serves, as well as his high-quality returns. And ffter giving his all, Izaac eventually handed the third game to his opponent, 11-7.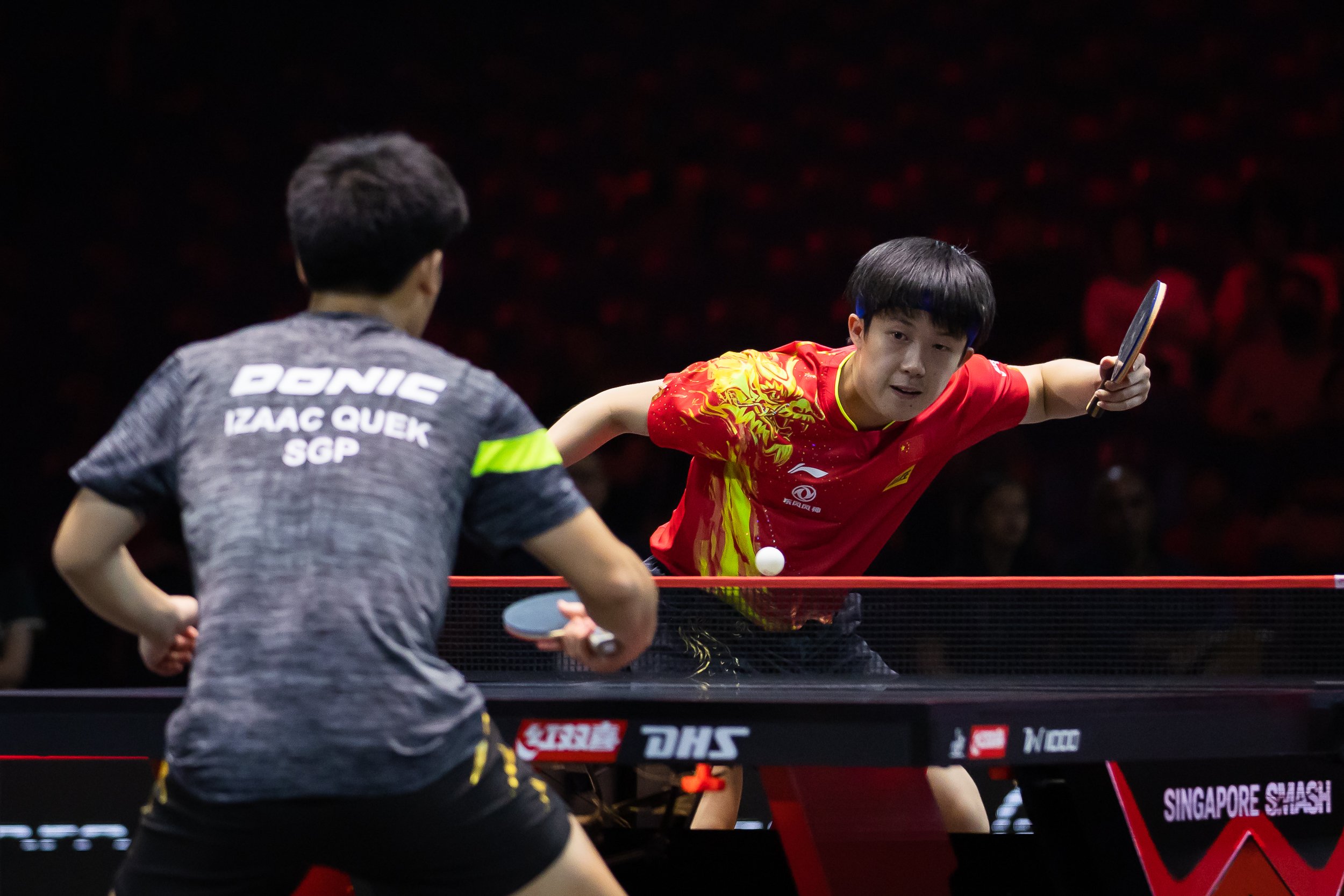 TeamSG's Izaac Quek vs Wang Chuqin (CHN) at Singapore Smash 2023. Photo Credit : Team Nila Content Producer, Ron Low
Being the first-ever Singaporean to reach the round of 16 at the Singapore Smash, Izaac had gained the respect of many players across the globe, including his opponent and world number 3 Wang Chuqin.
"I think Izaac is quite a talented player because despite being just 16, he has already caused 2 major upsets at the Singapore Smash. I was very serious about this opponent, and did a lot of preparations against Izaac before our encounter today. Overall, I think I played quite well, and I'm satisfied with my performance today", said the Chinese superstar, following his victory.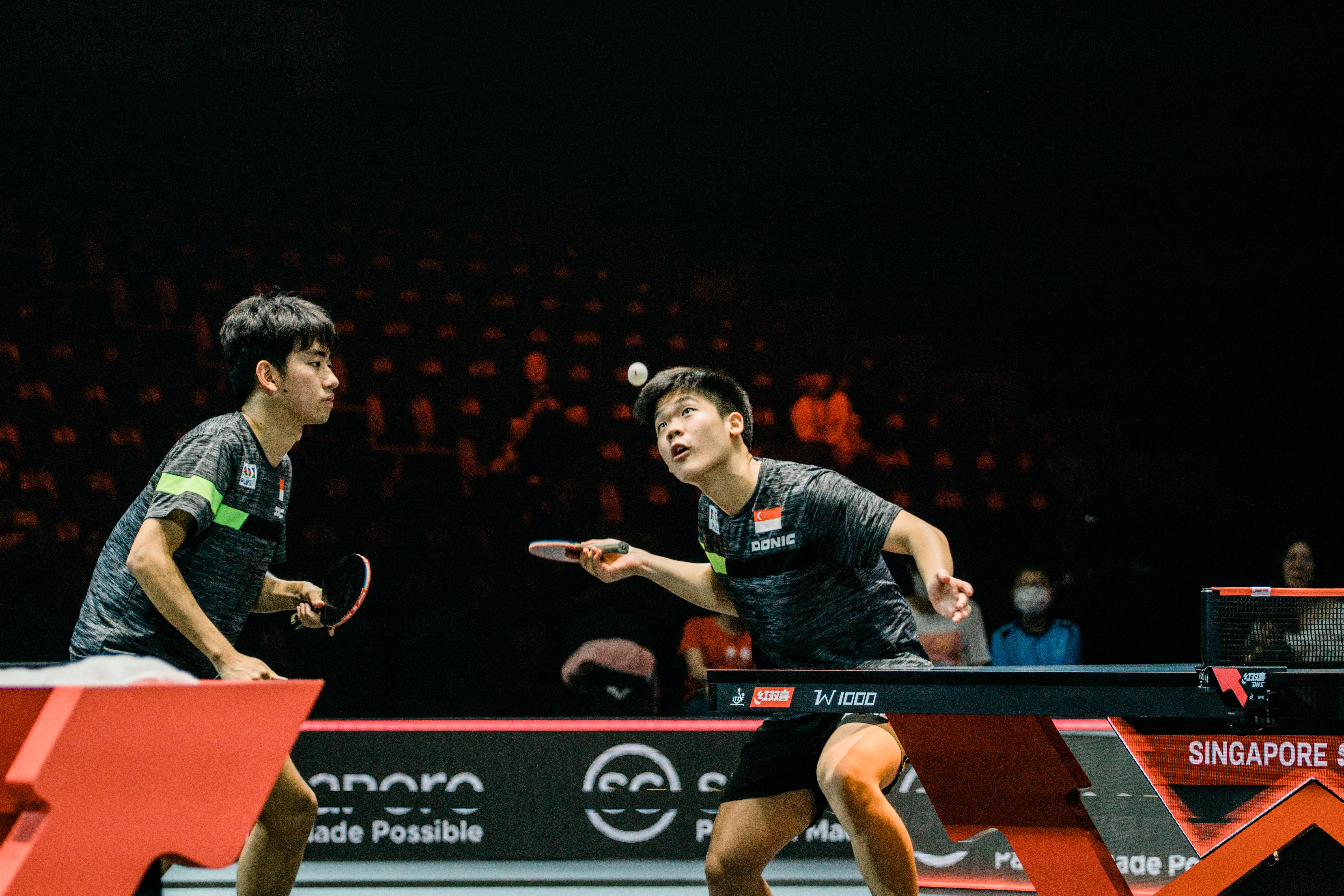 TeamSG's Koen Pang and Izzac Quek at Singapore Smash 2023. Photo Credit : Team Nila Content Producer, James Tai
Earlier in the afternoon's Men's Doubles round of 16 clash, Izaac and Koen Pang fell to reigning Singapore Smash Men's Doubles champions, Fan Zhendong/Wang Chuqin 3-1 (11-4, 11-8, 6-11, 11-6) after a tough fight!
In the first two games, the Singaporean duo found difficulties in returning the well-positioned shots by their Chinese opponents, who seemed to be extremely well-prepared in terms of game strategy and execution. Albeit Izaac and Koen's efforts to control their opponents from taking the upper hand, their efforts were halted as the world number 1 and 3 pairing took the first two games convincingly, 11-4 and 11-8!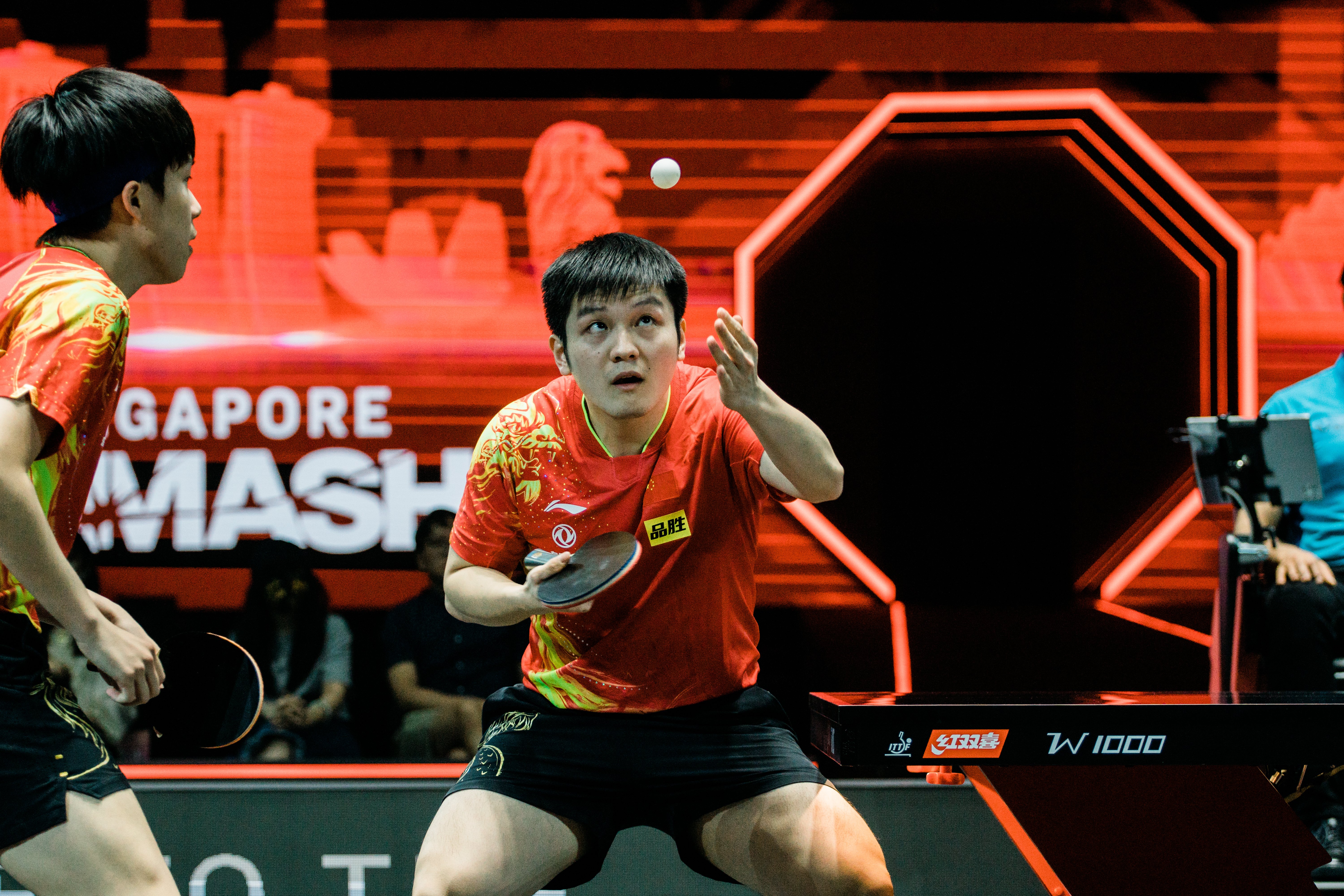 Reigning Singapore Smash Men's Doubles champions, Wang Chuqin & Fan Zhendong. Photo Credit : Team Nila Content Producer, James Tai
Despite trailing 2 games, the local pairing was not ready to give up without a fight. The TeamSG paddlers focused on reducing their unforced errors and capitalized on the mistakes made by their higher-ranked opponents to grab as many points as they could in the third game. The local duo managed to lead 8-4, before sealing off the game 11-6!
In the 4th game, Zhendong and Chuqin knew they had to level up, in order to prevent the match from entering the rubber set. And so, the Chinese duo placed greater emphasis on the quality of their serves and returns, which left the TeamSG paddlers without much options. On most occasions, the local duo found themselves only able to play defensive. The reigning Singapore Smash champions eventually took the 4th game 11-6 to progress into the quarterfinals, where they will next face Lee Sangsu/Anton Kallberg.
Event details
Singapore Smash 2023 at the OCBC Arena, features 64 player men's and women's singles and 24-pair doubles and mixed competitions. A singles qualifying competition featuring a further 64 men and 64 women was held from 7-9 March. And the overall player line-up for the 7-19 March extravaganza is listed here.
Tickets for the the Main draw are available here.
Pearlyn Koh played Table Tennis competitively for 9 years. She represented Team Singapore at several major tournaments, including the 2018 Asian Games and World Table Tennis Championships. In 2019, Pearlyn was also the sole Southeast Asian player to enter the Top 16 at the Asian Junior & Cadet Table Tennis Championships. During her free time, Pearlyn enjoys reading and catching up with her friends. Having retired from the national team in Feb 2023, she's now a Business Ad undergrad at NUS.