TeamSG's SEA Games preps for Track & Field athletes continue in Australia!
by Circle, on March 29, 2023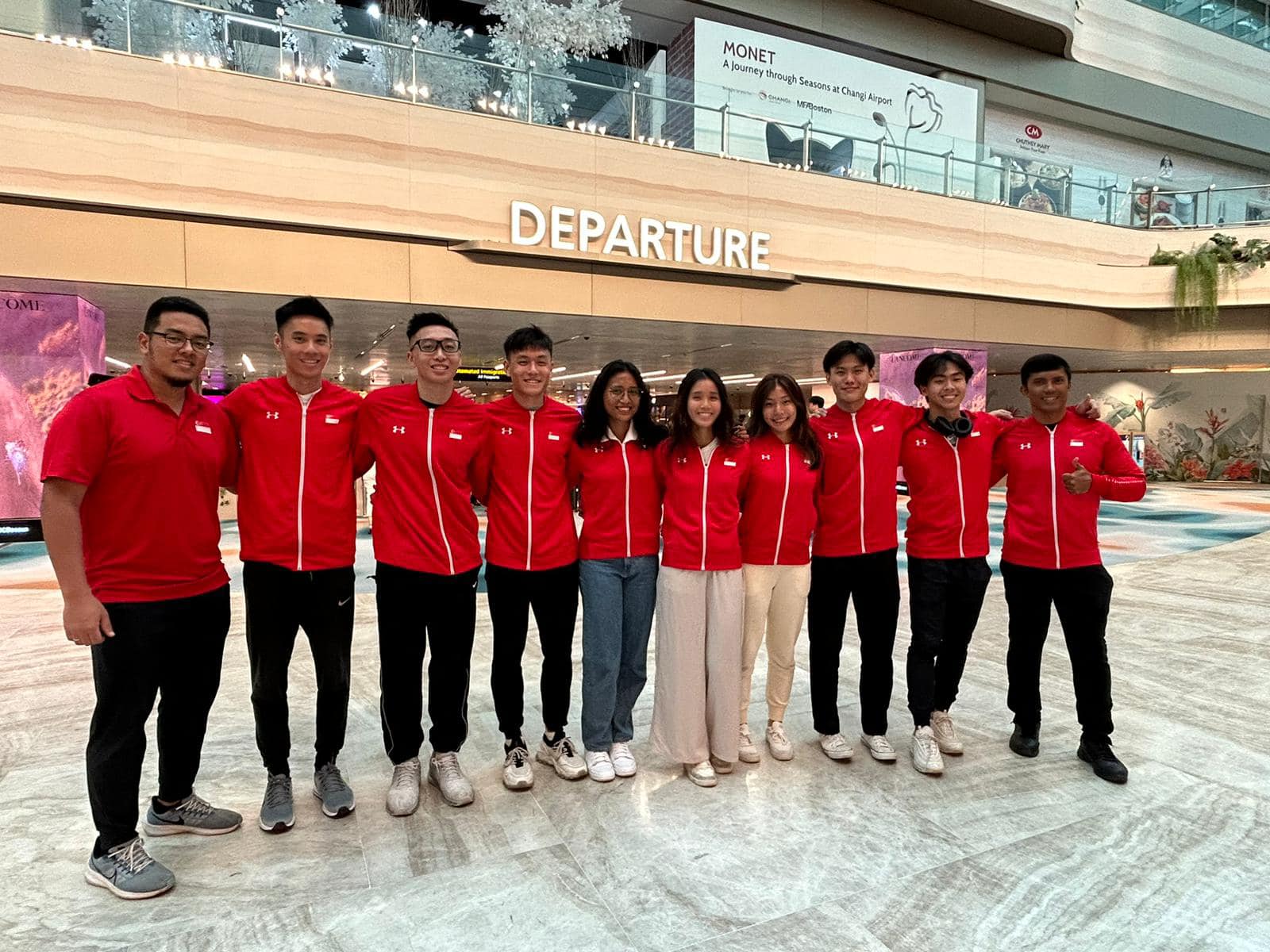 TeamSG athletes to represent the Republic at the Australian Open Track and Field Championships held from 30 March - 2 April. Photo Credit : Singapore Athletics



Singapore's national track and field scene has been buzzing of late, with the achievements of new records being set locally and overseas. They include TeamSG's sprint queen Shanti Pereira and her amazing run in the 200metres final at the Brisbane Classic on 26 March 2023. The 26 year old timed 23.16 seconds to take the bronze medal in Australia and in the process, shaved off 0.3s from her previous national mark! Her timing would have placed her 2nd in the 200m finals of the previous Asian Games in 2018. Shanti also finished 3rd in the 100m final in Brisbane with her time of 11.47secs, just 0.01s off her current national record.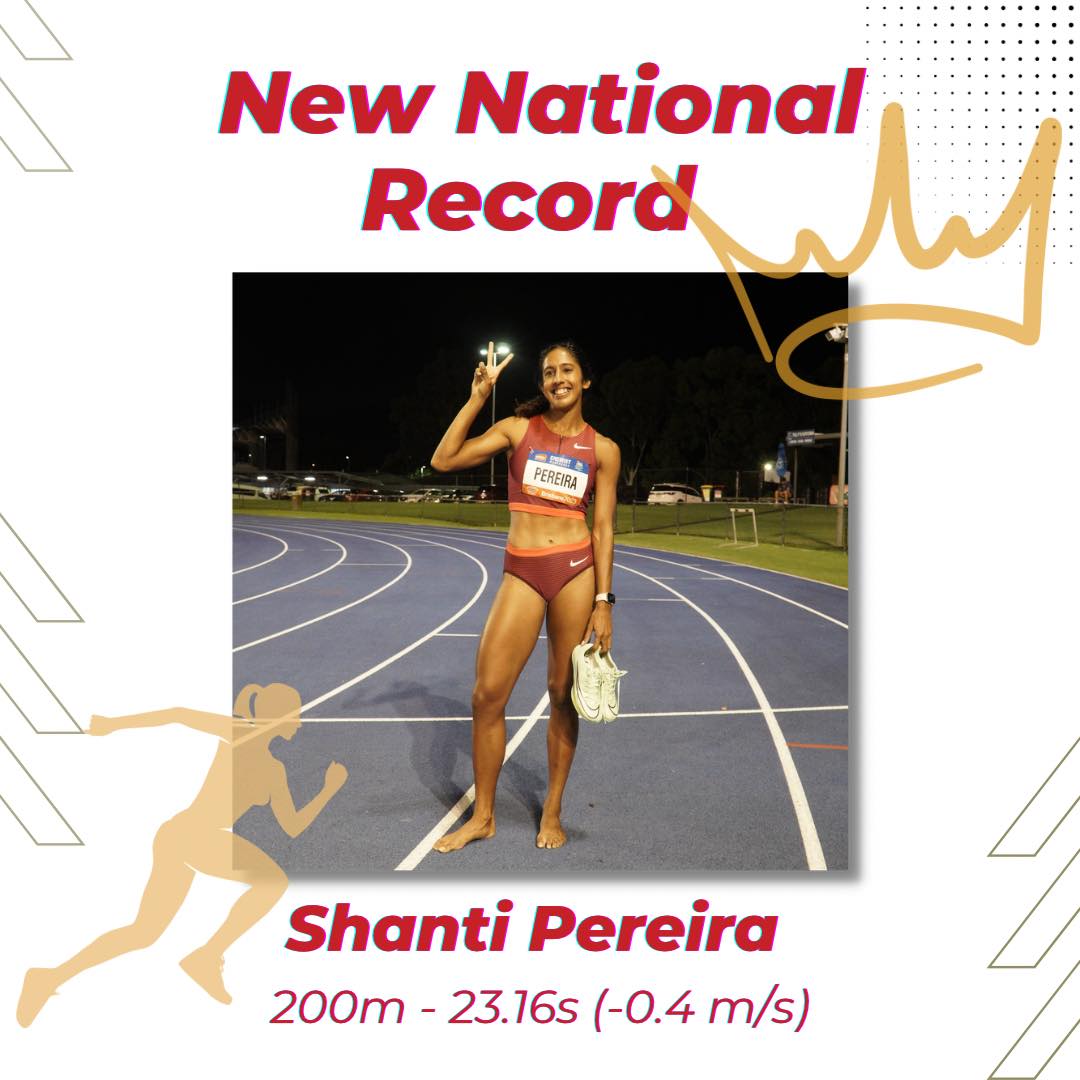 Image Credit : Singapore Athletics

Over in the United States of America, TeamSG's Tia Louise Rozario competed in the Triple Jump at the Raleigh Relays held at North Carolina State University. And the 22 year old leapt to an impressive 12.80m to finish 3rd and set a new national record. Her previous mark of 12.67m was set last month at the 16th Yale Giegengack Invitational Meet. Tia is also currently the Indoor Long Jump National Record Holder (5.71m). Meanwhile, ActiveSG Circle caught up with 3 TeamSG athletes (Goh Chui Ling, Elizabeth-Ann and Mark Lee Ren) who'll be competing in the Australian Open Track and Field Championships in Brisbane. (see below)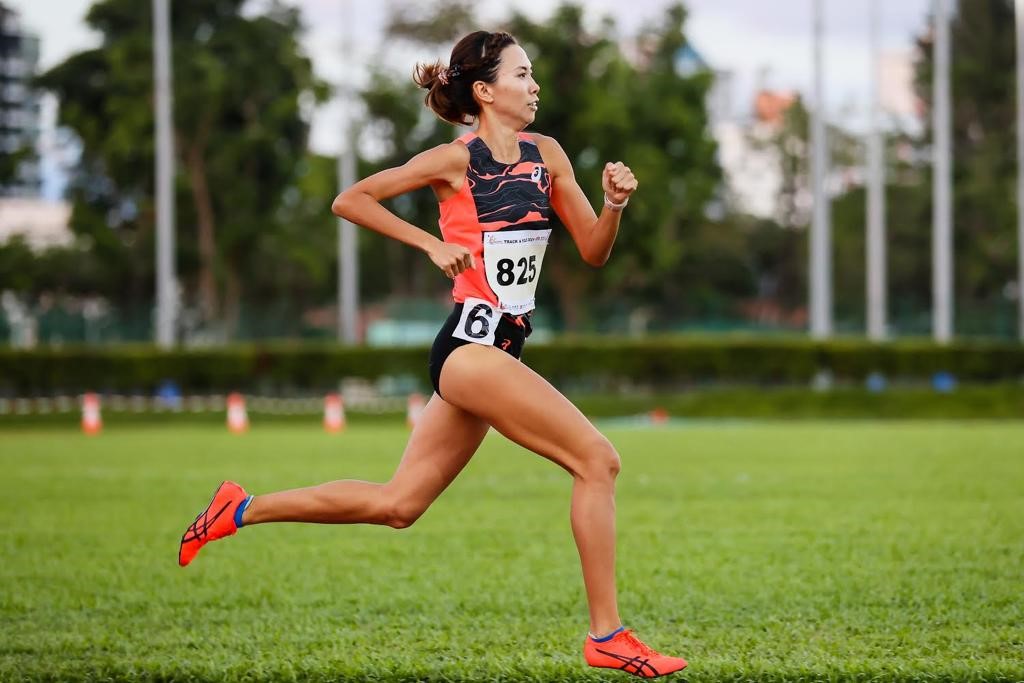 TeamSG's middle distance runner, Goh Chui Ling. Photo Credit : Richard Seow

Goh Chui Ling (2-time SEA Games Bronze medallist)

Q : Coming out of the global pandemic, how do you feel about your sporting career at the moment?
Chui Ling : Honestly, while the global pandemic was challenging during lockdown and the suspension of competitions, I had some good training and competitions under my belt when I made the decision to head to Europe in 2021. It was during the global pandemic that I broke my first individual national record – 10km road, and it really was an example of making the best out of a difficult, uncontrollable situation.
Q : How has training been ahead of the Australian Open Track & Field Championships?
Chui Ling : Training ahead of the Australian Open has been good thus far. I'm presently based in Melbourne for research and teaching (at the University of Melbourne), and the sporting environment here has just been great. There are so many great middle-distance runners and competitions here in the state of Victoria, I'm almost spoilt for choice.
Q : Between the 800meters, 1,500 and 3,000m events which is your favourite and why?
Chui Ling : Out of all the events I do, I have to say that my favourite is the 800m and 1,500m (I can't decide between the 2!). I like to do them both in sequence to mix things up physiologically and mentally. Running these 2 events require very specific skills and training. I have to clock not just very extensive distances for my aerobic capacity, but also strength and speed work, and everything in between!
Q : As a full time lawyer, how do you find time to train and work?
Chui Ling : Juggling work and training/competition is definitely the most challenging thing I've done in my life. But I've been doing that throughout my career and I can't imagine life without the intellectual challenges of work and the physical challenges of training. I've also broken all my individual records and won 2 medals at the SEA Games, while juggling work and training/competition. So I always tell people that it's not impossible, it's whether you're willing to do the work for it. As Singaporeans, we grew up studying and juggling extra-curriculum activities. We are trained for it!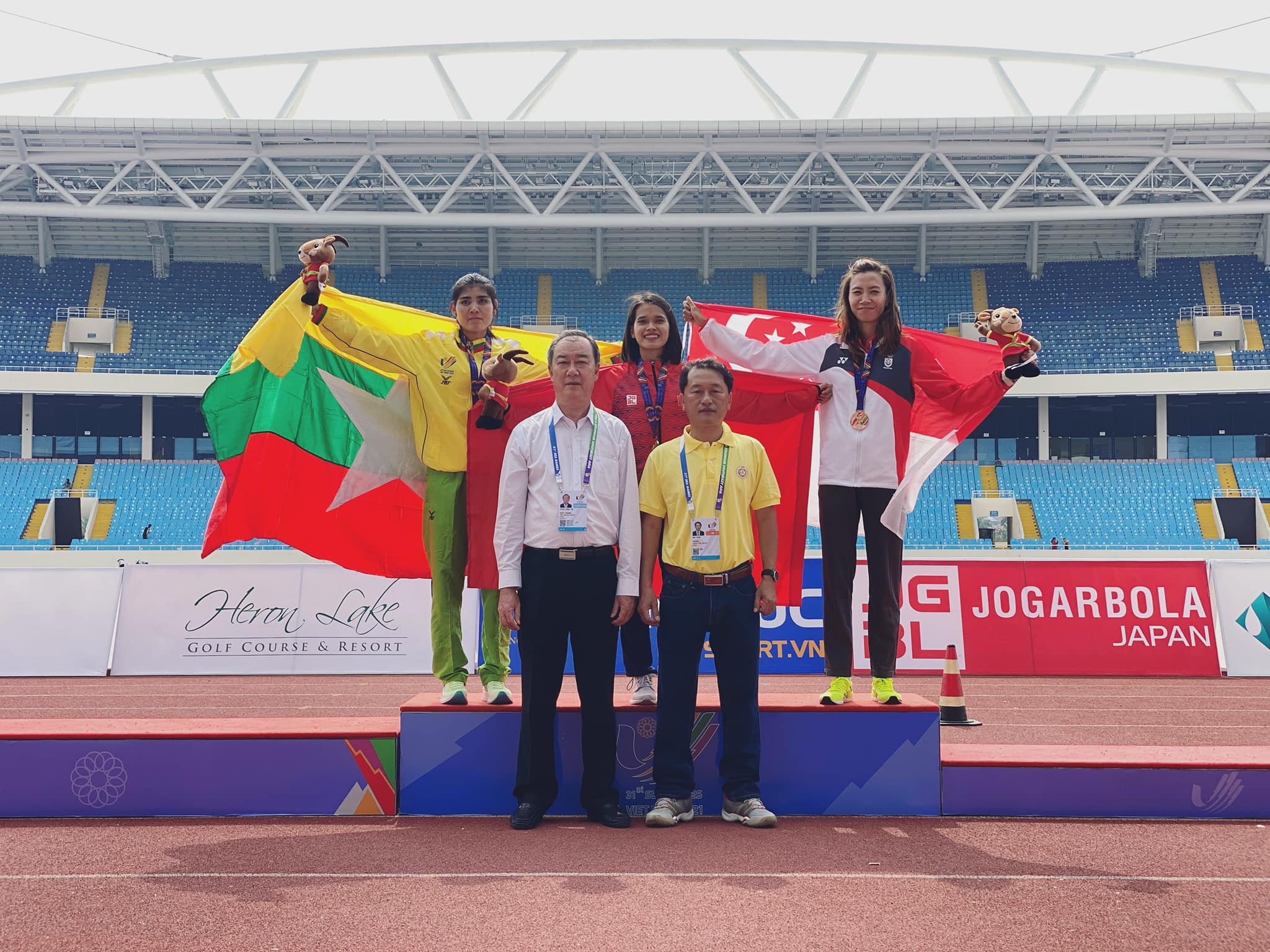 TeamSG's Goh Chui Ling (1st from R -Top Row) wins bronze medal in 10,000m at Hanoi SEA Games. Photo Credit : Joy Kuan

Q : With several national records under your belt, what are you hoping to achieve in Brisbane?
Chui Ling : For Australian Open, my plan is to tune up for the 2023 SEA Games and prepare for a very long season ahead. Apart from SEA Games this year, there is the Asian Athletics Championship and Asian Games, extending my season to October (that's when summer season in Australia begins again!). Apart from excelling and peaking at the right competitions this year, there's also an additional component of staying fit and sustaining the pace of competition in the coming months ahead.
Q : 2 SEA Games bronze medals in Hanoi last year. What's your game plan for Cambodia 2023?
Chui Ling : I hope to do at least the 800m and 1,500m at the SEA Games. The 5,000m clashes with the 1,500m (again), and there seems to be nothing we can do about it as the Games organisers deem it fit. Of course, I target to medal in both events, but I'm also excited to see how fast I can go this season and whether I can lower (my 1,500m record) and break (the 800m record) the records!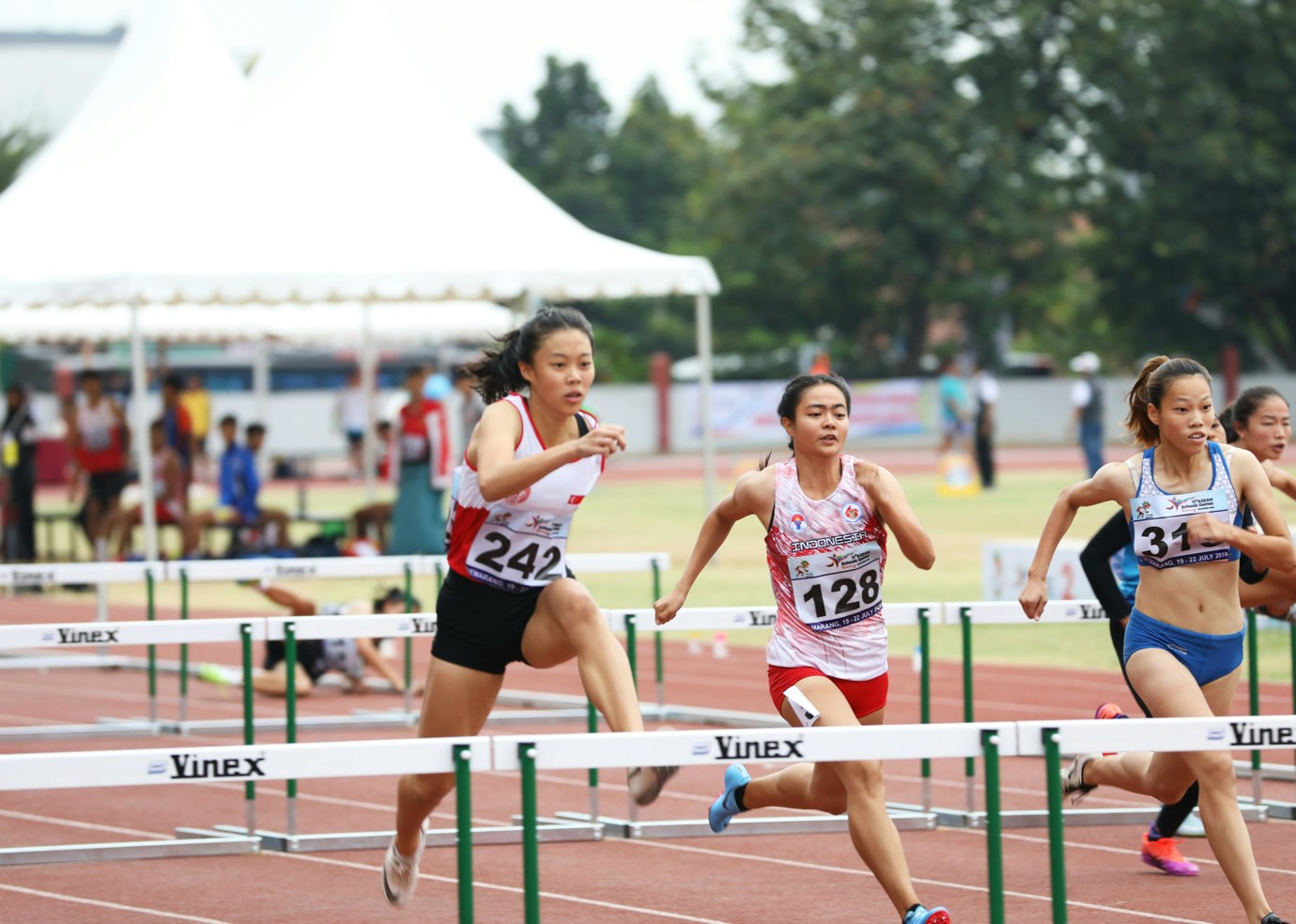 (1st from L) TeamSG sprinter Elizabeth-Ann at the 2019 ASEAN School Games. Photo Credit : ASEAN School Games
Elizabeth-Ann Tan Shee Ru (Sprinter, 100m and 4x100m Relay)
Soon-to-be 20 year old Elizabeth, is a student at NUS and currently in her 6th year with Team Singapore.
Q : Who is the 1 Runner you truly admire the most in the world and why?
Elizabeth-Ann : Shelly-Ann Fraser Pryce is my role model. Not only is she an incredible athlete who constantly achieves sporting excellence, she is a big inspiration for women in sports. Despite having gone through huge physiological changes after her pregnancy, she still continued to break new boundaries and set new records — truly embodying the values of perseverance, determination, commitment, discipline and hard work. Furthermore, Shelly-Ann remains very humble in spite of her outstanding results, displaying excellent sportsmanship in all that she does, making me admire her even more.

Q : Do you have a pre-race favourite song/artiste?
Elizabeth-Ann : Don't really have one, but I like to listen to worship songs like, "Set a fire" by Will Reagan and United Pursuit.
Q : Do you have a pre-race favourite drink/meal/snack?
Elizabeth-Ann : Peanut Butter banana toast.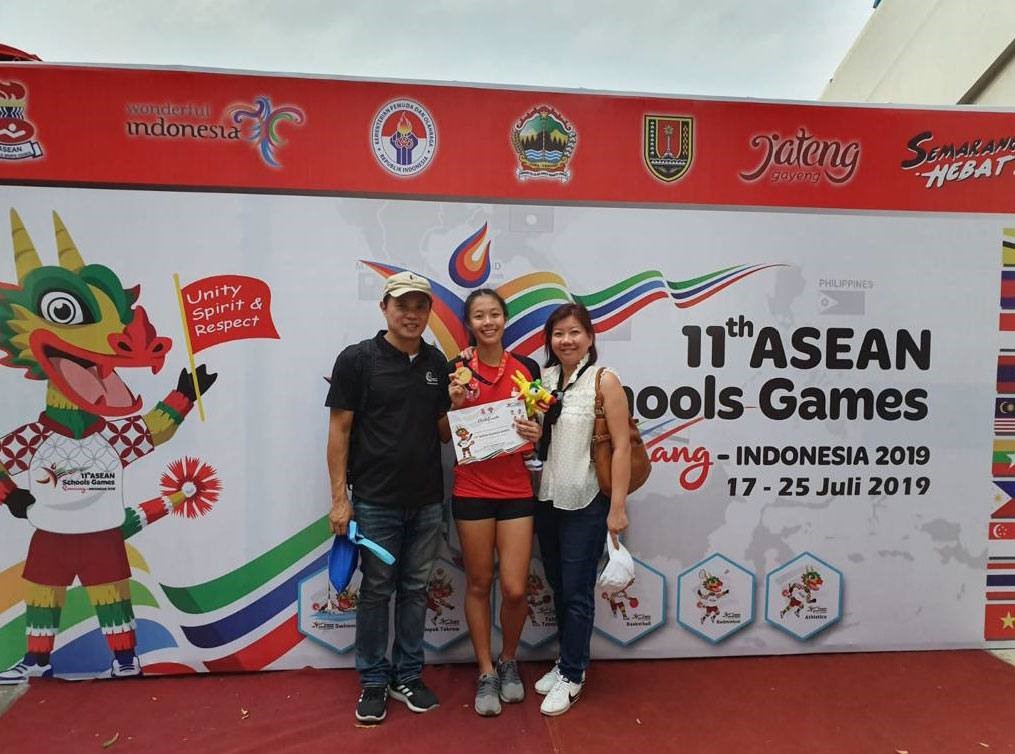 TeamSG sprinter Elizabeth-Ann and her parents at the 2019 ASEAN School Games, after winning the Gold medal in the 100m Hurdles. Photo Credit : Elizabeth-Ann

Q : What's your personal aim to achieve in running?
Elizabeth-Ann : Just like Shelly-Ann, I want to keep breaking new boundaries and push myself to limits I never imagined I could reach. Hence, I constantly strive towards improving my Personal Best time. With this, I hope to be able to stand on the Asian Games podium one day. And apart from sporting achievements, I hope to inspire the younger generation to come and encourage them to train hard and bring sporting glory to Singapore.
Q : Do you have a personal favourite running momento?
Elizabeth-Ann : The plushie I received along with my 11th ASEAN Schools Games Gold medal for the 100m Hurdles, because I set a new Games Record and National U-18 Record (see photo above).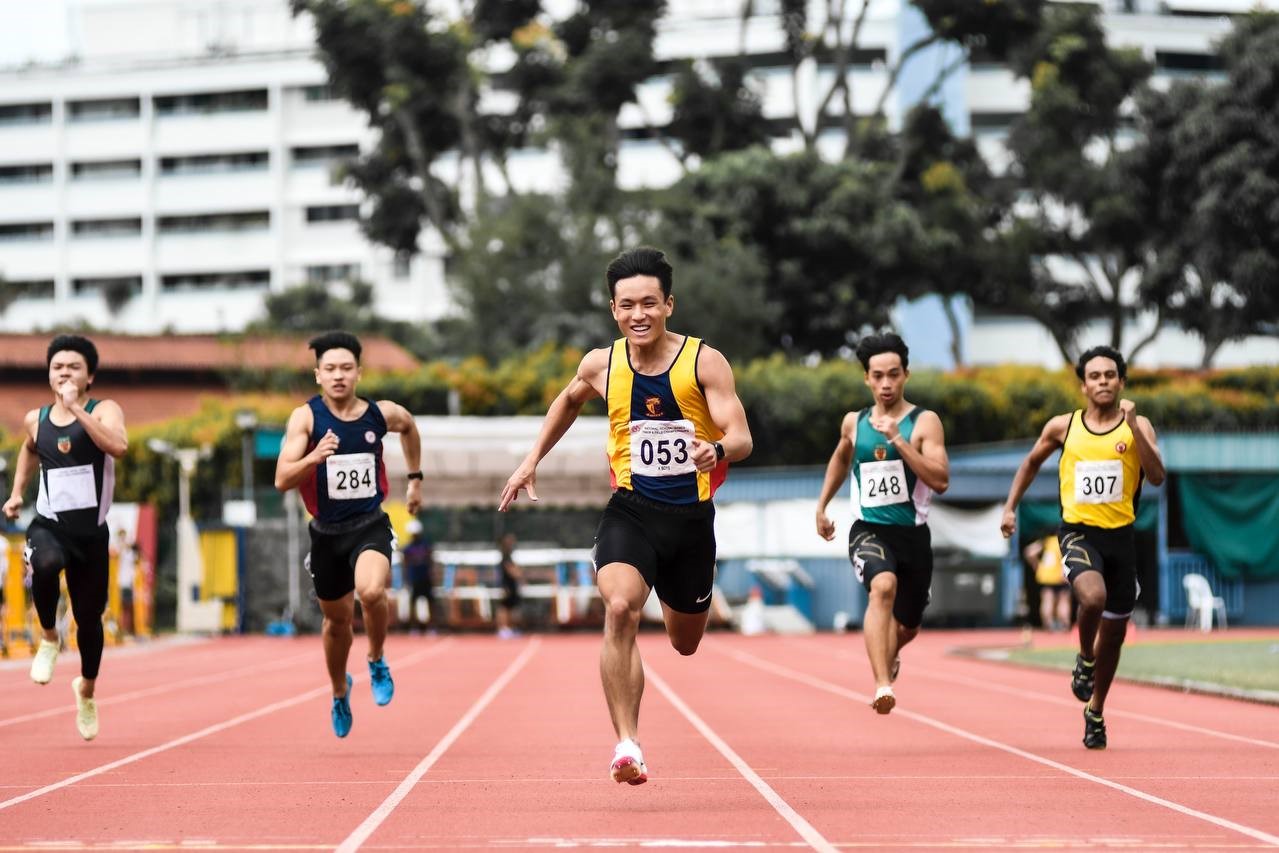 (3rd from L) TeamSG's Mark Lee Ren. Photo Credit : Iman Hashim

Mark Lee Ren (Sprinter, 200m and 4x100m Relay)
18 year old Mark, graduated from Junior College in 2022. He deferred his NS to train fulltime and he's been with TeamSG since 2021.

Q : Who is the 1 Runner you truly admire the most in the world and why?
Mark : I admire Azeem Fahmi from Malaysia. He is the same age as me, but has achieved far more - reminds me to stay humble and keep working hard to achieve the most I possibly can. We've been competing with each other since we were 14. And seeing him grow and achieve all these things inspires me, and I am grateful to know and talk to someone so humble and hardworking.

Q : Do you have a pre-race favourite drink/meal/snack?
Mark : Eggs and a banana

Q : Do you have a pre-race favourite song/artiste?
Mark : I don't really have any, but recently I've liked "Superhero" by Metro Boomin

Q : What's your personal aim to achieve in running?
Mark : My current aim is the 100m national record, but I simply strive to be better than I was yesterday and achieve the most I possibly can in the sport.



Q : Do you have a personal favourite running momento?
Mark : I don't really have one. But if I had to choose, it would be the Malaysian team's singlet from Azeem. Looking at it reminds me of how much further I could possibly go in the sport and motivates me to work harder and strive towards greater heights. And it's also just a really nice singlet! (see below)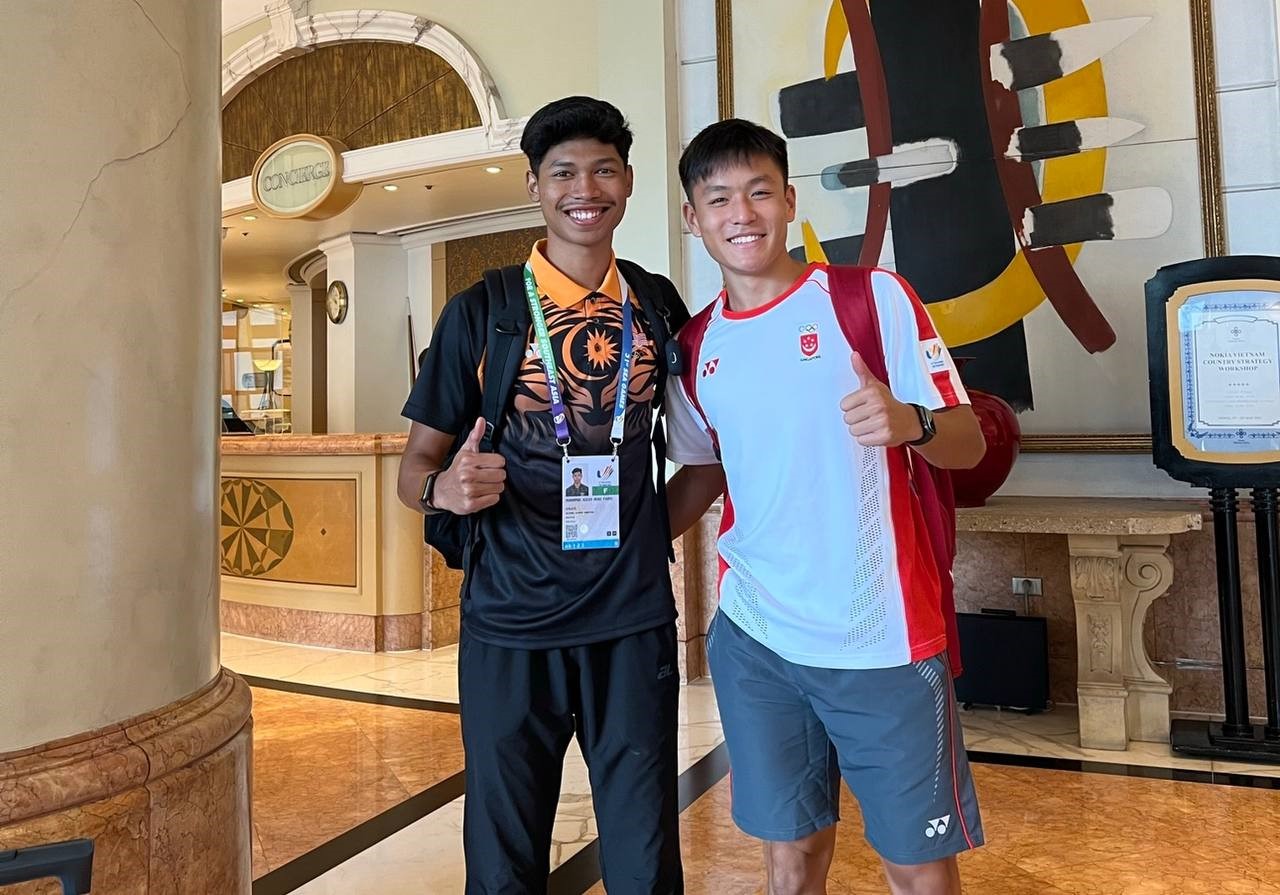 Malaysian sprinter Azeem Fahmi with TeamSG's Mark Lee Ren. Photo Credit : Mark Lee Ren