TeamSG's Teenage Sensation Izaac Quek Stuns Commonwealth Games Champion at Singapore Smash 2023!
by Circle, on March 12, 2023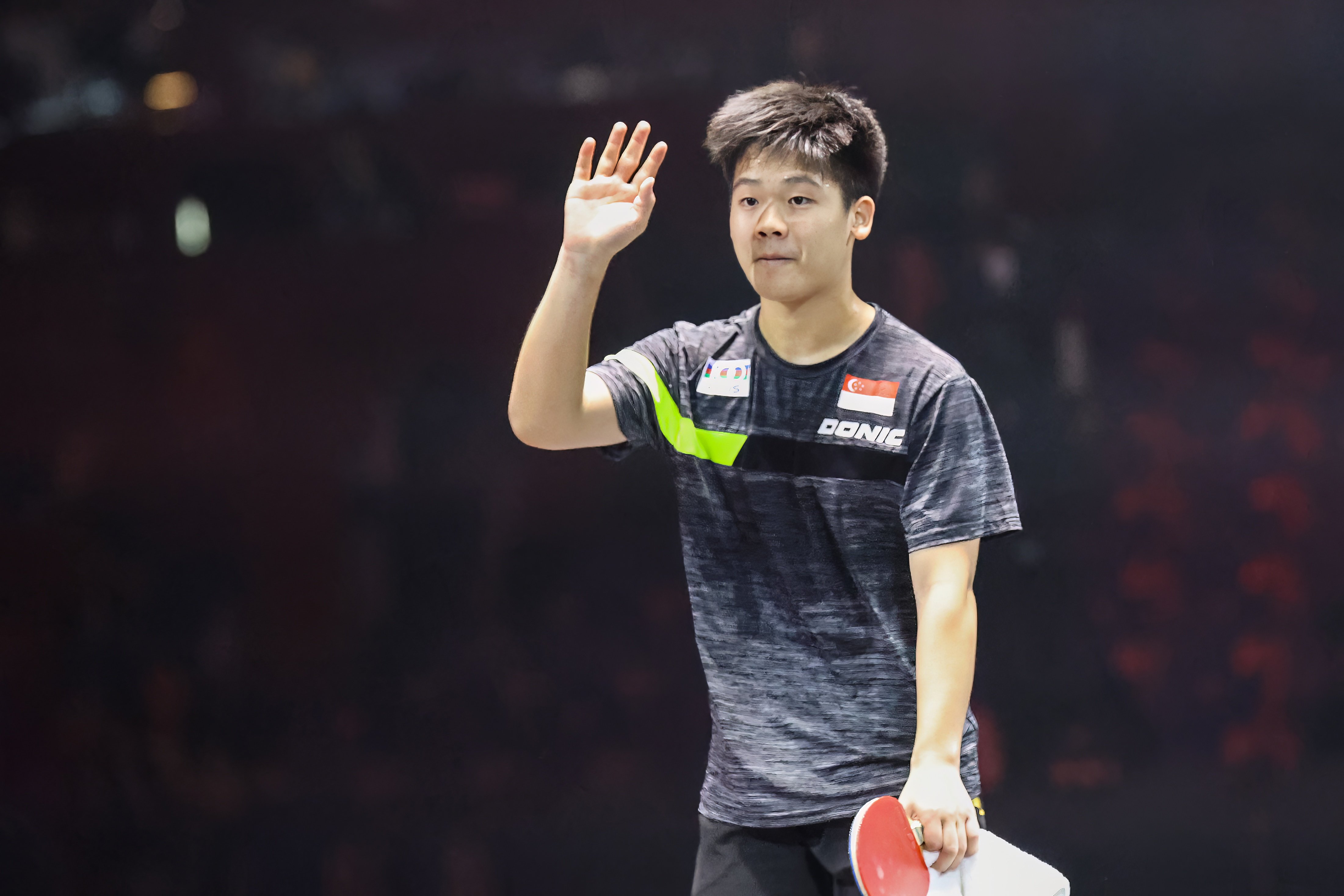 TeamSG's Izaac Quek in singles action at Singapore Smash 2023. Photo Credit : Team Nila Content Producer, Andrew Ho
By Pearlyn Koh


The main draw of the US$2 million Singapore Smash 2023 kicked off with local teenage sensation Izaac Quek (world number 242) staging a massive upset against world number 51 Sharath Kamal Achanta, in the opening round of the Men's Singles event!
16 year old Izaac is without a doubt one of the brightest local stars in the making. Despite his tender age, the talented teen has already made his mark on the international stage! At the Asian Championships qualifications earlier this year, the local paddler beat several higher ranked players, including India's Sathiyan Gnanasekaran (world number 41) and Hong Kong's Ho Kwan Kit (world number 107).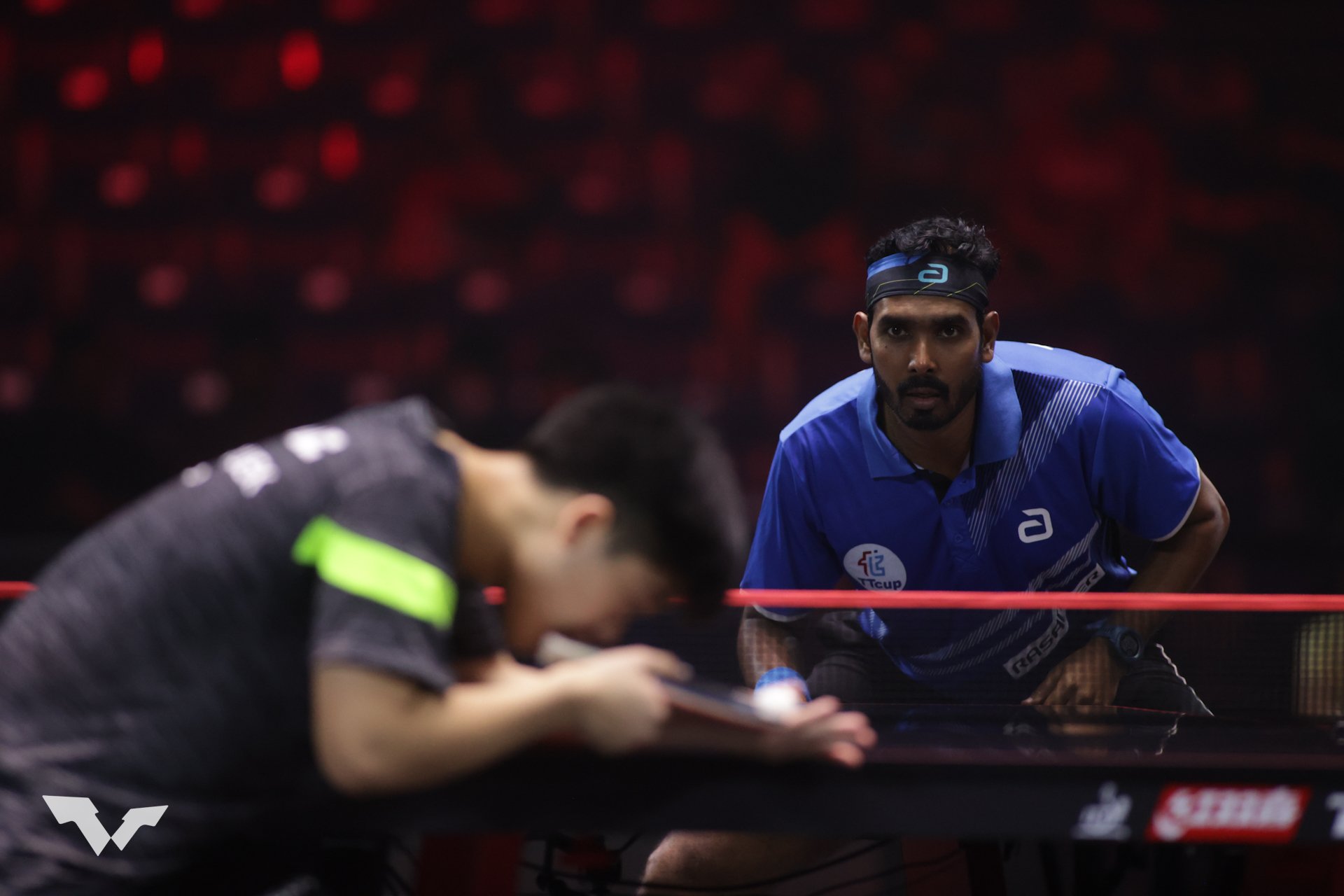 TeamSG's Izaac Quek vs India's Sharath Kamal Achanta in singles action at Singapore Smash 2023. Photo Credit : WTT
Sharath, on the other hand, is one of India's most decorated players in history. At the 2022 Commonwealth Games in Birmingham, the 40 year old icon walked home with 3 Gold and 1 Silver medal! And the duo's face-off at the Infinity Arena at the Singapore Sports Hub on Saturday (11 March) marks their second encounter - with the first being less than 6 months ago, at the Commonwealth Games. Over in Birmingham, it was the Indian veteran who took the win, 4-0.
Up against an opponent whom he'd previously lost, the Singaporean teenager started off Game 1 unafraid, executing his well-prepared strategies. It was as though, the local star could totally read Sharath's mind - as he dominated the entire game with his fast pace and strong attacks. And Izaac opened his Singapore Smash campaign rather smoothly, taking the first game 11-4!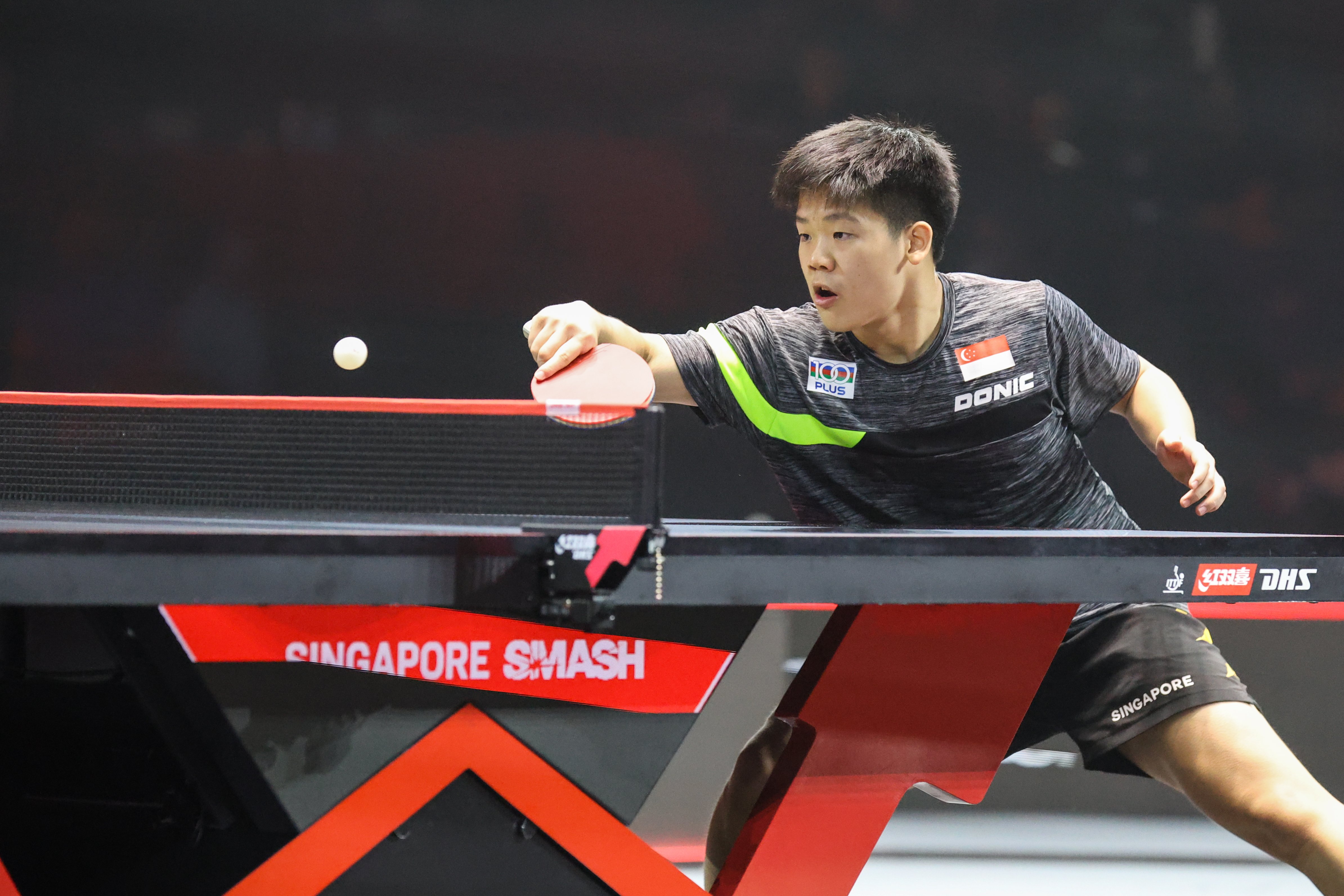 TeamSG's Izaac Quek in singles action at Singapore Smash 2023. Photo Credit : Team Nila Content Producer, Andrew Ho
Both players entered the 2nd game by testing out different strategies against each other. While the 40 year old attempted to control his younger opponent from attacking, Izaac made use of his variations in serves to gain an advantage. The score was closely contested at 6 apiece, with both players fighting hard to clinch Game 2. But after a series of unforced errors by the Indian, the Singaporean paddler managed to repeat his earlier success by taking 5 straight points to win 11-6!
With a 2-game lead, the 16 year old was determined to take the overall victory, as he executed powerful counter-attack shots, forcing Sharath to make more mistakes. But his older and more experienced opponent was not ready to hand Izaac the victory without a tough fight.
After calling for a timeout when Izaac was leading 4-1, the Commonwealth Games champion switched to backspin serves as he tried to prevent the Singaporean from gaining the upper hand. His strategy proved useful, as Sharath scored two consecutive points to narrow the local favourite's lead to 4-3. The duo took turns to score points, and the intensity of the game grew as both players battled for the hopes in the next round of the Singapore Smash. What followed was a nail-biting contest between the duo, before the fearless teen took the eventual game 12-10, winning the overall match in 3 straight games!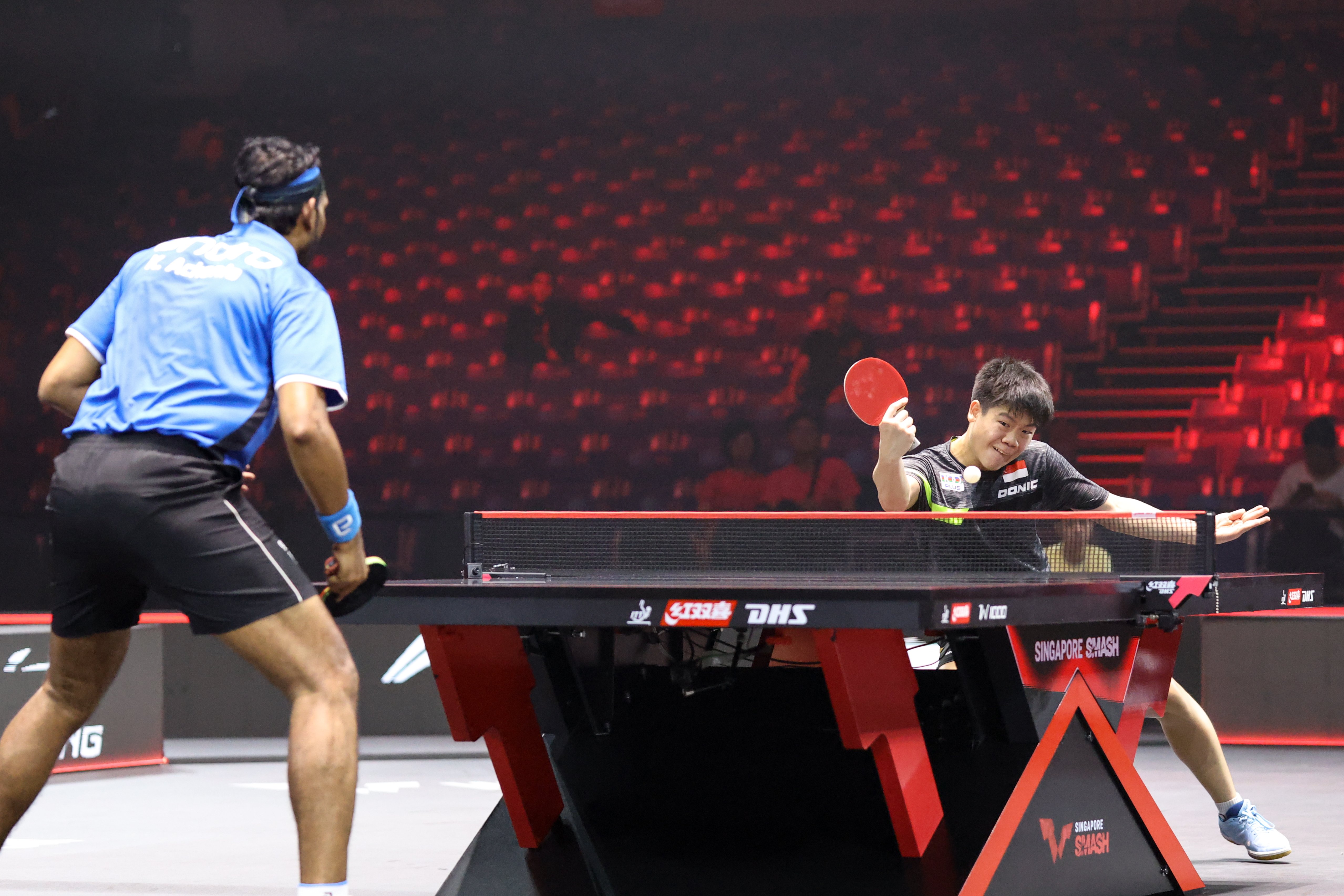 TeamSG's Izaac Quek vs India's Sharath Kamal Achanta in singles action at Singapore Smash 2023. Photo Credit : Team Nila Content Producer, Andrew Ho
"I came into today's match knowing I had nothing to lose, so I didn't think too much about winning or losing. I did quite a fair bit of preparation with my coach before the match, and we worked on new strategies for this game based on my loss to him at the Commonwealth Games last year. I think all the preparation and hard work paid off today! It was also a really great feeling to play before my home crowd and have so many people supporting me", expressed the talented Izaac in a post-match interview. What a brilliant performance by the 16 year old!
Izaac's win also makes him the first-ever male player to win a match in the main draw of the Singapore Smash. And with his win, the 16 year old will next face Sweden's Mattias Falck (world number 36) in the Round of 32.
Results summary of TeamSG players on 11 March:
Men's Singles:
Izaac Quek (SGP) vs Sharath Kamal Achanta (IND) - 3:0 (11-4, 11-6, 12-10)
Women's Singles:
Georgina Pota (HUN) vs Wong Xin Ru (SGP) - 3:0 (11-6, 11-8, 11-5)
Dina Meshref (EGY) vs Goi Rui Xuan (SGP) - 3:1 (11-7, 11-3, 9-11, 11-7)
Yuan Jia Nan (FRA) vs Zeng Jian (SGP) - 3:2 (11-7, 10-12, 12-10, 5-11, 11-8)
Mixed Doubles:
Lim Jonghoon/Shin Yubin (KOR) vs Izaac Quek/Zhou Jingyi (SGP) - 3:0 (11-5, 11-3, 11-5)
Robert Gardos/Sofia Polcanova (AUT) vs Koen Pang/Wong Xin Ru (SGP) - 3:1 (11-7, 8-11, 11-3, 11-8)
Zeng Jian/Clarence Chew (SGP) vs Nicholas Lum/Jee Minhyung (AUS) - 3:1 (6-11, 11-6, 11-3, 11-6)
Catch the following TeamSG players on 12 March at the OCBC Arena:
Men's Singles:
Nicholas Lum (AUS) vs Koen Pang (SGP)
Can Akkuzu (FRA) vs Beh Kun Ting (SGP)
Kilian Ort (GER) vs Clarence Chew (SGP)
Women's Singles:
Miyuu Kihara (JPN) vs Zhou Jingyi (SGP)
Men's Doubles:
Adam Szudi/Nandor Ecseki (HUN) vs Beh Kun Ting/Josh Chua (SGP)
Women's Doubles:
Chen Meng/Wang Yidi (CHN) vs Janissa Cheng/Zhang Wanling (SGP)
Event details
Singapore Smash 2023 at the OCBC Arena, features 64 player men's and women's singles and 24-pair doubles and mixed competitions. A singles qualifying competition featuring a further 64 men and 64 women was held from 7-9 March. And the overall player line-up for the 7-19 March extravaganza is listed here.
Tickets for the the Main draw are available here.
Pearlyn Koh played Table Tennis competitively for 9 years. She represented Team Singapore at several major tournaments, including the 2018 Asian Games and World Table Tennis Championships. In 2019, Pearlyn was also the sole Southeast Asian player to enter the Top 16 at the Asian Junior & Cadet Table Tennis Championships. During her free time, Pearlyn enjoys reading and catching up with her friends. Having retired from the national team in Feb 2023, she's now a Business Ad undergrad at NUS.