Terry Hee and Loh Kean Hean are gunning for a SEA Games medal, with Thomas Cup as a prelude!
by Circle Stories, on May 7, 2022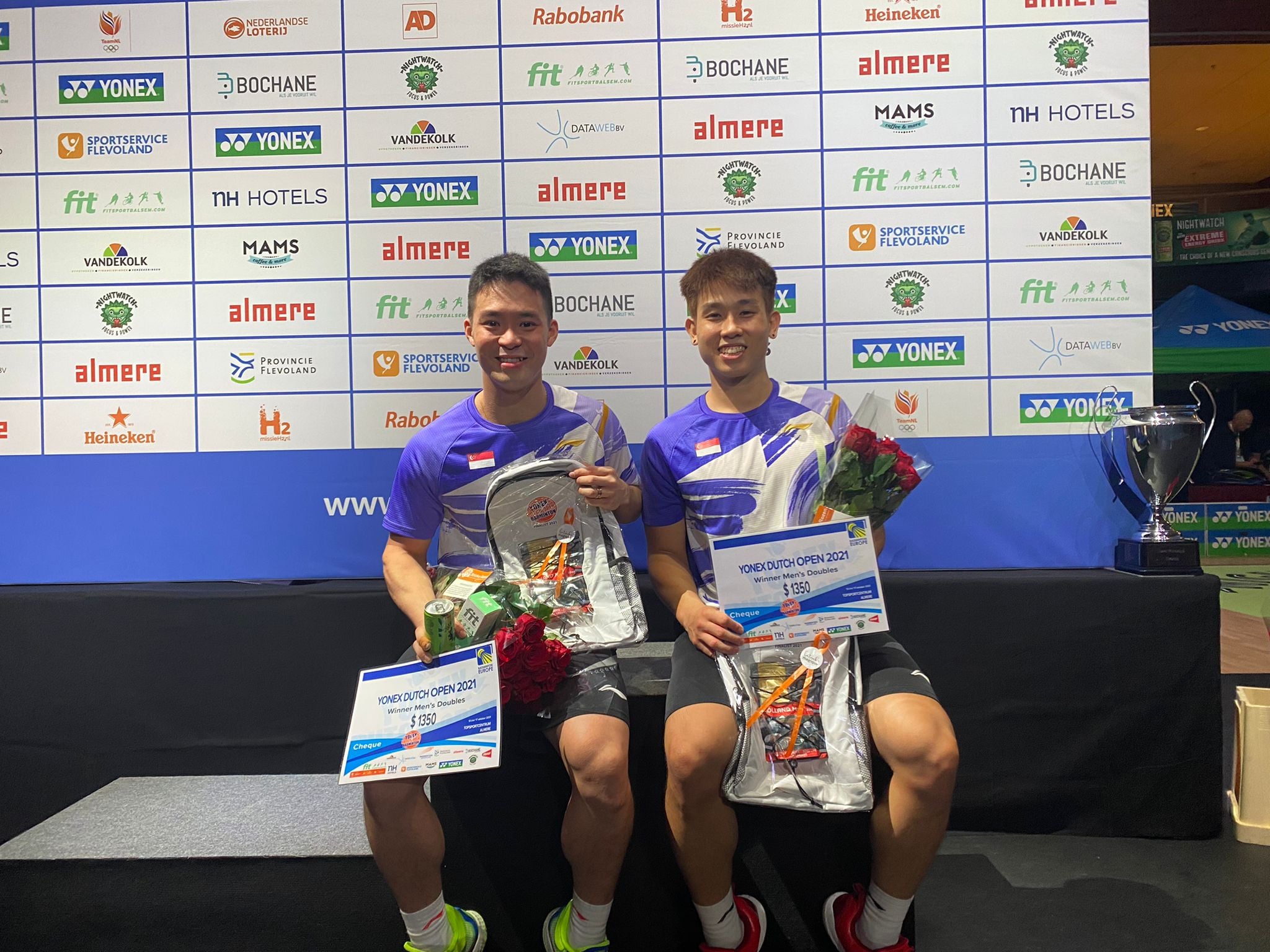 Team Singapore's Terry Hee (Left) and Loh Kean Hean in 2021. Photo Credit : Singapore Badminton Association
By Tan Wei Han
Singapore top men's doubles pair Terry Hee and Loh Kean Hean are familiar names in the local badminton scene. With 3 international titles together under their belt, they are definitely not a pair to be taken lightly. Their partnership in the open circuit started in 2015, but their story digs deeper- going way back to when both shuttlers were just kids. Interestingly, it was at the age of 12 where they first partnered up and won the Penang 12-and-under event!
Not many may know much about their roots, but both boys grew up and went through primary school in Penang, Malaysia. And what followed was their permanent relocation to Singapore with Terry first, who joined the Singapore Sports School on a scholarship at age 13. And Kean Hean went on to enrol in Montfort Secondary School a year after. The rest is history as they eventually landed in the national team and evolved into one of our nation's best doubles' pairings. In 2015, the duo took home their first international title on home ground, winning the Singapore International Series.
Due to the recent Covid-19, it had been close to 2 long years where the badminton world literally came to a standstill. However, with the considerable improvement of the pandemic situation and international borders gradually opening up, the Badminton World Federation circuit had also almost resumed back to full force in mid 2021. Needless to say, Terry and Kean Hean were up and raring to go when they were given the chance to take part in tournaments again.
Currently standing at 56th in the world, it might not be the most impressive of rankings that the boys have seen. What is very impressive however, is that it took them merely 6 months to get to where they are now, from a low of 192 since November 2021. The significant turnaround came last year in October where a trip to Europe reaped the results they so yearned for- proudly crowned CHAMPIONS of the Dutch Open and Czech Open. They were undoubtedly elated over their achievements. Taken from Loh's Instagram, "Can't remember the last time we competed together let alone getting on the podium. This trip allows me to rediscover on why I pursue this career path, and it's been an enjoyable one"
Terry and Kean Hean, alongside a 10-strong men's team and will begin their BWF Thomas Cup contest in Bangkok this week from 8-15 May. This is a very special campaign for the Singapore Badminton team after historically clinching a bronze medal in the Badminton Team Asia Championships to earn the qualification. Contending against the world's best, the Thomas Cup will be a great lead up to the upcoming 31st SEA Games the following week. Speaking with Terry about their hopes for the future as a pair, he shared that "We are definitely aiming to medal at the SEA Games, and we hope to better our world ranking and break into the top 30 by this year".
*Thomas Cup fixtures (Group stage)*
8 May (Sun), 3pm - Indonesia v Singapore
9 May (Mon), 8pm - Korea v Singapore
11 May (Wed), 3pm - Thailand v Singapore
These are definitely exciting times for our top men's doubles pair and we wish them all the very best! Meanwhile, be sure to catch all the action with Mediacorp, live and on-demand at @MeWatch through this link: http://go.gov.sg/thomascup
Jessica Tan Wei Han has been playing Badminton competitively for 10 years and specializes in mixed doubles. Choosing the road less traveled, she withdrew her spot from NTU to compete full time and joined the national team at the age of 18. Achieving a highest ever ranking of 15th in the world, she is also a 3 time SEA Games medalist. She currently has 7 international titles under her belt- her career's biggest being the Super500 India Open in 2022. She enjoys sleeping, cafe-hopping and spending time with friends and family.