Tokyo 2020 : Profile of Singapore's Fastest Woman - Shanti Pereira, ahead of her Olympic debut
by Circle Stories, on July 29, 2021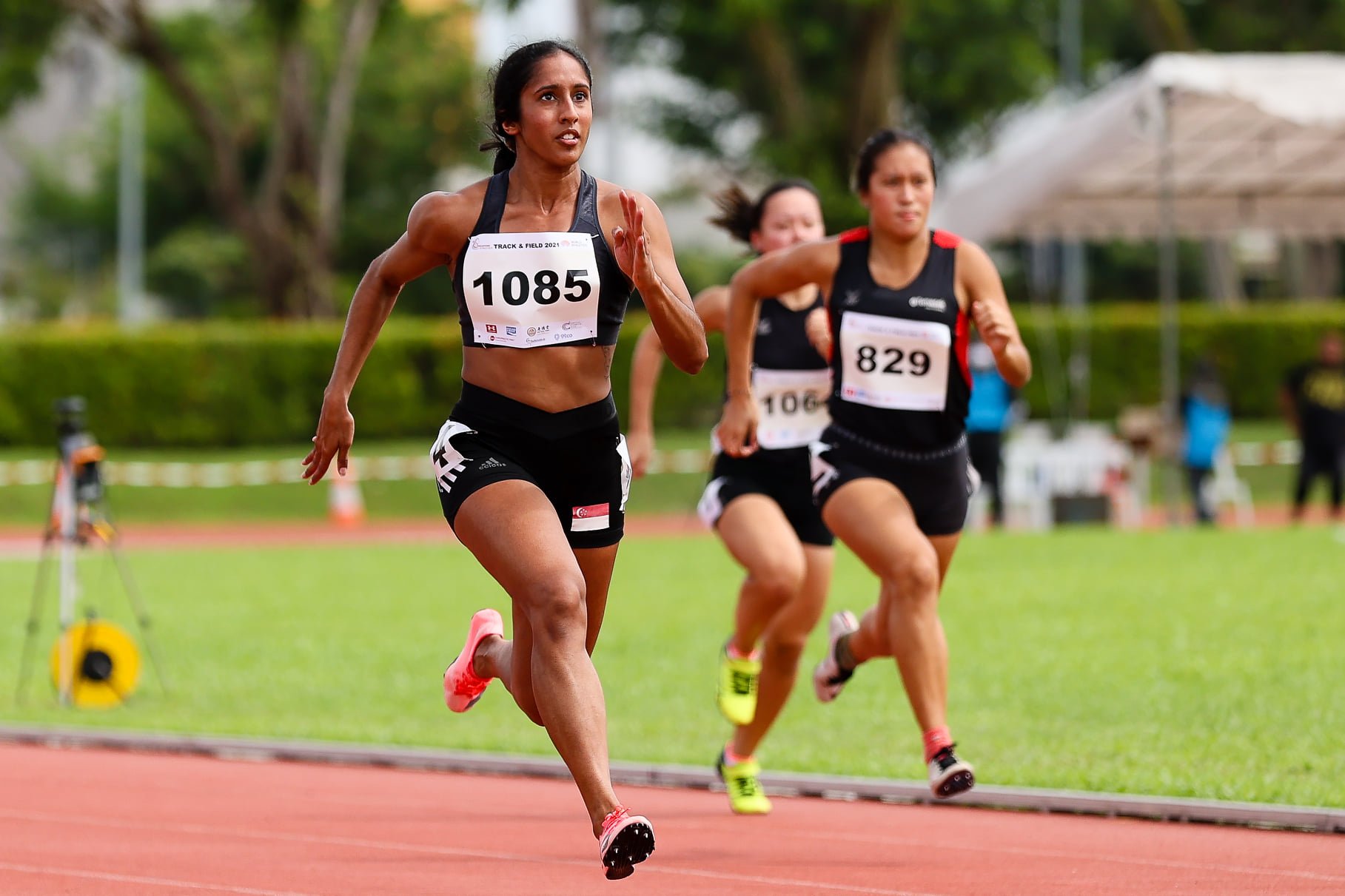 (Team Singapore sprinter, Shanti Pereira - Photo by Richard Seow)
By Nick Aplin
Once described in 2013 as shy, a little gawky, yet charmingly polite and ever ready to break into a smile, Veronica Shanti Pereira has become the darling of the sprints in Singapore. Her appearance in the Tokyo Olympic Games in August marks a significant milestone, not just for her, but for Singapore.
The first female Olympian from Singapore, Tang Pui Wah, competed in the 200 metres event in Helsinki in 1952. The next two women to test their mettle in the sprints were Mary Klass and Janet Jesudason in Melbourne at the 1956 Olympic Games. Mary recorded a time of 12.6 seconds in her heat, while Janet managed 13.2s.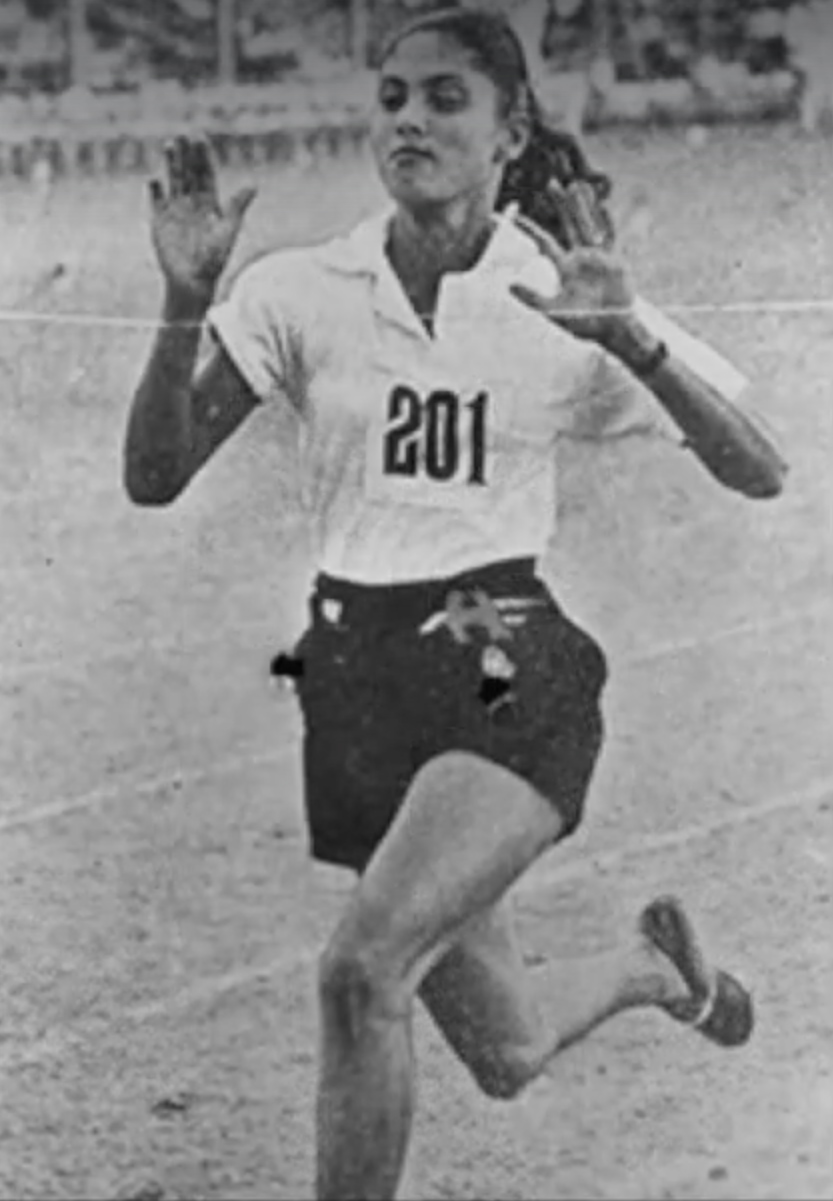 (1956 Olympian Mary Klass - Image from Mary Klass Facebook Page)
Since that day (in 1956), no other Singaporean women have qualified for the Olympic Games in the short-sprint distance events, but there have been other notable athletes who tasted success in international competitions. A 22-year-old policewoman, Eng Chiew Guay, won the gold medal in the 1973 SEAP Games in a time of 12.5 seconds. The Games were hosted by Singapore at the brand-new National Stadium. It was the last time a Singaporean had won a medal in the women's blue riband event. And former 100m national record holder Prema Govindan was a leading light in the late 1980s.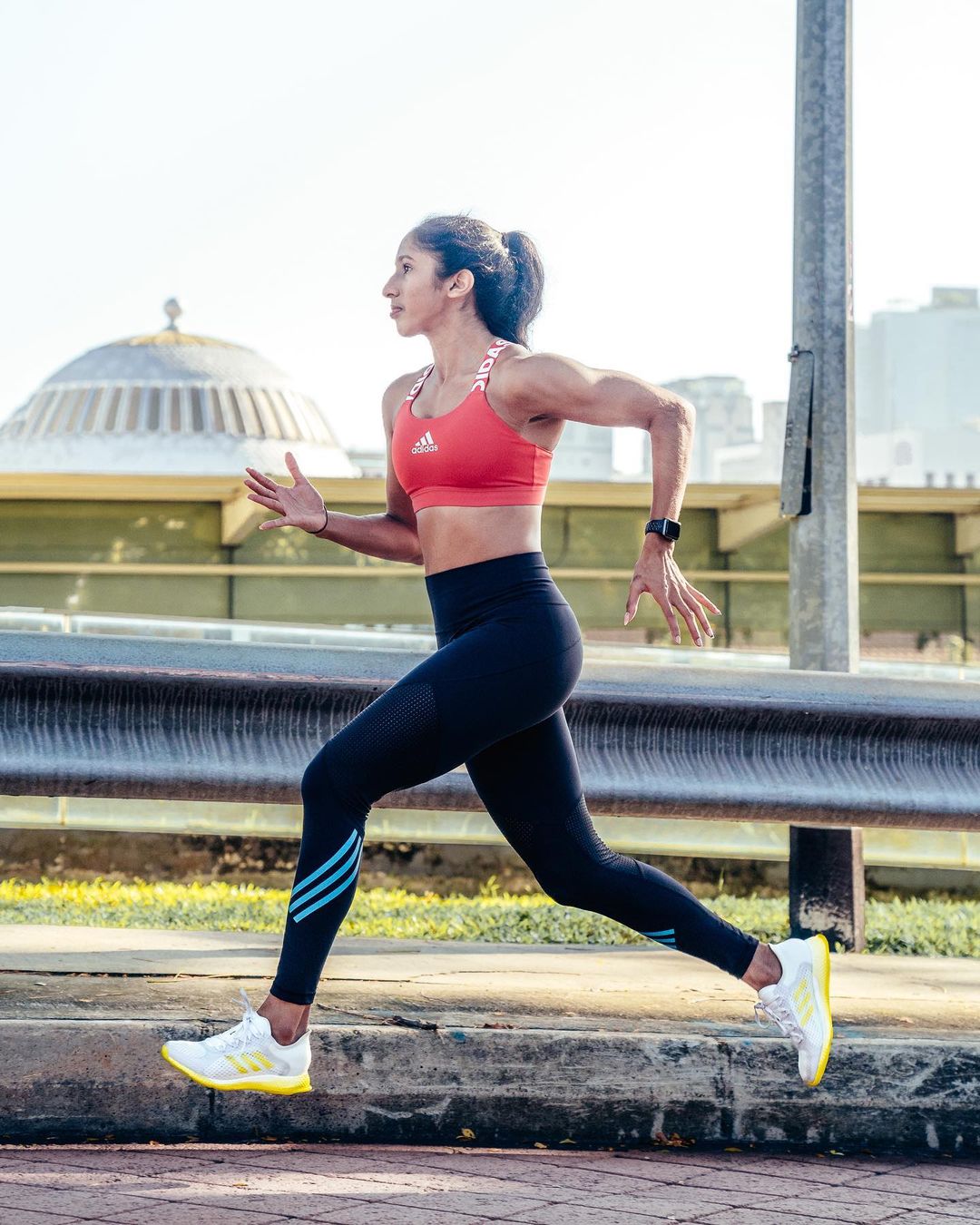 (Team Singapore sprinter, Shanti Pereira - Photo by Shanti)
65 years after the Melbourne Games, and nearly fifty years after the last SEAP Games, Shanti Pereira has become the sprint specialist who holds the current national records for the 100m (11.58 seconds) and the 200m (23.60). Needless to say, she appears in the state relay team, not only in the 4x100m events, but also in the taxing 4 x 400 metres relay. She is the first woman to have clocked under 12 seconds and under 24 seconds for the 100m and 200m respectively.
As a Secondary 1 Singapore Sports School (SSP) student in 2009, Shanti Pereira made headline news. She anchored SSP's 4x400m relay team to a gold medal on the last day of the meet. Just 12 years old at the time, Shanti was a member of the under-14 team.
In 2013, Pereira became the first female Singaporean to run the 100m in under 12 seconds when she clocked 11.89s at the 2013 World Youth Championships in Athletics in Donetsk, Ukraine. As her career progressed Shanti was a dominant force in the different age-group categories
Under-15 record for the 100 metres (12.68s)

Under-17 records for the 100 metres (12.21s) and 200m (24.92s)

Under-19 records for the 100 metres (11.89s) and 200m (23.99s)

Under-23 records for the 100 metres (11.80s) and 200m (23.99s)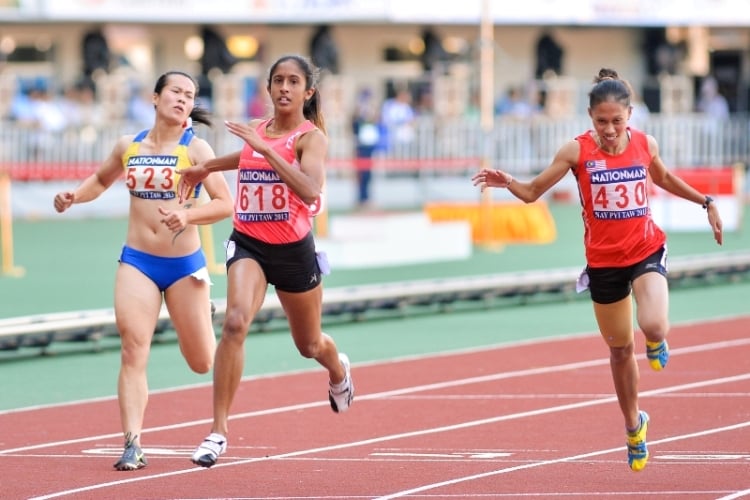 (Shanti Pereira at 2015 SEA Games - Photo by SportSG)
There have been ups and downs in Shanti's sprint career. And there were close calls as well. At the 2013 Southeast Asian Games, she came in 4th in the 100m final.
In June 2014, she became the first female Singaporean to run the 200m in under 24 seconds, when she clocked 23.99s at the Asian Junior Athletics Championships.
In July 2014, at the Commonwealth Games in Glasgow, the 17 year old timed 24.29s in the semi-finals.
In the following year that Singapore recently hosted the SEA Games, Shanti won a bronze medal in the 100m. As an 18-year-old, she ran in the 100m final in 2015 and finished 3rd in a time of 11.88s. In the 200m final though, the Republic's fastest woman showed her pedigree and went on to win the gold. Being the 1st woman since Glory Barnabas at the 1973 SEAP Games to win a sprint gold for Team Singapore, Shanti rewrote her national record and created a new time of 23.6s.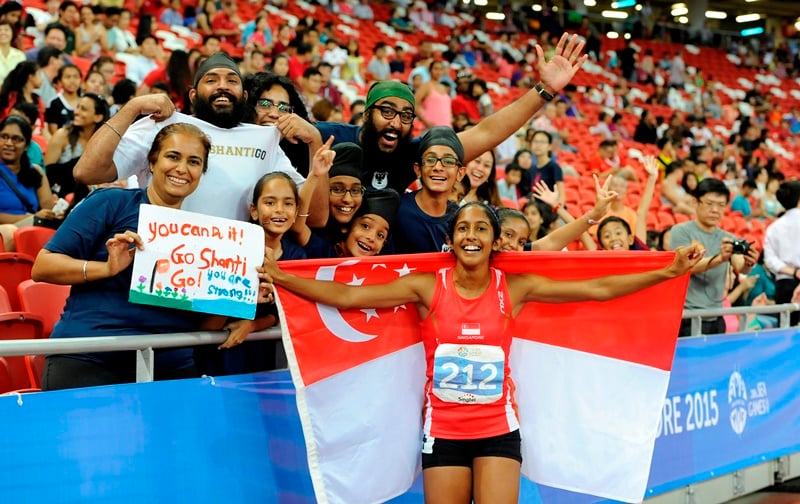 (Shanti Pereira at 2015 SEA Games - Photo by ActiveSG)
With 2 medals in the bag, Shanti was also part of the Singapore quartet, which came in 4th place in the 4 x 400m relay. No medals, but their performance on the track of the new National Stadium, broke the oldest record in Singapore's athletics history with a time of 3 mins 40.58 secs. And in her final event - the 4 x 100m relay, the team came in 4th , but set a new national record of 45.41s.
It is fair to say that Shanti is no longer the shy girl and has become streamlined on and off the track. She apparently enjoys socialising. Friends, music and good food figure prominently in her quest for fun, away from the strains of training and competing.
Pereira studied for a diploma in sports and leisure management offered jointly by Republic Polytechnic and Singapore Sports School. In 2017, she was awarded the Yip Pin Xiu Scholarship to study accountancy at Singapore Management University. And now in 2021, she has qualified for the 200m at the Tokyo Olympiad, through the universality places scheme.
Shanti Pereira's medal accomplishments, representing Team Singapore at the SEA Games :
2015 Singapore 200m Gold medal
2015 Singapore 100m Bronze medal
2017 Kuala Lumpur 100m Bronze medal
2017 Kuala Lumpur 200m Bronze medal
2019 Philippines 200m Bronze medal
2019 Philippines 100m Bronze medal
In terms of All-time Best performances, Shanti is at the top of her league in both the 100m and the 200m. Her marks are significantly faster than her local rivals on the list.
100m
Shanti Pereira 11.58 secs 2019 Asian Championships, Doha
Wendy Enn 11.90 secs 2018 Taiwan Open
Amanda Choo 12.01 secs 2010 Thailand Open, Bangkok


200m
Shanti Pereira 23.60 secs 2015 SEA Games, Singapore
Dipna Lim Prasad 24.36 secs 2013 National Open/Under 23
Wendy Enn 24.49 secs 2018 Korea Open, Yecheon
This article was contributed by Dr Nick Aplin. He is an Englishman and a PR of Singapore, who has observed sport here from close range for more than 30 years. He is the number one fan of his wife (a Badminton champion), his eldest son (a Football international) his second son (an ASEAN age-group Chess champion) and his third son (a SEA Games Bronze medallist).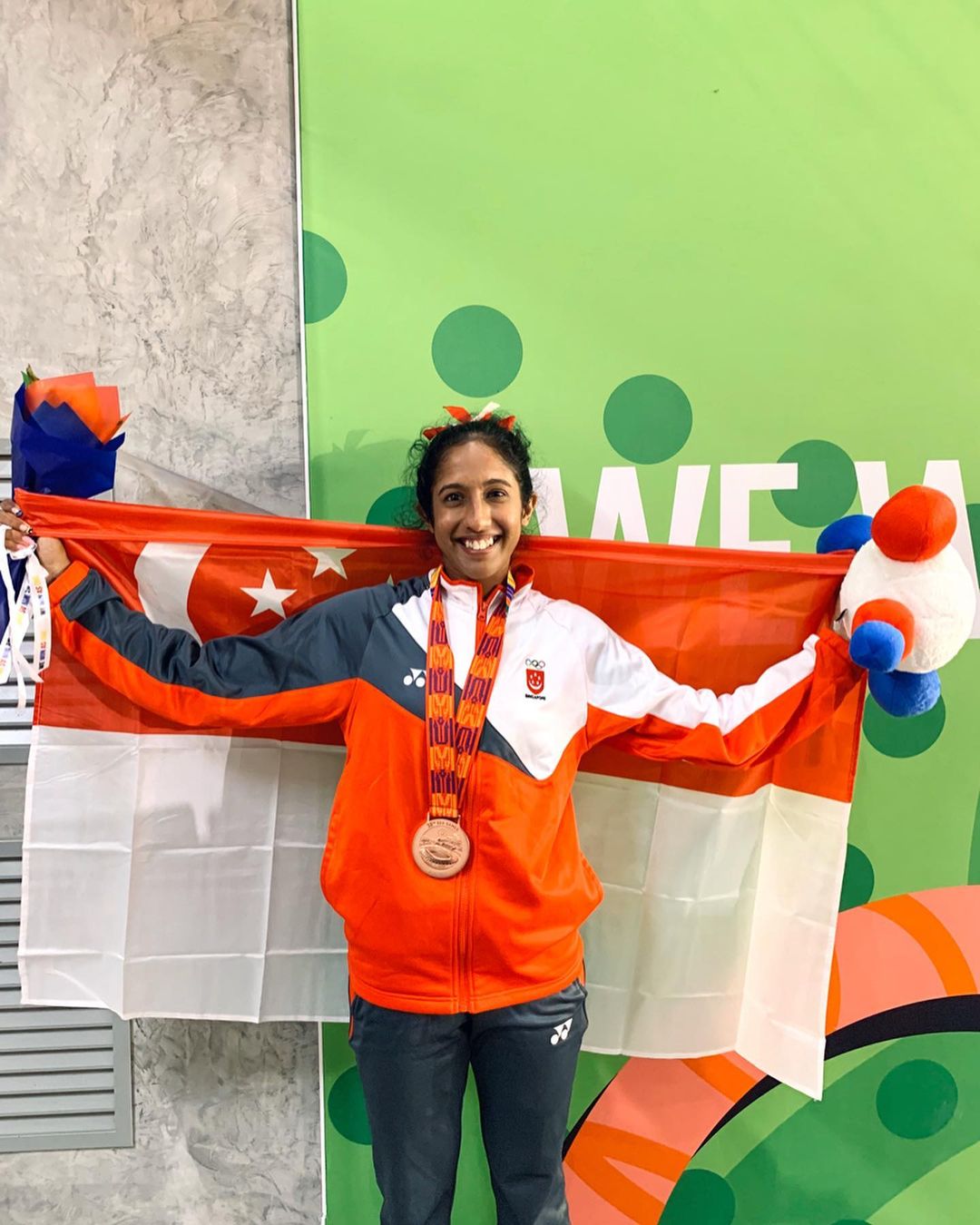 (Team Singapore sprinter, Shanti Pereira at 2019 SEA Games - Photo by Shanti)
The 32nd edition of the Olympic Games is from 23 July to 8 Aug 2021. For all coverage and news of the Republic's national athletes who're competing at the Games, check out the official Team Singapore Tokyo 2020 website.
Remember to also Show your support for Team Singapore at the Olympic Games!
Team Singapore athletes have worked tirelessly over the last 12-20 months, especially under strict safety management measures to train and prepare. They've had to step up, pivot and adopt new and innovative methods to train especially with their preparations confined to the Lion City. With no international competitions or training stints, these athletes have had to adopt and maintain a positive mindset as well, throughout this entire journey to reach the grandest stage in Sport!
Simply click here to pledge a few words of encouragement and send positive vibes, as our TeamSG athletes continue to fly the national flag proudly in Tokyo.