Tokyo 2020 Review : A lookback on the performances of our Team Singapore athletes at the XXXII Summer Games!
by Circle Stories, on August 7, 2021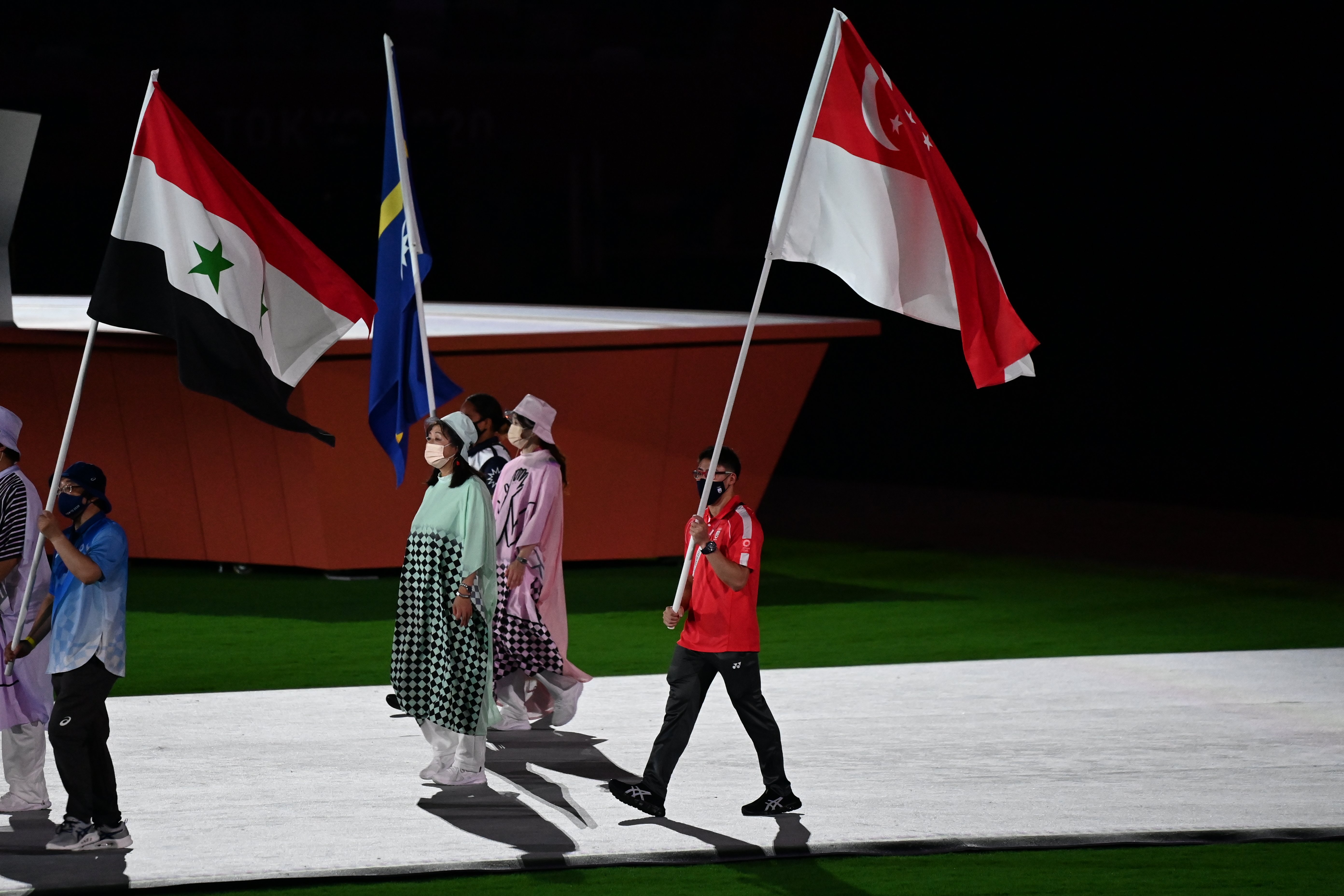 (Tokyo 2020 Closing Ceremony - Photo by Sport Singapore)
By Kenneth Tan
After a year's delay and much uncertainty, the Tokyo 2020 Olympics was finally successfully held from July 23 to August 8. And after 16 glorious days of high-level competition, the Closing Ceremony took place this evening (8 Aug). It was more than 3.5 hours in duration and after a grand spectacle of music, iconic visuals and positive vibes "in the air", the Olympic flag was handed over to the next host city, Paris.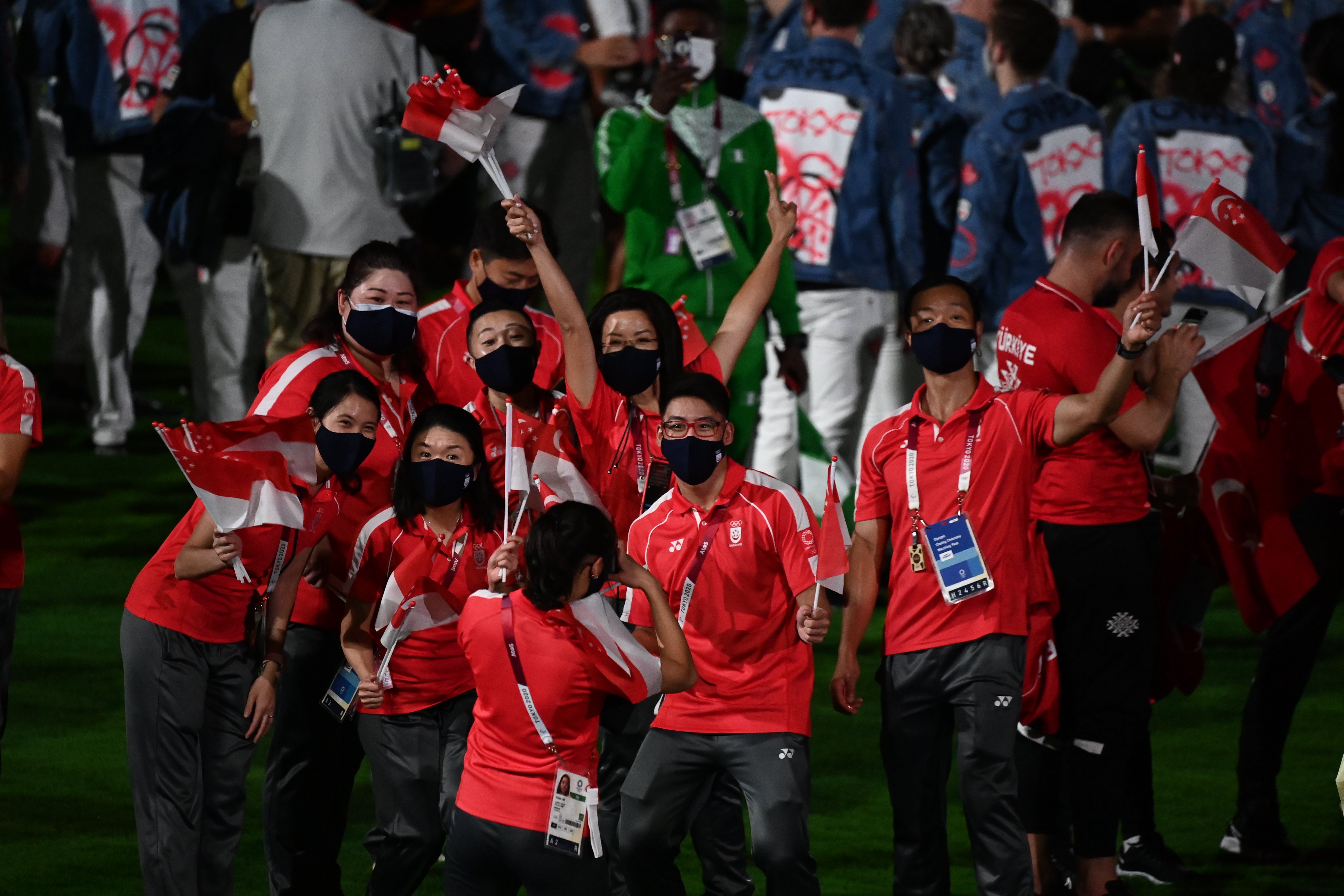 (TeamSG at Tokyo 2020 Closing Ceremony - Photo by Sport Singapore)
Team Singapore had a total of 23 athletes featuring in 12 sports over the past two weeks – their largest-ever contingent at the Olympiad. 17 of them were making their Games debuts, while 3 sports were also represented by the Republic for the first time.
So how did the Class of 2020 fare?
It is almost without a doubt, that the most outstanding achievement belonged to the sailing duo of Kimberly Lim and Cecilia Low. Competing in the skiff 49er FX event, they chalked up 97 net points over 12 races to finish 9th out of the 21-country fleet. That meant, the reigning Asian Games champions created history by becoming the first Singaporeans ever to qualify for a medal race – in which they finished 10th overall. That is Singapore's best ever sailing result at the Games – with the previous benchmark set by laser sailor Colin Cheng who finished 15th out of 49 boats at London 2012.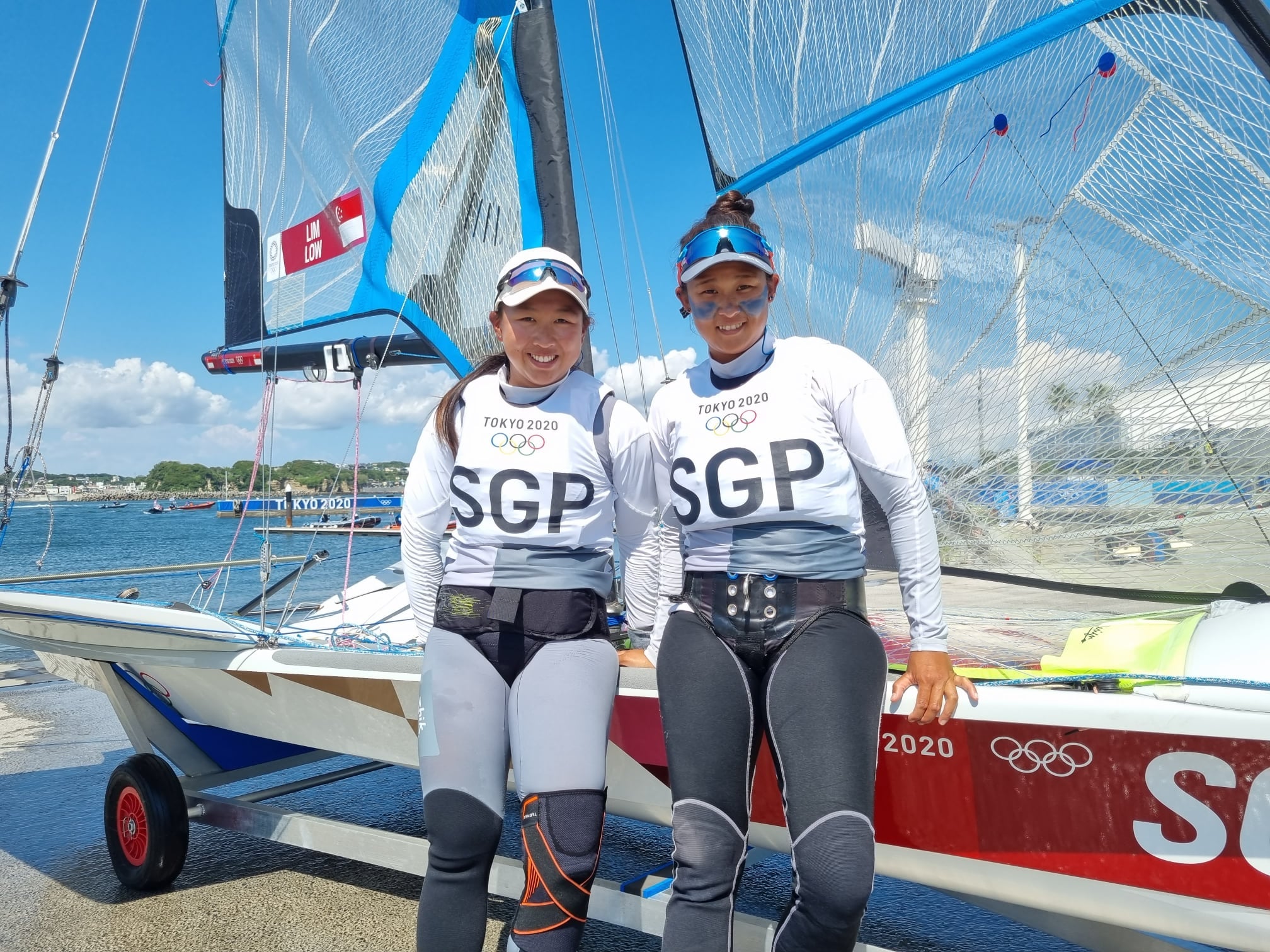 (TeamSG Sailors Kimberly Lim and Cecilia Low - Photo by Singapore Sailing)
The other two Singaporean debutant sailors in Tokyo also fared well, with Ryan Lo competing in 10 races in the Men's Laser Class. The 4-time SEA Games Gold medallist finished off his 2020 Olympic campaign with a 2nd place finish in Race 10 and was placed overall 21st out of 35.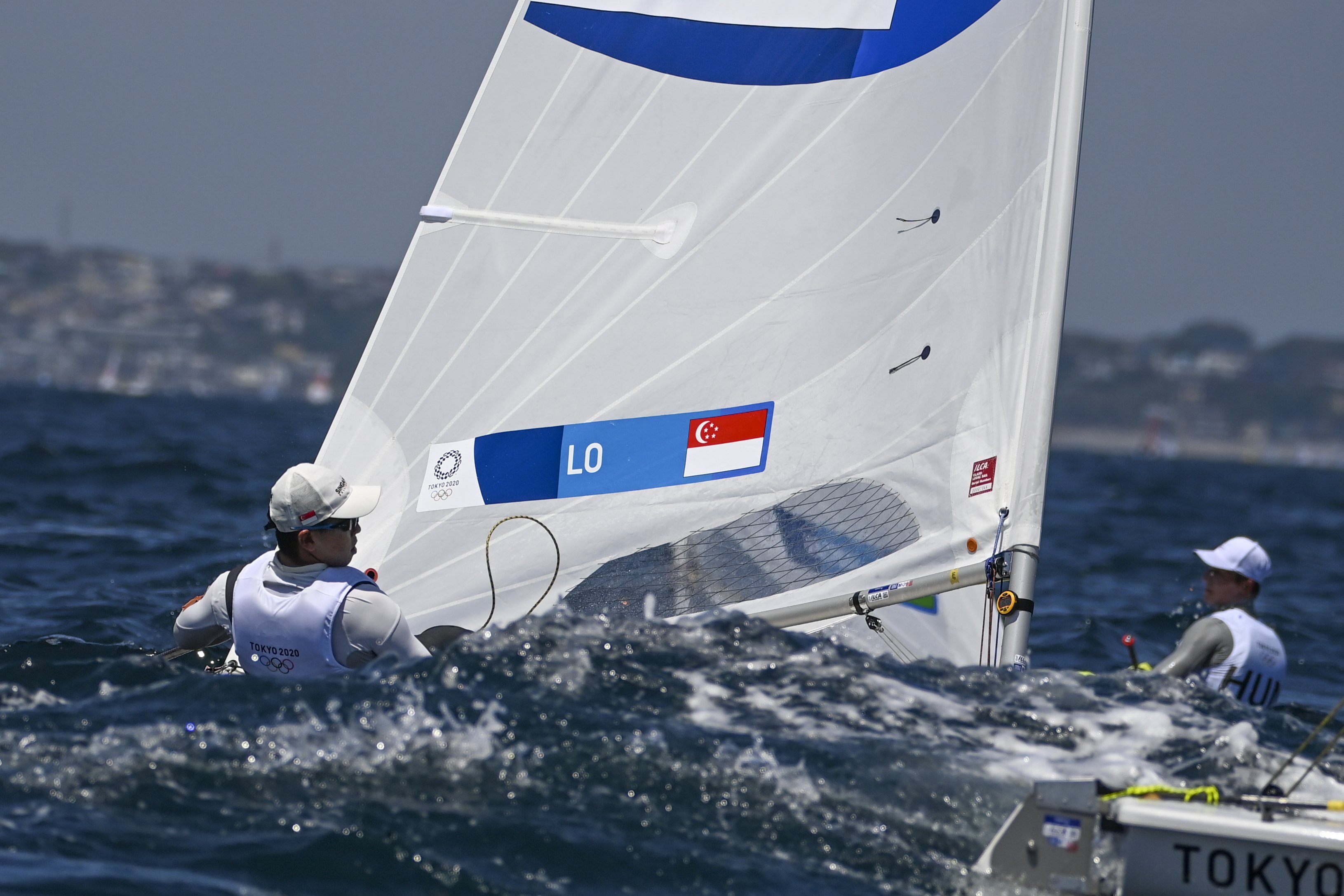 (TeamSG Sailor Ryan Lo at Tokyo 2020 - Photo by Sport Singapore)
Making her Games debut as well was windsurfer Amanda Ng. The 27 year old was ranked 26th out of 27 after 12 races in the Women's RS:X class.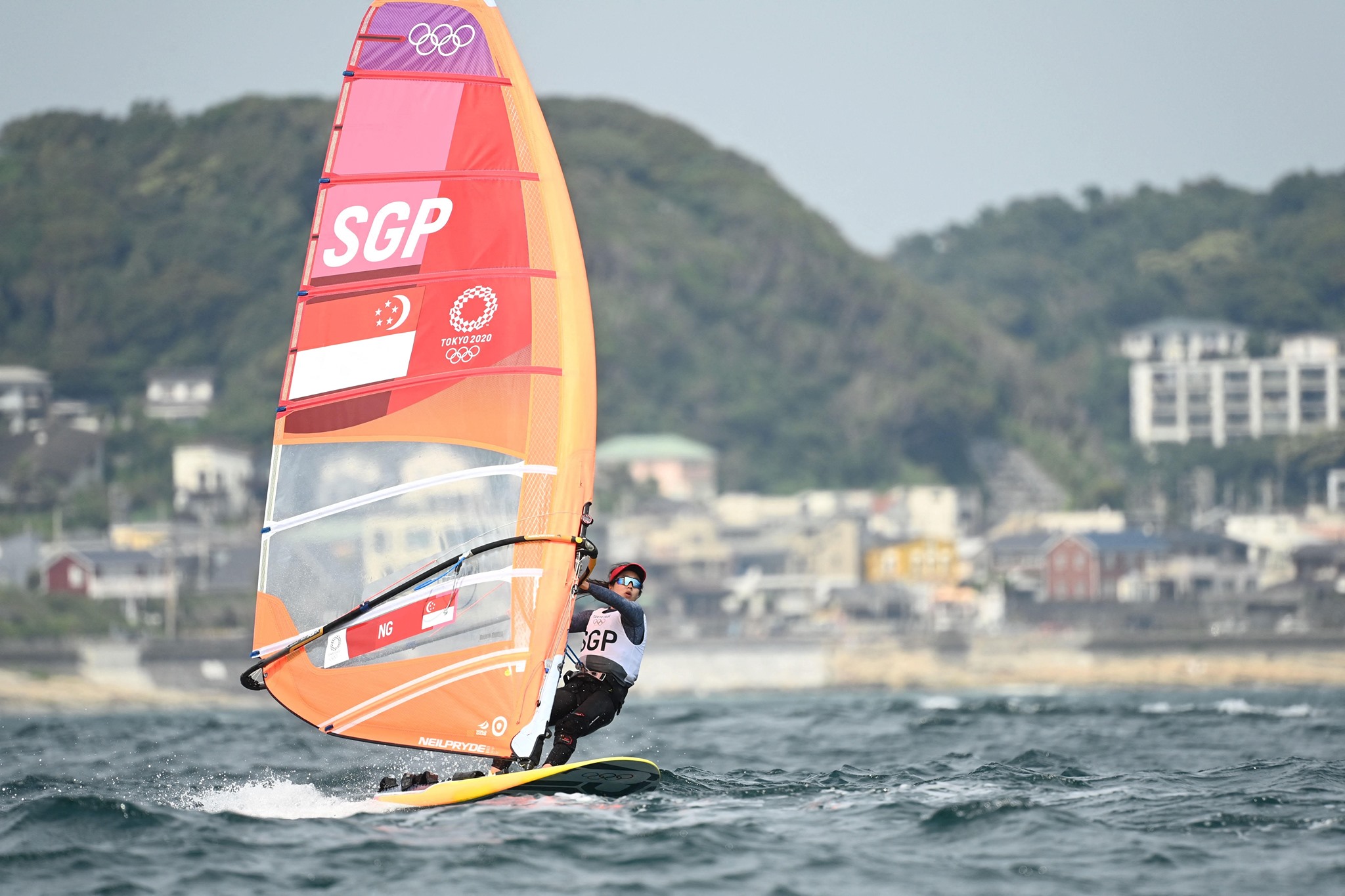 (TeamSG Sailor Amanda Ng at Tokyo 2020 - Photo by Sport Singapore)
Experienced paddler Yu Mengyu also had a memorable Games to remember after a stunning run into the semi-finals of the Women's Table Tennis Singles. 47th-ranked Mengyu defeated two players within the world's top 10 in Chinese Taipei's Cheng I-Ching and Japan's Kasumi Ishikawa in the process. Managing to surpass her quarter-final finish on her Olympic debut in Rio 2016, she would narrowly miss out on a podium finish (again) after defeats to China's top-ranked Chen Meng in the semis and Japan's world no. 2 Mima Ito. However, a 4th-place finish attained after enduring injury along the way was something truly commendable.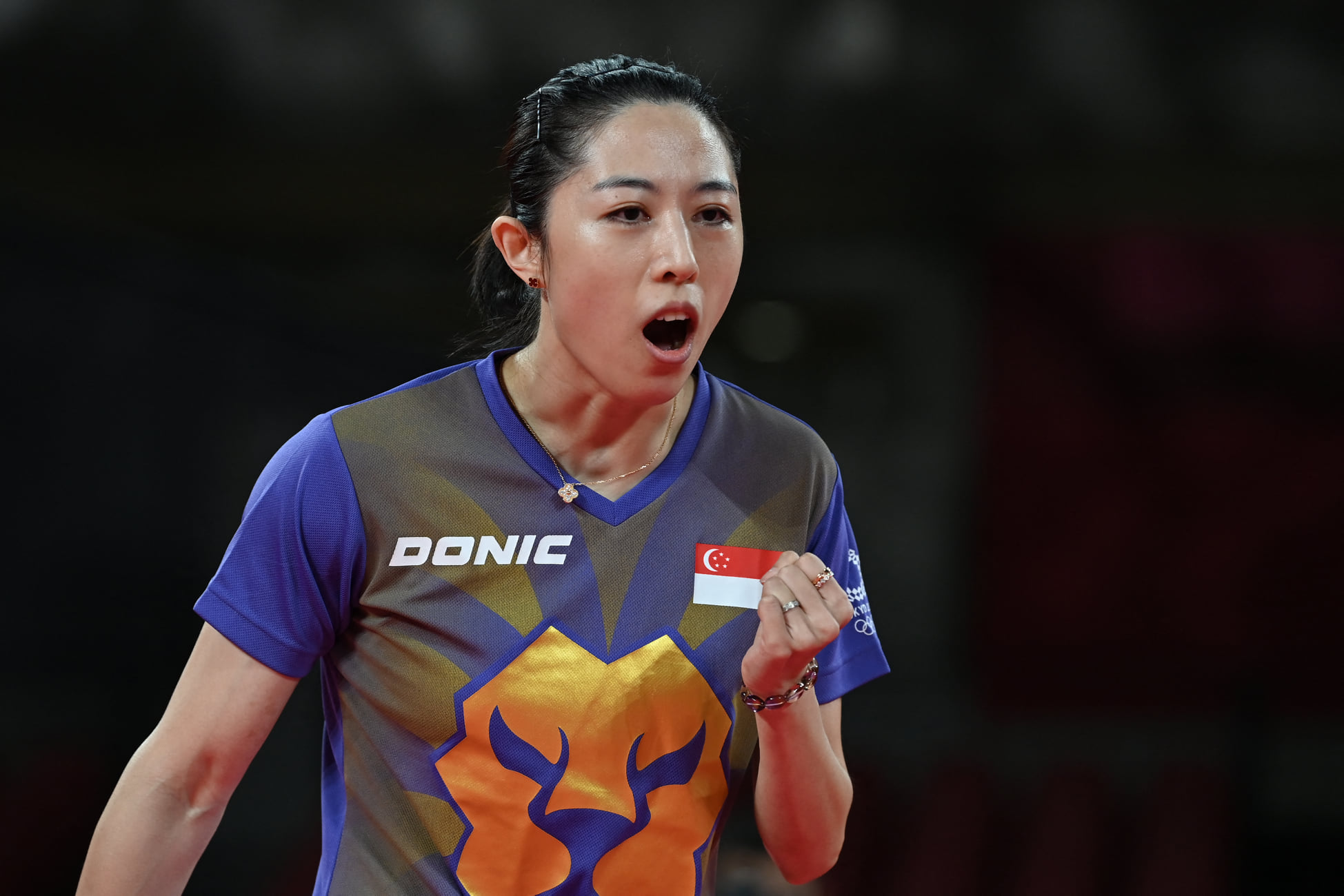 (TeamSG Paddler Yu Mengyu at Tokyo 2020 - Photo by Sport Singapore)
Team Singapore's most decorated Olympian Feng Tianwei, did not fare as well though in Tokyo. Competing in her 4th and last Olympiad campaign as the 9th–ranked player, the 34 year old went down to a 4-1 defeat to old nemesis Han Ying (world no. 22) from Germany – exiting in the Round of 16 of the Singles.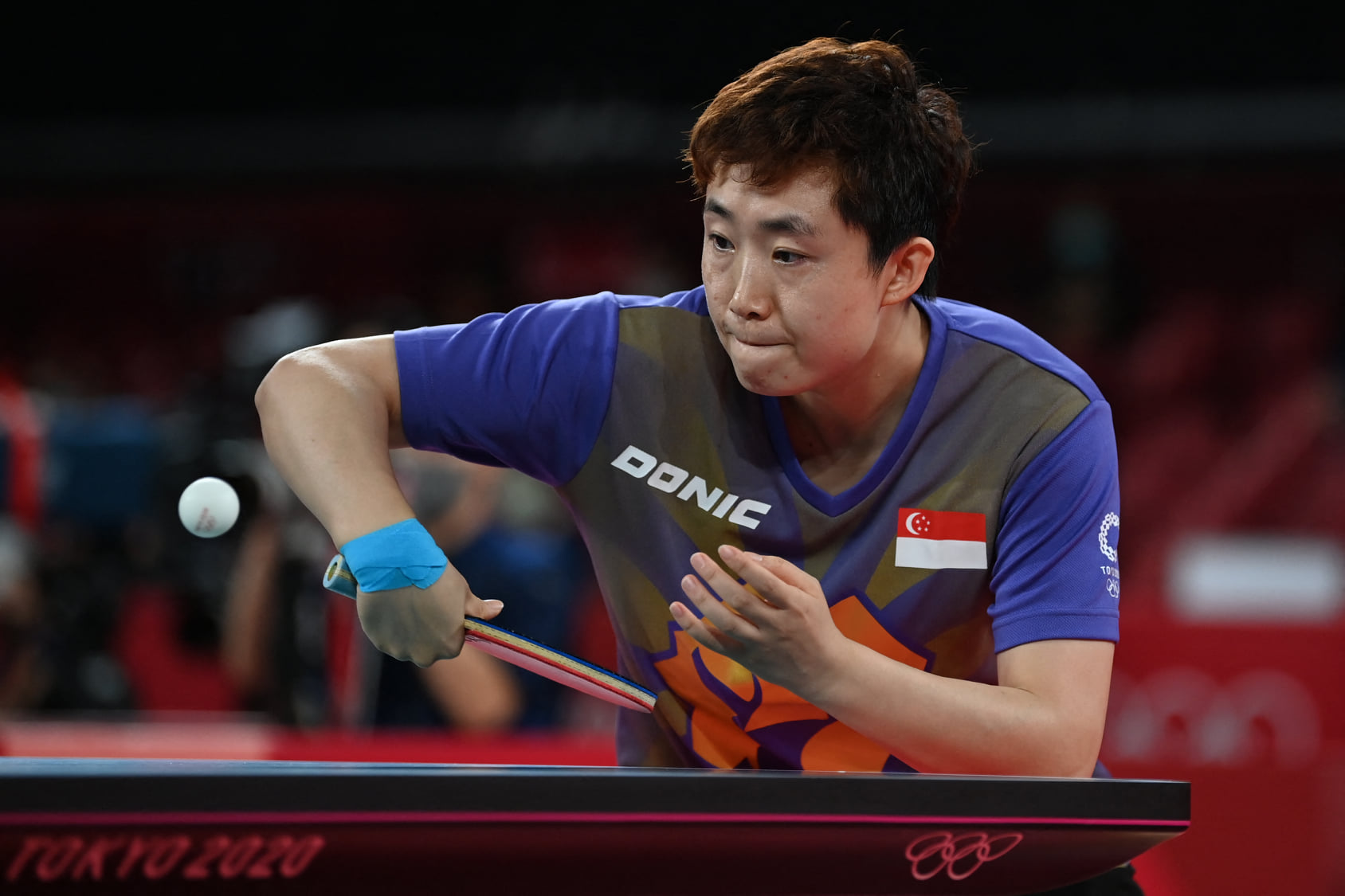 (TeamSG Paddler Feng Tianwei at Tokyo 2020 - Photo by Sport Singapore)
In the Women's Team Event, debutant Lin Ye linked up with Mengyu and Tianwei, and that was where she managed to impress many in the Quarter-Final clash against China. The 60th–ranked paddler took a set off world no. 4 Wang Manyu before ultimately succumbing 3-1. The sixth-seeded Singaporean team would go down to a valiant 3-0 overall defeat to their all-domineering Chinese counterparts, which meant they failed to bag a medal for a 2nd straight Olympics. With Mengyu and Tianwei most likely not featuring in Paris 2024, 25-year-old Lin Ye could be the future leader of a brand new women's table tennis team, that will go for honours at Major Games.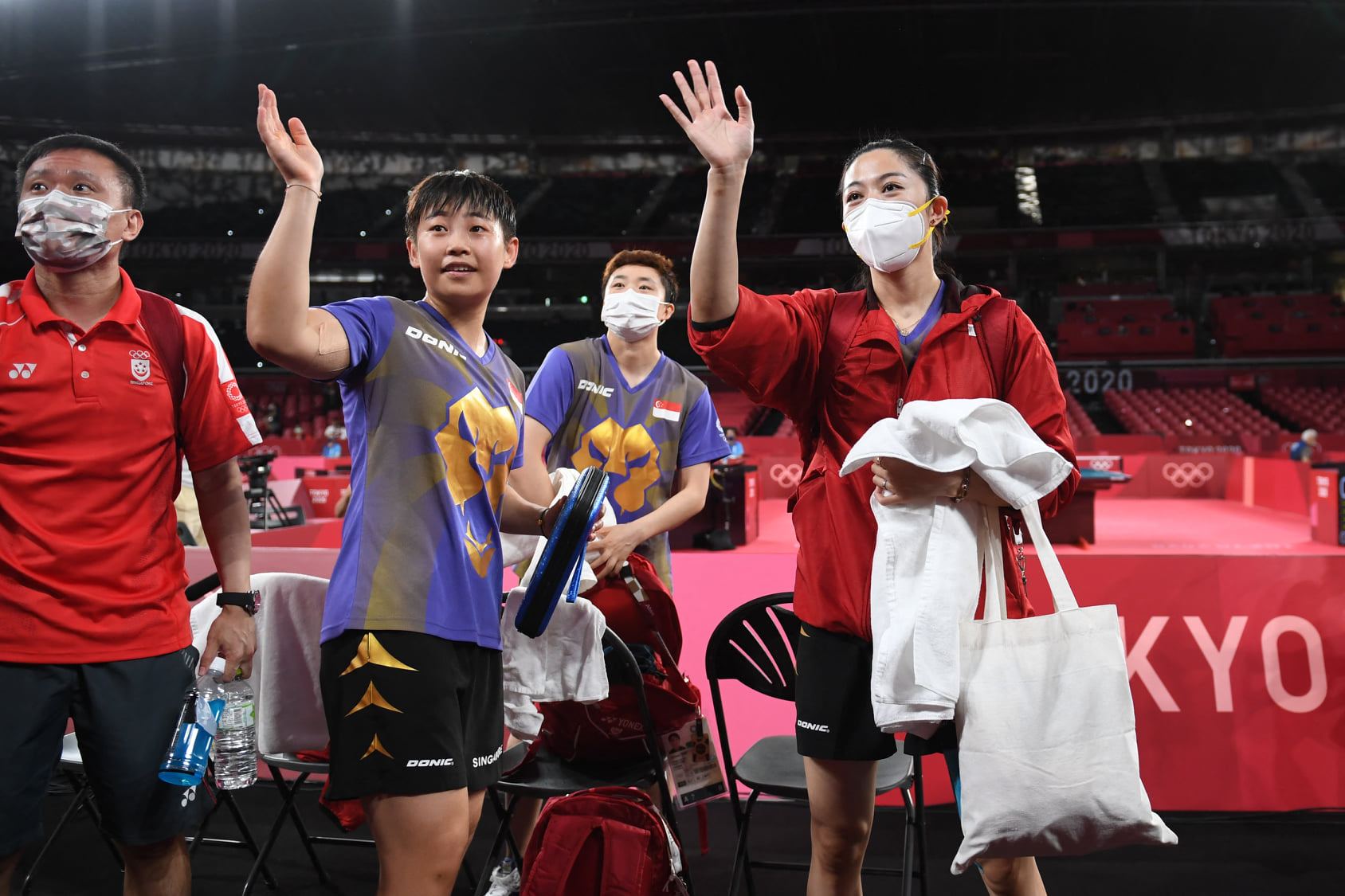 (TeamSG Paddlers at Tokyo 2020 - Photo by Sport Singapore)
Also making his first appearance at the Games was male paddler Clarence Chew, who gave a great account of his abilities. The 186th-ranked player upset Senegal's world no. 71 Ibrahima Diaw 4-2. That's before going down fighting in a 4-1 defeat to Austria's world no. 44 Daniel Habesohn in Round 2 of the Men's Singles. The future of the reigning SEA Games Silver medallist is certainly looking bright, as the 25-year-old has his sights on Paris 2024 next.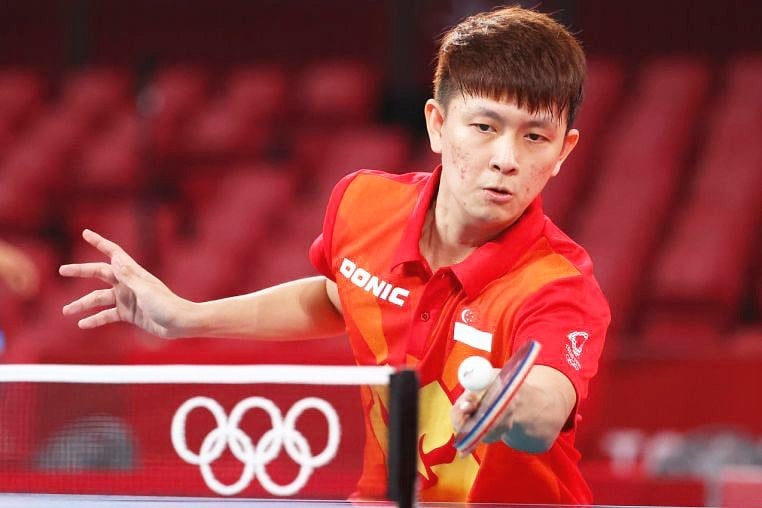 (TeamSG Paddler Clarence Chew at Tokyo 2020 - Photo by Sport Singapore)
There were also encouraging performances in the other racket sport – badminton – where the duo of Yeo Jia Min and Loh Kean Yew, showcased their potential in their respective Singles Group stages, despite not being able to progress into Round of 16.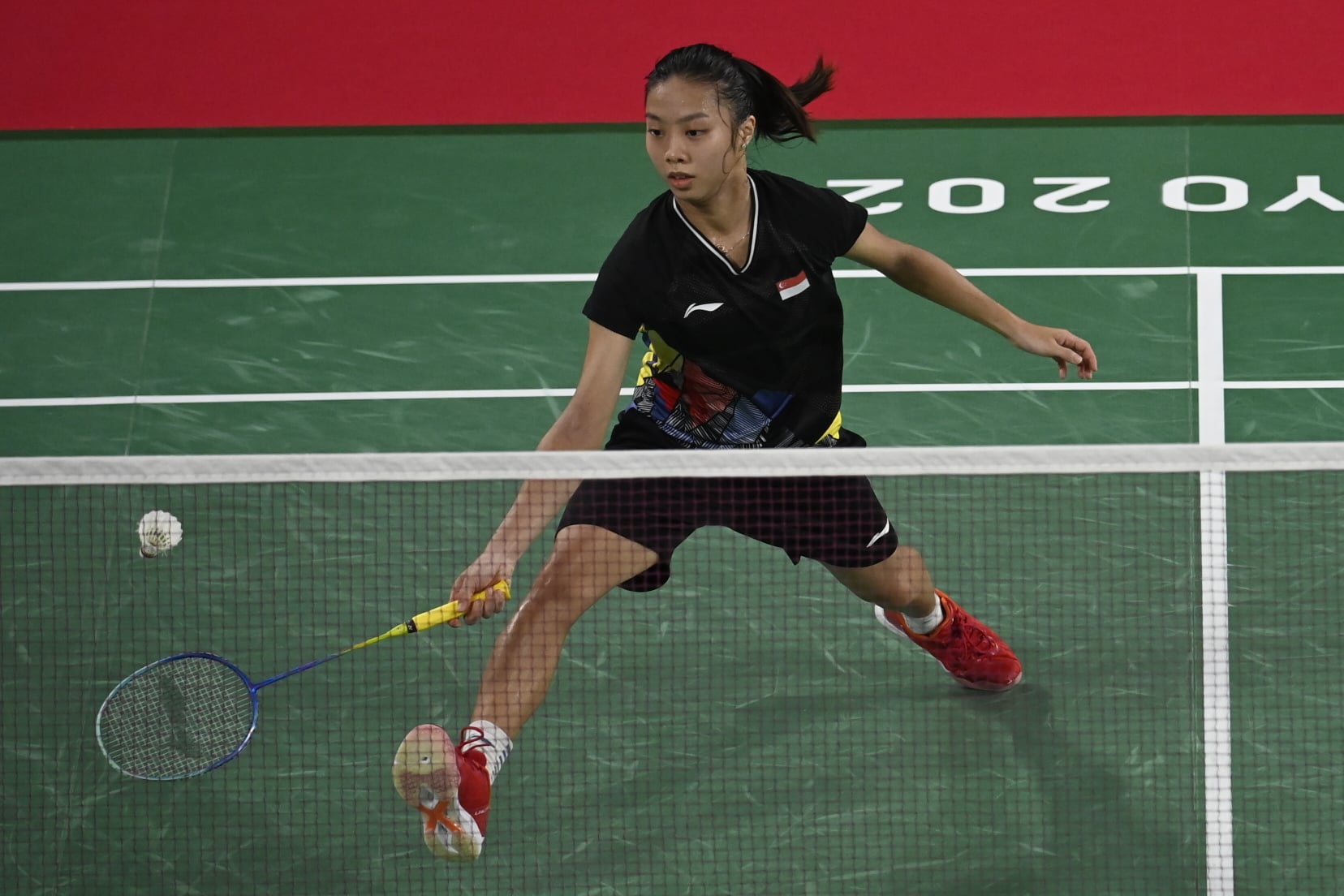 (TeamSG Shuttler Yeo Jia Min at Tokyo 2020 - Photo by Sport Singapore)
World no. 30 Jia Min dispatched Mexico's Haramara Gaitan in straight sets within less than 30 minutes in her opening group match. But the next day, despite a hard battle against 18th ranked Kim Ga-eun, Jia Min succumbed to 2-0 defeat to the Korean and bowed out from the Olympiad.
(TeamSG Shuttler Loh Kean Yew at Tokyo 2020 - Photo by Sport Singapore)
As for world no. 42 Kean Yew, he followed up a straightforward win against Refugee Olympic Team's Aram Mahmoud with another brilliant showing against Indonesia's 7th-ranked Jonatan Christie. Taking on the reigning Asian Games champion in a round-robin group match, it was unfortunate for the Singaporean though, to go down to a narrow 2-1 defeat after an hour-long battle.
At 22 and 24 years old respectively, Jia Min and Kean Yew are primed to make another Olympics or two in the future and we look forward to seeing stronger performances from them.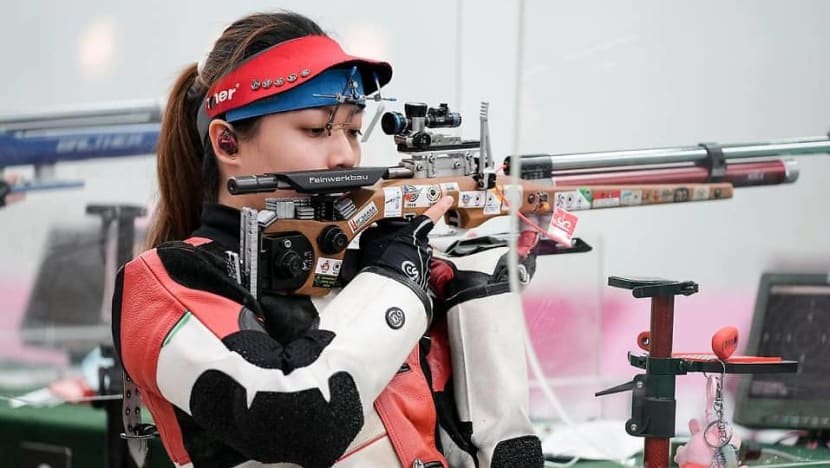 (TeamSG Shooter Adele Tan in Tokyo 2020 - Photo by Kong Chong Yew/Singapore National Olympic Council)
The sport of Shooting brought some good news to Singapore as well, with Adele Tan achieving the nation's best showing since Jasmine Ser's 24th-place finish in 2012. Her 60-shot score of 625.3 points in the Women's 10 metres air rifle event ranked her 21st out of 50. That was not enough to qualify for the finals, but the 22-year-old can feel proud of what she has accomplished.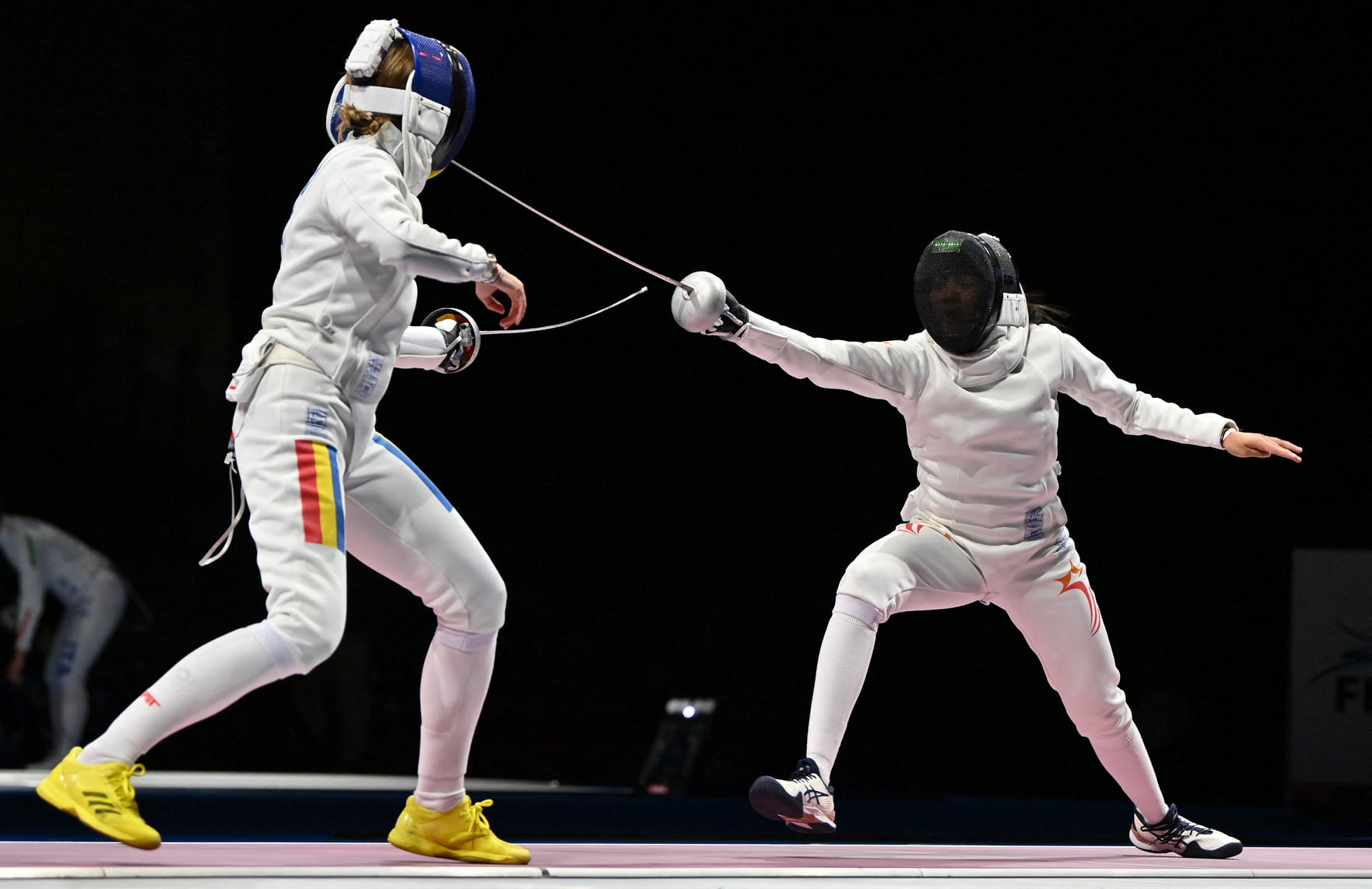 (TeamSG's Epee Fencer Kiria Tikanah, in white/black shoes - Photo by Sport Singapore)
Over to Fencing, the duo of Kiria Tikanah Abdul Rahman and Amita Berthier, also did the country proud with their brave displays against higher-ranked opponents.
Starting off with an upset of world No. 90 Coco Lin of Hong Kong in a 15-11 scoreline, 207th-ranked Kiria marched into a tough Table of 32 Individual Epée bout against Romanian world No. 1, Ana Maria Popescu. Despite the gulf in the rankings, the 21-year-old Singaporean kept the contest close and was down by only a point with 35 seconds remaining before ultimately succumbing 15-10.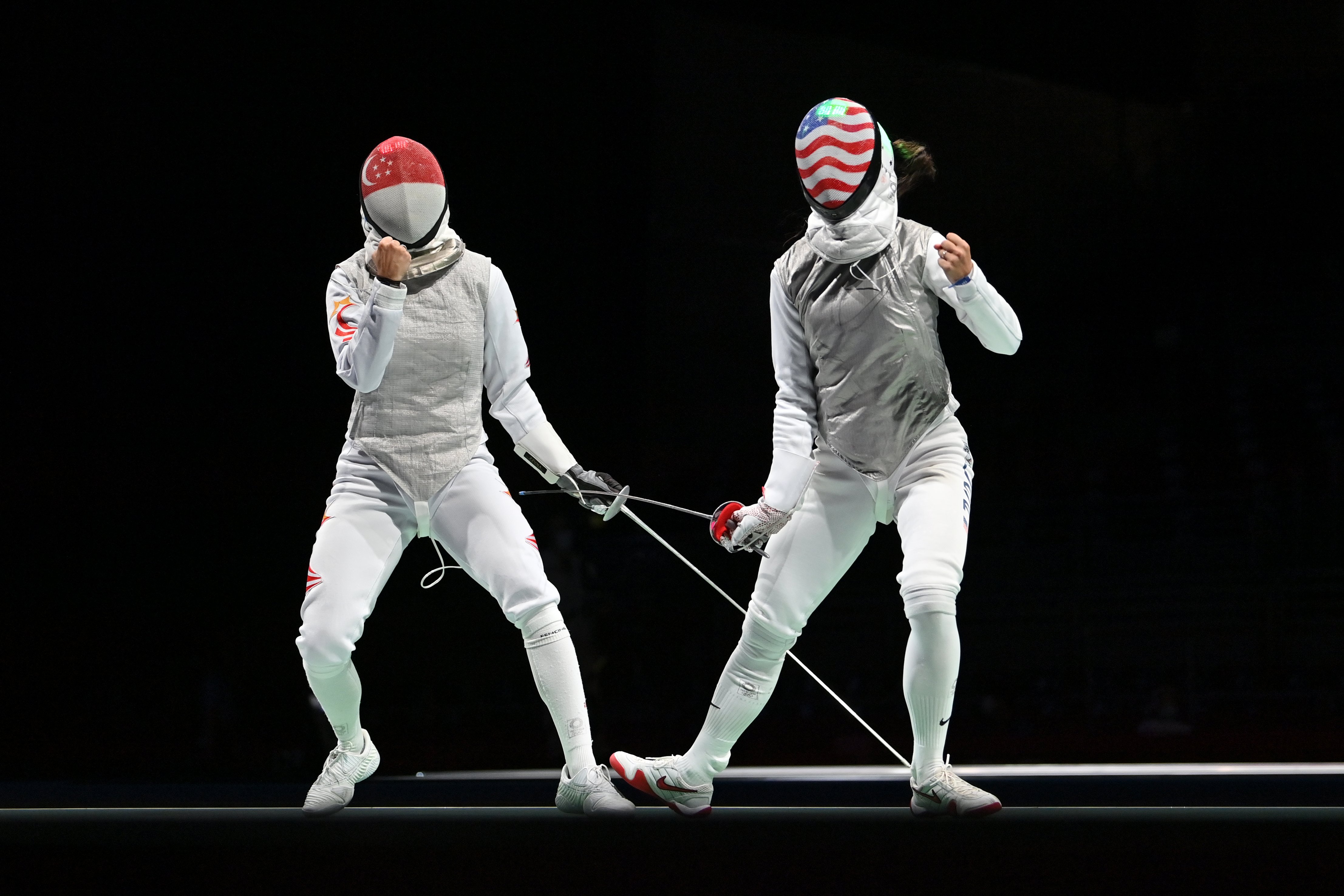 (TeamSG's Foil Fencer Amita Berthier, using Singapore fencing mask - Photo by Sport Singapore)
60th-ranked and 20-year-old Amita similarly put up a heartening fight, before going down 15-4 to Lee Kiefer in their Table of 32 individual foil battle. 3-time Olympian Lee is the reigning world No 1 in the Foil discipline and went on to win the Gold in Tokyo. As for Amita, she's eagerly waiting for a rematch and has plans to beat Lee, who happens to be a friend and an occasional sparring partner in the US!
As the very first TeamSG female fencers to compete at the Games, these two Olympians can certainly go further in the future.
(TeamSG's Chantal Liew at Tokyo 2020 - Photo by Sport Singapore)
In Open Water Swimming where Chantal Liew became the first Singaporean to compete in the 10 kilometres Marathon event. The 22-year-old put up a valiant effort on her debut and was placed 23rd out of 25 swimmers in a time of 2hrs 8min 17.9sec. It was her 1st and also her last Olympic race, as she's decided to retire and pursue her studies and other career options.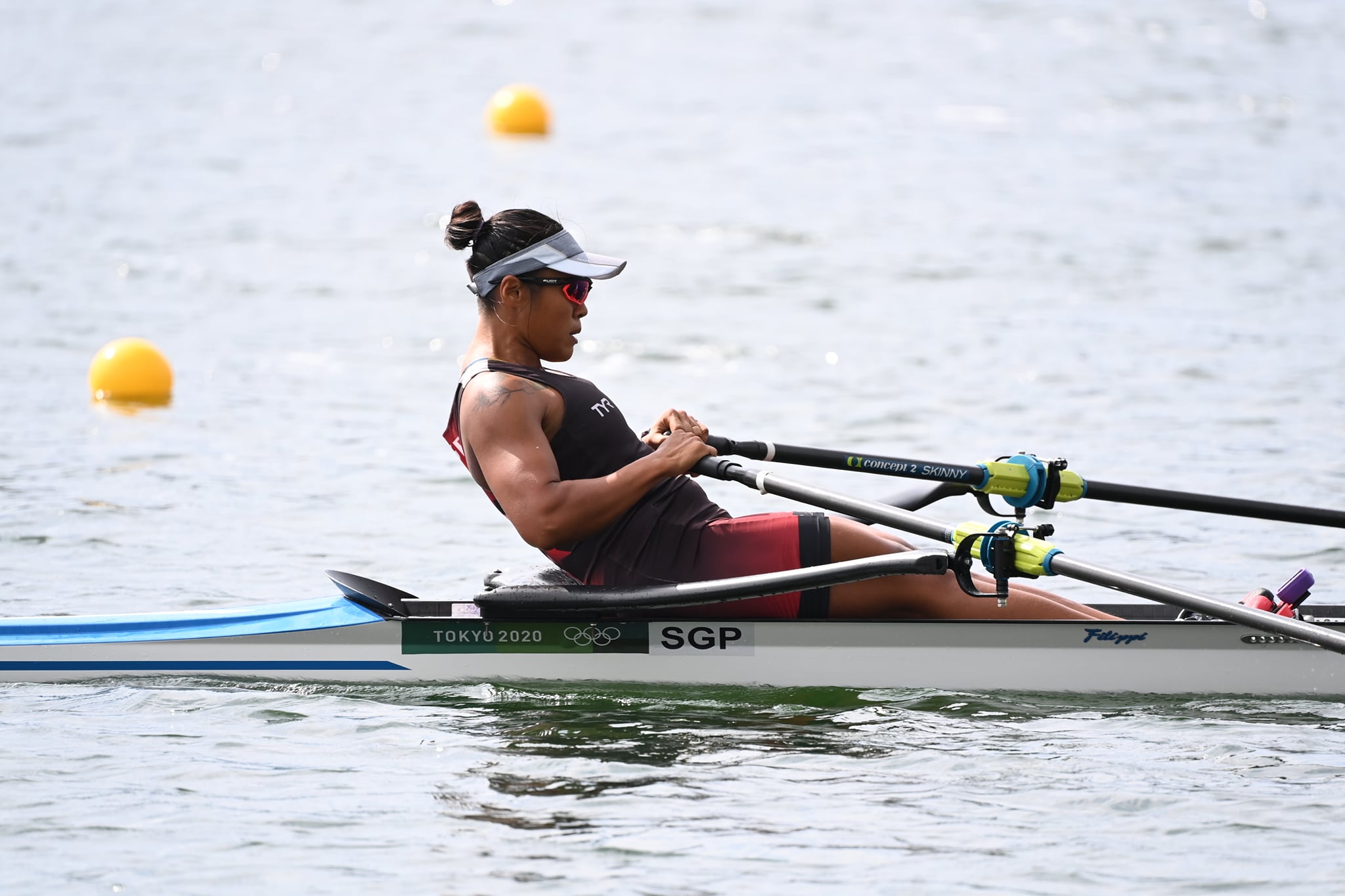 (TeamSG Sculler Joan Poh - Photo by Sport Singapore)
Joan Poh was the first Team Singapore representative to feature in Tokyo 2020, when the rower competed in the Heats and Repechage of the 2Km Single Sculls competition. While she did not manage to go further in the Main Draw, the 30-year-old full-time nurse did well to finish 28th out of 32 in the event's E finals – ending her first Olympics on a good note.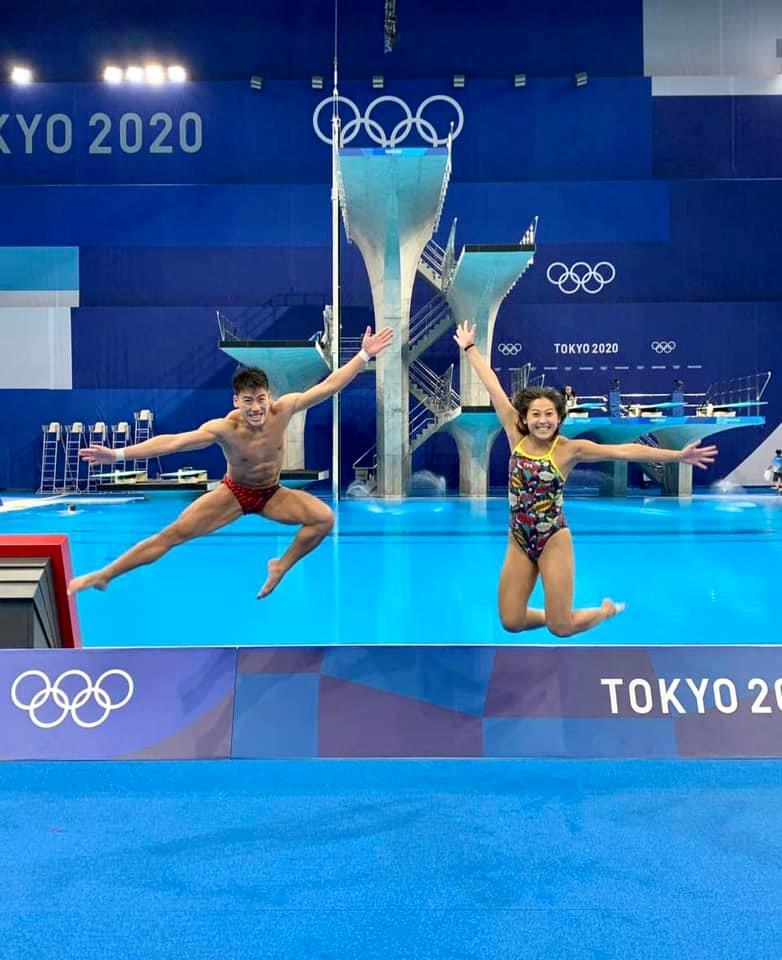 (TeamSG Divers Jonathan Chan and Freida Lim - Photo on Jon Chan's IG)
There were also decent debuts for Freida Lim and Jonathan Chan – who made history as the first-ever female and male divers to feature at the Games respectively.
23-year-old Freida finished 30th overall with a 5-dive score of 215.90 in the Women's 10m Platform Preliminaries. And with that performance, she's retired from the 10m event altogether, due to prior injuries. She might still consider representing TeamSG in the 1m and 3m diving events.
For 24-year-old Jonathan, he was placed 26th out of 29 in the Men's category with his 6-dive score of 311.15. The 2-time SEA Games Silver medallist's best score in this event, came in the 6th and final dive (Pike Position) with a score of 62.4 in the Back 2½ Somersaults 1½ Twists.
While the scores for Jonathan and Freida were not enough to qualify for the semi-finals, their presence at the Olympics is an indication of how far the diving scene has come in Singapore – having only restarted its elite program back in 2009.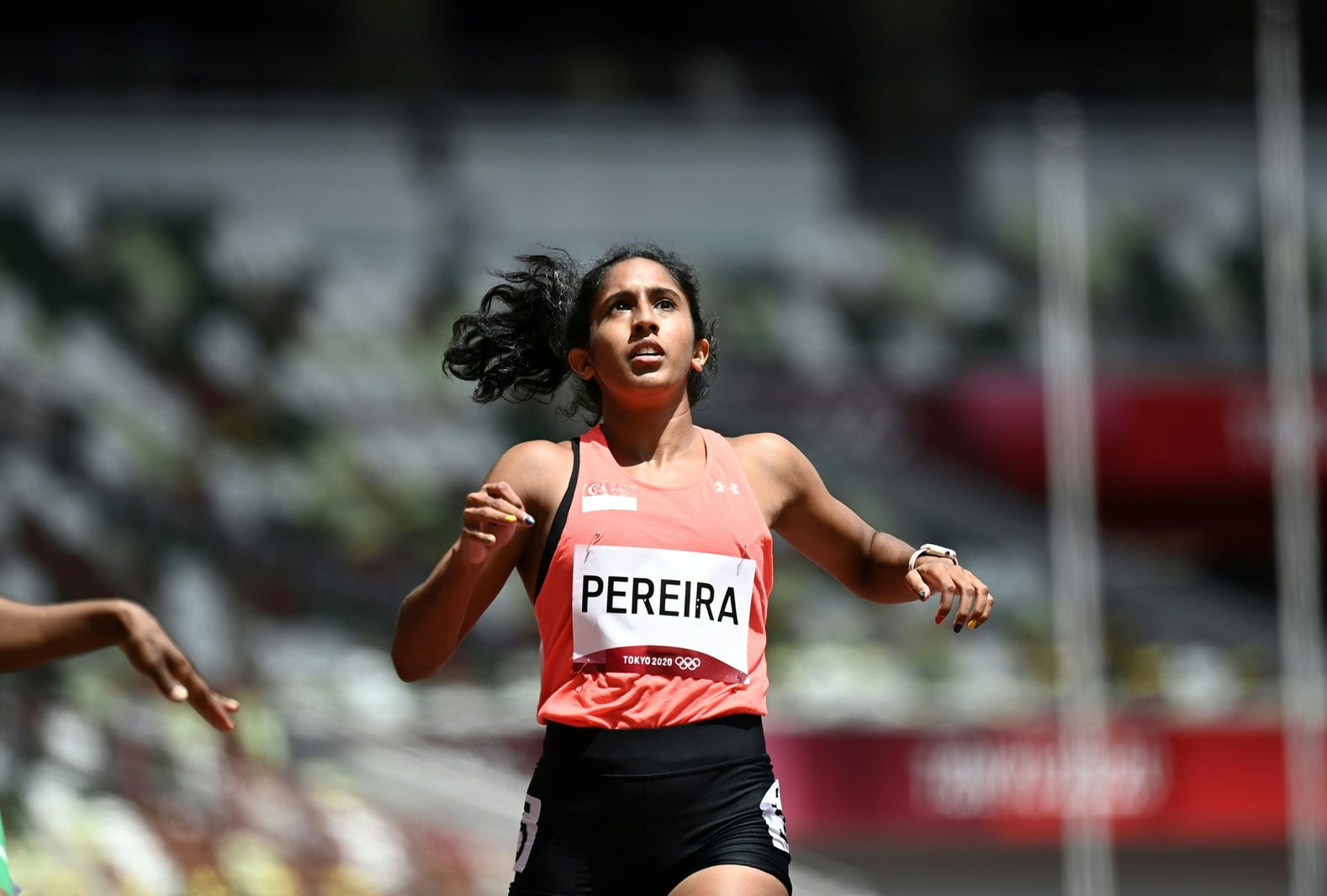 (TeamSG Sprinter Shanti Pereira - Photo by Sport Singapore)
Singapore's sprint queen Shanti Pereira achieved a season-best timing of 23.96 seconds in her 200 metres 1st round heat. That placed her 39th out of 41 overall and the debutant did not manage to progress further. But the 24-year-old can look back fondly on being the 1st Singaporean female sprinter since Mary Klass at the 1956 Melbourne Games, to feature at the Summer Games.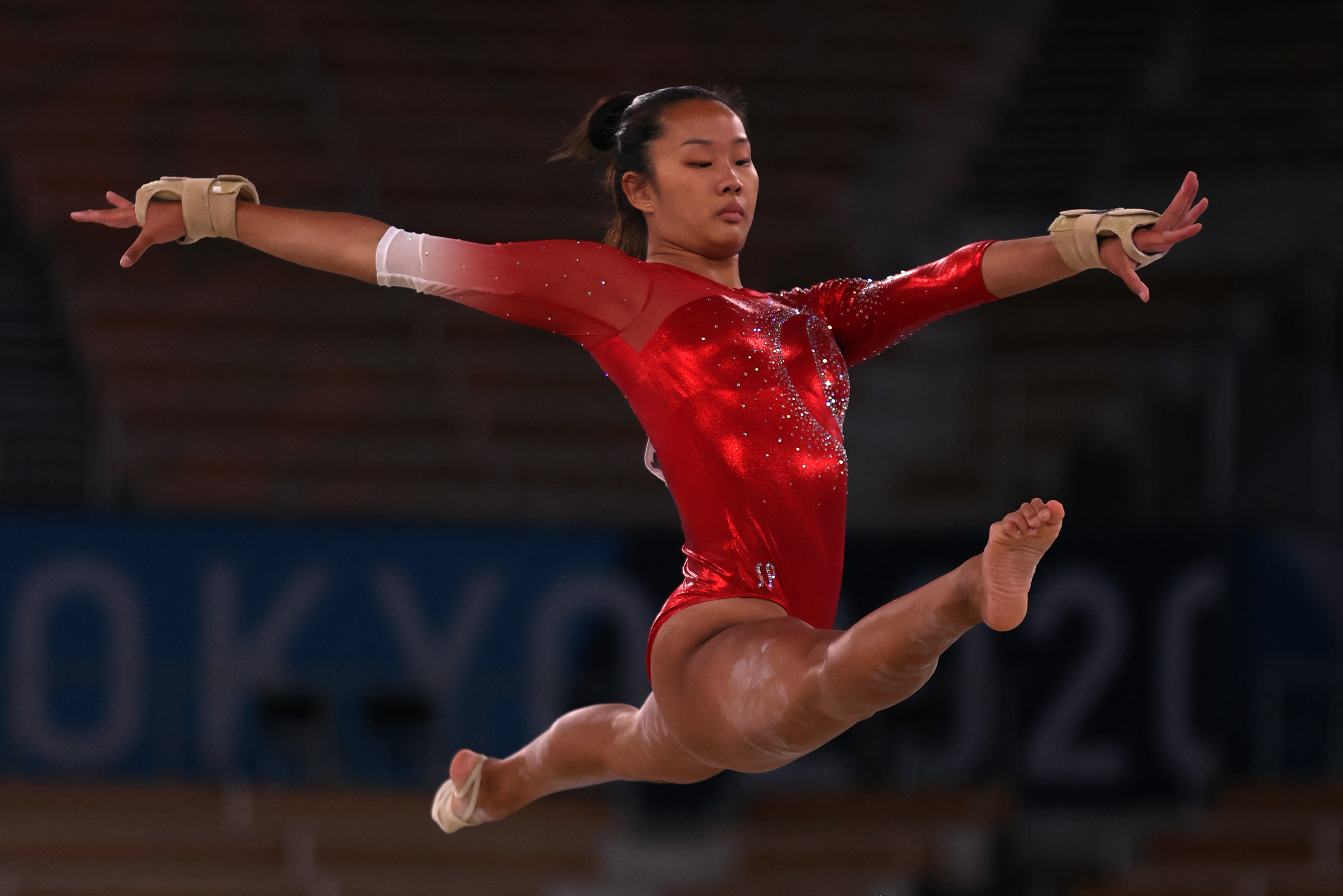 (TeamSG Gymnast Tan Sze En - Photo by Sport Singapore)
Crossing over to Gymnastics, Tan Sze En became just the 2nd Singaporean to feature in the discipline at the Games after Lim Heem Wei first did so in London 2012. Competing in the Individual All-around category which consists of 4 events, she scored 11.833 points (13th out of 17 competitors) for the Floor Exercise and 11.033 for the Balance Beam (17th out of 19). However, she skipped the two remaining components in the Uneven Bars and Vault due to a niggling wrist injury – that meant she did not manage to finish in the standings.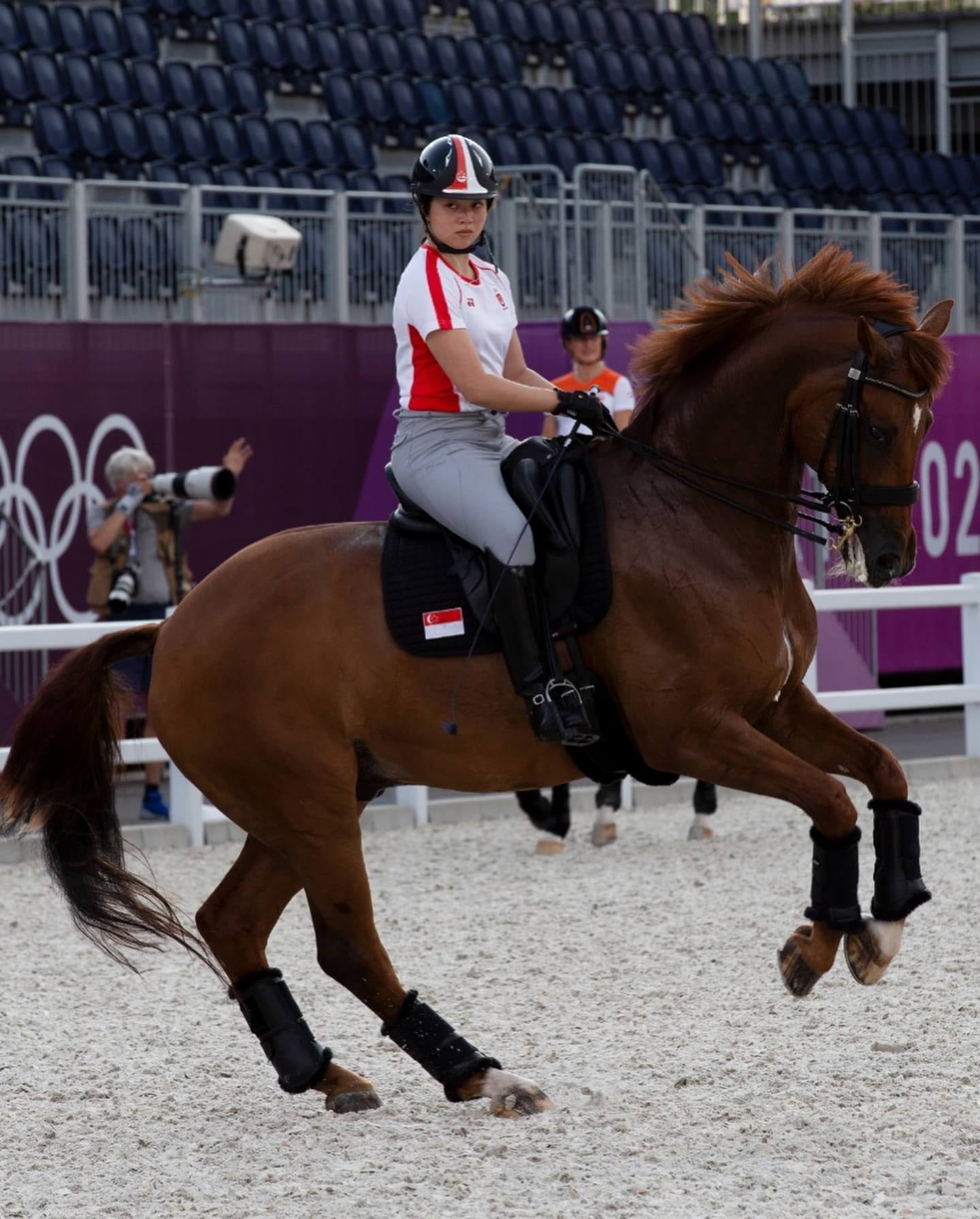 (TeamSG Equestrienne Caroline Chew and Tribiani - Photo by Caroline Chew Facebook Page)
Switching to Equestrian where the Republic is making its first-ever Olympic appearance, Caroline Chew suffered heartbreak as she got eliminated after 4 minutes into her performance routine. That's after her horse Tribiani, was found to be bleeding from the mouth midway through their Individual Dressage Grand Prix qualifying event. According to the International Federation for Equestrian Sports (FEI) dressage rules article 430.7.6.1, they cannot carry on with the competition.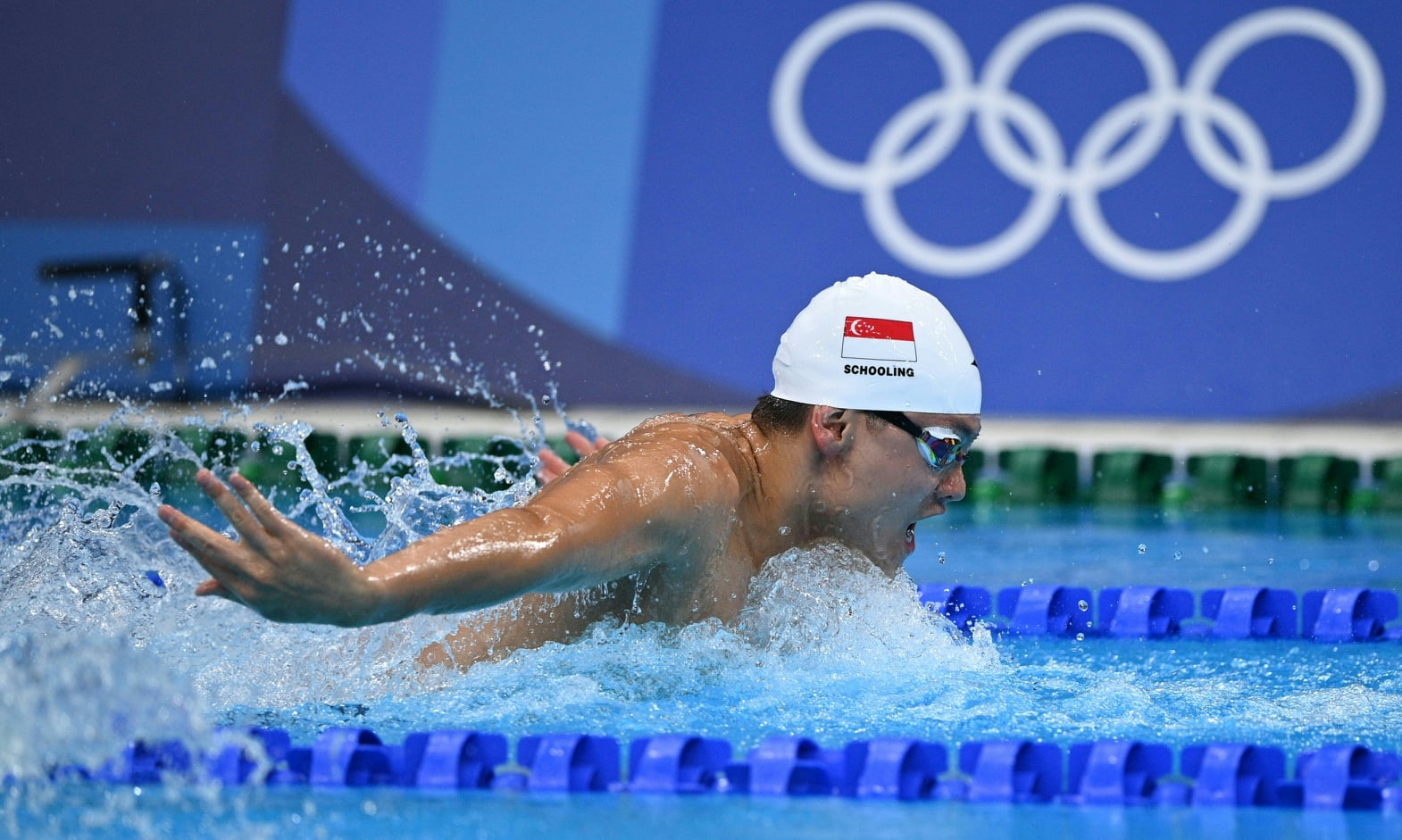 (TeamSG Swimmer Joseph Schooling - Photo by Sport Singapore)
Team Singapore's hopes of a medal, were also pinned on the gold medal defence of Joseph Schooling in the Men's 100m Butterfly. 5 years ago, the 21 year old set a Games record of 50.39 seconds in Rio 2016 and won the Republic's 1st ever Olympic Gold!
It was an underwhelming start to Tokyo 2020 though, when the 26 year old finished 39th out of 70 in the Men's 100m Freestyle heats. It seemed to be the prelude to what was about to come next in his pet event. In the 100 fly heats, he couldn't deliver when it mattered, finishing in last place and was ranked 44th out of 55! With that, he bowed out with a whimper.
There is certainly no shame in defeat, for only the great Michael Phelps managed to defend the crown in the past 50 years of this event!
What perhaps is more alarming for Joseph, comes from the slowing down of almost 3 seconds (53.12s) since Rio 2016, and his inability to reach the top 16 and qualify for the semi-finals. We shall wait with bated breath to see what's next for Jo, for certainly we have not seen the last of him on the world stage.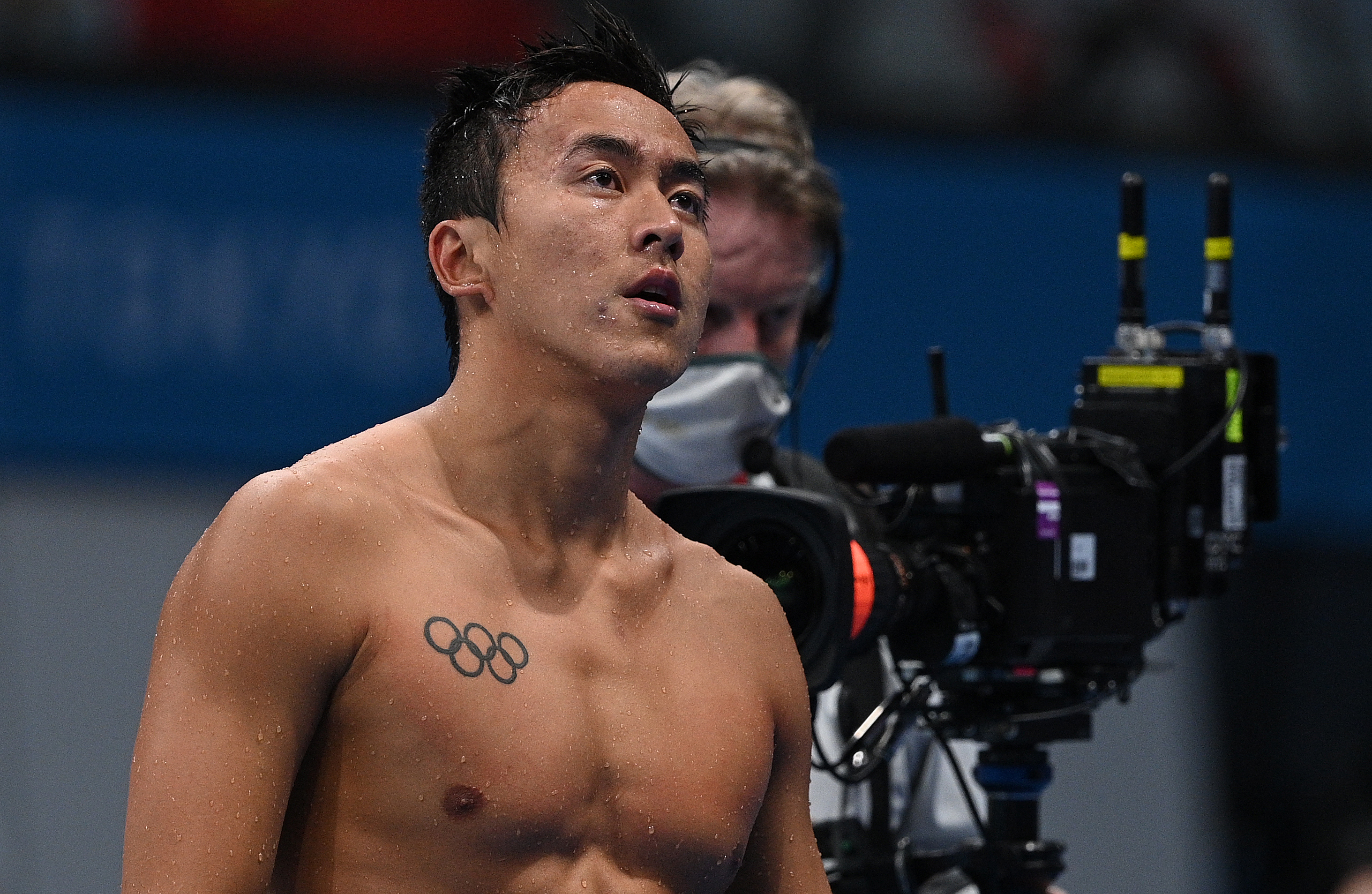 (TeamSG Swimmer Quah Zheng Wen - Photo by Sport Singapore)
There were also high hopes for Quah Zheng Wen, who was the Most Valuable Player (MVP) at the 2019 SEA Games with 6 gold and 2 silver medals. However, the 24-year-old failed to replicate his Rio 2016 achievements of reaching the semi-finals of both the 100m and 200m butterfly events. He finished 34th out of 55 and 22nd out of 38 in the respective heats.
Zheng Wen also competed in the 100m backstroke, but his timing of 53.94 seconds was also not enough for him to progress to the next stage.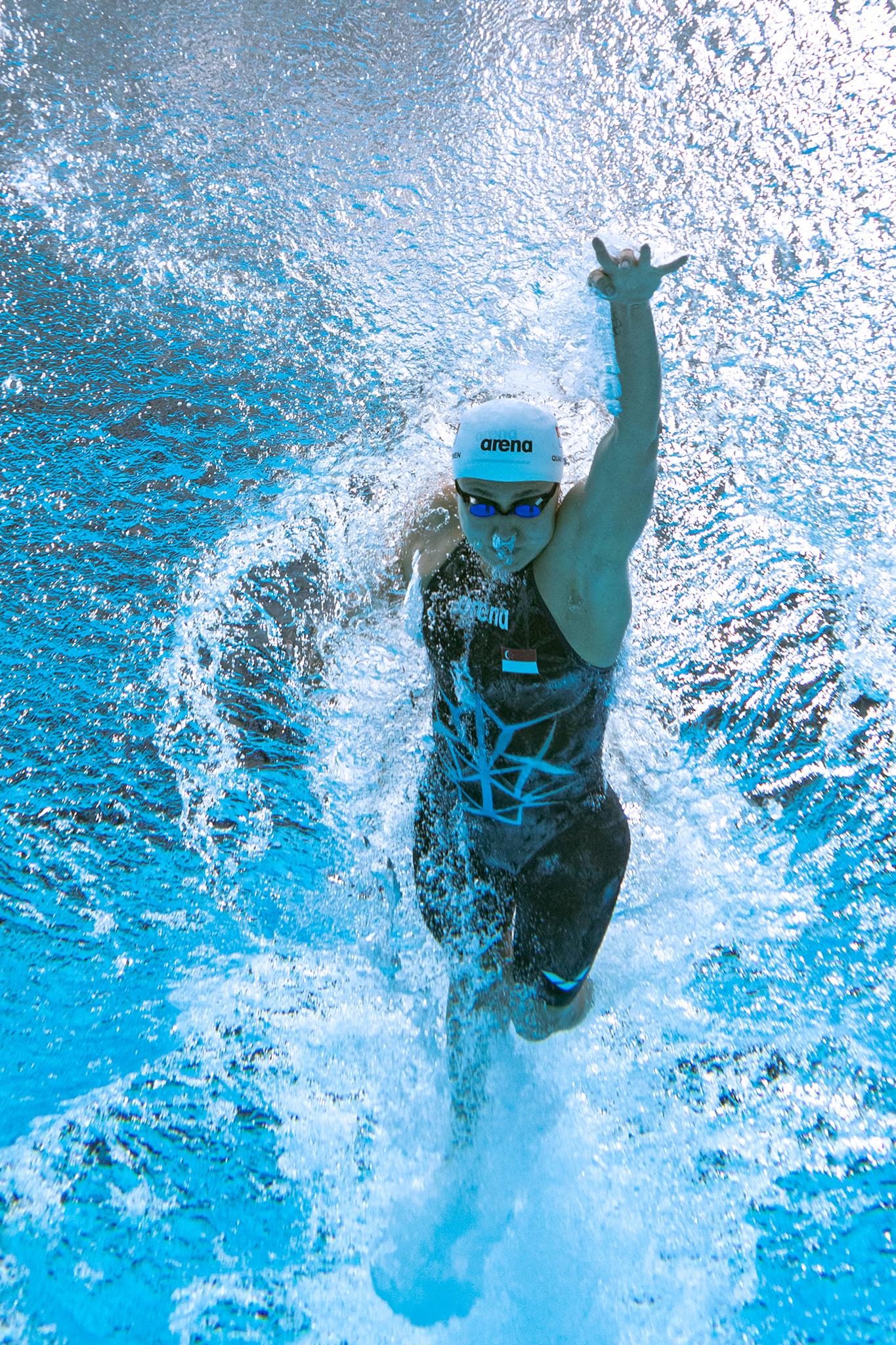 (TeamSG Swimmer Quah Ting Wen - Photo by Sport Singapore)
Zheng Wen's elder sister Quah Ting Wen, also didn't live up to her own expectations. The 28 year old competed in the 50m Free and 100 Free as well. But her timings of 26.16 seconds and 56.36 in the respective heats, placed her 40th amongst 81 competitors and 36th out of 51. The 3-time Olympian is a 27-time (tbc) SEA Games gold medallist and we should see her back in action at the 3 Major Games in 2022!
Despite coming home with no medals, we thank the Team Singapore contingent for flying the Republic's flag high in Tokyo 2020 and putting up a number of courageous performances along the way. The sacrifices made to represent the country at the Olympics in the midst of a pandemic is something that we should never forget. And we look forward to what they can produce in 2022 ,where there will be 3 Major Games going on. Till then, we wish them a safe flight back and a smooth quarantine back home!
The 32nd edition of the Olympic Games is from 23 July to 8 Aug 2021. For all coverage and news of the Republic's national athletes who're competing at the Games, check out the official Team Singapore Tokyo 2020 website.
Remember to also Show your support for Team Singapore at the Olympic Games!
Team Singapore athletes have worked tirelessly over the last 12-20 months, especially under strict safety management measures to train and prepare. They've had to step up, pivot and adopt new and innovative methods to train especially with their preparations confined to the Lion City. With no international competitions or training stints, these athletes have had to adopt and maintain a positive mindset as well, throughout this entire journey to reach the grandest stage in Sport!
Simply click here to pledge a few words of encouragement and send positive vibes, as our TeamSG athletes continue to fly the national flag proudly in Tokyo.
Additional Reporting by Raj Kumar