Tokyo 2020 : Team SG Equestrienne Caroline Chew suffers unfortunate disqualification on her Olympic debut!
by Circle Stories, on July 24, 2021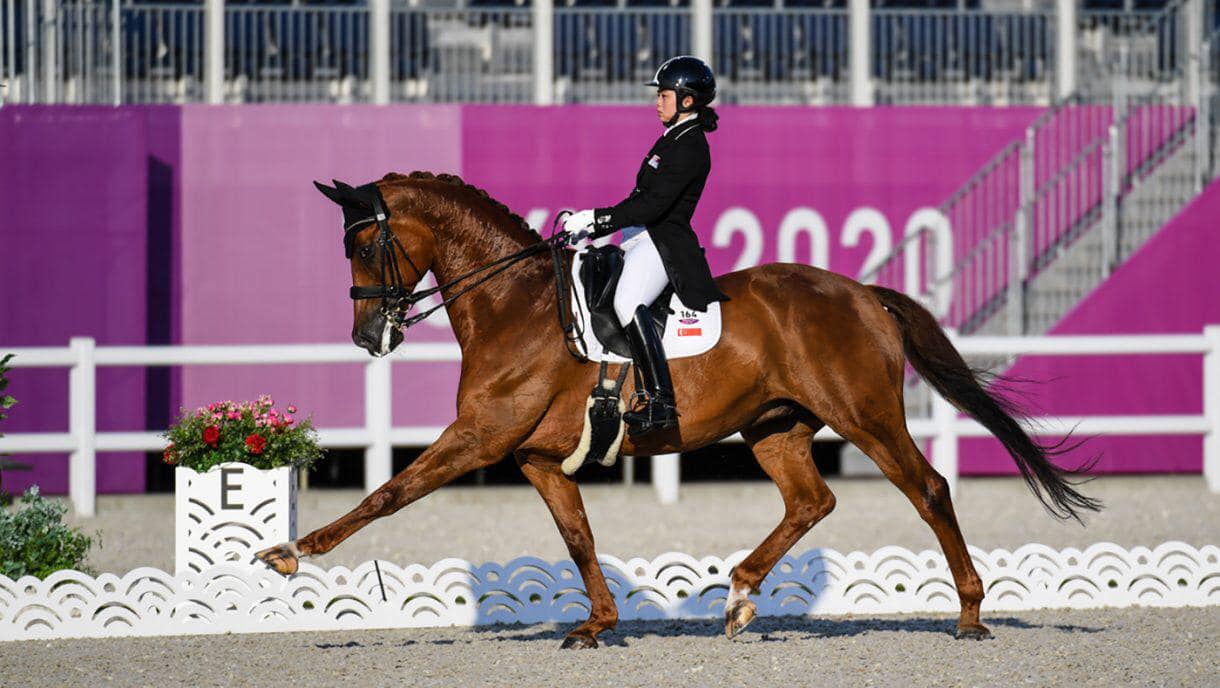 (Caroline Chew and Tribiani at Tokyo 2020 : Photo from Caroline Chew's Facebook Page)
By Kenneth Tan
It was supposed to be a memorable and significant day in Singapore's sporting history, especially in the sport of equestrian. As the first-ever Singaporean rider to represent the Republic at the Olympics, Caroline Chew was looking to create some waves at the Baji Koen Equestrian Park on Sunday afternoon (July 25). She was slated to compete in Group D of the Individual Dressage Grand Prix qualifying event.
The 29 year old was one of 60 riders from 30 nations competing in the open-gender individual dressage – which involves performing a series of movements with precision, athleticism and grace – with the top 2 riders from each group and 6 with the next best scores progressing to the final (Grand Prix Freestyle).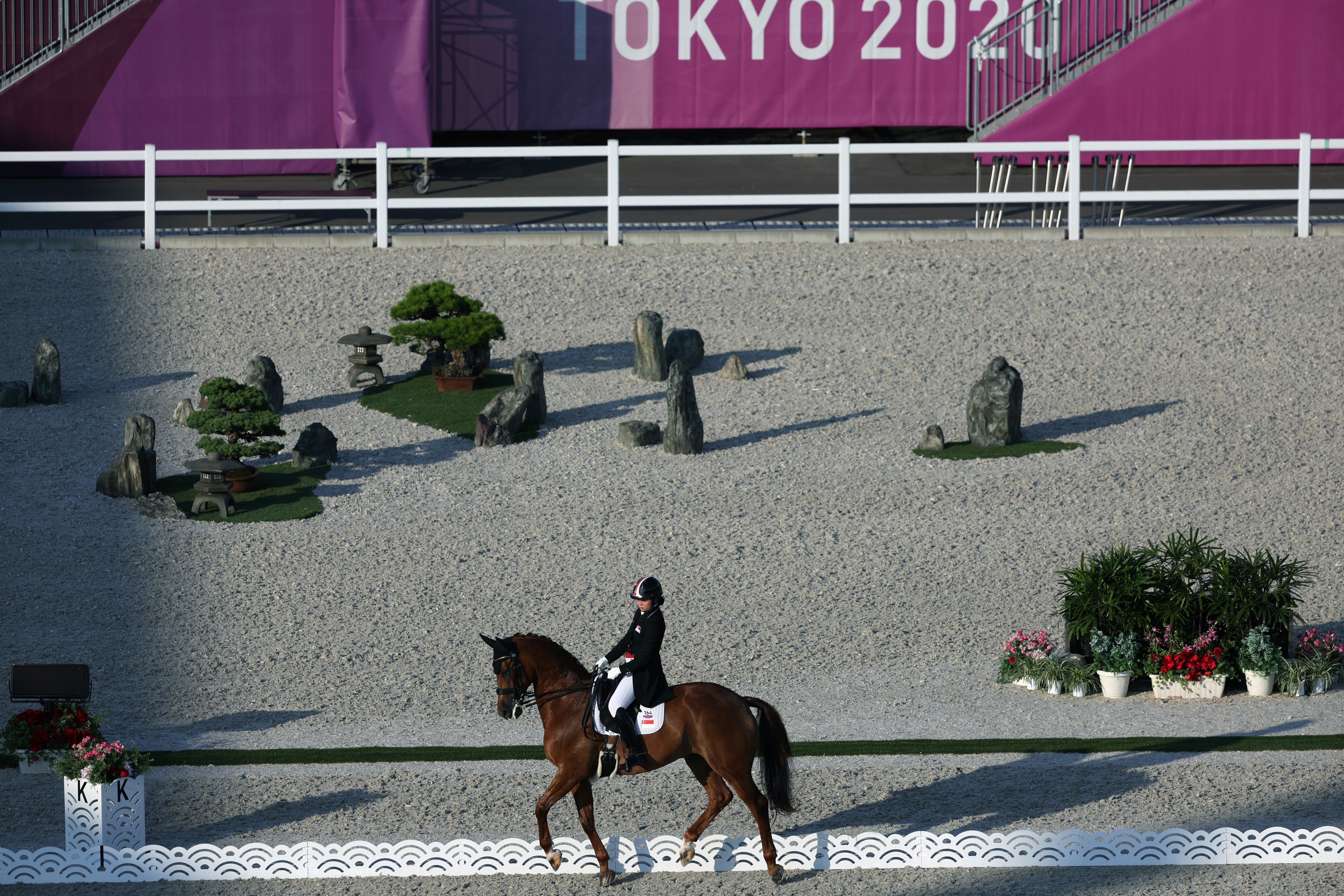 (Caroline Chew and Tribiani at Tokyo 2020 : Photo from Sport Singapore)
In the absence of a capacity crowd of 6,000 spectators due to Covid-19 safety measures, Caroline's Olympic debut however, ended in swift disappointment. At the end of 4 minutes into her routine, the 29-year-old was called to a stop. And after a brief inspection of her trusted 17 year old gelding's mouth, they were both disqualified.
According to a statement released by Singapore's National Olympic Council : Caroline and Tribiani were eliminated from the dressage individual qualification competition today. They were eliminated in accordance to FEI dressage rules article 430.7.6.1:
"If the Judge at C suspects fresh blood anywhere on the Horse during the test, he will stop the horse to check for blood. If the Horse shows fresh blood, it will be eliminated. The elimination is final. If the Judge through examination clarifies that the Horse has no fresh blood, the Horse may resume and finish its test."
Ms Francis Verbeek Van Rooij (President of Ground Jury) halted Caroline's ride to check and confirmed traces of blood was seen in Tribiani's mouth. An immediate veterinary check was done and a small cut was discovered on his lips, which is suspected to be caused by a stumble at the beginning of the test. The veterinarian has inspected Tribiani and has reported that there is no further bleeding".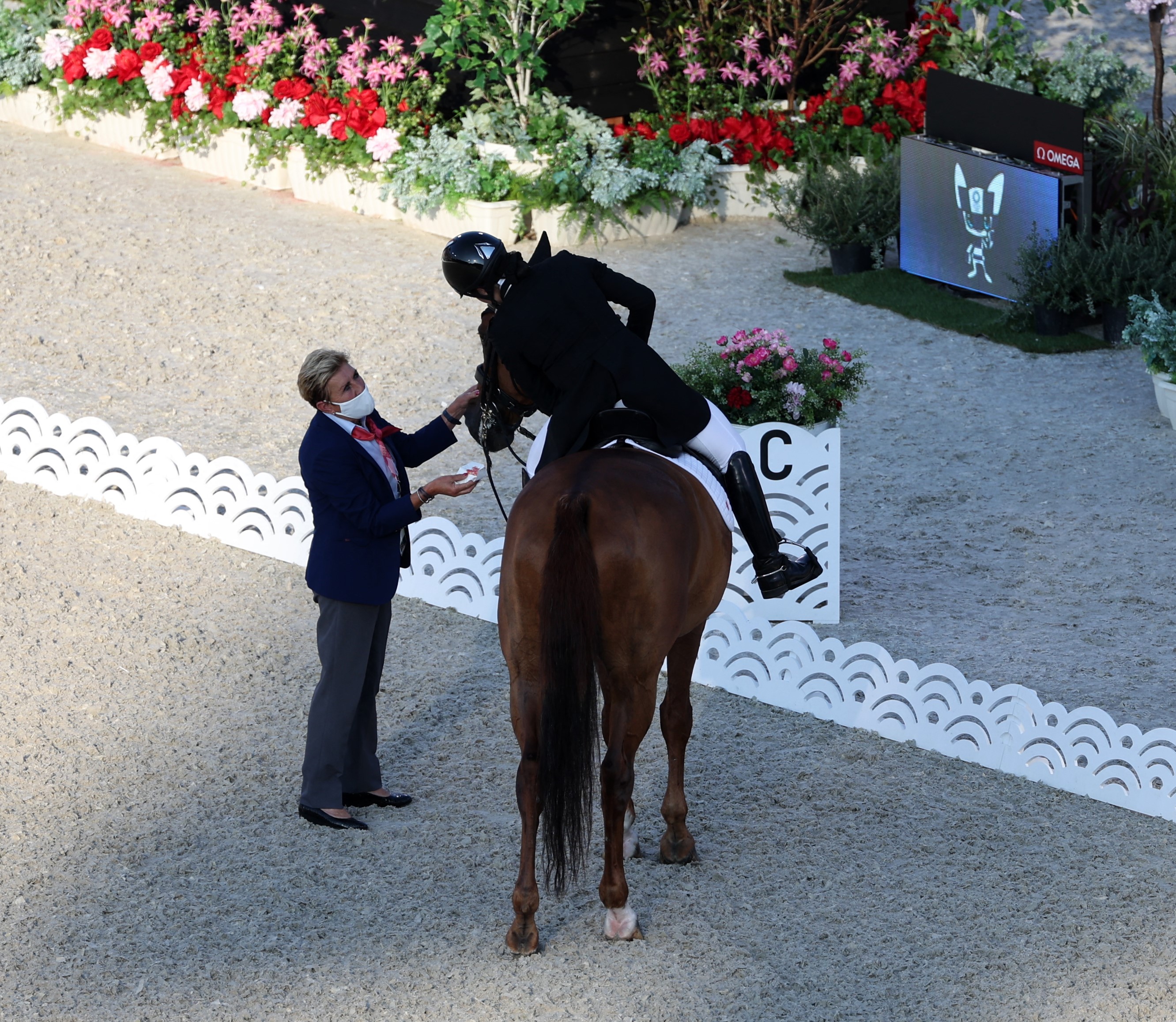 (Ms Francis Verbeek Van Rooij checks on Tribiani- Photo by Sport Singapore)
As Caroline was leaving the arena still mounted onto the 17-year-old Tribani, she was on the verge of tears and many could empathise with her on the disappointment that she felt. The full-time lawyer, who is based in Gloucestershire, England, had built up a great bond with her trusted horse over the last six years. They'd both featured in various major competitions such as the 2018 World Equestrian Games and SEA Games.
Caroline's participation in the Olympics was only confirmed a month ago as she posted a personal best of 69.674 at the Dressage Grand Prix in Le Mans, France in June – surpassing the minimum requirement of 66 needed to qualify for the Olympics. That came pretty unexpected as she only had two weeks to prepare for Le Mans and without her coach being able to travel along.
After today's unfortunate incident, Team Manager and Caroline's coach Matthew Frost said, "We are sorry to report, Tribiani had a very scant cut on the lip during one the movements. The rules are extremely strict and designed for horse welfare, and the judge stopped the test immediately. We are happy to report that Tribiani has recovered and there's no trace of any injury remaining. This type of incident happens from time to time, and we can only put it down to bad luck on the day.
She (Caroline) was trending well before the judge stopped the test. She would have performed a high score if not for this. We are nonetheless proud of the performance of Caroline and Tribiani to earn a start in the Tokyo Olympic Games, and both horse and rider were well-ready to face this high-level Olympic class. This experience, though unfortunate, will stand them in good stead for future championships."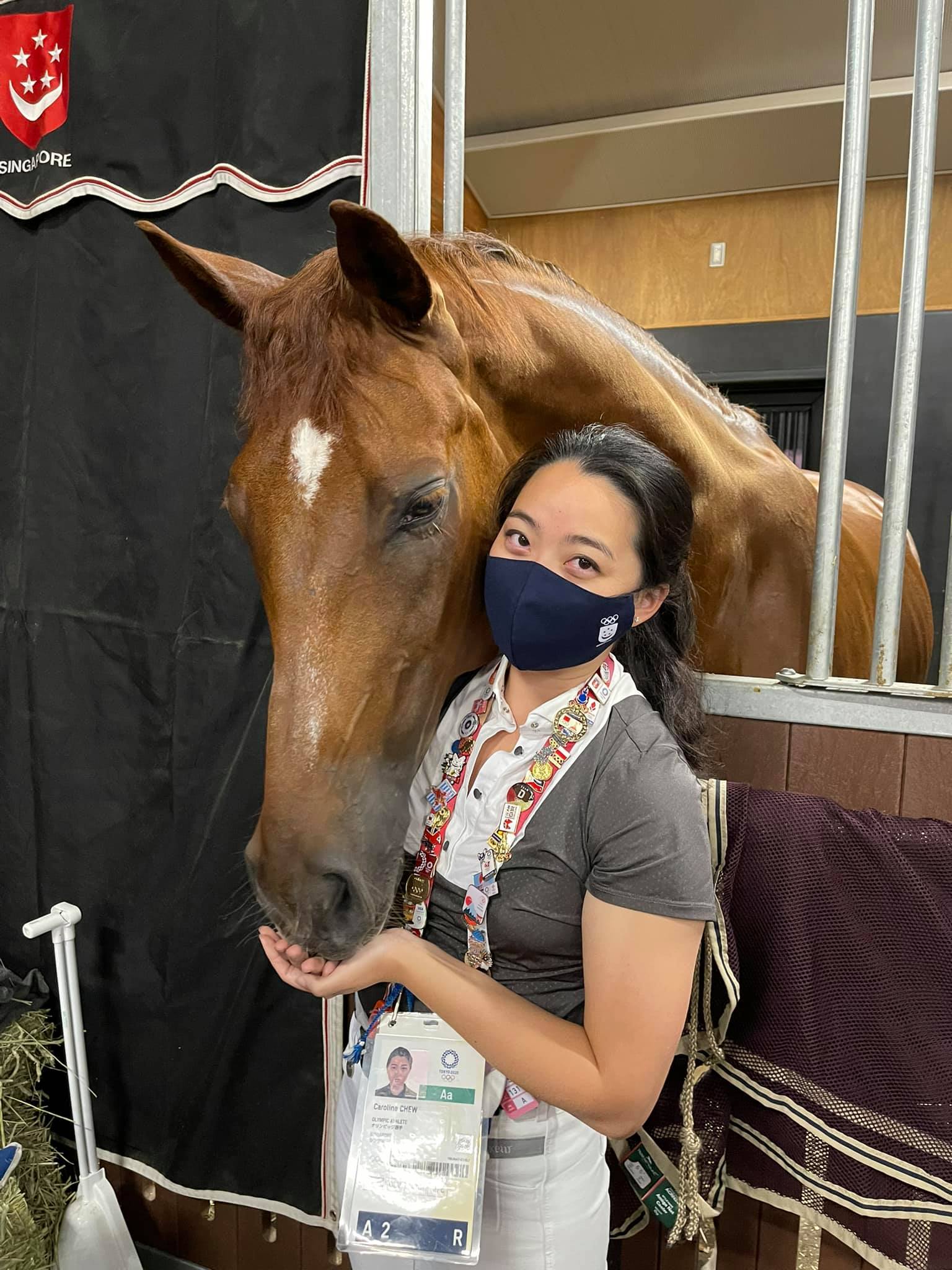 (Caroline Chew and Tribiani at Tokyo 2020 : Photo from Caroline's Facebook Page)
So with less than 2 weeks to prepare for her qualifier in France, just how did she go on to secure a Personal Best Score and also book her ticket to Tokyo? For those riveting details and much more, catch Caroline in a special 2-part Zoom call interview, which took place from her London residence on 28 June.
(PART 1 - Raj Kumar interviewed Caroline on 28 June)
(PART 2 - Raj Kumar interviewed Caroline on 28 June)
The 32nd edition of the Olympic Games is from 23 July to 8 Aug 2021. For all coverage and news of the Republic's national athletes who're competing at the Games, check out the official Team Singapore Tokyo 2020 website.
Remember to also Show your support for Team Singapore at the Olympic Games!
Team Singapore athletes have worked tirelessly over the last 12-20 months, especially under strict safety management measures to train and prepare. They've had to step up, pivot and adopt new and innovative methods to train especially with their preparations confined to the Lion City. With no international competitions or training stints, these athletes have had to adopt and maintain a positive mindset as well, throughout this entire journey to reach the grandest stage in Sport!
Simply click here to pledge a few words of encouragement and send positive vibes, as our TeamSG athletes continue to fly the national flag proudly in Tokyo.
Additional Reporting by Raj Kumar