Tokyo 2020 : TeamSG Fencer Amita Berthier bows out after hard fought opening defeat to World No 5, Kiefer Lee!
by Circle Stories, on July 24, 2021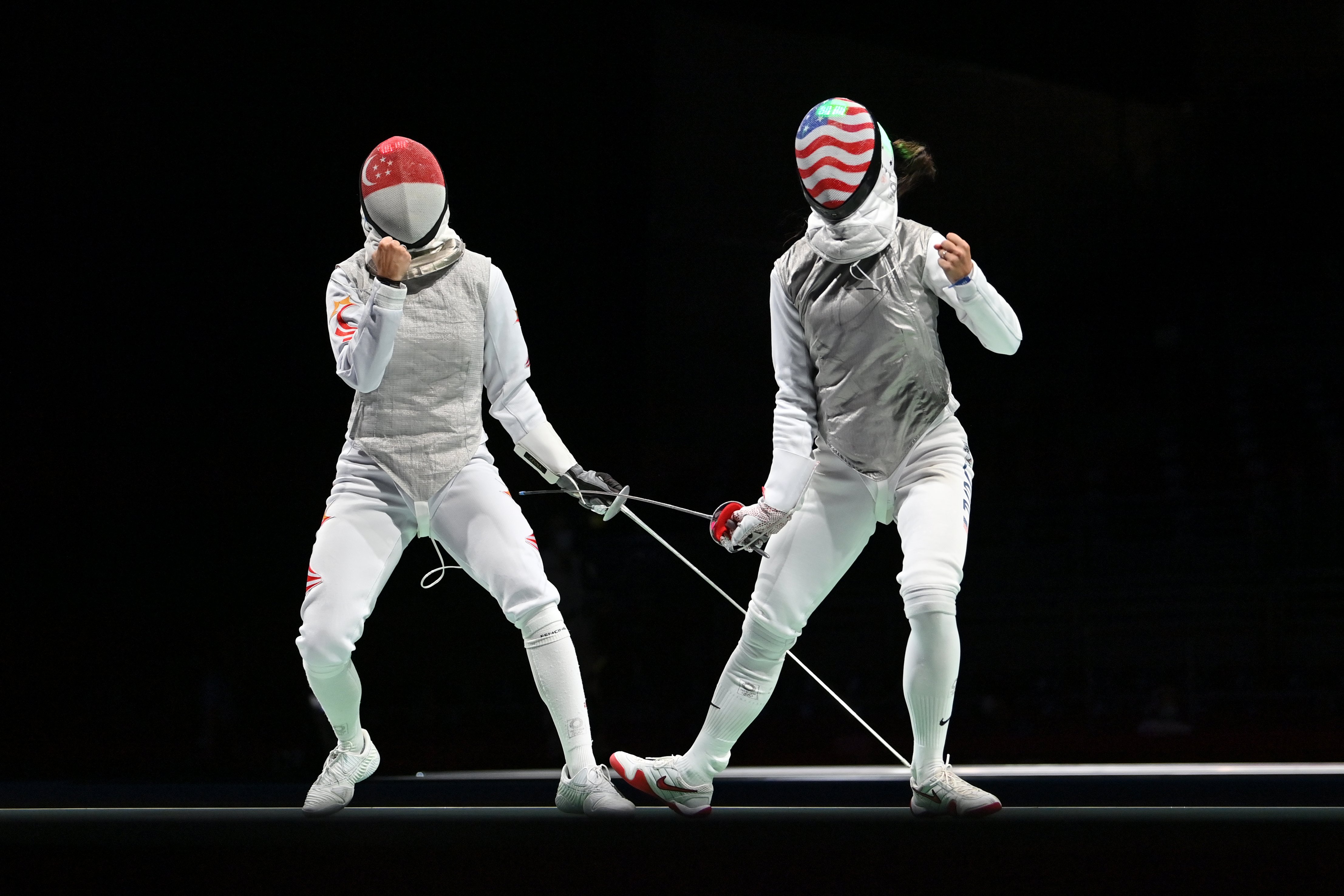 (Amita Berthier vs Kiefer Lee at Tokyo 2020 in Table of 32 bout - Photo by Sport Singapore)
By Gary Koh
159 seconds was how long Amita Berthier's debut Olympic campaign lasted. On Sunday 25 July, she was dealt ruthlessly by her American opponent Lee Kiefer, in their Women's Individual Foil round of 32 encounter at the Makuhari Messe Hall.
The 15-4 final scoreline within the very first 3 of 3-minute periods, was a cruel defeat for the 20-year-old Singaporean - especially how she'd excelled at the World Junior, Southeast and Asian levels and also impressed in the tough American NCAA circuit with the University of Notre Dame.
Prior to the Tokyo Games, the duo have enjoyed a unique bond since Kiefer, a Notre Dame alumnus, gave Berthier a warm video welcome upon the latter's enrollment in 2019. Beyond their varsity association, they've also sparred in training duels at the American's Bluegrass Fencers Club. Kiefer also played a role as part of the Singaporean's backroom team, in helping her to reach her first Olympiad, as the top Asian qualifier earlier this year in Tashkent.
Despite the unique bond as training partners, the mentor-mentee relationship was put on the backburner, in their first official international matchup at the Japanese capital.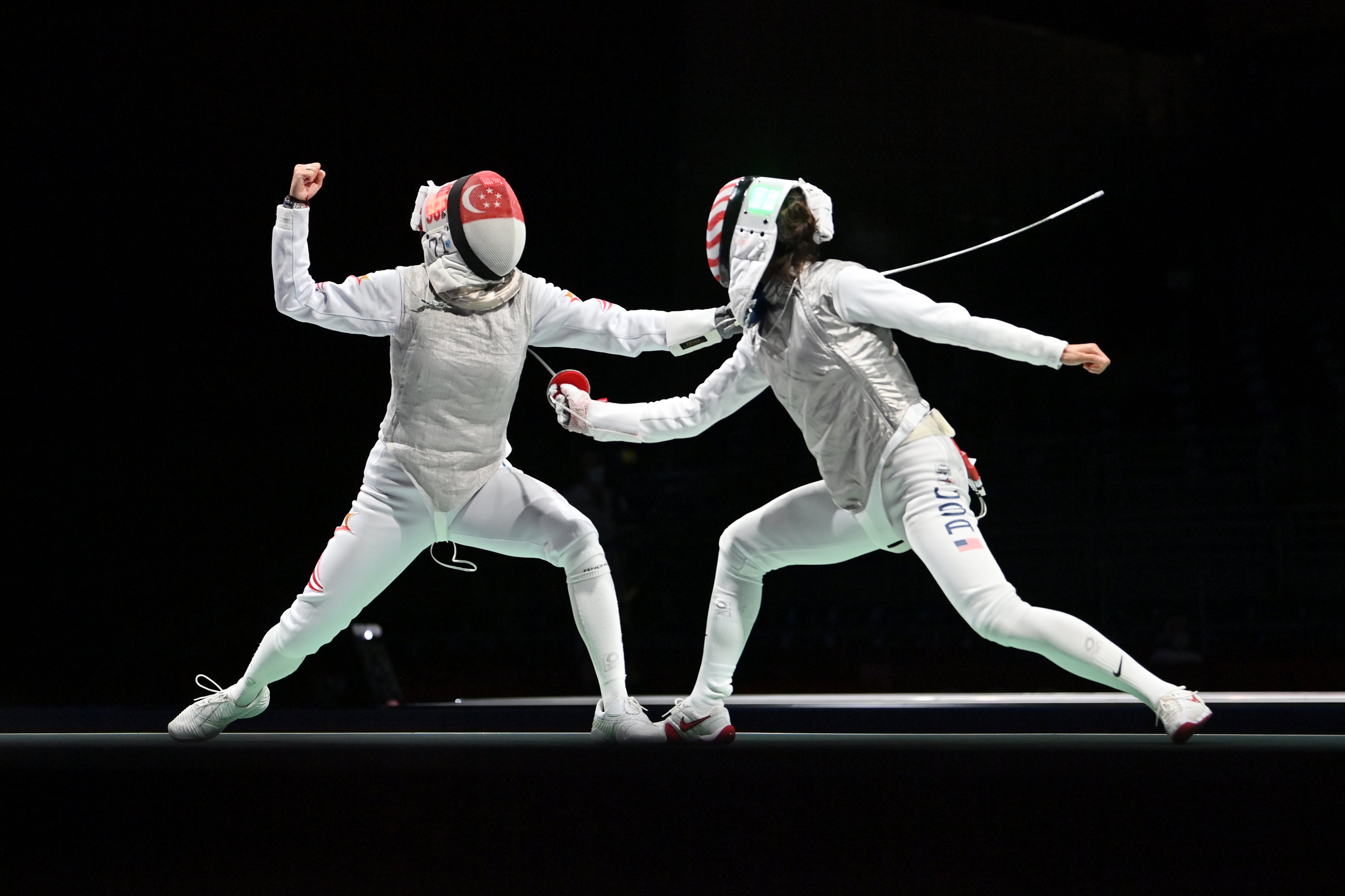 (Amita Berthier vs Kiefer Lee at Tokyo 2020 in Table of 32 bout - Photo by Sport Singapore)
As the 2-time defending SEA Games Gold Medallist, Amita scored the bout's first point after just 4 seconds. But Kiefer, who is competing in her 3rd Olympiad (had a best finish of fifth place in London 2012), capitalized on the Singaporean's nerves to score 3 successive hits. The former World Junior Number 1, responded with her 2nd point. But it was as good as she got, as her opponent's experience overwhelmed the Singaporean fencer.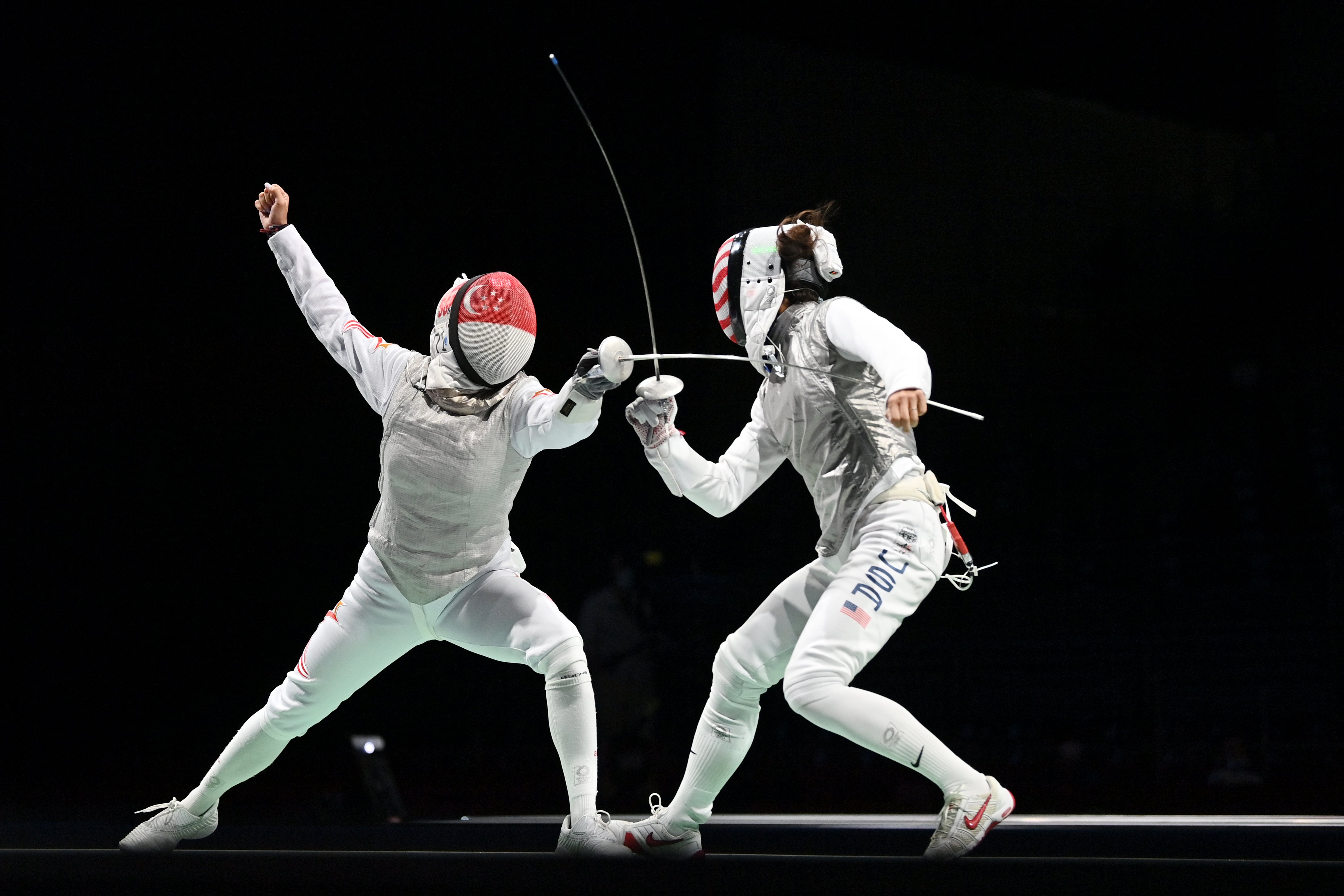 (Amita Berthier vs Kiefer Lee at Tokyo 2020 in Table of 32 bout - Photo by Sport Singapore)
Showing why she's ranked World Number 5 in Women's Foil, the experienced American fencer scored 8 successive points without reply. The 27 year old capitalized on Amita's inexperience (at the Olympic level) and defensive weaknesses, to go 11-2 in front, with less than 90 seconds remaining till the end of the first period.
The 60th-ranked Singaporean did fight back and notched up a further 2 points, as she struggled to stay in contention, and hoped to extend the bout into the second period.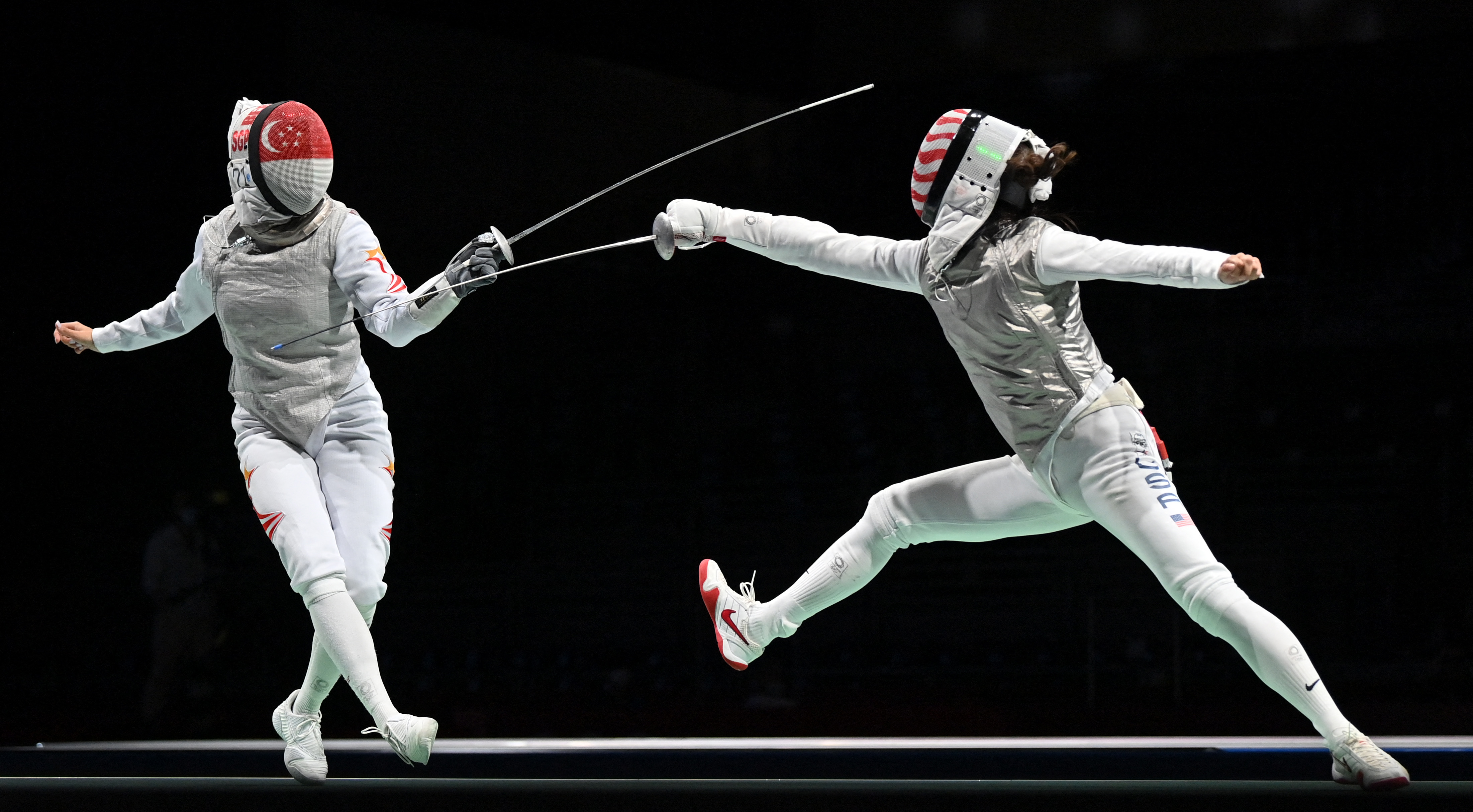 (Amita Berthier vs Kiefer Lee at Tokyo 2020 in Table of 32 bout - Photo by Sport Singapore)
Kiefer had the last word though as she secured a further 3 successive hits to reach the winning point of 15. The 4-time NCAA champion wrapped up the fixture 15-4 with 21 seconds to spare.
"Such a dominant performance against the Singaporean. And it was really... great defence from her (Kiefer). She would parry and then gained the right of way and then got immense success on the inside line. There were 5 or 6 points, all scoring in the same place. Nonetheless a decent showing by Amita and we'll probably see more from her in time to come", said the match commentator on live television.
Echoing his sentiments was Fencing Singapore's David Chan (Vice-President, High Performance), " We are exceedingly proud of Amita and we believe that this Olympics is yet another step forward in her inspiring fencing journey. She lost to an Olympic medallist and can come out of these Games with her head held high. The Olympic journey is the dream of every athlete, and the journey of Amita and Kiria will hopefully fuel the dreams and ambitions of future aspiring fencers in Singapore".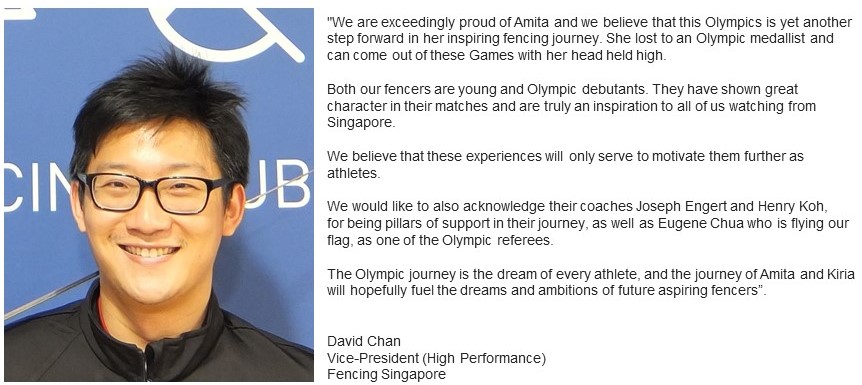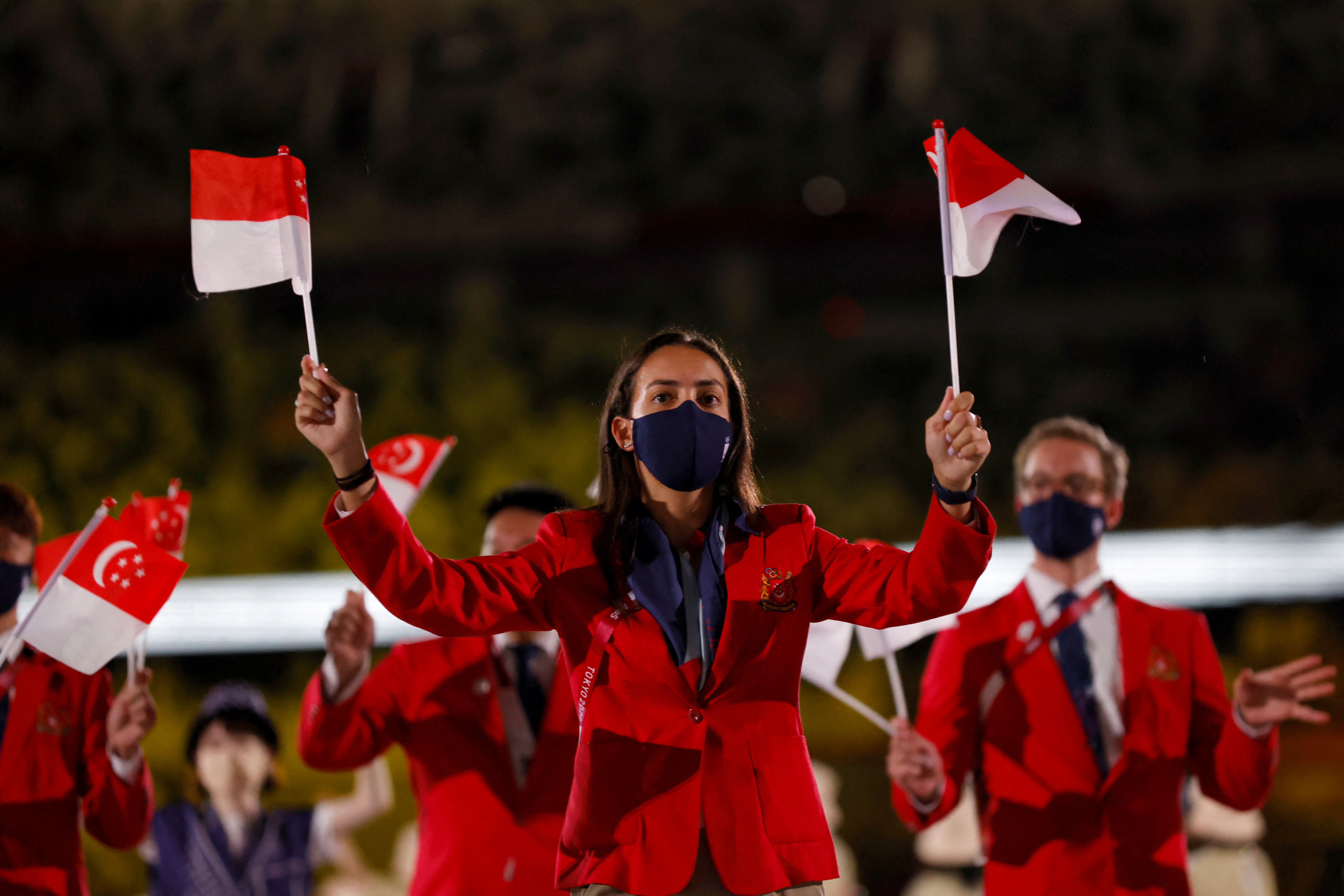 (Amita Berthier at the Opening Ceremony of Tokyo 2020 - Photo by Sport Singapore)
20 year old Amita, who's not seen her family (in person) for almost a year since she left for the US in August 2020 for her tertiary studies, looks to be heading home to Singapore from Japan. For one who holds her family as top priority in her life, it must have been difficult to be away for 11 months. She's already accomplished her dream of reaching her 1st Olympiad. Now it's back to rest, regroup and prepare for the Vietnam SEA Games (May 2022 - tbc) as well as potentially for the Asian Games in Sep 2022. And the Olympics in Paris 2024 is not too far away either.
For more on this rising Fencing star, here's the 3-time SEA Games Gold medal winner in a recent Zoom call interview in late June. And she spoke about the sacrifices she's had to make over the years, the importance of family, as well as the gratitude that she has for anyone and everyone, who's helped make her Olympic dream, a reality!
The 32nd edition of the Olympic Games is from 23 July to 8 Aug 2021. For all coverage and news of the Republic's national athletes who're competing at the Games, check out the official Team Singapore Tokyo 2020 website.
Remember to also Show your support for Team Singapore at the Olympic Games!
Team Singapore athletes have worked tirelessly over the last 12-20 months, especially under strict safety management measures to train and prepare. They've had to step up, pivot and adopt new and innovative methods to train especially with their preparations confined to the Lion City. With no international competitions or training stints, these athletes have had to adopt and maintain a positive mindset as well, throughout this entire journey to reach the grandest stage in Sport!
Simply click here to pledge a few words of encouragement and send positive vibes, as our TeamSG athletes continue to fly the national flag proudly in Tokyo.
Additional Reporting by Raj Kumar