Tokyo 2020: TeamSG Paddler Clarence Chew is off to a flying start on his Olympic debut!
by Circle Stories, on July 23, 2021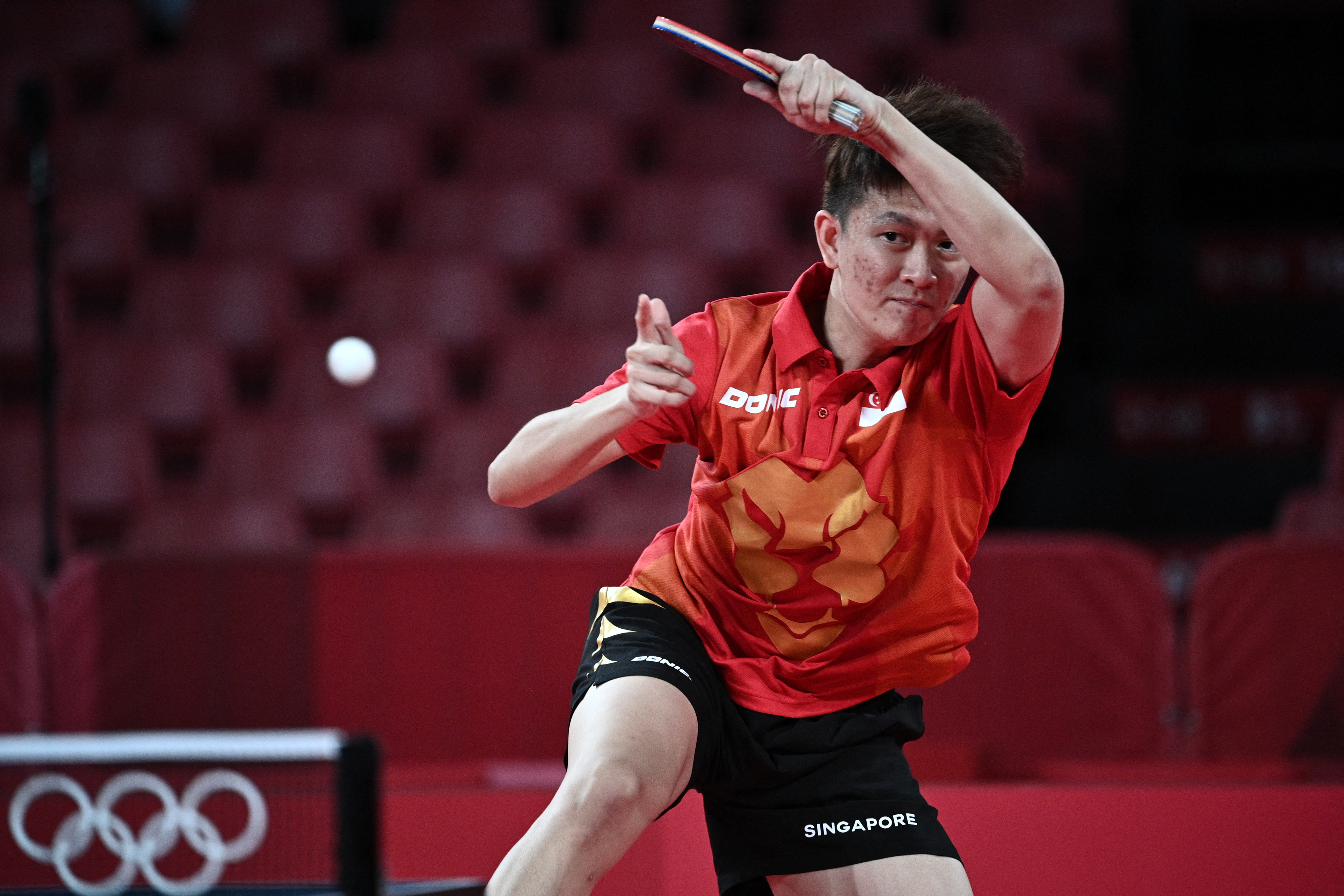 (Clarence Chew's Olympic debut - Photo by Sport Singapore)
By Kenneth Tan
As his opponent's backhand attempt went into the net to confirm his victory, he could not help but sink to his knees and let out a loud scream of joy – with the reaction perfectly understandable, considering he had just secured a win on his Olympic debut, after 53 minutes of intense action on the court.
Singapore paddler Clarence Chew – ranked 186th in the world – created a huge upset at the Tokyo Metropolitan Gymnasium on Saturday afternoon (July 24), as he defeated Senegal's Ibrahima Diaw (ranked 116 places above him) – 4-2 (11-4, 4-11, 11-3, 13-11, 3-11, 12-10) in Round 1 of the Men's Table Tennis Singles.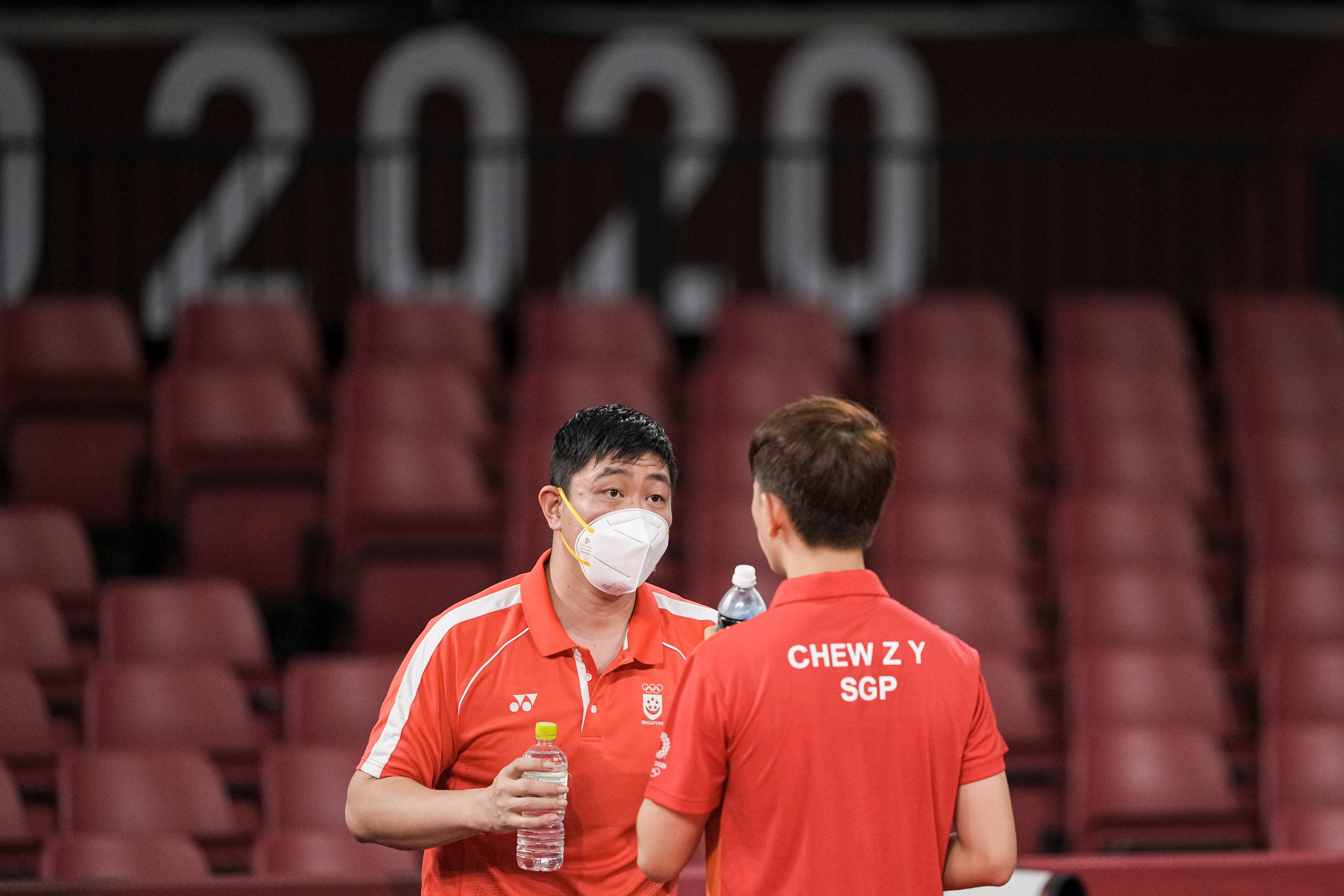 (Clarence Chew and Coach Gao Ning at Tokyo 2020 - Photo Credit Kong Chew Yew/Singapore National Olympic Council)
Watched on by coach and former national player himself Gao Ning, the first Singapore-born male player to represent the Republic at the Olympics, got off to a brilliant start. Winning the first point and taking control of early proceedings, Clarence never trailed and won five straight points en route to securing the first game, 11-4.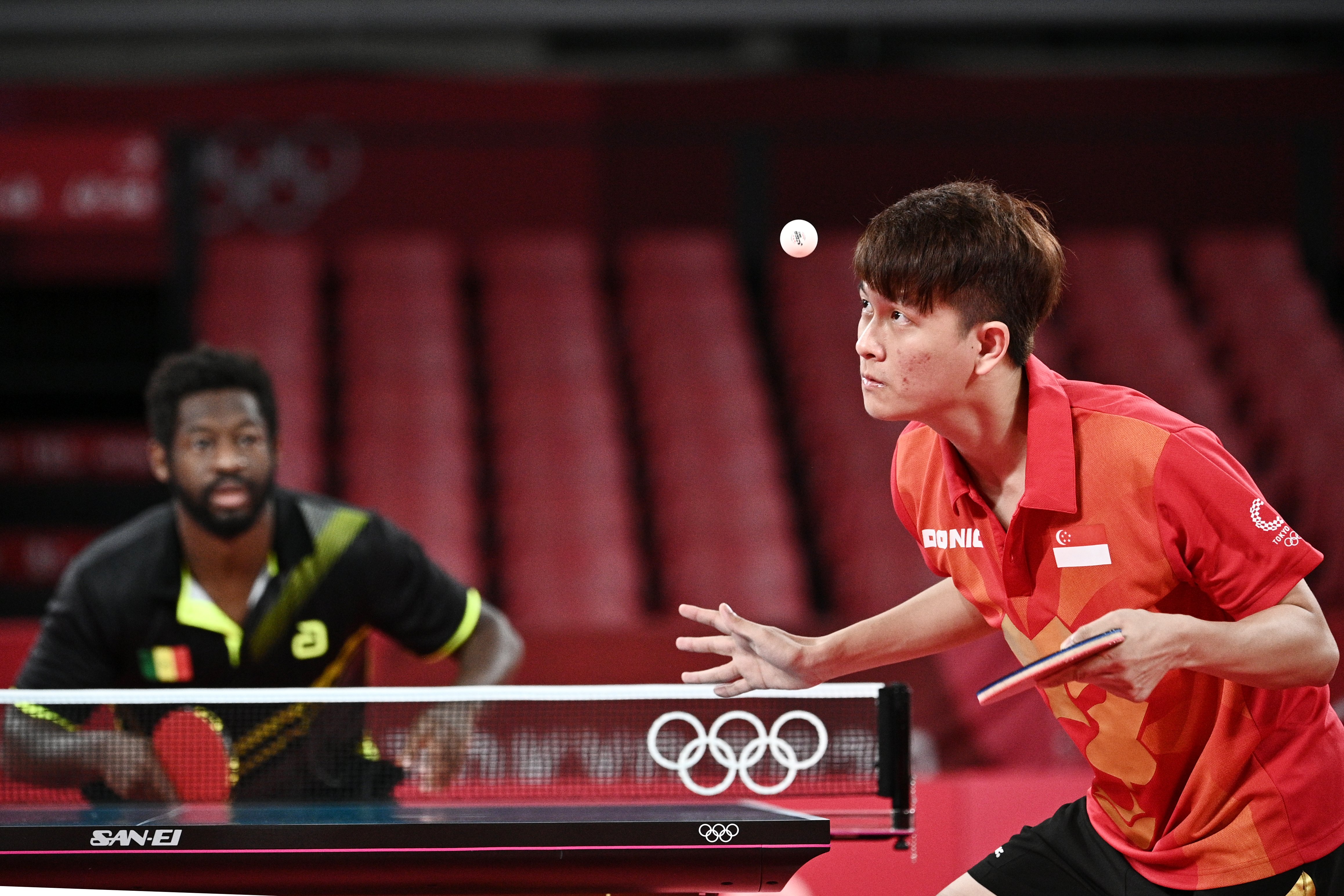 (Clarence Chew versus Ibrahima Diaw in Tokyo 2020 - Photo by Sport Singapore)
A poor start though in the 2nd game saw him trail 6-0, before he finally got a point on the board. But the 25 year old could not stop his opponent, as the former eventually lost the game by a difference of seven points (4-11). Level at 1-1, the left-handed paddler rediscovered his "mojo" in the 3rd game, as he came back from an early one-point deficit with 8 straight points to take a massive 9-2 lead – before winning it with an 8-point difference (11-3).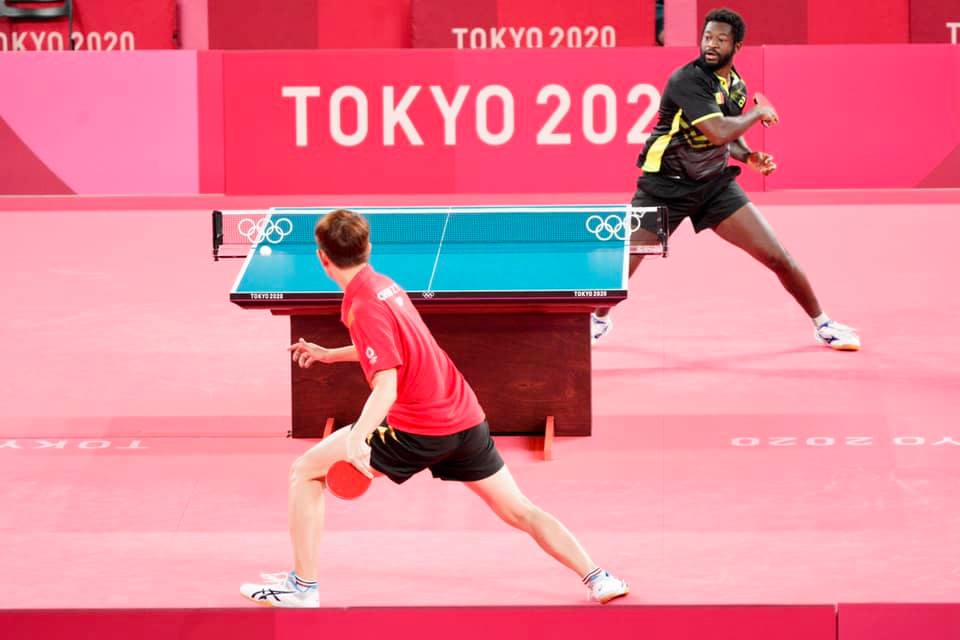 (Clarence Chew versus Ibrahima Diaw in Tokyo 2020. Photo by Singapore Table Tennis Association)
The reigning SEA Games Silver medallist, carried the momentum into Game 4 as he raced to a 4-1 lead – which forced the Senegalese into a timeout. The one-minute break worked wonders for 29 year old Diaw, as he claimed 4 straight points to reduce the deficit to one. It was then Team Singapore's turn to call for a timeout. And that managed to calm the nerves down for Clarence - who did not waver despite his opponent going to game point at 11-10, as he won 3 straight points to clinch the set , 13-11.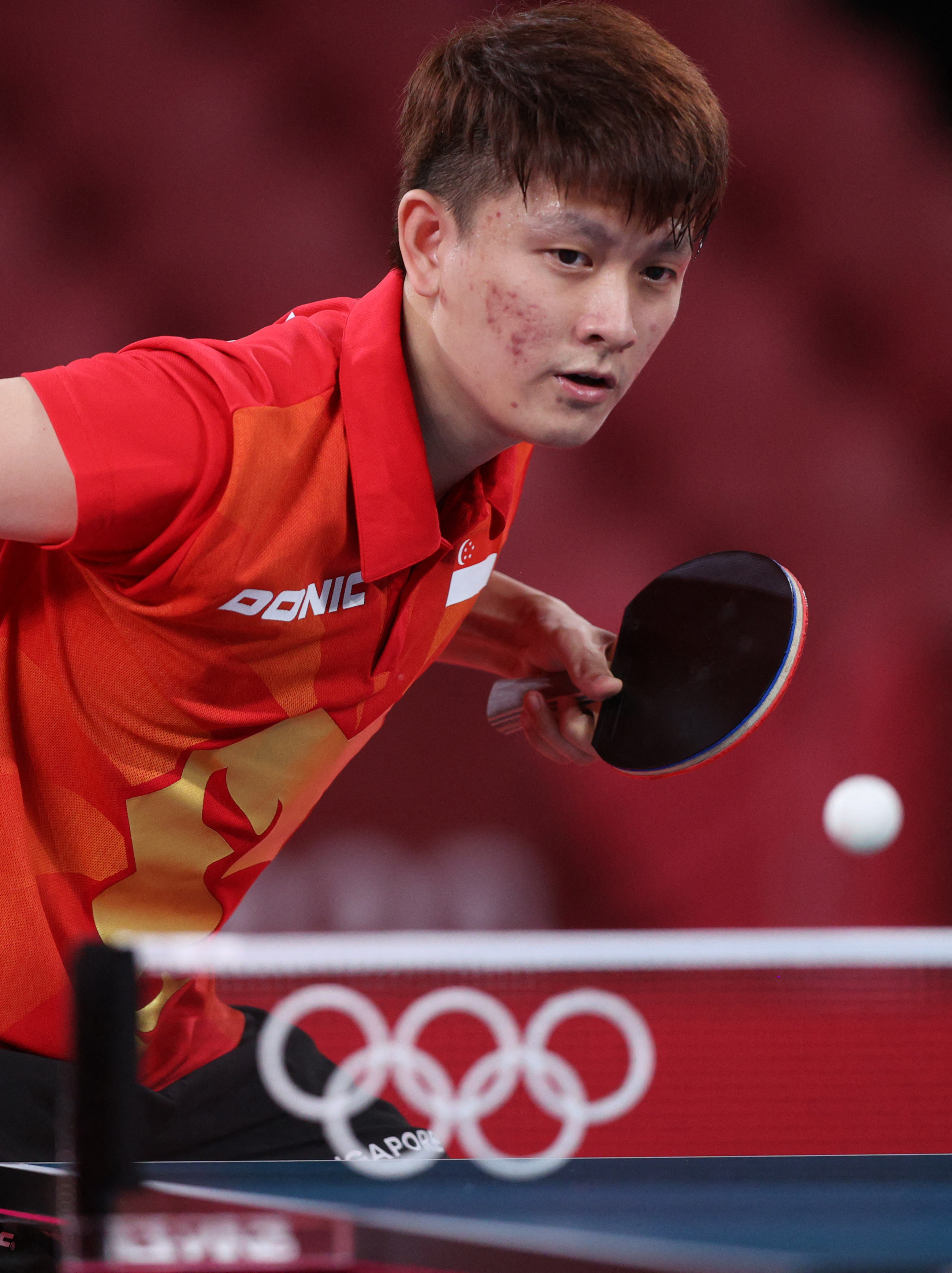 (Clarence Chew's Olympic debut - Photo by Sport Singapore)
Now leading 3-1, Clarence needed just to win the fifth game to advance, but the pendulum swung back in favour of Diaw . He increased his intensity to force the Singaporean into a series of errors, and reduced the deficit to 3-2 overall.
With this encounter now firmly in the balance, both players knew there was no holding back in the sixth game as they went back and forth over a space of 11 minutes – with a couple of exciting rallies bringing further excitement. After leading 5-3, Clarence seemed to lose momentum at a crucial juncture as Diaw won 4 straight points to go 2 ahead (7-5). The Senegalese even had game point at 10-9, but the Singaporean paddler proved his worth when it mattered most. He scored 3 straight points to secure the game (12-10) and match (4-2), which meant he emerged triumphant on his Olympic debut.
"It was a tough match, but I'm very happy that I managed to get the victory. I will prepare well and I look forward to the next round", said the 25 year old after his opening win.
His coach Gao Ning added, "Clarence's performance was indeed steady today, despite losing two games. It wasn't an easy win, but he was able to execute his strategy well".
Clarence's next match is against Austria's Daniel Habesohn – ranked 44th in the world in Round 2 on Sunday (25 July) at 1.45pm (Singapore time). It would be another tough task for the TeamSG paddler, but he has every reason to believe in another upset after a fantastic debut performance.
Prior to the Games though, Clarence was featured in a 1-on-1 zoom interview (recorded in late-June) on SportSG. And he spoke about the 90th Anniversary of Singapore's Table Tennis Association (in 2021), his Olympic journey, the sacrifices he's had to make as a Professional sportsman and much more!
The 32nd edition of the Olympic Games is from 23 July to 8 Aug 2021. For all coverage and news of the Republic's national athletes who're competing at the Games, check out the official Team Singapore Tokyo 2020 website.
Remember to also Show your support for Team Singapore at the Olympic Games!
Team Singapore athletes have worked tirelessly over the last 12-20 months, especially under strict safety management measures to train and prepare. They've had to step up, pivot and adopt new and innovative methods to train especially with their preparations confined to the Lion City. With no international competitions or training stints, these athletes have had to adopt and maintain a positive mindset as well, throughout this entire journey to reach the grandest stage in Sport!
Simply click here to pledge a few words of encouragement and send positive vibes, as our TeamSG athletes continue to fly the national flag proudly in Tokyo.
Additional reporting by Raj Kumar