Tokyo 2020: TeamSG's Tandem Para-cycling duo of Steve Tee and Ang Kee Meng, shrugged off their recent training injuries to achieve Personal Best!
by Circle Stories, on August 24, 2021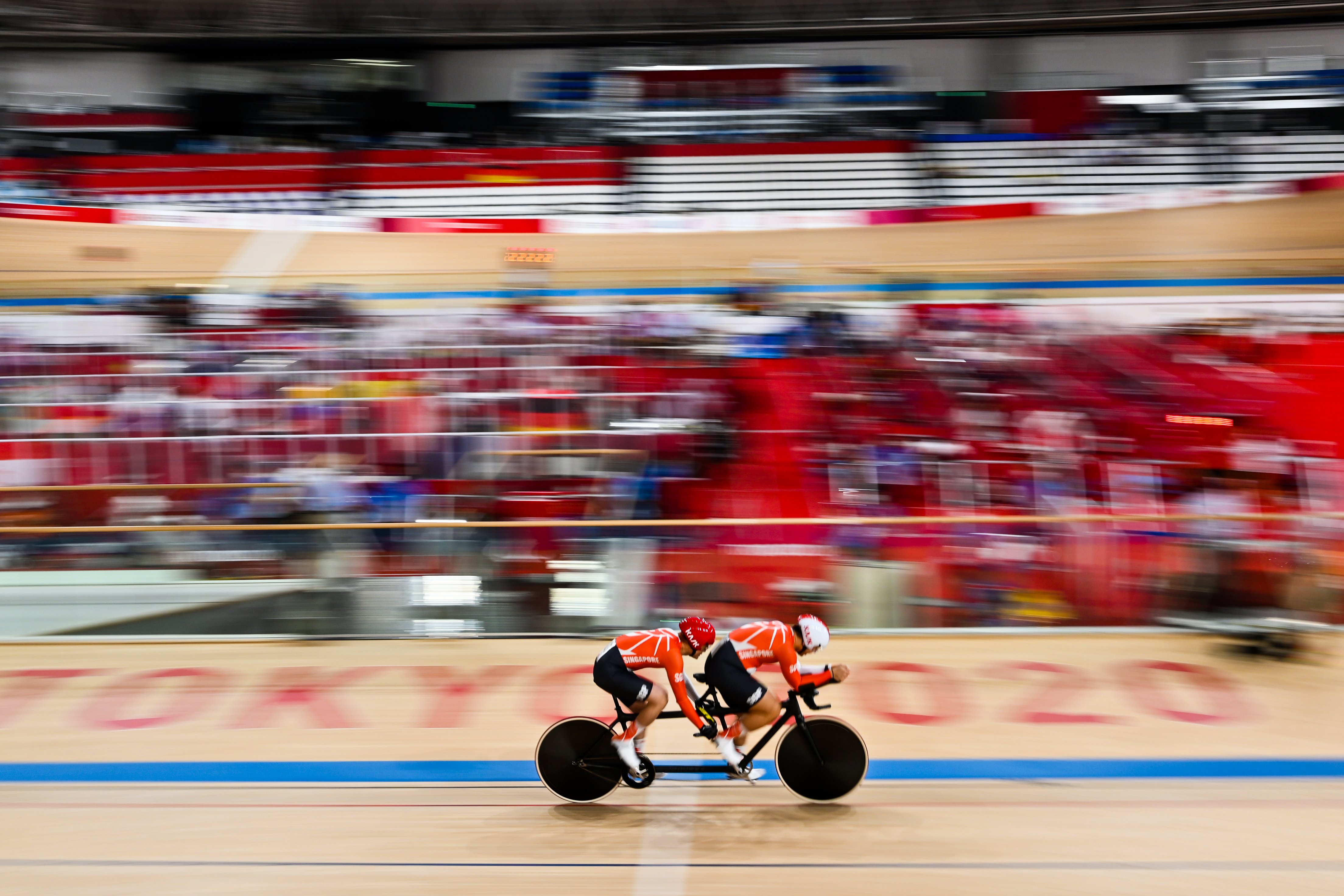 (TeamSG's Steve Tee and Ang Kee Meng at Tokyo 2020 - Photo by Sport Singapore)
By Kenneth Tan
All the hard work and sacrifices paid off for Team Singapore para-cyclist Steve Tee, as he produced a memorable Paralympic debut outing on Wednesday morning (25 Aug).
Along with his pilot (able-bodied partner in tandem cycling) Ang Kee Meng, the duo achieved a personal best timing of 4 minutes 40.45 seconds in the Men's B 4,000 metres Individual Pursuit Qualifying event at the Izu Velodrome. In doing so, they shaved off more than 7 seconds from the previous record of 4 min 47.41 secs which they set in January 2019.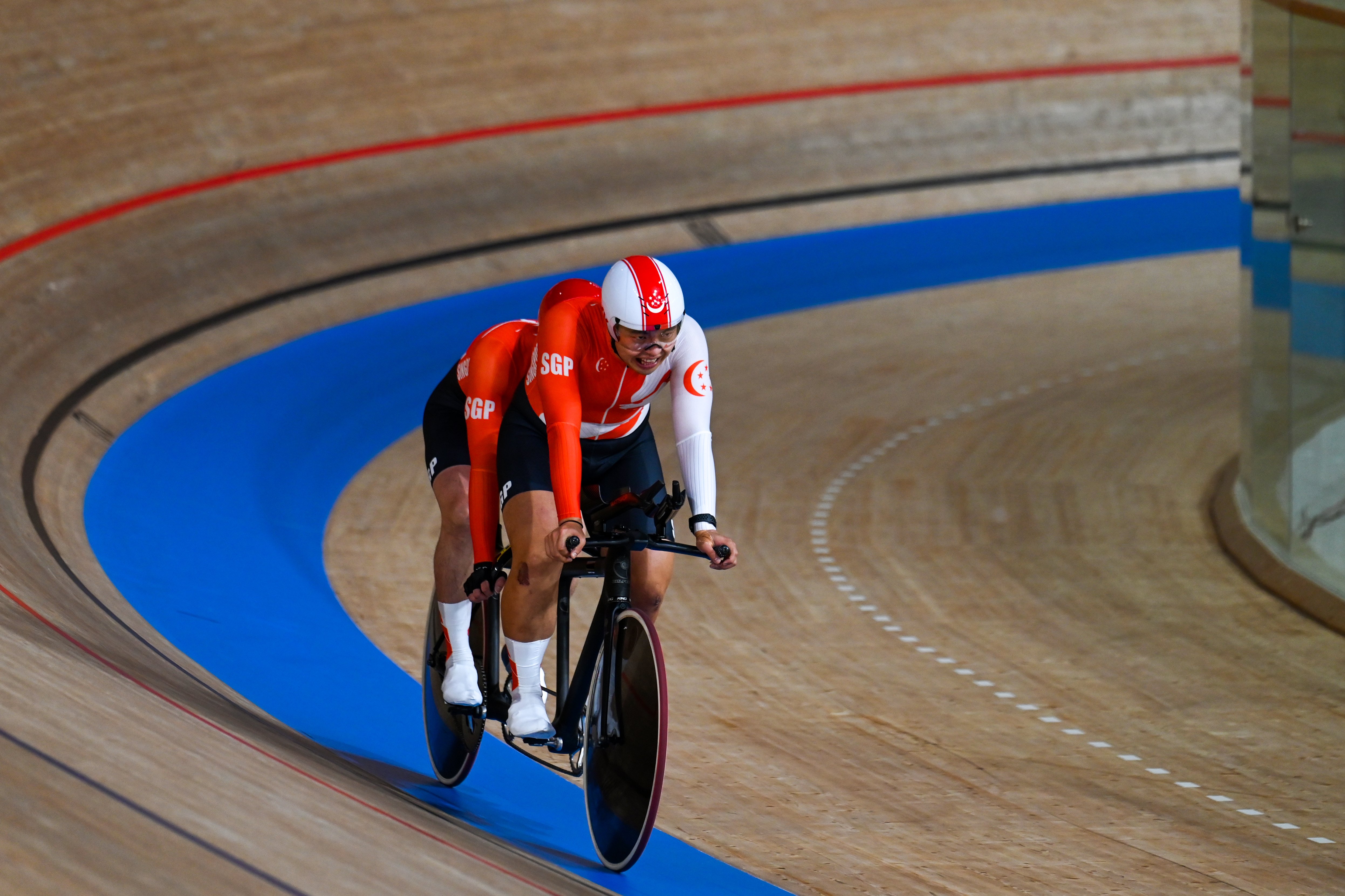 (TeamSG's Steve Tee and Ang Kee Meng at Tokyo 2020 - Photo by Sport Singapore)
Finishing 9th overall out of 14 pairs today, the timing was ultimately not enough to qualify them for the medal races. Holland's Tristan Bangma (piloted by Patrick Bos) and Great Britain's Stephen Bate (piloted by Adam Duggleby) contested for the gold medal. And Bangma went on to finish in first place with a timing of 3 min 59.47 sec (new world record) and Bate timed 4 min 02.49 sec respectively.
There is however, no shame for the Singaporean duo for missing out on the final. They can reflect on a wonderful race in which they pushed themselves to the limits and exceeded what they did before. They were also the only Asian representatives in a field dominated by Europeans.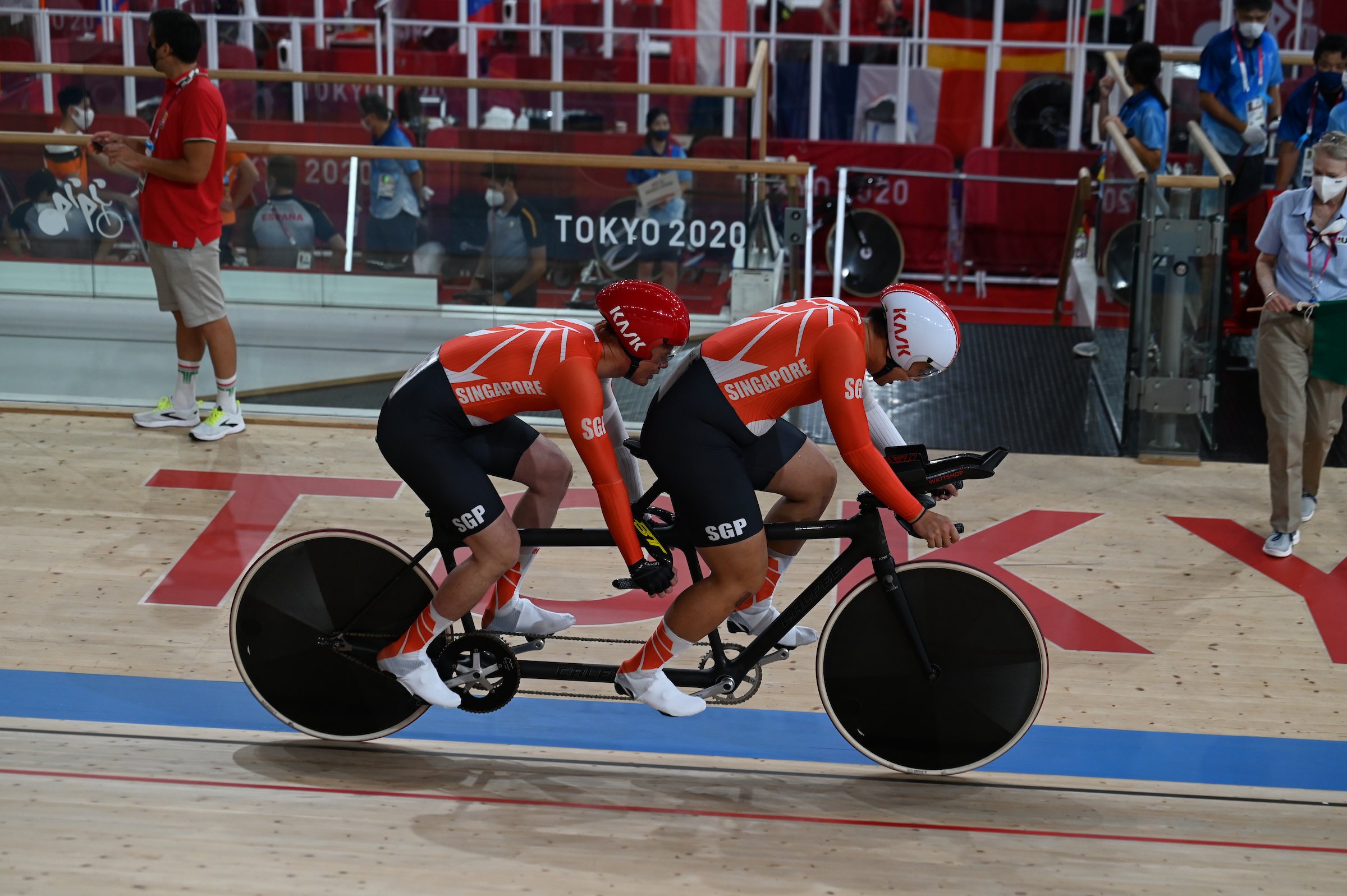 (TeamSG's Steve Tee and Ang Kee Meng at Tokyo 2020 - Photo by Sport Singapore)
Racing head-to-head against Hungary's Robert Ocelka (piloted by Gergely Nagy) in the 3rd Heat out of 7, Steve and Kee Meng got off to a steady start as they completed the first 1,000metres in 1 min 13.64 sec.
The duo – who left their respective full-time jobs two years ago to focus on training for the competition – were in blistering form as they completed the next 1,000 metres in 1 min 07.00 sec.
Completing the halfway mark in 2 min 20.645 secs, the Singaporean pair showed that they were able to last the distance. They completed the following 1,000metres in 1 min 09.05 sec, before finishing the last stretch strongly in 1 min 10.750 sec.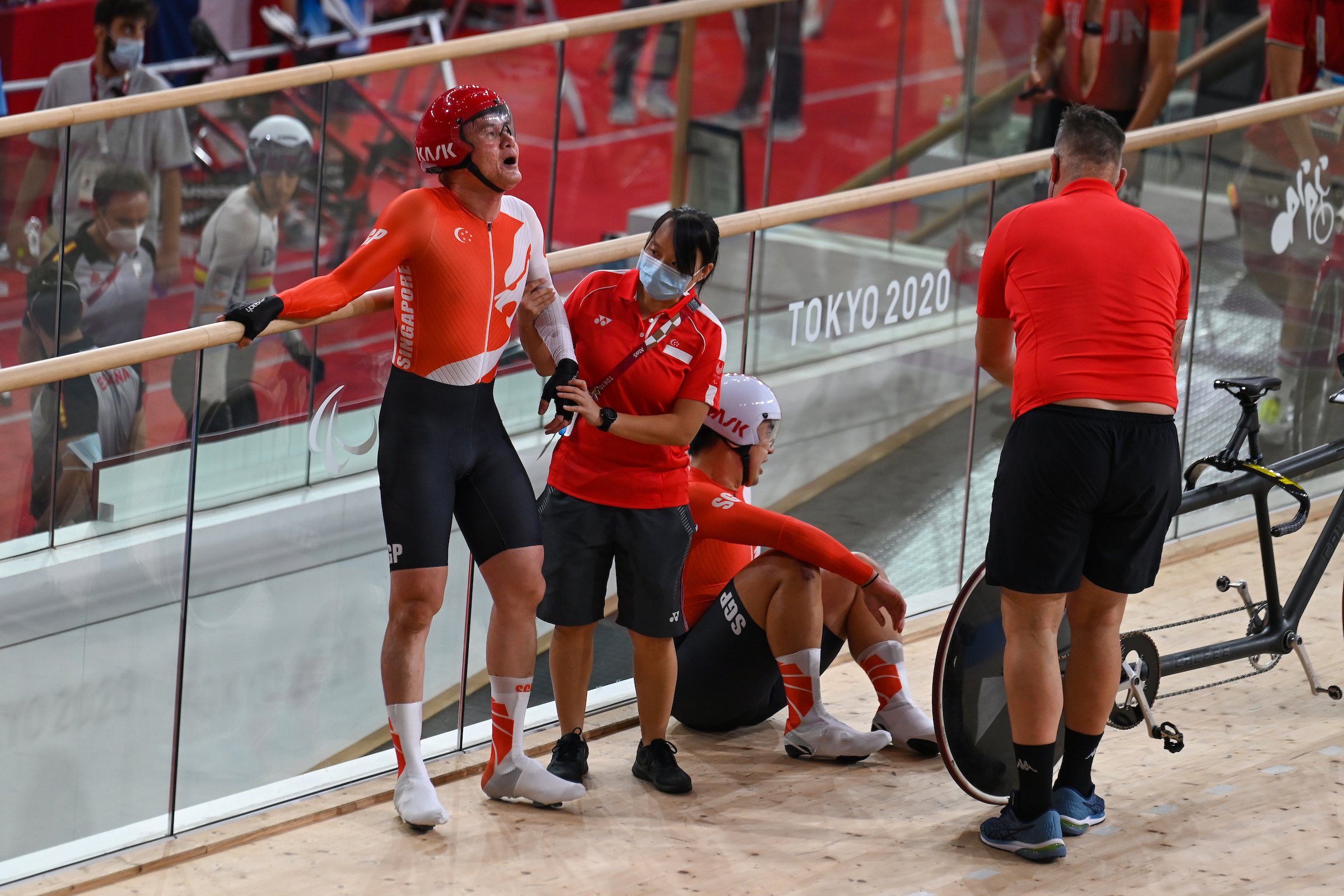 (TeamSG's Steve Tee and Ang Kee Meng at Tokyo 2020 - Photo by Sport Singapore)
After 3 heats, the Singaporean were even leading the pack with their overall timing of 4 min 40.453 sec (1.948 sec faster than their Hungarian counterparts). That was before being bumped down the order, as the rest of the competitors took to the track.
40 year old Steve – who is visually impaired due to a rare disease called retinitis pigmentosa – will take heart from this outstanding display as he returns to the track along with former Team Singapore cyclist Kee Meng on Saturday morning (August 28) for the Men's B 1,000metres Time Trial.
Catch the highlights (below) from this evening's virtual post-race media conference involving Steve and Kee Meng :)
The 16th edition of the Paralympic Games is from 24 Aug to 5 Sep 2021. For all coverage and news of the Republic's national athletes who're competing at the Games, check out the official Team Singapore Tokyo 2020 website.
Pledge Your Support here
Show your support for Team Singapore in the Paralympic Games!
Team Singapore athletes have worked hard to qualify for the Paralympics despite the challenges placed in front of them by the pandemic. They've trained relentlessly, all while adapting to the different safety measures throughout their journey, to ensure that they can represent our flag in Tokyo.
Related Events & Programmes