Tokyo 2020 - TeamSG's new Olympians Amita Berthier and Kiria Tikanah, are confident of stronger performances against world's best in the future!
by Circle Stories, on August 4, 2021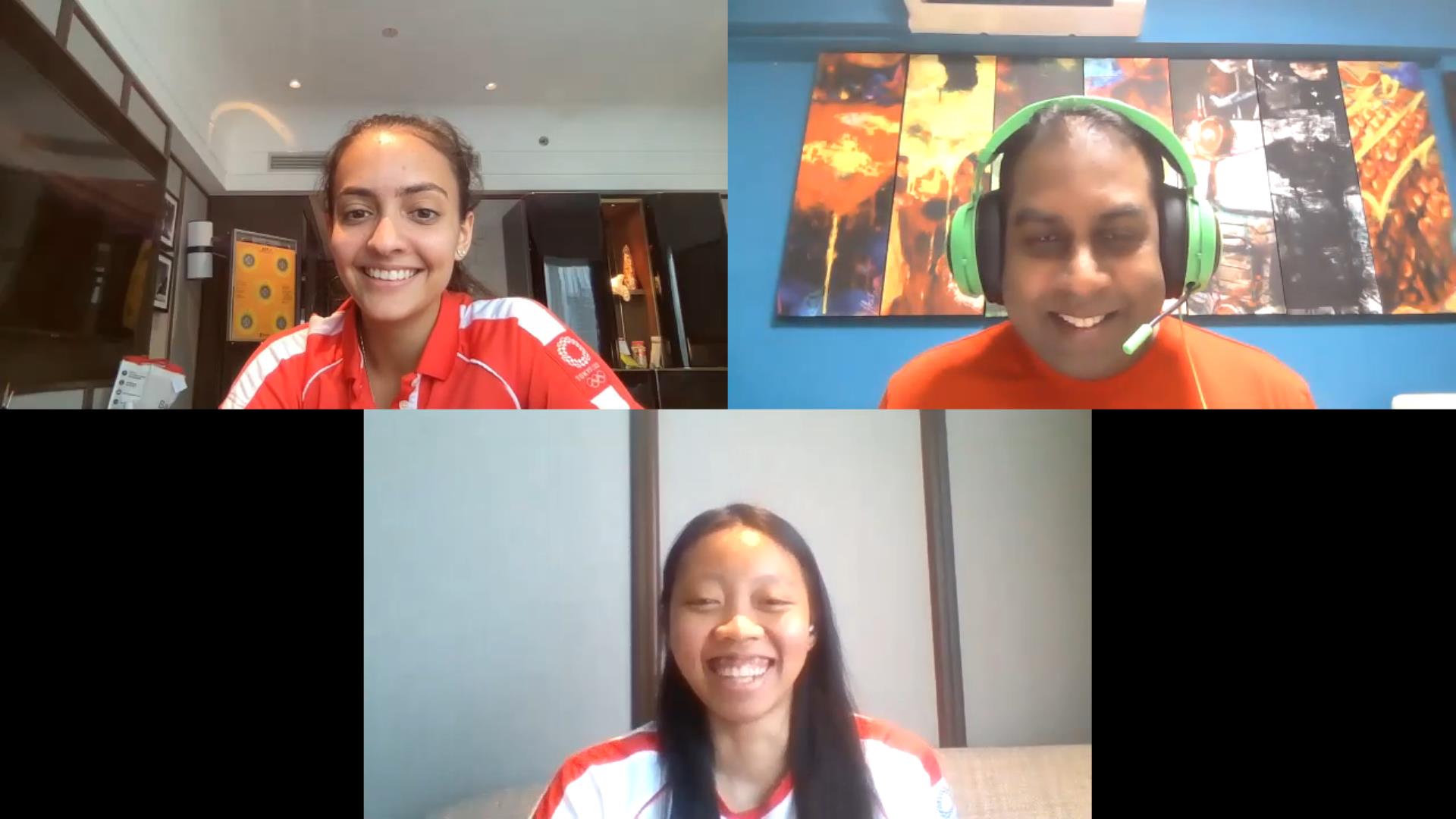 (Zoom recording with TeamSG Fencers Amita Berthier and Kiria Tikanah on 5 Aug 2021)
By Raj Kumar
No athlete, especially on their Olympic debut would want or wish to face a top-ranked championship opponent, in the very 1st or even the 2nd round at the Games. To have trained for years to reach the pinnacle of sport (Olympics), and then to exit prematurely within minutes, due to the "luck of the draw", could cause an athlete's will, self-confidence and passion to diminish and possibly, see the end of that athlete's sporting career!
That's however, not the case with Team Singapore's newly minted Olympians, Amita Berthier and Kiria Tikanah Abdul Rahman. The Fencing duo returned from their 1st Olympic campaign a week ago in Tokyo, and are currently serving their 2-week long Stay-Home Notice (SHN) at a local hotel. And both athletes, despite facing overwhelming odds on their Games debuts, still managed to hold their heads up high, knowing that they'd done their level best for Country and for their sporting careers. And they look back on their debuts with great memories, invaluable lessons learnt and the desire to return to the piste (fencing court) soon, in order to train, evolve and prep for the next Major Games.
20 year old Amita, is the biggest name in the Women's Foil discipline in Southeast Asia, as she's bagged 2 Gold medals in back-to-back SEA Games campaigns (2017 and 2019). And over at the Olympics, she was drawn to face the World's top foil fencer, Lee Kiefer (USA) in the table of 32. It was Amita's debut on the grandest stage in sport. But despite a strong performance, her 1st Olympic experience lasted less than 3 minutes as she was beaten convincingly by the American - who would go on to win the Gold medal in Tokyo!
21 year old Kiria, is the rising star in the Women's Epee discipline and is the 2019 SEA Games champion. And in her opening match in Tokyo, she faced off against Coco Lin (HK) in the round of 64. It was a nail-biting affair with Kiria coming out victorious! 2 hours later in the table of 32, the Singaporean took on the No 2 ranked Ana Maria Popescu (Romania). Unfazed by the 36 year old veteran of 4 Olympic campaigns, Kiria fought bravely and lost by a margin of only 5 points. And Popescu went on to win the Silver medal!
Both Kiria and Amita now have 1 Olympic campaign on their resumes. And they certainly, have more Major Games campaigns coming their way in 2022 (SEA Games and Asian Games), with the next Olympiad in Paris in just under 3 years time. Meanwhile, let's hear from the 2 star fencers about their Olympic experience, lessons learnt and other fun and interesting details, in the following casual Zoom call, recorded on Wed 4 Aug. Enjoy!
The 32nd edition of the Olympic Games is from 23 July to 8 Aug 2021. For all coverage and news of the Republic's national athletes who're competing at the Games, check out the official Team Singapore Tokyo 2020 website.
Remember to also Show your support for Team Singapore at the Olympic Games!
Team Singapore athletes have worked tirelessly over the last 12-20 months, especially under strict safety management measures to train and prepare. They've had to step up, pivot and adopt new and innovative methods to train especially with their preparations confined to the Lion City. With no international competitions or training stints, these athletes have had to adopt and maintain a positive mindset as well, throughout this entire journey to reach the grandest stage in Sport!
Simply click here to pledge a few words of encouragement and send positive vibes, as our TeamSG athletes continue to fly the national flag proudly in Tokyo.
Raj Kumar's been in Singapore's sports reporting and broadcasting scene since 1997. He was the former Sports Editor and Presenter on Power 98FM (SAFRA Radio) and 938LIVE (Mediacorp Radio). Over the years, he travelled to report on Team Singapore at the 2008 Beijing Olympics and 2012 London Olympiad, including 4 SEA Games cities. As a familiar voice and face on Radio, TV and online sports, he has produced and hosted more than 650 talkshows and programmes.
Related Topics
Related Events & Programmes
Related Topics