Tokyo 2020 : Yu Mengyu remains on course to becoming, Team Singapore's 4th Individual Olympic Medallist in history!
by Circle Stories, on July 28, 2021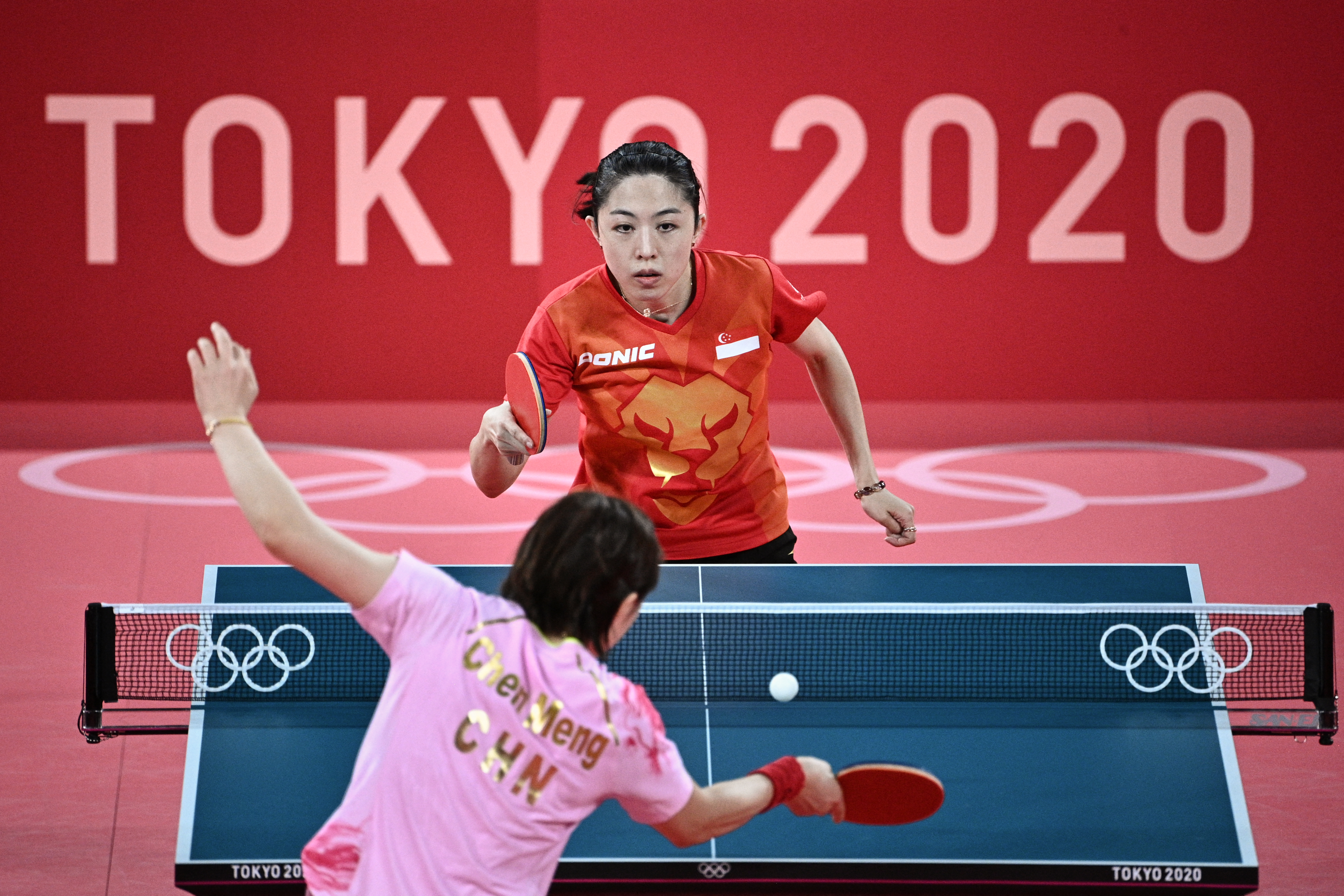 (TeamSG's Yu Mengyu vs Chen Meng at Tokyo 2020 - Photo by Sport Singapore)
By Kenneth Tan
Down but certainly not out! Her gold medal hopes were dashed and she seemed to have sustained a thigh injury in the process. But Team Singapore paddler Yu Mengyu still has everything to fight for at Tokyo 2020.
After a fairytale run to the Women's Table Tennis Singles' semi-finals, a match-up against China's top-ranked Chen Meng proved to be one obstacle too far. In their 3rd career meeting (Chen Meng won previous 2 matches), Mengyu went down to a 4-0 defeat (11-6, 11-8, 11-7, 11-6) within 42 minutes on Thursday morning (July 29).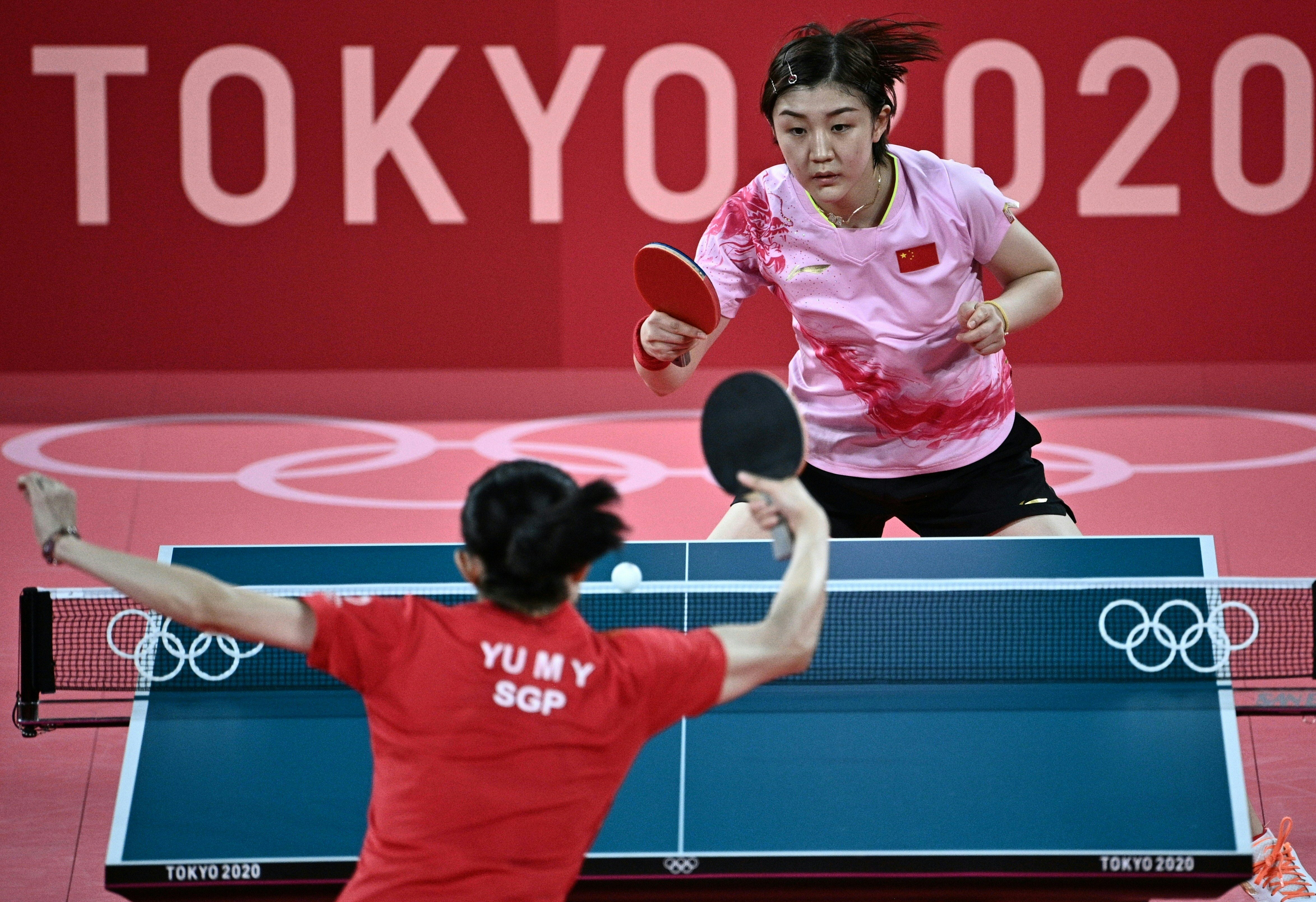 (TeamSG's Yu Mengyu vs Chen Meng at Tokyo 2020 - Photo by Sport Singapore)
The 31 year old Singaporean however, need not despair too much as she still can bring home Singapore's first medal from Tokyo. And that's by featuring in the Bronze medal playoff match coming up later tonight at 7pm (SGP time). The task would not be easy though, as she'll face Japan's world no. 2, Mima Ito!
Starting off her campaign in Tokyo 2020 with a smashing 4-0 win over Portugal's 63rd-ranked Shao Jieni in the Round of 16, Mengyu has been in imperious form throughout the tournament. She then overcame Taiwan's world No. 8 Cheng I-Ching 4-0, America's 449th-ranked Liu Juan and Japan's world no. 10 Kasumi Ishikawa – all in the space of 24 hours – to seal a historic spot in the last 4!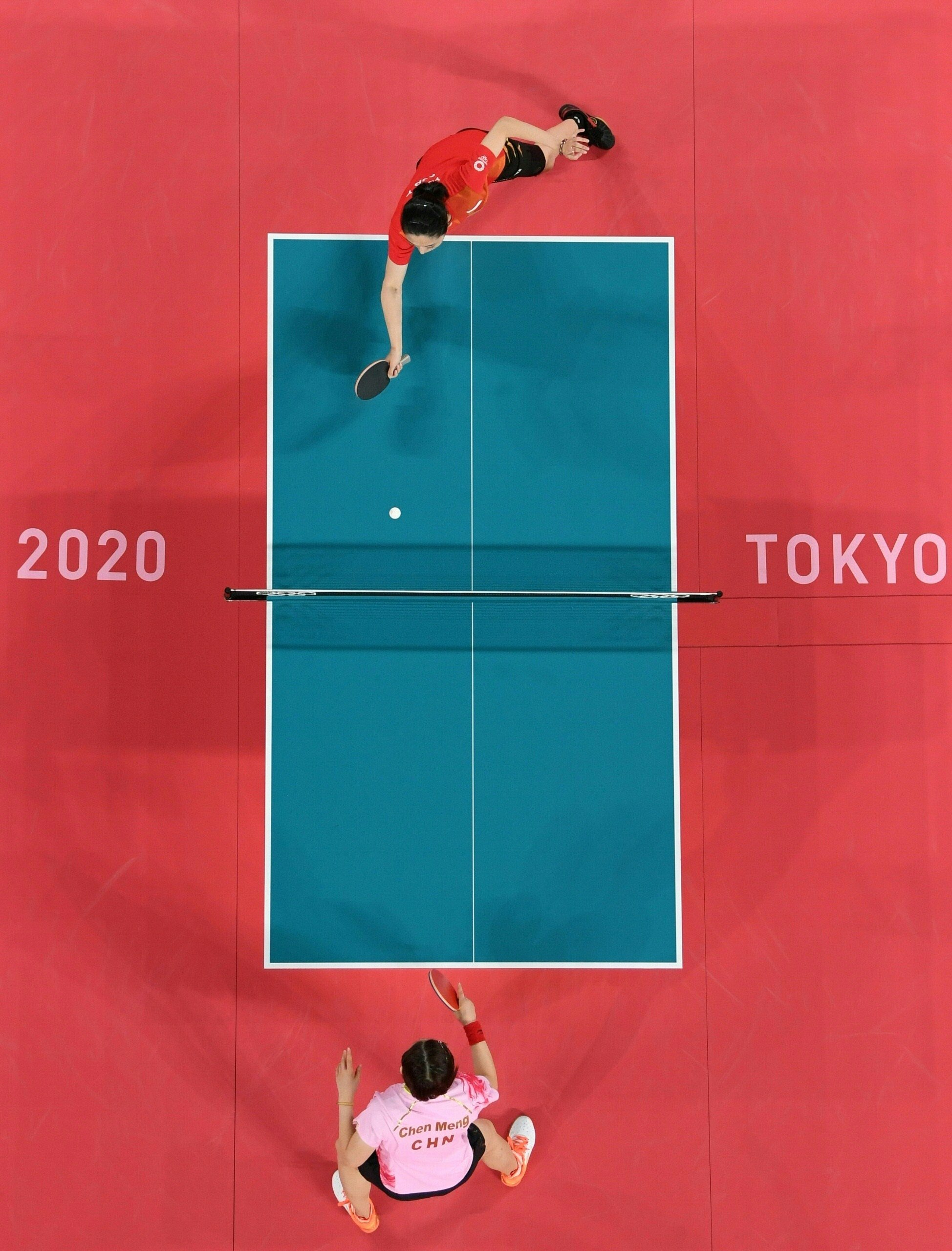 (TeamSG's Yu Mengyu vs Chen Meng at Tokyo 2020 - Photo by Sport Singapore)
The odds however, were always going to be stacked against her as she came up against world no. 1 Chen at the Tokyo Metropolitan Gymnasium for a spot in the final. In Game 1, Mengyu did initially lead 3-2, but her Chinese opponent soon took control of proceedings. The latter landed 7 straight points to surge ahead before winning it 11-6.
Chen, the women's singles champion of the ITTF Women's World Cup in 2020, carried that momentum into the 2nd game as she quickly opened up a 6-0 lead. Mengyu rallied and managed to reduce the deficit to just two (at 10-8 down), but would ultimately be edged out 11-8.
Mengyu – who was part of the Singaporean team that upset China 3-1 to win the 2010 World Table Tennis Championships in Moscow – fought her way back in Game 3 as she led 3-1 at the start. However Chen's assertive style of play and perfectly-angled shots proved to be too much to handle as she retook the initiative before winning the game by 4 points (11-7).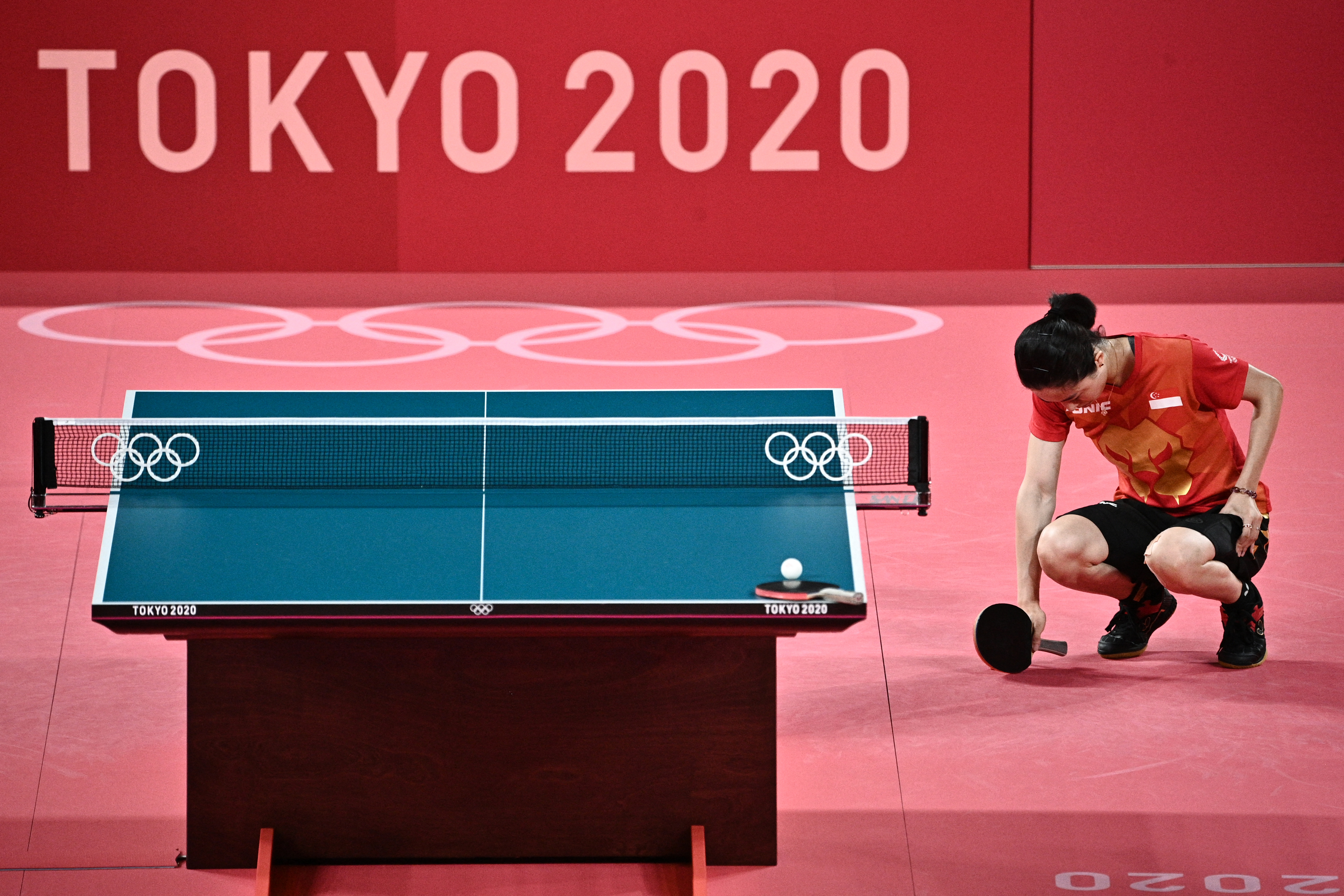 (TeamSG's Yu Mengyu vs Chen Meng at Tokyo 2020 - Photo by Sport Singapore)
Now trailing 3-0, Mengyu needed to go for it in the 4th game to give herself a fighting chance of overturning the tide. However, an unfortunate injury sustained while rescuing an impressive point off a long rally (to cut the deficit to 4-2), would knock the wind out of her sails.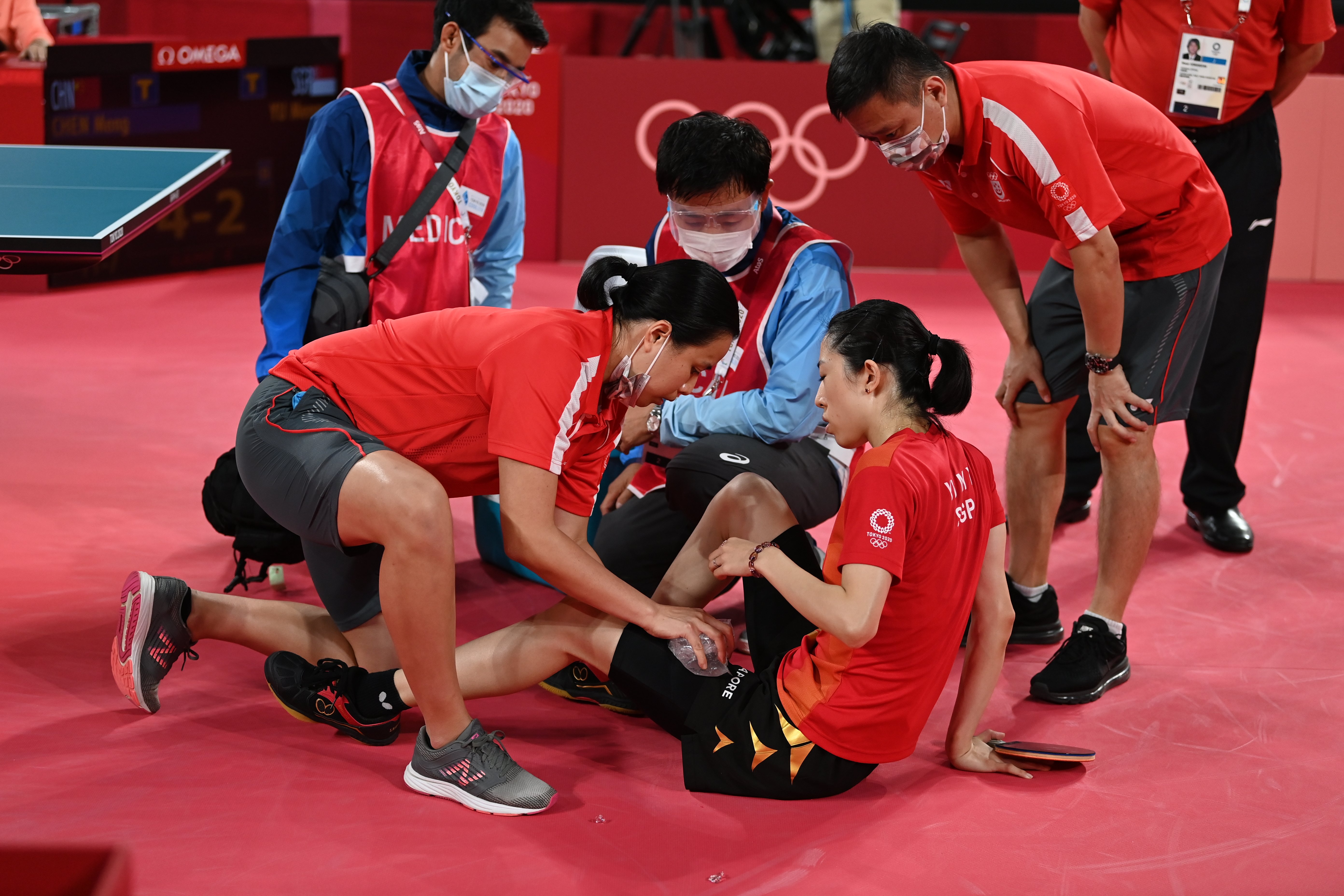 (TeamSG's Yu Mengyu vs Chen Meng at Tokyo 2020 - Photo by Sport Singapore)
Requiring medical attention before getting back up on her feet minutes later, she fought on and claimed 3 straight points to level it at 5-5. However, she was visibly not in her best condition thereafter, and was unable to extend the motion of her movement. She would eventually go down 11-6 to lose 4-0 overall.
Mengyu will now turn her attention to helping Singapore regain the podium finishes that they attained back in 2008 and 2012. Beating Ito would equal the Republic's best-finish in the women's singles – which is a bronze medal by Feng Tianwei in London 9 years ago.
Regardless of the result in the ensuing bronze medal match, Mengyu already has a memorable Games to reflect on – having surpassed her quarter-run in her Olympic debut at Rio 2016. And she will still feature in the Team event together with Lin Ye and Tianwei.
The 32nd edition of the Olympic Games is from 23 July to 8 Aug 2021. For all coverage and news of the Republic's national athletes who're competing at the Games, check out the official Team Singapore Tokyo 2020 website.
Remember to also Show your support for Team Singapore at the Olympic Games!
Team Singapore athletes have worked tirelessly over the last 12-20 months, especially under strict safety management measures to train and prepare. They've had to step up, pivot and adopt new and innovative methods to train especially with their preparations confined to the Lion City. With no international competitions or training stints, these athletes have had to adopt and maintain a positive mindset as well, throughout this entire journey to reach the grandest stage in Sport!
Simply click here to pledge a few words of encouragement and send positive vibes, as our TeamSG athletes continue to fly the national flag proudly in Tokyo.