World's Best Table Tennis stars to compete in Singapore, at the inaugural WTT Cup Finals 2021!
by Circle Stories, on November 25, 2021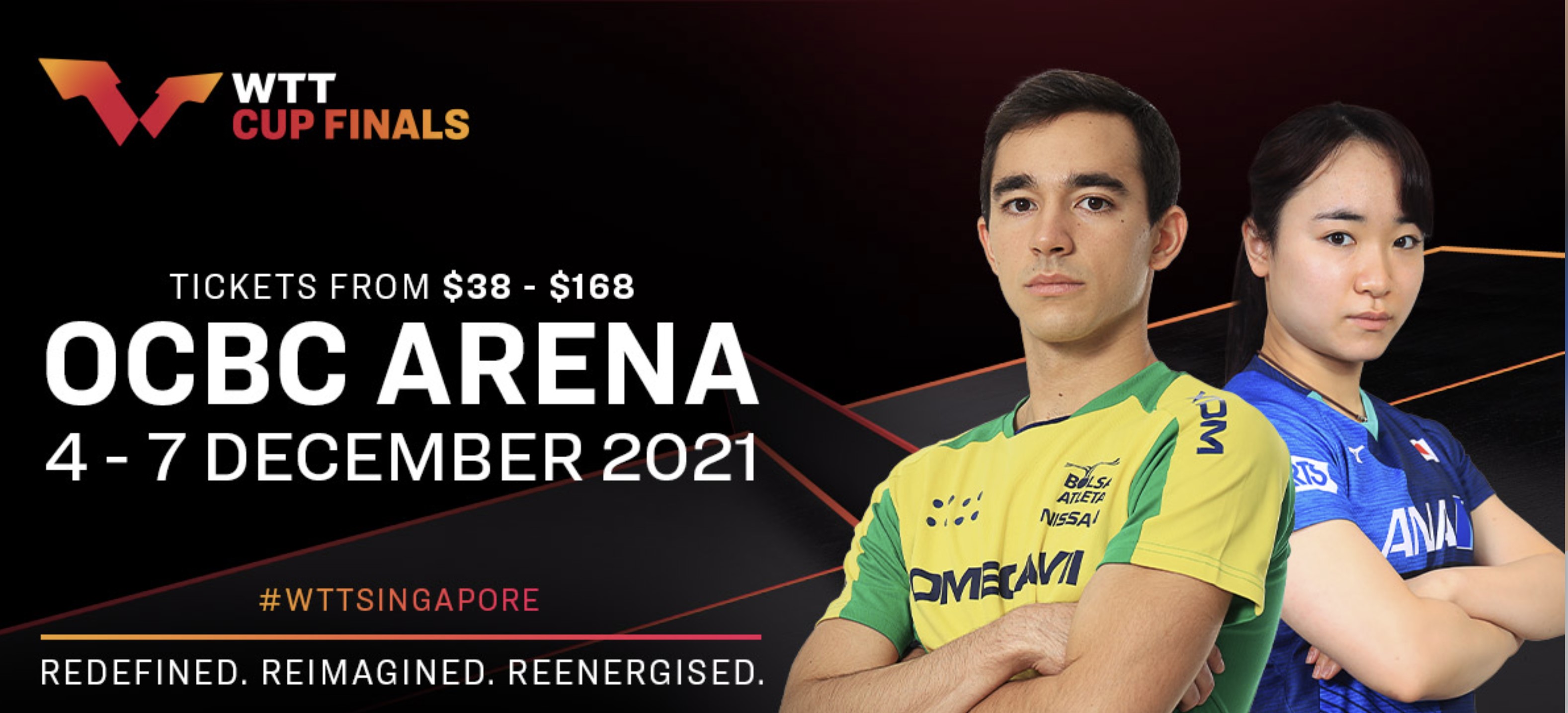 By WTT
Some of the top players in the Men's and Women's Singles will be vying for the honour to become the first-ever WTT Cup Finals champions!
WTT has re-imagined, re-energised and re-defined this top 10 global sport to match audiences' needs, create more touchpoints with fans and merge sport and entertainment to ultimately produce unmissable events. The WTT Cup Finals are the new season-ending events of the WTT Series, with two separate WTT Cup Finals – men's singles and doubles and women's singles and doubles. However, due to the ongoing challenges presented by the COVID-19 pandemic, this year's WTT Cup Finals Singapore will consist of a combined event featuring men's and women's 16-player singles draws only.
Both gender divisions will share equally in the overall prize pool of S$820,000.
* Entries as of 25 November 2021
Qualification for the WTT Cup Finals is based on the International Table Tennis Federation (ITTF) World Rankings published on 16 November 2021, with no National Entry Restriction applied.
Singapore, the perfect inaugural host
"The table tennis community and Singapore share a special bond and we are delighted that the Lion City becomes the first-ever host of the WTT Cup Finals," said ITTF Group CEO and WTT Director Steve Dainton. "We are grateful for the support of Sport Singapore which have collaborated closely with us over the past weeks to be able to bring this event to life. We are looking forward to further strengthening our partnership with Singapore and to continue hosting world-class events there."
"We are honoured to be the host city for the inaugural WTT Cup Finals. Staging the event in Singapore signals our commitment to bring sport back safely for everyone. The WTT Cup Finals is an excellent opportunity to enliven our local table tennis community and inspire more young athletes to engage in the sport", said Sport Singapore CEO, Lim Teck Yin.
"We are so excited that the WTT Cup Finals is coming to Singapore. I know that our Singapore table tennis fans are already looking forward to seeing top class players in action. This is the first time that Singapore is hosting the WTT Cup Finals and Singapore's Table Tennis Association (STTA) will lend our support to making the tournament a success", said Ms Ellen Lee, JP, PBM, STTA President.
Limited ticketing opportunities to watch the best table tennis players
Hosted at the OCBC Arena (Singapore), the WTT Cup Finals Singapore will offer local table tennis fans, the rare opportunity to soak in the adrenalin charged atmosphere and catch the world's best players in action.
Up to 900 fans will be permitted to attend each session in accordance with Safe Management Measures (SMM) and WTT has partnered with ticketing agency SISTIC.
WTT Cup Finals ticket sales will start from 26 November 3pm through SISTIC's website, https://www.sistic.com.sg/events/WTT1221, Phone Hotline (+65 6348 5555), OCBC Arena Box Office and SISTIC authorised agents.
All participants must be fully vaccinated with a vaccine recognised by the Singapore Government or undertake Pre-Event Testing (PET) prior to attending.
For match reports and results from the WTT Cup Finals in Singapore, do check out https://circle.myactivesg.com/