Table tennis player Wong Xin Ru was one-half of the dynamic duo that won Singapore's first table tennis gold at the Hanoi Southeast Asian (SEA) Games on May 18, 2022.
But on her flight back home to Singapore, there was just one thing on the vegetarian player's mind: her favourite meal!
"The thing that I miss the most when I'm overseas is local food!" Xin Ru shares enthusiastically.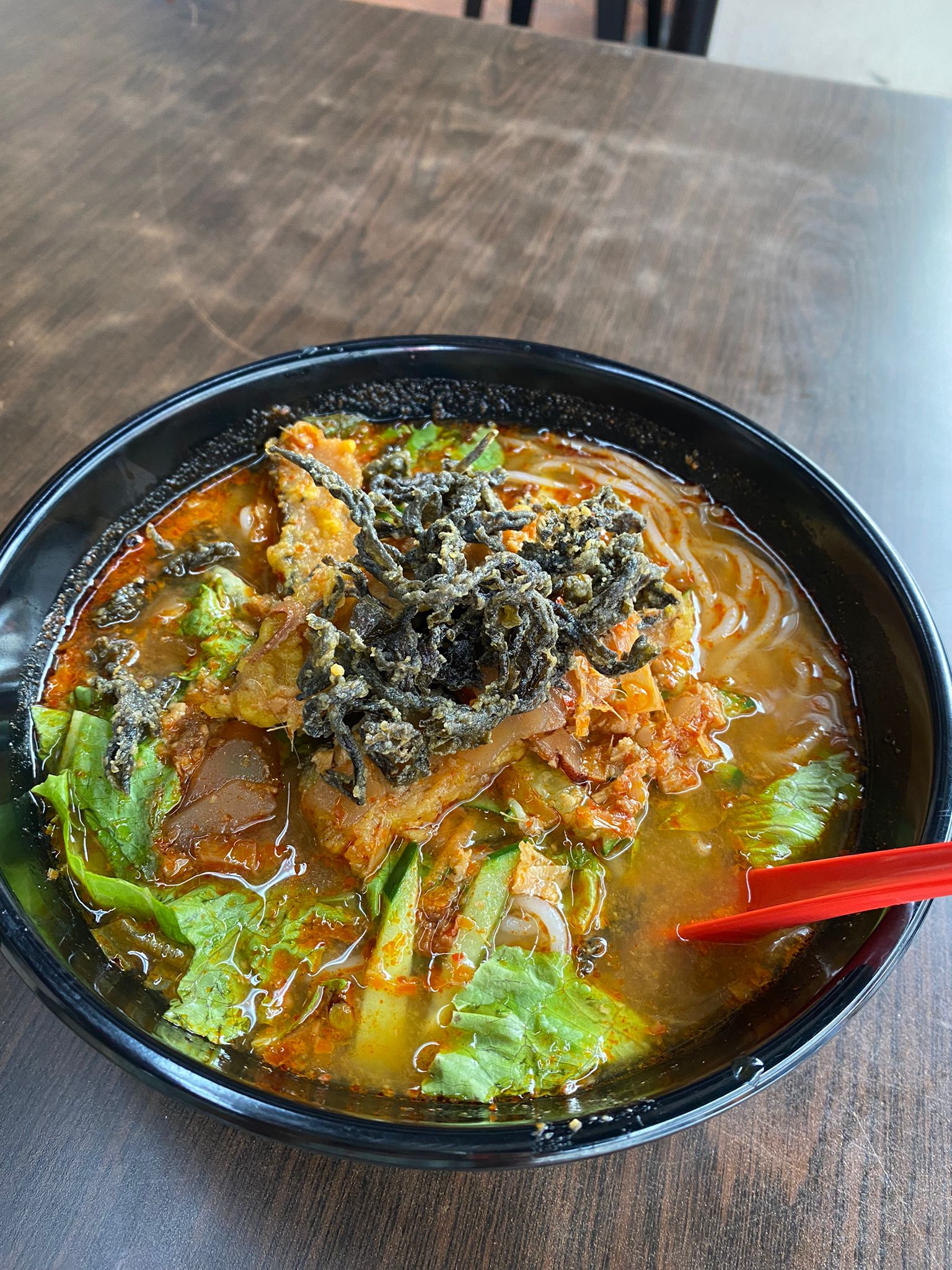 Xin Ru's all-time favourite vegetarian Laksa. (Photo: Wong Xin Ru)
Specifically, she gets her kicks from a rich, spicy vegetarian Assam Laksa from Yi Xin Vegetarian, in Chinatown.
Having picked up a table tennis racket at just eight-years old, Xin Ru has since built up an impressive resume for herself.
Despite only becoming a full-time athlete in September 2021, Xin Ru, now 20, has already represented Singapore in two editions of the SEA Games and in the 2022 Commonwealth Games, in Birmingham, as well as other competitions.
She came home from each of those campaigns with a gleaming medal - attaining a Joint-Bronze in the Women's Doubles in the 2019 SEA Games, a Mixed Doubles Gold and Women's Team Silver in the 2021 SEA Games, and another Women's Team Gold this year at the Commonwealth Games.

Wong Xin Ru (middle-left) with her teammates Feng Tian Wei, Zeng Jian and Zhou Jingyi after beating Malaysia in the finals of the Birmingham Commonwealth Games 2022 to claim the women's team Gold medal. (Photo: Owen Hammond)
But Xin Ru doesn't let the shine from her recent medals blind her from her goals. These days, she trains twice a day, six days a week.
Her immediate goal is to move up in the International Table Tennis Federation (ITTF) World Ranking, and she also has her sights set on the 2023 SEA Games and the 2024 Olympics.
Being vegetarian is not a hindrance, but an advantage
Xin Ru will admit that her vegetarian diet, which she has been on her whole life, can sometimes interfere with her packed schedule and constant travelling.
This is especially so because it can be hard to find suitable vegetarian food when she competes overseas. "I'm constantly in this situation where I struggle to find food, ever since I was young when I trained overseas," she explains. When Xin Ru was younger, she didn't consume eggs, and would also avoid onions and garlic as part of her vegetarian Buddhist diet.
She adds: "In the past, it used to be hard to find vegan food. So when I competed during my younger days, I used to eat just bread."
Her struggles with her vegetarian lifestyle may leave her hungry for quality food while overseas, but it has never stopped her from achieving greatness.
In fact, it's the complete opposite: her commitment to her diet has taught her discipline, perseverance and determination - valuable skills that she needs to have as a professional athlete.
Even when it proves difficult to procure good, vegetarian food while training, Xin Ru has never considered giving up on her beliefs.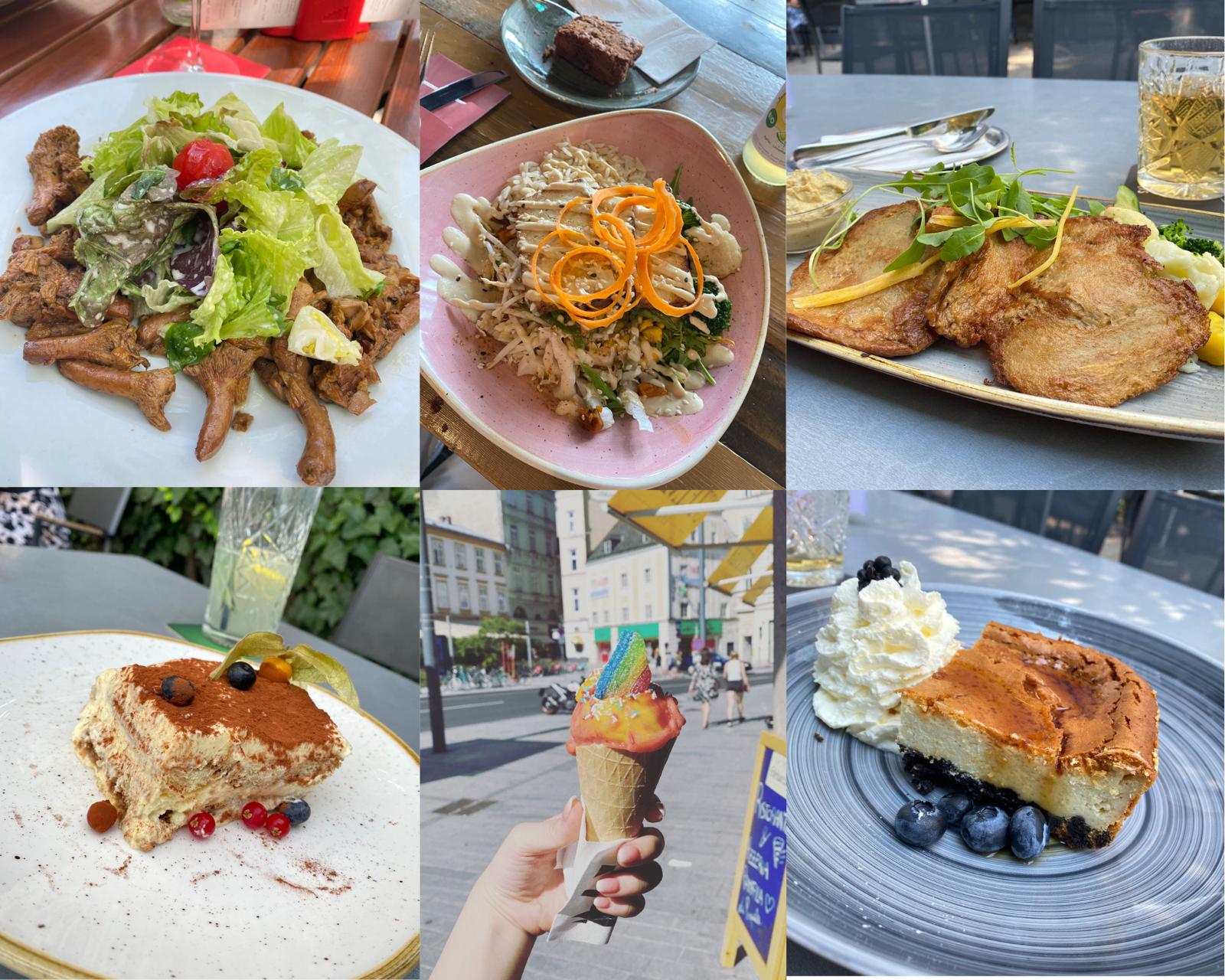 A collage of some of Xin Ru's favourite vegetarian food and desserts. (Photo: Wong Xin Ru)
"People may think it's harder for vegetarians to find protein and nutrient-dense food as compared to an omnivorous diet. But I feel that if you put in the effort, you can find it," Xin Ru shared, on what it takes to be a vegetarian athlete in training.
In fact, perhaps her only gripe with vegetarian food is how underrated it is. "When I tell people I'm vegetarian, they'll always only think of vegetarian Bee Hoon! But actually there's so many more options now. There's Impossible burgers, even vegetarian Korean restaurants!" She enthuses. "I hope to see more innovation in the local vegetarian food options!"
What a Pro Vegetarian Athlete Eats in a Day
So what does a professional table tennis player eat in order to keep up with her hectic training schedule?
A staple of her everyday diet is Cai Fan, also known as economic mixed rice. It is a dish commonly found in hawker centres in Singapore. There, she'll load up on the steamed eggs, tofu, and more.
In fact, a common misconception is that vegetarians cannot get enough protein. Xin Ru proves the naysayers wrong by getting her daily protein intake through tofu, eggs, beans such as edamame soybeans, tempeh, a wheat gluten meat substitute called seitan, and much more.
Some 'special treats' for herself include the Impossible meat burger, which she first tried when she was in the United States for a competition. Impossible beef is made from simple, plant-based ingredients such as soy protein concentrate, but is made to look, taste, feel, and even 'bleed' like real beef.

Xin Ru preparing vegetarian Spring Rolls at home with her brother. (Photo: Wong Xin Ru)
Her fellow paddler, Goi Rui Xian, who eats an omnivorous diet, was blown-away when she tried the same burger. "She tried to stop me from eating it," Xin Ru recalls, laughing. "She couldn't believe it was vegetarian, and she was trying to look out for me by stopping me from eating something she thought was real meat!"
And while Xin Ru is not someone who will give up so easily on her vegetarian diet, she does have her weak spot - sweets!
"I just can't give up on snacks and desserts," she shares bashfully. "I always need to have a snack between lunch and dinner."
Perhaps it's fair to say that Xin Ru is an athlete who is hungry for success… and vegetarian food and dessert!
Xin Ru will be competing again in the ITTF World Team Championships Finals held in Chengdu, China from 30 September to 9 October. You can follow her journey to greatness by following her on Instagram @wongxinru.
Let's cheer Xin Ru on, and support her in her journey to greatness!