Fencing movements: Offensive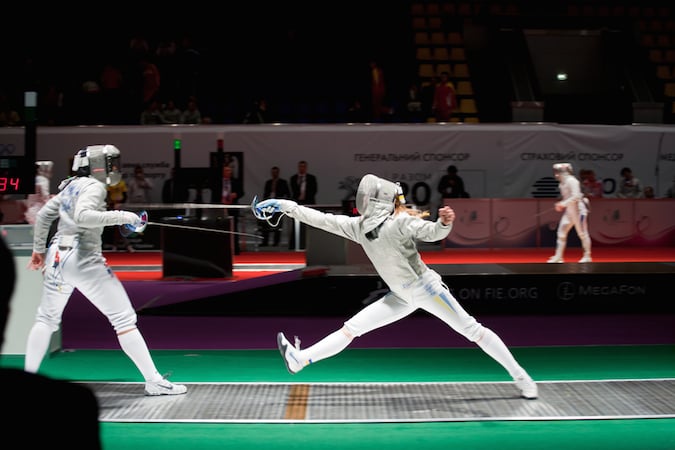 Image credit: Shutterstock.com
Fencing is a sport that involves continuous attack and defence from both participants. Here are some of the most commonly used offensive moves, and how to execute them.
Advance Lunge

The advance lunge is a basic fencing attack, and comprises of two parts. The fencer should initially be in the en-garde position, before extending the weapon arm fully such that it is pointed at the opponent. Next, the fencer should step one pace forward with the front foot, followed by the rear foot. After which, he should lunge – take a big step forward with only the front foot, and propel his body forward while keeping the weapon arm still fully extended and aim to hit the target area.

Once the hit has been carried out, the fencer should move back to the en-garde position in a recovery gesture.

Composed Attack

The composed attack is made up of three parts - feinting, deceiving and lunging. Firstly, the fencer should carry out an action that threatens the opponent enough for he or she to use a lateral parry, which refers to avoiding or deflecting the fencer's attack from the side.

Next, once the feint has been done, the fencer should then attempt to deceive the opponent. Instead of pursuing the target area that the opponent thinks he is going to attack, the fencer should then look for a target area that has been left open as a result of the lateral parry. Once he has spotted an unprotected target area, he should then lunge and attempt to score.

Cut

Cuts are only applicable to saber fencing, as it is an attack that sees the hit landing on the either the point or edge of the saber, similar to that of a chopping motion.

Extension

The extension is the simplest of all fencing offensive movements, and involves the fencer simply extending his weapon arm forward to hit the target area on the opponent's body.

Flick

This attack is used largely in foil and epee fencing, and involves attacking with a whipping motion. Often, the point of the weapon does not directly threaten the target area initially. Instead, the blade bends at the end of the attack, so that the point hits the target.


To receive the latest updates on the happenings in the Singapore sports scene, or to find out more about some of the latest programmes on offer at ActiveSG, like our Facebook page here.