Overview of the Kallang Tennis Centre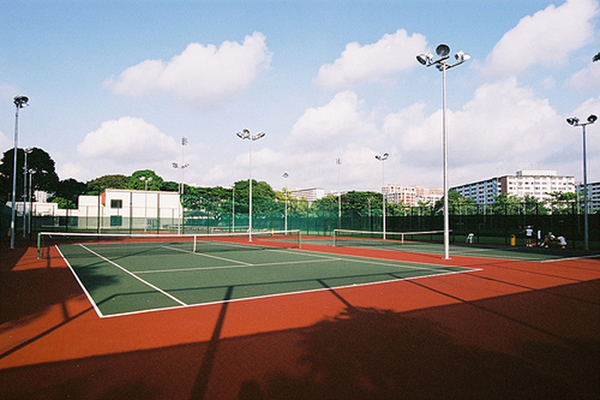 The Kallang Tennis Centre was opened as a community sports facility in March 1978. Kallang Tennis Centre is located in the south-eastern of Singapore, a short drive from the central business district area. It is adjacent to the Kallang Field and is part of the Kallang Sports Centre.

The Kallang Tennis Centre is the largest public Tennis venue and consists of 14 courts with a seating capacity of 1,219. This greatly contributes to its popularity as the ideal venue for tennis programmes and competitions, both locally and internationally. It is also the training venue for the national team and national youth teams. The Singapore Tennis Association conducts most of its tennis programs here.

A further boost to its popularity was when the Kallang Tennis Centre hosted the official matches for the inaugural Singapore 2010 Youth Olympic Games.

Locals use it to train as its the main hub where trainings, competitions and tournaments are held. Prices are also cheap at just $3.50 an hour during off-peak weekday times. Do note that Kallang Tennis Centre does not have much shade from the sun. So players are advised to slap on plenty of sunscreen lotion before entering the courts.

Events Held At Kallang Tennis Centre
Singapore 2010 Youth Olympic Games
Singapore ITF Junior Open 2013
Singapore ITF Junior Championships 2013
Prince Pesta Sukan Tennis Championships 2013
STA Open (seasonally)
STA InterClub Singles League (seasonally)
Woman's Tennis Association (seasonally)
National Inter-school Tennis Championships (regularly)
General Information

Address: 52 Stadium Road (397724)
Operating Hours: 7.00 am - 10.00 pm
Facilities Type: 14 Tennis courts
Seating Capacity: 1,219 at Centre Court, Court 14
Parking Facilities: 19 (Car), 7 (Motorcycle)
Prices: Weekdays (7am - 6pm) $3.50/hour
Weekdays (6pm - 10pm) and weekends: $9.50/hour

Apart from the Kallng Tennis Centre, aspiring tennis players can also learn tennis at the places in Singapore that offer tennis lessons


To receive the latest updates on the happenings in the Singapore sports scene, or to find out more about some of the latest programmes on offer at ActiveSG, like our Facebook page here.
Are you a kid trying to learn the basics to tennis? Or perhaps a parent trying to introduce your child to the game of tennis?

At the ActiveSG Tennis Academy, we are serving up an ace when it comes to learning and enjoying the game.

With a structured pathway to unleashing potential, our students have an opportunity to enjoy playing tennis before learning to play at the highest level.

Helmed by professional coaches, our students are engaged at every level of development. From fundamental movement skills to core tennis skills, the programmes are designed to be fun, yet challenging. Sign up for the ActiveSG Tennis Academy by registering here.